While the AMD Zen 2 architecture was unveiled at CES 2020, the top lineup of Ryzen 9 H processors have been left out of the initial announcement and only officially launched as of mid-March 2020.
That includes the standard 45W variant dubbed Ryzen 9 4900H, as well as a more efficient 35W Ryzen 9 4900HS bin of the same processor, meant to deliver nearly the same kind of performance, but within a more efficient power envelope.
We're not going to discuss benchmark results in this article, but you can find our detailed review of the Ryzen 9 4900HS powered Zephyrus G14 via this link, and we'll update once more 4900HS and 4900H options are available.
Instead, we'll tell you what to expect from the Ryzen 9 APUs and how they differ from the existing Ryzen 7 4800H/4800HS mid-range variants, as well as compile a detailed list of all the available Ryzen 9 4900H/4900HS laptops that you'll find in stores in the months to come.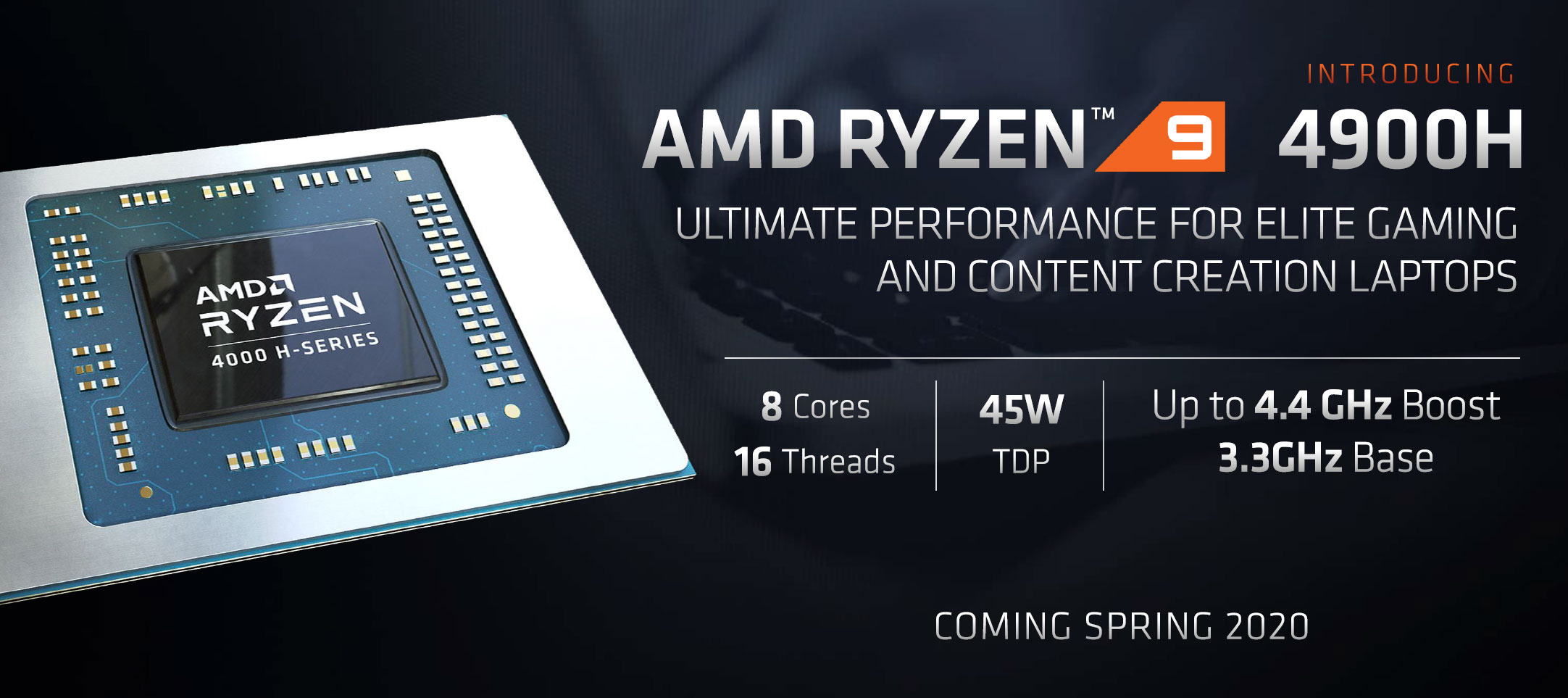 So first off, here's a quick specs sheet of the Zen 2 Ryzen H 7 and 9 processors:
Ryzen 9 4900H

Ryzen 9 4900HS
Ryzen 7 4800H
Ryzen 7 4800HS
Build process
7 nm
7 nm
7 nm
7 nm
Generation
Zen 2
Zen 2
Zen 2
Zen 2
TDP
45 W
35 W
45 W
35 W
Cores/Threads
8/16
8/16
8/16
8/16
CPU Base Frequency
3.3 GHz
3.0 GHz
2.9 GHz
2.9 GHz
CPU Max Turbo
4.4 GHz
4.3 GHz
4.2 GHz
4.2 GHz
L3 Cache
8 MB
8 MB
8 MB
8 MB
Memory Type

DDR4 3200 MHz,
LPDDR4X 4266 MHz
DDR4 3200 MHz,
LPDDR4X 4266 MHz
DDR4 3200 MHz,
LPDDR4X 4266 MHz
DDR4 3200 MHz,
LPDDR4X 4266 MHz
Graphics
Radeon Vega, 8 CUs
Radeon Vega, 8 CUs
Radeon Vega, 7 CUs
Radeon Vega, 7 CUs
Graphics Speed
up to 1750 MHz
up to 1750 MHz
up to 1600 MHz
up to 1600 MHz
Processing Power
1.79 TFLOPs
1.79 TFLOPs
1.43 TFLOPs
1.43 TFLOPs
In very few words, Ryzen 9 APUs are very similar to their Ryzen 7 counterparts, with a few small differences:
slightly higher Base and Turbo clock counts;
improve Radeon Vega graphics, with +1 CU, +150 Mhz frequency and +20% processing power.
The number of cores and threads, Cache, memory support, or PCIe lanes are identical between the two, as well as the slew of optimizations and improvements the Zen 2 platform offers over the previous Zen 3000 lineup.
That being said, Ryzen 9 APUs might not seem like much of an upgrade over the Ryzen 7 models, especially since the GPU part shouldn't weigh much in this case, as pretty much all Ryzen 9 configurations will include a dedicated dGPU that will negate the iGPU's impact in demanding graphics loads.
However, there are a few other aspects to consider here. There's a good chance Ryzen 9 platforms will be implemented into higher-tier products, where Ryzen 7 configurations might not be offered. Then, OEMs will most likely offer variable power profiles for these APUs and allow them to run at higher TDPs when needed, thus return improved performance, and we might see better optimization on those higher-tier higher-margin Ryzen 9 configurations. Furthermore, pricing is going to be important: a big gap between 4800H and 4900H configurations will make the latter a hard-sell, but a smaller increase and customers will favor the 9s just to get the higher-tier product and gladly pay a small premium for it.
Anyway, we'll know more about the real value-increase of these Ryzen 9 4900H and 4900HS APUs once SKUs are launched and we get to test a few of them. They've been announced for Q2 2020 from multiple OEMs including Asus, Dell, Acer or Lenovo, so you'll have to wait, especially with the current delays caused by the COVID-2019 outbreak. For what is worth, though, AMD's marketing materials claim solid productivity and gaming results for the Zephyrus G14 in the Ryzen 9 4900 HS + RTX 2060 65W (Max-Q) configuration, as illustrated below, but these are AMD's test results and should be taken with a grain of salt until they're verified by our tests (and other reputable 3rd party reviewers).
Update: Our detailed review of the Ryzen 9 4900HS powered Zephyrus G14 is available via this link.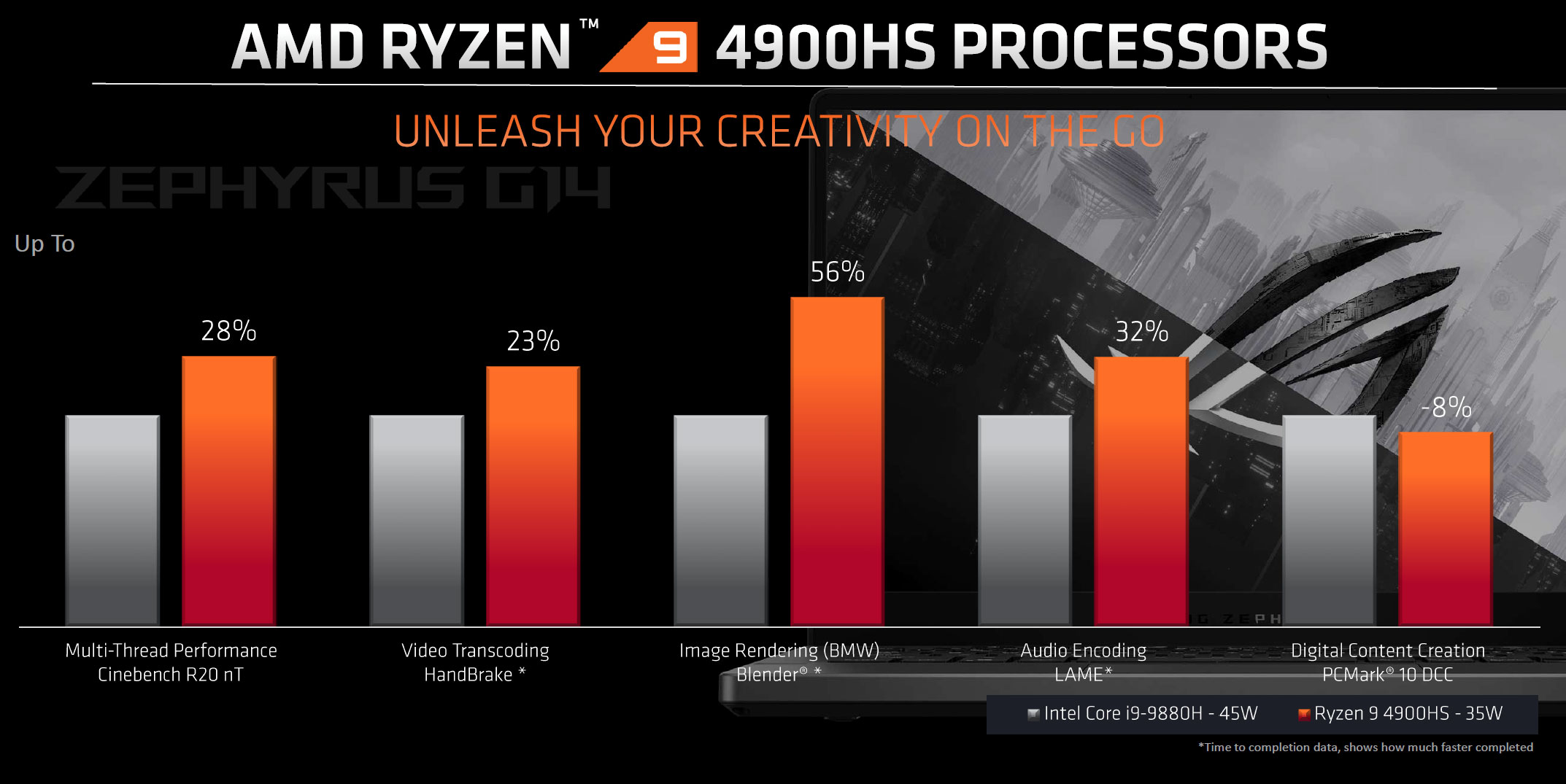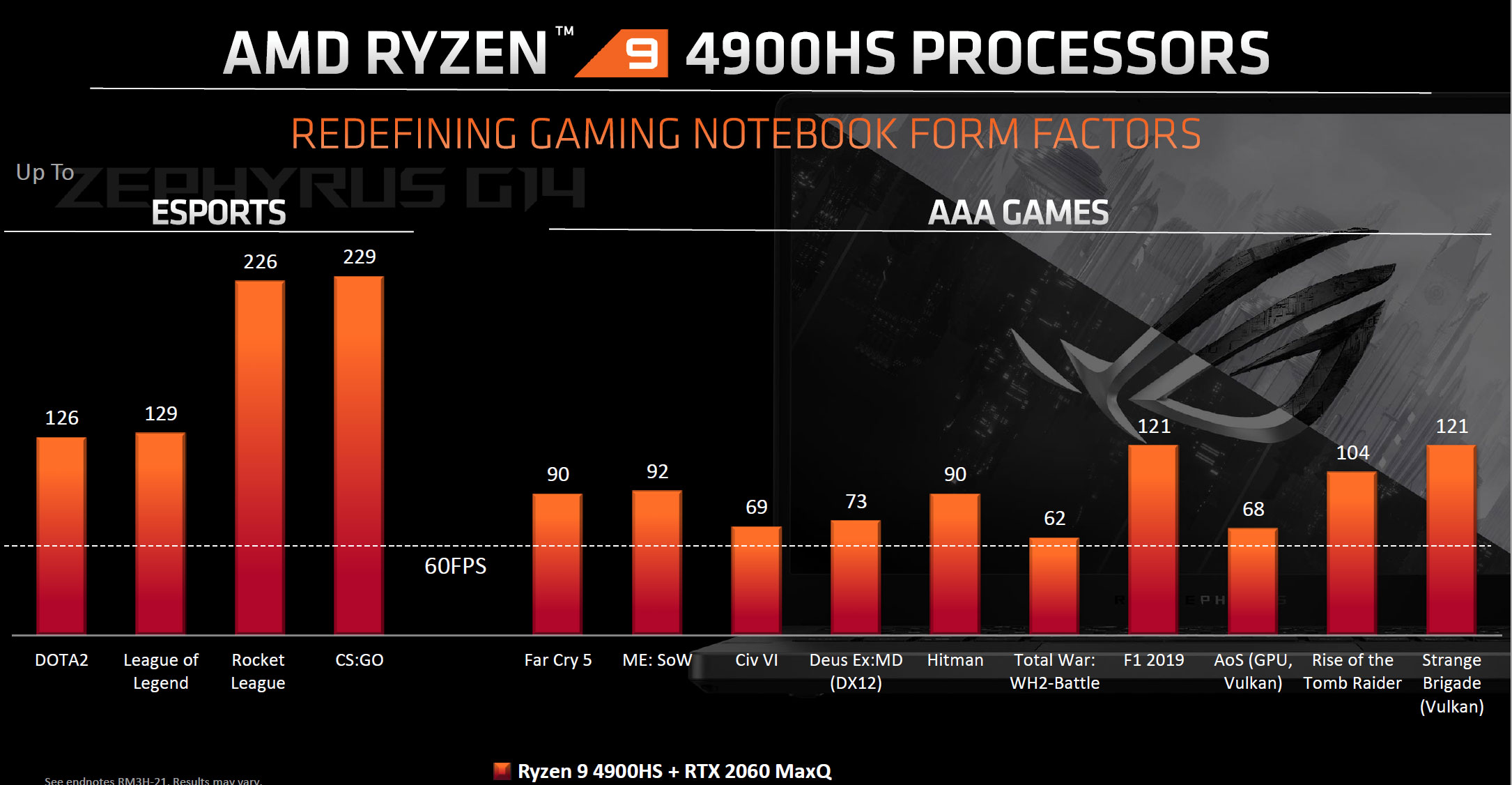 For now, here are the lists of rumored or announced Ryzen 9 4900HS and Ryzen 9 4900H notebooks. This is a work in progress and we're constantly updating it with new entries as they are launched, so if you spot something that should be in here and is not, please tell us about it in the comments sections at the end of the post.
Portable laptops with Ryzen 9 4900HS 35W APU
This section is reserved for the lightweight and portable products built on the more efficient 35W Ryzen 9 4900HS implementation.
Model
Screen
Hardware
Graphics
TB3
Weight
Asus ROG Zephyrus G14 GA401IV
14-inch FHD IPS 120 Hz / WQHD IPS 60 Hz matte
up to Ryzen 9 4900HS / max 40 GB DDR4 RAM
up to RTX 2060 Max-Q (65W)
No
3.55 lbs / 1.6 kg
detailed review here and here, new 2020 model; portable and lightweight, magnesium build; single-zone white backlit keyboard; several screen options, including FHD IPS 120 Hz or WQHD IPS 60 Hz panels; 1x memory slot(+ 8 GB RAM soldered), single M.2 NVME storage slot; configurations with Ryzen 5 and 7/ GTX 1660Ti 65W GPU also available; 76 Wh battery, 180W charger, USB-C charging also supported
Price: $1499 – updated configurations and prices
Asus have exclusive access to the AMD Ryzen HS hardware for the time being (up to Q3 2020), and we'll update once more Ryzen 9 4900HS ultraportables are available.
Full-size laptops with Ryzen 9 4900H 45W APU
This section includes the full-size notebooks built on the 45W Ryzen 9 4900H hardware platform. Keep in mind this list is based on rumors at this point, and these Ryzen 9 4900H are not yet available in stores at the time of this update.
Model
Screen
Hardware
Graphics
TB3
Weight
Dell G15 15 SE
15.6-inch FHD IPS 60Hz/144 Hz matte
up to Ryzen 9 4900H / max 32 GB DDR4 RAM
up to AMD RX 5600M
No
4.96 lbs / 2.25 kg
new 2020 model; 4-zone RGB backlit keyboard with NumPad; multiple configurations available, starting from Ryzen 5 4600H, all with RX 5600M graphics; 2x memory slots, 2x M.2 PCIe x2 storage slots; 51 or 64 Wh battery
Price: TBA
Please keep in mind that these are early listings, some of them based on rumors and leaks, thus errors might slip in despite our best effort to keep things accurate and updated.
Disclaimer:
Our content is reader-supported. If you buy through some of the links on our site, we may earn an affiliate commission.
Learn more.