Back in the days, Asus used to offer lineups of full-size ROG laptops built on the most powerful hardware specs available at the time, but they stopped doing it in the last few years once the ROG G703 series was no longer updated.
That's changing as of mid-2022, though, with the launch of the ROG Strix Scar 17 SE – Special Edition, the most powerful ROG laptop to date, and once more a worthy contender for the other high-performance notebooks out there.
The Scar 17 SE is not a massive full-size desktop replacement design, though, but actually about the same size as the regular Scar 17 and only slightly heavier, at still under 3 kilos. Despite these, it bundles inside the latest Intel Core i9-12950HX processor and an RTX 3080Ti graphics running at up to 175W, pretty much the most powerful laptop components of this generation. These are possible thanks to a complete power and thermal revamp, with the standard cooling module in the regular Scar 17 series being replaced by a vapor-chamber module and Liquid Metal thermal compounds on both the CPU and the GPU.
At this point, I couldn't yet get a finalized review unit for the Scar 17 SE, so I can't go over all the performance tests that we cover in our reviews. Hence, this article is a first look at the Scar 17 SE compared to the standard Scar 17 series reviewed here, a hardware and thermal design analysis, and a few spoilers on the performance capabilities you should expect from this notebook. I will follow up with a detailed review in the following weeks.
So, for starters, here's a full spec sheet of the 2022 ROG Scar 17 SE, and we'll further get in-depth into the important aspects down below.
Specs sheet- ROG Strix SCAR 17 Special Edition
2022 ASUS ROG Strix SCAR 17 SE G733CX – Special Edition
Display
17.3-inch, 16:9, non-touch, matte, BOE BOE0A69 panel
QHD 2560 x 1440 px IPS, 240 Hz with 100% DCI-P3
FHD 360Hz panel option also available, with 100% SRGB
Processor
Intel 12th gen Alder Lake, up to Core i9-12950HX, 8C+8c/24T, up to 175W TDP
Video
Intel UHD + Nvidia GeForce RTX 3080Ti Laptop 16GB (up to 175W with Dynamic Boost)
with MUX and Adaptive Sync (no GSync on internal display)
Memory
32 GB DDR5-4800 RAM – up to 64 GB (2x DIMMs)
Storage
2x 1 TB SSD (Micron 3400 drives) – 2x M.2 PCI 4.0 x4 slots
Connectivity
WiFi 6E (Intel AX211) 2×2 with Bluetooth 5.2, 2.5Gigabit LAN (Realtek RTL8125)
Ports
2x USB-A 3.2 gen1, 1x USB-C with Thunderbolt 4, 1x USB-C gen2 with video and data, HDMI 2.1, LAN, headphone&mic
Battery
90Wh, 330 W power adapter, USB-C charging up to 100W
Size
395 mm or 15.55" (w) x 282 mm or 11.1 (d) x 27.5 mm or 1.08" (h)
Weight
2.98 kg (6.57 lbs) for the 3080Ti model,
.98 kg (2.15 lbs) for the 330W power brick and cables, EU version
Extras
rubber-dome per-key RGB backlit keyboard with NumPad, quad speakers, no webcam or biometrics, Keystone
This is the top configuration of the Scar 17 SE, but a mid-tier variant with an RTX 3070Ti (up to 150W) dGPU is also going to be available, with a choice between an FHD 360Hz or the QHD 240HZ display. The 3070Ti model weighs 2.9 kilos because it doesn't offer the vapor-chamber cooling module that is exclusive to the 3080Ti variant.
Updated ROG Scar laptops are available in the meantime, with the 2023 Asus ROG Scar 18 and Scar 16 models (Intel and Nvidia specs, 16:10 displays) and the AMD-based 2023 ROG Scar 17 variant, which borrows the thermal module on this Scar SE generation.
Here's our detailed review of the 2023 Asus ROG Strix Scar 18 update. And here's our review of the 2023 ROG Scar 17 update, with AMD and Nvidia hardware, which is a hardware update of the Scar 17 Special Edition chassis.
Design, inputs, and screen options
As mentioned earlier, the Scar 17 SE is built on the same chassis as the regular Scar 17 2022 launched earlier in the year, and reviewed in-depth in this article. Thus, you should follow the link for my full impressions of the design, construction, RGB lighting, and the particularities of the series.
The SE – Special Edition model is heavier, though, at almost 3 kilos, while the regular Scar 17 weighs around 2.75 kilos. That's a result of the updated thermal module.
Furthermore, with the bump in specs, the 3080Ti variant of the Scar 17 SE also requires a higher-power 330W power-brick. However, this has been redesigned and is actually more compact and the same weight as the 280W older-generation charger that powers the standard Scar 17, and the 3070Ti configuration of the SE.
These aside, Asus have added a design perk to the lid of the SE series, where various engravings and easter eggs are inscribed with what Asus calls "invisible ink", the kind that's barely visible under normal lighting but lights up under UV light or blue LED light. A cool UV flashlight is included with the laptop to help expose those hidden messages.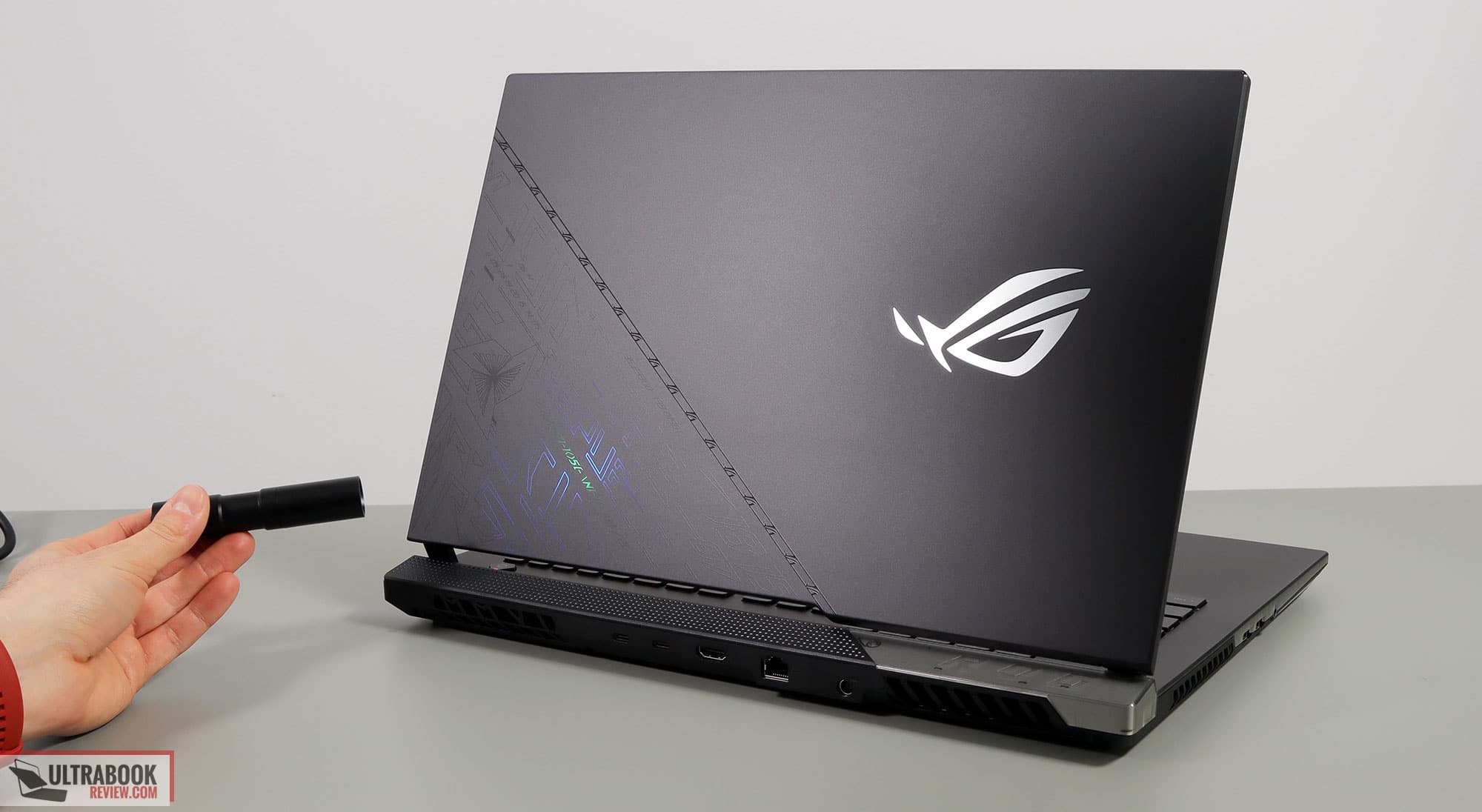 Other than these, the SE is pretty much a regular Scar 17, with the same assortment of plastics and metals used for the construction, the same ergonomics, and IO.
Ergonomics are still a mixed bag for me with this series, and my complaints are about the bright status LEDs placed under the display, the smudgy arm-rest and keyboard deck, and the lack of a card reader, which would have made a lot of sense on a powerful work/creator laptop.

On the other hand, I have little to nothing to complain about the screen options, keyboard, and clickpad here.
The QHD 240Hz display offers fair brightness and contrast, popping colors with wide gamut coverage at 100% DCI-P3, and fast gaming abilities, with 240Hz refresh rate and 3 ms response times, as well as Adaptive-Sync to prevent tearing. This panel is not very bright, though, so it might not be ideal for outdoor use. I'd also recommend checking for any color imbalances if you're getting this for creative work, as I've seen some variations with these QHD panels tested over the last months.
An FHD 360Hz panel is also an option with the lower tier configurations of the laptop, and it's similar to the panel we tested in the 2021 Scar 17 over here. That's still a fair quality panel, just lower resolution and only 100% sRGB coverage.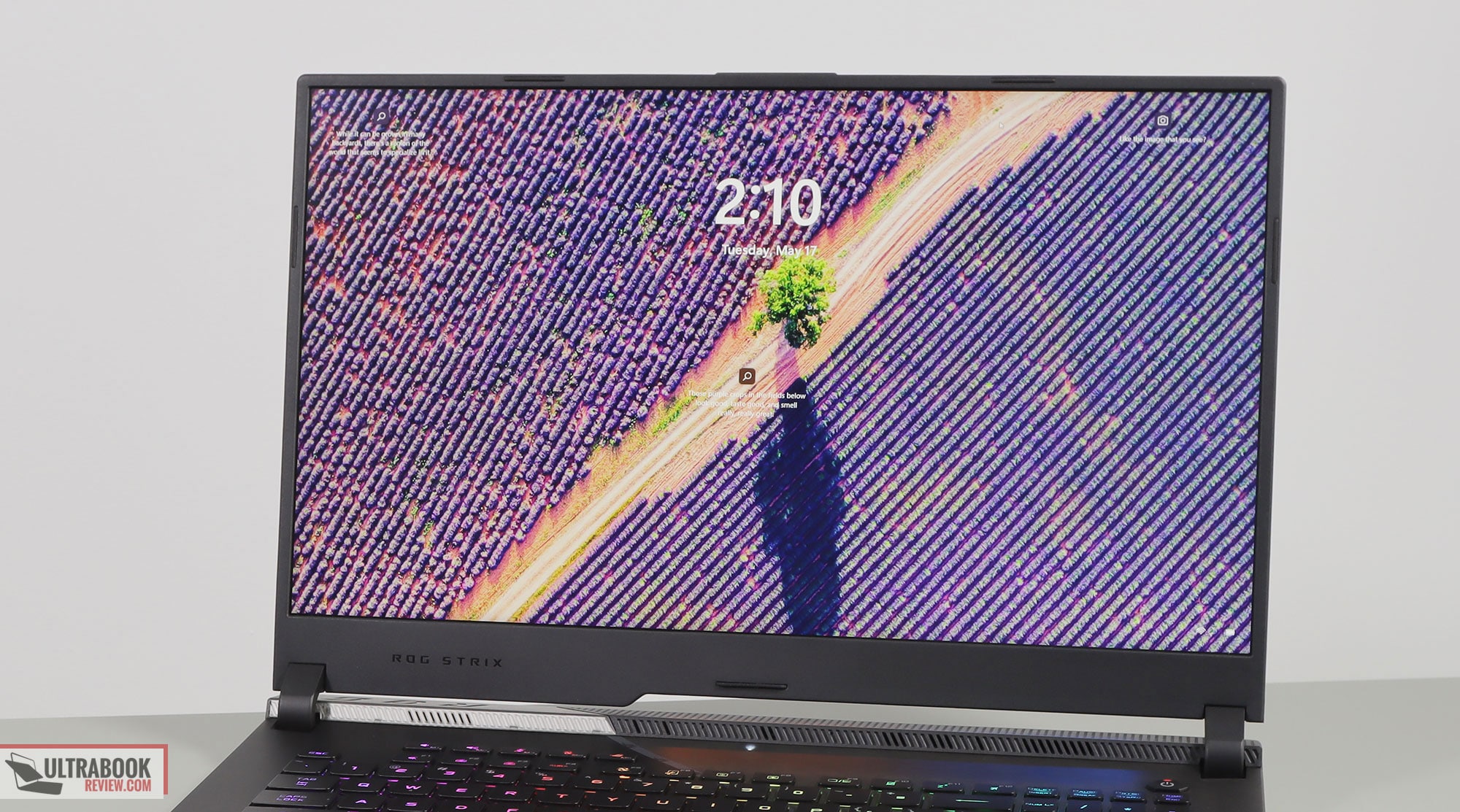 The keyboard is just fine, a regular rubber-dome implementation with good feedback and a good layout. It's pretty much standard for the 17-inch ROG notebook in later years, except for the 2021 model that took a stab at mechanical switches. I'm glad Asus rolled back on that decision. The clickpad works fine as well, but I'd expect you to have a proper mouse hooked up to this kind of a laptop anyway.
You'll find my full impressions of the screens and inputs in the Scar 17 review here.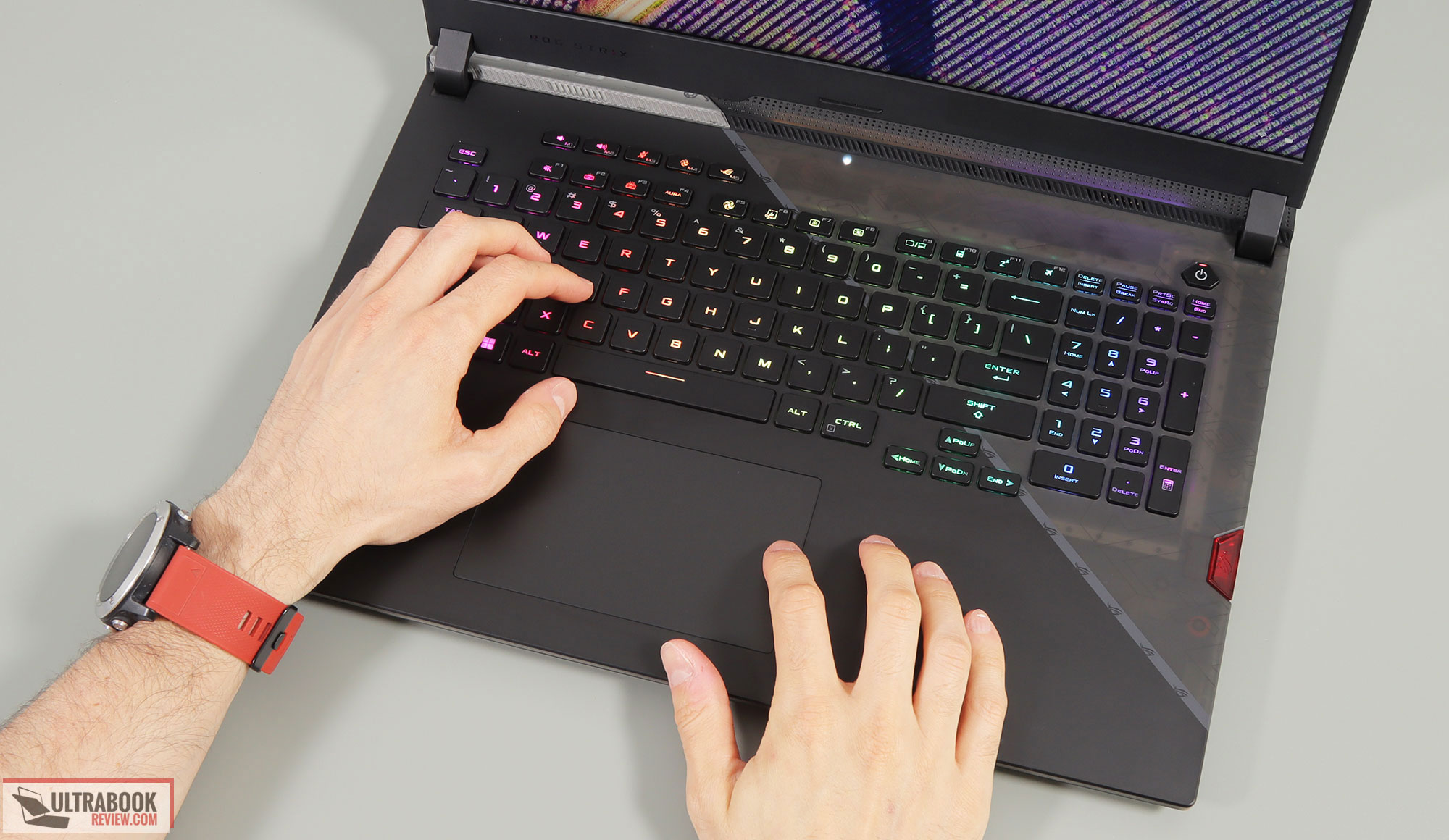 Hardware and performance
This unit here is the higher-specced configuration of the ASUS ROG Strix Scar 17 SE, code name G733CX, built on an Intel Core i9-12950HX processor, 32 GB of DDR5-4800 memory in dual channel, 2x middling SSDs in Raid0 for storage, and dual graphics: the Nvidia RTX 3080Ti dGPU with 16 GB of vRAM and the Intel UHD iGPU integrated within the Intel processor.

However, this is only a preview unit, not a final model, so I cannot get in-depth on the performance findings in the same way as I usually do in our reviews. Stay tuned, a review is coming as well, but I don't have an exact estimate about when I will be getting a review-able sample.
We can talk about the hardware particularities and thermal design.
So first off, the SE is built on an Intel Core i9-12950HX processor, which is the higher-performance 12th-gen Alder Lake mobile i9. It gets 8 Performance Cores and 8 Efficiency Cores, with 24 total Threads. Compared to the Core i9-12900H in the regular Scar 17, the HX offers two more P cores and 4 more Threads.
However, what further makes a difference here are the higher peak and sustained power settings applied to the processor in this design. The regular Scar 17 is a 135W PL1 implementation, with sustained power in demanding loads (Cinebenh loop test) of up to 110W. The Scar 17 SE is a 175W PL2 implementation, with sustained power in the same CPU multi-core stress test at 140+ W. All these combined make up for a significant difference in both peak and sustained CPU performance, of 20-30% over the standard Scar 17. This will matter if you're looking at serious CPU loads in your work applications.
As a side note, the Scar 17 SE is one of the few series offering the i9-12950HX processor, while most other brands went with the i9-12900HX instead. The two are pretty much identical, but the 50X supports vPro, making this laptop potentially more attractive for enterprise work environments.
Furthermore, Asus overclocks the 12950HX by default on this laptop, boosting single-core clocks at 5.2 GHz, while the regular speeds on the 12900HX models only go up to 5.0 GHz. That's not really going to make a significant difference in actual use, but it's worth mentioning to acknowledge the effort put into tweaking this series. On top of these, the HX hardware allows for further overclocking and tweaking in XTU, and the possibilities will vary between the different implementations.
The memory and storage options are similar between the standard and SE models, with 2x DDR5 DIMMs and 2x M.2 gen4 storage slots. For what is worth, other brands mentioned overclocked RAM configurations for their HX laptops, but the Scar 17 SE still gets standard DDR5-4800 memory.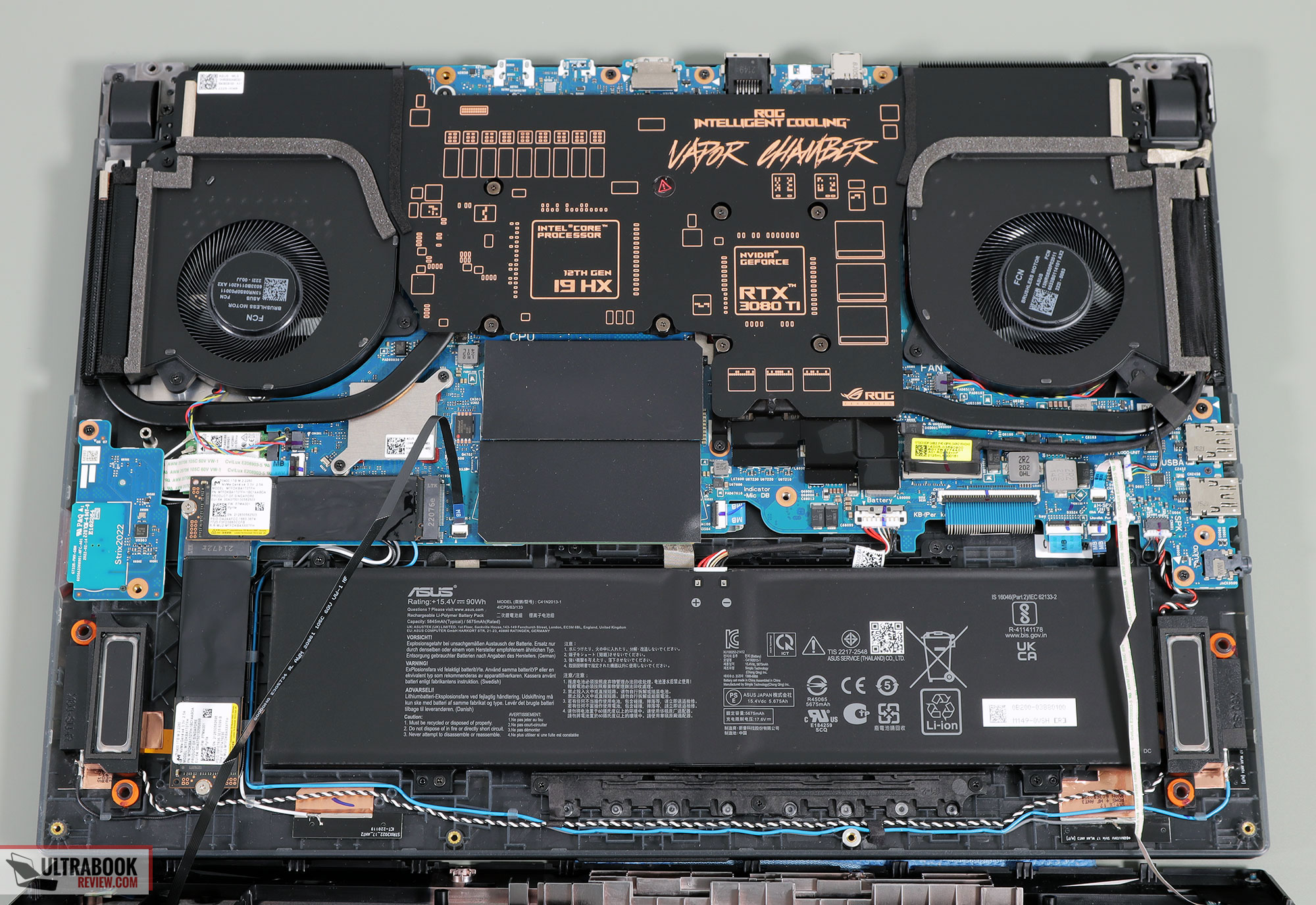 On the GPU side, this configuration is a top-tier RTX 3080Ti with 16 GB of video memory, default overclocking, up to 175 W of power with Dynamic Boost, and a MUX. In comparison, the regular Scar 17 only goes up to 150W of power. Don't expect more than 5-10% performance gains between the two, though. However, take this with a grain of salt, as I haven't revied the 3080Ti regular Scar 17, and I can't draw proper conclusions based on the numbers got with this pre-release Scar 17 SE sample.
For what is worth, expect 13000+ points in 3DMark Time Spy Graphics from this laptop, much like on other similar-powered 3080Ti laptops such as the MSI GE76 Raider. In fact, the Raider and the 2022 Legion 7i are the main competitors for this series, as both are getting Core HX updates and high-power RTX GPU implementations in mid-sized designs (although the Legion is more compact, while the Raider is thicker and heavier).
With these out of the way, let's discuss the power settings and thermal design of the Scar 17 SE. I already mentioned the CPU is capable of 140-160W of sustained power in this chassis, and the GPU goes up to 175W with Dynamic Boost. However, what's even more impressive is the combined CPU+GPU power of up to 240W (65W CPU + 175W GPU) in games, on the Manual profile. The fans need to spin fast for the system to reach those power limits, but the Turbo and Performance modes are going to offer beefy power settings as well, with 48 dB and 40 dB noise limits, respectively.
While externally, the regular and the SE Scars are nearly the same, internally, the motherboard and cooling module have been majorly updated. Extra VRMs are required to allow the higher-sustained power, and a massive vapor-chamber + heatpipes thermal module covers the components and replaces the regular heatpipes on the standard Scar 17. On top of these, Thermal Grizzly's Conductonaut Extreme liquid metal compound is applied on both the CPU and the GPU with this design.
Update: The vapor-chamber cooling is only offered with the RTX 3080Ti configuration of this laptop. The 3070Ti model gets a more standard array of heatpipes, closer to what Asus offers with the regular Scar 17.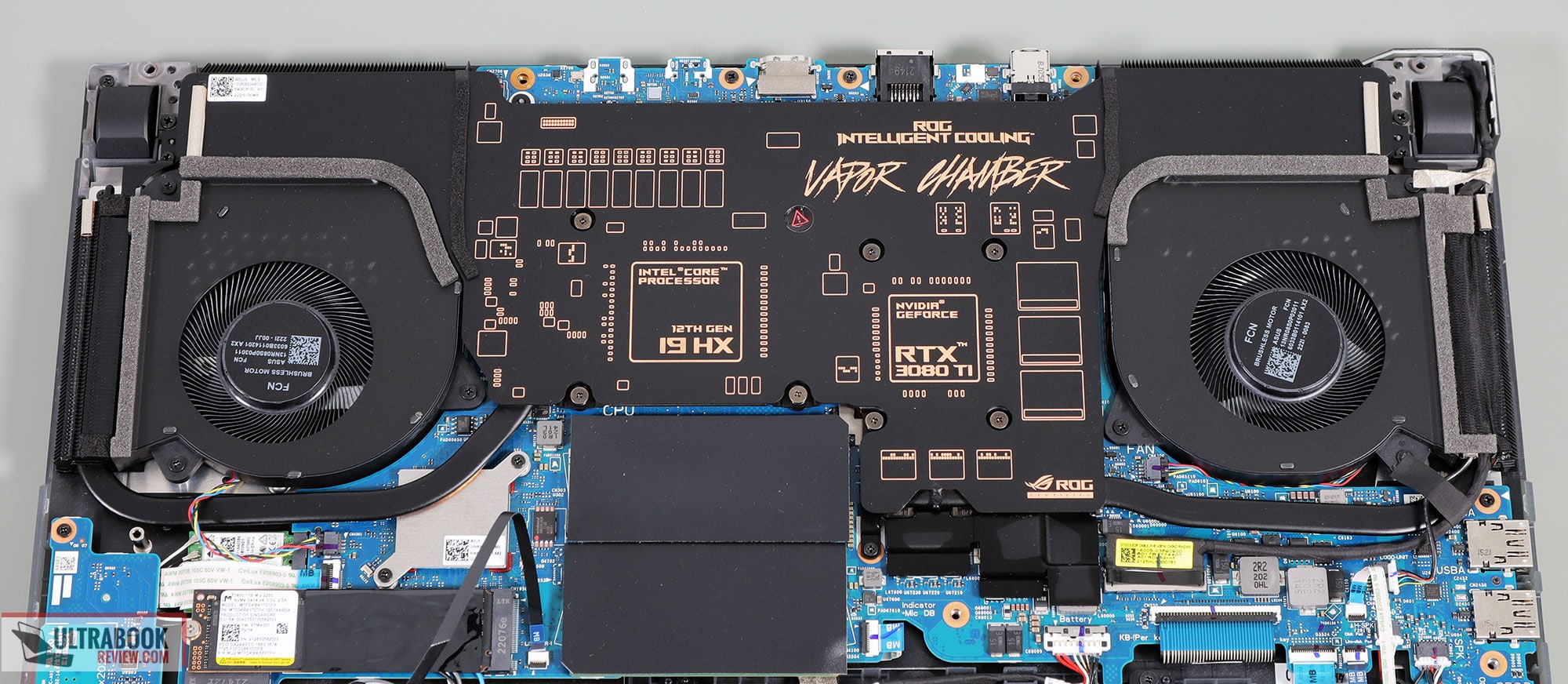 Of course, all these aspects discussed above need to be verified and vouched for by further testing. At this point, all I can say is that the Turbo profile is competitive on this laptop, with good performance in sustained loads/ games and fair temperatures, but still on the higher side at 80+ C. Much like on the regular Scar 17, the intakes are somewhat chocked here by the slim rubber feet implemented on the bottom of the laptop, so bumping up the back in order to improve air circulation underneath the chassis and into the fans makes a noticeable difference on the temperatures and even on the performance, in some cases.
Nonetheless, take these early impressions with a lump of salt, and look for our final review before drawing any conclusions.
Early Conclusions on the ROG Scar 17 Special Edition
All in all, I'm glad Asus are once more competing with the heavyweights in the segment of high-performance laptops.
They didn't revive the massive desktop-replacement G703 series of the past, so the Scar 17 SE is not as powerful as it could have been in that kind of chassis. However, it is a balanced option in this mid-sized design at under 3 kilos, and the kind of product that should better cater to the needs of current potential buyers looking for a high-performance notebook, but without requiring two power bricks and a gym membership to lug around when needed.
I do look further to find find out more about the pricing of the SE series in comparison to the regular Scar 17, and especially in comparison to the competition. ROGs are usually competitively priced in most markets, so hopefully, the Scar 17 SE won't diverge away from it. From what we know right now, the laptop should be available in stores around June 2022, so we'll update once we know more about it.
Anyway, that's about it for this short first look at the 2022 Asus ROG Strix Scar 17 SE series. I'm looking forward to sharing my final thoughts once I get a review unit, and in the meantime, I'd love to hear your impressions and feedback on this update and its competitiveness against the other options in the same segment.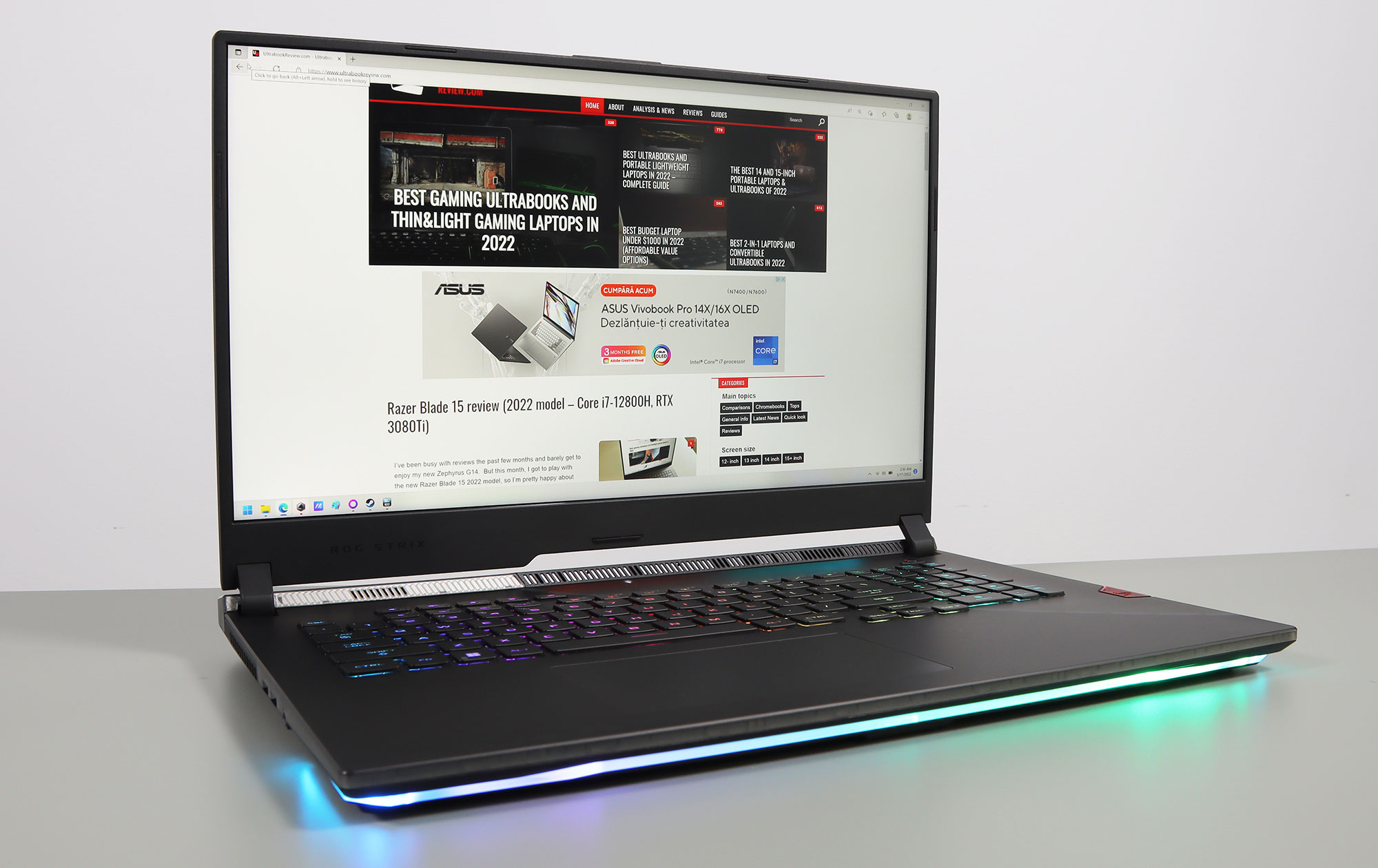 Disclaimer:
Our content is reader-supported. If you buy through some of the links on our site, we may earn a commission.
Terms
.