While the AMD Zen 2 architecture brought Ryzen 9 processors to laptops for the first time, the market now offers a more ample selection of uncompromised and top-performance and gaming notebooks based on the newer Ryzen 9 platforms.
At the time of this update, the best Ryzen 9 laptops are based on the Zen3 Ryzen 5000 series of mobile processors, with the Ryzen 9 5900HX on the most powerful models, and the highly efficient Ryzen 9 5980HS and 5900HS processors available on a handful of portable formats. A Ryzen 9 5980HX has also been announced as the top Ryzen 5000 series mobile option, but that's not yet available in any retail product.
This article will shed some light on the specs and performance of these Ryzen 9 platforms, as well as provide a detailed list of all the laptops built by this sort of hardware.
As a whole, there are mostly two kinds of AMD Ryzen 9 powered laptops out there: those based on the full-power H and HX processors (5900HX, 4900H), with a design TDP of 45+W, and the thinner-and-lighter form-factors based on the HS subseries of Ryzen 9 mobile APUs (5900HS, 4900HS), premium and efficient bins with a TDP of 35+W. Of course, all these can run at various power settings, and their performance varies between each product, as it's highly dependent on the quality of each implementation, the thermal module, and overall design. That's why we've linked our detailed reviews down below where available, with in-depth info on all our findings.
We're not going to thoroughly discuss benchmarks results in this article, but we'll touch on what you should generally expect from the latest Ryzen 9 processors in a bit, with more details on those previously mentioned reviews. And then we'll jump into those detailed lists of the available Ryzen 9 5900HX/5900HS laptops, as well as those models launched in previous years and built on Ryzen 9 4900H/4900HS hardware, which are still available in stores, most likely with good discounts.
So first off, here's a quick specs sheet of the Zen 3 and Zen 2 Ryzen 9 H and HS processors:
Before we move on, here are some performance numbers you should expect for the Ryzen 9 5900HX and 5980HS mobile processors in comparison to the other options out there (these are AMD numbers):
And here are some of our own findings on real products that you can find in stores. First, the Cinebench loop that tests the CPU's sustained multi-thread performance.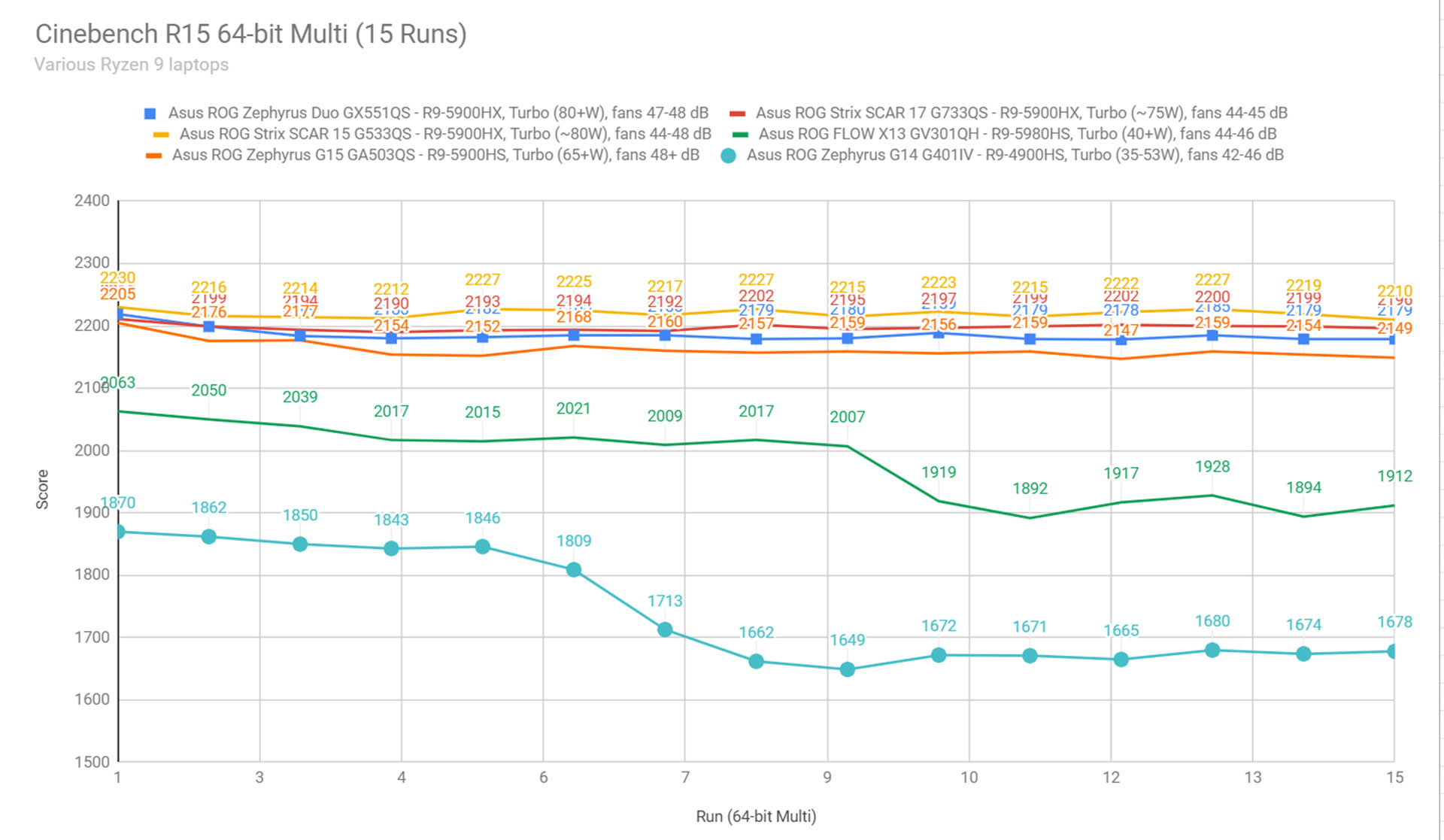 And here are a couple more tests:
This section includes the full-size notebooks built on the 45+W Ryzen 9 5900HX and 4900H hardware platforms. The Ryzen 9 5980HX is not yet available in any retail product, but that might change in the near future.
Also, keep in mind that most of the AMD-based budget and mid-tier gaming laptops such as the Nitro 5, Legion 5, Legion 5 Pro, are not available with Ryzen 9 processors, and only top at AMD Ryzen 7 5800H/ AMD Ryzen 7 4800H configurations, which we've covered in this separate article.
Furthermore, most of the Eluktronics/Schenker/XMG/Aftershock models based on TongFang and Clevo barebone designs are also not available with Ryzen 9 5900HX processors at the time of this update, most likely due to allocation shortages with the current world situation. That should change in the next few months, and I'm especially looking for a Ryzen 9 configuration of the Prometheus 17 model with the 150+W RTX 3080 GPU, currently the most powerful AMD notebook configuration available out there.
I'll also add that while most of these Rzeyn notebooks ship with Nvidia graphics, some models are now available with AMDs Radeon RX 6000M mobile graphics based on RDNA2. Check out this article for more details on the RX 6800M, 6700M, and 6600M chips.
Please keep in mind that we're constantly working on updating these lists and adding new products as they are released, but errors might slip in despite our best efforts to keep things accurate. If you spot any mistake or any product that should be in here and is not, please let us know in the comments section down below.
Furthermore, if you're interested in the wider range of AMD Ryzen 7 5800H and Ryzen 7 4800H mid-range laptops that are available in stores these days, you'll find them listed in this separate detailed article.
We've also reviewed many of the available Ryzen 5000 and 4000 series notebooks here on the site, as well as compared the performance and benchmarks of the several Ryzen H processors and their Intel counterparts in these articles: one and two.