This article is a quick comparison between two configurations of the Asus TUF Gaming A15 mid-tier gaming series based on AMD Ryzen 4000 and Nvidia hardware.
The two versions that we're looking at are the FA506IV with a Ryzen 7 4800H processor and Nvidia RTX 2060 90W graphics, and the FA506IU version with a Ryzen 5 4600H processor and Nvidia GTX 1660Ti graphics.
The second option sells for 200-300 USD/EUR less than the former, at around the 1000 USD/EUR/GBP mark at this point, which should put in on a lot of maps in 2020. However, the A15 FA506IV does not just include a higher-tier processor and graphics chip, but also a larger 90W battery and dual M.2 storage, while the IU model gets a 48 Wh battery, two M.2 slots and a 2.5″ HDD bay.
Furthermore, the A15 FA506IV is only available in a more premium finishing with a matte aluminum lid-cover and a 144 Hz IPS-like display, while the IU can be configured in multiple ways, either with the same screen and aluminum cover, or with a dimmer 60 Hz panel and a black plastic exterior, which is what we have on our review unit. I'd definitely stay away from the 60 Hz panel, and I would prefer the metallic exterior if available, it feels nicer, sturdier, and does a much better job at hiding smudges.
Update: You'll find more about the recent updates in this series from our article on the 2021 TUF Gaming series and the latest TUF Gaming revamp from 2022, which add a more powerful GPUs and MUX to the mix.

With that out of the way, we've reviewed both these laptops in detailed articles here on the site, and in this quick comparison, we're going to quickly touch on the main differences that you should be aware of, starting with a specs sheet.
ASUS TUF Gaming A15 FA506IV
ASUS TUF Gaming A15 FA506IU
Display
15.6-inch, 1920 x 1080 px IPS 144 Hz, 16:9, non-touch, matte, Panda LM156LF-2F01 panel
15.6-inch, 1920 x 1080 px IPS 144 Hz, 16:9, non-touch, matte, Panda LM156LF-2F01 panel
or 15.6-inch, 1920 x 1080 px IPS 60 Hz, 16:9, non-touch, matte, LG LP156WFC-SPD1 panel
Processor
AMD Ryzen 7 4800H, 8C/16T
AMD Ryzen 7 4800H, 8C/16T or Ryzen 45 4600H 6C/12T
Video
AMD Radeon Vega + Nvidia GeForce RTX 2060 90W OC 6GB GDDR6
AMD Radeon Vega + Nvidia GeForce GTX 1660Ti 80W OC 6GB GDDR6
Memory
up to 32 GB DDR4 3200 MHz (2x DIMMs)
up to 32 GB DDR4 3200 MHz (2x DIMMs)
Storage
2x M.2 PCI x4 slots on 90W battery version
2x M.2 PCI x4 slots + 2.5″ HDD bay on 48Wh battery model
Connectivity
Gigabit LAN (Realtek RTL8168/8111), Wireless 5 (Realtek 8822CE) 2×2, Bluetooth 5.0
Ports
2x USB-A 3.2, 1x USB-A 2.0, 1x USB-C gen 2 with DP and data, HDMI 2.0b, LAN, headphone/mic, Kensington Lock
Battery
90 Wh, 230 W power adapter
48 Wh, 180 W power adapter
Size
360 mm or 14.17" (w) x 256 mm or 10.079" (d) x 24.9 mm or .98" (h)
Weight
2.22 kg (4.9 lbs), .80 kg (1.76 lbs) power brick and cables, EU version
2.21 kg (4.9 lbs), .60 kg (1.32 lbs) power brick and cables, EU version
Extras
single-zone RGB backlit keyboard, webcam, stereo speakers
The two A15 variants are identical in terms of design, construction, practicality, and connectivity,  except for the different lid options mentioned earlier. The lower-tier A15 FA506II models the ones most likely to sell in the Bonfire Black variant, also get a slightly redesigned thermal module, though, with a simpler array of heatpipes and without the exhaust cut on the left edge.
They also get the same keyboards with a numeric section and single-zone RGB illumination, as well as the same clickpad with separated mechanical click buttons.

When it comes to those screens, though, both configurations are mostly paired with the 1080p 144 Hz panel, which is not great, but decent for daily use and gaming. Expect around 250-nits of max brightness, 800:1 contrast, 44% AdobeRGB coverage, but no PWM and good uniformity from this Panda panel. Also keep in mind that despite its 144 Hz refresh rate, the panel is rather slow, with GtG response times in the 35-40ms range, so you'll notice a fair amount of ghosting in fast-paced games, the kind you're not going to get with faster 144 Hz displays.
Careful that some A15 FA506IU models might be paired with the 60 Hz LG Philips panel, which is dimmer, slower and poorer-quality, so a deal-breaker for me.

The hardware specs are where the FA506IV steps in front, with the Ryzen 7 8Core processor and the overlooked version of the RTX 2060 graphics, but also the 90W battery and dual M.2 storage. That's especially important since Asus placed the main M.2 slot right next to a heatpipe, so it gets hot. Moving the SSD to the other slot might solve it, as both versions get 2x M.2 compartments, and the IU also gets a 2.5-inch storage bay. Here's a pic of the two side-by-side below.
Both get the same thermal module and dual RAM sticks, with a 90Wh battery on the IV and a smaller 48 Wh battery on the IU. The reminding space is used for that HDD bay. Make sure to carefully look through the specs listings, some A15 FA506IU models might also be configured with a 90W battery.

In fact, the main difference between these two is in the GPU department, with the RTX 2060 90W for the IV and the GTX 1660Ti for the IU. Both can be specced with Ryzen 7 4800H processors, but the IV is also available with a Ryzen 5 4600H, while the IV might get a Ryzen 9 4900H option later on, but is only available with the Ryzen 7 at this point.
Both laptops offer several power-profiles in the Armoury Crate software, with Turbo meant for gaming and heavy loads, as it increases the CPUs' power allocation and overclocks the GPUs.
The RTX 2060 is a higher-power 90W implementation and gets Tensor and RT cores which are not available for the GTX 1660Ti chip. That alone could be enough to push some of your towards the IV variant, and not necessarily for gaming, but rather for demanding applications that can benefit from these extra features or from Nvidia Optix. Here's a quick comparison of the two in some popular benchmarks, but keep in mind these differences would be smaller if both would be running on Ryzen 7 platforms, with just the different Nvidia chips.
First, let's have a look a the Cinebench benchmarks and loop tests results, which run the same CInebench for 15+ times in a loop, in order to log how the performance carries over longer demanding loads.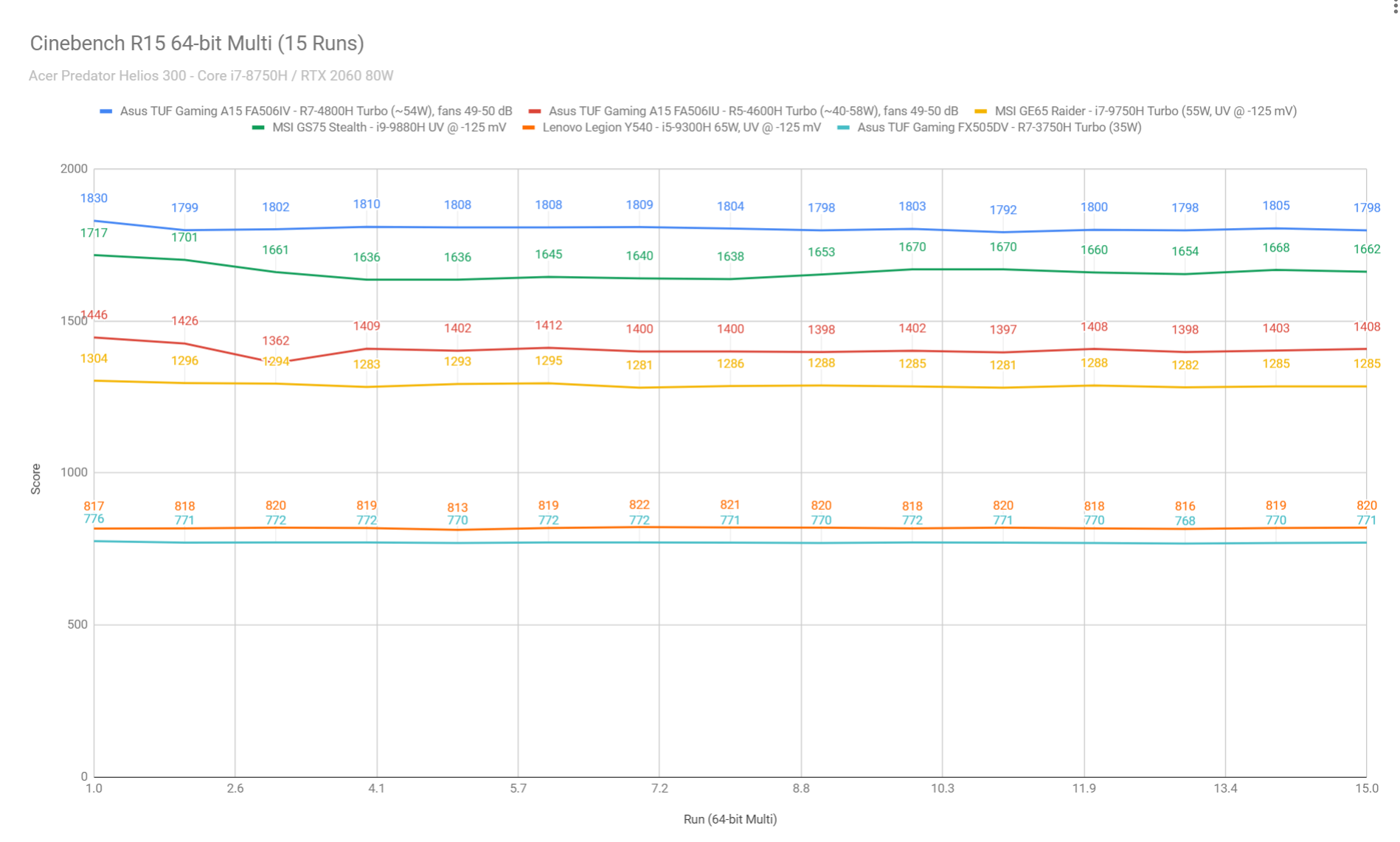 We've added a couple of other platforms for reference, both from Intel and AMD, and the CInebench R15 and R20 results are also available in the following graphs.
These are just some of the benchmarks we've run on these two Asus A15 models in our detailed reviews, and I've included a few others down below, with results from PCMark10, 3DMark, Geekbench, x264/x265 video encoding tests, and Blender.
It comes to no surprise that the Ryzen 7 configuration comes on top in all these tests, with its increased core/thread count and higher clocks. However, the Ryzen 6 4600H platform holds on its own, at within 10-20% of the Ryzen 7 in the various benchmarks, and beating the 6C/12T Intel Core i7-9750H alternative in most cases.
With games, though, the Ryzen 5 + GTX 1660Ti model comes a lot closer to the Ryzen 7 + RTX 2060 configuration. Here's what to expect from the two on the default Turbo mode. I've also thrown in the Ryzen 7 3750H + RTX 2060 90W configuration of the previous TUF FX505DV generation, just to see how far these A15 have come with the newer AMD hardware.
| | | | |
| --- | --- | --- | --- |
| | TUF FA506IU | TUF FX505DV | TUF FA506IV |
| Battlefield V (DX 12, Ultra Preset, Ray-Tracing OFF) | 78-90 fps | 78-84 fps | – |
| Battlefield V (DX 12, Ultra Preset, Ray-Tracing ON, DLSS OFF) | – | 36-48 fps | – |
| Far Cry 5 (DX 11, Ultra Preset, SMAA) | 83 fps | 72 fps | 91 fps |
| Middle Earth: Shadow of Mordor (DX 11, Ultra Preset) | 140 fps | 138 fps | 147 fps |
| Red Dead Redemption 2 (DX 12, Ultra Optimized, TAA) | 59 fps | 57 fps | 69 fps |
| Rise of Tomb Raider (DX 12, Very High Preset, FXAA) | 85 fps | 61 fps | 91 fps |
| Shadow of Tomb Raider (DX 12, Highest Preset, TAA) | 73 fps | 65 fps | 78 fps |
| Strange Brigade (Vulkan, Ultra Preset) | 106 fps | – | 119 fps |
| The Witcher 3: Wild Hunt (DX 11, Ultra Preset, Hairworks On 4) | 58-82 fps | 68-92 fps | 64-98 fps |
Battlefield V, The Witcher 3 – recorded with Fraps/in-game FPS counter in campaign mode;
Far Cry 5, Middle Earth, Strange Brigade, Red Dead Redemption, Tomb Raider games – recorded with the included Benchmark utilities;
Red Dead Optimized profile based on these settings.
The CPU and GPU still run hot on all these laptops, while the fans get fairly noisy. Here's what we measured in FarCry 5 and Witcher 3 on these configurations, with the fans ramping to about 48-50 dB at head level on the A15, and 47-48 dB on the older FX505.
Ryzen 7 4800H + RTX 2060 model: Far Cry 5 (95 CPU, 78 GPU), Witcher 3 (92 CPU, 79 GPU);
Ryzen 5 4600H + GTX 1660Ti model: Far Cry 5 (94 CPU, 78 GPU), Witcher 3 (90 CPU, 75 GPU);
Ryzen 7 3750H + RTX 2060 model: Far Cry 5 (87 CPU, 83 GPU), Witcher 3 (86 CPU, 82 GPU);
This is an issue, as I don't feel comfortable with the CPU constantly running at this sort of temperatures in a computer I would like to keep for a few years. In all fairness, keep in mind our that units are early samples with early BIOS/Software, and future software updates might improve on these temperatures, but I wouldn't hold my breath for it. The A15s inherit their thermal designs from the previous FX505 models and need to cool a more powerful CPU in a slightly smaller chassis, and they just struggle with it.
The bigger issue is that there's no way to tweak or limit those CPUs, since Throttlestop does not work with AMD hardware, and AMD Master has never been supported on mobile platforms. In comparison, Intel platforms can be easily undervolted with XTU, and most benefit from better thermal designs that lead to lower temperatures on this sort of mid-tier configurations. I look forward to testing other AMD Ryzen builds, perhaps in the MSI Bravo or the Lenovo Legion Y550, and I do hope those can run cooler.
Which one to get?
That's why if you're primarily looking at a mid-range gaming laptop, I don't think these Asus TUF A15s are the ones to get, and especially not the more expensive FA506IV model.
At roughly $1200 at the time of this post, this goes about on par with the Acer Predator Helios 300, which is nicer made, runs cooler and offers similar gaming performance from an 80W version of the RTX 2060 chip, as well as a better quality 144 Hz 2ms screen. We'll compare the two in a separate article, but that's just one of the solid alternatives in the same price range.
The A15 wins at the CPU performance and longer battery life with that 90Wh battery, so it's still going to be a solid option for certain buyers, just not as primarily a gaming notebook.
Furthermore, consider that the A15 should drop in price as it ages, and the pricing of these two also varies between regions, which can change the validity of this conclusion. Follow this link for updated prices and configuration at the time you're reading the article.
As for the TUF Gaming FA506IU configuration, that's far more competitively priced at around 1000 USD/EUR, in a price-segment where your other options are normally other plastic laptops with the same kind (or crappier) screens. The Acer Nitro 5 and the Lenovo Legion Y540 come to mind as the fine alternatives to consider here, and both might get an edge in gaming, due to the cooler running hardware and the fact that most games are better optimized for Intel platforms. At the same time, the A15 FA506IU is the multi-thread performance champion even in the Ryzen 5 configuration, if that's what you require, and runs slightly cooler than the higher-tier version in this implementation, so is overall a better value option in this lower-priced tier.
Anyway, that's about it for this quick comparison of these two Asus TUF Gaming A15 FA506IV and FA506IUconfigurations. Head over to our detailed reviews for the more indepth impressions, and I'm looking for your feedback and thoughts on the two in the description section below.
Disclaimer:
Our content is reader-supported. If you buy through some of the links on our site, we may earn a commission.
Terms
.