In this article, we're discussing the single AMD Advantage laptop in the 2023 Asus lineup, the Asus TUF Gaming A16 series.
AMD Advantage laptops are entirely built on AMD CPU and GPU platforms, and this generation bundles AMD Ryzen 7000 Zen4 processors and a selection of AMD Radeon RX graphics chips. They've yet to be officially announced, though, so I can't yet share the exact CPU/GPU series – will have an update in the next few hours.
That aside, AMD Advantage laptops implement the proprietary set of AMD technologies, such as Smartshift, Smart Access Memory, FreeSync etc.
You might find it a little weird that Asus steered away from Advantage designs on their ROG and Zephyrus lineups for this generation, but this TUF is a competitive product.
They didn't skimp on anything important, such as the build quality, display options, the cooling module, the IO, or the size of the battery.
You will, however, have to accept a plastic-made main chassis and a non-RGB keyboard. You're also not getting any RGB elements or advanced speakers here.
All these should translate in competitive pricing, though. And hopefully competitive performance.
For now, I only got to spend time with a preview sample of this TUF Gaming A16 and I'm briefly going to share my thoughts on the design and the ergonomics of this series, as well as have a peek at the internal layout. We can't discuss performance for now, though, as this is not a finalized product, so look for updates in a detailed review later in the year.
2023 Asus TUF Gaming A16 Advantage Edition FA617
Here's the complete specs sheet of the 2023 TUF A16 series. I'm still filling up the blanks on certain aspects, so look for updates in the near future.
2023 Asus TUF Gaming A16 Advantage Edition, FA617 series
Display
16 inch, 16:10, non-touch, matte,
QHD+ 240Hz 3ms response, IPS, 500-nits, 100% DCI-P3
FHD+ 165Hz 7ms response, IPS, 250-nits 7ms, 100% sRGB
Processor
AMD Phoenix Zen4, Ryzen 9 7940HS 8C/16T or
AMD Rembrandt-R Zen3+, Ryzen 7 7735HS 8C/16T

Video
Radeon iGPU + up to Radeon RDNA3-based RX 7700S dGPUs (up to 120W TGP)
with AMD FreeSync Premium, Smartshift, MUX – Smart Access Graphics (on Zen4 CPU configurations)
Memory
up to 32 GB DDR5-4800 (2x DIMMs)
Storage
2x PCIe gen M.2 2280 slots
Connectivity
WiFi 6  2×2 with Bluetooth 5.2
Ports
left: DC-in, LAN, HDMI 2.1, 1x USB-C 4.0 (DP), 1x USB-C gen2 (data, DP, charging), 1x USB-A 3.2 gen1, audio jack
right: 1x USB-A 3.2 gen1, Lock
Battery
90 Wh, up to 280 W power adapter, USB-C charging up to 100W
Size
355 mm or 13.97" (w) x 252 mm or 9.92 (d) x 22.15-26.75 mm or .87-1.05" (h)
Weight
~2.2 kg (4.85 lbs) + charger
Extras
single-zone white keyboard and larger touchpad, 720p webcam with IR, 2x speakers, Black and Sandstorm colors
Design and ergonomics
On the outside, this A16 looks and feels much like the other TUF Gaming models of recent years, with a plastic main chassis and a metal lid.
It does borrow the black theme of the TUF Dash sublineup on our model, but Asus offer this in two color schemes: gray and black, both with black interiors.

I prefer the all-black variant, even if it will be more difficult to keep clean, as the black materials are prone to showing smudges and finger oil. There's a picture of the smudged armrest further down, for reference of what to expect after a few hours of use.
This A16 series slots in between the TUF 15 and 17-inch models in terms of size and weight, as it is a 16-inch laptop and slightly heavier and thicker than the existing 15-inch models, but the same format and footprint.
The overall construction is solid here, even better than on the other TUF models I've tested over the years. The lid feels premium to the touch and is sturdy, but the smooth plastic used for the interior isn't as nice, and the main deck flexes a bit in the middle of the keyboard. Only a little bit, and you won't even notice it with daily use.
On the other hand, practicality is still not perfect with this design. The laptop sits sturdily on the desk thanks to its grippy rubber feet, and the screen can be picked up and adjusted with a single hand, but it only goes back to about 140 degrees.
Plus, I find the front lips and corners rather tall and sharp, aggressive on the wrists, and the bright status LEDs implemented under the screen are simply appalling when using the laptop at night. There's also an always-on light in the power button, which doesn't make any sense either.
As for the IO, that's mostly lined on the left edge all the way to the front, as the back and rear left/right parts are reserved for cooling.
This isn't an ideal layout, but is mostly fine, and you're getting all the needed ports and connectors, with the exception of a card reader. I would have preferred having at least the PSU at the back, in between the radiators.
Display
Asus offers two screen options for this 2023 TUF Gaming A16 lineup, all 16-inch, 16:10, matte and non-touch:
FHD+ 165Hz 7ms with 250+ nits of brightness and 100% sRGB colors;
QHD+ 240Hz 3ms with 500+ nits of brightness and 100% DCI-P3 colors.
I have the FHD option on this sample, and it's OK as long as you're not used to a higher-gamut display and only plan to keep the laptop indoors.
I would recommend paying extra for the QHD+ panel as much as possible, though, it's simply a superior option across the board: brighter, richer, and better suited for games. In fact, it's the same panel that Asus offer on their higher-tier 16-inch ROG laptops, such as the Scar 16, Strix G16 or the Zephyrus M16 and Zephyrus G16. I'm somewhat surprised they're offering the same panel on a TUF.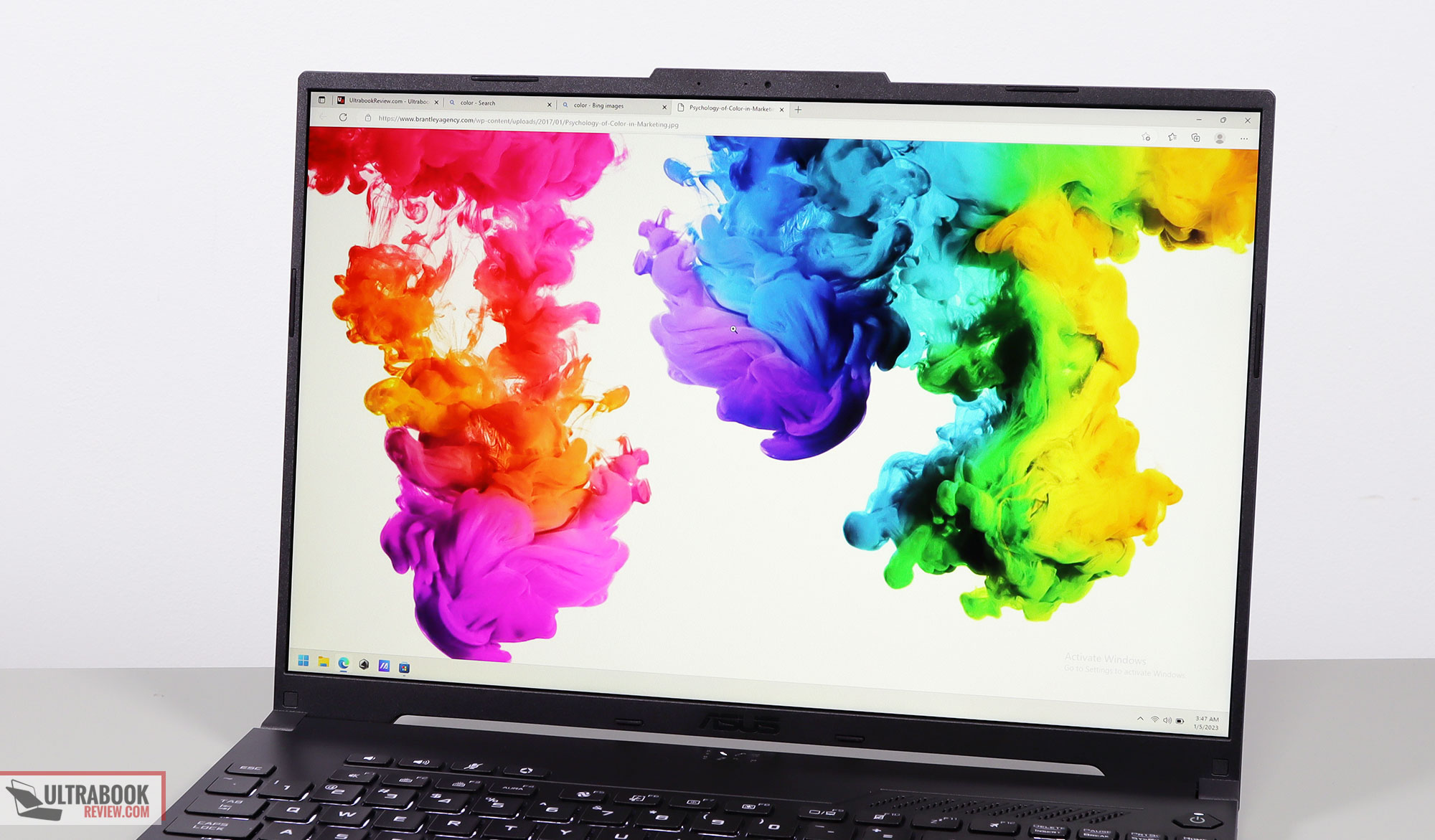 Keyboard and touchpad
The inputs on this TUF Gaming A16 model have been ported from the previous TUF Gaming 15-inch lineups, with a full keyboard with a NumPad section and a spacious touchpad.
However, the keycaps are full-back now, and no longer translucent around the edges. Even so, the light still shines aggressively from underneath these keycaps. These keys are white backlit. The illumination is uniform and bright enough at the maximum level.
Furthermore, this is a fair typer, with alright feedback, quiet actuations, and 1.7 mm of key travel.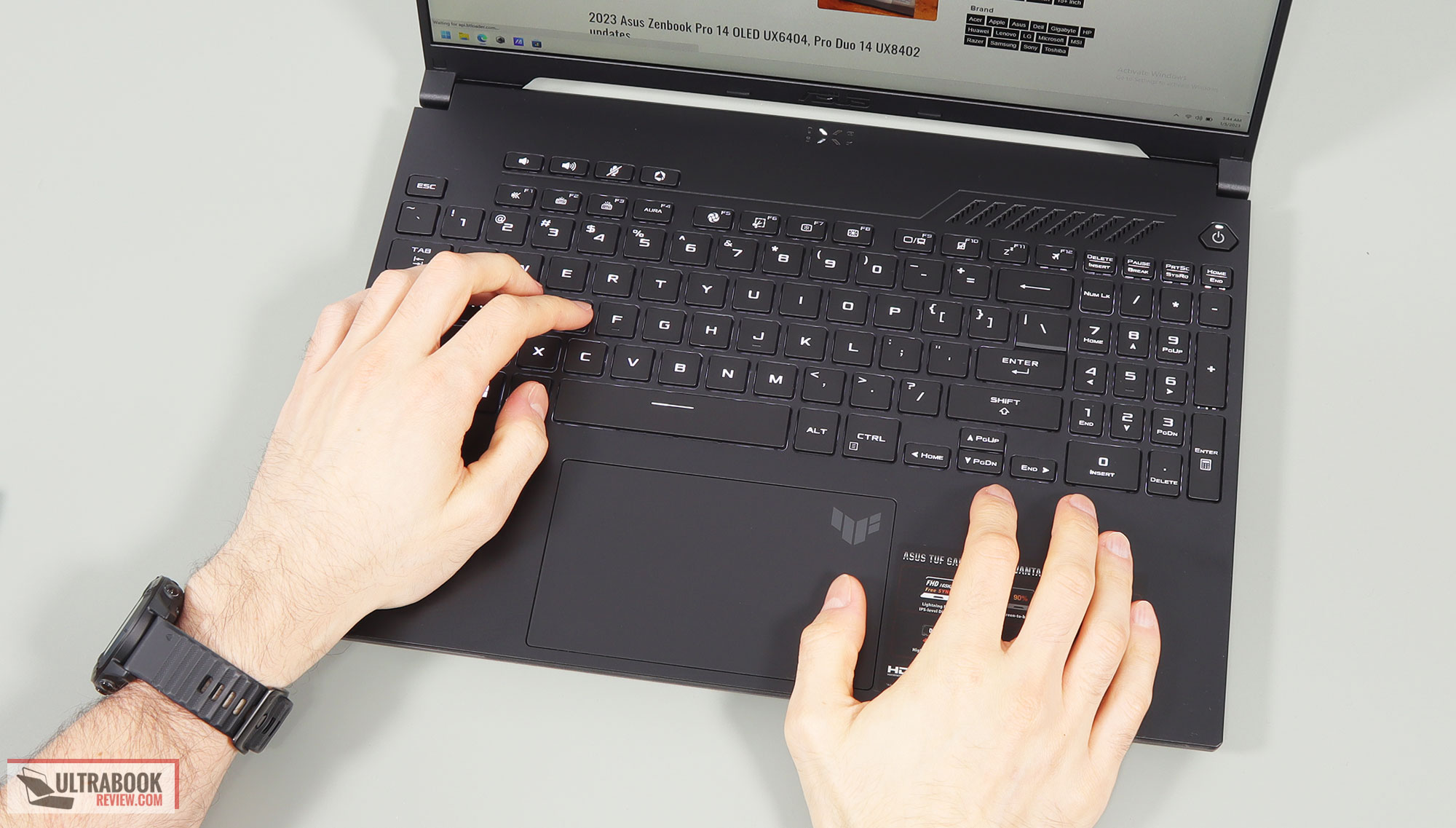 The touchpad is fine as well and handled swipes and gestures smoothly. It's a plastic surface and doesn't feel that solid on this unit, as it rattles with firmer taps – I remember it being sturdier on the other TUF models reviewed recently, so perhaps this is an issue with this preview sample.
As for biometrics, there are still none on this 2023 TUF model.
Hardware specs, internals and performance
This A16 is an AMD Advantage design and thus built on an all-AMD hardware platform, with AMD Ryzen zen4 processors and AMD Radeon dedicated graphics.
It also gets DDR5 memory (2x DIMMs), gen4 storage (2x 2280 slots), fast wireless connectivity, and a 90Wh battery.
Here are the exact configurations that Asus will offer for the TUF Gaming A16 Advantage Edition series:
TUF Gaming A16 FA617XT – AMD Ryzen 9 7940HS + Radeon RX 7700S 120W + QHD display;
TUF Gaming A16 FA617XS – AMD Ryzen 9 7940HS + Radeon RX 7600S 95W + FHD display;
TUF Gaming A16 FA617NS – AMD Ryzen 7 7735HS + Radeon RX 7600S 95W + FHD display.
The Ryzen 9 7940HS is a latest-gen Phoenix processor with Zen4 Cores and the Radeon 780M iGPU, while the Ryzen 7 7735HS is a Rembrandt-R processor with Zen3+ Cores and Radeon 680M iGPU, a refreshment of the Ryzen 9 6900HS platform from last year.
Asus haven't shared much on the power settings of this series, but they do mention up to 120W TGP for the Radeon RX 7700S dGPU. That's low, considering the standard TUF models implement 140W dGPUs (from Nvidia) and this A16 variant is a little thicker and comes with a 280W power brick.
In the meantime, here's a peek at the internal motherboard design and the cooling module. 4-vents, two Arc-Flow fans, and plenty of heatpipes – nothing to complain about. Those speakers are still tiny, though.
This is the exact same motherboard as on the higher-specced configurations of the 15-inch TUF Gaming A15/F15 models, with the only difference being the fact that the heatpipes are painted black.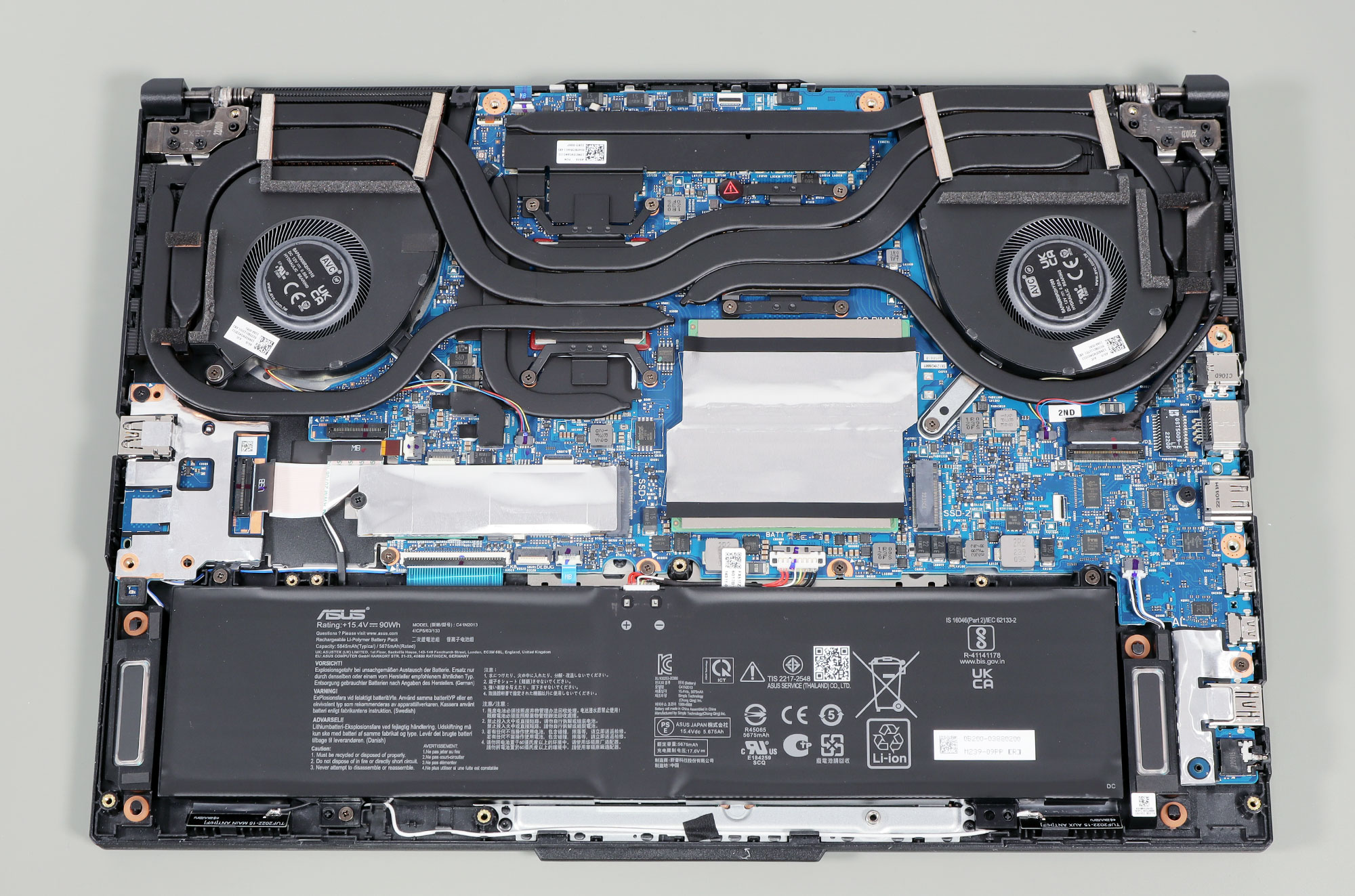 You'll want to prop this on a raiser stand to prevent the fans from choking up with longer sustained gaming sessions and workloads, as the feet leave very little airflow space underneath the chassis.
Asus have also updated the Armoury Crate software for the TUF Series, implementing the Manual mode and their 0DB technology for the Silent profile, which allows the fans to rest idle with very basic use. These were exclusive for the ROG models in the past, and I'm glad they were ported to the affordable TUF Gaming laptop lineups as well.
Availability and brief conclusions
For now, I have no details on the availability and pricing of the A16 series. Will update this section as we know more.
I can't draw any conclusions without knowing what sort of performance we should expect in this product, or whether this will be priced competitively. I am, however, positively impressed by the fact that no corners were cut when it came to the overall build quality, display options, or any of the important features.
Plus, given this is the only AMD Advantage Asus laptop in the 2023 lineup, I'm confident they'll try their best to make this competitive and appease the vocal AMD fans out there, which I'd reckon are already pissed to see the Advantage design demoted to the entry-level TUF Gaming series.
Anyway, that's about it for now. Look for our review in the weeks to come, and in the meantime, get in touch down below and let me know what you think about this Asus TUF Gaming A16 Advantage Edition lineup.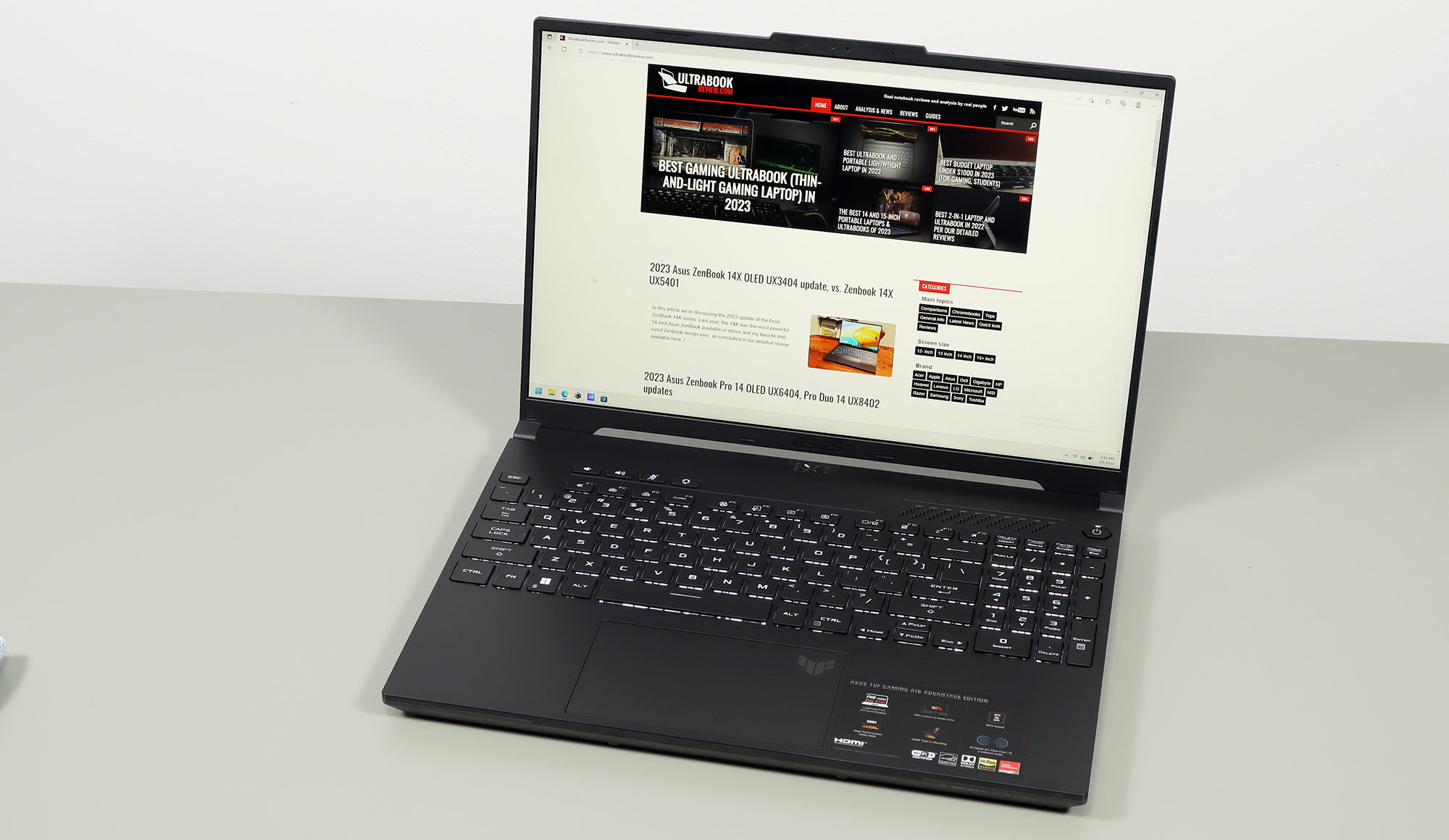 Disclaimer:
Our content is reader-supported. If you buy through some of the links on our site, we may earn a commission.
Terms
.