Asus have recently launched an entire generation of new Vivobook and Zenbook portable laptops, and I'll update you on them in the next few weeks as I get to spend time with them and put them through our tests.
This article touches on what I consider to be one of the most interesting products of this generation, the new Zenbook 14X, which builds on the existing Zenbook 14 models and addresses most of the complaints I had in my reviews. These here are just my first impressions having spent a few days with a pre-release sample of the Zenbook 14X OLED UM5401, and I'll follow up with a proper review in a short time, as the retails units become available in stores over here.
So in just a few words, the Zenbook 14X is a slightly thicker, heavier, and sturdier made update of the previous Zenbook 14s, with more powerful hardware, a completely revamped thermal module to cope with the faster specs, and a touchscreen with a high-resolution 16:10 OLED panel.
Asus also offers a choice of either Intel or AMD hardware. The Intel models are built on Tiger Lake Core U hardware with optional Nvidia MX450 graphics, while the AMD models are built on Ryzen H full-power hardware with Vega graphics, both paired with up to 16 GB of soldered memory and 63 Wh batteries. There are no dGPU options on the AMD models, but those will be available on the 2021 VivoBook Pro 14X OLED series, which we'll cover shortly as well.
Here's a quick specs sheet of the ZenBook 14X, and we'll get in-depth further down.
Specs as previewed – Asus Zenbook 14X series
Asus Zenbook 14X series
Screen
14.0 inch, QHD+ 2560 x 1600 px, 16:10, IPS, matte, non-touch, ~400 nits with 100% DCI-P3 color  or
14.0 inch, 2.8K+ 2880 x 1800 px, 16:10, OLED, glossy, touch, ~400 nits with 100% DCI-P3 color or
14.0 inch, 4K+ 3840 x 2400 px, 16:10, OLED, glossy, touch, ~550 nits with 100% DCI-P3 color
Processor
Intel Tiger Lake, up to Core i7-1165G7, 4C/8T on ZenBook 14X UX5400/UX5401
AMD Ryzen, up to Ryzen 9 5900HX 8C/16T on ZenBook 14X UM5401
Video
Intel Iris Xe with optional Nvidia MX450 on ZenBook 14X UX5400
Radeon Vega on ZenBook 14X UM5401
Memory
up to 16 GB LPDDR4x 4266 MHz (soldered)
Storage
single PCIe x4 SSD, with optional Intel Optane
Connectivity
Wireless 6 (Intel AX200), Bluetooth 5.0, Ethernet with adapter
Ports
1x USB-A 3.2 gen2, 2x USB-C 3.2 (with Thunderbolt 4 on Intel models), HDMI 2.0b, microSD card reader, 3.5 mm jack
Battery
63 Wh, 65 or 100W USB-C charger with quick-charging
Size
311 mm or 12.24" (w) x 221 mm or 8.7" (d) x 16.9 mm or 0.67" (h)
Weight
between 1.3 kg (2.86 lbs) and 1.4 kg (3.1 lbs) + charger
Extras
white backlit keyboard, glass NumberPad or ScreenPad on UX5400 model, HD webcam, stereo bottom speakers, finger-sensor in the power button
There will be a multitude of ZenBook 14X sub-lineups, with Intel or AMD hardware, with or without a ScreenPad, and paired with either a 1600p IPS matte panel or a 2.8K/4K OLED touchscreen. They're listed here, and I'm further explaining them below:
ZenBook 14X UX5400 – Intel-based with optional MX450 graphics, OLED screens, ScreenPad 2.0;
ZenBook 14X UX5401 – review – Intel-based with Iris Xe graphics, IPS or OLED screens, NumberPad;
ZenBook 14X UM5401 – AMD Ryzen H based with Vega graphics, IPS or OLED screens, NumberPad.
Stay close for our future coverage of all these variants.
Update: Our review of the 2022 ZenBook 14X Space Edition model built on a 12th-gen Intel Core platform is available here. And here are my thoughts on the updated 2023 Asus ZenBook 14X UX3404 and 2023 ZenBook Pro 14 UX6604 models.
Design and construction
The overall design of these ZenBook 14X models is consistent with the previous generations, with a dark-gray color and metal used for the entire construction. There's a smooth non-textured finishing on the interior and arm-rest, and the iconic ZenBook finishing on the lid, with the rippled effect coming out of the ASUS logo.
However, the build quality feels to me much sturdier than on the previous generations, with a more rigid screen and no flex or creaks in the main chassis.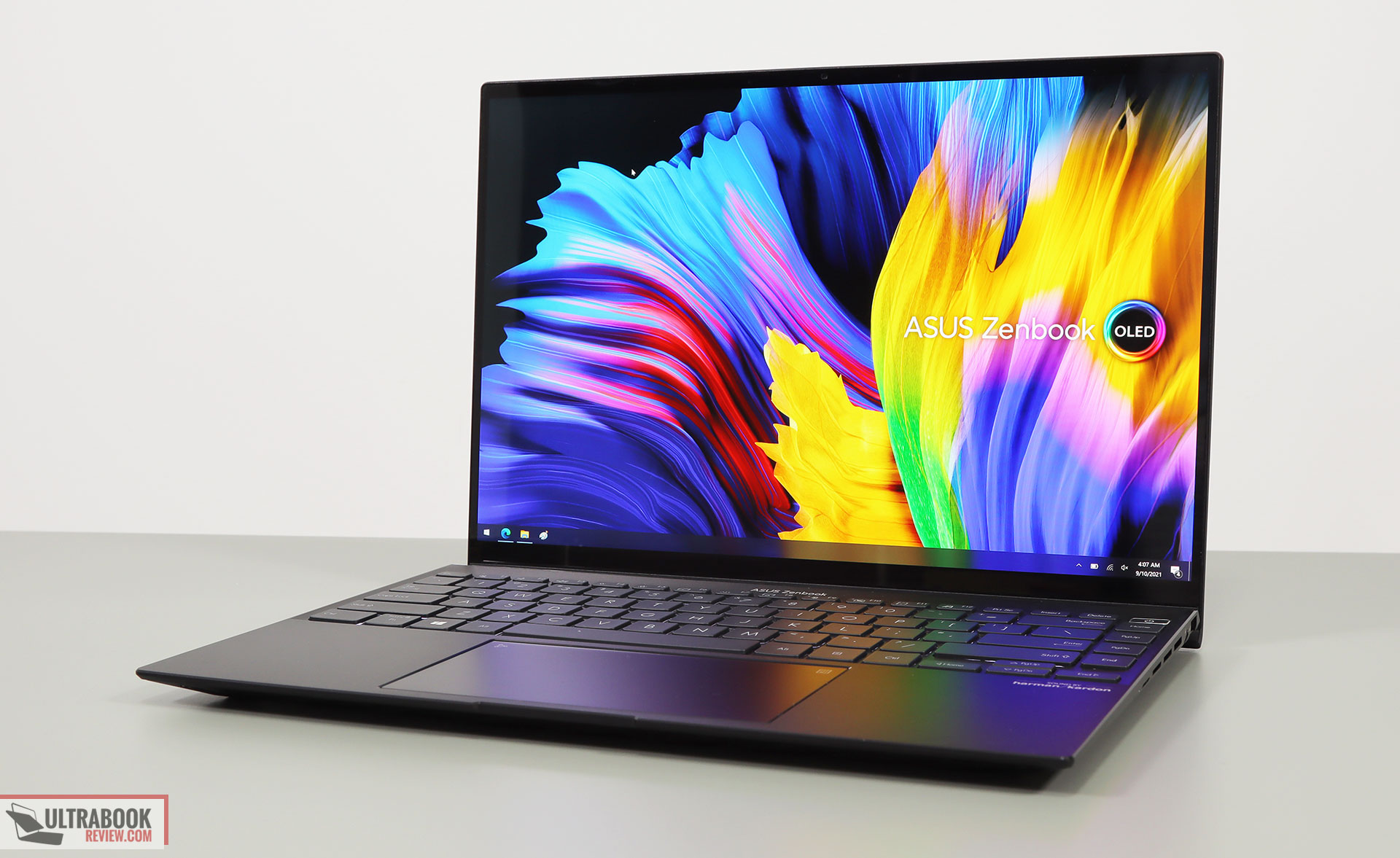 At the same time, the 14X models are also slightly bigger and heavier than the standard ZenBook 14s of the past, by a few mm and .1 to .2 of a kilo, the weight varying based on whether you opt for a matte non-touch or a touch screen with the extra protective glass.
Asus also keep their Ergolift hinge design on these ZenBook 14X ultraportables, with the main chassis lifting up on small rubber feet at the bottom of the screen in order to improve the air-flow into the fans. However, the hinges are much firmer now with these generations and allow the screen to lean back to 180 degrees, both much-welcomed updates over the previous ZenBooks.
On top of that, there's now a taller 16:10 screen on these models, while the regular ZenBook 14 lineups got 16:9 panels. There's still a fair-sized bezel at the bottom and top, enough to accommodate a webcam and to put the screen a bit further away from the components. BTW, I've put up together a detailed comparison between the regular ZenBook 14 models and these new ZenBook 14X launches over here.
Speaking of, internally, the ZenBook 14X laptops are also a complete overhaul, with a more complex dual-fan thermal module that now pushes the hot air to the sides, and not into the screen, as on the previous ZenBook 14s. We're not getting in-depth in this preview article, but I'll have a FLIR image for you further down in the hardware section that better explains these changes.
The internal redesign also leads to a slight revamp of the IO on the sides, and there's almost everything you'll want there, including USB-C Thunderbolt 4 ports (on the Intel models, and regular USB-C with data, video, and charging on the AMD models), a 3.5 mm jack, and full-size USB-A and HDMI ports.
There's also a finger-sensor baked into the updated power button, but no longer an IR camera, just a standard HD webcam. If there's something I'd change, that would be spreading the two USB-C slots on both sides, which would get me the option to plug in and charge the laptop on either side, and not just on the left.
All in all, the Asus ZenBook 14X models are a significant step-up from the previous generation in terms of practicality and ergonomics, while maintaining the premium ZenBook looks. The revamped hinges, internal design, and thermal module, the sturdier build, and the updated IO and biometrics all add up to a much more solid product overall, with the downside being the slight increase in size and weight, both well worth it for what we're getting here.
Keyboard and trackpad
The inputs haven't changed from the previous ZenBook 14s, with the exception of this updated power button that now incorporates a finger-sensor and no longer has an always-on light in it. Finally!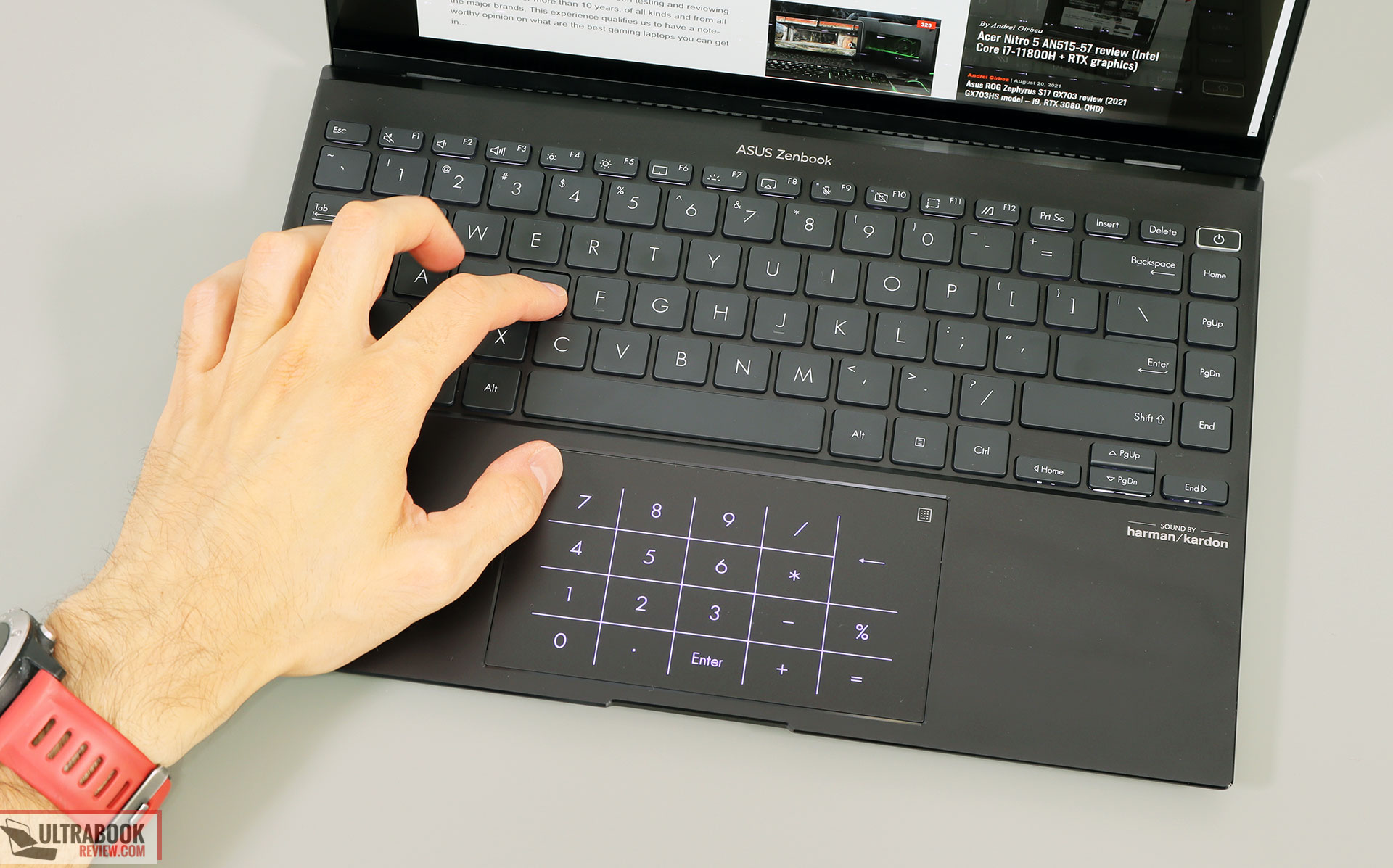 As far as the keyboard goes, I could be wrong, but it seems to me that Asus are sourcing their keyboards from a couple of different vendors, as I've tested two variations over the years: one with firmer feedback and stroke resistance, tested on the Intel-based ZenBook UX425, and another with slightly softer, mushier feedback, experienced on the AMD-based ZenBook UM425. This ZenBook 14X UM5401 preview unit that we have here got the mushier kind of keyboard, which should be fine for most people, but to me did not feel as confident to type on as that other implementation previously tested on the ZenBook UX425.
For now, take this with a grain of salt and I'm going to further look into it once we get the final units. The Intel model is coming first, so I'm curious about my typing impressions with that one.
Feedback aside, this is a white backlit keyboard with three brightness levels to choose from, a Caps Lock indicator, and some light creeping from under some of the keycaps.
For mouse, Asus offers a large glass NumberPad on most ZenBook 14X configurations, or a ScreenPad 2.0 on the ZenBook 14X UX5400 model, which acts as a secondary screen and has been previously implemented on some other ZenBook models. Both are excellent clickpads.
As for biometrics, there's a figner-sensor in the power button that works just fine, but no longer an IR camera.
Screens
Asus offers three screen options for the ZenBook 14X models, and their availability will vary between regions:
14.0 inch, QHD+ 2560 x 1600 px 60 Hz, 16:10, IPS, matte, non-touch, ~400 nits with 100% DCI-P3 color;
14.0 inch, 2.8K+ 2880 x 1800 px 90Hz, 16:10, OLED, glossy, touch, ~400 nits with 100% DCI-P3 color;
14.0 inch, 4K+ 3840 x 2400 px 60 Hz, 16:10, OLED, glossy, touch, ~550 nits with 100% DCI-P3 color.
The 1600p panel is non-glare and non-touch, but might only be an option for the lower-end configurations, as it looks like Asus are aggressively pushing OLED displays with this late-2021 generation of laptops. As a fan of matte screens, I'd still consider that panel, especially for outdoor use, and keep in mind that the non-glare ZenBook 14x variants are also lighter in weight than the touch models.
The OLED panels are all glossy and touch as far as I can tell, although there might be some non-touch models as well. This matters because the touch layer adds in this graininess texture that's quite visible on white background and images, when browsing or editing texts. I've experienced this on past touch OLED laptops and was under the impression that this is a general characteristic of OLED panels, but in the meantime, I also got to test non-touch and touch variants of the same 2.8K OLED panel side by side and noticed that the graininess is only on the touch model.
It's nearly impossible to put this in images, as much as I tried down below, but I'd expect you'll notice it with everyday use. At the same time, I'd also expect to get used to it and ignore it after a while, but I'd still prefer if Asus would somehow find a way around it. I haven't tested OLED touch laptops from other manufacturers, but I think this is standard for all OLED touch laptops available these days, as it's been reported on other devices as well. I also haven't noticed it on the very few non-touch OLED laptops that I tested.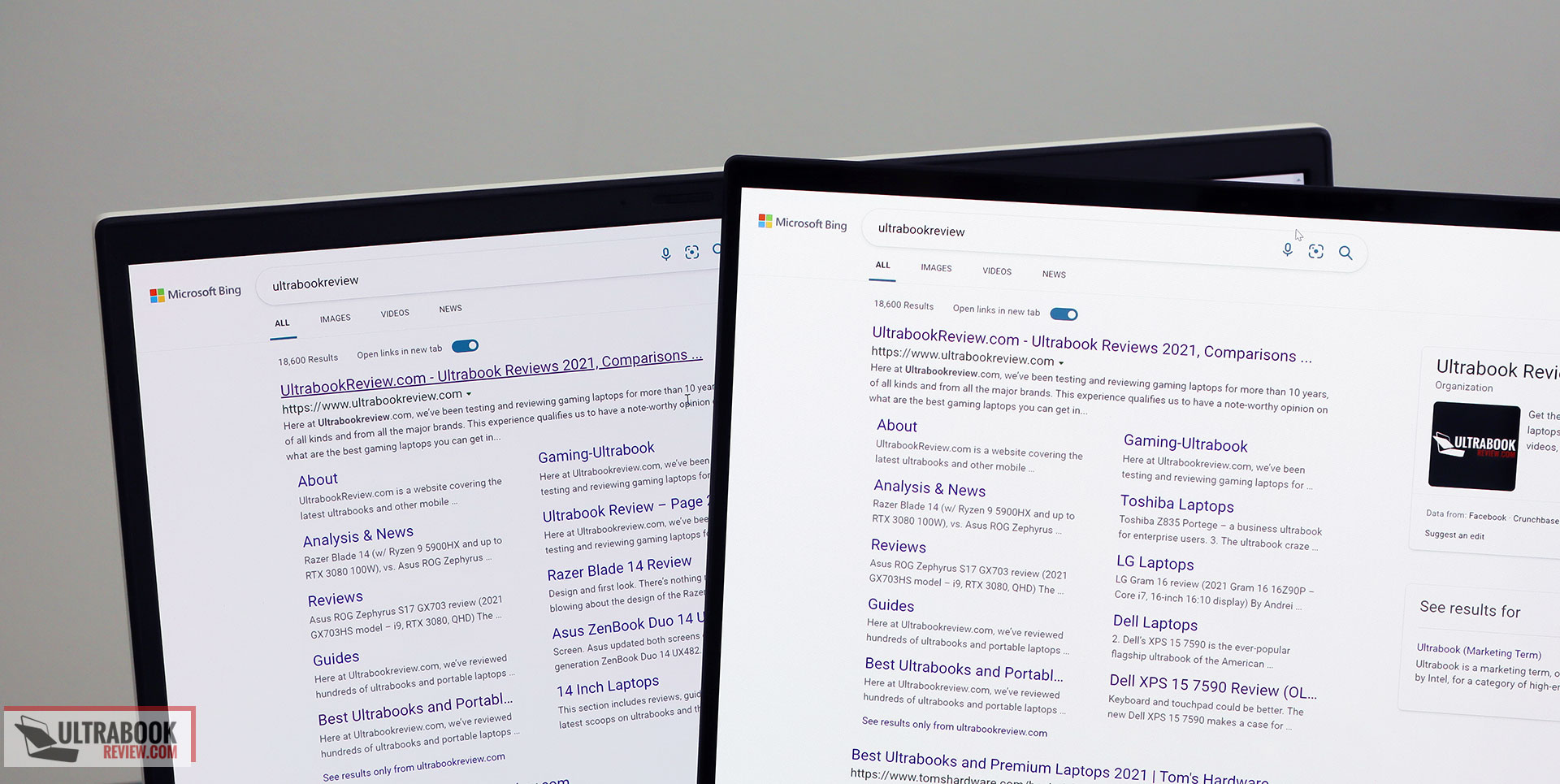 Back to our preview unit, we got the mid-range 2.8K OLED screen on this one, and it's an excellent panel with rich colors and punchy images. This is also 90Hz, unlike most of the 60Hz screens available on 14-inch ultrabooks so far.
Here's what we got in our tests, with an X-Rite i1 Display Pro sensor:
Panel HardwareID: Samsung SDC4154 (ATNA40YK04-0);
Coverage: 100% sRGB, 97.2% Adobe RGB, 99.8% DCI-P3;
Measured gamma: 2.18;
Max brightness in the middle of the screen: 356.84.50 cd/m2 on power;
Min brightness in the middle of the screen: 4.47 cd/m2 on power;
Contrast at max brightness: 1:1;
White point: 6200 K;
Black on max brightness: 0 cd/m2;
PWM: to be discussed.
This is excellent for daily use and even suitable for professional work, as the color and brightness uniformity turned out to be superior to most of the other OLED laptops we've tested in the past. I do expect a degree of variation here, so make sure to properly test your unit if you're getting it for Photoshop or any other color-accurate work.
I'd also mention that the panel gets a Pantone validation out of the box and came fairly well-calibrated, but the Gamma and White Point could be further tweaked. Once calibrated, the max brightness dropped to around 320 nits on our unit, which might not be ideal for outdoor bright-light use on this sort of a glossy screen.
Of course, there's a lot to discuss on the pros and cons of OLED panels on laptops, and that's a topic for a more specific article. All I'll say is that you should do some research and understand the advantages (black, contrast, low blue light emissions, etc) and the potential culprits (such as flickering, black crush, or even burn-in) of OLED laptops before deciding whether they're the way to go for your or not.
Hardware and daily use
As mentioned already Asus offers the ZenBook 14X series in a multitude of configurations, and the one we have here is an entry-level ZenBook 14X UM5401QA model built on an AMD Ryzen 5 5600H processor with Radeon Vega graphics, 8 GB of soldered LPDDR4x memory, and a 512 GB SSD. This is the most affordable UM5401 OLED configuration you'll be able to find in store, and perfectly fine for everyday use, as long as you're OK with only 8 GB of RAM.
Higher tier models can be specced up to a Ryzen 9 5900HX processor, 16 GB of RAM, and various amounts of storage. The RAM is soldered on the motherboard and non-upgradeable, and from what I can tell right now, Asus won't offer configurations with 32 GB of memory, which might have made sense on a Ryzen 9 variant. This way, given the similarities between the Ryzen 7 and 9 processors, I'd argue there's little reason to go for the Ryzen 9 here.
There's also no dGPU option on this ZenBook 14X UM5401 series, you're only getting that on the Intel models, but paired with a lower power Core processor. Instead, this ZenBook 14X drives the Ryzen processor at 42-45W sustained in our early tests on the Performance profile, delivering solid performance in everyday tasks and workloads, within the platforms' capabilities. This is not a finalized sample so I'm not going to share any numbers with you for the time being, but I will say that the performance is a major improvement over the power-limited ZenBook 14 UM425 AMD Ryzen U model tested in the past, which could only do ~19W of sustained power in tests and demanding loads.
That's mostly because this is a higher-power design with a revamped thermal module to match it. On the outside, we're looking at unobstructed intakes on the bottom and wide outputs on the sides, while internally, the cooling module gets two fans and two longer heatpipes, as opposed to the single fan and heatpipe on the previous ZenBook 14 design.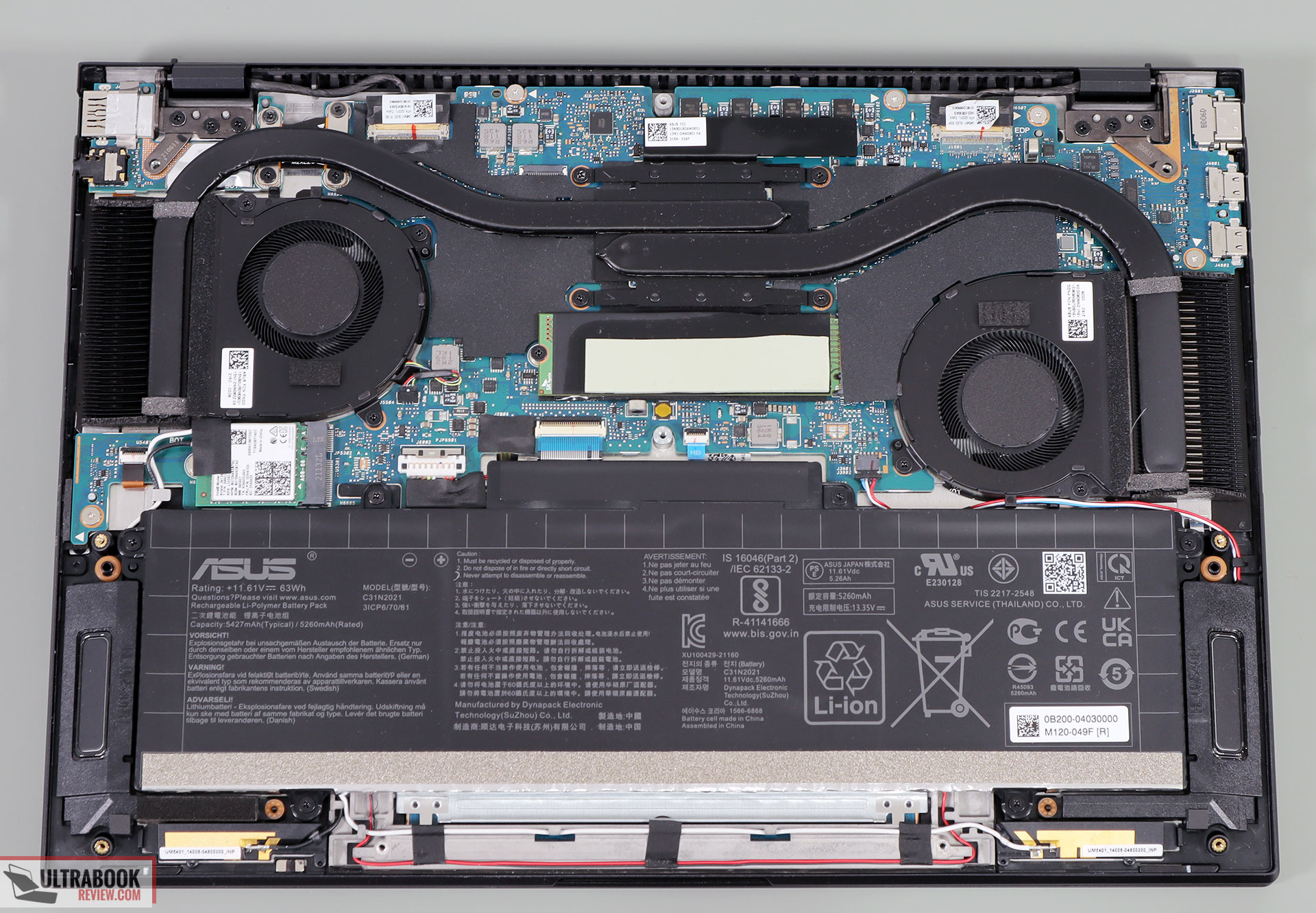 Not sure what to tell about the SSD being that closely positioned to the CPU, but at least they put a thermal pad to spread the heat onto the back panel; our initial tests don't show any thermal or performance issues with the SSD, so this design is most likely fine.
As mentioned, our sample was able to run at 42-45W of sustained power in our CPU tests and smoothly deliver on combined CPU+GPU performance in games and workloads. The fans ramp up to 42-43 dB at head-level on the Performance mode, with average to fairly high internal temperatures, but excellent external temperatures. As shown in the image down below, the hot air is pushed onto the sides with this design and no longer into the screen.

Nonetheless, take these early findings with a lump of salt and look forward to our finalized reviews for more details.
Specs aside, Asus puts some alright, but not amazing, speakers in this laptop, and a large-size 63 Wh battery. The WiFi chip is the same Intel AX200 as before, no changes or complaints there.
Finally, I'll mention that you should expect 5+ hours of daily multitasking and 10+ hours of video on a charge, and probably longer on the IPS screen versions. The laptop charges via USB-C and is paired with a slightly larger and higher-capacity 100W charger, unlike the regular ZenBook 14 models that came with 65W bricks.
Some initial conclusions
Having used this updated Asus ZenBook 14X for the last weeks, I must say I'm impressed. Asus pretty much addressed all my major complaints of the standard ZenBook 14 models of the past: the 14X feels sturdier made, offers stiffer hinges that allow the screen to go flat 180 degrees, offers a much improved thermal design that blows the hot air to the sides, and not into the screen, offers faster hardware, and excellent 16:10 screen options, both matte or touch. Plus a camera, finger-sensor, 3.5 mm jack, etc.
Furthermore, I'm glad Asus offer both Intel and AMD configurations that should cater to many of your needs. If you're after a fast processor, then the AMD-based 14X UM5401 is the one to go for, while if you need a more balanced configuration, the Intel-based 14X UX5401 might be the way to go, especially with the optional MX450 graphics. Too bad there are no 32 GB options, especially on the UM5401 Ryzen 9 configurations.
Update: Here's our detailed review of the ZenBook 14X UX5401 series. I'll update with links to our other reviews and we publish them.
Nonetheless, the ZenBook 14X is still an ultraportable chassis and can only handle so much in terms of performance, even if it's a significant step-up from the previous generation and from what most other ultraportables offer these days. In all fairness, it's also thicker and heavier than most of those options, though. But if you're looking for even more powerful specs within a similar format, check out our review of the Lenovo Yoga Slim 7 Pro and Slim 7i Pro X series, or our review of the Ryzen 7 + RTX 3050Ti configuration of the VivoBook Pro 14X, that's quite a compact puncher. You could also check out the Acer Swift X review, another ultraportable built on Ryzen U with up to RTX 3050Ti graphics, as well as this article that showcases the differences in performance between the RTX 3050Ti and the 3060 and 3070 GPUs.
Of course, pricing and availability are going to play a significant role in the success of this series, and we're still waiting for updates. There's very little I can share, for now, but you should realistically expect the 14X models to sell for a little more than the standard ZenBook 14s. All I know so far is that the top-specced Core i7 + MX450 + 16 GB  + 1TB storage + 2.8K OLED touchscreen + ScreenPad ZenBook 14X UX5400 should sell for around 1600 EUR over here, which is roughly 100 EUR more than a closely-matched variant of the ZenBook 14 UX435EG. That's suggesting the ZenBook 14X series is still going to be competitive, especially once the lower specced models will be available in stores, in the next months, and the AMD models should sell for even less than the Intel variants, based on past experience. We'll know more for the review.
In the meantime, if you're after a powerful Ryzen ultrabook that doesn't break the bank and is available in stores today, then make sure to check out our detailed review of the Asus ZenBook 14 UM425QA series, which can also be specced up to a Ryzen 9 5900HX.
Anyway, that's about it for now on the Asus ZenBook 14X series. Look for our final review for proper conclusions, and in the meantime, I'd love to hear your thoughts on this series and if there's anything in particular that you might want us to test for the review, so get in touch down below.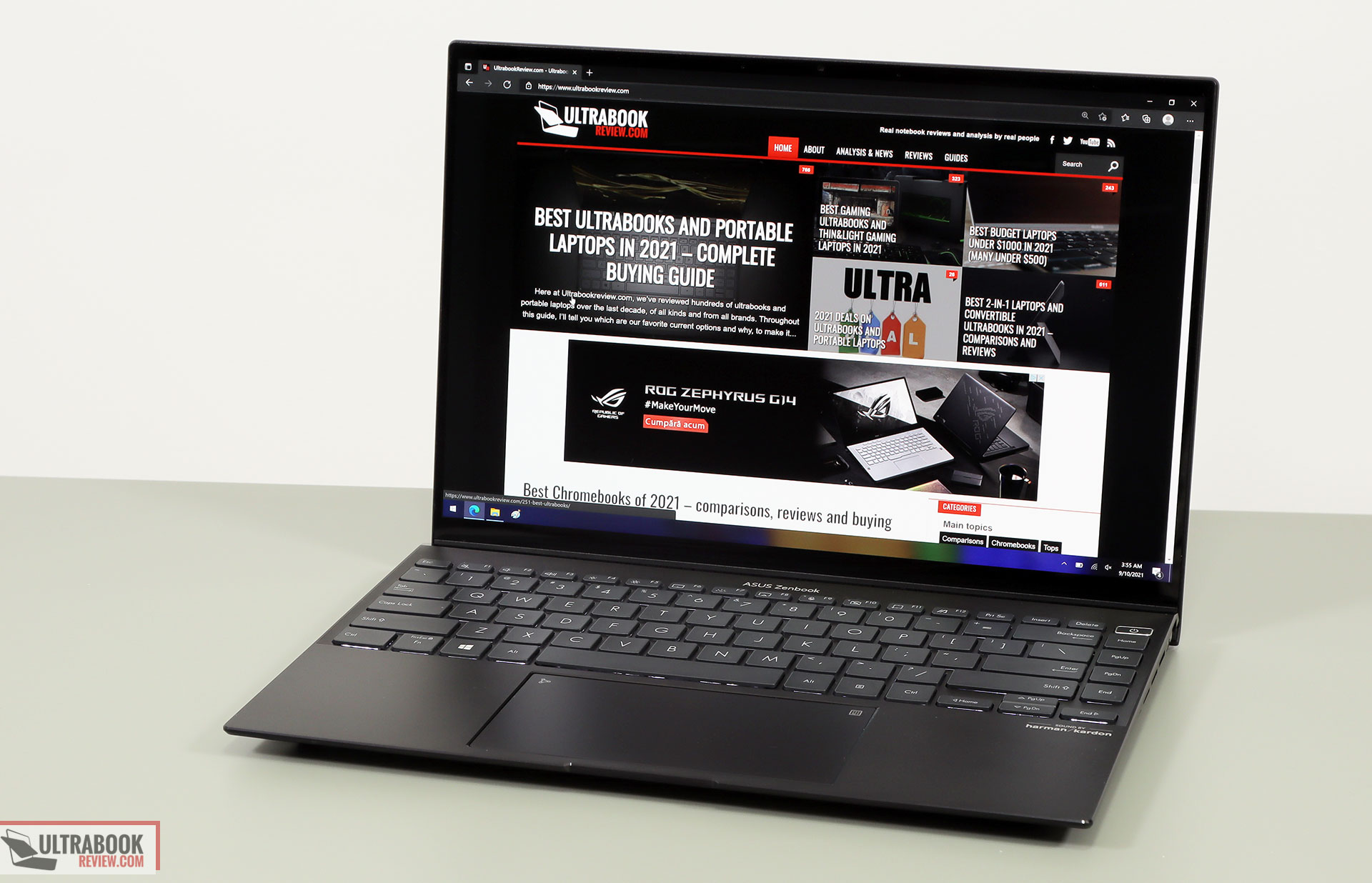 Disclaimer:
Our content is reader-supported. If you buy through some of the links on our site, we may earn a commission.
Terms
.