Getting the right laptop that meets both your requirements and budget is definitely not that simple these days, with so many good options out there. This article will help though.
We update the article several times a year, or when something remarkable comes out. On top of that, if you need more guidance or have any questions, there's a comments section at the end of the post where you can get in touch with me, I do my best to reply to everyone.
Before we proceed you'll have to answer a few quick questions first: "What do I need a portable notebook for?", "How much do I want to spend?","Do I want a touchscreen?", "Do I plan to run any games?" and "What I value most in a laptop?" (the design, the build quality, the screen, the keyboard, the performance, maybe some specific feature). These will help narrow down your options.
With them in mind, you can proceed through this long article that offers our recommendations based on your potential answers to those questions above. There's a quick Table of Contents below that will point you towards the right section of the post; I kept things as simple as possible, with only the best options in each category, but you'll find links towards articles that treat each subtopic in-depth, in case you want to dig further and look into more variants.
Table of contents – best 2018 ultrabooks
This article in split in the following subsections:
Besides these, all our reviews are available in the dedicated section, as well as our various comparisons in this category.
The best traditional ultraportables
The section includes the best regular ultraportable laptops with a traditional clamshell form-factor, a compact build, as well as modern hardware and features.
Dell XPS 13 – the compact option
The XPS 13 has been my personal ultraportable of choice for a few years now (here's my initial review, if interested) and the later updates improved on the original model with updated hardware, a larger battery and better screens, among others.
The 2018 version, the XPS 9370 (reviewed here by me and here by Doug), is more than just a minor update, as Dell made it smaller, thinner and lighter than before, updated the keyboard, improved the cooling and screen, while also adding a IR camera and finger-sensor. At the same time it gets a smaller battery and miniaturized IO, just like most other modern thin-and-lights, and for these reasons you should not completely disconsider the previous XPS 9360, with a bigger battery and full-size IO.
There are a lot of reasons why the XPS 13 is one of the most appreciated laptops in the market. The form-factor with tiny bezels, the build quality, the premium materials, the excellent display options, the performance, the TB3 connectivity or the speakers are some of them.
On the other hand, some aspects like the typing experience could still be improved, and there are also some quirks you just have to accept, like the fact that the case gets hot quickly, some units are plagued by coil whine and the webcam is oddly positioned beneath the screen. Overall though, I feel this laptop is hard to beat for those who value portability, but you should only get it from places that handle returns properly, in case you run into any of the quality-control issues.
The XPS 13 9370 is the latest model at the time of this update, with Kaby Lake-R hardware, Intel UHD 620 graphics, up to 16 GB of RAM, NVMe storage and a 52 Wh battery. The screen choices are a 400-nits FHD glossy non-touch panel, as well as a rich 450-nits UHD touch panel, which is however expensive and takes a toll on battery life.
That's why my recommendation goes primarily towards the mid-range configurations with the Core i5 processor, 8 GB of RAM, 256 GB SSD and the FHD display, listed at around $1200 at the time of this post. Dell also offers a Core i3 model with just 4 GB of RAM, but that's just not enough in this day and age and there's no way to add more, so I'd stay clear of it. If you're after a configuration with 16 GB of RAM, you'll also have to upgrade to the i7 processor and UHD screen, in configurations that go for $1600+, and at this level there are also some other options to consider out there.
Last but not least, don't forget the XPS 13 9360 is also an option and sells for $100-$200 less than the 2018 version.
Follow this link for up-to-date details on the available XPS 13 configurations and potential discounts, or this link for all our reviews of the Dell XPS 13 lines.
Huawei MateBook X Pro – the revolution
This is a rather unique laptop with undeniable value, and there are a lot of reasons why it might suit your needs, and very few why it might not.
Metal is used for the case and not only is the build tough, but this notebooks is also compact, thin and light (around 3 lbs, 1.33 kg). The screen is one of its main selling points: it's a touchscreen with a 3:2 aspect ratio, 3000 x 2000 px resolution and a bright 500-nits IPS panel. It also gets tiny bezels around and even a tiny chin. Then there's the keyboard, which uses short-stroke keys, as expected from such a computer, but actually feels nicer in daily use than other implementations.
As far as performance goes, the MateBook X Pro is built on Intel Core U hardware, with fast storage and an optional Nvidia MX150 Max-Q graphics chip. It's not a gaming laptop by any means, but it can tackle older titles at FHD resolution and medium details, and is faster than the integrated Intel UHD alternative. However, at the time of this review, the MX150 GPU in only bundled with the Core i7 configurations in most regions, and if you'll read through the existing detailed reviews, you'll see that the implemented cooling cannot squeeze the best performance out of the quad-core i7s.
That's why the best value is in the i5 versions of this laptop, available for around $1200, as an excellent all-rounder ultraportable. The higher end configurations include the i7 CPU, MX150 graphics, more RAM and storage for around $1500, which makes them cheaper than similarly specked competitors, and you will find both discounted online. Follow this link for updated prices and configurations at the time you're reading the article.
The MateBook X Pro gets a few more aces down its sleeve: a large 58 Wh battery, a finger-sensor integrated within the power button, a spacious touchpad and decent IO for such a thin device, with both full-size slots and Thunderbolt 3.
As for those reasons why you might want to skip this one, well, it's a thin computer with powerful hardware, so it gets hot and loud with demanding loads, and with the small bezels around the screen, the camera was dumped at the keyboard level. But the less obvious reasons are the potential lack of quality support in case something goes wrong or you end up with a flawed unit, as well as those privacy concerns around the Huawei company, which might spur towards their laptops as well.
These aside though, the MateBook X Pro is a brilliant ultrabook and I sure wish other manufactures will use it as inspiration for their future lines.
Apple MacBook Pros – the multimedia all-rounders
Apple offers both 13 and 15-inch versions of the Macbook Pros. Compared to some of the Windows alternatives, they're not the smallest, the lightest or the most features-stuffed, and they're also quite expensive.
However, people buy them for their excellent craftsmanship, the bright high-resolution Retina screens, the front-facing speakers, the unmatched touchpad experience, the large batteries, the Thunderbolt 3 connectivity and the fast hardware, among others. On top of these, people also buy them in order to use some of the OSX exclusive software, as well as for Apple's excellent support and post-sale services.
The hardware's performance in corroboration with the optimized software make them a good choice for graphics professionals, photographers or editors. The 13-inch MacBook Pros are built on 28W Core U hardware platforms with Intel Iris graphics, fast RAM and storage, and are faster in demanding loads than the Windows options in their class. The 15-inch MacBook Pros on the other hand are hardware-wise mostly on par with the competition, as they're built on the same Core H 45W platforms, but even these will outperform the alternatives in specific tasks due to the optimized software.
These MacBooks are definitely not without flaws though. Potential buyers won't have the choice of a touchscreen, would have to accept a low-travel keyboard and carry adapters in their bags in order to hook peripherals to the TB3-only IO. On top of these, the MacBook Pros are in need of a redesign in order to match the compact and light constructions of some of the Windows alternatives, which are available with much narrower bezels and smaller footprints these days.
And then there's the price. The latest 13-inch MacBook Pro starts at $1799 for the Coffee Lake-U core i5 configurations, and while there are also cheaper options starting at $1299, those are built on slower KabyLake platforms and get little storage. The 15-inch version is even more expensive, starting at $2399 for a Coffee Lake H Core i5 configuration. You will find all these discounted online from time to time, and you can always buy refurbished if you're on a lower budget, but even so the MacBook Pros are expensive and might not be the ideal choice for the average user who doesn't plan to benefit from their specific performance.
Follow these links for up-to-date configurations and prices for the 13-inch MacBook Pro and the 15-inch version at the time you're reading this post.
Best budget: Asus Zenbook lines
If you're after a powerful thin-and-light ultrabook, but you're on a more limited budget, the Asus Zenbook lines should be on your list.
The latest Zenbooks are available with 13, 14 or 15-inch screens, and they're all compact and light, with tiny bezels around the screens, as well as built on the latest Core U hardware platforms.
The 13 and 14 inch models get matte FHD IPS screens, good IO, optional Nvidia MX150 graphics and 50 Wh batteries, while the larger Zenbook UX533 lines are available with a 73 Wh battery, either a matte FHD screen or a UHD Pantone-certified touchscreen, as well as optional Nvidia GTX 1050 Max-Q graphics. The smaller models start at around $900, with the bigger variant selling for $1100 and up, but all of them should get price-cuts down the line.
You'll find more about these Asus Zenbooks in this dedicated article, and we'll update this section with links towards our future reviews when available.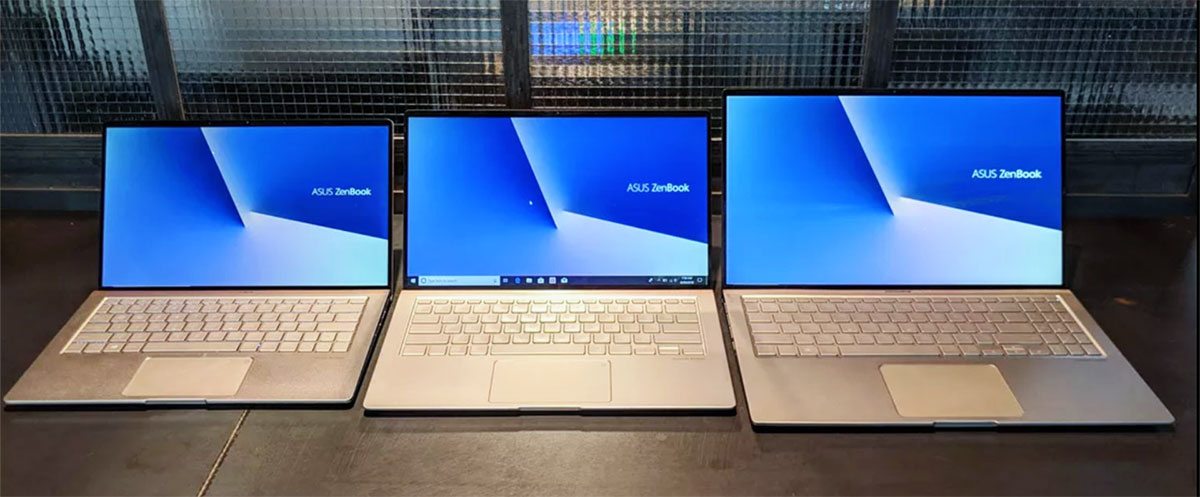 Honorary mentions:
There are a lot of other good clamshell laptops out there, so we also had to list a few other options (in alphabetical order) you could consider. They each have their strong points and quirks, so you should go through our reviews for details, but for some of you they might be smarter picks than our recommendations above:
The best gaming ultraportables
This section is reserved for the most powerful thin-and-light notebooks with at least a mid-level dedicated graphics chip, which are able to run the latest games at FHD resolution and high details. Due to the configurations with quad-core processors, plenty of RAM and multiple storage options, the units in this section are also capable workstations and good options for programmers, graphic artists, engineers and other professionals that require a significant amount of processing power.
We've covered this topic in-depth in a separate detailed article, which you should read, as in here we're only going to summarize some of the existing options.
Razer Blade
If you have around $2000 to spend on a portable gaming laptop, the Razer Blade is your best bet. It's a compact 14-inch laptop that weighs 4.2 lbs and gets a Core i7-6700HQ processor, 16 GB of RAM, NVMe storage and Nvidia GTX 1060 graphics (or GTX 970M on the previous models), plus a 70 Wh battery and a 3200 x 1800 px touchscreen with an IGZO IPS panel. Not much else you can ask from such a device.
The performance is solid, with little throttling, albeit the case does get hot in certain spots under heavy load, the RGB keyboard and glass trackpad are very good as well, and the construction and overall build quality are up there next to the Macbooks or the Surface Book. The GTX 970M chip is capable of pushing most titles with high levels of details, but the Nvidia GTX 1060 configuration is much more powerful and definitely worth getting if you don't mind paying a little extra for the latest models.
One extra feature of the Blade is the Thunderbolt 3 port and the fact that it's directly compatible with the Razer Core, in case you need more graphics power. Our review of the Razer Blade 14 tells you all about its traits and quirks, while our review of the Razer Core lets you know what to expect from this one and how it works when hooked to the Blade.
The Blade 14 starts at $1800 which is a fair price to pay for what it offers, but higher specked configurations can get to around $3000. Follow this link for the latest configurations and potential discounts.
Asus ROG Strix GL502VS and GL502VM
Unlike the two options above, the Asus ROG Strix GL502s are thin (~0.95″) and fairly light (~5.6 lbs) full-size laptops with 15.6-inch screens. The GL502VY is the premium option of the two, with Nvidia GTX 1070 8 GB graphics and G-Sync support, while the GL502VM is the more affordable option with Nvidia GTX 1060 6 GB graphics. Some previous versions are also available, the GL502VT (Nvidia 970M graphics) and GL502VY (Nvidia 980M graphics), but given how the Pascal chips are so much faster than the Maswell counterparts, I'd only look at the newer models if interested in solid gaming performance.
The two share the same design lines, decent build quality, excellent keyboard and solid IO (no Thunderbolt 3 port though). They also include the same Core i7-6700HQ processor, dual-storage options and 64 Wh battery, but the GL502VS gets up to 32 GB of RAM (2xDIMMs), while the GL502VM is limited to only 24 GB of RAM (8 GB soldered and one extra DIMM).
The screen options are different too, although they might seem the same on a first glance, as both are FHD IPS panels. However, the GL502VS gets a wider-gamut display with G-Sync support, while the GL502VM lacks G-Sync.
As expected, the GL502VS fares better in games and, surprisingly, runs a little cooler, but at the same time noisier. The GTX 1060 equipped GL502VM does well in most titles too and its cooling system is less aggressive, which leads to higher back-case temperatures.
The Asus ROG Strix GL502VM is also the more affordable version of the two, starting at around $1300 (more details and potential discounts available here). The GL502VS on the other hand goes for $1900 an up, and you'll find more details about it and up-to-date prices by following this link.
A 17-inch version of the GL502VM is also available, in case you want a bigger screen, and you can find our full review of the ROG Strix GL702 over here.
Budget and compact: Asus Zenbook UX303UB and UX310UQ

The Zenbook UX303UB is a 13-inch ultraportable with Nvidia GT 940M dedicated graphics. It's not as powerful as the options above and it's not very cheap either, but it's much more compact and portable.
It goes for around $1200 at the time of this update, but it's sells for less on various deals, so you might want to keep a close eye on it. For that kind of money you're getting a metallic construction, a decent backlit keyboard, a QHD+ touchscreen or a FHD matte panel in some regions, a Core i7-6500U processor, 12 GB of RAM, a 512 GB SSD, Nvidia 940M graphics and a 50 Wh battery.
We reviewed a previous version here on the site, similar to the UX303UB in all ways except for the fact that the newer model gets upgraded hardware and an improved screen.
The Zenbook UX310UQ is the updated version of the UX303UB, with a slightly thinner and lighter body, Skylake hardware and Nvidia GT 940MX graphics. It's not yet available in stores at the time of this update, but you can follow this link for details on configurations and prices when you're reading this post.
Honorary mentions:
Follow this link for a more thorough selection of gaming ultraportables and check out this post for a list of the best full-size gaming notebooks you can get these days.
The best all-round (multimedia) laptops
An all-round laptop is the choice you make when you want a computer that's well built, gets fast hardware, a good keyboard and a good screen, and can tackle all sorts of daily use demands, from editing documents to browsing, to video content and games.
Below you'll find my favorite portable all-round laptops, or multimedia laptops as they are also called. I've included units with large IPS screens, fast processors and mid-range dedicated graphics, and also a few affordable options for the budget oriented buyers among you.
Acer Aspire V15 and V17 Nitro – the balanced choices
Acer's Aspire Nitros Black Edition strike that difficult balance between features, specs, looks, build quality and price, that's why they sit at the top of this section.
Acer offers two series, the V15 Nitro with a 15.6-inch screen and a larger V17 Nitro with a 17.3-inch display, and they share most of their traits, including the aesthetic lines, the black rubbery case finishing, the chiclet keyboard and most of the hardware specs.
The two are motorized by Intel HQ processors and Nvidia GTX 960M 4GB graphics, with up to 32 GB of RAM and various types of storage, bundle a similar 52 Wh battery and can be paired with either FHD or UHD matte non-touch displays. The batteries are a little small, thus these Nitros won't last as long on a charge as other options, but that aside there are very few reasons to complain, as you'll find out from our detailed reviews of both the V15 Nitro and the V17 Nitro.
The 15-inch version starts at around $900 for a Core i5 configuration with SSD storage and the FHD screen (check this link for up-to-date prices), while the 17-inch model is about $50 more expensive, making the V17 Nitro an excellent choice for those who want a large screen notebook. Follow this link for more details.
Dell XPS 15 – the premium option
The XPS 15 is one of the most compact and lightest (4.4 lbs) 15-inch laptops available these days, but it's also rather expensive, so it's only an offer for those who value its premium aesthetics and build quality, its narrow screen bezel and top features.
This laptop is available in a few different versions, all offering Core i3, i5 or i7 HQ processors, up to 32 GB of RAM and Nvidia GTX 960M 2GB graphics. Users have the choice between a FHD matte screen or the an UHD touchscreen, and either an 84 Wh battery or a smaller 56 Wh battery plus a 2.5″ storage bay.
Overall the XPS 15 is a solid notebook, albeit there are still some issues buyers might run into, as noted in our review. As an extra note, this laptop gets a Thunderbolt 3 port and works fairly well with the Razer Core.
The base versions of the XPS 15 starts at $999 on Dell's website, for the non-touch screen, a Core i3 processor, no dedicated graphics, 8 GB of RAM, a regular HDD and the 56 Wh battery. The laptop gets really expensive once you speck it up though, so expect to pay around $1700-$2000 for the Core i7 processor, GTX 960M graphics, the UHD display, 16 GB of RAM, SSD storage and the 84 Wh battery. That's pricey, but the XPS 15 is not an ordinary notebook and there's no surprise Dell charges premium for it.
Be aware that you'll find most configurations discounted online, so dig for deals if interested in one of these.
Dell Inspiron 7559 – the best-buy option
The Inspiron 7559 is a more down-to-earth laptop with an excellent price for what it has to offer. It doesn't get the same choice in materials, the build quality or the narrow bezel of the XPS 15, but for a mid-range device it's actually built well and doesn't look bad either.
Roughly $850 will get you a Core i5 HQ processor, 8 GB of RAM, a 256 GB SSD, Nvidia GTX 960M 4GB graphics, a FHD IPS matte screen and a 74 Wh battery, a configuration that can handle well daily tasks, demanding chores and gaming. On the other hand, compared to other similarly configured 15-inchers, the Inspiron 15 7559 is heavier (5.8 lbs), bulkier and gets a mushy keyboard, but its also more affordable and that's why it's so popular.
Follow this link for more details, user reviews and updated prices at the time you're reading this post.
Best budget: Acer Aspire E15

The Aspire E15 is a 15-inch notebook that sells for around $500 to $600. It gets an all plastic body available in dark-gray or white that weighs 4.8 lbs (2.2 kg), and its keyboard is not backlit, but most other features are solid for the price.
The hardware includes Core U Skylake processors, 8 GB of RAM, a 256 GB SSD and an extra 1 TB HDD for mass storage, Nvidia GT 940MX graphics, a 42 Wh battery and an IPS matte FHD screen. That's going to be fast enough for daily chores and will be able to handle some gaming as well, with low to medium details. If you opt for a version without SSD storage you'll actually find the Aspire E15 for under $500, but the SSD greatly boosts the performance so you should keep it.
Follow this link for more details on the available configurations and their prices.
Honorary mentions:
Asus K501UW and K501UX – configurations and prices – this one offers Skylake Core U hardware, an IPS screen and Nvidia GTX 950M or 960M graphics for under $850, making it a solid all-rounder of those of you that value battery life or can't quite touch the options above;
Asus ROG GL552VW – review – configurations and prices – the ROG GL552VW offers solid specs and has an excellent price, but it's rather chunky and heavy, so not the most portable or durable built option out there;
Lenovo Yoga 710 14 – configurations and prices – the Yoga 710 14 is a 2-in-1 convertible with capable hardware, a good IPS screen and Nvidia GT 940MX graphics. You will pay premium for the form factor, but if you want a portable all-round hybrid with a fair price, this is the one.
A larger list of full-size portable laptops is available over here, if you're interested in more options.
The best 2-in-1 convertibles
Hybrids are devices that can be used as classic notebooks, as tablets, or in a few other modes in-between. All offer a touchscreen and the good ones are mostly available in two form factors, either a notebook with a 360-degrees convertible display or a tablet with and attachable keyboard folio/dock. You'll find my top recommendations below, and you can also read my detailed guide on 2-in-1 ultrabooks over here for a larger selection of options.
HP Spectre x360 – the best premium ultraportable
There are quite a few premium 2-in-1s on the market as of the second half of 2017, but the HP Spectre x360 13-inch stands out of the crowd with excellent features, a thin and light build and no major flaws or quality control issues.
We covered the latest version in depth in this review, but in very few words, it's a convertible with a FHD IPS 13-inch touchscreen and an N-Trig digitizer (which means only some pens are compatible), a good backlit keyboard, modern hardware and a large 58 Wh battery. Despite all these, this latest X360 13 is more compact than the previous versions, as you can tell by the small bezels around the screen, as well as lighter (2.85 lbs / 1.3 kg).
The IO was somewhat sacrificed in order to make this build possible, as you'll need adapters for the USB-C Thunderbolt 3 connectors on the sides, but that's pretty standard for ultraportables these days. The small footprint and thin profile also lead to warm case temperatures and a fan active all the time with everyday multitasking, which is again something you'll just have to accept when aiming for a computer with this kind of aesthetics.
The 2017 13-inch Spectre x360 (look for the model name: x360 13-ACxxx) starts at around $1000 for a mid-range configuration with a Core i5 U CPU, 8 GB of RAM and 256 GB of storage. Core i7 models with more RAM and extra storage go for around $1200-$1300, but you can find all of these on sale from time to time. Follow this link for more details and potential discounts.
HP also offers a larger variant of the Spectre x360, with a 15.6-inch QHD or UHD display. This one shares most traits with the 13-inch model, but packs a larger 64.5 Wh battery, a set of four speakers flanking the keyboard and pushing sound upwards, is heavier (4.1 lbs) and more expensive, with a mid-level configuration going for around $1150.
Asus Zenbook UX360CA – the best 2-in-1 for average consumers
If you want a compact 2-in-1 laptop for daily use and don't have $1000 to spend on the Spectre X360, this Zenbook should be on your list.
It gets a metallic construction, is thin and light (2.9 lbs), packs a good IPS touchscreen, nice keyboard and capable hardware. However, the keyboard lacks backlighning and the hardware inside is an Intel Core M platform, which mean is fanless, but only fast enough for casual activities and daily tasks like browsing, watching movies, listening to music, editing documents, etc. Multitasking, demanding software and games on the other hand are not something this unit will be able to crunch through.
As long as you're fine with these particularities of the Core M hardware, the non-backlit keyboard and the lack of support for active pens, the Zenbook UX360CA could be for you. A latest generation Core m3 configuration with 8 GB of RAM and 256 GB of SSD storage sells for under $600, while versions with a Core i5 Y processor and 512 GB SSD go for around $700. Follow the link bellow for more details and potential discounts, and this one for our detailed review of the Zenbook Flip UX360CA.
Microsoft Surface Book – the most complete hybrid
The Surface Book is called the "ultimate hybrid" by many established venues and I personally consider it to be the most complete hybrid out there, but it's only a suggestion for those on a unlimited budget, as it can get TERRIBLY expensive.
Update: As of late 2016 there's also an updated version of the Surface Book, with beefier graphics (Nvidia GTX 965M), a newer processor and a larger battery. It starts at $2399 and we'll update this section once we get to spend more time with it. For now, the following speak of the previous Surface Book version.
The Surface Book is a detachable, a tablet with a 13.5-inch screen and Intel Skylake Core U hardware. The tablet part is very thin and light (1.6 lbs), get's a 13.5-inch 3:2 high-resolution touchscreen with pen support, and tucks the processor, memory, storage and a small battery (enough for 2-4 hours of use) behind the display.
The Surface Book's uniqueness is its dock, which adds an extra battery (combined, the two will offer around 10 hours of daily use), an excellent backlit keyboard and glass touchpad, ports and an optional Nvidia dedicated GPU. The slate perfectly latches to this dock for the notebook experience, and then can be unlatched when you want to use it as an independent slate. The build quality of both parts is excellent, but the downside of this approach is the rather heavy weight: 3.5 lbs for the two.
Overall, the Surface Book works great both as a laptop and as a tablet, while most other 2-in-1s don't excel on both ends. The price is going to make it a tough buy for many though, as the base version starts at $1349 for a Core i5 processor with 8 GB of RAM and 128 GB of SSD storage. The Nvidia GPU costs $350 extra, while memory and storage bumps are expensive as well.
Still, I noticed that most configurations are discounted online, so you should follow this link for up-to-date prices and configurations if you're interested in this hybrid.
Best Budget: HP Pavilion x360 11
HP's Pavilion x360 11 is a much more affordable option than the other mentioned above, selling for around $300 to $400.
It's a convertible with an 11-inch IPS touchscreen, a fairly well built plastic body and a decent non-backlit keyboard. It's motorized by Intel Celeron or Pentium platforms with 4 GB of RAM and various types of storage, and gets a 32 Wh battery. These specs make it capable of dealing well with everyday activities and multimedia content, as long as you keep multitasking at bay.
Overall, HP's Pavilion 13 is a good computer for school or a decent inexpensive travel companion. The IPS screen and the good build quality recommend it over competitors like the Dell Inspiron 11 3000 or the Acer Chromebook R11, which you can also check out if you'd rather spend even less on a convertible and don't mind ending up with a TN screen.
Honorary mentions:
Follow this link for a more thorough list of recommended 2-in-1 laptops and hybrids.
The best fanless ultraportables
If you want an absolutely quiet computer without a fan or a spinning hard-drive inside, these options right here are the ones for you. Just keep in mind that passively cooled platforms are not going to offer the same amount of power as those cooled by a fan, so you should only get one of these for daily activities and limited multitasking.
I've listed my favorite options below, and a complete list of fanless ultraportables is available in this article in case you're interested in more options.
Asus Zenbook UX360CA/CAK – the best-buy convertible
The Zenbook UX360CA/CAK gets another nomination after it was also featured as one of the best 2-in-1s, since it is built on fanless Core M hardware. We're not going to get in-depth again, scroll up to see why we like the UX360CA that much.
In few words though, this is a sleek convertible with a 13-inch screen, good hardware specs and a 54 Wh battery. It's also very well priced, with the base version starting at $699 and including a Core m3 processor with 8 GB of RAM and 256 GB of SSD storage, well enough for daily use.
Follow this link for more details, user reviews and the latest prices.
HP Spectre 12 X2 – the affordable detachable
The Spectre X2 is a detachable, a tablet with a keyboard dock. It offers good specs and performance in a thin and sleek aluminum body, as you can see in the pictures below. It also includes a 12-inch screen with pen support, Skylake Core M hardware, a 42 Wh battery, decent IO and a keyboard dock with backlit keys, all weighing around 2.7 lbs.
The higher specked versions of the X2 are rather expensive ($800 and up), but a Core m3 model with 4 GB of RAM and 128 GB of SSD storage goes for under $600 these days (you'll find out where by following this link). The keyboard dock in included on all models, while a pen is included only on certain configurations, but the device gets an active digitizer so it's going to work with most pens, there's no specific need to buy the HP one.
Apple Macbook 12 – the ultralight option
The Macbook is one of the lightest and slimmest traditional clamshell laptops out there. It weighs 2.02 lbs (0.92 kg) and it's just .5″ (13 mm) thick, but despite these it's also extremely well built and packs some good hardware.
Its case is entirely made out of aluminum, the keyboard is backlit and the screen gets a high-resolution IPS panel, without touch. As for the internals, the Macbook is powered by Intel Core m hardware with 8 GB of RAM and 256 or 512 GB of SSD storage, with a 41 Wh battery that's going to provide around 8 hours of real daily use. Not bad at all.
The Macbook is expensive though, the base version sells for $1299 and includes a Core m5 processor with 8 GB of RAM and 256 GB of storage space. You're paying premium for the overall quality and the brand, of course, but given the specs, the Macbook is not actually much more expensive than other premium Core m options. Potential buyers have to be aware that this laptop gets an unusual keyboard with very limited travel and a single USB-C port, so you might have to spend extra on adapters or a dock.
Follow this link for more details, user reviews and potential discounts.
Best budget: Acer Chromebook R11
The R11 is a Chromebook, so it's not running Windows but ChromeOS, a simple and secure software meant to offer a solid experience in Internet based activities like browsing, editing documents, streaming multimedia content and music, etc.
The Chromebook R11 is a best-buy in its class. It sells for around $270 and this kind of money will get your a white notebook with a convertible 11-inch IPS touchscreen, an Intel Celeron N3150 processor, 2 GB of RAM, 32 GB of storage and a 35 Wh battery, which are solid specs for a mini-laptop in this price range. No wonder the Chromebook R11 is one of the best selling computers in the US and also one of the most appreciated, scoring good reviews with most buyers.
Follow this link for more details, user reviews and potential discounts.
Honorary mentions:
Follow this list for a more detailed list of fanless ultraportables you could consider.
Laptops with digitizer and pen support
This section is short and we'll develop it in the near future, as we're working on a dedicated-article on this particular topic, which will also include details about the types of digitizers and pens available these days.
For now, a couple of good options with an active digitizer are the:
2-in-1 tablets (detachables): Microsoft Surface Pro 4 and Surface Book, Samsung Galaxy Tab Pro S, Asus Transformer 3 and 3 Pro, HP Spectre X2 and Elite X2, Dell Latitude 13 7000, Toshiba Portege Z20t, HP Pavilion 12 x2, Huawei Matebook, Acer Aspire Switch Alpha 12;
2-in-1 convertibles (360-degress rotating screen): HP Spectre x360 13 and 15, Lenovo ThinkPad X1 Yoga, Yoga 260 and 460, Lenovo ThinkPad P40.
Out of these, the HP Pavilion 12 x2, Huawei Matebook, Lenovo ThinkPad P40 and X1 Yoga get a newer generations Wacom AES digitizer.
Stay tuned for the update.
The best affordable laptops under $500
When looking at affordable laptops you have a few options to consider:
Chromebooks – ChromeOS notebooks great for web-based activities, with prices starting at as low as $150 and screen sizes ranging between 10 to 15.6 inches. Great for casual tasks as long as you're connected to the Internet, not that good for offline use. A detailed list of the best available Chromebooks is available in this post.
Compact mini laptops – Windows computer with small 11 to 13-inch screens and lower-end hardware specs. Some options sell for under $300, but if you want a faster platform, larger battery or an IPS screen you'll have to spend a little more.
Full-size laptop – you can find traditional notebooks with 15-inch screens in this budget and even compelling hardware specs, like Core i3 and i5 processors, 4-8 GB of RAM and decent storage, including SSDs in some cases. These cut some corners on the build quality and choice of materials, getting all plastic cases. Most also get a small battery, a non-backlit keybiard and a TN screen, but if you dig carefully you'll even find IPS panels in this price range.
There's a large collection of popular laptops that sell for under $500 over here, with users reviews and extra details. And if you're interested in my personal selection of top-affordable ultraportables, then this article is for you, with solid options going for under $600 or premium options in the $600 to $1000 range.
Portable laptops based on screen size
This topic is covered in the following separated articles:
12-inch ultraportables (to be updated);
13.3-inch ultrabooks (to be updated);
But i'll add a few words on what to expect from each class.
The offer for ultra-compact computers with 10-inch screens, follow-ups of the netbooks popular a few years ago, is limited to a few 2-in-1s like the Asus Transformer Pad or the Acer Aspire Switch 10 families. They get a touchscreen, are built on low-power hardware and are only good enough for basic tasks, but will last for a long while on a charge.
11-inchers on the other hand are available in greater numbers and diversities, from the most affordable Chromebooks selling for around $150, to higher end options with advanced features. However, most premium ultra-portables get a 12 to 13.3-inch screen, and that's the segment where you'll find the most and the better options if you want a computer that looks good, is built well, performs properly, lasts for 6+ hours on a charge and doesn't cost an arm and a leg. In fact, most of the devices featured in the various sections of this post get a 12 to 13-inch screen.
If you need faster hardware for professional use or gaming, you'll have to step up to larger devices. There are a few 14-inchers out there, albeit this niche is mostly populated with business options, toughly built, packed with enterprise oriented features and pricey. 15 and 17-inchers on the other hand are mostly oriented towards regular consumers, with only a few workstations as exceptions.
There are plenty of thin (under 1-inch) full-size notebooks out there and their weight has gone down in the last years as well. Just keep in mind that powerful hardware and a sleek case don't always make for a happy couple, and make sure to read reviews if you don't want to end up with a computer that gets very hot, noisy or even throttles under load.
Wrap-up – what's the best ultrabook?
None of the laptops listed here are perfect, but if you'll take a look back at the ultra-portables launched in these last years, you'll see the current generations have come a long way.
The hardware got faster and more efficient, which was expected, but alongside came new form factors and features, plus improvements on all the fundamentals that make a laptop great: build quality, keyboards, touchpads, screens, connectivity and battery life, among them. As a result, there are now many good options to choose from.
As for what's the best ultrabook for you, that's in the end for each one of you guys reading this post to decide. You know exactly what you want from your laptop and you know what you value more on such a device. That's why you should choose between all the devices listed here, based on your budget and personal criteria. I've told you what you should know about all the ultrabooks that are worth considering, but the final decision rests with you.
And if by any chance you haven't found what you needed in this massive post, you should check out these other lists mentioned below:
Last but not least, you can check out the reviews posted here on the site and our thorough comparisons, or leave a comment if you need any help with your decision, have any questions or just want to add something to this article.
Keep in mind that I'm updating the list each two or three weeks, if not more often, in order to keep it as accurate as possible. And I also post news, reviews and guides here on the site, so you should subscribe if you want to stay in touch with the latest updates and launches.