Here at Ultrabookreview.com, we've reviewed hundreds of ultrabooks and portable lightweight laptops over the last 15 years, of all kinds and from all brands.
In this guide, I'll tell you which are our favorite ultrabooks right now and explain why, in order to help you choose the best ultrabook for your needs and budget out of the multitude of available models.
With the multiple types of light compact laptops out there, I've split this guide into a few different sections, based on their overall size, capabilities, and pricing; the Table of Contents will point you toward the section of interest. I kept things as simple as possible, with only the best options mentioned in each category, but I've added links to our reviews and more detailed guides that go in-depth over each subtopic, if you're interested in more variants or details.
I also mention that we update the article several times a year, or when something remarkable comes out, and if you need more guidance or have any questions, there's a comments section at the end of the post where you can get in touch with us.
That aside, please account for the fact that thorough testing and analysis take a lot of time and effort, thus if you'll find the article helpful, I'd appreciate you supporting our work. Sharing the post with your friends, disabling your adblocker, or buying from our links greatly helps us continue what we do here.
Table of contents – the best 2023 ultrabook
This section goes over our recommendations for premium thin-and-light ultrabooks with the latest hardware specs and modern features. We're only looking at traditional clamshell formats here, as we're also covering 2-in-1 models with convertible touchscreens or tablet formats in the following section.
Dell XPS 13 – the complete compact laptop
The XPS 13 has been my ultraportable of choice for many years now and the recent variants have improved on the original model in multiple ways, even if I'm not entirely happy with how Dell split the XPS 13 lineup into two different products lately: the regular XPS 13 and the XPS 13 Plus. We've reviewed both, and here's a quick summary of the two, with links to our reviews:
There's a more detailed comparison of the two in this post and you should also check out the video comparison available further down. Overall, though, the XPS 13 lineup is now more difficult to understand than in the past.
On one side, there's the traditional XPS 13 design that follows in the footsteps of the previous XPS generations, but is now only configurable with lower-power Core U hardware, and only offers USB-C only IO and options only for FHD+ matte/touch screens (for now, that might change in the future).
Overall, this regular XPS 13 ultrabook model is meant for general everyday use and light multitasking, and is the more affordable option of the two.
On the other is the new XPS 13 Plus design, which offers a unique and controversial set of inputs and multiple screen options, including the FHD panels from the regular XPS, but also 3.5K OLED or 4K IPS options, both with touch and 100% DCI-P3 color coverage.
Furthermore, the XPS 13 Plus is a more complex internal design, with a more advanced cooling solution and more competent Intel Core P hardware, running at higher power settings. That's not going to make much difference for daily use, but definitely will with demanding CPU loads, heavier multitasking, and sustained loads.
You'll have to get used to that quirky keyboard, though, the fact that you're only getting two USB-C ports and nothing else, and the fact that XPS 13 Plus offers poorer battery life than the regular XPS 13, even if it packs a slightly bigger 55 Wh battery (vs 51 Wh in the regular model). In fact, if that's important to you, there are alternatives that will outlast both these models by a fair degree, with larger batteries and more efficient AMD hardware.
All in all, the XPS 13 series remains competitive in this premium ultrabook space, with some configurations being quite competitively priced. At the same time, I feel that these XPS models are no longer the iconic ultrabook symbol that this series presented in the past, and they are not the right call for everyone, as explained in our reviews.
Lenovo ThinkPad X1 Carbon, X1 Nano – the business ultrabooks
The X1 Carbon is still Lenovo's flagship premium ThinkPad ultrabook, alongside the ultra-compact, but not as powerful, ThinkPad X1 Nano.
The ThinkPad X1 Carbon( reviewed here) is a 14-inch laptop, thus somewhat larger than the XPS 13, but actually a bit lighter due to it being made out of magnesium alloys. It also offers what most consider the iconic ThinkPad design, keyboard, clickpad, and TrackPoint, as well as a more diversified IO, more hardware and 16:10 display configurations, a larger 57 Wh battery, and some extra business features (IR sensor, TPM, vPro CPUs, etc).
At the same time, though, the X1 Carbon is more expensive than the XPS 13 in most regions, is only available in a single color (the classic black ThinkPad design), and even with the updated speakers, is no match for the audio quality of the XPS. Furthermore, while the latest XPS 13 and X1 Carbon models are both built on the same Intel Core hardware platform, the XPS 13 tends to outperform the X1 carbon in sustained demanding loads, as explained in our reviews. Both are excellent snappy computers with daily use and multitasking, though, and you're not going wrong with any of them.
Still, too bad there's no AMD option on any of these premium chassis, as that's only available on the more mainstream ThinkPad T14s model.
Anyway, follow this link for up-to-date details on the available ThinkPad X1 configurations and potential discounts, or this link for all our reviews of the ThinkPad lines.
As for the ThinkPad X1 Nano (reviewed here), this one is a less-powerful hardware implementation that favors portability thanks to its sub-1-kilo (221 lbs) total weight, more compact 13-inch 16:10 display, and minimalistic USB-C IO, but otherwise, this is still a ThinkPad in most ways. If you need a highly portable premium ultrabook for light use and everyday multitasking, this X1 Nano is one of the better options out there, but if you'd be alright with a slightly larger chassis, the X1 Carbon and the XPS 13 remain the more powerful and versatile ultrabooks.
The X1 Nano also sells at a premium over the X1 Carbon or the XPS 13, starting at $1500, and that might put it out of reach for many of you. Follow this link for more details.
Apple MacBooks – the unmatched daily drivers
Apple have offered portable versions of both the popular MacBook Air and the more powerful MacBook Pro for many years now, but as of 2021 and later these are available with Apple's own silicon (M1, M2, and later), which proved to be a major game-changer for the MacBook lineup in comparison to most of the Windows laptops out there.
In fact, unless you prefer the Windows environment or must use a Windows laptop for specific workloads (or games), or if perhaps you'd prefer a format or certain features that are only available with Windows ultrabooks (such as a matte or touch screen, or a convertible form factor), there's little reason not to go with an Apple MacBook for daily use these days. Windows ultrabooks still win with their diversity and these specifics and features, but these MacBooks are very hard to beat as daily drivers.
Aside from the excellent design and build quality, the excellent inputs with the updated key switches, the balanced Retina displays, and the smooth hardware/software integration, these Apple silicon MacBooks are now also more powerful and more efficient than their Intel-based predecessors. That means they run cooler and for much longer with everyday casual use; in fact, the MacBook Airs are fanless designs, and the Pros keep completely silent with light loads. Plus, these are a lot faster with some workloads than the previous MacBooks and even many of Windows ultrabooks (with some exceptions). There are countless videos on Youtube showing how smoothly these MacBooks handle Photoshop, After Effects, CAD, Premiere, or Davinci Resolve.
Furthermore, these MacBooks are even more enticing for those already in the Apple ecosystem. The phone, the watch, the earbuds, the laptop, all work seamlessly together and make your digital life easier. Not necessarily better, but definitely easier. And that's coming from someone who uses most of these Apple products everyday.
As for the two laptop variants that we recommend, the Air is the more affordable model and completely fanless, while the Pro is slightly more powerful, includes a higher-quality display, larger battery, a touch bar, and extra Thunderbolt ports, but also sells for more.
There are in-fact two versions, for both the Pro and the Air. The Pro M1 and M2 are identical, with just a bump in specs for the latest model. The MacBook Air M2 is a revised designed with a better screen and various updates, but also a more expensive product, especially when specced up. That's why my recommendation around the 1000-1200 price-range still goes towards a mid-specced variant of the MacBook Air M1.
That's starting at sub $999 MSRP without considering discounts, while the Air M2 starts at $1199 and the MacBook Pro at $1299+. Follow these links for more details on the MacBook lineup, updated configurations, and potential discounts: the MacBook Air and the MacBook Pro. And keep in mind you most likely don't want to go with the base-tier models, but rather with the middle-specced variants with more RAM and storage space.
Asus ROG Flow X13 – the gaming ultrabook
After many years at the top of this sub-niche, the Razer Blade Stealth 13 has been decrowned by the Asus ROG Flow X13 as the most capable performance and gaming ultrabook on the market right now, mostly thanks to the more advanced AMD and Nvidia platforms that power the Flow, but also because of how well balanced this Flow X13 series is in its niche.
Somehow Asus managed to put a Ryzen 9 HS processor and an RTX (up to 4070 on the latest variant) inside a compact 13-inch chassis here, without sacrificing the build quality, inputs, ergonomics, thermals, or battery life. On top of all these, the Flow X13 is a convertible with a 360-degree 16:10 165Hz touchscreen and is also more affordable than the top-tier Stealth laptops of this generation. Follow this link for updated configurations and prices in your region, and this one for our review of the latest Flow X13 model.
A unique particularity of the Flow X13 is also the fact that it is the first Asus laptop compatible with the ROG XG Mobile GPU enclosure, which includes higher power RTX 4080 and 4090 Nvidia mobile graphics chips and hooks up to the laptop through a proprietary connector. Combined, the two offer the same kind of GPU performance and gaming experience that you can expect from the beefiest gaming laptops of this generation, if that's something you are interested in and you're willing to pay around 3K USD for the two.
I'm more blown away by the ROG Flow X13 as a stand-alone ultraportable, though, and the unmatched versatility it provides in a sub-3-lbs format, both with casual everyday use and especially with sustained workloads and games, where the Ryzen 9 is not a match for the Intel platforms currently available.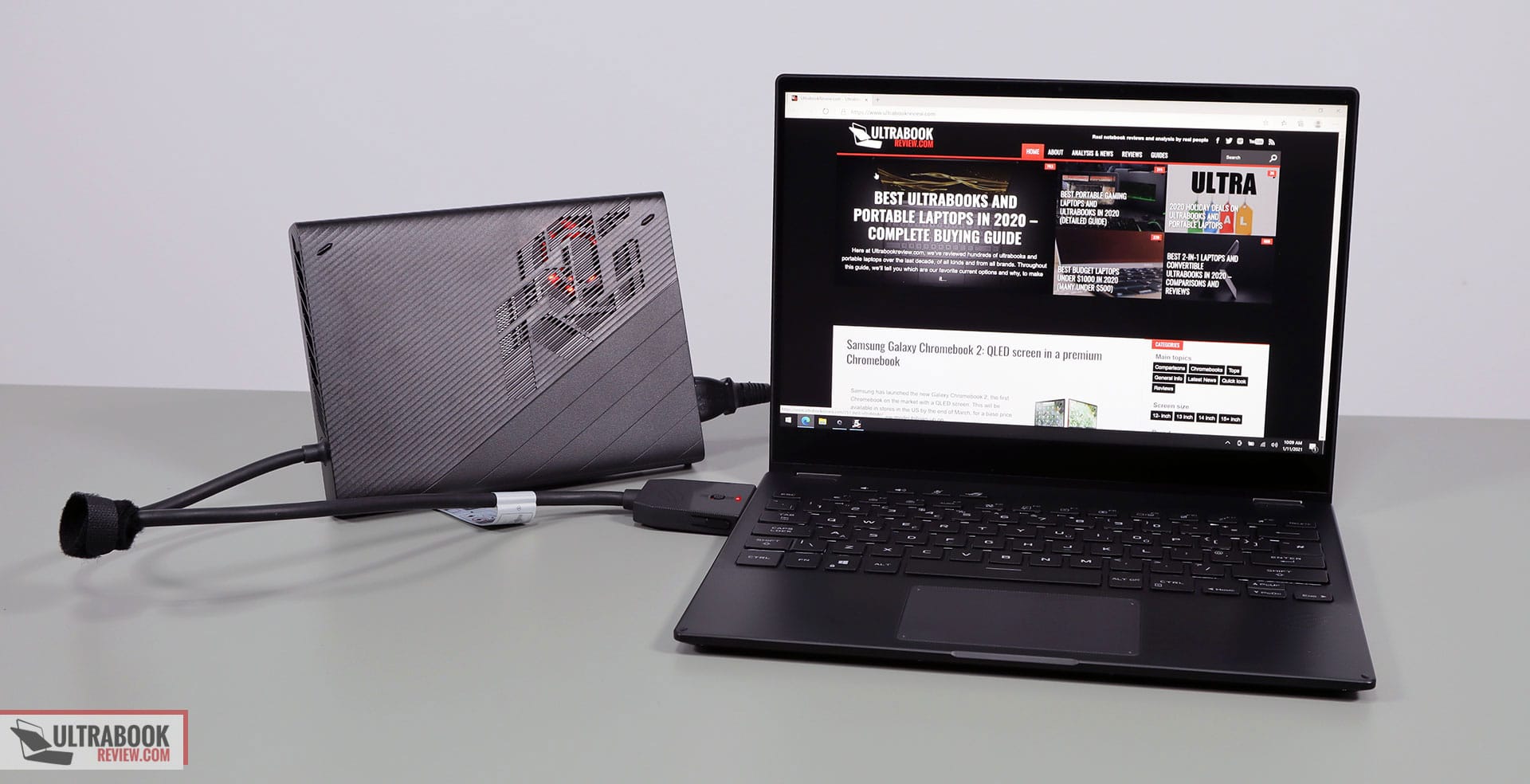 I must also add that the Flow X13 is not the only powerful 13/14-inch ultraportable on the market right now, and we'll go over some of the other such options in the dedicated section that goes over performance/gaming ultrabooks, further down, including the Asus ROG Flow Z13, the Asus Zephyrus G14, and the Razer Blade 14.
Acer Swift X – the good value all-purpose laptop
This year, the Acer Swift X (reviewed here) replaces last year's popular Lenovo's IdeaPad/Yoga Slim 7 as our best-value performance ultrabook available in stores at the time of this update, the best balanced multi-purpose ultraportable that you can get for around 1000-1200 USD/EUR.
The Swift X is pretty much an updated and significantly more powerful version of the popular Acer Swift 3 series, powered by AMD Ryzen APUs and the same kind of Nvidia RTX 3050Ti graphics also available in the Flow X13, on the top-tier configuration, or by a GTX 1650 dGPU on the mid-range models. Acer redesigned the internals and implemented a slightly thicker chassis to accommodate the cooling module required by this sort of hardware in a 14-inch chassis, while the design lines, inputs, IO, and screen options are borrowed from the Swift 3 14 inch models.
That means you're only getting a FHD 60Hz screen option here with a middling 350-nits 100% sRGB panel, as well as not the kind of finesse, materials, audio quality, or typing experience available on the more premium ultraportables. But the overall value and performance offered in this 3.1 lbs laptop for only around $1100 in the US (for the top Ryzen 7 5800U + RTX 3050Ti configuration) are unmatched by any of the competitors available at the time of this update.
Follow this link for more details on the Acer Swift X series, as well as the latest configurations and prices.
Things might change once the Asus VivoBook Pro 14X becomes available in stores, with the superior thermal design and nicer OLED 90Hz screens, but for now, the Swift X is my recommendation in this sub-niche.
I'll also still leave the Lenovo IdeaPad/Yoga Slim 7 in here, both the 2020 model with Ryzen U and a FHD 16:9 display, which should be quite affordable these days if you can still find it in stock, but especially the Lenovo Slim 7i Pro X (reviewed here). This one gets full-power Intel H processors with an RTX 3050 dGPU, as well as an updated 16:10 high-res screen with 120Hz refresh rate.
Follow this link for updated configurations and prices.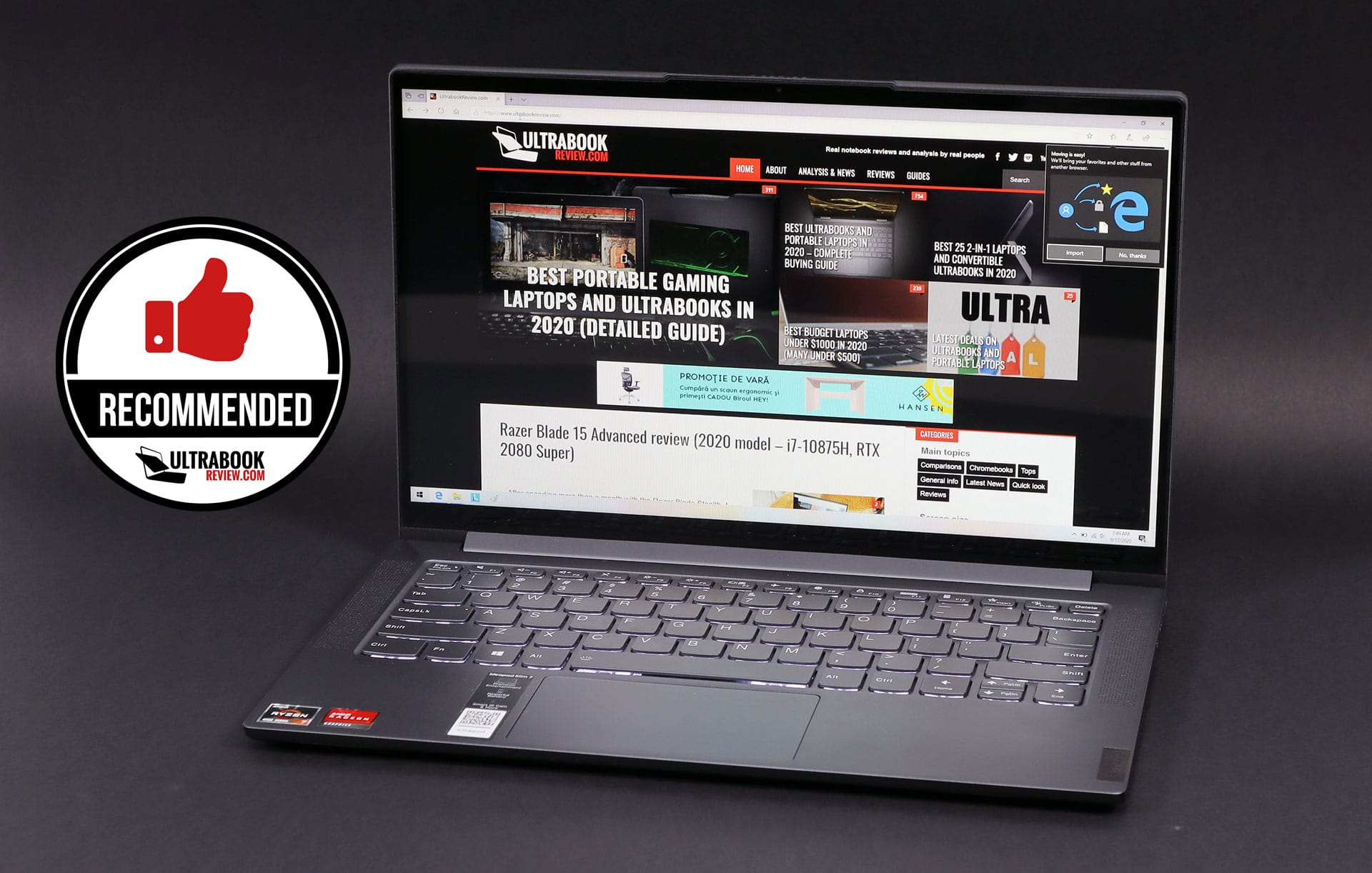 Honorary mentions
Given the multitude of excellent premium ultrabooks out there, I've also put up together this list of honorary mentions in this segment, with links towards our detailed reviews and guides.
You might want to consider these for specific features and traits that might not be available with our recommendations above, such as certain screen formats and types of panels, certain design choices, longer battery life, or more affordable price tags in your region, as the Dell XPS and Lenovo ThinkPads tend to get very expensive in some countries, making other brands more competitive there.
And don't forget this section only touches on premium clamshell ultrabooks, and we're also covering the value options and the 2-in-1 convertibles further down.

The best-value ultrabooks and thin-and-light laptops
While the market offers compact laptops that range from between several hundred to several thousand dollars, most of you are looking to maximize the return of your money, and my years of experience show me that the sweet spot for that is somewhere in the $700 to $1200 price range or local equivalents in your area.
Shopping at the higher limit of that budget would allow you to get versatile mid-specced variants of some of the premium ultrabooks mentioned earlier (such as the Apple MacBook Air, Dell XPS 13, Lenovo ThinkPad X1 Carbon) and the full-size performance options (such as the Asus ZenBook Pro, Dell XPS 15, HP Envy 14/15 lineups or Razer Blade 14/15) that we're going to cover in the next section.
There are, however, some excellent-value options to consider at the lower-end as well, in the $500 to $1000 price range, and we'll go over them down below, listed alphabetically. We're looking at both Windows ultrabooks and some excellent-value Chromebooks.
Acer Swift 3 and Chromebook Spin 713
The Acer Swift 3 is one of the best-selling lineups of thin-and-light laptops for the last many years, and for good reason, as Acer were able to refine this series into mature and uncompromised products, while still keeping the prices down and competitive.
The Swift 3 series is available in a multitude of options, with screen sizes ranging from 13 to 16-inches, and they all deliver good specs and connectivity, backlit keyboards, and fair-quality displays, but without pushing the boundaries into the more premium section, which means these Swift 3s might lack the finesse and some of the features available in more expensive laptops.
We're reviewed most of the Swift 3 models and generations over the years, and you'll find our articles over here.
The Chromebook Spin 713, on the other hand, is one of the best-value premium Chromebooks on the margin, a portable 13-inch product with snappy hardware, long battery life, and a productivity-oriented 3:2 high-res touchscreen. If you're OK going with a Chromebook as your main computer, this here is one of the best options in that segment, at around $650 at the time of this update. Our review of the Chromebook Spin 713 is available here.

Asus ZenBook 13 OLED
The Asus ZenBook series is a slightly more refined, but also more expensive, alternative to the Acer Swift lineup. In fact, Asus offers their own series of mid-range ultraportable with their VivoBooks, but I feel that the ZenBook 13 OLED earns its place in this section over all the other Asus ultrabooks at this point.
Available with a punchy OLED screen and either Intel or AMD hardware, the ZenBook 13 is an ultra-compact laptop that punches above its class in construction quality, display quality, and battery life. Of course, its small format leads to a slightly cramped keyboard and not the most powerful implementation of the Intel/AMD platforms, but if you're after a tiny daily driver and don't have oversized hands and fingers, this right now is one of the best options in its class.
You'll find more about it from our detailed review of the ZenBook 13 OLED series.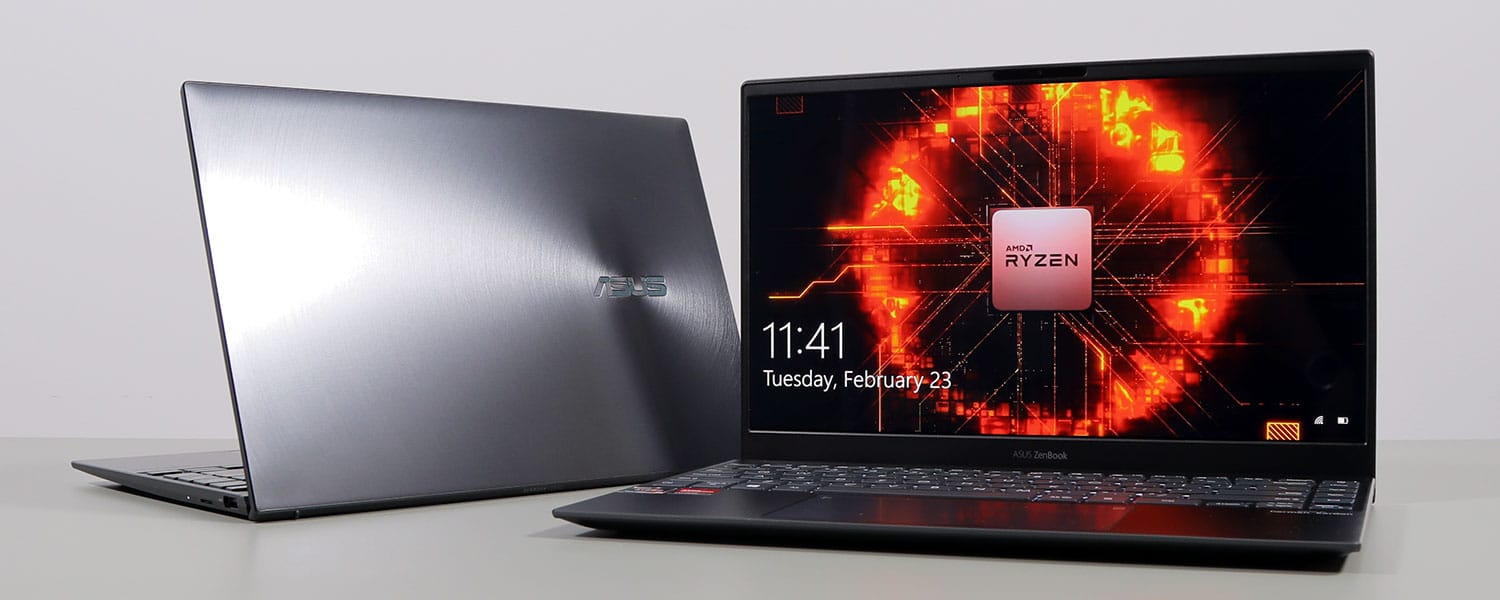 Dell Inspiron series
These Dell Inspiron laptops are more affordable alternatives to the XPS 13 series, and at the same time unique in their own way.
There are multiple Inspiron models and configurations out there, but the ones that draw my attention in this class are the competitive 15-inch Inspiron 15 5155 convertible with AMD hardware, reviewed over here, and the versatile 14-inch Inspiron 14 5410 series, a more powerful and competitively priced alternative for the Acer Swift 3 and Lenovo Ideapad 14 lineups.
HP Envy 13/14 and Pavilion Aero 13
HP have been constantly pushing and improving their laptop lineups over the last years, and they end up with three value mentions in this section.
The Envy 13 is an excellent-value 13-inch ultrabook and alternative for the Asus ZenBooks or the Dell XPS/Inspiron lineups. It tends to be very competitively priced in most regions, at around $700-$800 for mid specced configurations, as well as nicely made, compact, and equipped with an alright FHD 400-nits IPS screen, latest hardware platforms, and a 51 Wh battery.
The Envy 14 is a slightly larger and more powerful laptop, with a 14-inch 16:10 FHD+ display and Intel U + Nvidia GTX 1650Ti specs. These make it a viable alternative for the Acer Swift X, nicer built and with a better display, but not as powerful in multitasking and demanding loads.
Finally, the Pavilion Aero 13 (reviewed here) is the most affordable of these HP laptops, the lightest at just 2.2 lbs (1 kilo), and also arguably the faster in daily use and multitasking, as this is built on the latest AMD Ryzen hardware specs. It also offers a nice 450-nits 16:10 FHD+ matte screen, but comes with a rather small battery and is not as nicely made as the Envy models. Even so, this is a very competitive budget ultrabook these days and a solid alternative for the ZenBook 13 and the Envy 13 lineups.
You'll find more about HP laptops from our reviews and coverage over the years.
Huawei MateBook 14 and D 15
While not available worldwide, Huawei Matebook laptops tend to punch outside their price segments where they are, based on our reviews.
Huawei offers both budget and premium Matebooks, such as their fanless MateBook X illustrated down below, but for me, the better value is in their more inexpensive products, such as the 15-inch all-around MateBook D 15 and their more portable MateBook 14 models. The latter offers AMD hardware, a nice-quality metal chassis, good inputs, and a 3:2 high-res IPS display for a very competitive price over here in Europe. Just make sure you're OK with the ethics of buying a Huawei laptop.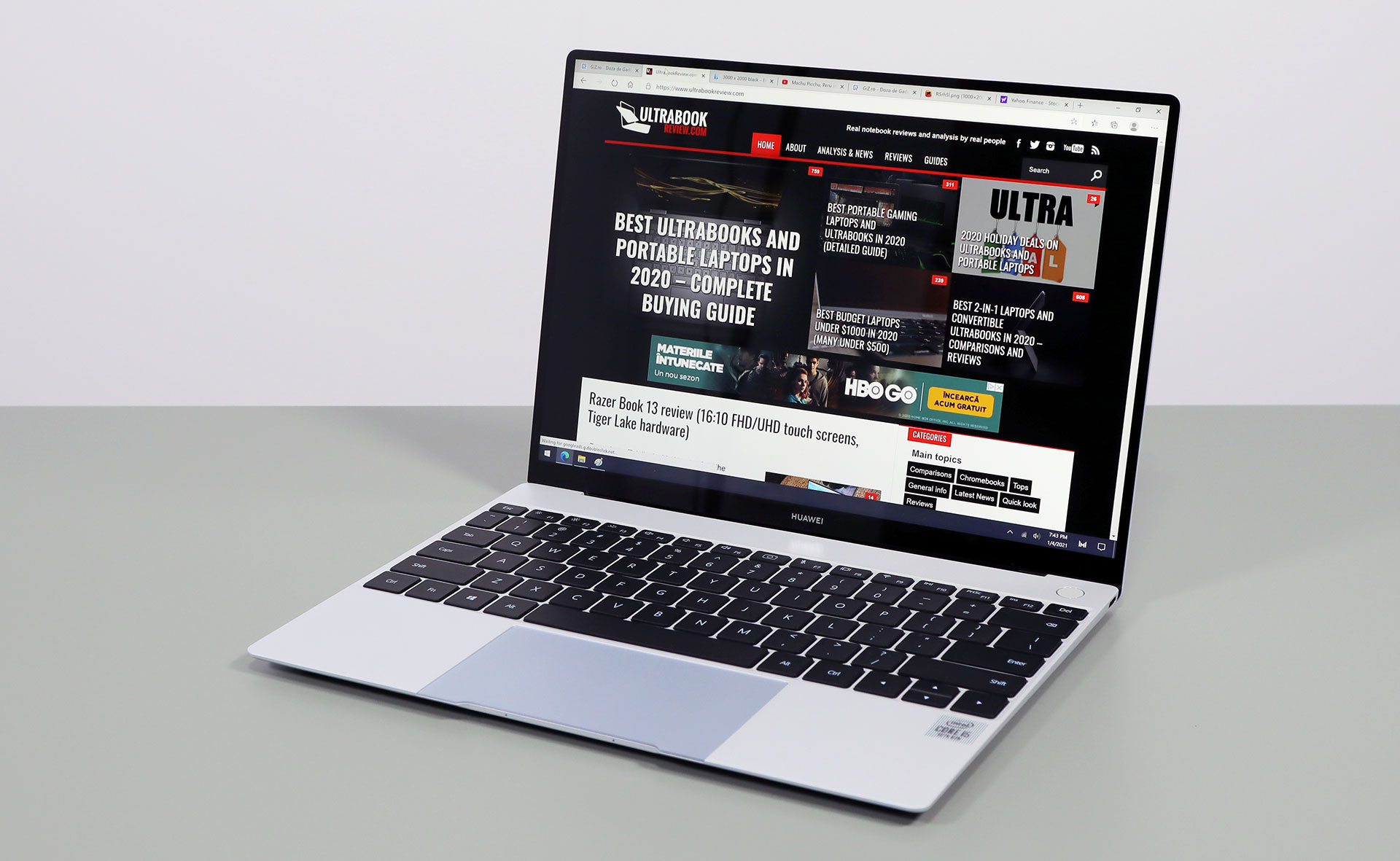 Lenovo IdeaPad 5 and Chromebook Flex 5
While alphabetically last in this section, Lenovo make some of the most competitive mid-tier and budget ultrabooks right now, with the AMD-powered IdeaPad 5 (clamshell) and Ideapad Flex 5 (convertible) series starting at as low as $600 over here, and the even more affordable Chromebook Flex 5 going for less than $400, as still the best-value Chromebook of its generation in our Chromebook top.
You'll find more about the two Windows-running IdeaPads from our reviews linked above. They're both sturdily made, uncompromised in any major way, and both powerful and efficient at the same time. But they're also plagued by subpar screen choices, IPS panels, but with dim brightness and washed-out colors. These screens are OK for a budget product, but still enough to make me recommend you to save up extra for any of the other options mentioned earlier that offer a nicer display, if possible.
The Chromebook Flex 5 doesn't get an excellent display either, but is also a much cheaper device at sub $400 and pretty much unbeatable as a whole at that level.
The best gaming ultraportables
We've already thoroughly covered this topic in a separate article, sofollow this link for our detailed guide on gaming ultrabooks and portable gaming laptops.
In just a few words, though, gaming ultraportables are compact and light-performance laptops with capable processors and graphics. Most of these are full-size devices with 15 to 17-inch screens, but with compact designs.
The best options include premium ultraportables such as the Razer Blade 15 Advanced, Asus ROG Zephyrus M16, Acer Predator Triton 500, or the MSI GS66 Stealth Thin, but also good-value full-size notebooks like the Lenovo Legion 7 or the Acer Predator Helios 300. As for the 17-inch models, I'd turn my attention to the Alienware X17, Asus ROG Zephyrus S 17, the Gigabyte Aero 17, or the Razer Blade 17. All these have been reviewed here on the site.
Those interested in even smaller and lighter options should consider some of the available 13 and 14-inch gaming ultrabooks, such as the compact Asus ROG Flow X13 and Razer Blade Stealth 13, the value mid-tier 14-inchers such as the Acer Swift X, the Asus VivoBook Pro 14X or the HP Envy 14, as well the 14-inch gaming notebooks with more capable graphics such as the Razer Blade 14 or the Asus ROG Zephyrus G14.
As mentioned, follow this link for our detailed guide on gaming ultrabooks, or this one for a wider coverage of the thinnest and lightest 14/15-inch laptops out there.

Productivity lightweight laptop for work, creators, or programmers
This section caters to those among you in need of a portable and powerful laptop for complex workloads and school tasks, the kind you could not properly run on most of the ultra-compact devices mentioned in the previous sections of the article. These recommendations are meant for university students, engineers, programmers, architects, and creatives, but still with a portable and slim form-factor in mind.
For sure, the gaming/performance ultraportables already covered above make for excellent all-around work&play devices. However, most of those laptops are primarily gaming-focused and thus prioritize performance over fan-noise and fast high-refresh-rate screens over the color coverage (100% DCI-P3 or AdobeRGB) and image fidelity that you might require in your creative endeavors. And here's where the options in this class come in handy, which offer power profiles better optimized for everyday use and work, even if this does take a toll in performance on the thinnest designs, high-gamut high-resolution displays, as well as certain software and hardware optimizations meant to enhance your productivity.
Dell XPS 15/17, Lenovo ThinkPad X1 Extreme, and HP Envy 15
These three lineups have dominated the premium 15-17 inch segment of portable performance laptops for the last years, and still are the better options in this sub-niche to consider, as long as they fit within your budget and you understand and accept their quirks. And as long as you're not specifically looking for an AMD laptop, as these are all still Intel exclusive.
They are primarily built with portability and ergonomics in mind, so don't offer the same kind of hardware specs or thermal designs available with gaming notebooks. In fact, the ThinkPad X1 Extreme is the most powerful option here, toping at an Intel Core i9 configuration with RTX 3080 MQ graphics, but both limited in performance by the compact design over what they would deliver in beefier products.
So the Dell XPS 15 and the HP Envy 15 are both premium 15-inch ultrabooks, the ThinkPad X1 Extreme gets a slightly bigger 16-inch 16:10 display in its latest iteration, and the XPS 17 is available with a 17-inch 16:10 display. Here are the rest of their important specs and particularities:
As the most recent design of this selection, the ThinkPad X1 Extreme is the arguably most interesting choice here, with its only obvious drawback being the lack of any touch or OLED screen choices. It's also the most expensive, though. I haven't properly reviewed it yet, so make sure to look into more details before jumping on this one, so you'll know what to expect in terms of performance, thermals, and overall value. The clip below sheds some light on potential quirks to further look into.
Asus ZenBook Pro Duo, VivoBook Pro 16X, and StudioBook 16
Asus gets an entire panel in this section with their OLED models targeted towards creators.
The VivoBook Pro 16X is a newer launch and it's in here because it pairs a competent hardware platform with one of these new-gen 16-inch OLED displays, in a mid-priced product that sells for less than the premium models mentioned earlier. I'll be reviewing this in the very near future and will update the article, but in the meantime, you should know that Asus puts a Ryzen 9 HX processor in this chassis and mid-tier RTX 3050Ti graphics, alongside 4K+ 16:10 OLED touch panels with 400-nits of brightness and 100% DCI-P3 coverage, plus a 96 Wh battery.
The ZenBook Pro Duo is not a new design, but is still one of the very few laptops to offer two screens in a 15-inch laptop chassis. It's somewhat dragged down by the Intel-hardware implementation being not as competent as the AMD-based ROG Zephyrus DUO, which also gets a faster GPU and better cooling, as you'll find from my review. However, that one is not available with the high-res high-gamut OLED screen that you're getting on the ZenBook.
Oh, and if you like the dual-screen design but don't plan on spending 2-4 K on your laptop, Asus also offers a regular ZenBook Duo 14-inch model that we've reviewed here. It's smaller and more affordable, but also less powerful.
Finally, the ProArt StudioBook 16 OLED is Asus's new flagship creator lineup, meant to take on the MacBook Pro and the XPS 15 heads-on.
This one is Intel exclusive, but can be configured with Core i9 and Xeon processors, GeForce RTX 3070 or RTX 3000/5000 professional studio graphics, a 90Wh battery, as well as a 16:10 matte panel available with either a 4K+ OLED or a QHD+ IPS panel. This is also coming for review in the near future, and I'll update this section once I get to spend more time with it.
Apple MacBook Pro 16
An updated MacBook Pro 16 with Apple M1x/M2 silicon is expected in the next few weeks, and I'll update this section when available.
In the meantime, follow this link for the latest details on the 16-inch MacBook Pro.
These aside, I'd also consider laptops such as the Gigabyte Aero 15 OLED, the unique Acer ConceptD 7 Ezel, or the portable MSI Creator 16Z in here. However, we haven't properly reviewed the latter two yet to be able to properly judge their worth, while the former is mostly a gaming laptop with a 4K OLED screen, so might not meet the design, portability, and construction expectations of this niche.

Finally, the creators among you might want to consider some of the newer generation Studio-branded options available, with the latest Nvidia RTX A3000 to RTX A5000 graphics and optimized drivers and software support. Follow this link for all our Studio RTX notebook reviews.
2-in-1 convertible ultrabooks with touchscreens
Hybrids are modern devices with convertible or detachable touchscreens, and they can be used as either regular notebooks or as tablets. We've covered this topic in-depth in this separated article about the best 2-in-1 laptops, which you should head over to if primarily interested in a convertible over any of the other ultrabooks in this article, but we'll also quickly go through our top recommendations down below.
First, though, you need to be aware that there are mainly two kinds of 2-in-1s: stand-alone tablets that can act as laptops when hooked to an external dock or keyboard-folio, and regular laptops with 360-degrees convertible screens. The latter are more versatile in notebook format, especially when used on the lap, and tend to get larger batteries, faster hardware, and more ports, while the former are highly portable and excellent tablets, but less practical when not on a flat sturdy surface.
Tablets: Microsoft Surface Go, Surface Pro, and iPad Pro
Microsoft makes some of the best Windows tablets out there, with the compact and affordable Surface Go and the powerful Surface Pro series.
The Surface Go is a 10-inch tablet with a high-resolution 3:2 touchscreen, fanless Core Y hardware, and a base selling price of around $400 at the time of this update (plus ~$100 for the Keyboard Folio). It's compact, lightweight, and rather inexpensive, which makes it an awesome mini-computer for school or travel companion. It runs Windows S by default but can be upgraded to regular Windows for extra functionality. Follow this link for more details.
The Surface Pro is a much more powerful and capable device, able to handle daily multitasking and demanding chores, in a lightweight and compact magnesium chassis. It gets a 13-inch 3:2 touchscreen with smaller bezels, Intel Core U hardware (fanless in the i3/i5 variants on the Pro 5-7 generations, fan-cooled on all versions of the Pro 8), and a larger battery, but with a starting price between $799 to $1099 for a mid-tier configuration. The keyboard and pen are not included and cost roughly $150 extra combined. Follow this link for more details.
Finally, the iPad Pro makes its way into this section as well, as a competent choice for graphics artists and creators. It's a lot more versatile than in the past, with the latest hardware and software updates, and includes an excellent screen with pen support, for the same budget you'll pay for a fully accessorized Surface Pro. Of course, it's not a Windows tablet and can't run the things you can run on the Surface devices, but has its own software advantages and integration with the Apple ecosystem. Follow this link for more details.
All these lineups of premium 2-in-1s have been available for a while now, and incrementally updated over the years.
The HP Spectre x360 is available in either a 13-inch or a 15-inch variant, both reviewed here on the site. The Spectre x360 13t makes more sense as a convertible, due to its smaller build, but the x360 15t offers faster hardware, a larger battery, and improved IO. Both are premium computers and bundle the latest and greatest in terms of features, connectivity, and everyday user experience in their niche. They also emphasize on their excellent screens, with high-resolution wide-gamut panel options on both sizes, as well as OLED variants.
The Lenovo Yoga 9i (reviewed here) is available in 14 and 15-inch variants. The smaller model is not as portable as the Spectre or the XPS 13, but is still within a few millimeters and tens of grams. It does get a large battery, an OLED screen, and excellent audio, with part of the speaker system integrated within the hinge. The 15-inch Yoga 9i is a completely different beast though, with Core H and dedicated GTX hardware, thus more powerful than the 15-inch HP and Dell models.
Finally, the Dell XPS 13 2-in-1 is a lighter and smaller 13-inch convertible with a 16:10 500-nits IPS touch display. The thinner and smaller construction makes it more portable than the other options, but only leaves room for a smaller battery and more cramped keyboard, though, and fairly warm chassis temperatures with demanding loads. Thus, the XPS 13 2-in-1 makes for an excellent convertible ulrtabook, but the Spectre and the Yoga should be the go-tos if you need the extra performance and longer runtimes.
Follow this link for a more thorough list of recommended 2-in-1 laptops and hybrids.
Top affordable convertible: Asus Chromebook Flip
Much like the Surface Go, the Asus Chromebook C434 is a competent all-day convertible laptop, but in this case, a Chromebook built on ChromeOS. That makes it well suited for browsing, streaming, text-editing, and everything else Internet-based, as well as a snappy overall computer with excellent battery life, much like all the other flagship Chromebooks of this generation.
The Chromebook Flip C434 is available for around $450 at the time of this update. Follow this link for more details.
If you'd rather get an affordable Windows 2-in-1, I'd look into some of these options: Acer Spin series, Asus ZenBook Flip, Dell Inspiron 2-in-1, or the Lenovo Flex series. I'd especially turn my attention to that recent Lenovo Flex 14 based on AMD Ryzen hardware, a great value option in its niche, as long as you can live with a lower-quality IPS screen.
Fanless ultrabooks and tablets
If you want a completely silent computer without a fan inside, fanless passively-cooled options are the ones for you. Just keep in mind that most of these passively-cooled models are not going to be as powerful in sustained loads and multitasking as the beefier platforms with more competent active cooling.
The Apple MacBook Air with the proprietary Apple silicon (M1 or later) is by far the go-to fanless multipurpose ultrabook to get these days and the exception to the rule mentioned above, as it's at the same time both faster and more efficient than the Intel variants of the MacBook Air or most of the available Windows ultrabooks. And even the MacBook Pro 13 runs completely silent for most of the time, with its fan only kicking in with demanding workloads.
MacBooks aside, most of the competent Windows models are not fanless, with the exception of the lower-tier variants of the Microsoft Surface Pro tablet and the Huawei MateBook X 13-inch ultrabook. There are however a few fanless Windows mini-laptops and tablets to consider, such as the compact Surface Go tablet or the inexpensive Asus Vivobook L210 (11-inch) and L410 (14-inch)/L510 (15-inch) notebooks.
Plus, if you'd be fine with a Chromebook, the Google Pixelbook Go, the Lenovo Chromebook Duet series, or the Samsung Galaxy Chromebook are all amazing-value options for everyday use, and all passively cooled.
Finally, we've also compiled a complete list of fanless ultraportables in this separate article if you're interested in a deeper dive into this topic.
Wrap-up – what's the best ultrabook?
Ultrabooks have come a long way over the years.
The hardware is more powerful and more efficient these days, and alongside came new form factors and features, as well as improvements on all the fundamentals that make for a competent laptop: build quality, inputs, screens, IO and connectivity, and battery life, among them. As a result, there are now many excellent ultrabook options to choose from.
As for what's the best ultrabook for you, that's for each one of you to decide. You know what you want and value in a laptop, so go through the options in this article and pick the one that best fits your needs and budget.
And if by any chance you haven't found what you were looking for in this massive post, you could also check out these other articles on the site:
Last but not least, you can check out the reviews posted here on the site and our thorough comparisons, or get in touch in the comments section if you need any help with your decision, have any questions, or just want to add something to this article.
Keep in mind that we're updating this list of recommended ultrabooks and portable lightweight laptops every three to four weeks, if not more often. Your support is greatly appreciated.
Disclaimer:
Our content is reader-supported. If you buy through some of the links on our site, we may earn a commission.
Terms
.