The ROG Zephyrus DUO is Asus's subseries of performance laptops with two displays and has been significantly updated in several ways for the 2022 generation.
For starters, the 2022 Zephyrus DUO GX650 is now a 16-inch laptop. The 15.6-inch 16:9 main display of the past has been replaced with a 16-inch 16:10 screen with smaller bezels all around, and with a choice of two different unique panels that we'll discuss further down in the article.
Then, Asus updated the hinge mechanism on the 2022 DUO in order to minimize the gap between the two screens, stack them close one over the other, and make them look more like one larger display.
On top of these, the inputs have been updated, a webcam with IR was added at the top of the main display, the hardware has been bumped up to the latest specs from AMD and Nvidia, a MUX has been added to the whole mix, and the cooling module has been updated to be able to deliver a performance boost over the previous generation. Asus sure got busy with this Zephyrus Duo 16 that seems to address most of our nits with the previous generations.
Update: Our detailed review of the Zephyrus Duo 16 is available here. My thoughts on the updated 2023 Asus ROG Zephyrus Duo 16 lineup are available here.
Here's a quick specs sheet of the Zephyrus DUO 16 next to last year's Duo 15, and we'll get in-depth on the major novelties afterward.
2022 Asus ROG Zephyrus Duo 16 GX650 – review
2021 Asus ROG Zephyrus Duo 15 SE GX551Q
Screen
16 inch, 16:10, non-touch, matte, 2 panel options:
QHD miniLED 165Hz 3ms response, 1100-nits, 100% DCI-P3, Nebula HDR Engine
UHD IPS dual-spec, 100% DCI-P3, with Pixel Acceleration
+ secondary 14-inch, 3840 x 1100 px, IPS, non-glare, touch
15.6 inch, 16:9, non-touch, matte, 2 panel options:
FHD 300Hz 3ms response, 300-nits, 100% sRGB, Pantone validated
UHD 120Hz 8ms, 400-nits, 100% AdobeRGB, Pantone validated
+ secondary 14-inch, either UHD or FHD, IPS, non-glare, touch
Processor
AMD Rembrandt 6000, Ryzen 9 6980HX, 8C/16T
with liquid metal Conductonaut Extreme
AMD Cezanne 5000, up to Ryzen 9 5900HX, 8C/16T
with liquid metal compound
Video
Radeon + Nvidia GeForce RTX 3080Ti Laptop 16GB (up to 150-165W Max-P, Overclocked)
with MUX, Adaptive Sync
Radeon Vega and Nvidia GeForce RTX 3080 Laptop 16GB (up to 130W Max-P, Overclocked)
with Optimus and Adaptive Sync, no MUX
Memory
up to 64 GB DDR5-4800 (2x DIMMs)
up to 48 GB DDR4-3200 (8/16 GB soldered, 1x DIMM)
Storage
2x M.2 NVMe drives, with RAID 0/1, 2x drives with PCIe gen4
2x M.2 PCIe gen3 drives, with RAID 0/1
Connectivity
Wireless 6E, Bluetooth 5.2, 2.5Gigabit LAN
Wireless 6 AX, Bluetooth 5.0, Gigabit LAN
IO
2x USB-A 3.2 gen2, 1x USB-C gen2 with data, DP 1.4 – dGPU and PowerDelivery 3.0, 1x USB-C gen2 with data, DP 1.4 – iGPU, HDMI 2.1, LAN, microSD card reader, mic/earphone combo
2x USB-A 3.2 gen2, 1x USB-A 3.2 gen1, 1x USB-C gen2 with data, DP 1.4 and PowerDelivery 3.0, HDMI 2.0b, LAN, microSD card reader, mic/earphone combo
Battery
90 Wh, 280 W brick, USB-C charging up to 100W
90 Wh, 280 W brick, USB-C charging up to 100W
Size
355 mm or 13.98" (w) x 266 mm or 10.47 (d) x 20.5 mm or .81" (h)
360 mm or 14.17" (w) x 268 mm or 10.55 (d) x 21 mm or .82" (h)
Weight
from 5.5 lbs (2.5 kg), .76 kg (1.72 lbs) power brick and cables, US version
5.3 lbs (2.4 kg), .76 kg (1.72 lbs) power brick and cables, US version
Extras
updated hinge design, updated keyboard with per-key RGB, updated thermal module, 14″ ScreenPad Plus, 6x speakers, HD webcam with IR
per-key RGB keyboard, 14″ ScreenPad Plus, quad speakers, no webcam
And here's a list of the exact Duo 16 configurations available in stores this year:
ROG Zephyrus Duo 16 GX650RX – Ryzen 9 6900HX, RTX 3080Ti (150W – Turbo, 165W Manual), 4K dual-spec screen, 280W charger;
ROG Zephyrus Duo 16 GX650RS – Ryzen 9 6900HX, RTX 3080 (150W – Turbo, 165W Manual), 4K dual-spec screen, 280W charger;
ROG Zephyrus Duo 16 GX650RW – Ryzen 9 6900HX, RTX 3070Ti (150W – 125 + 25W Boost), QHD+ screen, 280W charger;
ROG Zephyrus Duo 16 GX650RM – Ryzen 9 6900HX, RTX 3060 (140W – 125 + 15W Boost), QHD+ screen, 240W charger.
The exact RAM, panels, and storage options might vary between regions. There are 2x memory slots and 2x PCIe gen4 SSD slots with RAID 0/1 support on this notebook.
A detailed analysis of the AMD Ryzen 9 6000 and Intel 12th-gen Core i9 platforms is available here.
Update: Here are my thoughts on the updated 2023 Asus ROG Zephyrus Duo 16 lineup, with a Ryzen 9 7000 HX processor and up to RTX 4090 graphics.
Design and ergonomics
I was hoping I would be getting a preview unit in time for this article and I would be able to share more of my thoughts on this new design, but it got delayed, so I'll keep things briefly for now, and will update once I get my hands on a sample.
For the most part, the Zephyrus DUO 16 is the same idea as before: a mid-sized laptop with two displays: a 16-inch main screen and a secondary half-size screen positioned on the upper part of the main-deck, pushing the keyboard and the clickpad down to the front of the laptop.
You're getting two displays with this approach, which is the obvious selling point of the series, but the overall ergonomics are also impacted. Having the keyboard positioned that way means that you'll pretty much have to use this laptop on a spacious desk, and less so on the go, or on the lap. It also makes the clickpad narrow and different than what other laptops offer. Furthermore, with the dual displays, the battery life is impacted, so overall I consider the Zephyrus DUO more of a desktop replacement series and less of a performance ultraportable, like the other members of the Asus ROG Zephyrus family.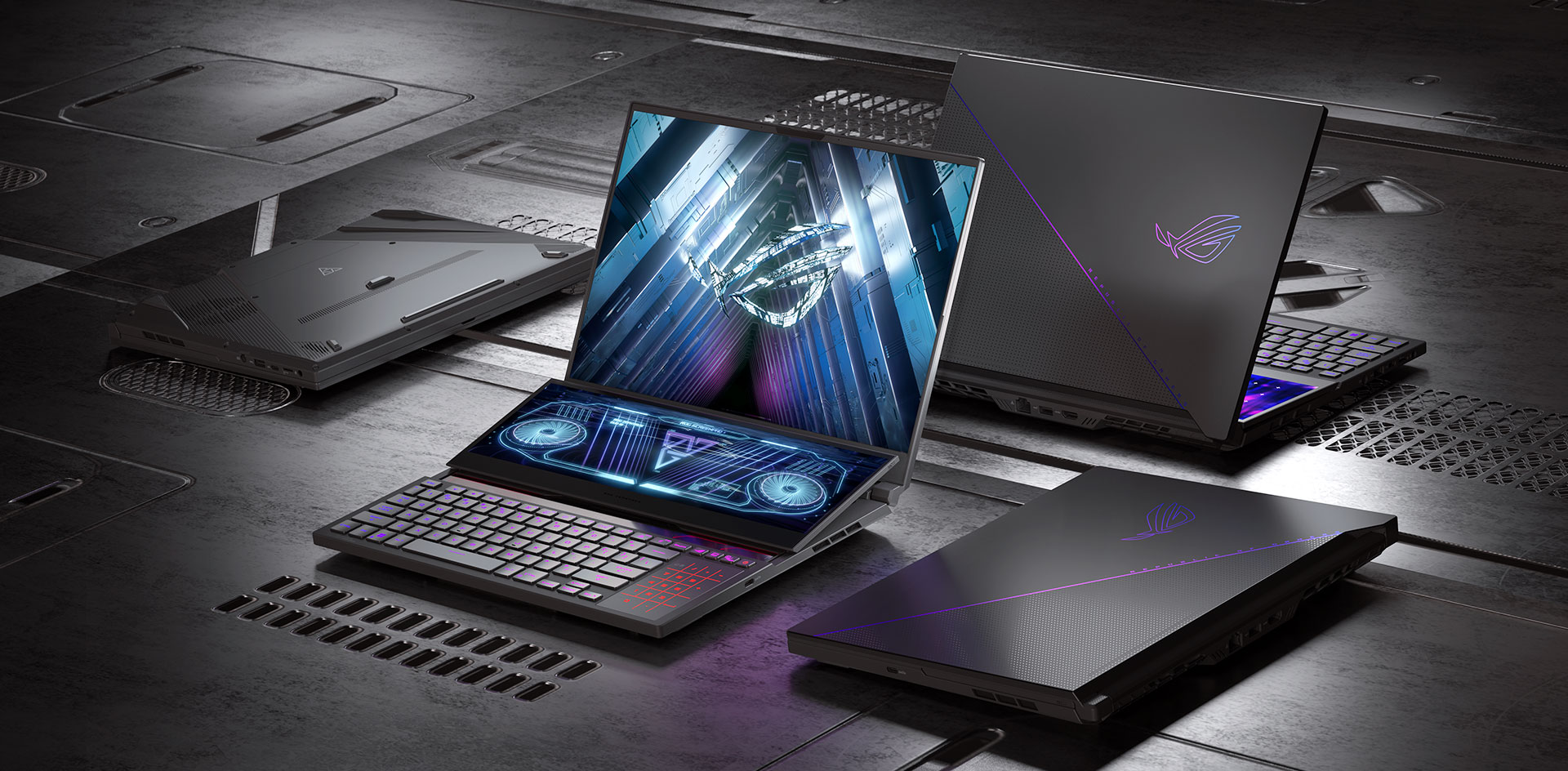 A novelty for this 2022 generation is the way the secondary screen moves when you lift up the main display of this laptop. Previously, it just tilted up at a limited angle, but not it swivels and tilts up at the same time, which results in this secondary screen ending up tilted more towards the user and allowing for a friendlier viewing angle. The mechanism also optically narrows down the gap between the two screens, with only a few mm of bezel space in between from a regular use position. Previously, this gap between the screens was much thicker and inesthetic.
At the same time, the space between the secondary screen and the main chassis widens up on the DUO 16, so you'll need to be extra careful not to get any debris, cables, or objects caught in between the two sides. The mechanical sliding/tilting mechanism is also more complex now than in the past, so a possible reliability concern long-term. Asus claims the system is tested and vetted for many thousands of actions, but this design requires nonetheless a more careful use than a standard clamshell laptop does.
A novelty for the 2022 Zephyrus are the updated speakers, now a total of 6 on this notebook, with two up-firing tweeters and an extra set of dual-force canceling speakers – this is the same kind of audio solution implemented on the Zephyrus G15/M16 series, and one of the better you can find on any laptop right now.
Other than these details, the 2022 Zephyrus DUO seems fairly similar to the 2021 model. It's still a black theme and a somewhat cleaner design now, and the IO is still mostly positioned on the left side, towards the front of the laptop, with only some connectors on the rear edge.
Inputs
From what I can tell right now, Asus have slightly updated the inputs on the 2022 Zephyrus DUO 16. The keyboard is still mostly the same layout, but the keycaps travel deeper into the frame (1.7 mm vs 1.5 mm before) and the feedback has been improved as a result, according to Asus. This is still a rubber-dome chiclet keyboard with per-key RGB control.
For mouse, Asus ditched the mechanical click buttons and implemented a taller clickpad, the kind previously seen on the ZenBook DUO series. I have my reservations based on my experience with the ZenBook.
As for biometrics, there's still no finger-sensor on the Duo 16, but Asus have implemented a camera with IR at the top of the main display. Such a pity that's still HD resolution and probably poor image quality.

Screens
I mentioned earlier the two unique panel options available for the main display on this series, alongside the secondary ScreenPad, which is IPS and has not changed from the previous generation.
The first option is a QHD+ 2560 x 1600 px miniLED panel with 10bit color and 100% DCI-P3 color coverage, branded as the ROG Nebula HDR display, and pretty much the highest-quality panel available on a ROG laptop at this point.
I'm looking forward to testing it out, but the official specs mention up to 1100-nits of peak brightness, a contrast of 100,000:1, and HDR1000/DolbyVision HDR support, all thanks to the 512 local dimming zones of this mini LED panel. This option also comes with a Pantone validation and TUV Rheinland Certification attesting for flicker-free and low blue light emissions. I was told that PWM is used for brightness modulation at lower settings, but at a high frequency that won't bother even those flicker sensitive amongst you.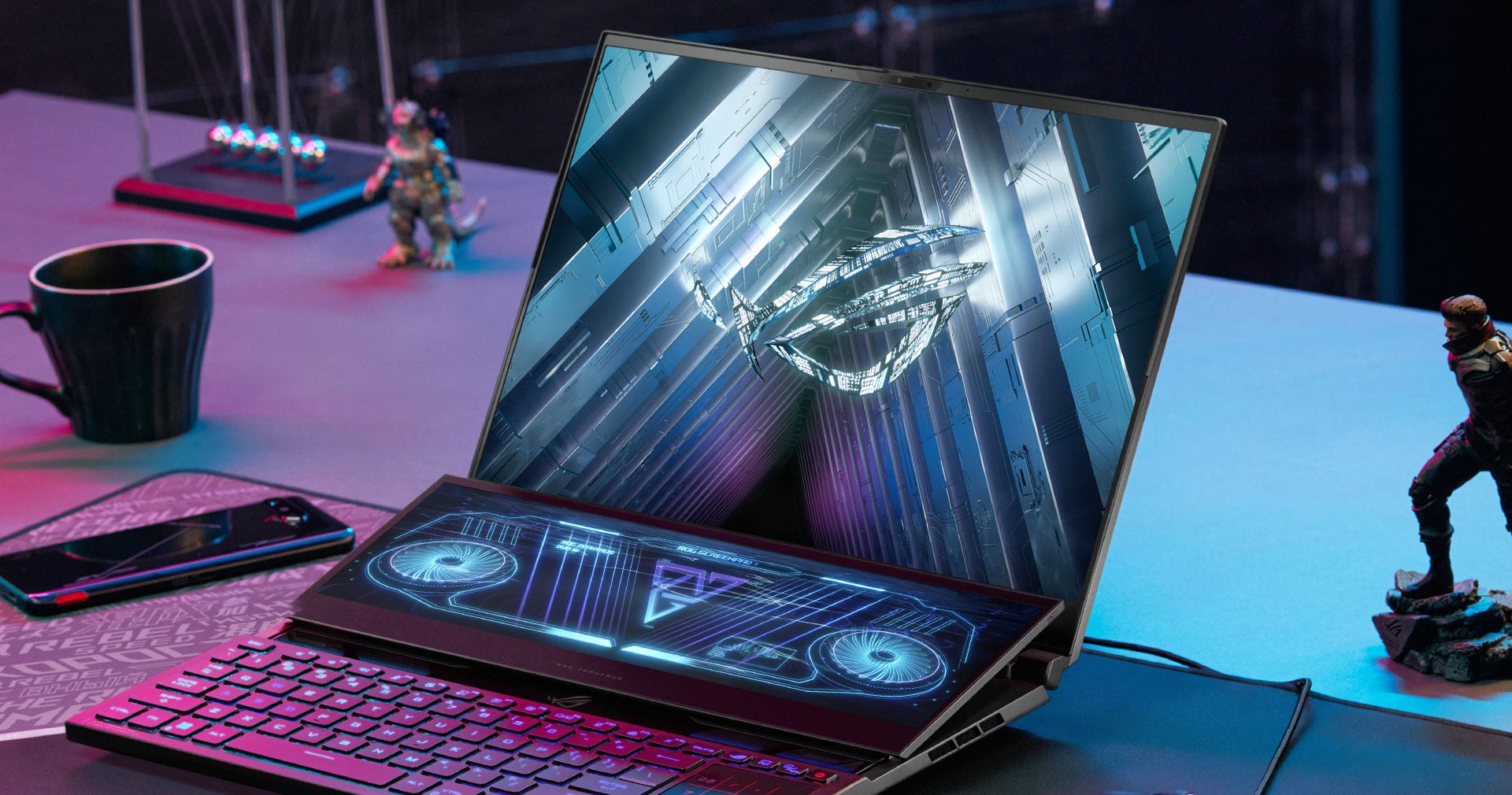 Furthermore, this miniLED panel offers a 240Hz refresh rate, fast response times, and support for either Adaptive-Sync or GSync, based on how you set up the MUX on this laptop. In other words, it's excellent for gaming as well.
All these aside, Asus also offers the ability to deactivate the zone lighting in order to create the uniform illumination required when editing photos/video or performing other image-accurate activities. Of course, the contrast and max-brightness take a hit on this mode.
The other panel option is an IPS natively running at UHD+ 4K+ resolution and 120 Hz refresh, with 500-nits of brightness, a contrast of around 1200:1, and 100% DCI-P3 color coverage. This is branded as a ROG Nebula Display, as a step down from the Nebula HDR option.
The trick about this panel is the ability to select between either a 4K 120Hz or a FHD 240Hz mode, without impacting the image quality in any way when opting for the FHD non-native resolution. This is possible thanks to an updated Panel Engine that's able to treat 4 pixels on the UHD panel as a single pixel at FHD resolution.
This screen option sounds interesting if gaming sits high on your list of priorities, but we'll need to further test this in real-life to figure out if it's as good as advertised and indeed eliminates the fuzziness and jitter that you're normally getting when running content and a non-native resolution.
Hardware and Specs
Internally, Asus have updated the hardware specs of the 2022 Zephyrus DUO 16 GX650, opting for an AMD Ryzen Rembrandt 6000 platform with up to a Ryzen 9 6980HX processor and up to an RTX 3080Ti 16 GB dGPU.
The bump to Ryzen 6000 also comes with an update to DDR5-4800 memory and PCIe gen4 storage, on one of the two M.2 slots available inside. An update for this generation is that the memory is no longer partially soldered on the motherboard; instead, there are 2x DIMMs inside and the laptop can be configured with up to 64 GB of RAM.
On the GPU side, Asus bumped the power settings for the Nvidia dGPU to 150W with Dynamic Boost (140W Base power + 10W Boost) on the Turbo profile, up from the up to 135W of the previous generation. There's also the ability to push up the power up to 165W (140W Base + 25W Boost) in the Manual mode in the Armory Crate control app, as long as you're OK with louder fans to cope with the extra heat. This would only translate in limited performance gains, though, of up to 5%. Nonetheless, this Zephyrus DUO is the higher GPU-power design offered by Asus at this point in Manual mode, up from the 150W possible on the 2022 Scars and the 140W limit on the Zephyrus S17.
Asus also implemented a MUX on this 2022 Duo, which was not available before, so I'd expect a noticeable boost in performance in certain GPU loads and in games, especially when we also factor in the faster memory, storage, and CPU.
As for the AMD Ryzen 9 6980HX processor, I'm still filling up the blanks on it, but I'd expect it to be a higher-bin variation of the regular Ryzen 9 6900HX, capable of running at slightly higher clocks.
The CPU is aided in its endeavors by the implementation of a new-generation liquid metal compound branded as "Thermal Grizzly Conductonaut Extreme" and only offered on the highest-tier ROG 2022 configurations, such as this Zephyrus DUO or the ROG Scar 15/17 series. This compound no longer uses tin and is able to further improve the thermal performance of the "standard" liquid metal used in the previous generations. Regular thermal paste is still used on the GPU side.
Asus have also updated the internal cooling module of the Zephyrus DUO, opting for higher-capacity fans, which paired with the less obstructed intakes between the ScreenPad and the chassis, results in a 30% increase in airflow capacity for this design that Asus calls the AAS Plus 2.0. Hopefully, this makes a difference in demanding loads, as the previous-gen Duo did run rather hot with games and other combined loads. This aspect is something I'll carefully look into once we get the review units.
The battery has not changed, it's still 90Wh. The charger has been bumped to 280W, though, with a slightly larger brick, in order to meet the requirements of the higher-power hardware implementation. USB-C charging is still possible when you don't want to grab along the big brick, at up to 100W.
Early conclusions
The Zephyrus DUO 16 will be available in stores around February/March 2022, and while Asus have not indicated the exact pricing, I'd expect it somewhere around 2500 to 4000 USD/EUR between the various configurations. The Ryzen 9 + 32 GB of RAM + RTX 3070Ti + QHD Nebula HDR display would be the best-value option for me, if available in this combo.
Update: Our detailed review of the Zephyrus Duo 16 is available here.
All in all, the updates from the 2021 Zephyrus Duo 15 SE and this 2022 Zephyrus Duo 16 are significant, covering small changes in the design language and tweaked inputs, but especially the move to the 16-inch display with those excellent panel options, the new hinge mechanism for the ScreenPad, the updated hardware with the higher-power graphics and a MUX, as well as what's hopefully a thermal module better suited to handle this hardware in this sort of a chassis.
We'll know more once we get our hands on this for a review, but for now, I'm excited. I still think this Duo series is not for everyone, as it somewhat compromises on portability and ergonomics for this form factor, but with the refinements, the DUO 16 is most likely the best DUO to date. At this high price point, the dual-screen design paired with everything else should put the Zephyrus DUO 16 on more maps than in the past.
I'm curious what you guys think about this ROG Zephyrus DUO 16 GX650 series.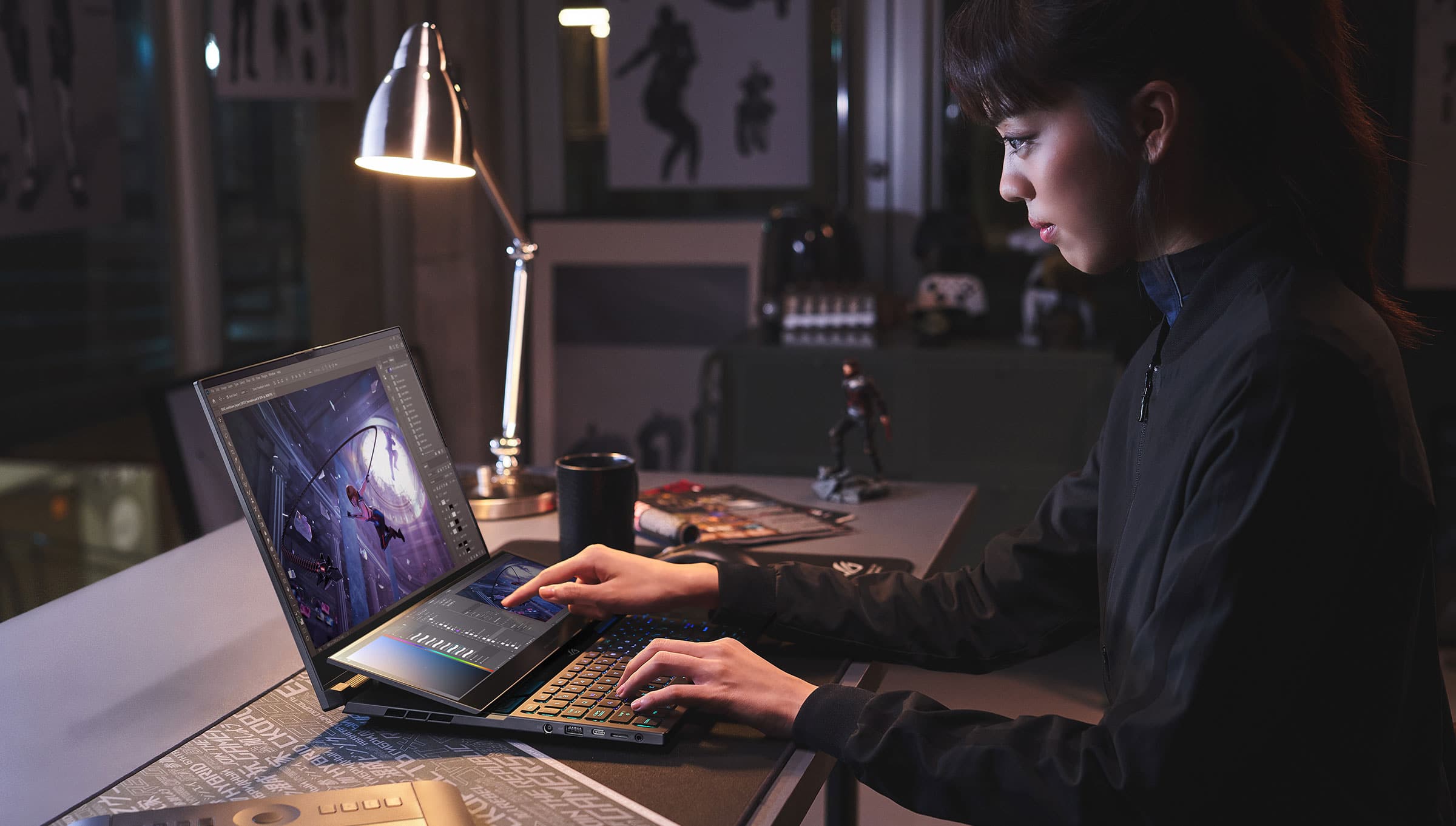 Disclaimer:
Our content is reader-supported. If you buy through some of the links on our site, we may earn a commission.
Terms
.