The ROG Zephyrus Duo 16 is one of the most powerful work/gaming laptops available in Asus's 2023 lineup, and one of the very few built on an AMD hardware platform, alongside the 2023 ROG Scar 17 and Strix G17 models.
The 2023 generation is, however, mostly a hardware update of the 2022 ROG Zephyrus DUO 16 reviewed in depth in this article.
That means it's built on the same chassis and remains a dual-screen laptop ideal for desk-use, but somewhat cumbersome when used on the lap or in cramped spaces.
The performance potential of the updated specs is significant, though. The 2023 Zephyrus Duo runs on an AMD Dragon-Range Ryzen 9 processor with 16Cores and 32Threads, as well as up to an Nvidia RTX 4090 16GB dGPU. The other major update for this model year is a simplification of the available screen options, with a miniLED panel now present on all configurations.
We'll go through the notable novelties of the 2023 ROG Zephyrus Duo 16 series down below, briefly comparing it to the previous generation, and then we'll follow up with our in-depth review later in the year.
2023 Asus ROG Zephyrus Duo 16 .vs 202 Zephyrus Duo
Here's a complete specs sheet of the 2023 and 2022 generations of the ROG Zephyrus Duo 16.
2023 ASUS ROG Zephyrus DUO 16 GX650RX
2022 ASUS ROG Zephyrus DUO 16 GX650RX
Display
16-inch, 16:10, non-touch, matte,
QHD+ 240Hz 3ms, miniLED with 1024 dimming zones,
1100-nits, 100% DCI-P3
+ secondary 14-inch, 3840 x 1100 px, IPS, non-glare, touch, 400-nits, 100% sRGB
16-inch, 16:10, non-touch, matte, IPS with 100% DCI-P3, 500-nits,
dual-spec panel – UHD+ 120Hz 3ms or FHD+ 240Hz 3ms, with Pixel Acceleration
+ secondary 14-inch, 3840 x 1100 px, IPS, non-glare, touch, 400-nits and 100% sRGB
QHD+ mini LED main display option also available
Processor
AMD Dragon Range HX, up to Ryzen 9 7945HX, 16C/32T
AMD Rembrandt, up to Ryzen 9 6900HX, 8C/16T, up to 90W TDP
Video
Radeon + Nvidia GeForce RTX 4090 16GB (up to 165W TGP with Dynamic Boost)
with MUX and FreeSync (no GSync on internal display)
Radeon + Nvidia GeForce RTX 3080Ti Laptop 16GB (up to 165W TGP with Dynamic Boost)
with MUX and Adaptive Sync (no GSync on internal display)
Memory
up to 64 GB DDR5-4800(2x DIMMs)
Storage
2x M.2 PCIe gen4 slots
Connectivity
WiFi 6E 2×2 with Bluetooth 5.2, 2.5Gigabit LAN
Ports
2x USB-A 3.2 gen1, 1x USB-C with DP (dGPU) and power delivery – left side, 1x USB-C gen2 with DP (iGPU) – right side, HDMI 2.1, LAN, micro SD card reader, audio jack
Battery
90Wh, up to 330 W power adapter, USB-C charging up to 100W
90Wh, 280 W power adapter, USB-C charging up to 100W
Size
355 mm or 13.98" (w) x 266 mm or 10.47 (d) x 20.5 – 29.7 mm or .81" – 1.17″ (h)
355 mm or 13.98" (w) x 266 mm or 10.47 (d) x from 20.5 mm or .81" (h)
Weight
2.7 kg (5.9 lbs) for the 4090 + miniLED model, + chargers
from 2.5 kg (5.5 lbs) for the 3080Ti + 4K IPS model, + chargers
Extras
rubber-dome per-key RGB backlit keyboard with NumPad, FHD IR webcam, 6x speakers
Here's a list of the exact Zephyrus Duo 16 configurations available for the 2023 generation:
ROG Zephyrus Duo 16 GX650PY – Ryzen 9 7945HX, RTX 4090 16GB (165W ), QHD+ mini LED screen, 330W charger;
ROG Zephyrus Duo 16 GX650PZ – Ryzen 9 7945HX, RTX 4080 12GB (165W ), QHD+ mini LED screen, 330W charger;
ROG Zephyrus Duo 16 GX650PI – Ryzen 9 7945HX, RTX 4070 8GB (1405W ), QHD+ mini LED screen, 280W charger.
Until we get to review the Zephyrus Duo, our reviews of other Ryzen HX platforms are available here: the high-performance ROG Strix Scar 17 (Ryzen 9 7945HX + RTX 4090) and the mid-tier ROG Strix G17 model (Ryzen 9 7945HX + RTX 4070).
Design and daily use experience
I've reviewed all the previous Zephyrus Duo iterations over the years, and watched the series evolve to the current design.
As mentioned already, the 2023 Duo 16 is a hardware update of the 2022 Zephyrus Duo model reviewed in this article, with modern specs and a few other small refinements meant to enhance your experience with the device.
We'll talk about the specs and the performance in a bit, but first, here are some pictures of this laptop (of the 2022 Duo, but the 2023 model is identical).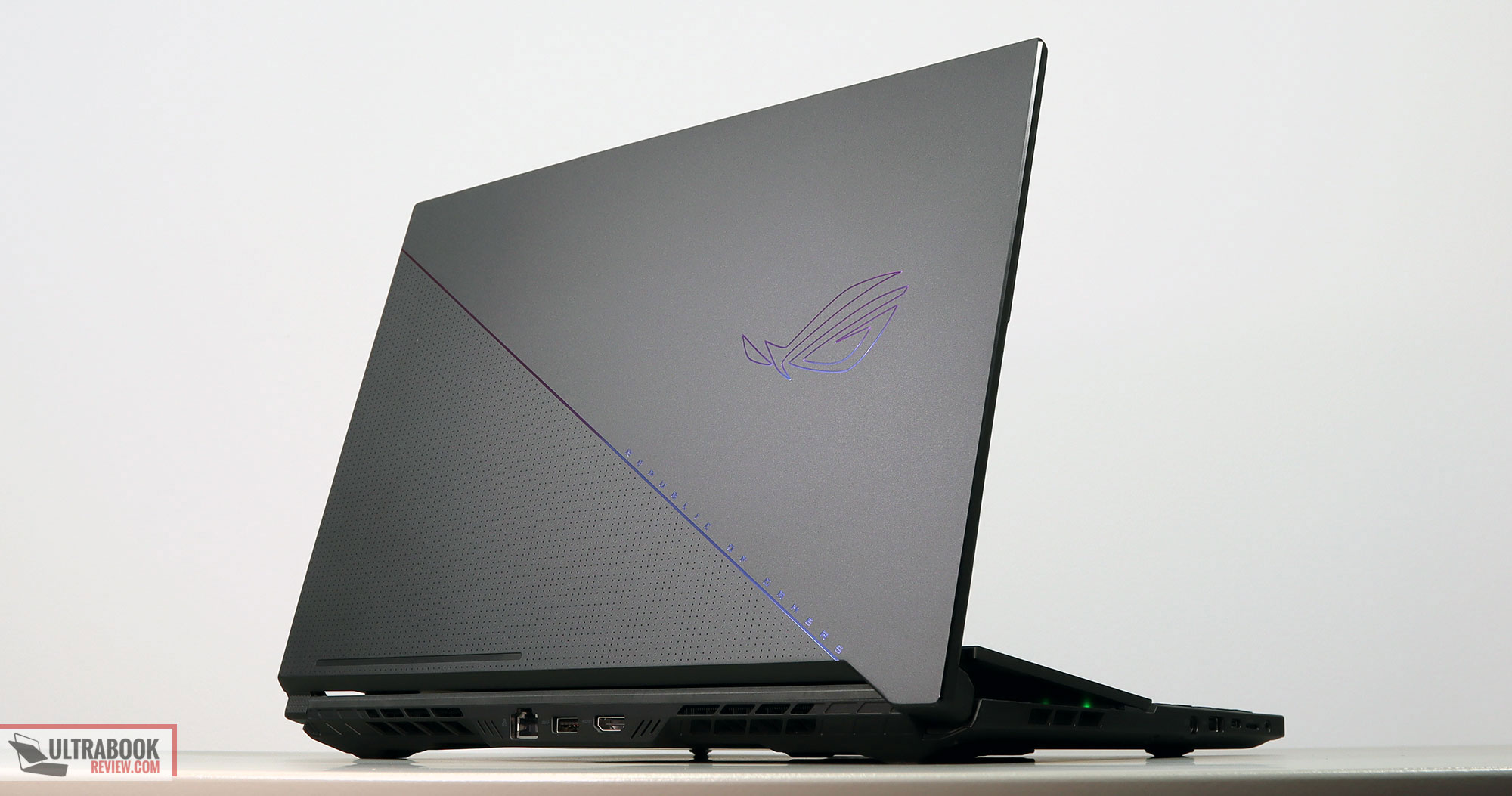 You're probably already familiar with the dual-screen form factor offered on a couple of Asus laptops.
For this Duo, the main display is 16-inch 16:10, with an extra secondary display (called ScreenPad) placed at the top half of the chassis, on a system that scoops it up when opening the laptop, in order to angle it towards you and help keep the internal components at bay – that's because the thermal module is designed to draw in fresh air from underneath the second screen.
Here's another picture that showcases the mechanism that slides up the ScreenPad.
Having the keyboard positioned at the front of the laptop means that you'll pretty much have to use this on a spacious desk, and less so on the go, or on the lap. It also leaves room for only a small and narrow clickpad at the right, which is OK once you get used to its placement, but I'd reckon most of you will want to use a mouse with this computer.
Otherwise, the typing experience is excellent here, even with the lack of an armrest. The overall ergonomics are pretty good as well, the audio quality is impressive with the 6x speakers on this model, and Asus made sure to include a good selection of ports all around the chassis. There's still no USB 4.0 support for this series, though, from what I can tell.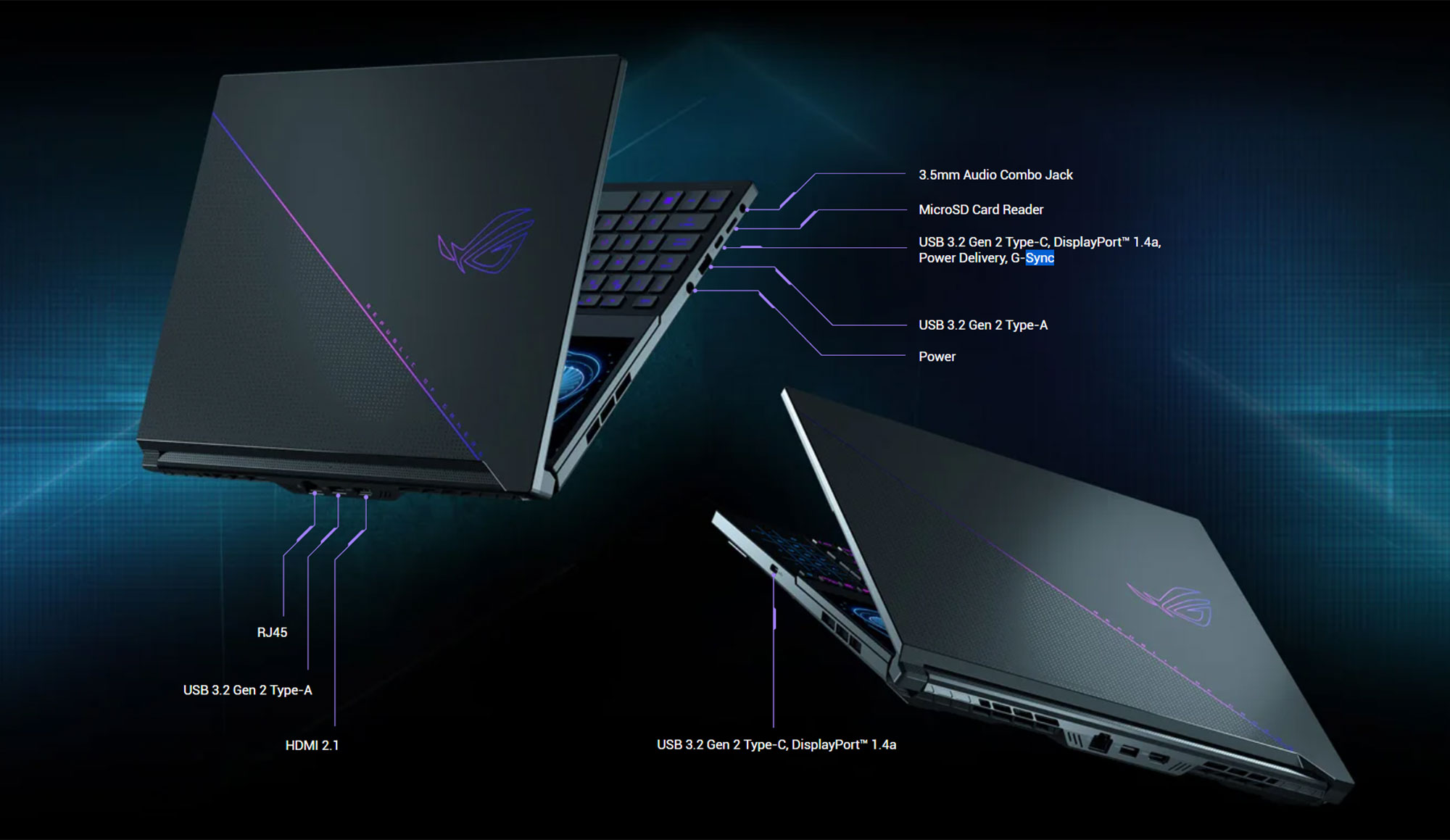 As for the available panel options, last year you could find the Zephyrus Duo 16 with either a dual spec 4K IPS panel or a 1600p miniLED panel, and this year the IPS option has been axed. That means there's only a mini LED display option available for all the 2023 Zephyrus DUO 16 configurations.
It is an upgrade of the previous miniLED panel from the 2022 models, with slightly higher max brightness, faster refresh and response times, and twice the number of dimming zones, which should hopefully address some of the uniformity inconsistencies reported on the previous gen. For what is worth, Asus still offer an option for either multi-zone or single-zone backlighting in the settings, with the latter being crucial for any color-accurate work on this sort of display.
One final update for the 2023 Duo is the addition of a 2 MPx camera at the top of screen, which replaces the 720p camera on the previous generation.
Hardware specs and capabilities
On the inside, the 2023 Asus ROG Zephyrus Duo 16 remains an AMD CPU + Nvidia GPU combo, unlike most of the other 2023 ROG lineups.
All the available configurations are built on the AMD Ryzen 9 7945HX processor, with 16Cores, 32 Threads, and 80 MB of cache memory, the highest-grade AMD mobile processor available for this hardware iteration.
On the GPU side, this can be specced with either an Nvidia GeForce RTX 4090 Laptop 16GB 165W, an RTX 4080 12GB 165W, or an RTX 4070 8GB 140W on the three available sub-lineups.
However, as far as I understand (will update if needed), there's still only a standard MUX with regular Optimus implemented here, unlike on most of the other 2023 ROG laptops that get Advanced Optimus. That means you'll have to restart the system when switching between the hybrid/dGPU modes, and there's no GSync support on the main display.
The other specs haven't changed from the 2022 Duo, with still DDR5 memory (up to 64 GB, 2x DIMMs), two gen4 M.2 2280 storage slots, WiFi 6E connectivity, and a 90 Wh battery. A bulkier 330W charger comes as standard with these 2023 updates, though, which might suggest an increase in the system's total power. Asus haven't offered any specific details on the power settings, other than the max TGP for the GPU options, which is still 165W for the 4080/4090s.
The motherboard and the cooling module haven't changed on the 2023 update either. Conductonaut Extreme liquid metal is still used on the CPU here (not the GPU – to be confirmed).
I've included a picture of the previous generation, for reference.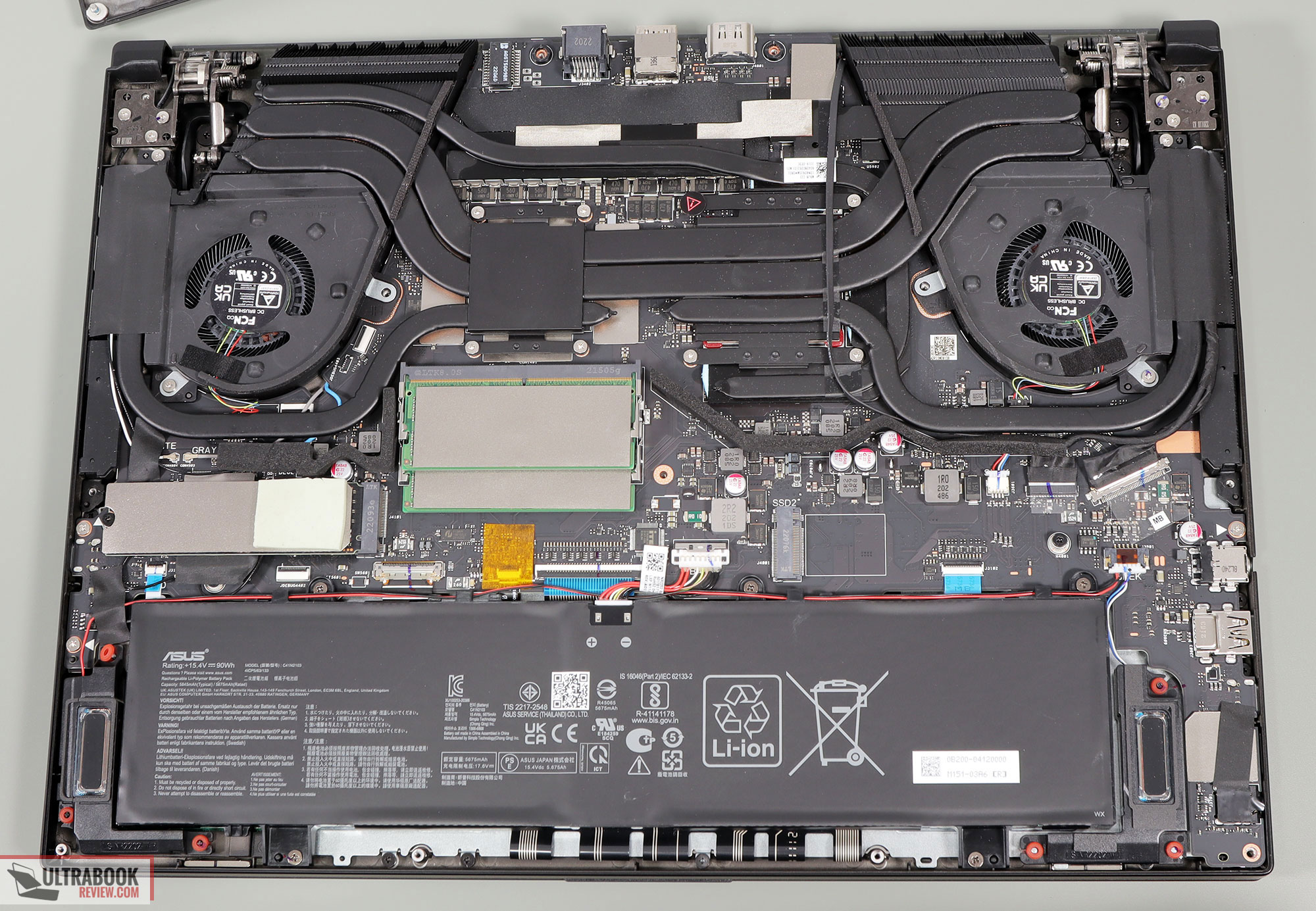 This link also points toward our Performance section in the review of the 2022 Zephyrus DUO 16, which will help you form an idea of what to expect in terms of power settings, temperatures, and noise levels with this chassis design.
There's also a section about battery life in there, although the 2023 model with the Ryzen HX processors might not run as efficiently, and the miniLED panel will take its toll on the IPS screen on that previous unit.
We'll get out answers soon, and I will update this with a link to our review of the 2023 generation when available, in the next weeks and months.
Wrap-up and availability
All in all, while this generation of the Zephyrus Duo 16 is not a chassis refresh or an improvement in ergonomics and daily use experience in any way from the 2022 model, it remains an exciting series this year thanks to the updated specs under the hood and its unique dual-display form factor.
The specs are especially important in today's environment, where most of the other high-performance laptops available (not just from Asus, but from most other brands) are based on Intel platforms now.
From the little known so far, the Ryzen 7000 HX platform is going to be an excellent performer in multi-threaded loads and a notable step-up in IPC in comparison to the previous Ryzen 9 6900HX models from 2022. Furthermore, the jump in GPU performance with the Ada-Lovelace RTX 4000 chips is significant as well.
However, the dual-screen form factor remains the number one reason you would want one of these over any of the other options out there in the high-performance laptop space. But it's not for everyone, so if the ergonomics aren't convincing for you or perhaps this series is not within your budget, the same specs will also be available in the 2023 Asus ROG Scar 17 update, which is a little larger 17-inch notebook and a little more powerful, thanks to its vapor-chamber cooling (previously seen in the ROG Scar 17 SE lineup).
Speaking of, the 2023 Zephyrus Duo 16 should be available in stores around March this year, at between 2500 to 4000 USD for the available configurations, and 3000 to 5000 EUR over here in Europe. That's about on par with how much the previous generation used to cost at launch, and while surely expensive, I would say still competitive for what you are getting here with this notebook series.
Anyway, stay tuned for our full review, and in the meantime, I'd love to hear your thoughts on this updated 2023 Asus ROG Zephyrus Duo 16 series and its performance potential.
Disclaimer:
Our content is reader-supported. If you buy through some of the links on our site, we may earn a commission.
Terms
.