Here at Ultrabookreview.com, we've been testing and reviewing gaming laptops for more than 10 years now, of all kinds and from all major brands. Our experience allows us to properly help you choose the best gaming laptop for your needs and budget, from the multitude of options available in stores as of 2022.
We take a multitude of aspects into consideration for our recommendations. The performance, thermals, and noise levels while running games and other demanding chores come first, but other details count as well, such as the overall build and screen quality, the typing experience, the audio, and especially if there are any potential deal-breaking flaws that you must be aware of. On top of all these, pricing also plays an important role in determining a notebook's overall worth.
Even when accounting for all these, you'll find that there are many good-value gaming laptops out there, and that's why this article is not just a basic Top 10 as you'll find on most other sites, but rather a detailed buying guide (with a condensed summary in the beginning). Take your time and go through the entire article, it will help you narrow down your options and make a purchase you won't regret.
Oh, and before we start, a shameless plug. If you find this article helpful, I'd appreciate supporting our independent work by disabling your adblock on the site and buying after clicking our affiliate links. Thank you!
I've split the article into a few different sections, in order to make it easier for you to navigate:
The absolute best thin and light gaming laptops
This is the condensed version of the article that covers the cherry-picked thin-and-light no-compromise performance notebooks.
The options here offer compact, thin, and premium builds, high-quality screens with proper brightness, colors, and refresh rates, good-quality RGB keyboards, as well as the latest hardware specs and features. They also do a good job at delivering on the hardware's performance potential in demanding workloads and AAA games. However, these premium options come with prices to match, and you should also expect them to run warm and even noisy with games, a given when you squeeze powerful hardware inside small form factors.
Heads-up, I've only included the portable mid-sized 15 and 16-inch laptops in this first selection, but this part of the guide covers the 13 and 14-inch variants, and this one covers the larger 17-inch ultraportables. And, if you'd rather get something more affordable and you're willing to somewhat sacrifice on size and weight, the options in this section would most likely better fit your needs.
With that in mind, let's first go through the specs and particularities of these top options, and then we'll get in-depth on these picks and explain why they were chosen.

| | | | |
| --- | --- | --- | --- |
| | Razer Blade 15 Advanced – review | Asus ROG Zephyrus M16  – review | Gigabyte Aero 15 OLED – review |
| Screen | 15.6-inch – 16:9 FHD 360Hz, QHD 240Hz matte, or 4K OLED touch | 16-inch – 16:10 FHD+ 300Hz or QHD 165 Hz matte | 15.6-inch – 16:9 4K OLED with 100% Adobe RGB |
| Processor | up to 11th gen Core i7-11800H, 8Core | up to 11th gen Core i9-11900H, 8Core | up to 11th gen Core i9-11900H, 8Core |
| Video | up to Nvidia GeForce RTX 3080 Laptop 90-105W | up to Nvidia GeForce RTX 3070 Laptop 80-100W | up to Nvidia GeForce RTX 3080 Laptop 80-105W |
| Memory | up to 32 GB DDR4 (2x DIMMs) | up to 48 GB DDR4  (16 GB soldered, 1x DIMM) | up to 64 GB DDR4 (2x DIMMs) |
| Storage | 2x M.2 PCIe | 2x M.2 PCIe | 2x M.2 PCIe |
| Ports | 3x USB-A 3.2 gen2, 1x USB-C 3.2 gen2, 1x USB-C with Thunderbolt 4, HDMI 2.1, SD card reader, mic/earphone | 2x USB-A 3.2 gen2, 2x USB-C with Thunderbolt 4, HDMI 2.0b, microSD card reader, LAN, headphone&mic, Lock | 3x USB-A 3.1 gen1, 1x USB-C with Thunderbolt 4, HDMI 2.1, miniDP 1.4, LAN, SD card reader, mic/earphone |
| Battery | 80 Wh, 230Wh charger | 90 Wh, 240Wh charger | 99 Wh |
| Size | 355 mm or 13.98" (w) x 235 mm or 9.25" (d) x 16.9 mm or .70" (h) | 355 mm or 13.98" (w) x 243 mm or 9.57″ (d) x 19.9 mm or .78" (h) | 356 mm or 14.01" (w) x 250 mm or 9.8" (d) x 19.9 mm or .75" (h) |
| Weight | from 2 kg (4.4 lbs) | ~2.05 kg (4.5 lbs) | ~2 kg (4.4 lbs) |
| Price | updated configurations and prices | updated configurations and prices | updated configurations and prices |
| Particularities | unibody aluminum construction, clean design, Chroma RGB backlit keyboard, biometrics, up-firing speakers, vapor-chamber cooling | magnesium and aluminum construction, zone RGB backlit keyboard, finger-sensor, HD camera, 6x speakers | aluminum build, minimalistic industrial design, RGB keyboard with Numpad, bottom speakers |
You're probably outraged that no AMD Ryzen-based laptop made it to this top selection, and that's simply because the better AMD models just didn't fit all the criteria. The ROG Zephyrus M16 is a slight upgrade of the AMD-based Zephyrus G15, and I'll explain why down below, the dual-screen Zephyrus DUO is too much of a niche product, heavier, and more expensive than these options, and the ROG Strix G15 Advantage is an excellent value laptop, but not the thin and light kind. Furthermore, the compact ROG Zephyrus G14 and Blade 14 are solid options in the 14-inch niche, and we'll discuss them in a further section.
Nonetheless, if you're interested in the CPU performance and overall efficiency provided by the AMD Ryzen 5000 computers, you should check out this article that goes in-depth over the Ryzen 9  and 7 laptops, with links to our detailed reviews.
Asus ROG Zephyrus M16 (and AMD-based G15)
Asus chose not to update the ROG Zephyrus S15 series for 2021, and as a result, the M16 and G15 are their top mid-sized offers right now. The G15 came out earlier in the year and is based on an AMD Ryzen 5900HS processor with up to RTX 3080 graphics and a 16:9 display, while the M16 is based on an 11th gen Intel platform paired with up to RTX 3070 graphics and a 16:10 screen. We've reviewed both series, here (for the G15) and here (for the M16).
The performance is similar between the two, with a slight edge for the Intel model in single-core CPU loads and slightly lower temperatures in demanding loads. At the same time, the Intel model runs louder at full-blast and is not as efficient as the AMD variant, which outlasts it when used unplugged. Both also use a design that blows the hot air into the screen, which I'm not a fan of.
For what is worth, Asus decided to cap the M16 at a 3070 configuration, while the G15 can be paired with a 3080, but as shown in our reviews, the 3080 isn't a big step-up from the 3070 in these compact chassis with limited power allocations, unless you're interested in RTX gaming.
Specs aside, the G15 and M16 are identical products, with the same kind of design, magnesium chassis, and IO layout. The M16 does get an RGB keyboard, though, a camera on top of the screen, and a 16:10 panel with a smaller bottom bezel, and these combined ultimately make it our recommendation between the two. That taller 16:10 display is excellent for daily use, work and gaming.
Availability and pricing are going to play an important role in your decision, though, as the M16 is more expensive at launch, as well as a newer product, so there's a good chance you'll find the G15 for a lot less. If in stock, that is.
All in all, the ROG Zephyrus G15 and M16 should be on your list of you're after powerful and versatile gaming ultraportables with this generation. They're not without quirks, though, so make sure you understand them from our reviews.
Compared to the other options in this class, the Zephyrus models have an advantage in overall performance and battery life, excellent inputs, screens and audio, and are more competitively priced. At the same time, they're not as well built and tend to run warmer and noisier on their Turbo profiles, as a result of Asus implementing more permissive power settings that result in that extra performance.
Follow this link for updated Zephyrus G15 configurations and prices at the time you're reading the article, as well as this one for more details on the Zephyrus M16.
Razer Blade 15 Advanced
Although it's starting to show its age here and there, the 15-inch Razer Blade Advanced is still one of our favorite all-around performance ultraportables of the moment. It's also among the most expensive, and that alone might steer some of you away, and not available all around the world, so might not even be an option for some of you.
We've covered the Blade 15 Advanced in-depth in our detailed review. In just a few words, Razer demand a premium for the excellent unibody aluminum build, the simple and clean aesthetics, the fast and customizable keyboard with per-key RGB illumination, the complete IO that includes TB and a fast card-reader, the multitude of screen options, the consistent performance with good thermals and noise levels, as well as the fair battery life.
Compared to the competition, the Blade 15 has an edge in design and overall craftsmanship quality. It's also one of the very few gaming models with up-firing audio, as well as the single one that offers Thunderbolt 4, a finger sensor and an IR camera at the same time. On top of these, Razer's control software is some of the better on the market, allowing to easily tweak the keyboard's RGB and juggle with the performance, thermal, and fan settings.
At the same time, Razer's keyboard could see an upgrade, as it feels mushier than what the competition offers, and the audio pales in comparison to what Asus offers on their recent Zephyrus models. The Blade 15 is also not as powerful as some of the ROG models, especially in CPU-heavy tasks, and that's because Razer implements power-constrained profiles in order to keep the thermals and noise levels at bay. Paired with their competent vapor-chamber thermal module, this approach allows the Blade 15 to run quieter and cooler than the competition while sacrificing performance to some extent.
Hardware-wise, the Blade 15 is available in a few different configurations. The recent models are based on a six-core Intel Core i7 8Core processor, up to 32GB of DDR4 RAM, dual M.2 PCIe SSD slots for storage and an 80 Wh battery. You can then opt for either RTX 3070 or 3080 Laptop graphics on the Advanced version, but the screen pairing is limited and might not satisfy some of you. There's no GSync, just regular Optimus.
Razer also offers a Blade 15 Base variant starting at an RTX 3060 Laptop GPU and a 144 Hz FHD screen. This model is slightly thicker, gets a smaller 65W battery, and room for a 2.5″ storage bay as well, so is definitely an option to consider if you're shopping at a lower budget, as the difference between the Base and the Advanced is of hundreds of dollars. Professional Studio Editions of the Blade 15 are also available, with a 4K UHD wide-gamut screen and Quadro graphics.
The Razer Blade 15 Advanced starts at $2499 at the time of this update for the RTX 3070 configuration with the 360 Hz FHD screen, 16GB of RAM and 1TB of SSD storage. The Blade 15 Base starts at a more affordable $1699 level for a 6C Intel i7 processor with the RTX 3060 and 144 Hz FHD screen. You will most likely find both variants discounted, though, so make sure to follow this link for updated configurations and prices at the time you're reading the article.

Gigabyte Aero 15 and 15 OLED
While the Asus and Razer models above are more versatile and cater consistently towards gamers with their performance and fast screen, Gigabyte takes a different approach with their 2021 Aero 15: they offer the same premium-tier chassis and features in two types of configurations: one that's more affordable and pairs a FHD 144 Hz screen with modern Intel + Nvidia specs, and another that primarily caters to creators and those who value an OLED high-gamut screen, on the Aero 15 OLED. But OLED panels are quirky on laptops and not ideal for gaming, with their 60 Hz refresh.
Compared to the competition, Gigabyte's Aero 15 is one of the very few to offer a complete set of ports, a full-size keyboard with a NumPad section, and a 99 Wh battery. Gigabyte also take a different approach to the power profiles and optimizations, which is controlled by software that automatically adjusts the CPU's power and fan profiles based on the app that you're running at a given time. It's not spotless, but it works surprisingly well, and allows the Aero 15 to run quietly and cooly in most cases, without requiring manual fiddling with the settings.
That makes this Aero 15 friendlier towards less tech-savvy buyers, but at the same time, this is not a match for either the Zephyrus or the Blade in terms of raw performance, unless you're willing to take the time and dial things up manually. In which case the Aero 15 is going to be an excellent performer, especially since it implements the higher-power RTX chip among these options.
On the other hand, Gigabyte's design language might not be for everyone, and their software doesn't tweak the GPU in any way, which can only be done manually. But all in all, this is definitely an option to consider, especially if you want an OLED screen and you're willing to pay the extra for it.
Follow this link or updated configurations and prices at the time you're reading the article, as well as user reviews from previous buyers.

Almost there: Acer Predator Triton 500 and MSI GS66 Stealth
There are a couple of other good options in this segment and I just can't move on without at least mentioning them and linking to our detailed reviews for more details.
The Acer Predator Triton 500, which we've reviewed in this article, focuses primarily on being a gaming ultraportable, and it might just be the best-value option in this whole segment if that's all you care for.
Acer prioritized on making this more affordable than the competition, but without compromising on those aspects that matter in games: a fast 300 Hz 3ms screen with GSync support, an RGB keyboard, good thermals, and specs and power-profiles optimized around the gaming experience. That means you're only getting a FHD 300 Hz screen and a 6Core Intel processor with the Triton 500, but the same kind of RTX 2070 Super and 2080 Super graphics available with the other options, yet overclocked.
This approach allows Acer to sell the RTX 2070 Super version of the Triton 500 for $1799 at the time of this update, several hundreds of dollars cheaper than the competition. Follow this link for updated configurations, prices, and user reviews.
What are the downsides, though? First off, the design and overall build-quality are not really with the other options, and this lacks certain features (such as biometrics, front-facing speakers) and configurations options (such as other screen options or an 8Core processor). It's also a lot more difficult to open up and upgrade than the other options, and packs rather poor speakers. Can you live with these? Well, that up to you, but if the answer is yes, this Triton could be for you, especially at that price and since it also packs one of the most competent thermal designs in this segment.

Finally, our detailed review of the MSI GS66 Stealth Thin is available over here.
MSI went the same route as Gigabyte with this product, offering multiple configurations in the same premium-tier chassis, but sacrificing raw performance to some extent. That's why the GS66 is not necessarily the ideal gaming-ultraportable, where it loses to the competition and runs fairly hot, but could be an excellent productivity laptop in the lower-tier configurations.
The clean design lines, the quick keyboard, the good IO, and the huge 99 Wh battery tucked inside a premium aluminum chassis recommend it for business and work environments, just make sure to read our detailed reviews for details on all its quirks before jumping on this.
Follow this link for updated configurations, prices, and user reviews.

Smaller 13-inch or 14-inch gaming laptops
Most of the 14-inch or smaller thin-and-light notebooks with dedicated graphics are based on Nvidia's entry-level MX graphics chips, but there are a few GTX 1650 to RTX 3060 powered exceptions that can truly game in this form-factor, as well as an option that goes all the way up to a 3080, if you're willing to spend close to 3G for it. We'll touch on both categories down below.
13-inch gaming ultrabooks
For years, the Alienware 13 has been the only 13-inch performance laptop money could buy. It wasn't compact and it wasn't pretty, but it bundled a GTX 1060 GPU in its latest iteration, good enough for FHD gaming at high details.
Since that's no longer an option, unless you somehow find it used, these days you have to settle for either one of those Nvidia MX models, or one of the two more powerful 13-inch models available: the Razer Blade Stealth 13 and the Asus ROG Zephyrus Flow X13.
Razer Blade Stealth 13
Much like the other Razer products, the GTX 1650Ti Blade Stealth 13 is still an expensive laptop. You're paying the Razer tax, as well as for the build quality and attention to details you're getting with this product, as you'll find out from our detailed review.
Furthermore, this can also game fairly well for its size, and the 2021 update has been improved in terms of CPU and GPU power, as well as in terms of thermals. It's still built on an Intel 4Core U platform, so can only do so much in CPU-heavy tasks in comparison to the AMD Ryzen options out there, but that's not going to matter that much when running games. The Blade Stealth 13 also gets a 120 Hz display in the 2021 model. Don't expect it to be as fast and well suited to gaming as the panels available on the larger 15-inch laptops, though.
Nonetheless, the Razer Blade 13 Stealth remains a solid performance ultrabook, even if it is no longer the best gaming ultracompact laptop on the market, a title it has retained for many past years. And that's because the ROG Flow X13 is also an option right now, a 13-incher more capable of running the latest AAA games.
Follow this link for more details about the Stealth 13, updated configurations, and prices.

Asus ROG Flow X13
The ROG Flow X13 is a newer design released in 2021, and overall a more complete gaming ultrabook than the Blade Stealth 13.
It's roughly the same size and weight, but offers a better keyboard and is a convertible with a 360-degrees foldable touchscreen. That's 16:10, so taller than the screen on the Blade Stealth. It's the same format that you're getting on the XPS 13 or MacBook Air ultraportable, but over here available with either a 144 Hz FHD+ panel, or a high-gamut 4K+ on the exclusive Supernova variant (will talk about it in a bit)
It also runs on much faster hardware, with the best mobile CPUs currently available from AMD (up to Ryzen 9 5900HS or 9 5980HS on the Supernova) and an RTX 3050Ti Max-Q graphics chip, paired with 16 or 32 GB of memory. The Ryzen processors inside the Flow X13 smoke the Intel options in the Stealth, and the 3050Ti is also a significant upgrade over the 1650Ti. The Flow X13 does run warmer and noisier, though, but Asus implements power profiles that can cap the noise if you're willing to somewhat sacrifice the performance. We're still waiting for our 3050Ti Flow X13 review unit, and we'll update once we know more.
Keep in mind that the best specs are reserved for what Asus calls the Supernova special edition, with the 5980HS processor, 32 GB of RAM, and the 4k+ display. However, the Supernova is only available in a bundle that also includes the XG Mobile eGPU unit with an RTX 3080 Laptop 150W inside, for a total of around 3000 USD, and that makes it a hard sell for most people.
If you're only interested in the stand-alone Flow X13, that goes for between 1200 to 1500 USD as of right now, with a Ryzen 9 5900HS, 16 GB of RAM, and the FHD+ screen, which makes a lot more sense on 3050Ti 35-40W configuration anyway.
Follow this link for more details, updated configurations, and prices.
If these two options are not within your budget, there are a couple of others for you to consider, especially if you're rather interested in simpler titles such as Minecraft or Fornite or Dota2 or the likes, or perhaps older games. You'll find quite a few 13-inch laptops based on Nvidia MX250/MX350/MX450 dGPUs, which should appeal to those of you on a tighter budget. They're listed in this article and we've reviewed plenty of them in recent years, if you're interested in how well they perform and their overall worth.
14-inch gaming notebooks
While manufacturers have neglected this segment for a few years, that's changing now, with more and more competent 14-inch gaming laptops being released. Among them, the Razer Blade 14, the Asus ROG Zephyrus G14, the Acer Predator Triton 300 SE, and the Acer Swift X stand out from the crowd.
Razer Blade 14
The Blade 14 is the most recent product in this segment and the most powerful 14-inch gaming ultrabook out there, built on a Ryzen 9 5900HX processor with up to RTX 3080 Laptop (80-100W) graphics.
These specs are even more powerful than what Razer put on the current full-size Blade 15 and 17 models, and a lot more powerful than any of the other OEMs offer on their 14-inchers. Of course, these come with a price to match, especially for the RTX 3080 configuration, but the mid-level 3070 + QHD screen and the base-level 3060 + FHD screen models are definitely worth considering if you're shopping in this class.
Our full review of the Blade 14 is available over here, and in just a few words, it's an amazing little laptop, more powerful than the Blade 15 and significantly smaller, as you can tell from the picture down below.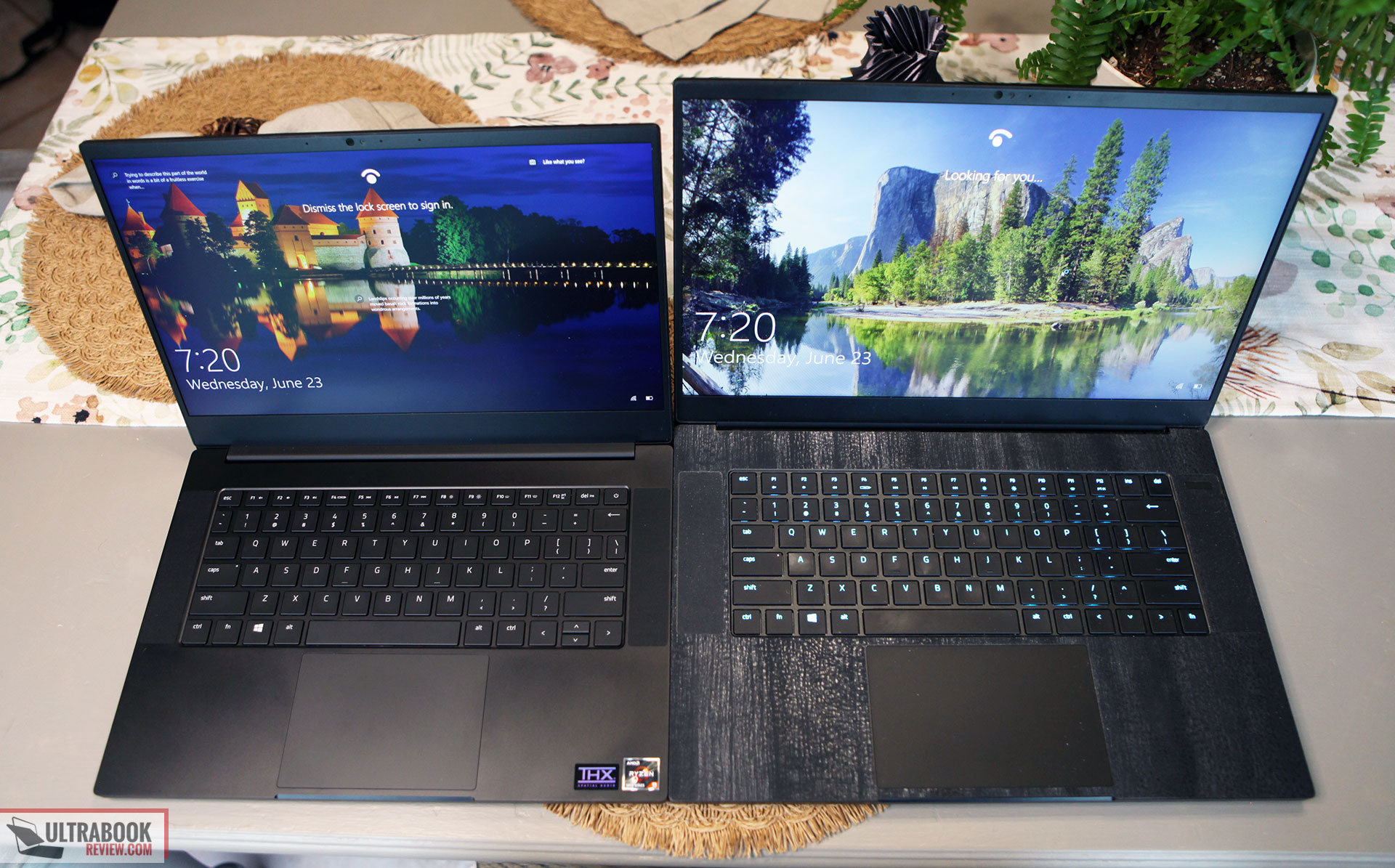 With this 14-inch Blade, Razer kept consistent with their premium build and design language, and implemented the same kind of features, IO, and inputs that are also available on the larger models. They had to go with a smaller battery, though, so the battery life is only OK and not impressive, plus they also had to shrink the vapor-chamber thermal module in order to cool the specs inside this chassis. And as you'd expect when you put this hardware in a small package, this Blade 14 does run noisier and warmer than the other Blades, something you'll just have to accept if you're after this sort of performance in a sub-15-inch product.
I did mention that all the Blade 14 variants are built on the Ryzen 9 5900HX processor, which performs excellently in this product, as shown in the review. The RAM tops out at 16 GB, and is soldered and non-upgradable, and the GPU options are RTX 3060 (up to 95W) and 3070/3080 (up to 100W). Razer pairs these with two screen options: a 144 Hz FHD panel with 100% sRGB colors is available on the base 3060 variant, for $1799 MSRP, which the 3070 is paired with a nicer QHD 165Hz screen with 100% DCI-P3 colors at $2199. Both are pricey, but also both have their own appeal to potential buyers.
Follow this link for updated prices and configurations at the time you're reading the article.
Aside from the steep entry price and warm temperatures with games and demanding loads, the Blade 14 could also benefit from better speakers and a less mushy keyboard, but even so, it's a package like no other out there at this point.
Asus ROG Zephyrus G14
We've tested the Zephyrus G14 in multiple configurations and gathered our impressions in these several articles, both on the 2020 and the 2021 generations. Our latest-gen Zephyrus G14 review is also available here.
On the outside, the Zephyrus G14 is an uncompromised 14-inch laptop built out of magnesium and aluminum alloys and with an overall weight of roughly 3.7 lbs (1.7 kilos). That makes it significantly larger and heavier than the Razer Blade 13, but also lighter than the Blade 14. The Blades do feel sturdier and more premium, though.
The G14 is also a better type than the Blades, but only gets a white backlit keyboard, complemented by a large glass clickpad, a fair set of ports, a finger-sensor, and either a choice of a FHD 144 Hz or a QHD 120 Hz screen, the latter with 100% DCI-P3 colors. So in that regard, the Blade and the Zephyrus are almost the same.
On the inside, though, the G14 is based on the more efficient Ryzen 9 5900HS platform, and tops at an Nvidia RTX 3060 60-80W graphics chip. In comparison, the 3060 in the Blade 14 is 80-100W, and 3070/3080 options are also available on that model. The G14 wins in the ability to configure some models with up to 48 GB of RAM, though, and with its larger 76 Wh batter, that leads to longer runtimes. The G14 also runs slightly cooler and quieter than the Blade 14 with daily use, but heats up just as much with games, unless you choose to manually tweak it.
I will also mention that the G14 sells for significantly less than the Blade 14, and is more widely available. The 3060 configuration with 16 GB of RAM and the FHD screen goes for $1499 MSRP at the time of this post, while for the QHD model with 32 GB of RAM you'll have to pay extra, close to 2000 USD, especially since that also comes with the secondary Anime matrix display on the lid. That mid-range model is good value, though, and cheaper variants are also available, just beware of the base level FHD 60 Hz panel, it's rather wahsed out and not a great choice.
Follow this link for updated prices and configurations.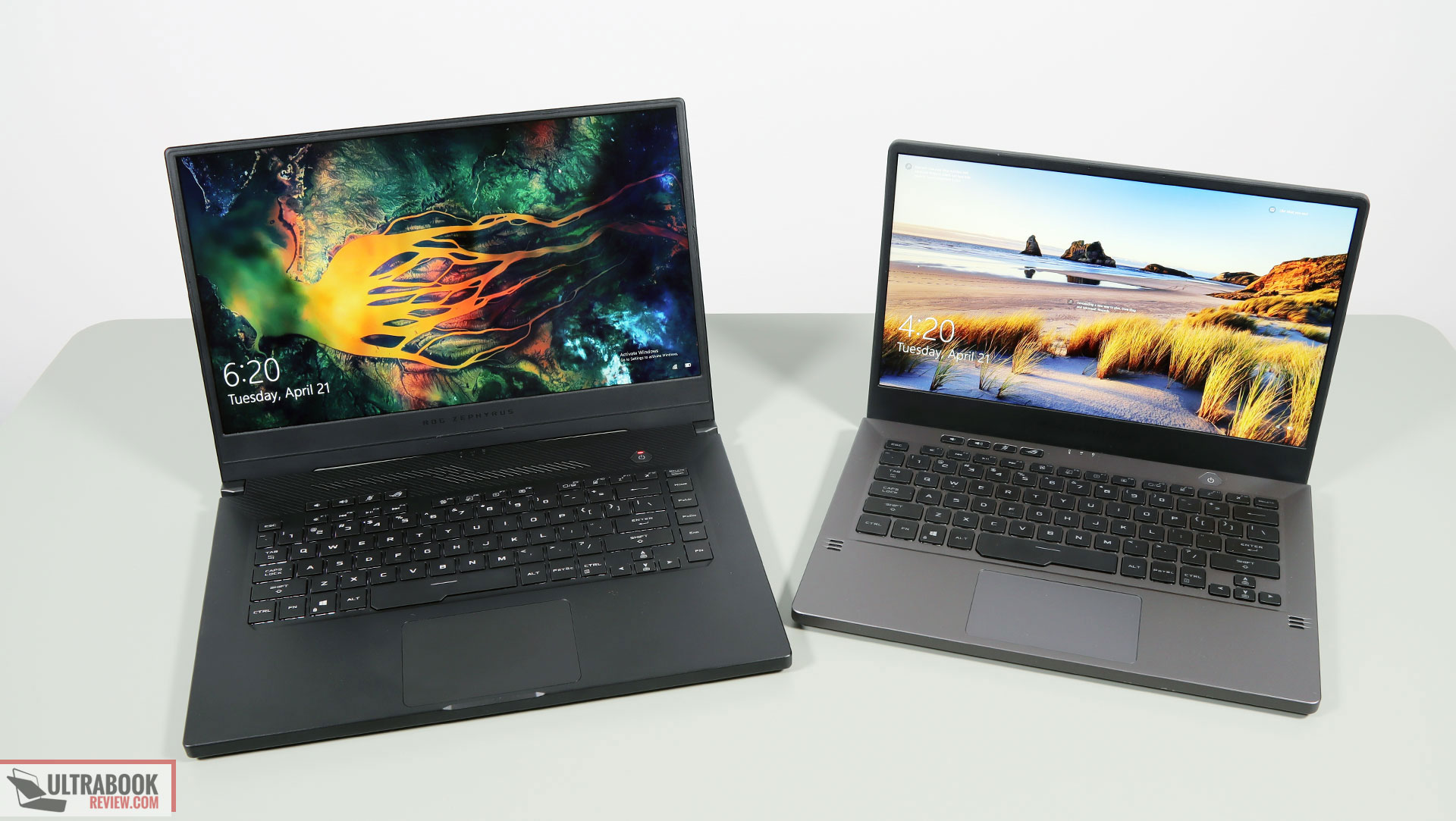 Acer Predator Triton 300 SE and Swift X
Acer offer two interesting performance laptops in the 14-inch segment as well. The Predator Triton 300 SE is a baby Triton built on Intel hardware and up to RTX 3060 Laptop graphics, while the Swift X (reviewed here) is a more affordable model built on Ryzen 7 U processors with up to RTX 3050Ti graphics.
Both to be aggressively priced and competent options in their segments, as you'll find from our reviews. I'm especially interested in that Swift X with the Ryzen 7 5800U and 3050Ti graphics available for around 1000-1100 USD in the US, this is one of the best value options in this class this year. It's not as affordable in Europe, though.
Asus VivoBook Pro 14X and MSI Prestige/Modern 14
These aside, Asus and MSI also offer some interesting 14-inch ultraportables with dedicated graphics, such as the Asus VivoBook Pro 14X OLED (up to Ryzen 9 + 3050Ti) reviewed here, or the MSI Prestige 14 and Modern 14 laptops built on Intel platforms with RTX 3050Ti or GTX 1650 graphics.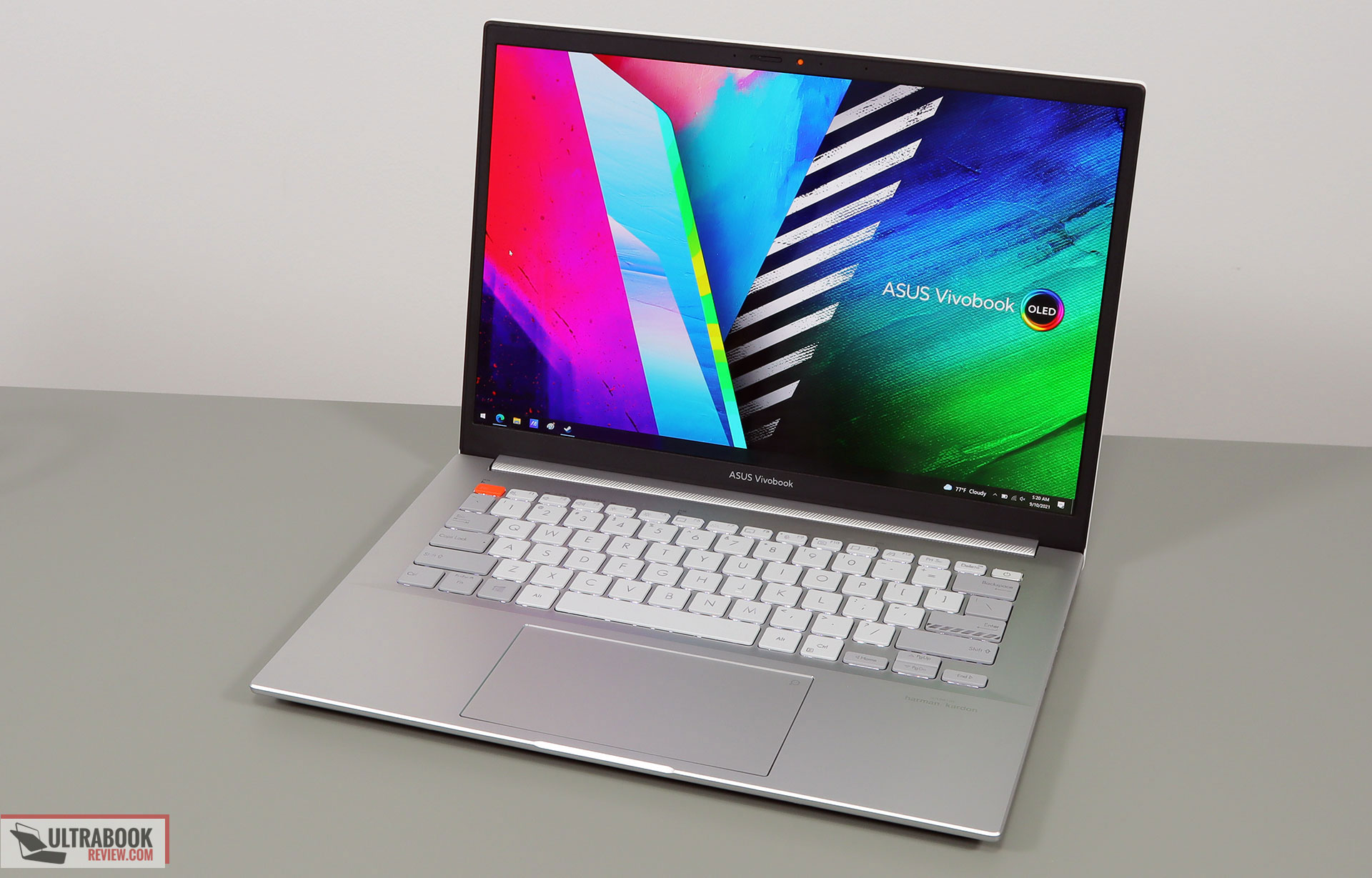 Finally, there are a couple of older laptops that might still be worth getting in this class, if you can still find them in stores.
The ZenBook Pro 14 UX480 is based on a Core U + GTX 1050 MQ hardware platform, much like the ZenBook 15 or the Dell XPS 15 of that generation, but in a smaller package. It weighs roughly 1.6 kilos (3.5 lbs), so it's only marginally heavier than the other options above, but performs well in games, gets a complex thermal module and a large 70 Wh battery. It also gets a secondary screen integrated withing the clickpad, which Asus calls the ScreenPad and now includes on most of their ZenBook and VivoBook lines.
The ZenBook Pro is also fairly competitively priced for what it is, selling for around 1200 EUR in Europe (follow this link for more details in your region). It is not worldwide available, though, and the availability will most likely dwindle even more as it's phased out by the updated 2019 variant, the ZenBook Duo UX481. This one, unfortunately, only gets MX250 graphics.
The Gigabyte Aero 14 is an even more powerful 14-inch gaming ultrabook, based on an Intel Core H + GTX 1060 platform. It's slightly larger and heavier, at about 1.8 kg(4.1 lbs), but also comes with a full set of ports and a huge 94 Wh battery. This hasn't been updated in more than a year and I doubt it will ever be, thus it's even harder to come by these days. In all fairness, though, the Aero 15 is not a lot larger or heavier, so perhaps could be an option to consider instead.
And then there are all the MX250, MX350, and MX450 models available in the market, some of them in a 14-inch format.
I'm not going to list them in here, instead, you should follow the links for a more detailed selection of these products, as well as our reviews where available.
17-inch ultraportable gaming laptops
These are a newer breed of gaming laptops that have developed in the last years. They are mostly larger versions of the 15-inch models mentioned above, however, the increase in size allowed the manufacturers to implement more powerful hardware components and tweak the thermal modules, resulting in superior performance and lower temperatures and/or noise levels.
Still, the larger 17-inch screens and their increased real-estate is the main reason to opt for one of these over their 15-inch brethren. We're not going to get in-depth on these models here, but we'll link to our reviews for more details.
Pros: premium build quality and a unique design with the keyboard separated from the main chassis; fast optical-mechanical RGB keyboard; fast FHD and QHDscreen options with MUX/GSync and Advanced Optimus; solid performance and thermals, but not the most powerful hardware implementation in this class; useful software package; punchy audio with 6x speaker.
Cons: not as fast as other RTX 3080 models; some potential QC issues; expensive
Bottom point: If you're lucky enough not to get any light-bleeding or electronic noises on your unit, the ROG Zephyrus S17 is one of the best-balanced 17-inch gaming ultraportables on the market. That's primarily thanks to its unique design that separates the keyboard from the hot components underneath, but also due to its hardware specs. This is expensive, though, and not as powerful as some of the other models in this niche.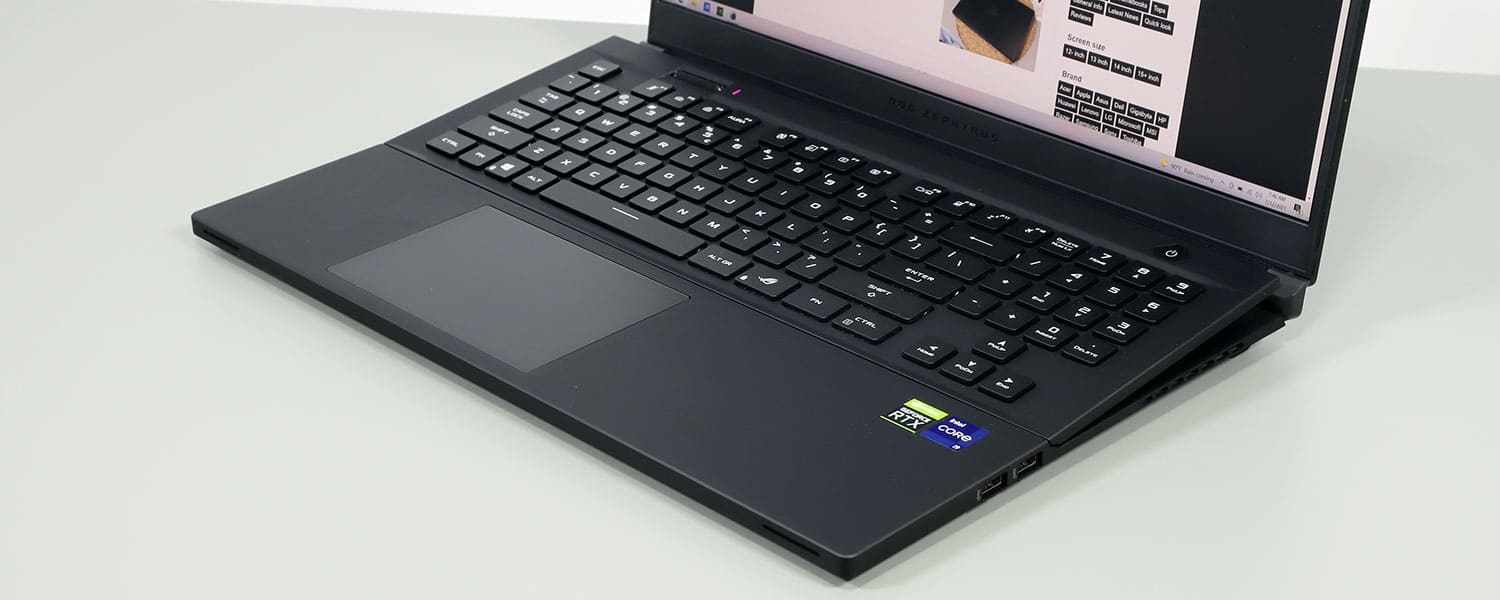 Pros: simple, sober aesthetics and good build quality; RGB keyboard with NumPad; multiple screen options – 240 Hz for gaming, or UHD IPS/OLED for multimedia; complete IO; best battery life in the class
Cons: a bit dated design; not as fast as other options and still runs hot and noisy; same poor speakers from the Aero 15
Bottom point: The Aero 17 is pretty much a larger Aero 15 with a 17-inch screen. None of the other important specs and design elements have changed, but thermals are somewhat improved thanks to the larger chassis. All in all, though, this will appeal to the same crowd as primarily a thin-and-light allrounder, and not necessarily as a gaming device.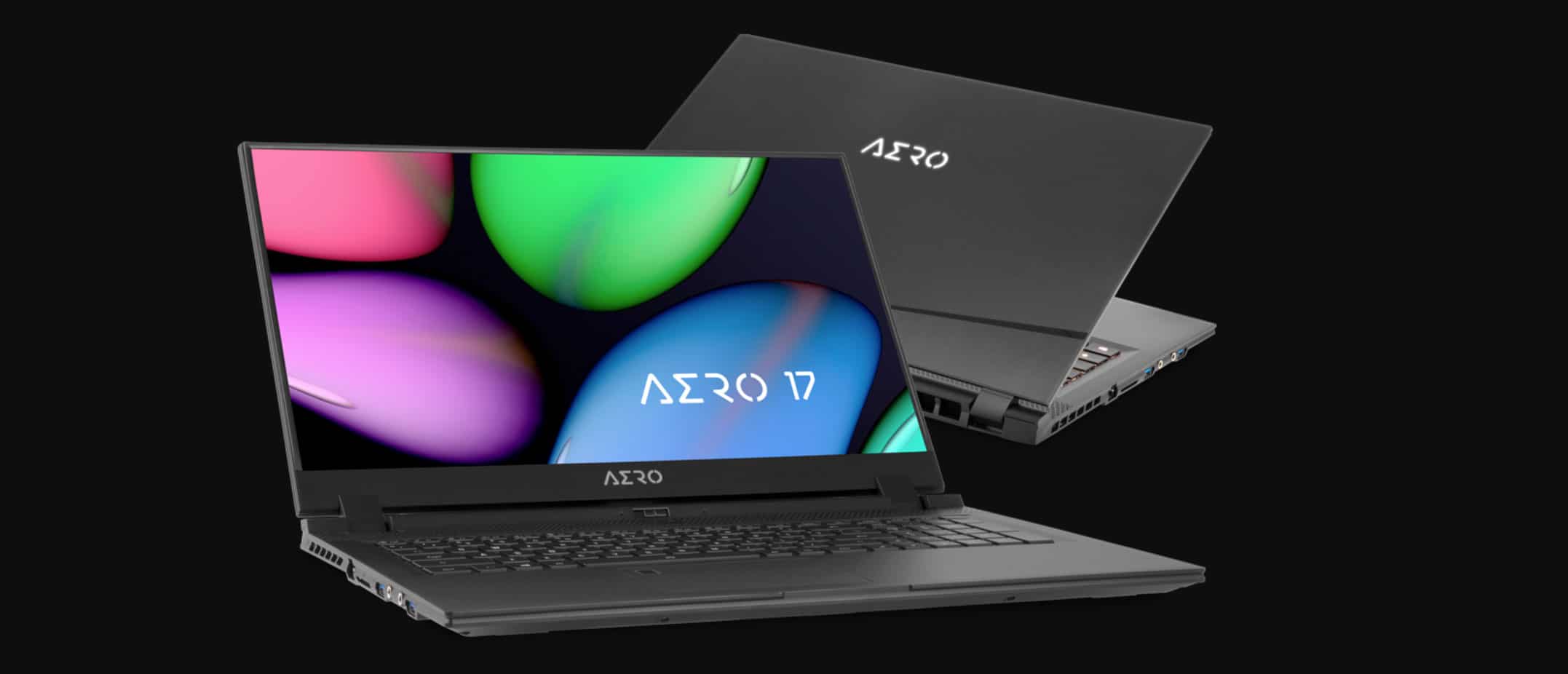 Pros: compact and the lightest in its class – 5 lbs; one of the better keyboards in the class, with NumPad; good IO; brighter display than on the competition; Core i9 option and excellent performance once tweaked; good battery life
Cons:  not as strongly built as the competition; not as fast as some of the other options in games, with the 80W RTX 2080 as the top configuration; poor speakers; rather expensive
Bottom point: Much like the smaller GS65, the GS75 Stealth Thin is the fashion icon in its segment: compact, lightweight, and great looking, but not as sturdy as the other options and not as fast in games. It does perform well, but only by ramping up the fans to high levels and still running hotter than the bunch. Unlike the GS65, this series hasn't been updated with a 2020 redesign, and we're looking forwards for a potential GS76 Stealth at some point.

Pros: great build and clean design; good keyboard and the best clickpad in the class; QHD 165 Hz or UHD 120 Hz screen options; good performance, thermals, and useful software package; front speakers and biometrics
Cons: beware of coil whine; smallest battery in the segment (70 Wh) and subpar battery life; steep entry price
Bottom point: The updated Blade Pro 17 addresses most of its predecessor's issues. It inherits many of the strong selling points of the popular Blade 15 Advanced, with improved thermals, but also a smaller battery as a result. Razer still expects you to pay a premium for the craftsmanship quality and the overall solid bundle, but even so, the entry price is very steep.

These are all high-tier premium gaming ultraportable. We'll talk about better value 17-inch models down below.
More portable, less powerful gaming laptops
If you don't have around $2000 to spend, but you still want a portable laptop that can handle gaming, albeit, not with the highest graphics settings, you should consider the options in this section instead.
With these you'll somewhat compromise on the performance, opting for a mid-range graphics chip, but not on the thin-and-light form factor. On the other hand, if you'd rather get something with beefier specs or better overall value (same specs, but at a more affordable level), and don't care as much about portability, you'd better jump straight to this next section.
I still want to play modern games
In this case, I suggest going with one of the available models built on a GTX 1660Ti graphics chip or higher, or a GTX 1650Ti chip in the thinnest and most compact options. These will handle most recent PC games at FHD resolution and medium-to-high graphics settings. Older GTX 1060 models might still be an option for those of you on a very limited budget, but the performance gap to the Turing GTX 1660Ti is significant, and most likely not worth the price difference.
We'll touch on the 15-inch models first, and then cover the 13 and 14-inch ultrabooks in the next subsection.
Asus Zephyrus M15 and Zephyrus G15
Asus did well with their 2020 lineups of Zephyrus models, that's why the mid-range Zephyrus M and the entry-level Zephyrus G get to be mentioned in this article as well, alongside the Zephyrus S included in a previous section.
The Zephyrus M15 is a simpler, lighter and more affordable version of the Zephyrus S15, as explained in our detailed review.
It's built on a similar barebone, with the same design lines, the same magnesium main-deck, and the same excellent keyboard. Hardware-wise, though, the Zephryus M15 only gets GTX 1660Ti, RTX 2060 and RTX 2070 Super graphics, and it's primarily available in the former variant in most regions. It also drops the AAS cooling system available on the S15, as well as the dual GSync/Optimus mode, but it does keep the complex thermal module and power-profiles implemented on the top-tier S15 option.
As a result, as explained in the review, this Zephyrus M is one of the best-performing sub 2 kilos notebooks on the market and also one of the better-balanced options out there. Asus are aware of what they got here, so they charge quite a premium for this laptop in comparison to the other matching configuration on the market, but I'd expect the price to drop in the months to come.
Follow this link for updated prices and configurations.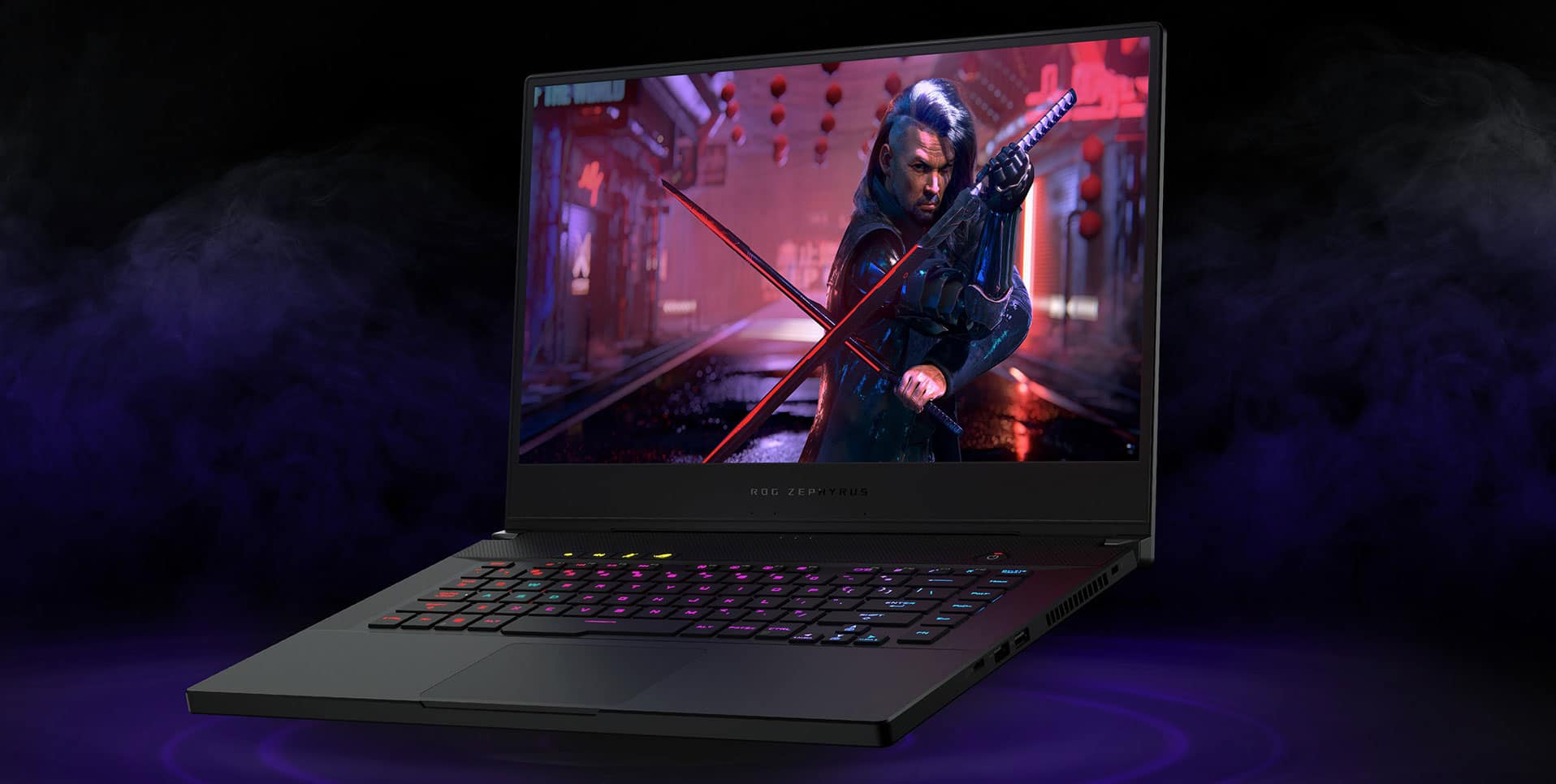 The Zephyrus G15 is a more affordable option for you to consider, based AMD Ryzen hardware and power-constrained versions of the 1660Ti and 2060 graphics chips.
As you'll find from our detailed review, the G15 is a competent all-round laptop and excels in CPU-heavy loads, where the AMD Ryzen HS platform truly shines. It's not the best gamer, though, due to its limited thermal design and lower-power implemented dGPUs, and pales in comparison to the Zephyrus M15 when it comes to the overall build-quality and typing experience. It keeps the lightweight build and overall design lines, as well as the 76 Wh battery inside.
At the same time, the Zephyrus G15 is a more affordable product, but you should aim for the 240 Hz display configuration of this laptop, as the 144 Hz panel available in some of the cheaper models is fairly slow and merely a washed-out 60% sRGB panel, so not a good option by any means.
Follow this link for updated configurations and prices.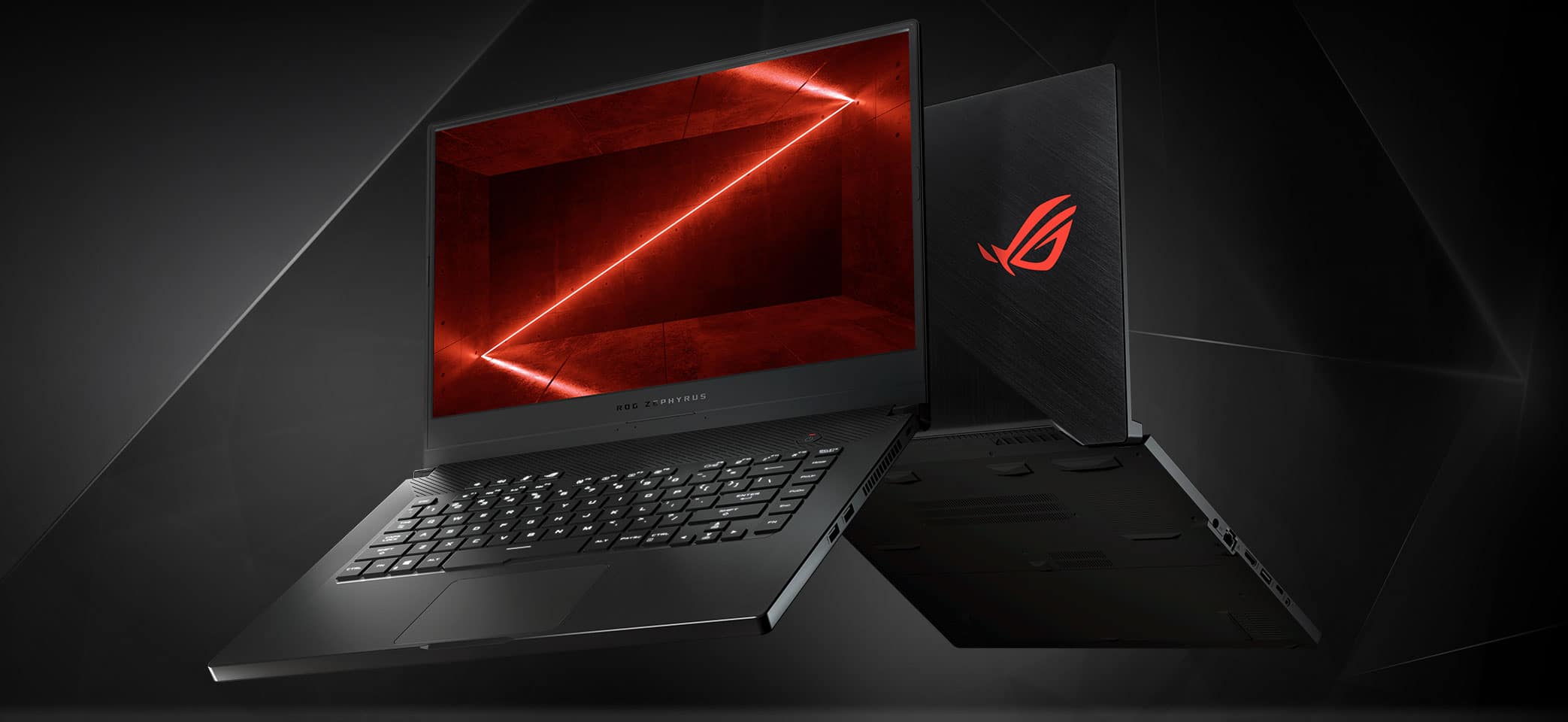 MSI GS66, Gigabyte Aero 15, Razer Blade 15 Base
We've mentioned these laptops in the first section of our review, and I'll reiterate them here as well, as they are all available in a couple of different configurations, including affordable models with GTX 1660Ti graphics. With these, you're getting the premium builds and features available with this class of top-end laptops, and don't compromise on thermal designs, battery life or screens.
Check out our detailed reviews for more details: GS66, Aero 15, Razer Blade 15.
Tongfang barebones – Eluktronics MECH-15 G2Rx Slim or Schenker XMG Neo 15
A few different smaller-tier OEMs sell a competitively priced thin-and-light gaming laptop based on the Tongfang GK5CN6Z barebone, Eluktronics (in the US) and Schenker (in Europe) being the most popular brands.
If you'll look through the reviews on Amazon, Newegg and other stores, you'll see that these products score very high with their buyers. That's both because they offer excellent specs and features for an affordable price, but also because these buyers usually know in advance what to expect from such a computer.
So what should you expect? A compact metallic chassis with fair build quality, a mechanical chiclet keyboard that's different than what you'll otherwise find in this class, a 144 Hz IPS screen, good CPU and GPU specs, multiple configurations options, and a rather small battery.
However, you should also be aware that these computers might not be as nicely polished as a Razer or an Asus or an MSI, and the post-sale client support is not something you should rely on.
That's why I'd recommend these barebones to tech-savvy users, but not necessarily to the average customer. However, if you're buying from Amazon or other big stores, you'll get the option to just send the product back within 30-days in case there's something wrong with it, and that should be reassuring enough, in case you want to give this a try.
Follow these links for more details and updated configurations on the Eluktronics MECH-15 G2Rx Slim (mostly available in the US/CA) or Schenker XMG Neo 15 (mostly available in Europe).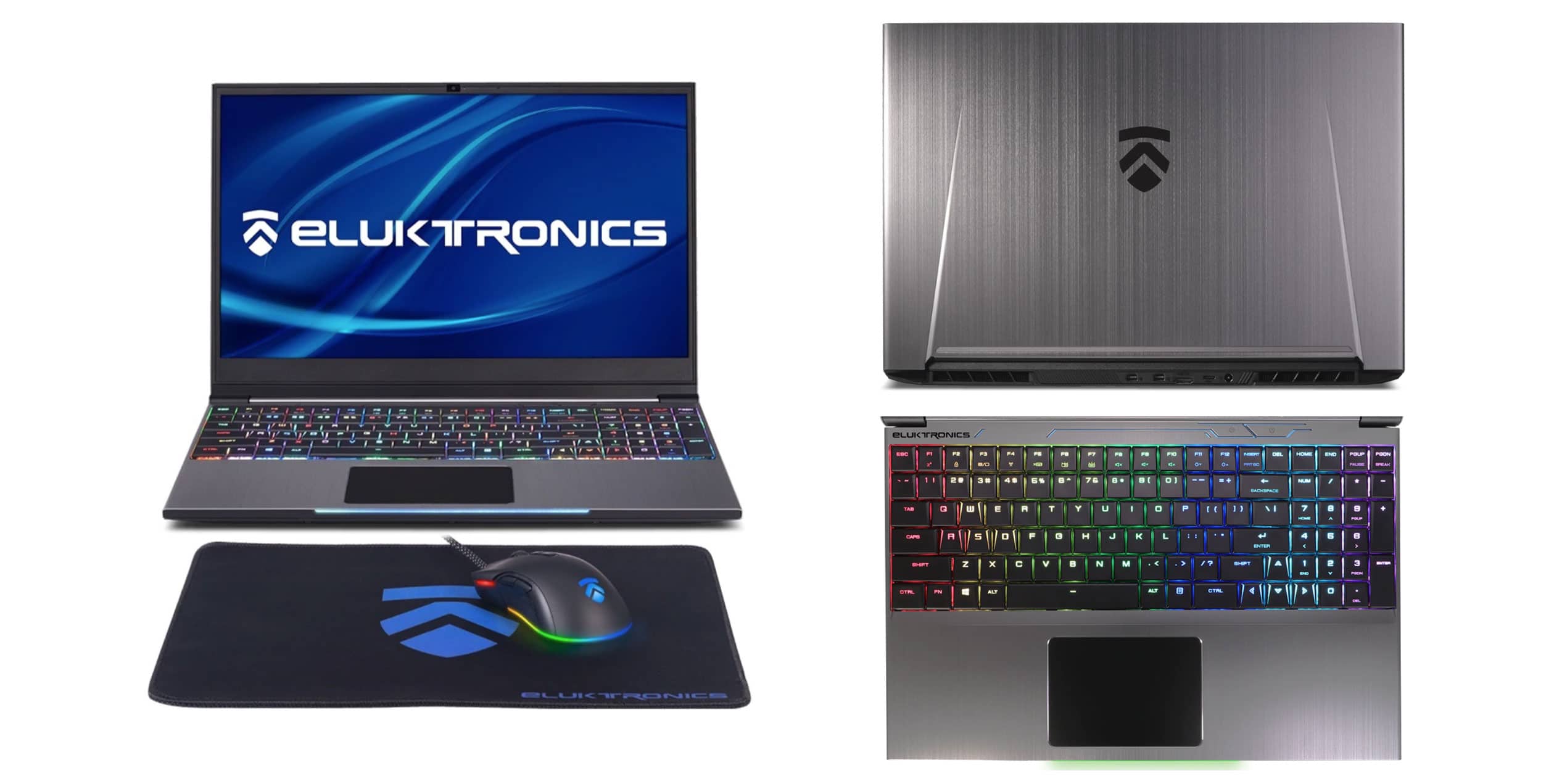 Premium lightweight options: Dell XPS 15, Lenovo ThinkPad X1 Extreme, MacBook Pro, and others
These are all premium ultraportable performance laptops, with an emphasis on premium and ultraportable, and less so on performance.
Unlike the Blade or the Zephyrus or the Stealth mentioned earlier, most of these get 60 Hz screens (with many UHD/OLED options) and lower-end graphics, mostly variations of the GTX 1650Ti chip and only some RTX 2060 options. That means these are not primarily gaming laptops, instead, they are premium productivity/creator/work tools. However, they can still tackle most titles at FHD resolution and mid-level graphics.
We're not going to get in-depth on all these options here, instead, we'll just list them (alphabetically) and link towards our available reviews and analysis:
Apple Macbook Pro – Core H hardware, optional Radeon Pro and Vega graphics, 15.4″ glossy retina screen, aluminum unibody construction, 4x TB3 ports, 84 Wh battery, starts at 1.83 kg / 4.05 lbs;
Asus ZenBook Pro – Core H hardware with GTX 1650Ti MQ graphics, 15.6″ UHD OLED touchscreen, slim and lightweight aluminum construction, 1x TB3 ports, up to 96 Wh battery, starts at 1.8 kg / 4 lbs;
Asus ZenBook Pro Duo – Core H hardware and RTX 2060 graphics, dual-screens with OLED main screen and matte touch second Screen, chunky all-metal build, 1x TB3 ports, 71 Wh battery, starts at 2.5 kg / 5.4 lbs ;
Dell XPS 15 and 17 – Core H hardware and up to RTX 3060 MQ graphics in the XPS 17, multiple screen and configuration options, up to 4x TB3, up to 97 Wh battery,  starts at 1.85 kg / 4.1 lbs for 15-inch, 2.2 kg / 4.8 lbs for 17-inch;
Lenovo ThinkPad X1 Extreme – Core H hardware and up to RTX 3080 graphics, multiple screen and configuration options, ThinkPad looks, features and construction, 2x TB4, 90 Wh battery, starts at 1.9 kg for non-touch version;
Lenovo Legion Slim 7 – Ryzen H hardware and up to Nvidia 3060 MQ graphics, RGB keyboard with NumPad, 165 Hz FHD or 60Hz UHD screen option, aluminum build, 71 Wh battery, starts at 1.9 kg /4.2 lbs;
HP Envy 15 – Core H hardware and up to Nvidia RTX 3060 graphics, UHD AMOLED touchscreen, aluminum build, 2x TB3, 71 Wh battery, starts at 2.05 kg /4.5 lbs;
Keep in mind that given the portable and slim form-factor of these products, the thermal design plays a crucial role in the way these perform with games and demanding loads, and I suggest carefully looking into detailed reviews to figure out what to expect from the units of your choice. Follow the links for our in-depth reviews and coverage, and get in touch in the comments section at the end if you have any questions about them.
More powerful, less portable – the best value gaming laptops
This section of the article focuses on the value gaming laptops, those that will give you the best gaming experience for your money. It includes our recommendations in a few price-brackets, without taking the thin-and-light form-factor into consideration. Even so, most of these computers are still compact and fairly portable, and only the most powerful models completely leave that aspect aside.
Options under $1000
Your sure bet at this price is still with one of the Pascal GTX 1060 variants of last years. The Acer Predator Helios 300, the MSI GL63 Raider the Lenovo Legion Y530 come to mind as the better options, and you'll find all about them from our reviews.
With these, you'll somewhat sacrifice on the build quality, the design lines, and the battery life, but not on the performance, thermals or on a fast 144Hz screen. As a result, these can handle FHD gaming at medium-high settings well.
However, several of the newer GTX 1660Ti models are creeping under $1000 as well. I'd primarily keep an eye on the 1660Ti variants, as these are not only faster in games, but they also benefit from the generation update. That means most of these laptops are more compact and lighter than those 2018 models, get RGB keyboards and improved thermal modules, among others.
The Asus TUF Gaming A15 or the Lenovo Legion 5 are some of the options that sell for just under $1000 often, both based on the modern AMD Ryzen platforms. Intel-based models still perform better in games, though, so I'd have those on my list as well. Among them, the Acer Nitro 5, the HP Omen 15, the Lenovo Legion Y540, IdeaPad Gaming 3 or the Dell G3 Gaming fall in this price-range. However, you will occasionally find discounted higher-tier models for under $1000 as well, like the Predator Helios 300 or even the Asus ROG Strix G.
Follow the links above for our in-depth reviews, or this one for an updated selection of sub-$1000 gaming laptops based on GTX 1660Ti graphics at the time you're reading the article.
Options in the $1000-$1500
This is where you're getting the best return for your money, and there are a lot of good options in this segment.
First though, let me summarize what you should look for.
The build and design are subjective and you should choose based on your preferences and taste, but make sure you're getting something that's at least made well and will last for a while, has a strong screen hinge, grippy rubber feet, friendly corners and edges, and ergonomically positioned ports. For instance, if you plan to hook up peripherals, it's best to get something with the outputs on the left side or on the back, so the cables won't interfere with your mouse area.
Then you should carefully consider the screens. What I recommend is at least a 144 Hz IPS panel, but careful that there are several different kinds, so aim for something with 100% sRGB color coverage and above-average response times, especially if you plan to run fast-paced games such as shooters. A 240 Hz screen might also benefit you in CS:GO and the likes, paired with a matching GPU, but that might not always be an option at sub $1500.
For specs, the GPU is what matters most when it comes to gaming, so I'd aim to maximize that. One of the newer RTX 2060 115W chips would be the ideal pick in this segment, but you might even find an older RTX 2070 model here. Pair that with SSD storage and at least 16 GB of RAM.
As for the CPU, if gaming is all you want, an Intel Core i5 or a Ryzen 5 4600H should be good enough for that, and there's no need to go with the i7 or Ryzen 7 options unless you also plan to run some CPU-demanding loads on your laptop for either work or school. For what is worth, AMD has a clear performance and efficiency advantage over Intel at this point in multi-threaded applications, but at the same time, there are far less AMD options with higher tier graphics to choose from, so you'll most likely still end up with an Intel laptop, which is perfectly fine for gaming and alright for other stuff. I'd look through the list of AMD Ryzen H options nonetheless, and see if you can find one of those options within your budget (and in stock).
This aside, keep in mind that not all laptops are created equally, and the thermal designs and power-profiles play a major role in how a specific model ends up performing. That's only something reviews can reveal for you, the kind we put up here on the site. Make sure to go through at least a couple for the product that you decide on, so you'll understand what to expect, the strong points, and the potential quirks.
Before drawing the line, there are a couple of other aspects to consider, such as battery life (if you plan to use the laptop unplugged), audio quality, and a few other lesser aspects. They might not majorly impact your gaming experience, but will have a saying in your life with the laptop you end up choosing.
With all these in mind, let's look at some options.
At the lower limit in this price bracket, you'll be able to get a better-specced version of one of the units mentioned above, with more RAM, more storage, and perhaps a faster processor.
Towards the middle of this price range is where you'll find the real gems. On the Intel camp, the GTX 1660Ti and RTX 2060 variants of the Acer Predator Helios 300, Asus ROG Strix G15, Alienware m15, Dell G5 Gaming, HP Omen 15, Lenovo Legion 5, and MSI GL63 fall within this segment. 17-inch variants of these notebooks are also up to grab if you prefer a larger screen, as well as improved thermals and a larger battery in some cases. There's an updated selection of these 17-inch mid-range gaming laptops over here.
On the AMD side, the Asus TUF Gaming A15, Lenovo Legion 5, the HP Omen 15, and the Eluktronics RP-15 come to mind as options available (in some regions) with up to RTX 2060 graphics, but there are no 2070+ models. As mentioned already, while AMD have a considerable platform advantage in multithreaded CPU loads over the Intel alternatives, that's not going to make a big difference in games, so I wouldn't necessarily restrict my options to an AMD model when primarily looking for a gaming laptop.
Among these, my favorites are the Predator Helios 300 and the Lenovo Legion 5, I just find them the best balanced and best-priced of the bunch. The other models have their advantages as well, so again, there's no clear winner here. Think about what matters for you and where you can compromise, and pick the one that best caters to these needs. And of course, if you need any help, get in touch in the comments section.
At the higher limit, you can find better-specced versions of the models above, but also a few RTX 2070 models. At the time of this update, the HP Omen 15 or the MSI GP65 Leopard sell for under $1500 with an RTX 2070.
There are also a couple of options based on barebone designs from Togfang or Clevo, like the compact and portable Eluktronics MECH-15 G2R, or the SAGER NP8966 / CLEVO P960RD models. I would recommend buying from these companies for those of you who understand what a barebone design means. Future software support, post-sale client support, and warranty could be problematic with some of these units, but you should be fine as long as you're buying from a trustworthy seller. In fact, looking at the reviews on Amazon and other stores, buyers are actually satisfied with these products and rate them highly, in many cases even higher than the A-brand alternatives.
Options above $1500
At this point, your options get incrementally better, but most of them are not significant upgrades from the models in the previous subsection.
If we'd focus on what $1500 to $2000 can get you in terms of performance, that's mostly tier-A RTX 2070/2070 Super notebooks in better built and more portable designs, and with extra features such as 240 Hz screens, per-key RGB keyboards, improved thermals, larger batteries, and slightly improved performance.
As for specific models to check out, the Asus ROG Strix SCAR, the Alienware m15, the MSI GE65 and GE66 Raider, or the Lenovo Legion 7i lines come to mind. Most of these are also available in 17-inch formats.
Of course, once we push above $2000 and no longer have a limited budget, we end up with all sorts of possibilities.
If you opt to go the ultraportable way, then the Razer Blade and the Asus ROG Zephyrus come up, laptops we've already covered in a previous section. On the other hand, if you opt for performance without compromise and don't care much about the compact form-factor, there are quite a few interesting desktop replacements to check out. Among them, there are the unusual Asus ROG Mothership tablet-pc and Acer Predator Helios 700 sliding notebook, the upgradeable Alienware Area 51m with desktop-grade components, and the more classic looking, but beastly, Asus ROG G703, ROG Scar 17 or MSI GT75 Titan.
Neither of these are value buys anymore, though.
Wrap-up
All in all, there are many good gaming notebooks in this list, of different sorts and budgets, and more will be launched in the months and years to come.
Thus, as potential buyers interested in a compact gaming computer, you've got a wide array of options to choose from, starting with the highly portable 13-inch ultrabooks with some gaming abilities, and ending up with the powerful 17 inchers with beefy specs and yet surprisingly thin-and-light builds, or the desktop-grade behemoths tucked inside laptop form-factors.
In the end, it's up to you to choose that gaming laptop that best suits your requirements and budget, and find that good balance between power, portability, features, and price. We're here to help, though, so drop your comments below if you have any questions or anything to add to this post and we'll get back to you.
Disclaimer:
Our content is reader-supported. If you buy through some of the links on our site, we may earn a commission.
Learn more.