Here at Ultrabookreview.com, we've been testing and reviewing thin-and-light gaming laptops for 15 years now, of all kinds and from all major brands. Our experience allows us to help you choose the best portable gaming laptop (or gaming ultrabook) for your needs and budget, from the multitude of options available in stores as of early 2023.
We take a multitude of aspects into consideration for our recommendations. The performance, thermals, and noise levels while running games and other demanding applications come first, but other details count as well, such as the overall build quality and ergonomics, the screen and audio quality, the typing experience, and especially if there are any potential deal-breaking flaws that you must be aware of with each model. On top of these, pricing plays an important role as well in determining a notebook's overall worth.
Even when accounting for all these, you'll find that there are many good-value gaming laptops out there, and that's why this article is not just a basic Top 10 as you'll find on most other sites, but instead a detailed buying guide (with a condensed summary in the beginning). Take your time and go through the entire article, it will help you narrow down your options and make a purchase you won't regret.
I've split the article into a few different sections, in order to make it easier for you to navigate:
The Best portable 13-inch gaming laptops and ultrabooks
In the past, the Alienware 13 was for many years the only 13-inch performance laptop you could get. It wasn't compact and it wasn't pretty, but it bundled an i7 and a mid-tier GTX GPU in its latest iteration, good enough for FHD gaming at high details at the time.
Since that's no longer an option, unless you somehow find it used, these days your best options in the 13-inch segment are a few powerful models in the Asus ROG Flow lineup, as well as the slightly older Razer Blade Stealth 13.
Asus ROG Flow X13 and ROG Flow Z13 – most powerful 13-inchers
These two ROG Flow models are the most powerful 13-inch ultrabooks available today, suitable for daily use and sustained work/gaming loads.
The ROG Flow X13 is a convertible 2-in-1 laptop built on modern AMD Ryzen 9 hardware, while the ROG Flow Z13 is a tablet + keyboard folio format built on an Intel Core i9 platform.
In the latest generations, both can be specced with an RTX 4060 internal dGPU, or can be hooked to an external ROG XGMobile dGPU unit with up to a GeForce RTX 4090 or AMD RX 6850M XT inside, for gaming capabilities that will match what full-size 15/17-inch laptops offer today.
I've reviewed both models over the years, and you can find our latest articles here: Flow X13 review and Flow Z13 review.
In a few words, both offer 16:10 touchscreens with QHD+ 165Hz panels in the latest variants. Both are sturdily made and black, minimalist designs with RGB keyboards and good IO.
The choice you'll have to make is between the two formats and the AMD/Intel specs. As far as the specs go, the 13th-gen Intel Core i9 in the Flow Z13 is the more powerful processor, but Asus only pairs it with up to 16 GB of RAM, which can be a limitation for certain loads. The Flow X13 can be specced up to 32 GB of RAM, and while the Ryzen 9 is not as fast in sustained multi-threaded tasks, it's still perfectly fine for most use cases. Plus, the AMD platform has an efficiency advantage on its side, which combined with the larger battery inside the Flow X13, allows this model to outlast the Z13 in terms of battery life.
The format of the two affects not just their daily ergonomics, but their performance in games and sustained workloads as well. For me, the convertible X13 is the more versatile daily driver, a design I can comfortably use on the desk or on the go. The tablet format of the Z13 is fine for desk use, but not as practical on the lap. At the same time, the Z13 is a better tablet, and overall if you've used/seen a Surface Pro over the past years, you'll know what to expect here as well.
As far as the performance goes, the superior thermal design of the Z13 and the fact that the airflow is never obstructed as on the X13 when using it on the desk allows it to run cooler, quieter, and deliver superior sustained performance, both in games and in taxing work/school applications. That doesn't mean the Flow X13 is a slouch by any means, but you'll have to work past its design limitations in order to get the best out of it. Check out the reviews for in-depth details.
One final aspect to touch on here is pricing, where the AMD model has a slight advantage, as the more affordable of the two. Expect prices of 1500 to 3000 USD/EUR between the various configurations, or even lower with occasional discounts. Follow these links for the latest configurations and prices:
Razer haven't updated the Blade Stealth 13 in 2022, and is are longer listing it on their site either, but this is still available on 3rd party sites.
The good news is you could find this for a fair price, somewhere around $1300 or less, which is competitive for a Razer product with the excellent build quality and attention to detail, as you'll find out from our detailed review.
Furthermore, while not as powerful as the ROG Flow unit, this is still a snappy daily driver that can handle demanding loads and gaming. You'll want to look for the latest update with the i7 CPU and RTX 1650Ti GPU. Sure, that i7 is a 4Core U platform, so it can only do so much in CPU-heavy tasks in comparison to the 2022 options out there, but that's not going to matter that much when running games.
The Blade Stealth 13 also gets a fine 120 Hz display in the latest model. Don't expect it to be as fast and well suited to gaming as the panels available on the larger 14 and 15-inch laptops, though. And in fact, don't expect to run the latest AAA titles at high+ settings on this one, either, but it will do fine for more casual eSports titles and older games.
All in all, the Razer Blade 13 Stealth is still a fair performance-ultrabook today, one I would especially consider for the premium design and its overall build quality, even if it is no longer the best gaming ultracompact laptop on the market.
Follow this link for more details about the Stealth 13, updated configurations, and prices.

If these options are not within your budget, there are a couple of others for you to perhaps consider as well, but only as long as you're rather interested in playing simpler games such as Minecraft or Fornite or Dota2 or the likes, or older titles, and not AAA modern games.
For starters, you'll still find a few 13-inch laptops based on Nvidia MX550/MX450 dGPUs in stores, which should appeal to those of you on a tighter budget. Among those, the Dell Inspiron 13 or the HP Envy 13 would be my go-to recommendations, both 13-inch gaming ultraportables selling for under $1000.
And then, you could also consider some of the few recent AMD Ryzen models with Radeon 680M graphics – that's an iGPU, but the most competent iGPU available to date, and able to come close to the performance of those MX Nvidia chips in a properly-powered design, as explained in this review of the Radeon 680M chip. The Asus ZenBook S 13 OLED and the HP Pavilion Aero 13 are the recommendations in this sub-niche. We've covered them in various articles on the site, use the search bar at the top.
The best 14-inch gaming laptops – lightweight and well-balanced
More and more excellent 14-inch gaming laptops are available these days, and for me, these are the sweetspot of performance and portability available for most buyers. With powerful processors and graphics, these can handle everything a full-size portable design would, but in a smaller and more compact chassis. For that, though, expect to pay a slight premium over a 15-inch model with similar capabilities, and have to accept higher internal temperatures.
Razer Blade 14 – most powerful 14-inch laptop
The Blade 14 is the most powerful 14-inch gaming ultrabook out there, built on a Ryzen 9 6900HX processor with up to RTX 3080Ti Laptop (80-100W) graphics in its latest iteration.
These specs are nearly on-par with what Razer offer on their full-size Blade 15 Advanced, and more powerful on the GPU side than what the competition offer on their 14-inchers. Of course, though, these come with a price to match, with the RTX 3060 model starting at $2200 and the top-tier RTX 3080Ti configuration going for a whopping $3700. Ouch!
Follow this link for updated prices and configurations at the time you're reading the article.
Our full review of the Blade 14 is available over here, and in just a few words, it's an amazing compact laptop, significantly smaller than the Blade 15, as you can tell from the picture down below.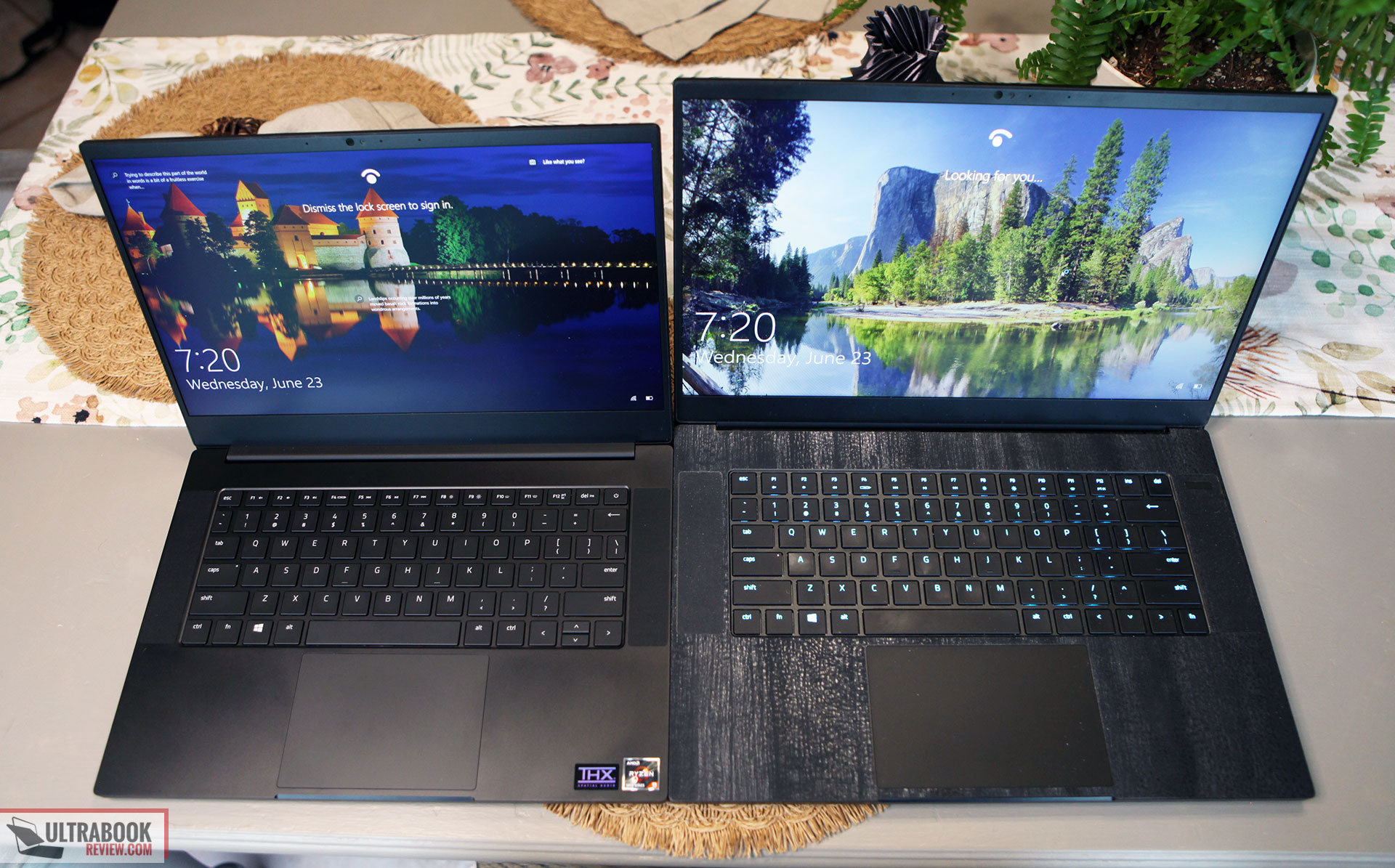 With this 14-inch Blade, Razer kept consistent with their premium build and design language and implemented the same features, IO, and inputs that are also available on the larger models. However, they had to go with a smaller battery and had to shrink the implemented vapor-chamber thermal module in this 14-inch design. As a result, the Blade 14 runs noisier and warmer than the other Blades, something you'll just have to accept if you're after this sort of performance in a sub-15-inch product.
I did mention that all the Blade 14 variants are built on the Ryzen 9 6900HX processor (or Ryzen 9 5900HX for the previous generation), which performs well in this product, as shown in the review. The RAM tops out at 16 GB though, and is soldered and non-upgradable, and the lack of a 32 GB option could be a deal-breaker for some.
Razer pairs these specs with two screen options: a 144 Hz FHD panel with 100% sRGB colors available on the base 3060 variant, or a nicer QHD 165Hz screen with 100% DCI-P3 colors on the 3070Ti/3080Ti models.
Aside from the steep entry price and warm temperatures with games and demanding loads, the Blade 14 could also benefit from better speakers and a more tactile keyboard, but all in all, this is a package unmatched out there at this point, especially in the highest-tier dGPU configurations.
Asus ROG Zephyrus G14 – the sweet spot
We've tested the Asus ROG Zephyrus G14 in multiple configurations over the years, and you'll find our reviews here for the latest 2022 Zephyrus G14, or here for the 2021/2020 generations.
The latest Zephyrus G14 GA402 is a significant improvement over the Zephyrus G14 GA401 models, with a refined chassis and improved ergonomics, a 16:10 display with smaller bezels and a camera at the top, improved audio with quad speakers, as well as more powerful hardware and an updated vapor-chamber thermal module. Despite these, the Zephyrus G14 still only weighs around 3.7 lbs (1.7 kilos), which means it's lighter than the Blade 14 or the Alienware X14.
The G14 is also a better typer than the Blade or the Alienware, and the typing experience is complemented by a large glass clickpad, a fair set of ports, a finger-sensor, and a choice of either an FHD+ 144 Hz 3ms or a QHD+ 120 Hz 3ms screen, the latter with 100% DCI-P3 color coverage. Both are 16:10 aspect ratio. In comparison, the Blade and the Alienware get more standard 16:9 panels, with similar FHD/QHD options on the Blade, but only a basic FHD 144Hz option on the X14.
As far as specs go, the G14 is an AMD Advantage design, which means it bundles a Ryzen 9 6900HS platform and either an RX 6700s or an RX 6800S dGPU. We've tested both variants and compared them in this article. Previous-gen Zephyrus G14s topped at an RTX 3060 80W chip, but the 2022 model is more powerful. The Blade 14 still has an edge here in GPU prowess, while the Alienware X14 comes 3rd in performance with only an RTX 3060 75W dGPU.
Furthermore, the G14 wins in the ability to configure some models with up to 48 GB of RAM, and with its larger 76 Wh battery, which allows for longer runtimes when paired with the AMD platform. The G14 also runs slightly cooler and quieter than the Blade 14 with daily use, but still heats up significantly with games. The X14, on the other hand, is the better cooled for the set, but that's also because it implements lower-power specs.
Finally, I will also mention that the Asus ROG Zephyrus G14 sells for significantly less than the Blade 14, and is more widely available. It starts at around $1700 at the time of this update, for the R9 + RTX 6700S model, while previous gen R9 + RTX 3060 variants are available for under $1500. The Alienware X14 starts at $1500 as well, but is no match in performance.
Follow this link for updated Zephyrus G14 prices and configurations in your country.
Alienware X14 – the thinnest gaming ultraportable
As mentioned earlier, the Alienware X14 is a potentially interesting mid-range choice in this niche, and thinner than its close competitors, at less than .6″ (15 mm). That's not helping its overall portability, though, as this is both heavier and significantly larger than both the Zephyrus G14 and the Blade 14, as shown in the following video.
It does feel well built and carefully crafted, though, topping the Zephyrus in that regard, but still coming 2nd behind the premium feeling Blade.
The keyboard on the X14 is fine, it's close to a standard XPS implementation, but shallower than on XPS 15. On top of that, Alienware placed this keyboard in the middle of the chassis in order to leave extra space at the top of the cooling module, and that only leaves room for a smaller arm-rest area and a smaller clickpad, despite the laptop's large footprint, which interferes with its practicality on the lap. The IO isn't great with the X14 either, with a more limited selection of ports than on the other laptops, and with everything squeezed at the back, behind the screen.
When it comes to the screen and audio, this laptop offers two average up-firing speakers and a fair FHD 144Hz panel option with 100% DCI-P3 color coverage and 400+ nits of brightness. That means you're not getting the QHD wide-gamut options available with the Blade and the Zephyrus.
For the specs, you can get this with up to an Intel i7-12700H processor, 32 GB of RAM, and an RTX 3060 dGPU 75W. These are competitive mid-tier specs for this class, even if not as powerful on the GPU side as on the Asus and especially the Razer. The thermal module does a good job at cooling the hardware, but the downside is the fan noise at 50+ dBA at head level, louder than on the other two.
I'll also mention that Dell didn't skimp on the battery inside this Alienware X14, opting for an 80 Wh one. This comes about on par in runtimes with the Blade despite that having a smaller battery, and the G14 goes for much longer on a charge, thanks to the more efficient AMD hardware in both cases.
Finally, we need to discuss the pricing, which is competitive here for an Alienware laptop. Retail MSRP is between 1500 to 2200 USD for the various configurations, but Dell often have sales that will shave a few hundred off. Overall, you're still getting better value for your money with the Zephyrus G14, but I can understand why some of you might pick this instead for the design, the build quality, and the RTX dGPU options at a lower price than Razer ask for their model.
Follow this link for updated Alienware X14 prices and configurations in your country.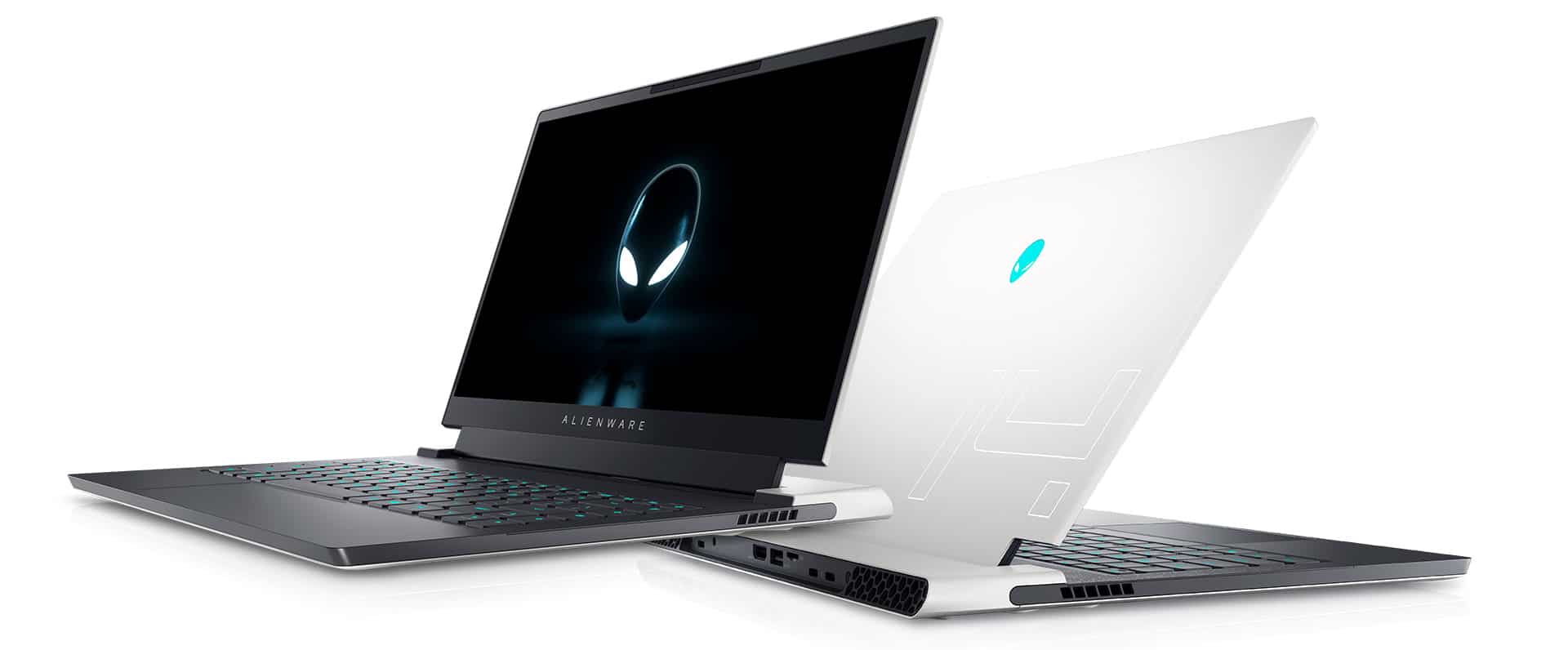 Acer Predator Triton 300 SE and Swift X 14
Acer offer two interesting performance laptops in the 14-inch segment as well. The Predator Triton 300 SE is a baby Predator built on latest-gen Intel hardware and RTX 3060 Laptop graphics, while the Swift X (reviewed here) is a smaller and more affordable model built on Ryzen 7 U processors with up to RTX 3050Ti graphics.
Both are aggressively priced and competent options in their segments. At close to $2000 for the i7 + RTX 3060 variant, the Predator Triton 300 SE could be an alternative for the Alienware X14 if you're after a well-priced Nvidia option with a 16:10 QHD+ wide-gamut display. I haven't properly reviewed this model, though, so I can't get into all the bits and details; you'll want to check out other reviews for a more in-depth analysis of its pros and cons.
The Acer Swift X is especially interesting at around the $1000 price limit in the Ryzen 7 + RTX 3050Ti configuration. For that kind of money, this is one of the best value multi-purpose lightweight 14-inch laptops available out there, even if not as nicely polished or as powerful as the options mentioned before, or some of the options below.
Asus VivoBook/ZenBook Pro 14X and MSI Prestige/Modern 14
Asus and MSI also offer some interesting 14-inch ultraportables with dedicated graphics at around the 1000 USD/EUR mark.
I was impressed with the overall value offered by the Asus VivoBook Pro 14X OLED (up to Intel i7 or Ryzen 9 + 3050Ti, 1.5 kg/3.3lbs) reviewed here, with better cooling, a superior 2.8K OLED 90H display, and a larger battery than the Acer Swift X.
For what is worth, Asus also offers a more premium ZenBook Pro 14X OLED (up to Intel i7 Core P + Nvidia MX550), but that's a more 14-inch ultrabook and a step back in performance.
The MSI Prestige 14 and Modern 14 laptops are also built on Intel platforms with RTX 3050Ti graphics, and are slightly lighter than the VivoBook, but don't offer the same battery or display, and are not as competitively priced as the other such options.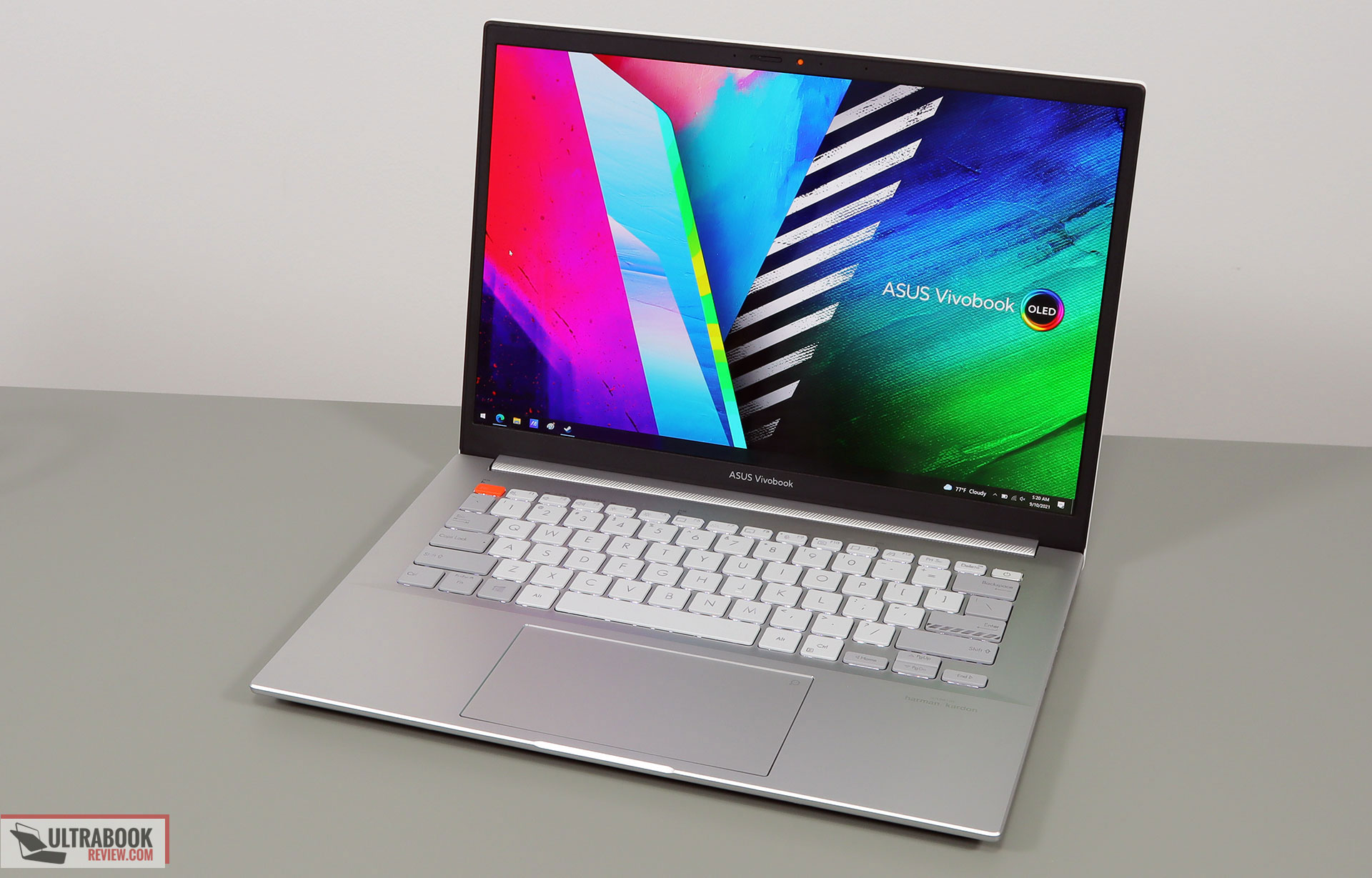 Asus ZenBook Pro 14 Duo OLED
While not a gaming machine per se, but rather a productivity-focused all-purpose notebook, the latest iteration of the ZenBook Pro 14 Duo OLED is definitely a unique product worth more than one look. Here's a more detailed look at the OLED laptop technology and some of the best OLED options out there.
Unlike the previous options, this is a dual-screen laptop, with a 14-inch 16:10 2.8K 120Hz OLED main screen, and a secondary wide ScreenPad half its size. You're probably familiar with this format, as it's been offered by Asus for a few years now, but it has been improved with the latest generation, as you'll find out from our detailed review of the ZenBook 14 Pro Duo available here.
This Pro Duo is more powerful than past generations, and can be specced up to an Intel i9-12900H with RTX 3050Ti graphics and 32 GB of RAM. It also offers an updated thermal module that can properly cope with the hardware, and a 76 Wh battery, but don't expect much in runtimes with the two displays on.
In fact, due to its design with the bottom-placed keyboard, this laptop makes the most sense on a desk, where you can comfortably use both displays and won't miss the lack of real arm support while typing. You'll also probably want to hook up a mouse with it.
The other aspects to consider are the fact that this is heavier than the other RTX 3050Ti 14-inch laptops mentioned earlier, at around 3.9 lbs / 1.75 kilos. That's even heavier than the Zephyrus G14.
Plus, this is expensive for the specs at around 2000 USD/EUR, as you're paying a premium for the two displays and the whole custom chassis offered here. Follow this link for updated prices and configurations.
For what is worth, though, if you like the dual-screen format but don't have the budget for this latest variant, the previous-gen ZenBook 14 Duos are still available in stores for as low as $1000, just don't expect much in terms of GPU performance with those.
Finally, there are a couple of other 14-inch laptops worth getting in this class, if you can still find them in stores, such as the:
You'll find reviews for all these on the site, use the search in the top-right corner. I'll try to update these as soon as possibly, and hopefully, they are still available at the time you're reading this article.
The best 15″+ thin-and-light gaming laptops
This section cherry-picks the best thin-and-light no-compromise notebooks for school, work, and gaming available with full-size 15+ inch displays.
The options here offer compact, thin, and premium builds at around 2 kilos or less, high-quality screens with proper brightness, colors, and refresh rates, good-quality RGB keyboards, as well as the latest available hardware specs and features. More importantly, these options are perfectly capable of delivering on the hardware's performance potential in demanding workloads and AAA games.
At the same time, though, most of these premium options are expensive, and you should also expect them to run warm and/or noisy with games on the highest-power profiles – these are simply compromises you'll just have to accept when looking for powerful hardware inside small form factors.
Heads-up, I've only included the portable 15-inch and 16-inch gaming laptops in this selection, but this part of the guide also covers the larger 17-inch gaming ultraportables. And, if you'd rather get something more affordable or you're willing to somewhat sacrifice on size and weight to some extent, the options in this section would most likely better fit your needs.
Let's briefly touch on the available premium ultraportable performance laptops first, with an emphasis on premium and ultraportable, and less so on performance.
Unlike the Razer Blade or the ROG Zephyrus models that we'll discuss in a bit, the options in this subsection are compact and lightweight all-rounders meant for daily use, school, and work activities. They're not primarily gaming laptops, even if the mid-specced variants can still tackle most titles at mid-level resolutions and graphics settings, and some options are available with higher-tier RTX 3070Ti/3080Ti level graphics, if you can afford them.
We're not going to get in-depth on all these options here, instead, I'll list them (alphabetically) with links to our available reviews and analysis:
Keep in mind that given the portable and slim form factor of these notebooks, the thermal design plays a crucial role in the way these perform with games and demanding loads, and I suggest carefully looking into detailed reviews to figure out what to expect from each of them. Follow the links for our in-depth reviews and coverage, and get in touch in the comments section at the end if you have any questions.
Asus ROG Zephyrus G15/G16/M16 and ROG Flow X16 lineups
With those out of the way, let's tackle the real gaming ultraportables. We're going to start with the ROG models, as these are right now the best-balanced products in the niche, and we'll discuss the other brands further down.
Asus offer the ROG Flow X16, ROG Zephyrus M16, and ROG Zephyrus G15 models in this class. Here's a quick summary of the three, with links to our detailed reviews for each of them:
All these laptops are compact and built well, even if perhaps not as sturdily made as a Blade or a MacBook. But they come close.
In a few words, the Flow X16 is a convertible design with a touchscreen, while the Zephyrus models are clamshell designs with matte screens, thus slightly smaller and lighter. That also leads to some differences in the IO and cooling, with an advantage for the newer Flow X16 design, which also implements a more complex tri-fan internal cooling module that allows the laptop to run quieter under load.
There's also a notable difference in the screens available for the three. The Flow X16 and the latest Zephyryus M16 are 16-inchers with options for either an IPS or a miniLED panel, the Zephyrus G16 is a 16-incher that only goes up to a QHD IPS panel, while the Zephyrus G15 is an older format 15.6-incher with 16:9 panels and a slightly dimmer QHD option for the top models. All of these are high refresh and fast response panels, so perfectly suited for gaming, especially on these designs that all offer a MUX and Sync support in the latest iterations. Overall, though, the M16 and X16 has an edge over the others here.
The performance in games and combined loads is similar between the three, with an advantage in sustained CPU/GPU loads for the latest Zephyrus M16. The AMD models, on the other hand, have a slight edge in efficiency and battery life.
All these are balanced by the pricing policies. The Zephyrus G15 is the more affordable of the three, starting at around $1500 for an RTX 3060 model, with the Flow X16 being the most expensive, and the Zephyrus M16  and G16 fall somewhere in the middle. The top-tier RTX 4070 Flow X16 with the miniLED display goes for 2500++ USD. Follow the links for updated configurations and prices for each of these.
Razer Blade 15 Advanced
Although it's starting to show its age here and there, the 15-inch Razer Blade Advanced is still one of our favorite all-around performance ultraportables of the moment. It's also among the most expensive, and that alone might steer some of you away, and not available all around the world.
We've covered the latest Blade 15 Advanced in-depth in our detailed review.
In just a few words, Razer demand a premium for the excellent unibody aluminum build, the simple and clean aesthetics, the fast and customizable keyboard with per-key RGB illumination, the complete IO that includes TB and a fast card reader, the multitude of screen options, the consistent performance with good thermals and noise levels, as well as the fair battery life.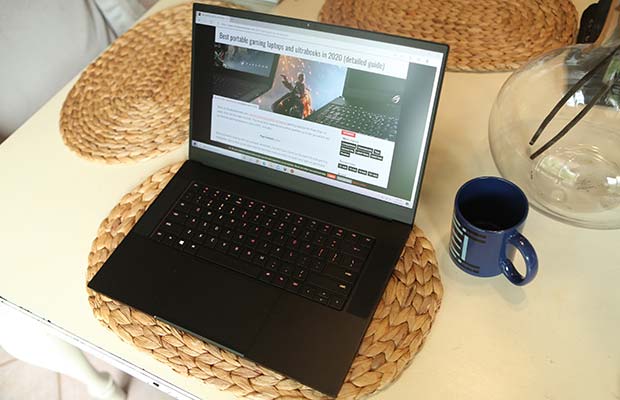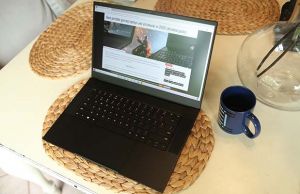 Compared to the competition, the Blade 15 has an edge in design and overall craftsmanship quality. It's also one of the very few gaming models with up-firing audio, as well as the single one that offers Thunderbolt 4, a finger sensor, and an IR camera at the same time. On top of these, Razer's control software is some of the better on the market, allowing you to easily tweak the keyboard's RGB and juggle with the performance, thermal, and fan settings.
At the same time, Razer's keyboard could see an upgrade, as it feels mushier than what the competition offers, and the audio pales in comparison to what Asus offers on their recent Zephyrus models. The Blade 15 is also not as powerful as some of the ROG models, especially in CPU-heavy tasks, and that's because Razer implements power-constrained profiles in order to keep the thermals and noise levels at bay. Paired with their competent vapor-chamber thermal module, this approach allows the Blade 15 to run quieter and cooler than the competition while sacrificing performance to some extent.
Hardware-wise, the Blade 15 is available in a few different configurations. The recent models are based on Intel Core processors and up to RTX 3080Ti 100W graphics, up to 32GB of RAM, dual SSD slots for storage, and an 80 Wh battery. Plus, based on the choice of dGPU, you get either a QHD IPS display on the 3060 model, or a QHD 240Hz OLED on the 3070/3080 variants. Both are 100% DCI-P3 color coverage.
The Razer Blade 15 Advanced starts at $2699 MSRP at the time of this update for the RTX 3060 configuration, $3299 for the 3070Ti, and $3699 for the 3080Ti model. That's more expensive than pretty much any other similar laptop out there. Razer have always demanded a premium for their premium Blades, which made sense to some extent, but things have gone bunkers with their latest updates. Sure, if money's no object, then perhaps this Blade makes sense for you, but most people will most likely look elsewhere.
Follow this link for updated configurations and prices at the time you're reading the article.

Alienware x15
The X15 is another premium and expensive laptop in this class, and a larger and heavier format than the Blade 15, due to how Alienware implement the cooling on their products. This is one of the thinnest gaming laptops in this class, though, if that's worth anything – it's not for me.
At the same time, this model bundles up to an RTX 3080Ti 140W dGPU, more powerful than what you'll get with any other thin/light gaming laptop in this category. That's paired with up to an i9 processor, 2x RAM slots, and 2x SSDs, plus an 87 Wh battery. The screen choices are either FHD 165/360Hz or QHD 240Hz, all IPS 16:9 panels – fair options, but nothing spectacular.
The caveats with this series are the high chassis temperatures and loud fan noise in demanding loads, as well as how Dell placed the IO and the keyboard on this product. All the IO is at the back, and it's rather minimalistic for this sort of a multi-purpose laptop, while the keyboard is positioned in the middle of the chasiss, leaving room for only a narrow arm-rest and a small click-pad underneath.
Furthermore, as mentioned earlier, the Alienware X15 is expensive, nearly as expensive as the Blade 15. The base i7 + RTX 3060 + FHD screen model starts at $2400 MSRP, while the top specs go above $2500, MSRP, and not accounting for the occasional Dell sales.
Follow this link for updated configurations and prices at the time you're reading the article.
Gigabyte Aero 16 and Aero 5 OLED
While the Asus, Alienware, and Razer models above are more versatile and cater consistently towards gamers with their performance and fast screens, Gigabyte takes a different approach with their Aero lineup: they still offer a premium-tier chassis and features, but in more affordable and lower-power configurations aimed at creators and professionals.
Sure, the Aeros are not as unique-looking or nicely finished as these other options, but they're available for significantly under $2000 for modern i7 + RTX 3070Ti configurations with UHD OLED screens – 16-inch 16:10 format on the Aero 16, and 15-inch 16:9 format on the Aero 5. Add in upgradeable RAM/SSDs, a 99 Wh battery, a good full-size keyboard, and an excellent set of ports, and these should spark a lot of interest.
They're just not ideal for gaming, even with the higher-tier RTX graphics, because of those high-resolution 60 Hz OLED panels. And BTW, these only implement mid-power graphics, thus not as fast as on some of the other models mentioned earlier.

Almost there: Acer Predator Triton 500 and MSI GS66 Stealth
There are a couple of other good options in this segment and I just can't move on without at least mentioning them and linking to our detailed reviews for more details.
The Acer Predator Triton 500, which we've reviewed in this article, is another interesting multi-purpose 15-inc laptop that can be specced up to an i9 with RTX 3080Ti graphics, the same 105W version available in the Aero models. This also comes with a 99Wh battery, but it's rather on the heavier side for this segment at 5+ lbs. It's also a minimalist and rather bland design.
Unlike Gigabyte with the Aeros, though, Acer offer this series with a 16-inch 240Hz 3ms screen, good for both gaming and creative work.
Furthermore, unlike the Blade or the Alienware X15 which are also configurable with RTX 3080Ti graphics, this Triton 500 is a fair bit more affordable at under $3K for the top specs. 3070Ti and 3060 models are also available. Follow this link for updated configurations, prices, and user reviews.
What are the downsides of this series, then? The heavier weight, as already mentioned, as well as the fact that this lacks certain features such as biometrics or front-facing speakers. It's also a lot more difficult to open up and upgrade than the other options.

Finally, our detailed review of the MSI GS66 Stealth Thin gaming laptop is available over here.
MSI went the same route as Gigabyte with this product, offering multiple configurations in the same premium-tier chassis, but sacrificing raw performance to some extent. That's why the GS66 is not necessarily the ideal gaming-ultraportable, where it loses to the competition and runs fairly hot, but could be an excellent productivity laptop in the lower-tier configurations.
The clean design lines, the comfortable keyboard, the good IO, and the 99 Wh battery tucked inside a premium aluminum chassis recommend it for business and work environments, just make sure to read our review for details on all its quirks before jumping on this.
Follow this link for updated configurations, prices, and user reviews.

Tongfang barebones – Eluktronics Max-15 or Schenker XMG Fusion 15
A few different smaller-tier OEMs sell some competitively priced thin-and-light gaming laptops based on the Tongfang barebones, Eluktronics (in the US) and Schenker/XPG (in Europe) being the most popular brands.
If you'll look through the reviews on Amazon, Newegg and other stores, you'll see that these products score excellently with their buyers. That's both because they offer excellent specs and performance for a fair price, but also because the people buying this kind of products are savvy users and know in advance what to expect from such a computer.
So what should you expect? No fancy designs and extravagant features, but compact metallic builds with good inputs and IO, good screens, and powerful specs. At the same time, expect poor audio and small batteries with these ultraportable models.
That's why I'd generally recommend these barebones to tech-savvy users, and not necessarily to the average customer. However, if you're buying from Amazon or other big stores that offer proper return policies, and if you do your homework in advance in order to understand how these differ from the A-brand units, you could give this a try no matter if your a tech-enthusiast or not.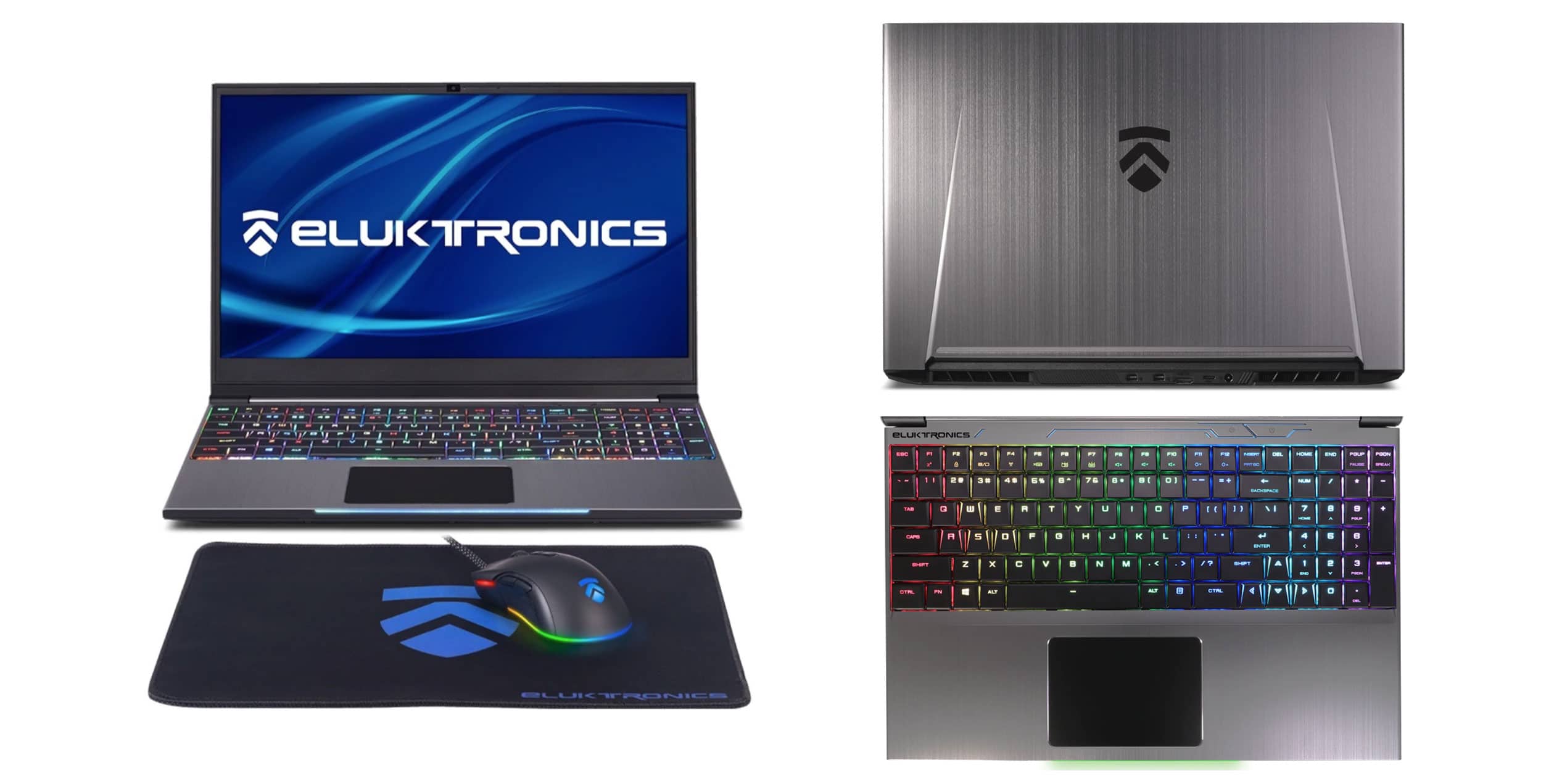 17-inch and 18-inch portable gaming laptops
Most 17-inch and 18-inch laptops offer uncompromised specs and performance without much concern for portability, but there is a sub-lineup of lightweight 17-inch computers meant for those of you looking for the extra real estate offered by 17-inch screens, but still in a mid-sized chassis that won't break your back.
I'm only briefly covering the best such 17-inch portable models here, with links to our reviews for more details, and we'll develop this further in a future separate article. 18-inch models will be added in a future update, and are also discussed in this dedicated article about the best gaming/10rk 18-inch laptops currently available in stores.
Pros: premium build and clean design; weighs 2.8 kg/ 6.1 lbs;  fair inputs and good IO; QHD 240 Hz or UHD 144 Hz screen options; good performance, cooling (vapor chamber), and useful software package; 8x speakers and biometrics
Cons: beware of coil whine; mid-sized battery (82 Wh) and poor battery life; very steep entry price
Bottom point: If money's no object, the updated Razer Blade 17 is the best 17-inch light and thin performance laptop on the market. This latest generation addresses most of its predecessor's issues and inherits many of the strong selling points of the popular Blade 15 Advanced series, such as the compact format and pristine build quality, but with improved audio quality, performance, and thermals. Battery life isn't great, though, and Razer still expects you to pay a hefty premium for their devices, even steeper than with past generations.

Pros: the most compact and lightest 17-inch laptop of this selection, starting at sub 5 lbs; good keyboard and punchy audio, fair IO; two excellent 16:10 display options and multiple hardware configurations; 97 Wh battery and compact charger
Cons: only available with mid-tier specs and mid-power settings; expensive for the specs
Bottom point: The Dell XPS 17 appeals as a premium thin-and-light all-arounder, and not necessarily as a gaming device. It's smaller and lighter than the other options in here, while at the same time not as powerful, but it's an excellently balanced product available in multiple configurations in the 1500-2500 USD price range, and all these combined make this XPS 17 the most popular 17-inch notebook on the market.
Pros: somewhat heavier than the other options, at 6.5+ lbs / 3 kilos; the most powerful 17-inch laptop of this selection; known Alienware build quality and design particularities; multiple options for specs, screens, keyboards; good cooling, albeit noisy; quad-speakers; 87 Wh battery; fairly priced in the mid-specced configurations
Cons: larger and heavier than the other options; runs noisy at full blast
Bottom point: If you don't mind a slightly larger and heavier 17-inch chassis than what you're getting with the other options mentioned here, the Alienware X17 is pretty much the go-to work/gaming 17-incher of this generation. It's available in a multitude of configurations with full-power Intel processors and RTX graphics chips (up to RTX 3080Ti 175W), and is able to properly cool these under load. It also offers a good mechanical keyboard, good IO, and punchy quad speakers. It gets expensive when specced-up, but the mid-tier models are competitively priced, especially if you're patient to wait for one of Dell's occasional sales campaigns.
Pros: lightweight 17-inch laptop at just over 5 lbs; barebone Tongfang design; fair RGB keyboard and clickpad; QHD 240Hz display; several Core + RTX configurations, up to RTX 3080Ti 175W; 91 Wh battery, competitively priced for the specs
Cons: not as nicely made or polished as A-brand models; fewer configuration options and limited worldwide availability; poor audio
Bottom point: The Eluktronics Max 17 is built on a Tongfang barebone chassis, so is not as nicely polished or feature-rich as some of the other options. It does offer full-power RTX Laptop chips in a thin and lightweight chassis, unlike any of its A-brand competitors. It's also competitively priced for the specs. Don't expect this to turn any heads, but if you're after a powerful 17-inch sleeper laptop, this is surely worth considering.
Pros: premium build quality and a unique design with the keyboard separated from the main chassis; weighs 2.75 kg/6.1 lbs; optical-mechanical RGB keyboard; fast FHD and QHD screen options with MUX/GSync and Advanced Optimus; solid performance and thermals, but not the most powerful hardware implementation in this class; useful software package; punchy audio with 6x speaker.
Cons: not as powerful as other models; hasn't been updated to 2022 specs; some potential QC issues; expensive
Bottom point: If you're lucky enough not to get any light-bleeding or electronic noises on your unit, the ROG Zephyrus S17 is one of the most interesting 17-inch gaming ultraportables on the market. That's primarily thanks to its unique design that separates the keyboard from the hot components underneath, but also due to its hardware specs. This is expensive, though, and not as powerful as some of the other models in this niche, especially because it has not been updated beyond 2021 specs.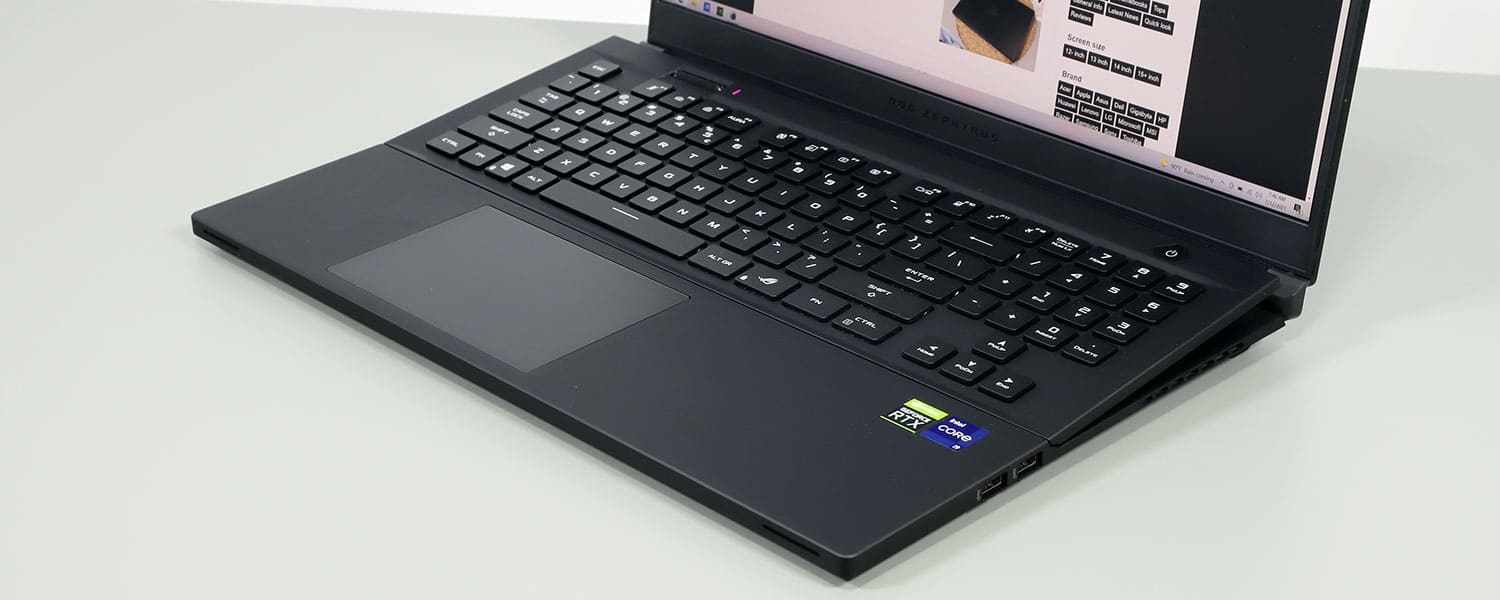 Pros: simple, sober aesthetics and good build quality; 2.8 kg – 6.2 lbs weight; RGB keyboard with NumPad; multiple screen options; complete IO; 99Wh batteries; quad-speakers on the MSI
Cons: somewhat dated designs; only 105W RTX implementations, so not as powerful in games as the other options; run fairly hot and noisy
Bottom point: The Aero 17 and the Sealth GS77 are very similar 17-inch laptops with a utilitarian design, and that makes them good multi-purpose computers. The simple looks, the excellent IO and battery life, and the multitude of configurations and screen options are their main selling points, while on the other hand these are not as powerful on the GPU side as the other options, and run rather hot (and/or noisy) with demanding loads.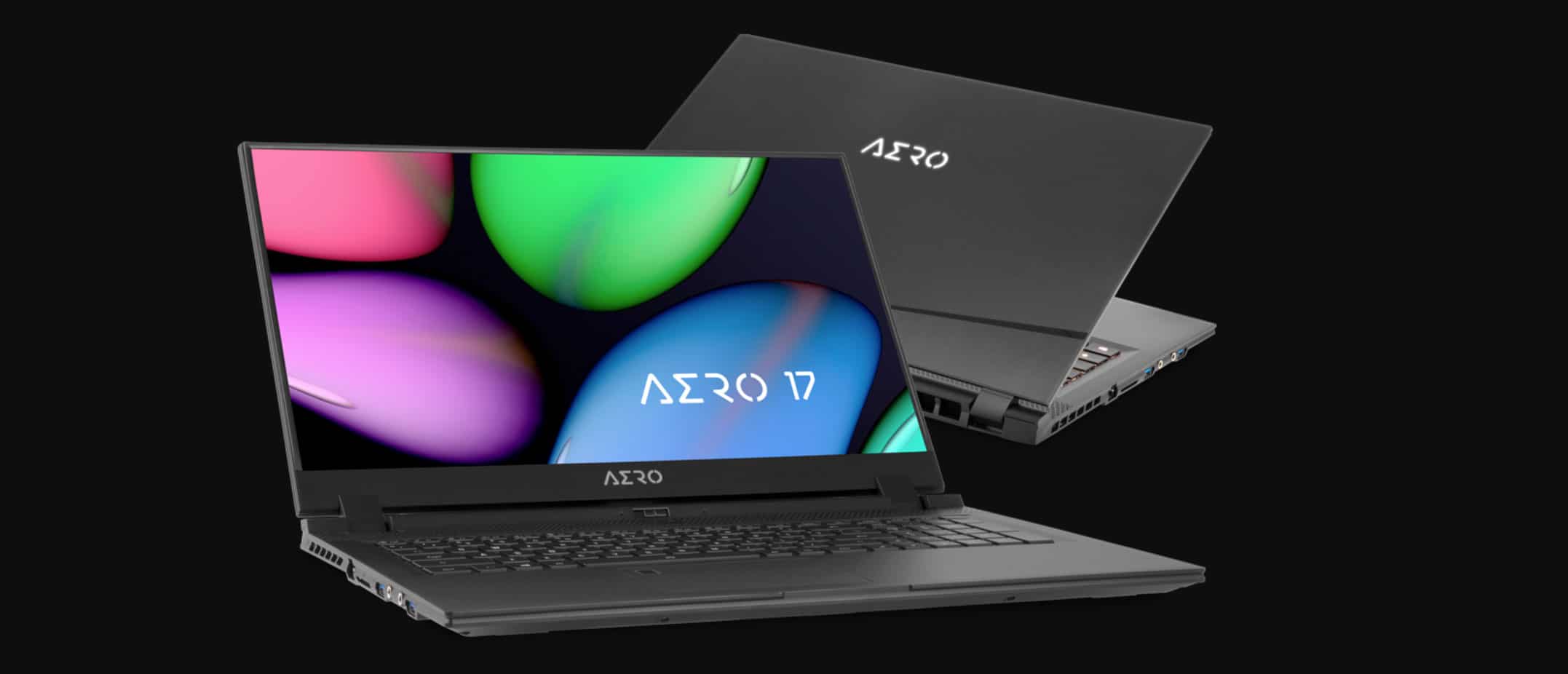 These are all high-tier premium gaming ultraportables. We'll talk about better-value or full-size powerful 17-inch models down below.
More powerful, less portable gaming laptops
This section is about the best-value gaming laptops that will give you the best gaming experience for your money, without taking the thin and lightweight form factor into consideration. Even so, most of these computers are still compact and fairly portable, but not as thin or light as the options mentioned before.
Options under $1000
For this budget, your best bet is a modern RTX 3060 configuration available on sale, but only the lower-tier designs are that affordable. That means you'll somewhat sacrifice the build quality, aesthetics, battery life, and potentially on performance and screens compared to the higher tier and more expensive models.
Options in this class include the Acer Nitro 5, HP Victus 16 series, MSI Katana, or the Lenovo IdeaPad 3.
Furthermore, if you're willing to go with lower graphics performance in a better design, you could look for RTX 3050Ti configurations of the Asus ROG Strix, Lenovo Legion 5, or Dell G15 Gaming lineups.
Options in the $1000-$1500
This is where you're getting the best bang for your money.
The build and design are subjective and you should choose based on your preferences, but make sure you're getting something that's at least made well and will last for a while, has a strong screen hinge, grippy rubber feet, friendly corners and edges, and ergonomically positioned ports.
Then you should carefully consider the inputs and screens. I recommend at least a 144 Hz IPS panel with at least 100% sRGB color coverage and above-average response times, especially if you plan to run fast-paced games such as shooters or racing simulators. You might also get 240 Hz screens in this price niche, which will benefit you in CS:GO and the like.
For specs, the GPU is what matters most when it comes to gaming, so I'd aim to maximize that. A higher-power RTX 3060 with proper cooling would be the ideal pick in this segment, but you might even find an older RTX 3070 model here. Pair it with fast SSD storage and at least 16 GB of RAM.
As for the CPU, even a modern Intel Core i5 or Ryzen 5 should handle games without stress, but you can go with Intel Core i7 or AMD Ryzen 7 options if you also plan to run some CPU-demanding loads for work or school. For what is worth, Intel platforms are the more powerful options at this point, while AMD has an efficiency advantage on battery use.
This aside, keep in mind that not all laptops are created equally, and the thermal designs and power profiles play a major role in how a specific model ends up performing. That's only something reviews can reveal for you, the kind we put up here on the site.
With all these in mind, let's look at some options.
At the lower limit in this price bracket, you'll be able to get better-specced versions of the units mentioned above, with more RAM, more storage, and perhaps a faster processor.
Towards the middle of this price range is where you'll find the real gems, with options such as the Acer Predator Helios 300, Asus TUF Gaming and ROG Strix lineups, Alienware m15, Dell G15 Gaming, HP Omen or Lenovo Legion 5. Most are available with either Intel or AMD specs. 17-inch variants of these notebooks are also up to grabs if you prefer a larger screen and generally improved thermals. There's an updated selection of these 17-inch mid-range gaming laptops over here.
Among these, my favorites are the latest Lenovo Legion 5 and Asus TUF Gaming series, they're the best balanced and best-priced of the bunch. The other models have their advantages as well, so again, there's no clear winner here. Think about what matters for you and where you can compromise, and pick the one that best caters to these needs.
At the higher price limit, you can find better-specced versions of the models above, but also a few RTX 3070 configurations, which is what I'd recommend for gaming, given the GPU matters the most in that case.
There are also a couple of options based on barebone designs from Togfang or Clevo, from brands such as Eluktronics, Sager, Shenker, XPG, or Vapor, each available in different regions. I would only buy these if I understand what a barebone design means, with the advantages and the cons, and only get them from a trustworthy seller. In fact, looking at the reviews on Amazon and other stores, buyers are satisfied with these products and rate them highly, in many cases even higher than the A-brand alternatives.
Options above $1500
At this point, your options get incrementally better, and the best value is in the high-power RTX 3070Ti configurations of the models above, or if you're willing to splurge a little, with some of the higher-tier full-size performance and gaming designs such as the Asus ROG Strix SCAR, the MSI GE Raider, the Lenovo Legion 5 Pro or the Lenovo Legion 7 lines.
With these, expect extra features such as improved build and ergonomics, higher quality and higher resolution displays, per-key RGB keyboards with options for mechanical switches, improved thermal designs, larger batteries, improved audio quality, and generally improved performance with a better-balanced mix of temperatures and noise levels.
Most of these are also available in 17-inch formats, but in this class you'll actually find some dedicated full-power designs, pretty much the most powerful gaming laptops money can buy, such as the Acer Predator Helios 500, the Asus ROG Scar 17 Special Edition or the MSI GT77 Titan.
Conclusions on the best available portable gaming laptops
All in all, there are many good gaming notebooks in this list, of different sorts, and for different budgets.
As a buyer interested in a compact gaming computer today, you've got a wide array of options to choose from, starting with the highly portable 13-inch gaming ultrabooks, and up to the most powerful 17-inchers with uncompromised specs and features. Most of these are thin-and-light builds, while some favor performance over portability.
In the end, it's up to you to choose the gaming laptop that best suits your requirements and budget, and find the right balance between power, portability, features, and price for you. I'm sure this article helped you in your quest, and we have further in the comments section if you have any questions or anything to add to this post. Get in touch and we'll get back to you.
Disclaimer:
Our content is reader-supported. If you buy through some of the links on our site, we may earn a commission.
Terms
.