In this article we're discussing the 2023 updates of the Lenovo Legion 7 series, now called the Lenovo Legion Pro 7i (Intel) and Lenovo Legion Pro 7 (AMD).
Aside from appending a Pro to the naming, Lenovo's top-lineup of performance and gaming laptops doesn't change drastically this year.
That means these are still 16-inch laptops built on either Intel or AMD high-performance platforms, paired with the latest graphics from Nvidia, the latest modern features, an advanced cooling module, and a 99 Wh battery. There's no larger 18-inch Legion 7, as perhaps some of you might have expected. At least for the time being.
Nonetheless, with the transition to Intel Core i9-13900HX 24C/32T and Ryzen 9 7945HX 16C/32T processors and up to RTX 4090 graphics, expect these to provide a significant boost in gaming and work performance.
Specs aside, Lenovo have slightly redesigned the chassis for the 2023 generations.
These Pros are now a little larger and heavier than before and are a darker color with a slightly updated IO. Furthermore, the thermal module has been updated as well in order to allow the hardware to run at higher sustained power than on the previous models.
Update: Here's our full review of the Lenovo Legion Pro 7i series, in the i9 + RTX 4080 configuration. And here's our review of the RTX 4090 configuration of the Legion Pro 7i.
We'll touch on the important features of these 2023 Legion 7/7i Pro models down below, and follow up with updates and detailed reviews in the weeks to come. These laptops are expected in stores around March/April 2023, starting at $1999.
2023 Lenovo Legion Pro 7 & Legion Pro 7i Specs
But first, here's a full specs sheet of the two 2023 Lenovo Legion 7 Pro models.
2023 Lenovo Legion Pro 7
2023 Lenovo Legion Pro 7i – review and review
Screen
16-inch, QHD 2560 x 1600 px IPS, 16:10, non-touch, matte
240 Hz 3ms response, VRR support
500-nits, 100% sRGB, Pantone certified
16-inch, QHD 2560 x 1600 px IPS, 16:10, non-touch, matte
240 Hz 3ms response, VRR support
500-nits, 100% sRGB, Pantone certified
Processor
AMD Phoenix Ryzen 9 7000,
up to Ryzen 9 7945HX 16C/32T 
Intel 13th-gen Raptor Lake Core HX,
up to Core i9-13900HX, 8PC+16Ec/32T
Video
Radeon + RTX 4000 graphics, up to RTX 4090 16GB 175W
with MUX, Advanced Optimus, GSync support
Intel UHD + RTX 4000 graphics, up to RTX 4090 16GB 175W
with MUX, Advanced Optimus, GSync support
Memory
up to 64 GB DDR5-6000 OC (2x DIMMs)
up to 64 GB DDR5-6000 OC (2x DIMMs),
Storage
PCIe gen4 (2x M.2 2280 slots)
PCIe gen4 (2x M.2 2280 slots)
Connectivity
Wireless 6E with Bluetooth 5.2, G LAN ??
Wi-Fi 6E and Bluetooth 5.2, 2.5G LAN
Ports
Left: 1x USB-C 3.2 ?? gen 2 (data, DP), 1x USB-A gen1
Right: 1x USB-A 3.2 gen1, 1x audio jack, 1x eShutter button
Back: 2x USB-A gen1, 1x USB-C gen2 (DP, power), HDMI 2.1, LAN, DC-In
Left: 1x USB-C 3.2 with Thunderbolt 4, 1x USB-A gen1
Right: 1x USB-A 3.2 gen1, 1x audio jack, 1x eShutter button
Back: 2x USB-A gen1, 1x USB-C gen2 (DP, power), HDMI 2.1, LAN, DC-In
Battery
99.9 Wh, up to 330 W GaN power adapter, USB-C charging up to 140W
charges to 80% in 30 min, to 100% in 60 min
Size
363.4 mm or 14.33" (w) x 262.2 mm or 10.31 (d) x 21.95 – 25.9 mm or .86″ – 1.02" (h)
Weight
from 2.8 kg (6.2 lbs) + power brick
Extras
per-key RGB backlit keyboard with NumPad, 1.5  mm travel, plastic clickpad, 2x 2W stereo speakers, FHD webcam with eShutter and Tobii Horizon, no figner-sensor in the power button anymore, available in a darker Space Grey color
Update2: A newer Lenovo Legion 9i series is available in the meantime, a thinner format with similar Intel HX and RTX 4090 specs. Here's my detailed review of the Legion 9i lineup.
As mentioned already, Lenovo have updated the chassis design for these 2023 Legion Pro 7 lineups.
This results in a minimally larger footprint at 364 x 262 mm, vs the 358 x 264 mm of the 2022 models, an increase in thickness by 2-3 mm, and an increase in weight to 2.8+ kilos (6.2+ lbs), vs. the 2.5+ kg (5.55+ lbs) of the previous generation.
I'd reckon the extra weight might matter to some of you, but it's not really a deal breaker to me, especially since these Legions remain competitive in size against the other full-power 16-inch notebooks offered by the competition, such as the Acer Predator Helios 16, the Alienware m16, the Asus ROG Scar 16, the MSI GE68 Raider or the Razer Blade 16. If you need something smaller, you'll just have to go with one the available options in the ultraportable performance space, such as the ROG Zephyrus M16, or perhaps an updated Lenovo Legion Slim 7 series.
It's also important to acknowledge that the charger on the 2023 model is GaN and thus more compact and lighter than in the past.
I find it interesting that the other brands are also offering 18-inch and/or 17-inch versions of their performance laptops, but Lenovo stick with only the 16-inch format on both their Legion Pro 7 and Legion Pro 5 2023 updates. I guess a simpler lineup allows them to keep costs in check, and the mid-sized chassis already targets a larger audience of potential buyers, but still, some of you might want a larger display and that's not available from Lenovo.
Moving on, the 2023 chassis is still entirely made out of strong pieces of aluminum, top to bottom, and I expect the build quality and overall premium feel to match that of the previous Legion 7s, which were arguably the most refined notebooks in their niche.
I'm not entirely sure how I feel about their decision to opt for a darker color scheme called Onyx Grey, though. From the images and videos that I've seen, these Pros look stunning, but at the same time, they are going to show smudges and fingerprints much easier than the previous models, and thus will lose the friendliness and care-free sentiment that characterized the Legion lineups over the last years, which rarely required a wipe in order to stay sharp and clean.
The 2023 Legion Pro 5s are a darker color as well, available in either the same Onyx Grey or an Abyss Blue variant. What do you think about these new colors?
That aside, I can't tell for sure what's the RGB situation with these new Legion Pro 7s. The previous models got a subtle light bar at the front and a less-subtle LEGION RGB logo on the lid and RGB lighting in the rear and side exhausts. I'm still seeing the lightbar on these 2023 updates, but I don't think the exhausts and logo are RGB anymore, which I for one sure wouldn't mind at all, as it would improve the minimalistic appeal of this design.
The other design changes are subtle. Here's an image of the exteriors on the 2023 and 2022 generations:
The hinges were modified, with the new generation implementing two smaller hinges instead of the longer mid-hinge on the 2022 models. Both allow the display to open to 180 degrees, and the hinges on the new model are a little stiffer than in the past, so better at keeping the display in place.
There are also some aesthetic changes around the rear and back exhausts, and a slight update of the IO.
Most of the ports are still placed on the back edge on the 2023 model, but a USB-A is now available on both the right and left side. There's also a USB-C on the left on both, with Thunderbolt 4 support for the Intel-based model, and an audio jack and a camera eShutter button on both on the left edge. However, the LAN port is upside down on the new model, if that matters to you – and it's only 1 Gbit speed, not 2.5Gb as before.
More notably, the IO indicators on the back of the laptop are no longer backlit on the 2023 Legions, as they were on the past generations. I really found the lighting useful in dim environments.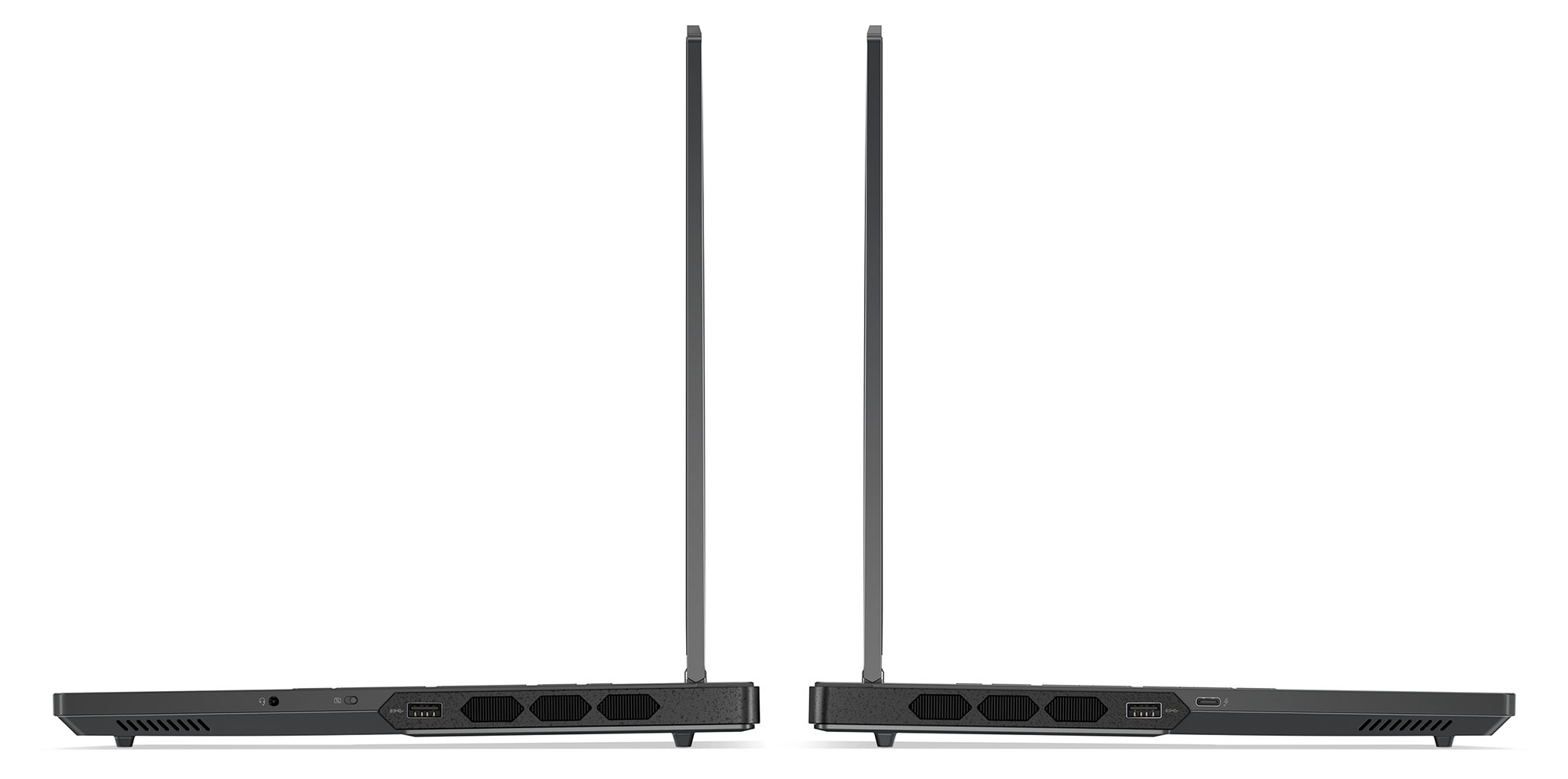 On the inside, the differences are even more subtle.
There's the same Spectrum RGB keyboard on the 2023 model, with the same layout and functionality as before. The keycaps are darker, though, as a color match to the overall theme. The touchpad is darker as well, but otherwise identical to the previous gen (update: looks like it's actually plastic on the 2023 model, instead of glass as in the past).
The only change is at the top of the keyboard, where the power button is no longer a design with a glowing circle around and an integrated finger-sensor, but rather the simplified design previously use on the Legion 5 models, with only a lit dot. This is still always on and changes in color based on the selected power profile.
That aside, the ventilation grills previously implemented up here on the 2022 Legions were replaced with a simplified metal piece. That means there are still no up-firing speakers on this Legion Pro 7 generation, as the speakers are still on the underside of the laptop. They might be an update in audio-quality, though,

Speaking of, here are a few more images of this 2023 Legion Pro 7 update, including the bottom-panel design with the grippy rubber feet and the small speaker cuts.
These speaker grills were moved on the angled sides and no longer fire straight down. The rubber feet have been slightly rearranged as well, and the D-panel is a little thicker around the thermal module than on the front.
Furthermore, this picture shows the updated lightbar on the 2023 generation, which is only positioned on the front lip now and no longer spans to the right/left edge as well, as on the 2022 model.

Inputs and Display
As far as I can tell, the inputs haven't changed at all from the previous generation, and you'll find my impressions on the typing experience and the touchpad in my review of the 2022 Legion 7 over here. They're good, yet the keys and the touchpad will most likely smudge easier on this 2023 update, just like everything else.
As far as the display goes, these 2023 Legion Pro 7s are still 16-inch designs with a 16:10 matte screen.
However, I was expecting an updated selection of panels here, but Lenovo are still offering the same IPS panel as in the past (illustrated below), with ~500 nits of brightness,~1300:1 contrast, 100% sRGB color coverage, and VRR 165-240Hz refresh with 3 ms response times.
This is not bad, but at the same time no match in image quality for the panels offered by the competition, either their mid-tier offers (IPS, 500+ nits, 100% DCI-P3, 240Hz 3ms) or the top-tier miniLED options (1000+ nits, 1000+ dimming zones, 100% DCI-P3, 240Hz 3ms).
And even the VRR support isn't enough of a selling point for those of you primarily interested in gaming, given the panels support GSync on most of the other 16-inch 2023 options now.
I'm hoping Lenovo will offer updated panels on these Pro 7s later in the year, when they'll be available in stores. Especially since they are already offering miniLED screens on some of their other lineups, such as the Legion Slim 7s (which haven't yet been announced with 2023 specs).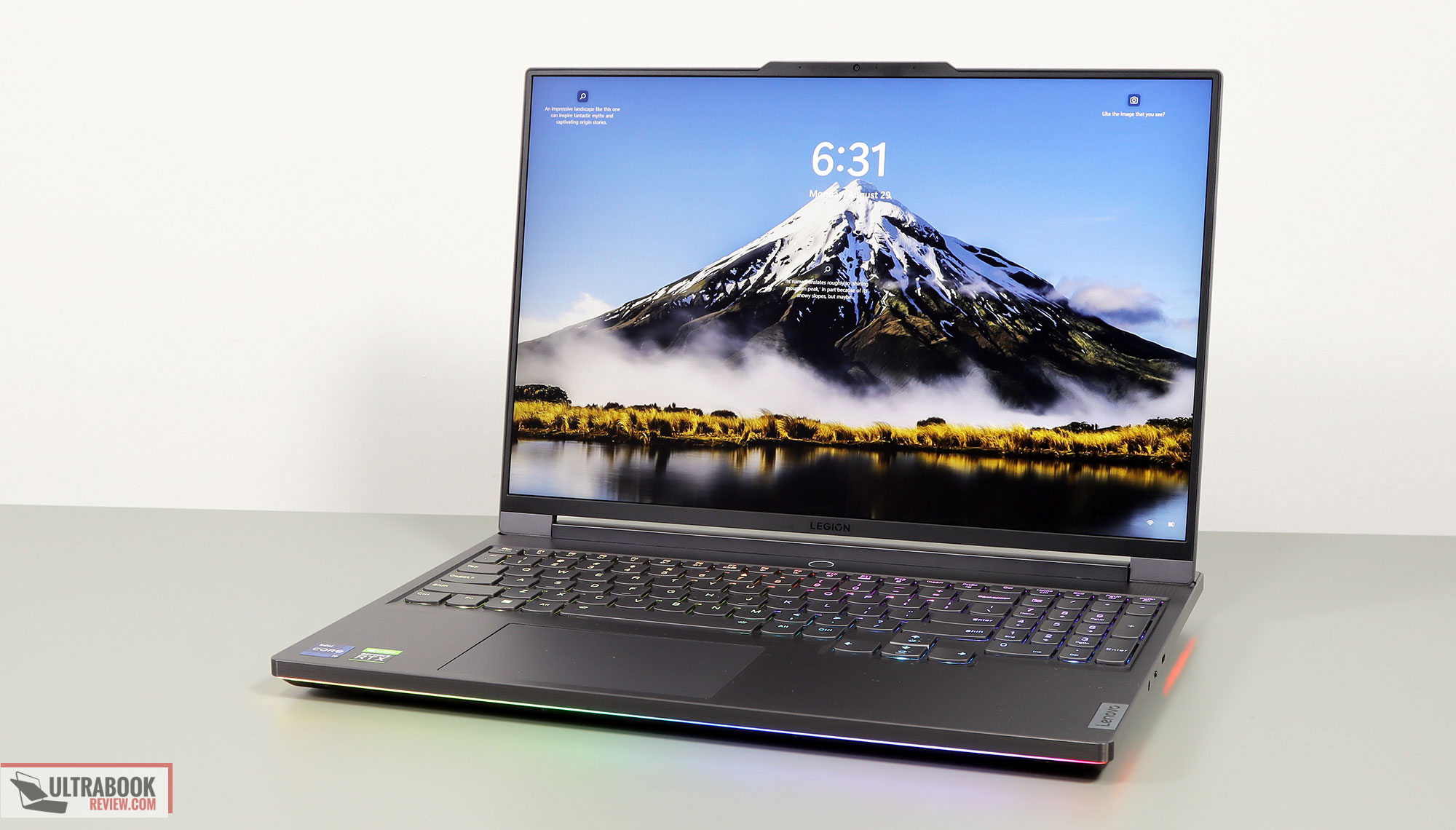 Hardware, performance, and cooling
Just like before, these Legion notebooks are available with the latest hardware specs from Intel, AMD, and Nvidia.
On one side, the Lenovo Legion Pro 7i can be specced up to an Intel Core i9-13900HX processor with 8PC+16EC and 32 Threads, and up to an RTX 4090 Laptop 16GB dGPU at 175W.
On the other, the Lenovo Legion Pro 7 can be specced up to an AMD Ryzen 9 7945HX processor with 16 Cores and 32 Threads, and up to the same RTX 4090 16GB dGPU at 175W. Just like the other OEMs, Lenovo gave up on a AMD Advantage design on this variant, due to the lack of a competitive top-tier AMD GPU for this generation.
The specs are completed by support for up to DDR5-6000 memory (up to 64 GB, with 2x DIMMs), 4TB of storage (2x gen4 drives), and a 99.9 Wh battery. There's also a MUX with Advanced Optimus on both variants.
Lenovo have also updated the Vantage control app, in order to allow better power and fan tweaking besides the standard profiles. This was long expected.
On top of these, the thermal module has been slightly revamped. I don't have a clear image of the motherboard and the cooling for now, but Lenovo mention a wider vapor chamber on the 2023 generation, liquid metal on both the CPU and the GPU, and an updated crossload sustained power of 235W. For comparison, the 2022 Legion 7i ran at up to 210W combined, so we're looking at a fairly significant power increase.
The Nvidia GPUs are still going to run at up to 175W in this design, just like on the other RTX 4000 full-power notebooks of this generation, so that means up to 60W can be allocated to the CPU. At 235W, these Legion Pros come close to the most powerful designs available in full-size 17/18-inch laptops from other brands, at 250W sustained. Hopefully, the thermal module can properly cope with this increase in power and these laptops won't run hotter or noisier than the previous generation Legion 7s.
As for the CPUs, both should be significantly faster in multi-threaded operation than their predecessors. The i9-13900HX gets 8 extra ECores and Threads over the 12900HX in the 2022 model, while the AMD Ryzen Dragon Range-HX Ryzen 9 7945HX 16C/32T is simply in a league of its own compared to the previous Ryzen 9 6900HX 8C/16T Zen3 platform.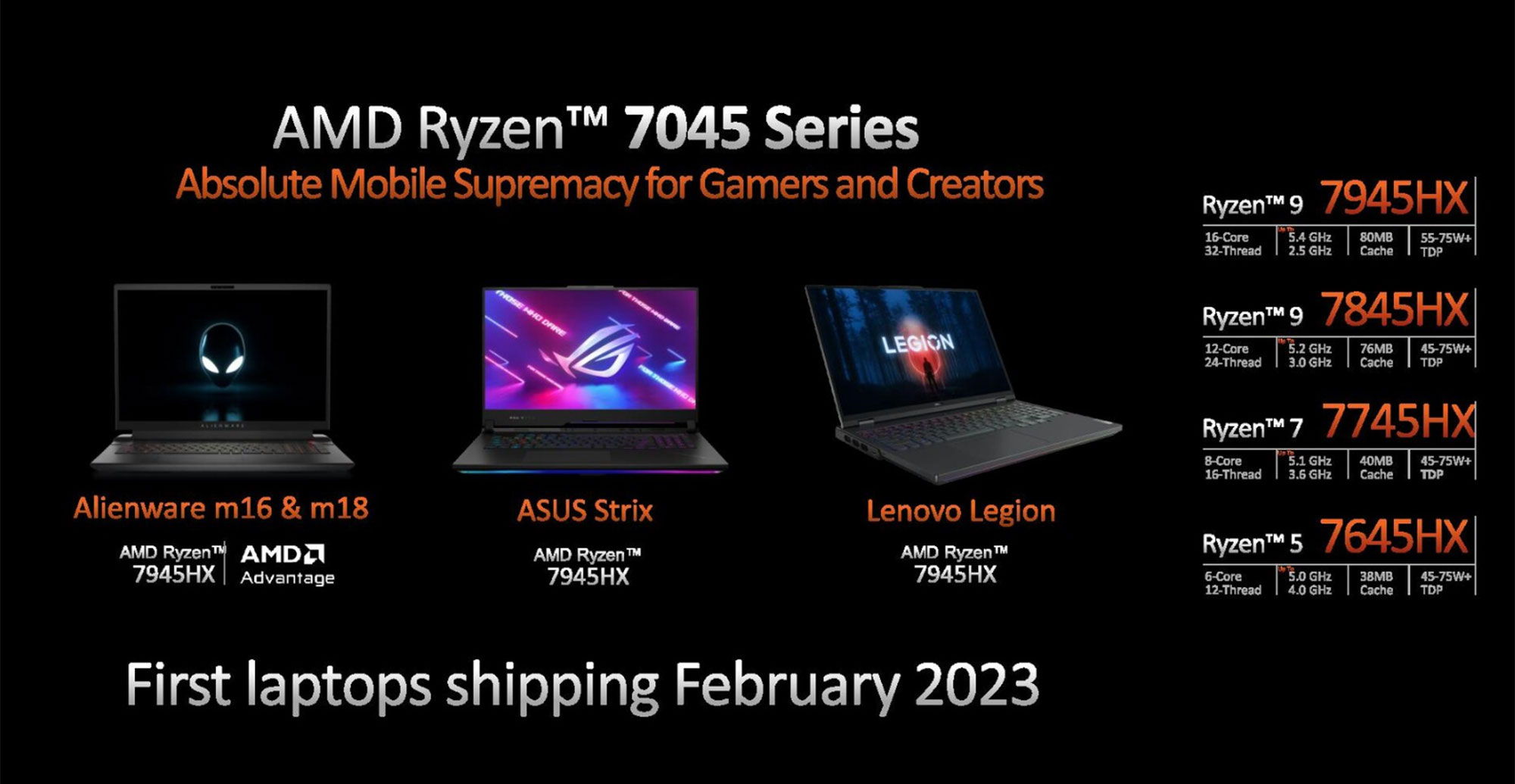 I'm eagerly looking forward to reviewing these laptops and sharing my findings with you.
Before we wrap this up, there are two other aspects that I will mention here.
First off, Lenovo implements a Legion AI chip on their 2023 Legion laptops, designed to use machine learning software in order to automatically tune the performance in Vantage, without requiring manual input. We've seen similar AI software implemented by Gigabyte laptops in the past, and I'm curious about Lenovo's approach at this point, several years later. I wouldn't expect the AI to offer anything that couldn't be achieved by tweaking things manually, but it could improve the performance in certain apps and games in a simpler and seamless way. Or it could just mess things out… we'll see.
The other aspect is the Tobii Horizon technology implemented with these laptops, which allows for gearless head tracking in select apps and games, as shown in the video below. This isn't a novelty, as it was offered with the previous Legion 7 laptops as well.
Availability and early conclusions
Expect these Lenovo Legion Pro 7 models in stores around March/April 2023.
From what we know so far, the Intel-based Legion Pro 7i will come first and start at $1999 in the US and ~2200 EUR in Europe.
The AMD Legion Pro 7 will be available a little later, but only in Europe and Asia, and not in the North American market (Boo Hoo!) I sure hope this doesn't mean AMD are still going to struggle with their supply and output, just like in the last few years?
All in all, I'm excited about these 2023 Legion Pro 7 series, especially when it comes to their performance potential with the updated specs and cooling. I also appreciate the tone-down in RGB and the overall more exquisite look of the darker-gray chassis, but I fear this will smudge easily and require pampering and constant cleaning to keep fresh, just like other dark/black laptops do.
Finally, I hope Lenovo come to their senses and bring better panel options to this series. Surely a 100% sRGB panel isn't enough in this sort of premium laptop in 2023, given the multitude of better 16-inch panels out there.
Update: Here's our full review of the Lenovo Legion Pro 7i series, in the i9 + RTX 4080 configuration.
Anyway, that's about it for now, but look for our detailed reviews in the near future. And in the meantime, get in touch down below in the comments section and let me know what you think about these 2023 Lenovo Legion Pro 7 laptops.
Disclaimer:
Our content is reader-supported. If you buy through some of the links on our site, we may earn a commission.
Terms
.