The Asus ROG Flow X16 is probably the most anticipated laptop I've had to deal with in a long time, and it's finally at my doorstep.  I'll admit, the Zephyrus S17 last year was very intriguing as well.  But because Asus took so long to actually release it last year, I went with the Lenovo Legion 7 instead.  No regrets there.
But now that I saw what the Flow X16 had to offer, it was easy for me to decide that this is the laptop I want to use as my daily driver.  Not only does it have a powerful CPU and GPU in a thin chassis, but it also fixes some of the minor deal breakers that make buying a thin and light gaming option a little tougher pill to swallow – two SSD slots and two RAM slots.
And then there's the matter with the screen, which is probably my main draw to it.  I've only heard it from some of the early reviews, but I would agree that it's the best screen option available on a laptop over 15" to date.  On top of that, it flips 360 degrees and accepts touch and pen input.  Nice, right?
So myself being a tech junkie, of course I'm interested in a versatile machine such as this.  And it was one of those things that I was checking daily at Best Buy and Asus' store to see if it was in stock (because they just had to post their listings two months early…).  But my wait is over –  I finally got the RTX 3070Ti version on hand, and boy am I happy with it.
Now Andrei already has reviewed the RTX 3060 version of this laptop, which can be read here.  I'm going to do a full review on my unit from my own perspective.  Besides the GPU, the only difference in our units would be the screen they put in it, which was unavailable when his unit was in.  Let's dive in.
Specs sheet- Asus ROG Flow X16 GV601RW
| | |
| --- | --- |
| | 2022 Asus ROG Flow x16 GV601RW |
| Screen | 16 inch, 16:10 2560×1600, touch, glossy, mini LED, 100% DCI-P3 with HDR1000 |
| Processor | AMD Rembrandt, up to Ryzen 9 6900HS, 8C/16T, up to 90W TDP sustained |
| Video | Radeon + Nvidia GeForce RTX 3070 Ti with 8GB VRAM, MUX and Adaptive Sync, 125W TGP with Dynamic Boost |
| Memory | 32 GB DDR5-4800 (2x 16GB DIMMS) – support up to 64GB |
| Storage | 1x 1TB M.2 NVMe gen 4(Micron) + extra slot |
| Connectivity | WiFi 6E Mediatek 7922 with Bluetooth 5.2 |
| Ports | 2x USB-A 3.2 gen1, 1x USB-C 3.2 (4.0 update later in the year) with data, video and charging, 1x ROG xGM port with USB-C, HDMI 2.0b, micro SD card reader, headphone/mic combo |
| Battery | 90 Wh, 240 W charger, USB charging up to 100W |
| Size | 355 mm or 13.98" (w) x 243 mm or 9.57 (d) x 19.4 mm or .76" (h) |
| Weight | 2.08 kg (4.58 lbs) |
| Extras | Single zone backlit keyboard(RGB), HD webcam with IR, quad speakers, microSD card reader, tri-fan cooling, 2-in-1 convertible |
An updated generation of the 2023 Asus ROG Flow x16 series is available in the meantime, with updated specs and display options.
Design and construction
Asus didn't slouch on the design of this laptop.  Clearly a lot of thought was put into making it as small as possible and yet still be sturdy and functional.  Upon grabbing it from the box, I immediately felt like it was a well built chassis.
The chassis is very balanced and is very easy to grip.  I prefer gripping from the vent side since the feet are there, but it's still fine to grab from the other side.  The small ridges on both top and bottom provide just enough grip to make this stand out better than just flat aluminum.
The lid is basically just a piece of dark colored aluminum with those grooves cut out.  These grooves seem to cut down on the fingerprints somehow – probably just because it's more distracting to look at.  There is a transition at the diagonal which makes the pattern stick out a little more.  In the lower corner is the ROG badge, which also looks pretty nice.  I'm so glad Asus stopped making their gaming laptop lids look ridiculous with gaudy logos and red lights.
Lifting the lid is a simple one finger operation.  The hinge is strong enough for the most part, but a little wobbly for a touchscreen.  It's mainly because it's heavy though, as it's 16" and has a piece of glass.  Sure it could be stronger, but it's fine as long as you don't plan on carrying your laptop at angles where the weight of the lid causes it to move.
The main feature to this lid is that it rotates back 360 degrees.  It does so nicely and you technically could use this laptop as a large tablet since it has a touchscreen with a built in digitizer.  It's a pretty thick and heavy "tablet" but hey, if you're only doing this occasionally and don't care about the keyboard feel on the backside, you could make it work.
I thought I'd use this mode more, but I just really haven't gotten to it yet.  I think if I used this for serious work, I would mainly use that feature to mark up something I took on screenshots.  My pen came in handy for the one time I tried it for that.  It just stinks that there's no pen holder, because you really need to carry it around all the time for it to be useful.
Back to the design:  under the lid are the keyboard and trackpad.  I'll cover those more in detail in the next section, but note that there are some large speaker grills on both sides of the keyboard and the trackpad is pretty large on this model.  This area of the laptop is made of magnesium, so the keyboard deck has this matte coating which stays pretty clean.  The palm area has a texture that matches the trackpad and blends well with the lid.  Also good at preventing smudges.
The underside of the laptop is pretty much the same aluminum as the top.  There are some grooves here to, but there are also a lot of small feet and cutouts for the vents.  On this model, there are three intake vents and two speaker cutouts on the bottom cover.   The feet unfortunately are pretty small, which affects the airflow.  But this is excusable since the screen needs to fold all the way back when in tablet mode.
There's a decent amount of IO on this model too.  On the left-hand side, there's a power jack, thankfully towards the rear.  Next to it is an HDMI 2.0b jack and a USB-C port which supports USB 3,2 for now but will eventually support USB 4.0.  It also supports PD charging up to 100W.  Finally, there's the xGM port which is used for an external GPU from Asus.  I don't have this to test, but it's there and available nonetheless.
Also on the left side is the headphone and microphone combo jack.  And right in front of that are some really small indicator lights for the power state and the disk activity.  This is perfect as they are out of sight while in normal use, unlike the Zephyrus laptops I've been seeing lately.
On the right-hand side, there's a pair of USB-A ports that support 3.2 gen 1  There's also a microSD card reader, which allows the cards to sit flush with the edge.  Finally, there's a low-profile power button towards the front.  It works fine but it's very difficult to press by feeling or sight, since it's very low profile and sits flush with the edge.  It has an indicator light that is always on, but thankfully it's on the side, so it doesn't matter.
Overall, I really love this design.  At a glance, it's a normal laptop that is well built with good materials.  But then there's the added versatility of being convertible for those that need it.  And as much tech that's in the chassis, they still managed to keep it at a reasonable thickness and weight.  Sure, there's a few nits I could pick, but I think the reasons for those minor complaints are totally valid.
Keyboard and trackpad
The keyboard on this unit is solid.  It was very easy for me to type on, as the keys are properly spaced out and have ample feedback and travel.  I'm probably also used to it since I've been using a Zephyrus G14 for the past several months, but I think I still like this keyboard a little better – probably because of the size of the palm rest.
I typed my entire review on this keyboard and had no troubles adapting to it.  Probably my only gripes are the lack of a print screen key and Fn-Lock, but I've become accustomed to this since this is the case with pretty much all Asus laptops.
Like most ROG keyboards, there are 4 customizable hotkey buttons up top.  You can set these to whatever you want in Armory crate or leave them as they are.  I personally change the mute mic button to something more useful and leave everything else alone.
The keyboard is backlit and offers single zone RGB lighting.  With darker keys, this is great because pretty much any color looks good.  Again, you can set these colors using the Aura tab in Armory Crate.  There are some effects too if you're into that kind of stuff.
The trackpad is excellent on this laptop as well.  It's very large, glass and smooth to the touch, despite the pattern on it that blends well with the palm rest.  Tracking and touch gestures worked flawlessly during my use and I had no trouble with palm rejection.  This is pretty much as good as trackpads get on Windows machines.  Not much else to say.
Screen
The mini LED screen on this laptop is arguably the nicest screen I have ever seen on a laptop.  Andrei actually already had this screen on his Zephyrus Duo, but this is the first time I got to see it.  All I can say is, wow!
The panel in this model is made by AU Optronics and is 16" with a 16:10 aspect ratio and a resolution of 2560×1600 px.  What makes is so special is that it is an mLED IPS panel, which means it has the ability to have multizone backlight control in order to increase the contrast. You can opt for either the multi-zone or the single-zone mode in the Armory Crate control app.
And the result is ridiculously good.  This is as close as it gets to having OLED level blacks without having the drawbacks of OLED burn-in and crushed blacks on low-light videos.  The contrast ratio is nearly 10x higher than your typical IPS panel.
I did get a chance to use my Xrite tool to measure the screen specifications.  Here's what I got:
Panel HardwareID: AU Optronics AUO8E9D (B160QAN02.S)
Single zone backlight coverage: 162.2% sRGB, 114.9% DCI-P3, 111.7% AdobeRGB;
Single zone backlight coverage: 166.9% sRGB, 115% DCI-P3, 118.3% AdobeRGB;
Measured gamma: 2.2;
Max brightness in the middle of the screen: 602 cd/m2 on power with multizone and 483 cd/m2 on power with single zone backlighting;
Contrast at max brightness: 10000:1 on multi-zone and 1150:1 for single-zone
Native white point: around 6600 K;
Black on max brightness: 0.42 cd/m2 on single zone and .06 cd/m2 on multizone.
Here are the readings for multi-zone mode.
And for single-zone mode.
From the specs above, you can clearly see the advantage of the multizone backlighting.  But it does come at a slight cost.  Fact is, there is some blooming that you will notice while using it with solid-colored backgrounds.  Particularly the greys.
It's hard to describe, but to me, it's not that bad.  The annoyance factor definitely varies from person to person.  You might notice it most when the screen goes from a light color to a darker color and the cursor is visible.  You might also notice it with white lettering on a black background where it'll look darker in some spots, depending where the text is located.
Where you'll definitely notice it is with solid colored backgrounds with low brightness settings.  Take dark grey for example – you can actually see where the dimming zones are and there's always a brighter spot around the mouse pointer.  But really though, if that is the case, I could always turn single zone back on and it's fine again.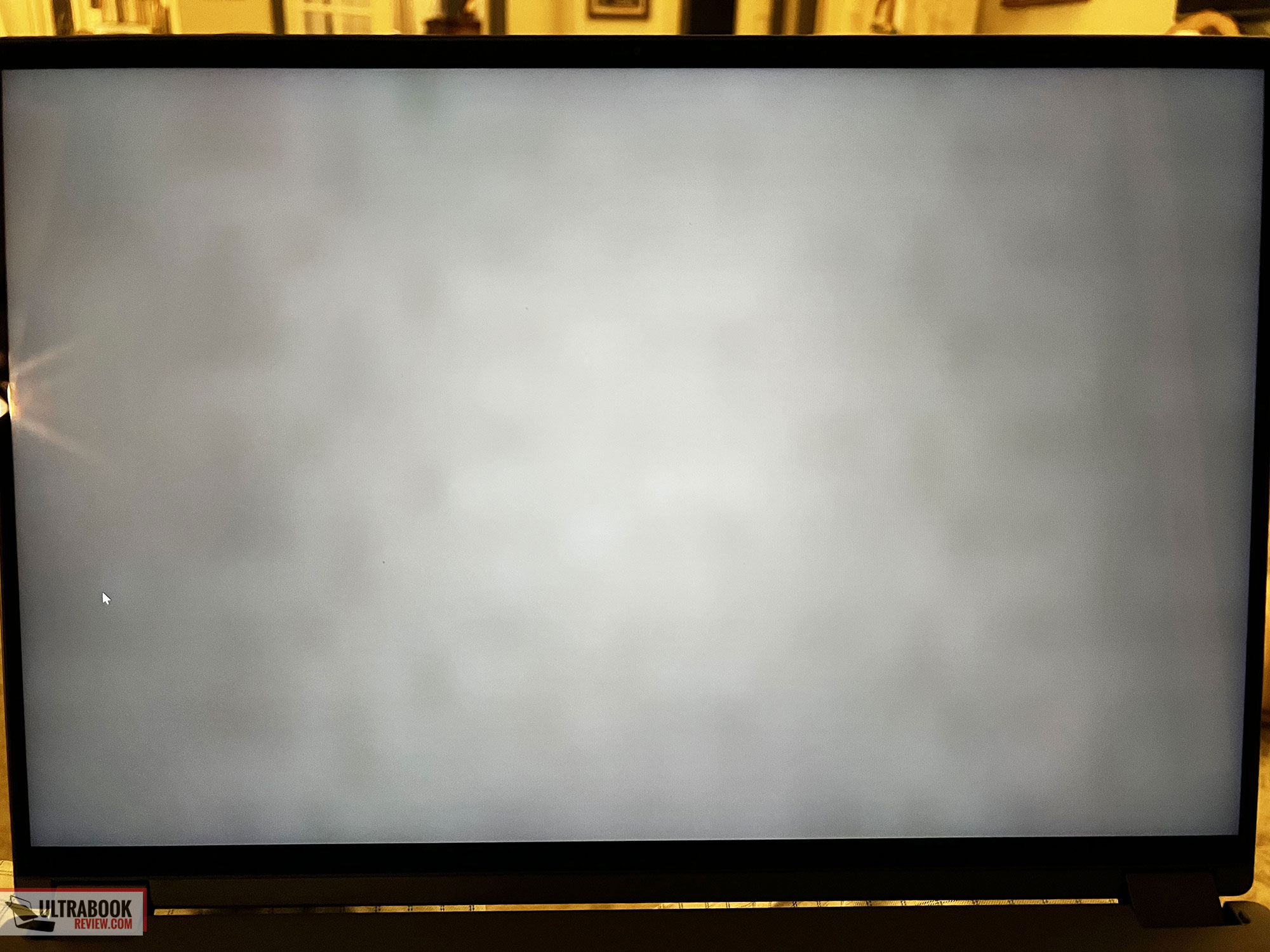 Because of the unevenness in the backlighting, color accuracy takes a big hit while in multizone too.  This makes sense considering the backlight will change depending on where the whites are on the screen.  The delta E is still tolerable and within reason, provided you don't need perfect color accuracy.
Realistically speaking, the multi-zone lighting is best for viewing movies or playing games.  Single zone is optimal for everything else, especially color-sensitive work in Photoshop or something like it.  For productivity work, you'll likely be less annoyed in single zone, just from the lack of blooming.
To turn on multizone backlighting, you need to use Armory Crate.  It's one of the system configuration options on the startup page, so it's pretty easy to get to.  Note that if you turn HDR on in Windows, this activates automatically.
With HDR on, the backlighting is able to achieve whites as high as 1100 nits.  These zones are pretty small, but after seeing it in action while playing Horizon Zero Dawn, I can certainly say this screen is absolutely stunning driving HDR content, provided you calibrate the whites properly.
Regardless of the mode you use, the screen has excellent viewing angles.  It's a glossy screen and is also touch enabled, so you're going to be prone to glare.  But with the maximum screen brightness going up to near 400 nits on single zone (and much higher in multizone), the glare is hardly an issue, even next to sunny windows.
The touchscreen also has a digitizer, which is a pretty cool addition since the screen folds 360 degrees back.  This makes the device a humongous tablet.  I've only gotten to really try this in the past couple days.  As far as the pen goes, I've tested my Wacom pen that I already had and it works fine.  I tried taking notes and doing a writeup on a couple pictures.  The screen is oleophobic so the pen glides smoothly and writing looks good.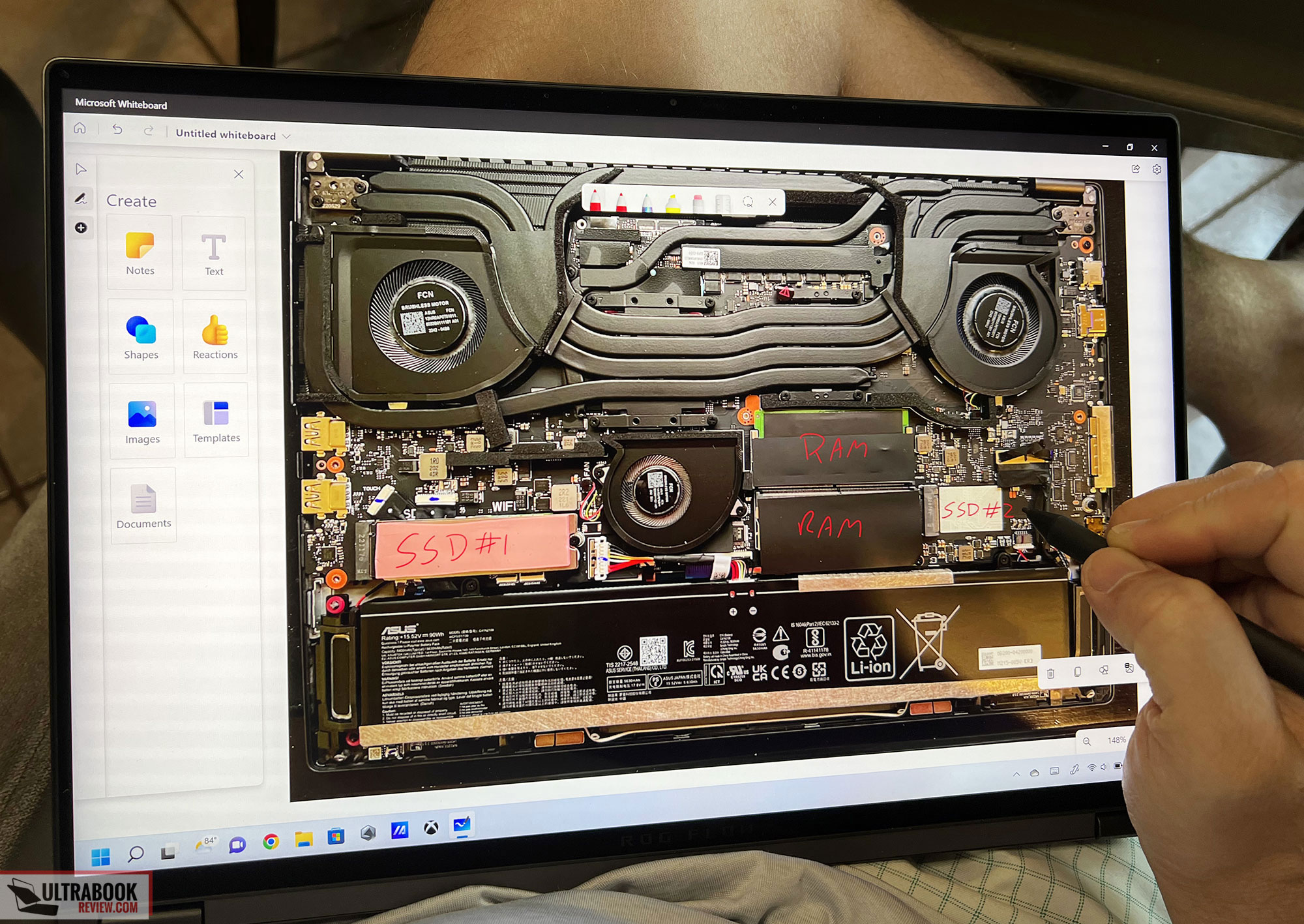 I also used the touchscreen to play one of my favorite phone games that was also ported to Steam.  Really neat being able to play this on such a big screen!  It was especially cool that you can make the "tablet" tilt a little, using the keyboard base as a stand.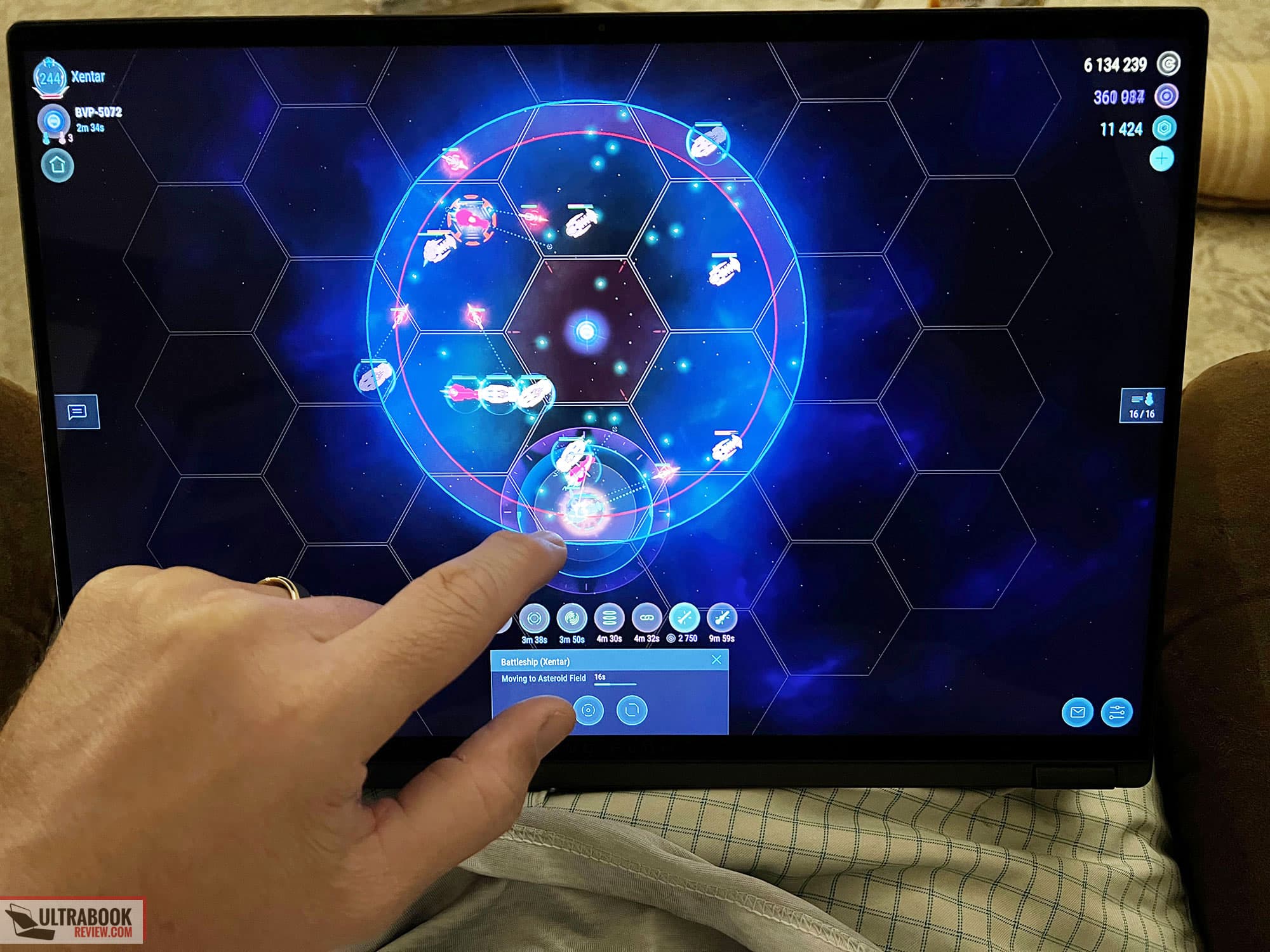 To sum it up, the screen is great!  Considering the minor drawbacks to OLED, including burn in and crushed blacks, I think I would prefer having this for my laptop instead.  There's very little I would change, so it'll be interesting to see what I think of the screen on my next laptop purchase.  It's gonna be a hard one to beat.
Hardware and performance
This laptop packs in a lot of good hardware.  All models come standard with a Ryzen 9 6900HS, which has 8 cores that boost up to 4.9Ghz.  My unit also has 32GB of DDR5 RAM which has two DIMMs and is upgradeable up to 64B.  This is quite a big deal too, since pretty much every thin ROG laptop over the past several years has either had soldered or partially soldered RAM.
The GPU on my unit is an RTX 3070 Ti with 8GB of VRAM.  You can also get a RTX 3060 with 6GB of VRAM if you wanted to save some money.  Andrei actually reviewed the 3060 model if you wanted to check into the comparison.  There's potentially a 3050 Ti model out there too but I haven't seen it available yet.  All these GPUs reportedly can reach a TGP of 125 watts.
The SSD is Micron based and has very good speeds, as seen in my Crystaldisk benchmarks.  It's 1TB, which is plenty of space for most people.  But you can always upgrade if you needed more.
Speaking of upgrades, It's a pretty easy endeavor on this model.  There's 11 Phillips screws on the bottom cover and some clips that aid in fastening the cover.  A slight pry with a guitar pick or plastic opening tool and the cover comes right off.
Underneath, you get access to the SSD and RAM slots.  There's a spare M.2 slot so you can keep the original SSD if desired.  There's also the ability to change out the Wifi module too, which is located underneath the original SSD slot.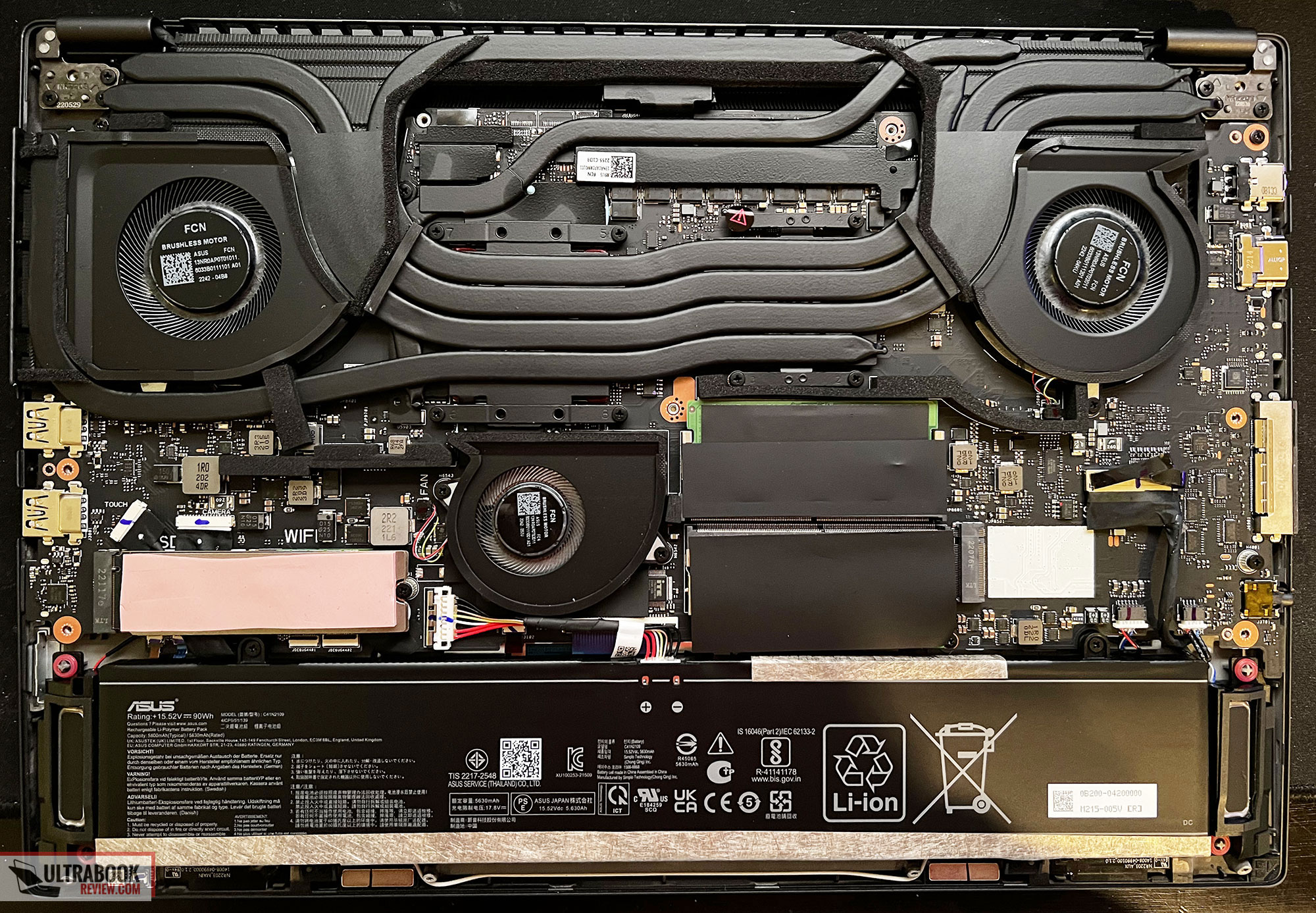 This laptop uses Armory Crate to control many functions, including the power profiles.  On this model, there are three.
Silent
Balanced
Turbo
Battery
TDP
TGP
TDP
TGP
TDP
TGP
TDP
TGP
45W
Varies – 60 fps cap
60W
115W
70W
125W
35W
50W
There is also a Manual section where you can tweak both the CPU and GPU limits as well as mess with the fan curves.  I haven't played with this that much but it looks like a good way to set hard thermal limits on your hardware and will probably keep the noise low as a result.
Here's what to expect in performance and internal temperatures with daily activities.
Let's take a look at the performance benchmarks now.  My first round of testing was with the MUX set to the discrete GPU.  To do this, you have to click the "ultimate" icon in the GPU mode and reboot your PC.  I kept the power profile in Turbo and took the benchmarks.  Here are my results for my typical array of testing:
3DMark 13 – Fire Strike: 25610 (Graphics – 28838, Physics – 27692);
3DMark 13 – Time Spy: 10841 (Graphics – 10808, CPU – 11035);
3DMark 13 –CPU profile: max – 7545 16 – 7523, 8 – 5746, 4 – 3368, 2 – 1740, 1 -923;
3DMark 13 – Port Royal (RTX) Graphics: 6542;
Uniengine Superposition – 1080p Extreme: 6725;
Uniengine Superposition – 1080p Medium: 20387;
GeekBench 5: Single-Core: 1565, Multi-core: 10354;
CineBench R15: OpenGL 166.41 fps, CPU 2399 cb, CPU Single Core 240 cb;
CineBench R23: CPU 14664 pts, CPU Single Core 1509 pts;
Next, I switched back to Hybrid mode and kept the power profile on Turbo.  Here were my results:
3DMark 13 – Fire Strike: 24470 (Graphics – 27388, Physics – 22850);
3DMark 13 – Time Spy: 10610 (Graphics – 10630, CPU – 10504);
3DMark 13 –CPU profile: max – 7401 16 – 7452, 8 – 5842, 4 – 3477, 2 – 1772, 1 -945
3DMark 13 – Port Royal (RTX) Graphics: 6497;
Uniengine Superposition – 1080p Extreme: 6795;
Uniengine Superposition – 1080p Medium: 19274;
GeekBench 5: Single-Core: 1590, Multi-core: 10345;
CineBench R15: OpenGL 140.98 fps, CPU 2325 cb, CPU Single Core 247 cb;
CineBench R23: CPU 14776 pts, CPU Single Core 1524 pts;
Next, I set the mode to Performance. Here were my results:
3DMark 13 – Fire Strike: 22149 (Graphics – 24156, Physics – 27522);
3DMark 13 – Time Spy: 9822 (Graphics – 9678, CPU – 10732);
3DMark 13 –CPU profile: max – 7169 16 – 7167, 8 – 5870, 4 – 3419, 2 – 1776, 1 -935
3DMark 13 – Port Royal (RTX) Graphics: 6022;
Uniengine Superposition – 1080p Extreme: 6320;
Uniengine Superposition – 1080p Medium: 17135;
GeekBench 5: Single-Core: 1570, Multi-core: 9922;
CineBench R15: OpenGL 144.26 fps, CPU 2257 cb, CPU Single Core 240 cb;
CineBench R23: CPU 14060 pts, CPU Single Core 1549 pts;
Finally, here are my results after switching to Silent mode:
3DMark 13 – Fire Strike: 13790 (Graphics – 18900, Physics – 10823);
3DMark 13 – Time Spy: 8586 (Graphics – 8586, CPU – 8591);
3DMark 13 –CPU profile: max – 6958 16 – 6935, 8 – 5509, 4 – 3304, 2 – 1743, 1 -927
3DMark 13 – Port Royal (RTX) Graphics: 5492;
Uniengine Superposition – 1080p Extreme: 5738;
Uniengine Superposition – 1080p Medium: 8018;
GeekBench 5: Single-Core: 1507, Multi-core: 9780;
CineBench R15: OpenGL 61.32 fps, CPU 2223 cb, CPU Single Core 242 cb;
CineBench R23: CPU 13603 pts, CPU Single Core 1519 pts;
Not bad really!  You can certainly see just how powerful that CPU is.  What's truly impressive is how well the laptop functions in silent mode.  Usually, this mode comes at great sacrifice to the CPU, but it appears to have quite a bunch of horsepower and still stay under 35dB fans.
For some extra CPU and crossload stress testing, check our Andrei's review of the Flow X16 available here.
I also did some testing in some games.  I took these readings in different performance options in Synapse with the MUX set to Optimus.  Just to compare, I tried a few games with the MUX set to discrete as well:
| | | | |
| --- | --- | --- | --- |
| | QHD+ – Turbo on Hybrid | QHD+ – Quiet | QHD+ – Turbo on dGPU |
| Battlefield V (DX 12, Ultra Preset, Ray-Tracing OFF) | 100 fps avg, 60 fps 1% low | 60 fps avg, 58 fps 1% low | 117 fps avg, 85fps 1% low |
| Battlefield V (DX 12, Ultra Preset, Ray-Tracing ON) | 62 fps avg, 44 fps 1% low | 48 fps avg, 30 fps 1% low | 60 fps avg, 47fps 1% low |
| The Witcher 3: Wild Hunt (DX 11, Ultra Preset, Hairworks On) | 81 fps avg, 55 fps 1% low | 47 fps avg, 40 fps 1% low | 82 fps avg, 55fps 1% low |
| The Witcher 3: Wild Hunt (DX 11, Ultra Preset, Hairworks Off) | 97 fps avg, 73 fps 1% low | 60 fps avg, 60 fps 1% low | 100 fps avg, 81fps 1% low |
| Horizon Zero Dawn(Ultra) | 87 fps avg, 81 fps 1% low | 60 fps avg, 54 fps 1% low | 93 fps avg, 82fps 1% low |
| Cyberpunk (Ultra, Ray Tracing On) DLSS Off | 24 fps avg, 20 fps 1% low | 20 fps avg, 17 fps 1% low | – |
| Cyberpunk (Ultra, Ray Tracing On) DLSS Auto | 50 fps avg, 44 fps 1% low | 42 fps avg, 23 fps 1% low | – |
| Cyberpunk (Ultra, Ray Tracing Off) | 54 fps avg, 47 fps 1% low | 44 fps avg, 24 fps 1% low | – |
| Valheim (High preset) | 74 fps avg, 50 fps 1% low | 60 fps avg, 44 fps 1% low | 83 fps avg, 51fps 1% low |
Pretty good results here too.  With the settings set to Turbo, the 3070 Ti performs really well.  This is better than what I was expecting, and it's nice to see that QHD+ gaming can be achieved in such a thin laptop design.
I also like how almost every game can achieve 40-60 fps while in Silent mode.  I think I might be using this mode the most, because the fan noise is very low and if you use the laptop speakers, you won't even notice it at all.
If you want a little more bump to the framerates, you may also consider changing the MUX to discrete.  I was able to see an improvement in some games but not others, so your mileage may vary here.
Regardless of which mode I used, the gaming performance is great.  I'm really looking forward to gaming on this in the months to come.
Emissions (Noise, Heat), Connectivity, speakers, and others
Asus put quite the cooling system in this laptop.  There are a lot of heat pipes and two very large fans to utilize them.  On top of that, there's a third smaller fan in the middle of the chassis that is designed to take air in from the bottom and blow it across the heat sinks.  Asus also utilizes liquid metal paste to further keep those temperatures down.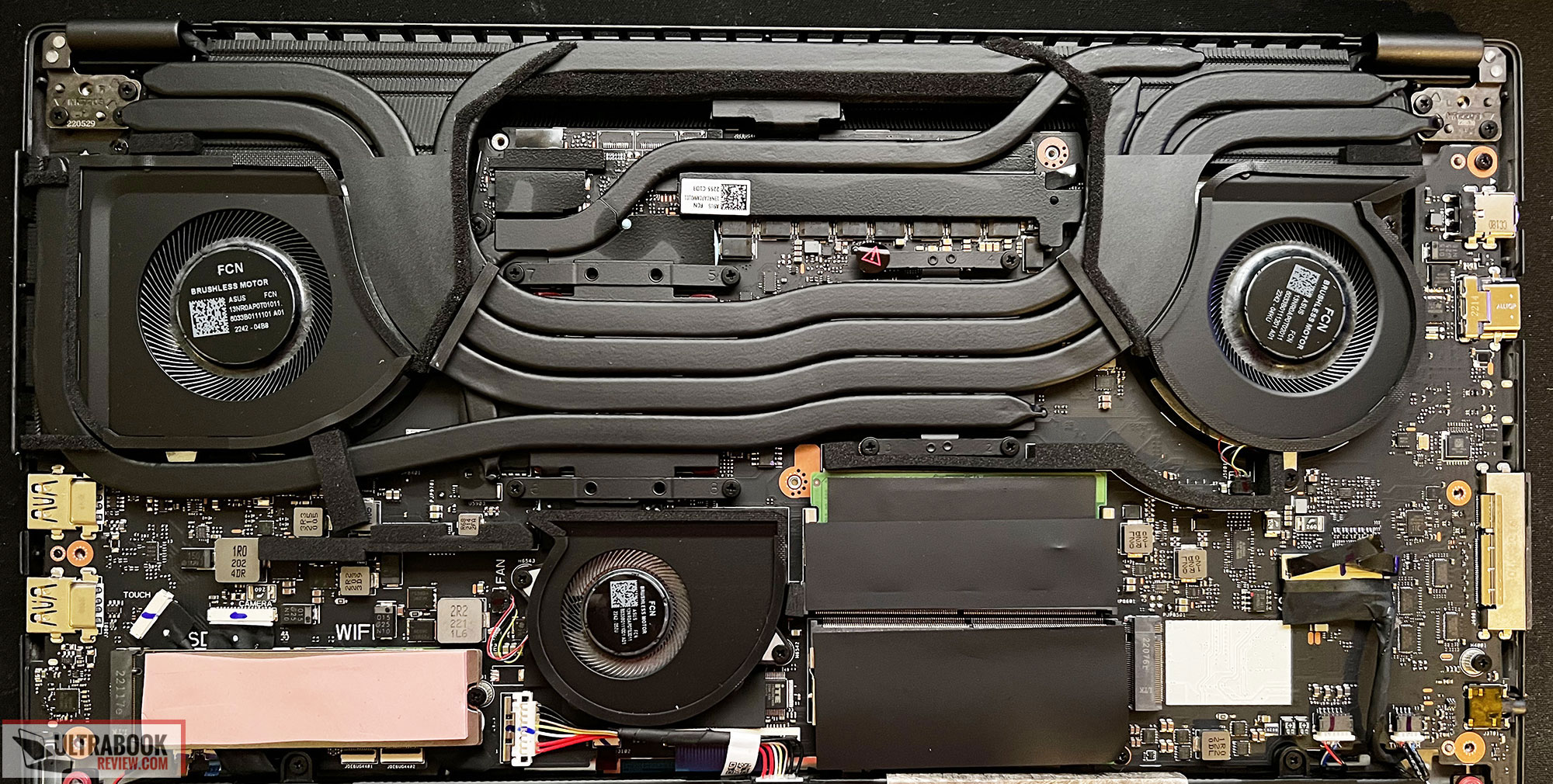 The end result works, provided you aren't blocking any of the three intake vents on the bottom of the laptop.  And on a flat table, that still might be an issue because the feet are very small.
This is never an issue for me because I always use a lap desk when I play games.  In fact, all of my tests were done on a lap desk, so there's probably room for some worse results depending on how you use this laptop.
I ran my usual test with Horizon Zero Dawn, where I ran the game for an extended period at each power profile.  The intent was to measure the differences in temperatures as well as ambient noise levels from the fans.  Check it out:
| | | | |
| --- | --- | --- | --- |
| Mode | Turbo | Silent | Manual (max fans with Turbo) |
| CPU temps | 74C avg with 87C spike | 75C avg with 90C spike | 70C avg with 85C spike |
| GPU temps | 73C avg | 66C avg | 68C avg |
| Avg fan noise after stabilized temps | 45 dB | 34dB | 51dB |
| Game performance | 87 fps avg, 73 fps 1% low | 60 fps avg, 54 fps 1% low | 87 fps avg, 72 fps 1% low |
Not a whole lot of difference in performance between Turbo mode and when I turned the fans all the way up.  So it's probably safe to assume that Asus optimized those fan profiles pretty well.
I do like just how low the fan noise got in Silent mode.  34dB is just awesome and those temps are good too.  You're always going to see those big CPU spikes, but the average CPU temps in the 70s are ideal for this caliber of CPU.
I did run an extended test with Horizon Zero Dawn running to see how the system did at various positions.  First, I let temperatures stabilize while running the game on a flat table.  Then I relocated it to my lapdesk, which is basically just a piece of wood with a bunch of holes in it.  Finally, I put it on a laptop cooling tray with the fan off.  Pretty much the equivalent of propping it up on the rear.
As suspected, the laptop runs hotter when you perform demanding tasks on a flat surface.  Switching to my lapdesk dropped temps by 2C and switching to a fully ventilated laptop cooler dropped temps 2-3C cooler.  Even though temps run hotter on the table, I still don't think it's anything to be alarmed over.  The point being, if you can use a laptop tray or prop it up somehow, do so, otherwise, just note that those temps will be higher than they could be.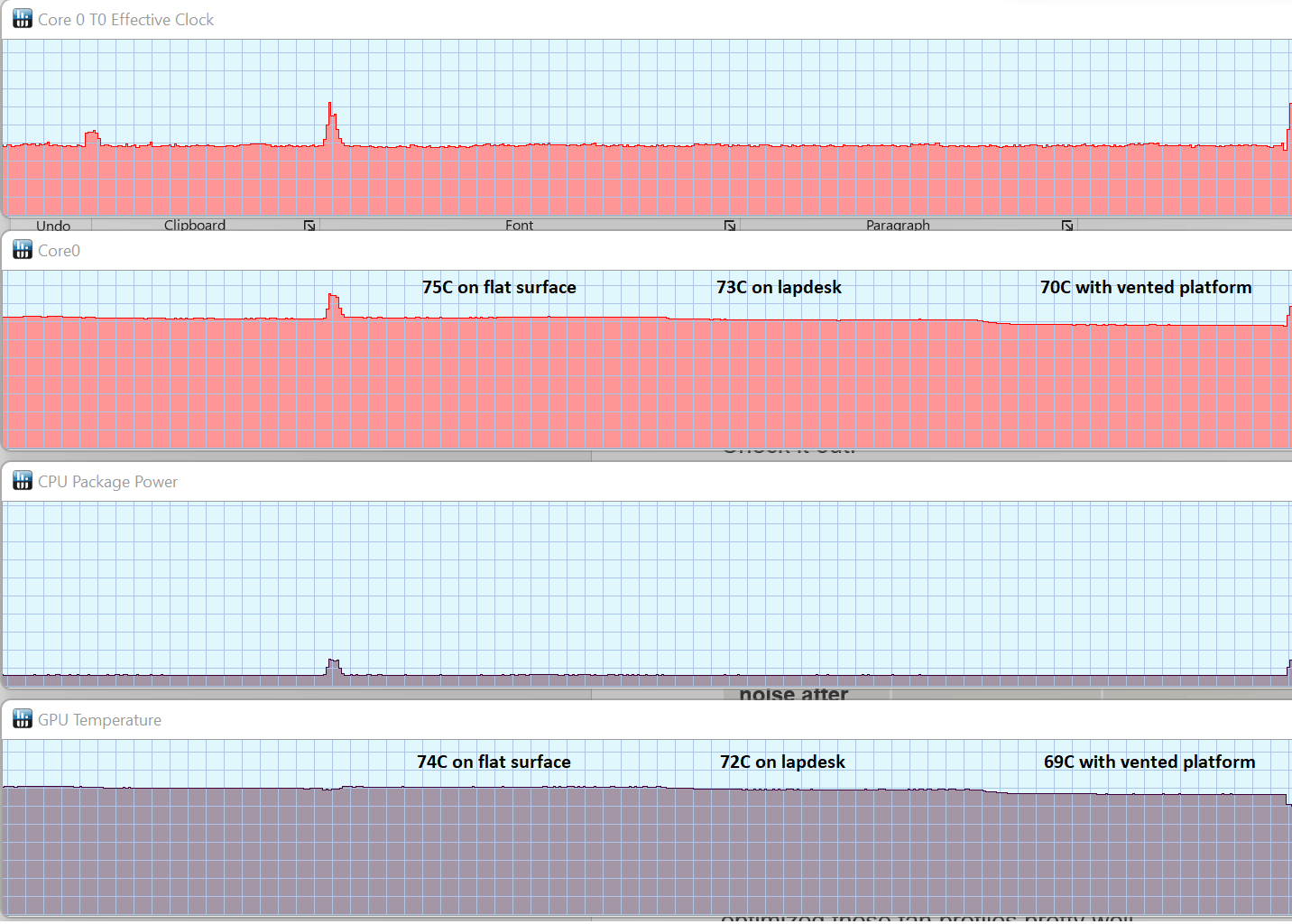 External chassis temps were normal for casual use but did get kind of warm if you used it for gaming.  I did a couple of tests to demonstrate.  As you can see, the thermals rise pretty high for extended gaming sessions, so gaming on your lap is probably not going to be ideal.  You probably should avoid that anyways so you don't block the vents.
But for typical use and multimedia consumption, this laptop is fine.  You can even turn the power mode down to Silent and the thermals stay tolerable.  For everything but gaming, I've been using this machine directly on my lap very frequently and I have no complaints.
For Wifi, this laptop uses a MediaTek 7922 module to deliver WiFi 6E.  I don't have a 6E router yet, but I was able to achieve a 640Mbps speed test at over 20 feet away from my router.  I also didn't have any problems with my connection over the past several weeks.
Bluetooth 5.2 is also included in the card, which works fine for me. I used it for both my headphones and my controller.
Let's talk about those speakers now.  On this model there are four speakers, two facing up and two down.   The result is impressive.  I measured 78dB(A) at the ear level using my sound measurement app.  The sound was full with some good highs and mids.  The bass was also decent, audible at 60Hz and above.
It definitely helps to use the Dolby software to configure the EQ.  You also need to check the enhanced audio box in the speaker settings in Windows.  Considering how full the sound is, this is one of the few laptops where I rarely maxed out the volume – especially on a gaming laptop.
The webcam is probably the biggest weakness of the machine.  It's only HD, and needs a lot of light to produce a decent image.  But even then, it's not all that sharp.  At least Windows Hello is enabled.  If this is the only thing I can pick on, I think we're in pretty good shape.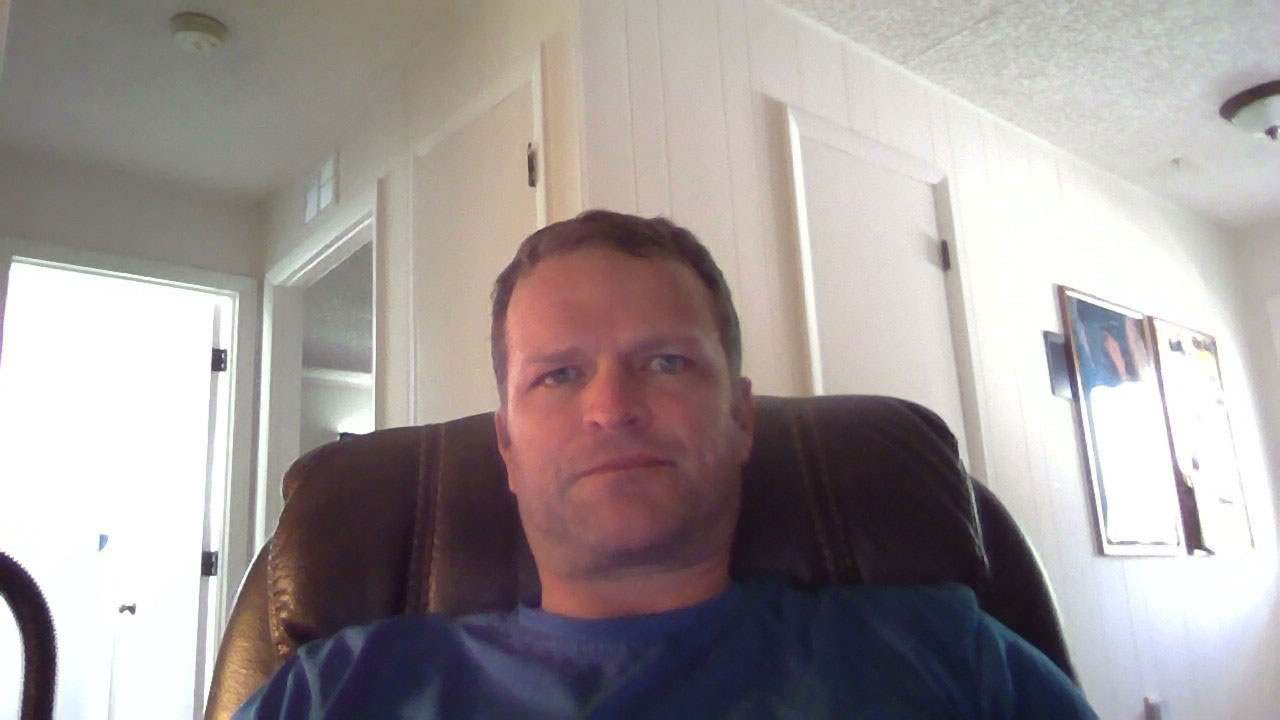 Battery life
The Flow x16 has a 90Whr battery, which is nearly as big as it can get, especially in such a thin laptop.  Considering it's paired with a Ryzen processor, I had high expectations on how long this would last on a charge.
Fortunately, it's pretty good.  I took a bunch of battery measurements, with the screen set at 50% brightness, which is about 84 nits for this model.  I also manually set the screen to 60Hz.  Here's what I got under various situations:
11.1 W (~8 h 6 min of use)– idle, Quiet mode with battery saver on, screen at 0%, Wi-Fi ON, backlighting off;
15.9 W (~5 h 40 min of use) – text editing in Word/Excel with light internet use, screen at 50%, Wi-Fi ON;
14.4 W (~6 h 15 min of use)– 1440p 60hz Youtube fullscreen in Chrome, screen at 50%, Wi-Fi ON;
13.9 W (~4 h 56 min of use)– 1080p Hulu fullscreen video in Chrome, screen at 50%, Wi-Fi ON;
20.7 W (~4 h 21 min of use)– heavy browsing in Chrome,  screen at 50%, Wi-Fi ON;
64.5 W (~1 h 24 min of use)– Gaming – Witcher 3 60fps, screen at 50%, Wi-Fi ON.
For a gaming laptop, these are great results.  Even for a dedicated work machine though, 4-5 hours of heavy use isn't too bad at all.  I've been using this laptop frequently on battery and never felt I urgently needed to plug in, other than at the end of the day.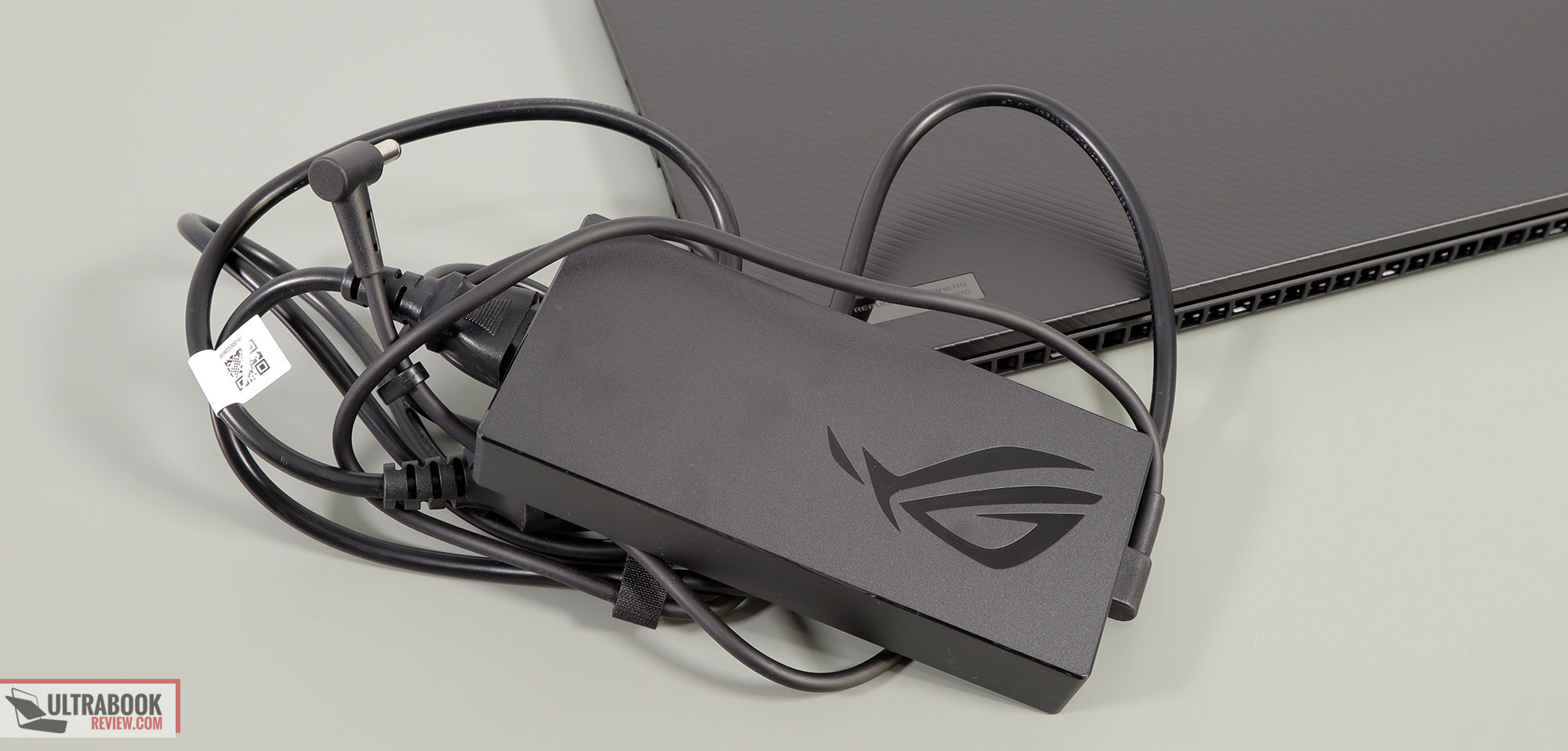 Price and availability
The model I have on hand *was* only available on Asus' website directly.  I say was, because I can no longer find it for sale there, or anywhere else for that matter.  The purchase price was $2699 when I got it.  A little pricey, but the added cost over the M16 is acceptable considering the added features.
The model Andrei reviewed a few months ago is still available on Best buy though.  In fact, at the time of this review, it was on sale already $200 off for $1799.  That's a real bargain if you ask me.  If you don't need the laptop for heavier gaming, the 3060 should be just fine.
We'll update once we know more, and in meantime, follow this link for updated configurations and prices in your region at the time you're reading this article.
Final thoughts- 2022 ASUS ROG Flow X16 review
If you couldn't tell from my tone at the beginning, I really like this laptop.  It's thin, light, and packs a lot of power inside.  But the real value is the added versatility that your typical gaming laptop doesn't have.  The touchscreen with pen input, for example, is something that just doesn't exist on a laptop that can be part of the gaming genre.
On top of that, the screen is just gorgeous.  For years, I've been patiently waiting for OLED to come standard on gaming laptops.  But I think this screen has deep enough blacks to hold me over indefinitely, especially since I don't have to worry about burn in.
To top everything off, the Flow x16 has an excellent keyboard and trackpad.  And even the speakers are above average.  This makes it an ideal machine to be used for work and media consumption, as well as gaming.
Usually the saying "Jack of all trades, master of none" applies, but that's not quite the case I see here with the Flow x16.  While it certainly is not a master of all categories, it's pretty darned close and is much better than what I've seen offered recently, particularly with the Razer Blade, Legion 5 Pro and the Alienware x15.  The fact is, the competition is either the same price and offers less, or is drastically more expensive like the Razer Blade (which still offers less).
Of course, every laptop has flaws – the Flow x16 isn't a unicorn.  The webcam is pretty lousy.  At least it includes biometrics, but that's about all it's good for in my opinion.  The cooling is also not optimal for long term use on surfaces that can provide extra ventilation, such as a lapdesk.
Additionally, even though this can be used as a tablet, it doesn't necessarily mean it will replace yours.  13-14" convertible laptops are far lighter and easier to handle than this laptop is in tablet mode.  While I agree that I can make use of it for sure, it's going to be clunky to use sometimes – especially since I won't always have my pen on me.
Regardless of the flaws, the benefits far outweigh the risks.  This will definitely be my daily driver for the next year or more and I don't see anything that makes me regret making that choice.  And keep in mind, I was coming from the Legion 7, which was already a great machine.
So that about covers my perspective on this Asus ROG Flow X16.  Hope it helps someone make an informed decision.  If there are any questions or additional testing anyone has, please let me know in the comments below.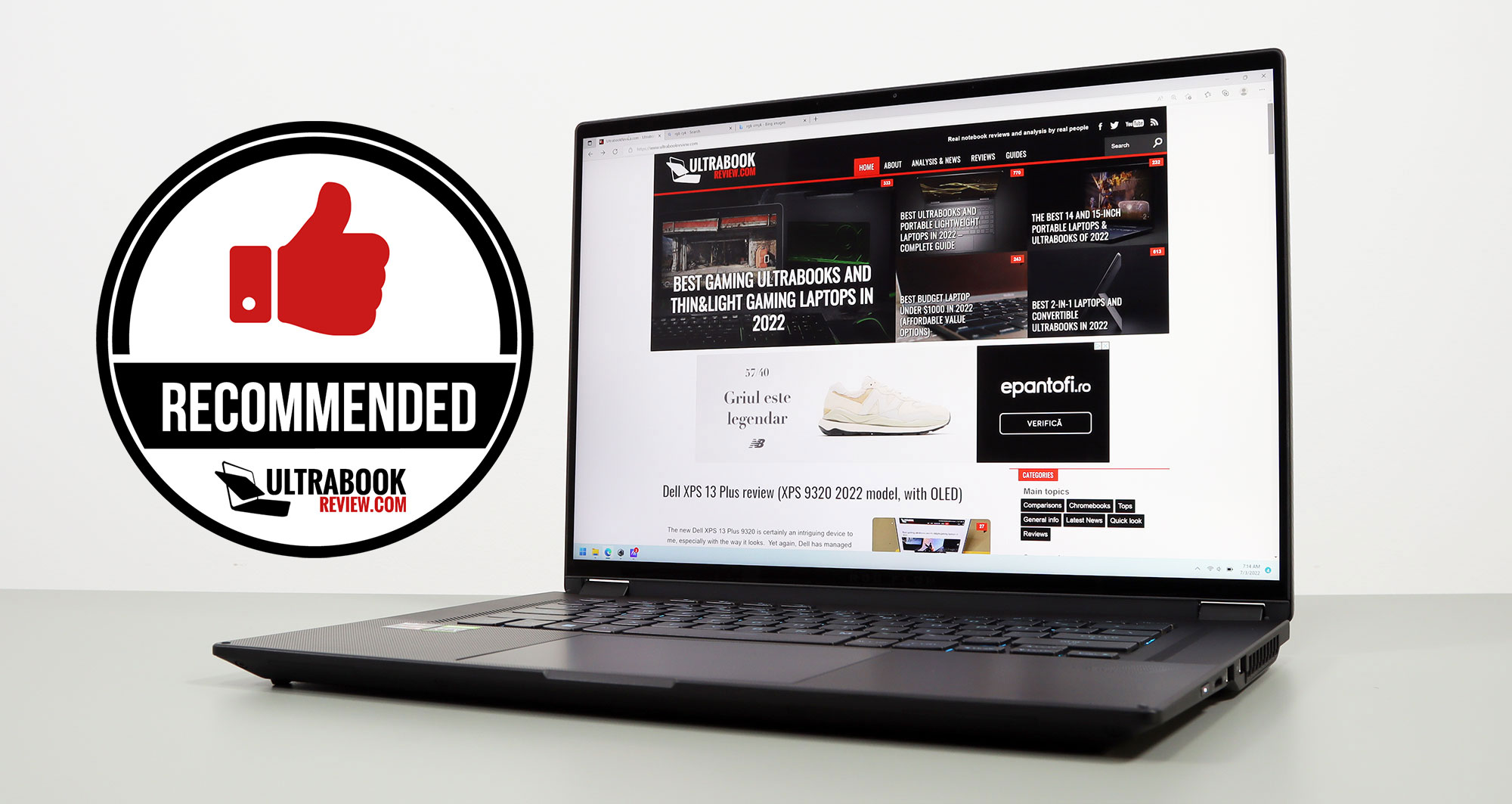 Disclaimer:
Our content is reader-supported. If you buy through some of the links on our site, we may earn a commission.
Terms
.