Last year Asus launched the ROG Zephyrus Duo, a premium performance laptop with the highest-tier hardware available at the time and dual screens. You'll find our in-depth impressions on that notebook in the dedicated review available over here.
This year, the Duo gets an upgrade that refines and improves on its predecessor in a couple of ways. First off, the 2021 ROG Zephyrus Duo 15 GX551Q SE (Special Edition) – that's a mouthful – is now built on AMD Ryzen 5000 hardware and Nvidia RTX 3000 graphics. It keeps the dual-screen design, but the 4K option has been bumped to the faster 120 Hz panel variant with 8 ms response, a better-balanced option for both professional use and gaming.
Update: A more recent ROG Zephrus DUO 16 is available in the meantime, and you can find all about it from this article. Our review of the Asus ROG Zephyrus Duo 16 is also available here.
Update: And here are my thoughts on the updated 2023 Asus ROG Zephyrus Duo 16 generation, with Ryzen HX and up to RTX 4090 graphics.
On top of these, Asus have revamped the design, speakers, and IO of the new generation, and they also plan to offer it in a couple of different configurations, starting with somewhat more affordable models with mid-level specs and toping at a Ryzen 9 5900HX version with RTX 3080 16 GB graphics, 48 GB of memory and SSD storage in RAID0 + dual 4K screens.
Now, I wasn't entirely sold on the 2020 Zephyrus Duo.
Sure, the secondary screen alone was enough reason to put in on many maps, but I felt that the design struggled with the power-hungry Intel i9 processor, and compromised a little too much in terms of thermals, ergonomics, portability, and even performance to some extent.
The format hasn't changed with the 2021 update, this is still primarily a desktop laptop with a bottom shifted keyboard and the secondary display on top, as well as not the ideal IO layout. It's also still larger and heavier than the single-screen ROG Zephyrus models of this generation.
However, I'm intrigued by the new 4K screen option and the overall hardware package, with the more efficient Cezanne AMD processor that should greatly help with both the performance and thermals compared to the i9-10980HK in the 2020 version, as well as the RTX 3000 graphics.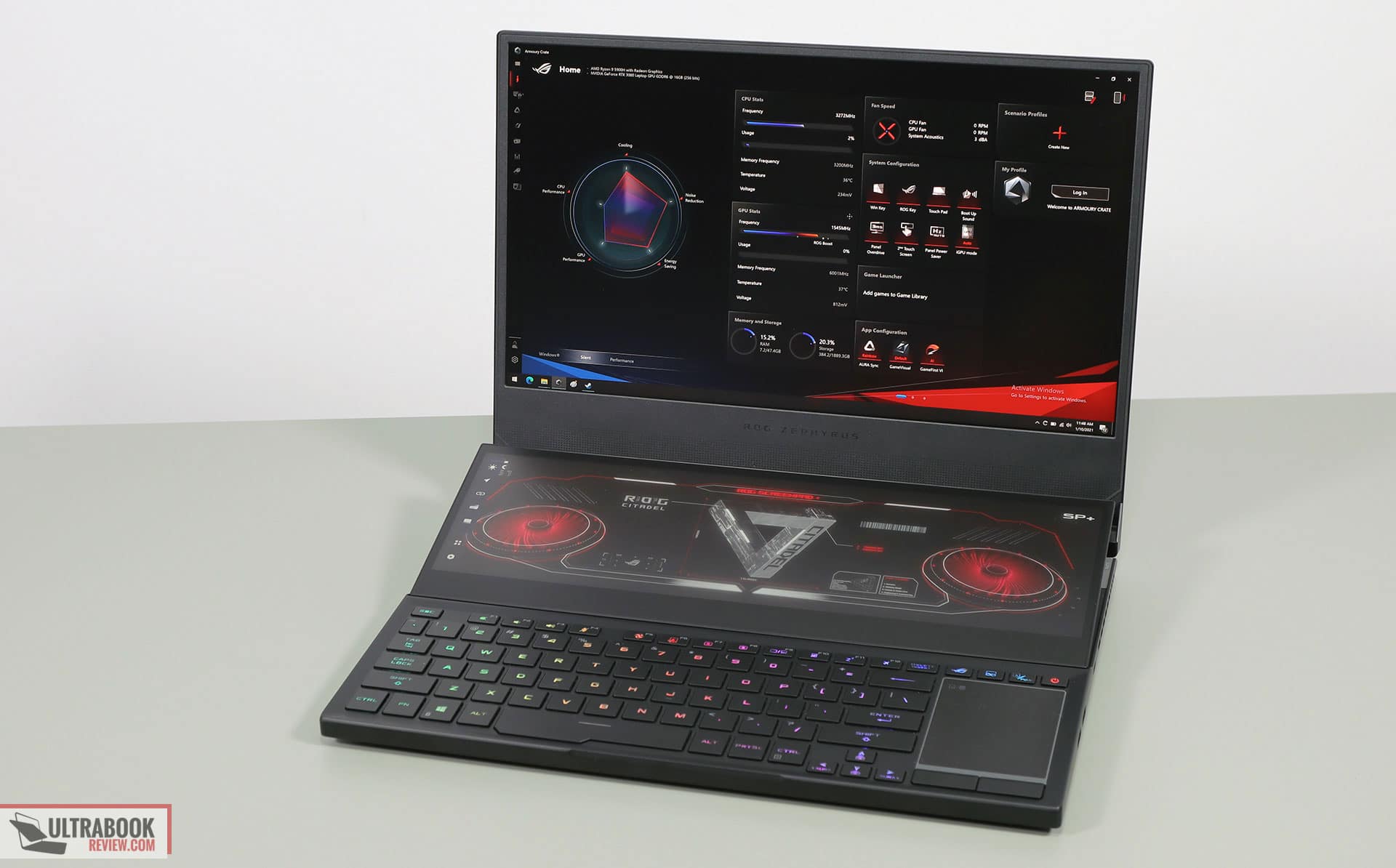 We can't talk about performance, thermals, or efficiency in this article, as both the hardware and the drivers on this pre-release model that we have here would prevent us to reach realistic conclusions, so that's something we'll focus on in the future proper review, once we get a finalized sample. I did run a few tests, and boy am I excited about this AMD+RTX combo this year. Nonetheless, this article is a preview of the 2021 Zephyrus Duo, a quick look at the design, ergonomics, and what still makes this product unique in today's notebook market.
First, though, here's a quick specs sheet of the 2021 and 2020 Zephyrus Duo models, side by side, and we'll get in-depth on some of these particularities down below.
2021 Asus ROG Zephyrus Duo 15 SE GX551Q
2020 Asus ROG Zephyrus Duo 15 GX550LXS
Screen
15.6 inch, non-touch, matte, 2 panel options:
FHD 300Hz 3ms response, 300-nits, 100% sRGB, Pantone validated
UHD 120Hz 8ms, 400-nits, 100% AdobeRGB, Pantone validated – AU Optronics AUOB394 panel+ secondary 14-inch, either UHD or FHD, IPS, non-glare, touch
15.6 inch, non-touch, matte, 2 panel options:
FHD 300Hz 3ms response, 300-nits, 100% sRGB, Pantone validated
UHD 60Hz, 400-nits, 100% AdobeRGB, Pantone validated – Au Optronics AUO31EB+ secondary 14-inch, 3840 x 1100 px, IPS, non-glare, touch
Processor
up to AMD Cezanne Ryzen 9 5900HX, 8C/16T
up to Intel Comet Lake Core i9-10980HK, 8C/16T
Video
Radeon Vega and Nvidia GeForce RTX 3080 Laptop 16GB (up to 130W Max-P, Overclocked) – Active Sync
Intel UHD and Nvidia GeForce RTX 2080 8GB (80-105W Max-Q, Overclocked) – Optimus/GSync modes
Memory
up to 48 GB DDR4 3200 MHz (16 GB soldered, 1x DIMM)
up to 48 GB DDR4 3200 MHz (16 GB soldered, 1x DIMM)
Storage
2x M.2 NVMe drives, with RAID 0/1
2x M.2 NVMe drives, with RAID 0/1
Connectivity
Wireless 6 AX, Bluetooth 5.0, Gigabit LAN
Wireless 6 AX, Bluetooth 5.1, Gigabit LAN
IO
2x USB-A 3.2 gen2, 1x USB-A 3.2 gen1, 1x USB-C gen2 with data, DP 1.4 and PowerDelivery 3.0, HDMI 2.0b, LAN, microSD card reader, mic/earphone combo
2x USB-A 3.2 gen1, 1x USB-A 3.2 gen2, 1x USB-C with Thunderbolt 3, DP 1.4 and PowerDelivery 3.0, HDMI 2.0b, LAN, separated mic&earphone
Battery
90 Wh, 280 W brick, USB-C charging up to 100W
90 Wh, 240 W brick, USB-C charging up to 100W
Size
360 mm or 14.17" (w) x 268 mm or 10.55 (d) x 21 mm or .82" (h)
360 mm or 14.17" (w) x 268 mm or 10.55 (d) x 21 mm or .82" (h)
Weight
5.3 lbs (2.4 kg), .76 kg (1.72 lbs) power brick and cables, US version
5.3 lbs (2.4 kg), .78 kg (1.72 lbs) power brick and cables, US version
Extras
per-key RGB keyboard, 14″ ScreenPad Plus, quad speakers, no webcam
per-key RGB keyboard, 14″ ScreenPad Plus, stereo speakers, no webcam
First look and daily use
As I mentioned already, the Zephyrus Duo is larger and heavier than the regular ROG Zephyrus performance ultraportables, which paired with its particular form-factor, makes it ideally suited for desk work, and less for on-the-go use.
The keyboard is shifted towards the front of the chassis, which means this doesn't get a proper arm-rest and the clickpad is this measly surface at the right. It's usable, but you'll most likely want to hook up a mouse. Typing on this keyboard feels a lot like typing on a short-stroke desktop keyboard, such as the Apple Wireless keyboard or similar alternatives. The feedback is a bit mushy, but overall I'd expect most to get along with it just fine. It gets per-key RGB lightning, n-key rollover, and all the standard goodies expected in this class.
A secondary screen is placed at the top of the keyboard, which Asus calls the ScreenPad. It's pretty much a 15-inch screen horizontally cut in half, and slightly inclined to counteract for the narrower viewing angle. A clever mechanical hinge design raises this screen when you open up the laptop and lift-up the main display and looks to be sturdy and reliable. Just make sure you're not getting any cables caught in between when closing the laptop.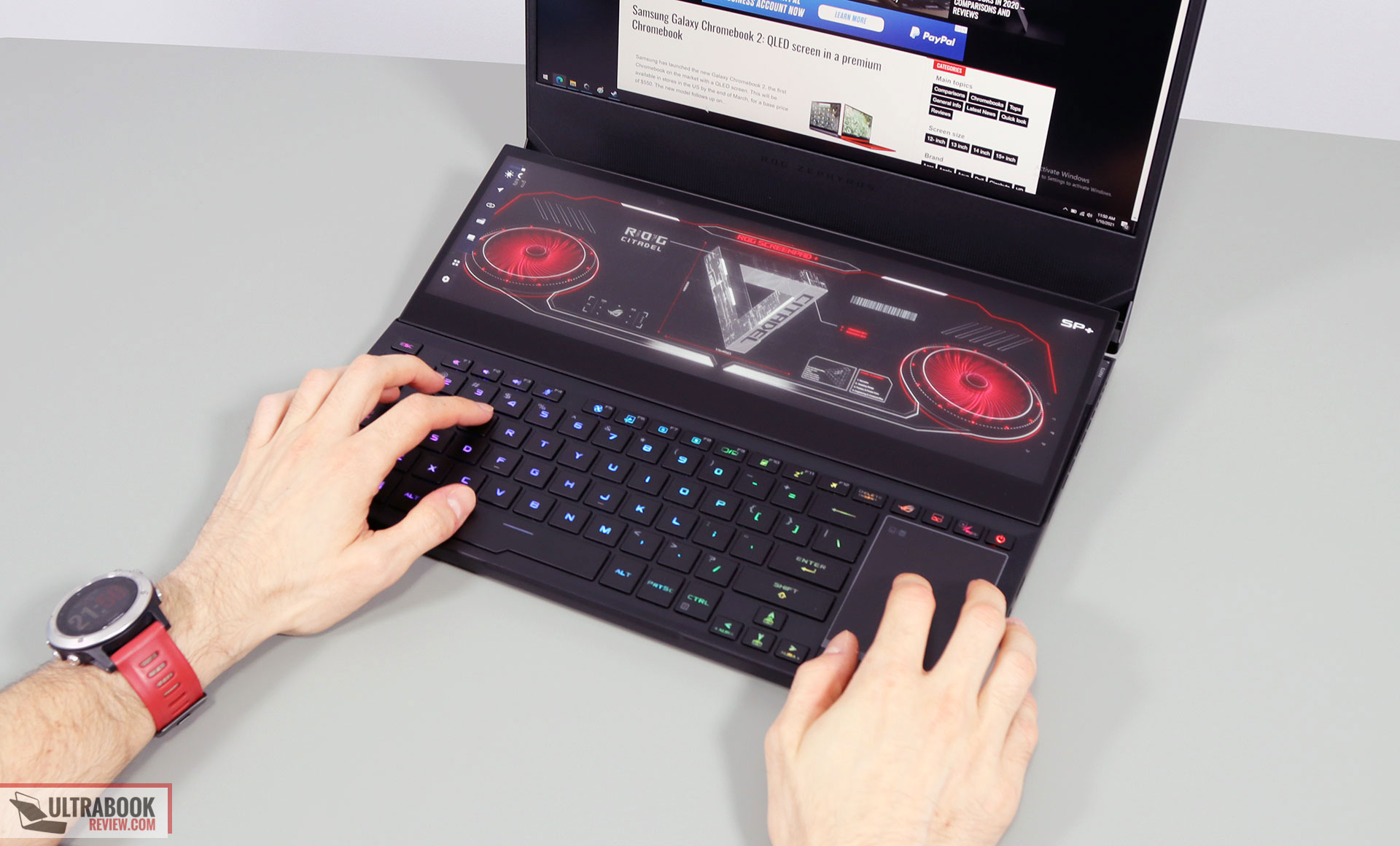 This design allows the laptop to draw in fresh air from both the top, from behind this ScreenPad, and from the bottom, and expel it to the sides and back. Paired with the bottom-placed keyboard, this Zephyrus Duo feels cooler to the touch than the standard ultraportable laptop, and I'd also expect it to run cooler, especially now with the AMD hardware.
Integrating this ScreenPad forced Asus to make the Zephyrus Duo deeper than the regular laptop, and place the main-screen all the way at the end. Combined with the fact that you're also going to push the laptop a bit further away from you in order to properly place your hands over the keyboard, this means the main display on this laptop ends up roughly 20-25 cm further back from your eyes than on a standard laptop.
Thus, everything is going to look smaller on the screen and you'll either have to get used to it, or perhaps increase the scaling in Windows. By default, the laptop is set at 250%, and that's where I'd probably end up keeping it, even with the toll on the active workspace. In comparison, I normally keep 15-inch 4K screens at 200%.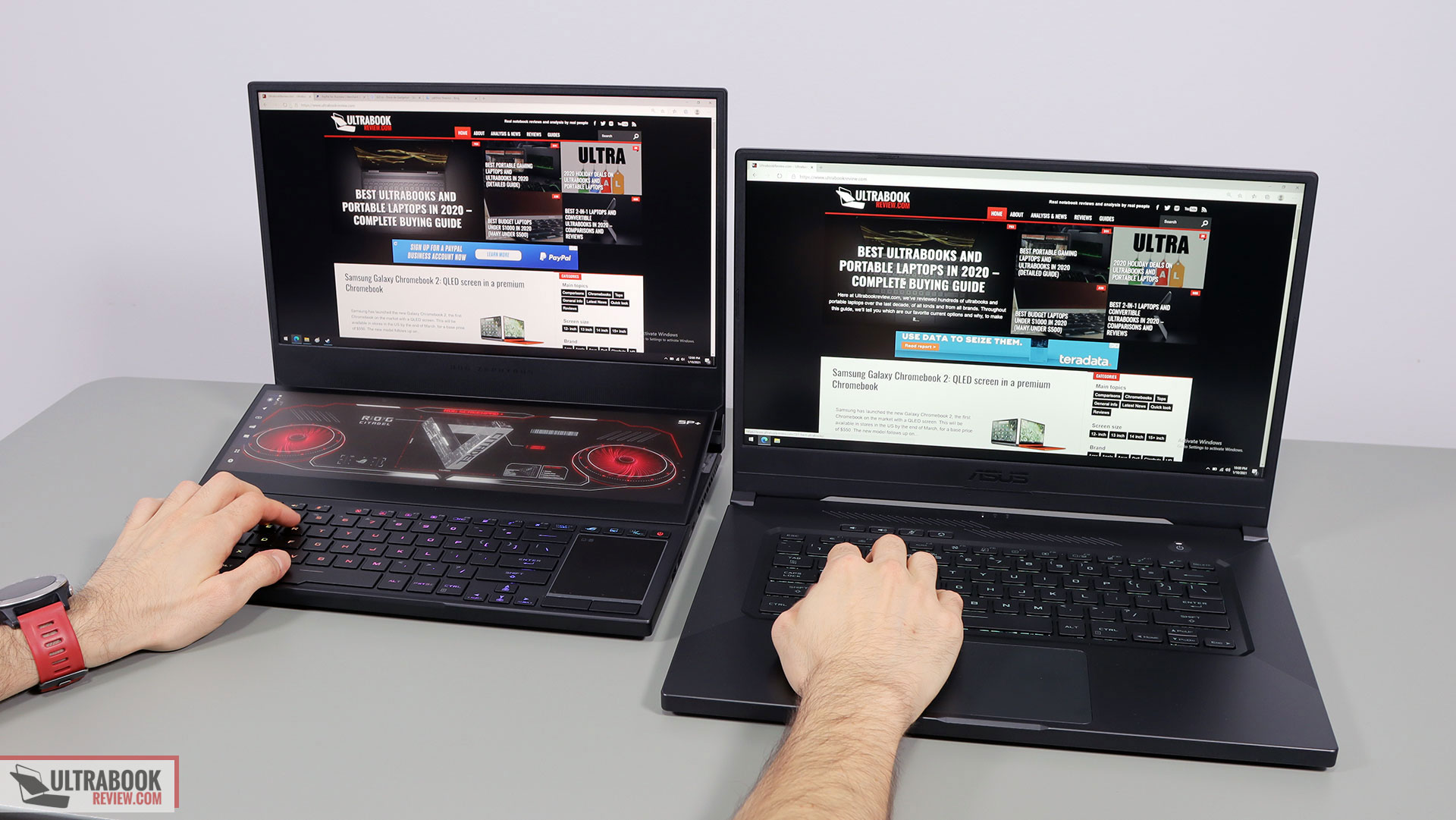 Now, as far as the choice in panels goes, Asus offers the Duo with two kinds of ScreenPads (FHD and UHD, with touch and 100% sRGB) and two kinds of main displays: FHD 300 Hz 3ms with 100% sRGB and 300-nits of brightness, and UHD 4K 120 Hz 8ms with 100% AdobeRGB and 400-nits of brightness.
The former caters to gamers and is the more affordable option, while the latter comes at a significant premium, but is a far better-balanced option for both professional-use and most gamers, which should be just fine with the 120 Hz refresh and 8 ms response. Not to mention the colors, contrast, and brightness are also a step-up on this panel. This will only be available on the higher-tier configurations, though, and is the one on the unit illustrated in this article.
Oh, btw, there's still no webcam on the 2021 Zephyrus Duo, and I hope Asus will bundle that FHD external camera in the box to compensate for it, especially in this day and age when laptop cameras matter a lot more than they used to.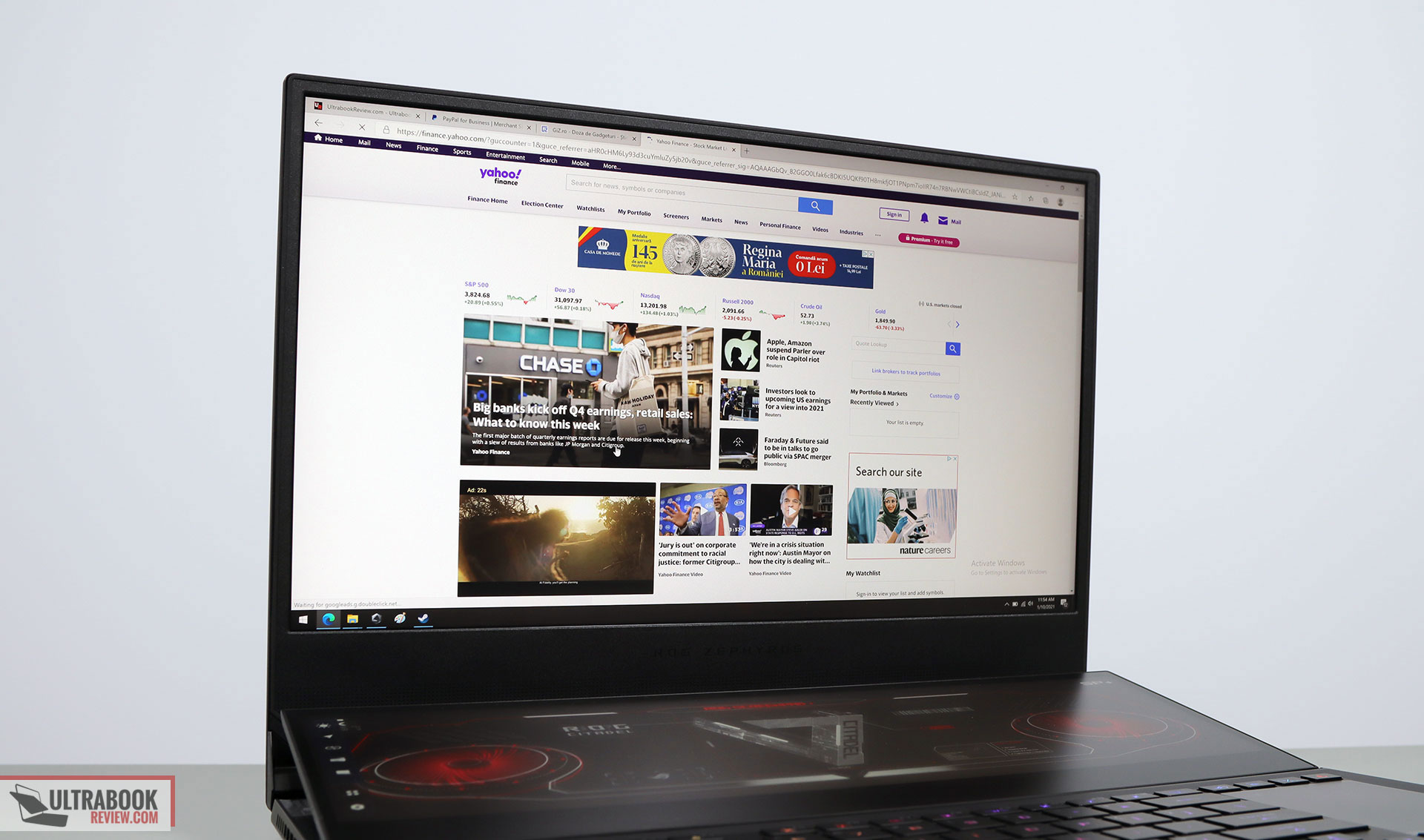 With these out of the way, let me also touch on the IO. Some ports are placed on the back, but the PSU is on the right side, near the Escape and Tab key, so you'll always have that thick charging cable in your line of sight. Furthermore, the USB-C slot is in a similar position on the right side, which means you'll end up with a cable interfering with your mouse area if you plan to hook this up to an external monitor or dock. There's the HDMI slot (I was initially told there's HDMI 2.1 support here, but I don't think that's right – need to recheck this) on the back, but that might not help that much.
As novelties for this year, Asus combined the mic and earphone jacks into a single unit, and added a microSD card reader. Might benefit some of you, but a full SD card reader would have been a lot more useful if they could have squeezed that instead.
I haven't touched on the design changes so far. Previously, the Duo came in a gray color, with magnesium used for the main chassis and aluminum for the lid. The choice in materials hasn't changed, but the 2021 Zephyrus Duo is now entirely black, and while this shows smudges easier, I really enjoy the overall aesthetics and feel of this new model.
For the lid, Asus went with a matte and glossy finishing, with a couple of easter-egg messages hidden in that dotted glossy effect. I really like how this looks, and I'm also glad they've gone with the same design lines on the ROG Scar lineups this year, which we'll touch up in a separate article.
Before we jump to the next section, I should also mention that the Zephyrus Duo gets quad-speakers this time around, with two main woofers still on the underside, but two extra tweeters hidden between the hinges, under the main-screen. I remember not being impressed with the sound quality on the previous model, but so far I find this 2021 update quite capable. It distorts a bit at higher volumes, but once you turn to about 60%, this sure sounds nice for a laptop.
Hardware and performance
I mentioned already we can't talk performance or benchmarks at this point, based on this early sample.
I can tell you that for now, the 2021 Zephyrus Duo is built on AMD processors and Nvidia RTX 3000 graphics, with a Rzyen 9 5900H 8C/16T processor and a RTX 3080 GPU with 16 GB of video RAM at the highest tier. These are paired with up to 48 GB of DDR4 3200 MHz memory (16 GB on-board + 1 DIMM) and dual m.2 SSD storage.
Of course, Asus will offer the multitude of Power profiles and customization options we've been used with in the Armoury Crate control software, boosting both the CPU and the GPU at the highest-end. The official literature also mentions a couple of interesting aspects, such as the fact that liquid-metal is applied on the AMD processor with this generation, which was not an easy task given AMD's more complex die design with extra SMB capacitors, or the fact that Asus worked on improving the CPU/GPU VRMs quality and number in order to consistently supply the components with the right amount of power in sustained loads.
As far as performance goes, Asus mentions that:
the CPU can Boost at up to 90W on its own and run at up to 50W of sustained power when the dGPU is also active;
the GPU runs at 1645 MHz and 115W on the Turbo profiles with ROG Boost enabled, and can jump up to 130 W of power from Dynamic Boost in certain games and loads, which shifts up to 15W of power from the CPU to the GPU.
As a side note, the MUX switch that used to allow for Optimus/GSyncs modes on the 2020 model has been replaced with the Active Sync technology now. In theory, that offers the best of both worlds and allows the system to seamlessly commute between the iGPU and dGPU, with an impact on battery life with daily use and while still hooking the screen directly into the dGPU with games, reducing lag and tearing.
The thermal design is going to play a significant role in this sort of high-power compact notebook as well. Previously, the Duo had to cope with the power-hungry i9-10980HK processor and struggled with in some cases, and I'd expect that to improve with the more efficient Ryzen 5000 platform. I'd also expect a noticeable gain in both single and multi-core performance.
Furthermore, Asus's marketing materials mention reduced fan-noise for the 2021 ROG models, with a slight fan redesign (arc flow fans) meant to boost airflow while reducing turbulence and resonance/noise. Furthermore, 0db Technology is also a novelty for this year, allowing to completely switch both fans with light loads in the Silent mode, as long as the CPU/GPU stay below certain temperatures (to be clarified).

We'll get in-depth on the performance, thermals, acoustics, and efficiency in our future review. In meantime, make sure to leave any questions and feedback in the comments section at the end.
The battery is still 90W and hasn't changed from the previous generation. However, the 2021 Duo comes with a slightly larger and higher capacity 280 W power-brick now. It also supports USB-C charging at up to 100W, an option to consider for daily-work if you'd rather leave the main charger at home.
Initial conclusions
Now that I've spent some time with it, I like the all-black design of the 2021 Zephyrus Duo a lot more than I was expecting based on the few pictures I've previously seen. I also appreciate the 4K 120 Hz screen option, it's expensive, for sure, but more versatile than the previous 60 Hz in the 2020 models.
Our review of the Asus ROG Zephyrus Duo 16 is available here.
At the same time, I still feel this is primarily a desktop-use computer and one you should primarily get if that second screen is going to benefit your workflows, either professional editing or coding and streaming or whatever you're doing. Otherwise, I still prefer the standard form-factor of traditional single-screen notebooks.
As for the performance and thermals aspects, sure, those are going to heavily weigh in your decision as well, but I don't think they're not going to be unique to this laptop and I expect other OEMs to offer similar hardware in their top-tier models as well throughout this year. I do know Asus will in their ROG Scar models, and I can't imagine others won't. Otherwise, though, these Asus notebooks going to be at a great advantage over the competition, as the AMD Ryzen 5000 + Nvidia RTX 3000 hardware is a significant leap over the previous gens, from the little I can tell so far. Can't wait for the review samples so I can share more with you.
No word on pricing and exact availability for now, but expect this to go in the 3000-4000 USD range in the US and 3000-5000 EUR here in Europe.
Disclaimer:
Our content is reader-supported. If you buy through some of the links on our site, we may earn a commission.
Terms
.