Lenovo are introducing a new ThinkPad Z subseries as of the beginning of 2022, a flagship lineup built entirely on modern AMD hardware and exclusive AMD technologies. This is expected in stores around late-Q2, with prices starting at $1500-$2000 between the two available sizes.
Lenovo offers a compact 13-inch ThinkPad Z13 series powered by an AMD Ryzen Pro 6000 U platform designed exclusively for this laptop series, as well as a 16-inch ultraportable design built on AMD Ryzen Pro 6000 H hardware and an optional dedicated GPU from AMD, with Smart Shift and a handful of other AMD smart technologies. A Microsoft Pluton security processor is also included on both variants.
Hardware aside, both Zs are premium metallic designs with 16:10 displays, fast connectivity, FHD webcams, and updated inputs compared to the existing ThinkPads.
As particularities, recycled materials are partially used for the construction and packaging of both series, and these designs step somewhat away from the traditional ThinkPad aesthetics, with options for aluminum and vegan leather used for the exterior case, plus a reversed notch at the top of the screen, required to house the cameras and microphones while keeping the bezels otherwise minimal around the edges.
Update: I'm working on our reviews of the Thinkpad Z13 and Z16 lineups. In the meantime, here are a couple of pictures of the two side by side.
Update2: Here's our full review of the Lenovo ThinkPad Z13 ultrabook, and here's our review of the 16-inch ThinkPad Z16 model.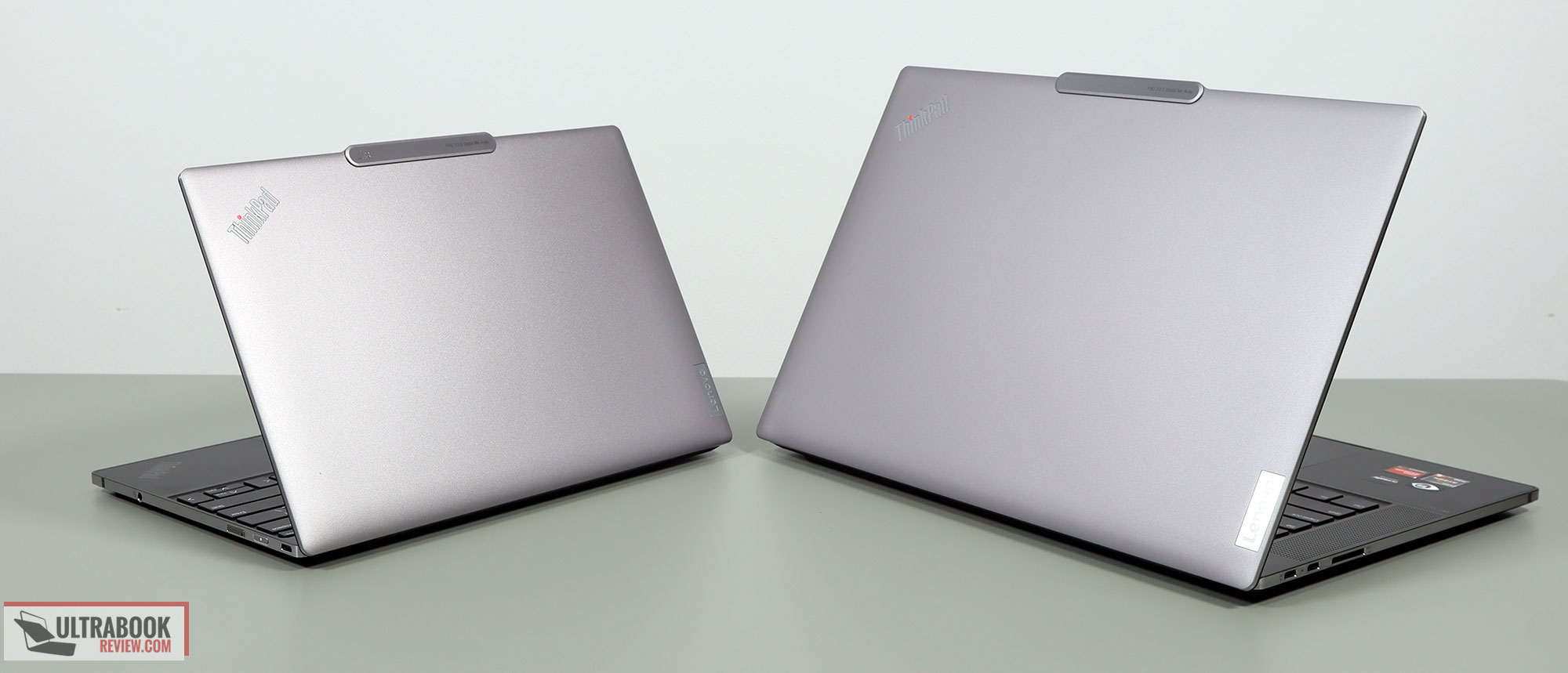 Here's a spec sheet of the two, and we'll further touch on the important details down below.
2022 Lenovo ThinkPad Z13 gen 1 – review
2022 Lenovo ThinkPad Z16 gen 1 – review
Screen
13.3-inch 16:10, touch, glossy
WUXGA IPS 400-nits Low Power or WQXGA OLED 400-nits panels
16-inch 16:10, touch, glossy
WUXGA IPS 400-nits Low Power or WQUXGA OLED 400-nits panels
Processor
exclusive AMD Ryzen Pro 6000 U-series
AMD Ryzen Pro 6000 H-series
Video
AMD Radeon (RDNA2)
AMD Radeon (RDNA2) and optional AMD RX 6500M (50W)
Memory
up to 32 GB LPDDR5-5200 (soldered)
up to 32 GB LPDDR5-5200 (soldered)
Storage
up to 1 TB M.2 PCIe gen4 storage – single M.2 2242 slot
up to 2 TB M.2 PCIe gen4 storage – single M.2 2280 slot
Connectivity
Wireless 6E, Bluetooth 5.1, optional 4G LTE CAT 16
Wireless 6E, Bluetooth 5.1, optional 4G LTE CAT 16
Ports
2x USB-C 4.0 with data, DP, charging; audio jack
3x USB-C 4.0 with data, DP, charging; SD card reader; audio jack; Lock
Battery
51 Wh, USB-C charger
70 Wh, USB-C charger
Size
294 mm or 11.57" (w) x 200 mm or 7.87 (d) x 13.9 mm or .55" (h)
354 mm or 13.95" (w) x 237 mm or 9.33 (d) x 15.8 mm or .62" (h)
Weight
from 1.25 kg (2.76 lb) + charger
from 1.97 kg (4.3 lb) + charger
Extras
white backlit keyboard, Haptic ForcePad, FHD webcam with IR and eShutter, finger-sensor, bottom-firing speakers, available in Artic Grey, Black, or Black Leather with Bronze aluminum sides
white backlit keyboard, Haptic ForcePad,  FHD webcam with IR and eShutter, finger-sensor, up-firing speakers, available in Artic Grey – recycled aluminum
Aside from hardware specs and particularities, which we can't properly discuss in this brief preview and would require extra analysis once we get the review units, a few aspects stand out about this series.
Among them, there's the ultra-compact form-factor, both for the Z13 and especially for the Z16. Both are smaller in footprint than the average ultrabooks in their segment and both get narrow bezels around the screens. In fact, Lenovo advertise screen-to-body-ratios of over 90% on both sizes, the highest of all their ThinkPad lineups.
These laptops are also rather slim, but that comes with a downside in practicality, as the IO consists of USB-C only ports and an audio jack on the Z13, plus an extra SD card-reader on the Z16. The USB-C ports support USB 4.0 with data, video, and charging, and I appreciate how Lenovo positioned at least one on each side, this will come in handy for charging and hooking up peripherals. There are also security Locks on both, but you might have to use adapters for your peripherals – some sort of dongle might be included in the pack, based on past experience with other USB-C only designs.

At the same time, with the all-metal construction, these Zs are not as lightweight as you might expect given their format. The aluminum pieces and most likely the thermal design on the inside add up, with the Z13 starting at 1.25 kilos and the Z16 starting at around 2 kilos. Still portable, but not the lightest notebooks in their segments.
The choice in materials is also unusual for a ThinkPad, with different textures of aluminum used for the Z16 and Z13, as well as a unique variant with a faux-leather lid and bronze aluminum sides for the Z13. Both get that reversed notch used for the FHD f/2.0 camera and mic array – I'd expect the camera quality to outmatch most competitors.
There's also a figner-sensor on both designs, integrated within the keyboard deck right next to the arrows keys. This does cramp out the Left and Right arrows, which are narrower than the keys around.
I am looking forward to spending time with the inputs on these ThinkPad Zs. There's the same keyboard layout on both and a large glass clickpad with Haptic feedback, a novelty for ThinkPads. The Trackpoint is still there in the middle of the keyboard, but no longer gets the dedicated physical click buttons, as on most other ThinkPad designs.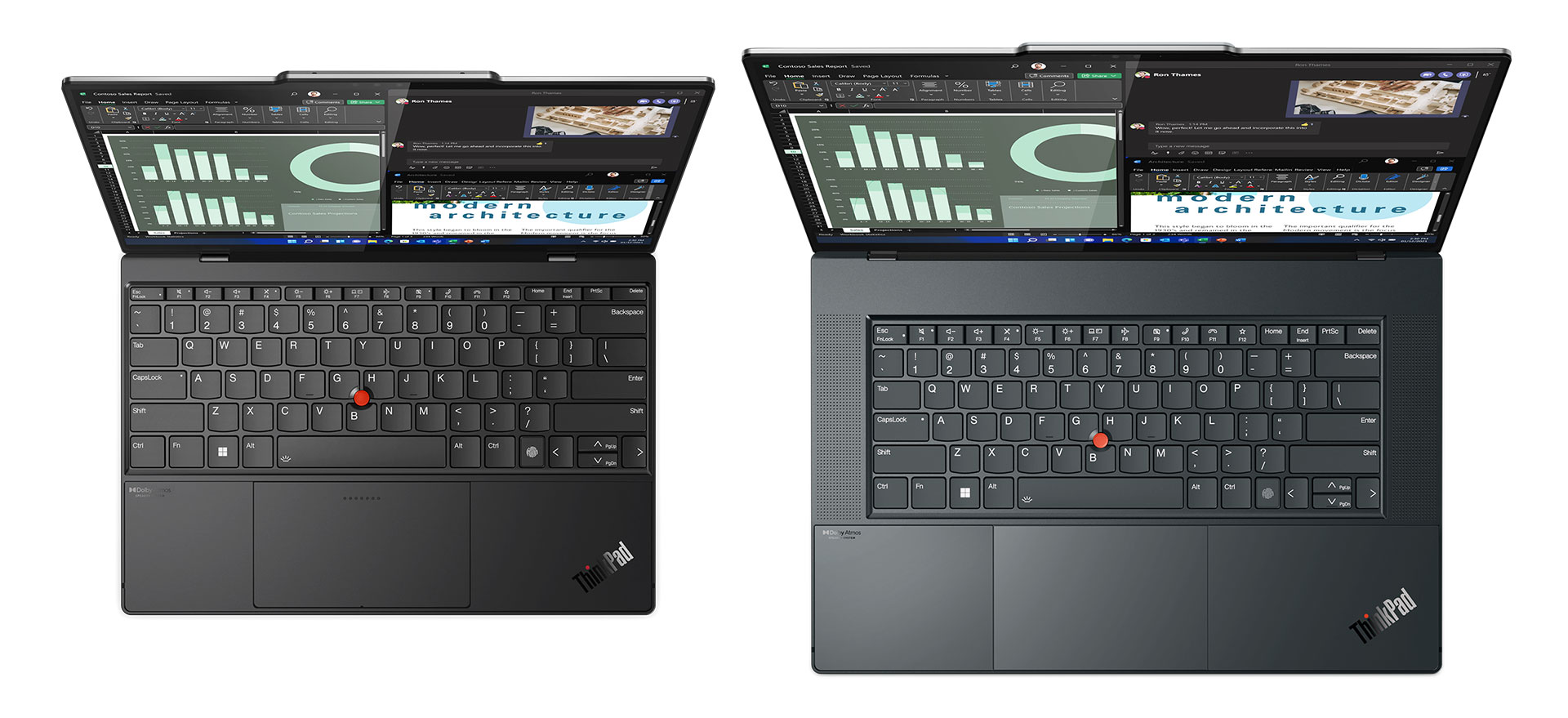 The keyboard occupies the entire length of the laptop on the Z13, and the space left on the larger Z16 is used for up-firing speakers. The audio fires on the bottom on the Z13, and there's probably a difference in quality between the two.
The extra space in the Z16 also allows for a larger battery inside and a more complex thermal module required in order for it to handle the higher-power AMD processor and the optional AMD dGPU. No details on the power settings and performance, but given the size, I'd expect some sort of efficient GPU design and performance levels of an RTX 3050Ti, the kind offered with other 15/16-inch ultraportables these days such as the Dell XPS 15, Acer Swift X16 or the Asus VivoBook Pro 16X.
Update: Turns out there's a mid-tier AMD Radeon RX 6500M running at 50W on this series. I was close in my assumptions above.
For the Z13, I'm rooting for 20+W of sustained power in demanding loads. I don't expect this smaller and thinner design to match Lenovo's previous AMD Ryzen U designs such as the Yoga Slim 7 Pro.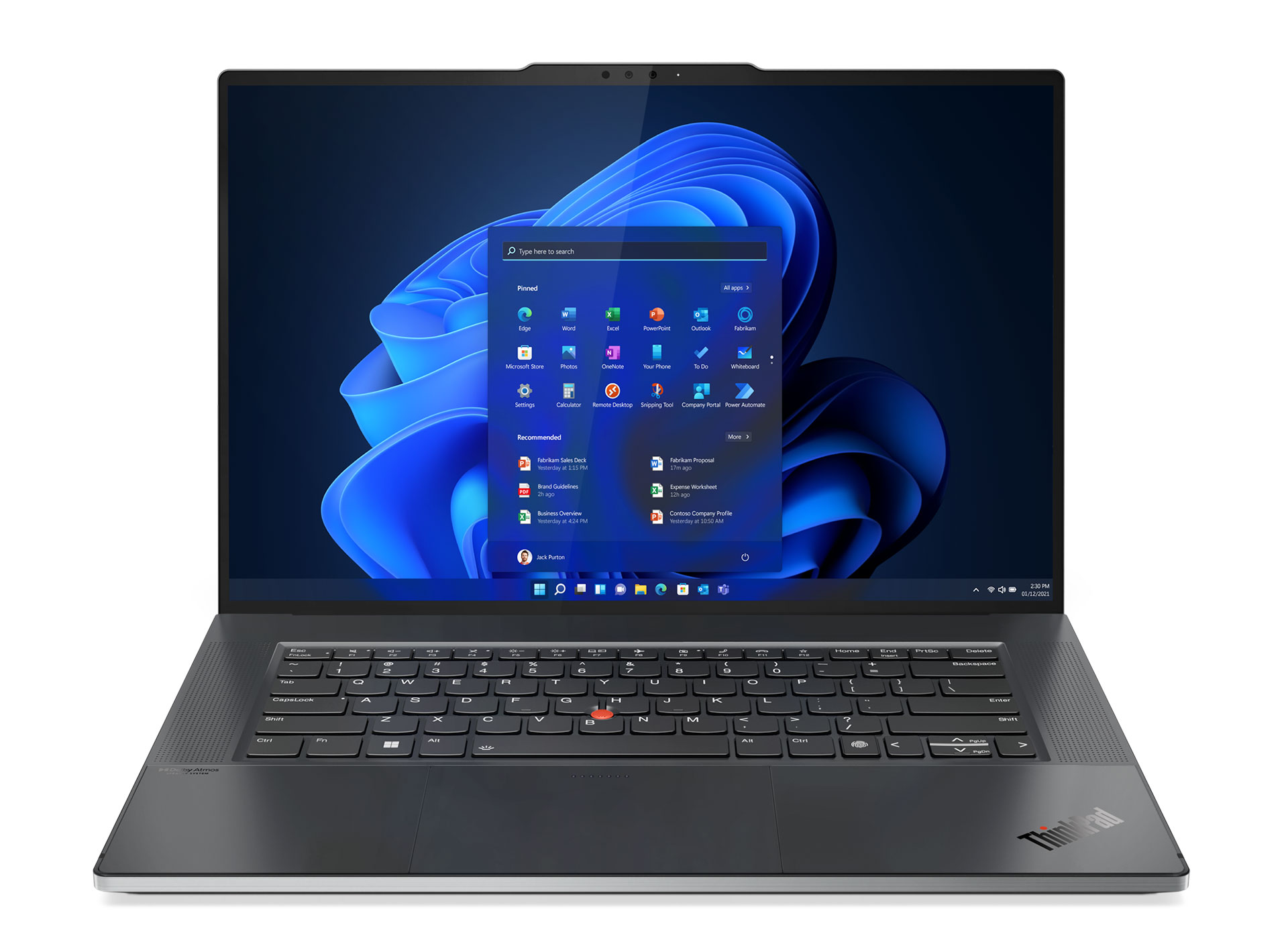 All in all, the ThinkPad Z series sounds like a potentially interesting new addition to Lenovo's lineup. The AMD platforms are surely going to attract a lot of attention, but the design, the build, and the screen options are also among the major strong points of this series.
These are not going to be cheap, though, as they are both expected in stores around May 2022, with the Z13 starting at $1549 and the Z16 starting at $2099 MSRP. You'll surely find them on sale at some point later in the year, though, knowing Lenovo's sales strategy.
I'm looking forward to testing these out; in the meantime, let me know what you think about them in the comments section down below.
Disclaimer:
Our content is reader-supported. If you buy through some of the links on our site, we may earn a commission.
Terms
.