Last year, the Lenovo Legion 7 lineup offered some of the better full-performance and gaming laptops of the generation, and now Lenovo have updated the 2022 Legion 7 models in a couple of important ways.
Let's start with what matters. Unlike in 2021, this year, the Legion 7s are split between two different configuration options, with the Legion 7i on one side built on an Intel 12th-gen Core H55 and Nvidia RTX 3000Ti platform, and the Legion 7 on the other now an exclusive AMD build, with Ryzen 9 6000 processors and RDNA2-based Radeon graphics, up to an RX6850M XT.
It's too early to tell how I feel about this approach. Last year, the AMD+ Nvidia combo offered a versatile and competitively priced configuration, efficient and long-lasting with daily use, and powerful with workloads and games. The Intel + Nvidia model, on the other hand, sold for a fair bit more and lacked in battery life in comparison, for only some performance gains in specific CPU-heavy loads.
This year, the AMD + Nvidia specs are no longer available. With the beefy 24C Intel Core H55 i9-12900HX processors and RTX 3080Ti going up to 175W now, the Intel model steps up as the significantly more powerful option in the lineup.
Lenovo mention an updated thermal design with dual fans, four radiators, vapor-chamber technology, and phase-changing thermal paste, designed to allow 120W of CPU sustained power without throttling and up to 175W of power on the GPU. No word on the combined CPU+GPU power envelope, but I'd expect it at around 200W. In comparison, the 2021 Legion 7i allowed for 90W sustained CPU power and up to 165W TGP.
However, I don't know what to expect about the AMD configurations regarding their power, efficiency, and overall value. On the CPU side, the Ryzen 9 6900HX is no match at high-load for the Intel chips, but it holds its ground well in combined loads. As for the RX 6850M chip, this has been somewhat tested in the XG Mobile eGPU enclosure, with mixed feedback vs. the Nvidia counterparts, but not in a proper notebook yet.
There are also a couple of other side aspects that derive from the two series implementing different hardware. With the Legion 7i, you're getting Thunderbolt 4 support, Killer Intel-based wireless/wired chips, optional overclocked DDR-5600 memory, and the slew of Nvidia functionality, such as GSync support, Dynamic Boost, Advanced Optimus, and Resizable Bar Support. Plus, the superior Ray Tracing performance and DLSS in games.
With the AMD model, on the other hand, you're getting a USB-C 4.0 port, most likely Mediatek and Realtek connectivity chips, and the AMD package of software and optimizations, such as FreeSync or SmartShift.
Based on our experience with AMD-exclusive platforms such as the 2021 ROG Advantage and the 2022 ROG Zephyrus G14, I have high expectations from this AMD variant of the Legion 7. I don't expect it to compete with the 7i top-tier models in performance, but it should sell for a fair bit less and offer a potentially superior daily-use experience thanks to the higher efficiency of the Ryzen platform. After all, you're not just running games and workloads on your laptop all the time, you'll also use it for browsing and casual activities more often than not.
We'll know more once we get these for proper reviews.
Update: Our detailed review of the 2022 Lenovo Legion 7i is available here. We'll also follow up with a review of the AMD-based Legion 7.
Update: If interested, here are our thoughts on the updated 2023 Lenovo Legion Pro 7i (Intel) and Legion Pro 7 (AMD) models. And here's my detailed review of the 2023 Lenovo Legion Pro 7i series.
In the meantime, here's a full specs sheet of the two 2022 Lenovo legion 7 models, and we'll further cover the novelties vs. the previous generation down below.
2022 Lenovo Legion 7 & Legion 7i Specs
2022 Lenovo Legion 7
2022 Lenovo Legion 7i – review
Screen
16-inch, QHD 2560 x 1600 px IPS, 16:10, non-touch, matte
165 – 240 Hz 3ms response, FreeSync Premium support, VRR support
500-nits, 100% sRGB
16-inch, QHD 2560 x 1600 px IPS, 16:10, non-touch, matte
165 – 240 Hz 3ms response, GSync support, VRR support
500-nits, 100% sRGB
Processor
AMD Rembrandt Ryzen 9 6000,
up to Ryzen 9 6900HX, 8C/16T
Intel 12th-gen Alder Lake Core H55,
up to Core i9-12900HX, 8PC+8Ec/24T
Video
Radeon Vega + Radeon RX6850M XT 12 GB or Radeon RX6700M 10 GB
with Freesync support, SmartShift
Intel UHD + RTX 3080Ti 16GB GDDR6 (175W) or RTX 3070Ti 8GB (125W)
with MUX (Advanced Optimus) and GSync support, Dynamic Boost
Memory
up to 64 GB DDR5-4800 (2x DIMMs)
up to 64 GB DDR5-4800 (2x DIMMs),
optional DDR5-5600 OC memory
Storage
PCIe gen4 (2x M.2 slots)
PCIe gen4 (2x M.2 slots)
Connectivity
Mediatek ?? Wireless 6E with Bluetooth 5.2, 2.5G LAN
Killer Wi-Fi 6E and Bluetooth 5.2, 2.5G LAN
Ports
Left: 1x USB-C 4.0, 1x USB-C 3.2 gen 2
Right: 1x USB-C 3.2 gen1, 1x audio jack, 1x eShutter button
Back: 2x USB-A gen1, 1x USB-C gen2 with DP and power delivery, HDMI 2.1, LAN, DC-In
 Left: 2x USB-C with Thunderbolt 4
Right: 1x USB-A 3.2 gen1, 1x audio jack, 1x eShutter button
Back: 2x USB-A gen1, 1x USB-C gen2 with DP and power delivery, HDMI 2.1, LAN, DC-In
Battery
99.9 Wh, up to 300 W power adapter, USB-C charging up to 135W
99.9 Wh, up to 300 or 230 W power adapter, USB-C charging up to 135W
Size
358.1 mm or 14.1" (w) x 263.5 mm or 10.37 (d) x 19.4 mm or .76" (h)
Weight
from 2.5 kg (5.5 lbs) + power brick
Extras
per-key RGB backlit keyboard with NumPad, 1.5 mm travel, WASD Force Sensors, 2x 2W stereo speakers, FHD webcam with Shutter, available in Storm Grey
If interested, our coverage of the more affordable 2022 Lenovo legion 5 /5 Pro series is available here, and our review of the 2022 Legion 5i Pro is available here.
Furthermore, if interested, a comparison between the AMD Ryzen 9 6900HX and the Intel Core i9-12900H processors is available here.
Aside from the platform and specific differences mentioned earlier, the Legion 7 and 7i models share a common chassis and the same important features.
The overall design hasn't changed significantly, with a similar dark-gray all-metal construction, some RGB elements, and the majority of ports lined on the back of the laptop, out of the way. I'm not really a fan of having all the USB-A ports moved to the back, but I could live with it.
The 2022 Legions are slightly slimmer than the past models, though, but still rather heavy at 2.5+ kilos. That's a result of the uncompromised build-quality, beefy thermal solution and the implementation of a 99.99 Wh battery with this generation, a step-up from the 80 Wh batteries on the 2021 Legions.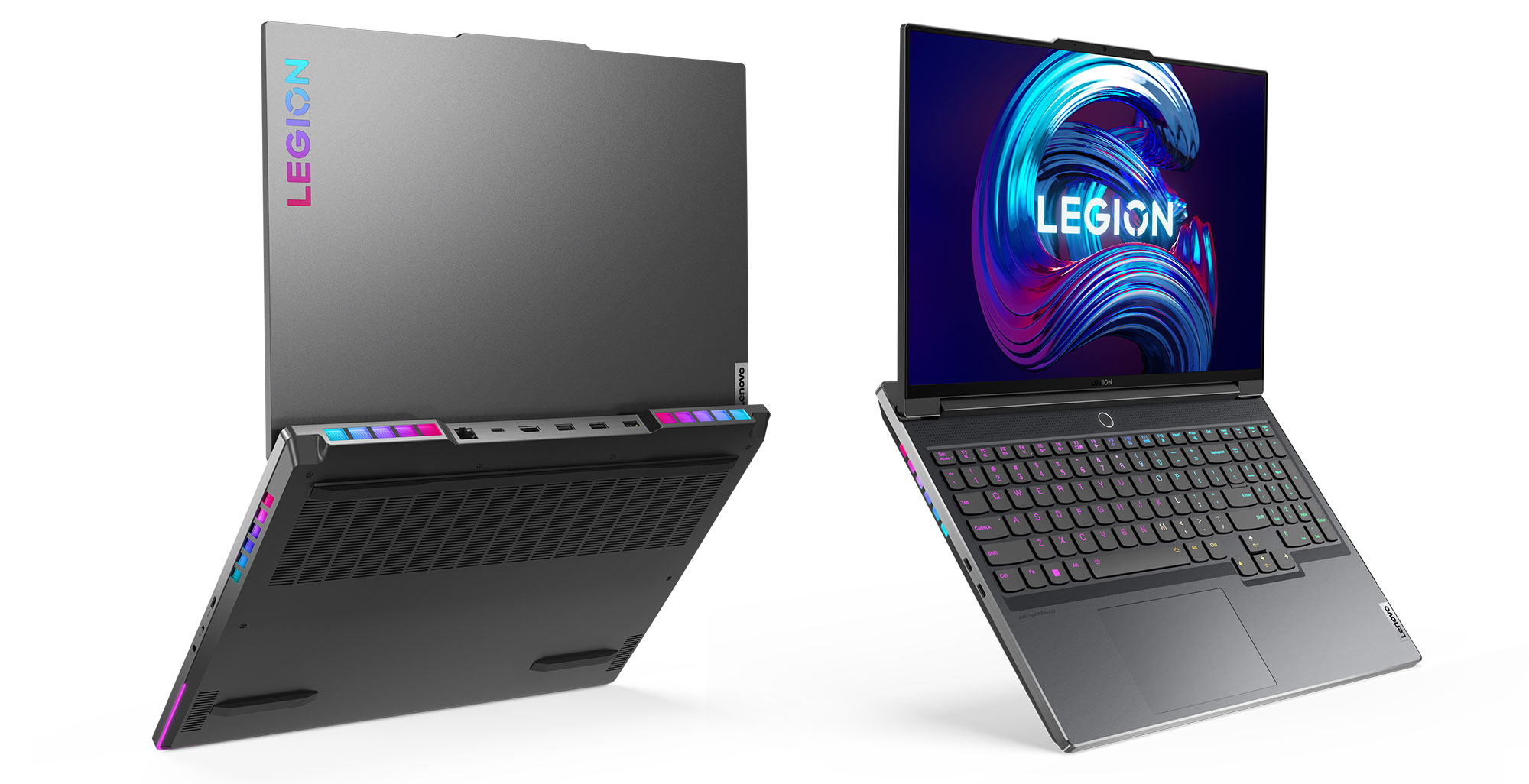 Lenovo have worked on improving the keyboard on this Legion 7 generation, slightly redesigning the keycaps by introducing a small dash in each key, and implementing Force Sensor technology for the WASD keys. The default WASD keys can be swapped with force-controllable keycaps, for linear in-game control in supported titles. This is similar to what Acer offer with the Predator Helios 500 series.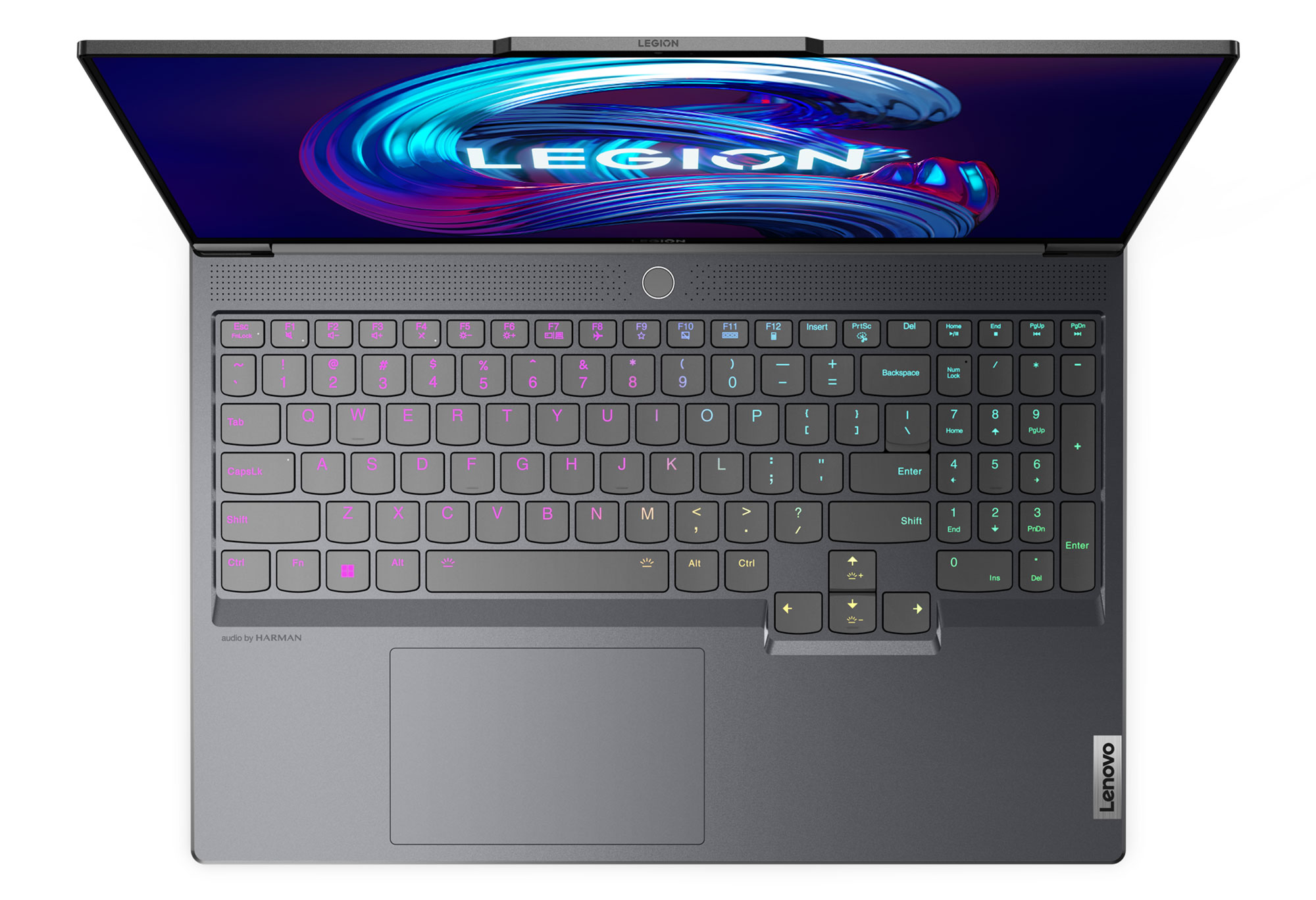 As for the screen, there's still a 16-inch 16:10 matte panel on these 2022 Legion 7s, now with a slightly updated panel. It's still IPS with around 500-nits of brightness and 100% sRGB colors, but it supports VRR – Variable refresh rate between 165 and 240 Hz, for a perfectly smooth game experience. The Intel model has GSync support, while the AMD variants get FreeSync Premium support.
I'm looking for clarification on whether a MiniLED display option with 165Hz refresh and 100% DCI-P3 color coverage is also scheduled for the Legion 7/7i series as well, or that's only reserved for the more portable Legion Slim 7 lineup. Will update once I know more.
The one thing Lenovo seems to have left out with these 2022 Legions is the audio. There are still only two bottom-firing speakers on this generation, and given how they've put a 99 Wh battery inside the chassis this time around, I doubt much space was left in there for audio chambers. Audio quality wasn't amazing on past Legions, and I wouldn't expect that to have changed. They did update the camera, though, now implementing a FHD shooter at the top of the screen, with Tobii functionality.
Both Legion 7s should be available in stores in the next few months. In North America, the AMD-based Legion 7 starts at just over $2000 MSRP, while the Intel-based Legion 7i starts at under $2500 for the RTX 3070Ti model. As expected, there's a significant price gap between the two, but Lenovo tend to offer aggressive discounts from their list prices, so the situation might change as the products age.
I'm looking forward to reviewing the 2022 Lenovo Legion 7i and Legion 7 lineups and sharing our findings with you, as well as figuring out how these fare against the competitors in the stratosphere of uncompromised performance laptops, such as the Asus ROG Scars, the Acer Predator Helios 500, the Alienware X15/X17 or the MSI GE66/GE76 Raider models.
In the meantime, I'd love to hear your thoughts and feedback on this series, so get in touch down below.
Disclaimer:
Our content is reader-supported. If you buy through some of the links on our site, we may earn a commission.
Terms
.