This article explains why a high refresh-rate screen should be a must on your gaming laptop in this day and age, and also compiles for you a complete list of all the available notebooks equipped with 120Hz, 144Hz or the newer 240Hz and 300Hz display options, with their important traits and links towards more detailed reviews.
If you're not interested in the technicalities, you can jump straight to the complete list via this link, to this subsection of more recent launches with 300Hz panels, or follow these links for more details on the latest notebooks with 144 Hz 3ms,  240 Hz 3ms or the faster 300Hz 3ms displays.
For years, most laptop screens were standard 60 Hz panels with response times in the 20-40 ms range. In very few words, that means that the content displayed on such a screen was refreshed 60 times a second, with a delay between the time the frame was rendered on the GPU and when it was actually displayed in front of your eyes. That was, and still is perfectly fine for everyday use and movies, but a 60 Hz screen suffers from various graphics artifacts in games, such as screen tearing, especially in those that quickly transition between moving scenes.
Game developers allow us to address this problem by enabling VSync, but VSync comes with issues of its own (like increased input lag) and most competitive gamers prefer to keep it disabled.
High refresh-rate screens with faster response times are meant to alleviate tearing and stuttering without adding lag, and such panels are now available on most good-quality gaming laptops.
In all fairness, they're still not going to completely address all the issues, but they come closer to offering a smooth and glitch-free gaming experience. In theory, that perfect gaming experience is achievable if you run a game at let's say 144 fps on a 144 Hz screen all the time, but that's impossible to get in practice, as frame rates are variable. And here's where technologies like Nvidia GSync and AMD FreeSync come in, which sync the screen's refresh rate to the game's refresh-rate, making sure that the screen only refreshes when the hardware outputs new content.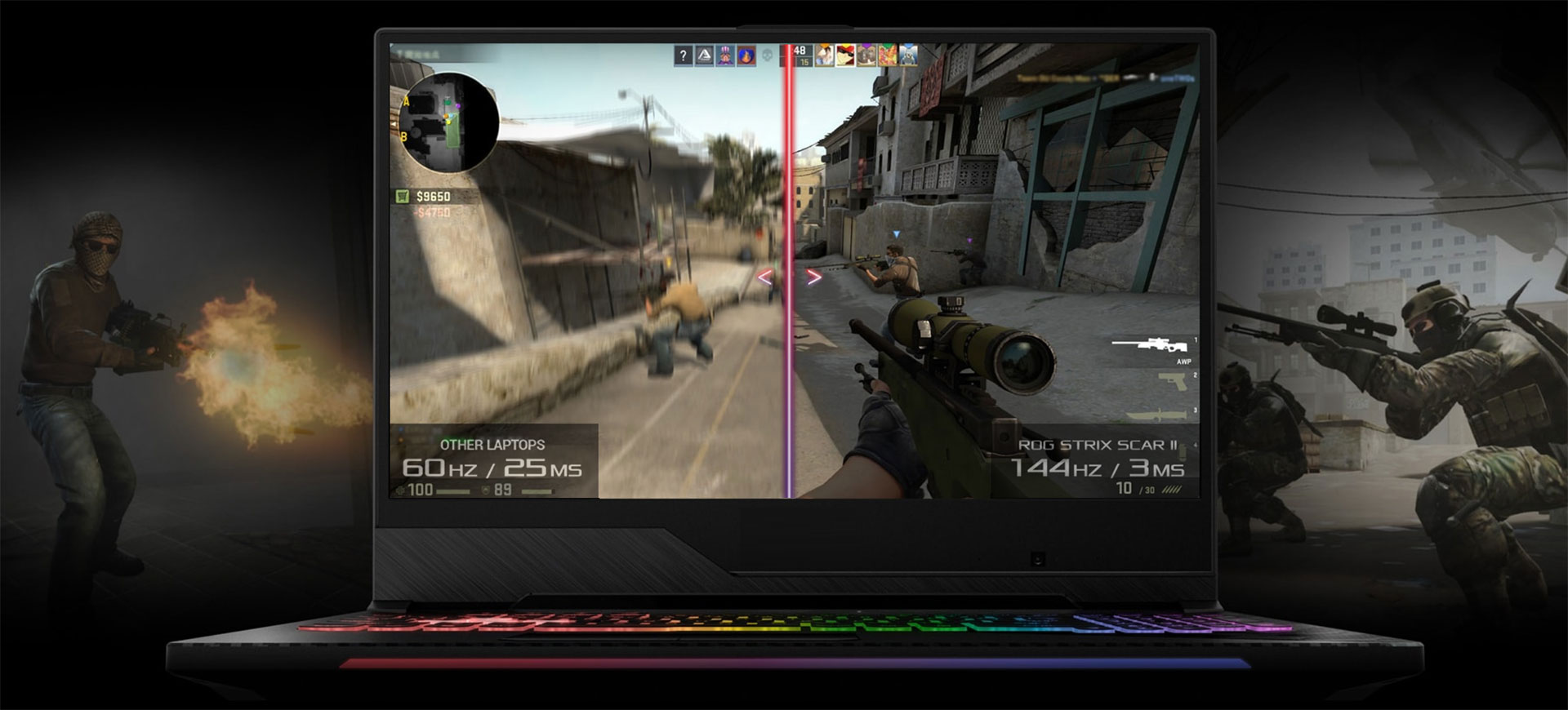 Since most gaming laptops are based these days on Nvidia GPUs, there are some that offer GSync, but primarily in the higher-tier ranges, as this technology doesn't come cheap. We're not going to focus on GSync or FreeSync in this article, but we'll mention which of the devices in the following list supports it.
If you're on a tighter budget and cannot reach for a GSync laptop, I would still recommend having a 144 Hz or a 240 Hz panel on your to-get list, as these alone will alleviate most potential issues. Just make sure to pick the right hardware that can handle the games you're interested in. If you're into casual games, you'll want a computer with a GTX 1050Ti/GTX 1650 GPU or higher, while if you plan to run AAA titles, get at least a GTX 1060/1660Ti build.
Of course, there's also the question of whether a 240/300 Hz screen is worth getting over a 144 Hz panel, and the answer is: it depends. If you're a regular gamer, you'll hardly tell the difference between the two options, as the jump from 144 to 240 Hz is much more subtle than the jump from 60 to 144 Hz. On the other hand, if you're a competitive player and you're into fast action-paced shooters, then every little bit is going to count and a 240/300 Hz panel will help. Just make sure to pair such a display with the kind of graphics that can actually run the titles you're interested in at high 200+ fps, and the minimum would be a GTX 1660/RTX 2060 if you're willing to cut on the graphics settings, or an RTX 2070 if you don't want to compromise much on details.
You should also consider whether you want a TN or an IPS panel on your computer. Generically, TN screens offer shorter response times, which translate in diminished ghosting, but also narrower viewing angles and poorer colors. IPS screens on the other hand display nicer colors, get better contrast and wide viewing angles, but some of them are pretty slow, which can be a disadvantage in those fast-games. However, the more recent IPS panels are no longer slow, with many options offering an advertised response time of 3 ms (with Overdrive), so as of 2020, opting for a TN panel no longer makes sense, unless you're on a very tight budget and looking to buy an older laptop at a good discount.
With all these in mind, let's jump to the actual list of gaming laptops with 120/144/240 Hz or higher refresh-rate screens. It includes both mid-range and high-tier options, with links towards more detailed reviews and updated configurations and prices at the time you're reading the article. We'll start with the thin-and-light options first, and we'll continue with the full-size and more affordable variants down below.
Recent launches with 300Hz screens
Since 300Hz options are the fastest displays you can get on laptops at the time fo this update, we're going to list them separately, and continue with the 240/144Hz options below. I'd still advise you to make sure that you'll actually benefit from having a 300Hz panel, and you're not just buying the hype here.
Ultraportables with 120/144/240 Hz screens
And here's a complete list of full-size laptops with 120/144/240 Hz screens, latest generations hardware and GSync (in some cases).
*advertised BTW response time, not measured
The other BTW (Black to White) response time numbers above are based on measured test-results from notebookcheck.net and laptopmedia.com, as we do not currently have the capabilities to test these in our reviews. Take them with a grain of salt and do your own research if response times are a crucial factor in your decision process.
That's about it for this article on gaming laptops with fast 120Hz, 144Hz or 240Hz screens. We're constantly updating the list, but if you spot any issues or any product that should be in here and is not, please get in touch in the comments section below. That aside, if you're interested in more details on gaming notebooks, our master article on the best gaming laptops of the moment is a good place to start your research.