Asus's ROG Flow family of gaming ultraportable laptops just received a new member as of mid-2022, with the ROG Flow X16 GV601.
This is not as compact as the 13-inch Flow X13 and Flow Z13 available so far, as it is a 16-inch computer, but still thin and light at sub 20 mm and around 2 kilos, as well as a highly capable performer for its class. Plus, the Flow X16 is a 2-in-1 convertible design with a touchscreen, and supports the XG Mobile eGPU enclosure, just like the other Flow models.
Throughout this article, I will explain the main characteristics and interest points of this 16-inch ROG Flow. I haven't yet got a review unit, so I cannot get in-depth into the performance, thermals, and overall capabilities of this design. But we can estimate what this will be capable of based on our previous reviews of the implemented platforms, as well as what Asus unveiled to us for the preview.
Update: In the meantime, our full-review of the Asus ROG Flow X16 series is available here, and our review of the RTX 3070Ti model with the miniLED display is available here.
Update 2: And here's our detailed review of the 2023 Asus ROG Flow X16 update. 
As far as the hardware goes, the Flow X16 is an AMD + RTX implementation, which is pretty much the recommendation for a portable all-purpose laptop at this point, a solution capable of solid performance in demanding loads, and efficient runtimes with daily use on battery.
Add in an intriguing thermal module, upgradeable RAM and storage, a 90Wh battery, a 16-inch 1600p mini-LED display, and what looks like excellent inputs, speakers, and connectivity, and the Flow X16 is going to attract a lot of attention this year.
Here's a spec sheet of this series, and we'll further touch on the important aspects below.
Specs sheet – ROG Flow X16
2022 ASUS ROG Flow X16 GV601RW – review and review
Display
16-inch, 16:10, touch, glossy
QHD+ 2560 x 1600 px, miniLED with 1100-nits peak brightness, 165 Hz 3ms, 100% DCI-P3
touch and stylus support
QHD+ IPS 500-nits option also available
Processor
AMD Rembrandt, up to Ryzen 9 6900HS, 8C/16T
Video
Radeon + up to Nvidia GeForce RTX 3070Ti Laptop 8GB (up to 125W with Dynamic Boost) on GV601RW model
with MUX and Adaptive Sync (no GSync on internal display)
Memory
up to 64 GB DDR-4800 (2x DIMMs)
Storage
2x M.2 PCI 4.0 x4 slots
Connectivity
WiFi 6E 2×2 with Bluetooth 5.2
Ports
2x USB-A 3.2 gen1, 1x USB-C 3.2 (4.0 update later in the year) with data, video and charging, 1x ROG xGM port, HDMI 2.0b, micro SD card reader, headphone&mic
Battery
90Wh, 240 W power adapter, USB-C charging up to 100W
Size
355 mm or 13.97" (w) x 243 mm or 9.56″ (d) x 19.4 mm or .76" (h)
Weight
from 2 kg (4.4 lbs) + charger
Extras
2-in-1 format factor, backlit keyboard without NumPad, quad speakers, HD IR webcam, XG mobile support, tri-fan cooling module with liquid metal
Lower-tier configurations with RTX 3050Ti (on the Flow X16 GV601RE sub-series) and RTX 3060 (on the Flow X16 GV601RM sub-series) graphics will also be available, with various amounts of storage and RAM.
An updated generation of the 2023 Asus ROG Flow x16 series is available in the meantime, with updated specs and display options.
Design, inputs, and screen options
The Flow X16 is pretty much a grown-up X13, as Asus opted for the same design lines, materials, and finishing touches on the two, for consistency within the Flow series.
Black metal is used for the entire chassis, but with textures that do a fair job at concealing smudges and fingerprints in comparison to other dark aluminum designs.
Compared to the smaller Flow X13, on this unit, there's extra room for an ample arm-rest, a spacious clickpad, and a centered keyboard, without a Numpad and flanked by speakers.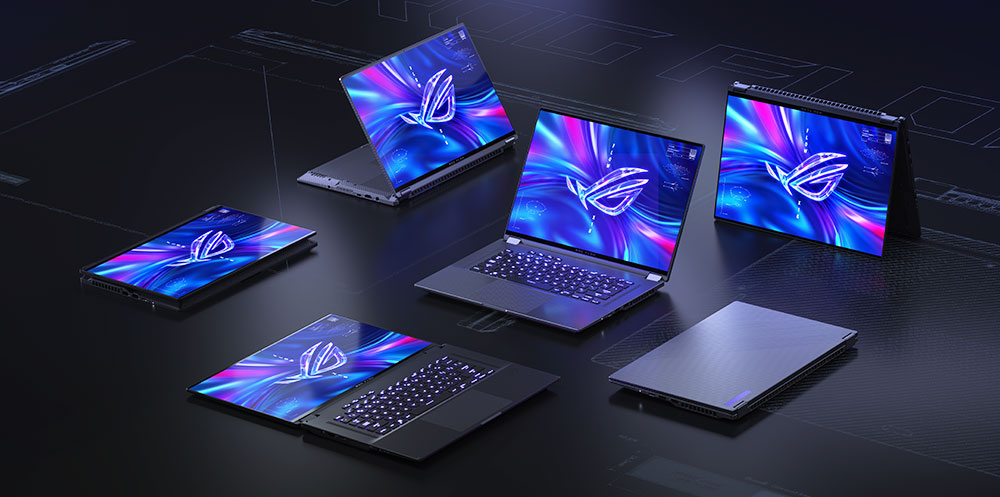 In fact, the audio system on this laptop should come close to what Asus offer on the Zephyrus G15/M16 models, and that's excellent news. However, there are only 2x tweeters and 2x main speakers on the bottom with this series, though, and not 4x tweeters + 2x main speakers as on the Zephyrus models.
The keyboard and clickpad are the same layout as on the Zephyrus models, which is one more strong selling point for the series, as the two are among the best combos in the ultraportable space. Expect single-zone RGB control to be offered here, as well white-only on some lower-tier models, just like with the G15/M16 lineups.
With that out of the way, as mentioned earlier, the Flow X16 is a convertible. I expect it to spend most of its time in laptop mode, but it can be switched into a tablet or tent mode when needed.
The screen supports touch and pen input, with an Asus stylus included by default. As for the panel choice, Asus offers here the Nebula HDR display that was previously announced on the Zephyrus DUO 16 (reviewed here), with the 2560 x 1600 px mini LED panel capable of 1100-nits of peak brightness, 100% DCI-P3 colors, and 165Hz refresh/ 3 ms refresh times. The panel is also capable of single or multi-zone backlighting, with 512 different zones.
This is, at least on paper, one of the best panel options available for Windows laptops these days. I haven't yet got to experience it in real life, though. At the same time, I expect the miniLED panel to be expensive and perhaps not available in all markets.
On the side, the Flow X16 is also going to be available with the IPS 500-nits panel that we've reviewed in the 2022 Zephyrus M16, which is an excellent screen as well.
One thing I'm a little concerned about is the digitizer layer that we'll be getting here, since pen support is mentioned. From past experience, digitizers can cause a graininess effect over white content, visible when editing texts and browsing, and I'm hoping this will not be a concern here. We'll know more once we get to review this.
One final aspect I will cover here is the IO. The ports are spread out on the sides, because of the convertible format and because the entire back edge is reserved for cooling. More on that in the next section.
There's almost everything you'll need here, with HDMI 2.0b, USB A and C ports, an audio jack, and a micro SD card reader. USB 4.0 support is coming later in the year, once AMD and the USB forums figure out their licensing. A full-size SD card reader would have been nice on this 16-inch chassis, and some sort of Lock.

The Flow X16 is also compatible with the ROG XG mobile dGPU, which you can now get with up to an RTX 3080 or an RX 6850 XT dGPU. You'll find out what to expect from the RTX 3080 XG mobile from this article.

On top of these, the Flow X16 gets an HD webcam with IR, placed at the top of the screen, and dual microphones, but no finger sensor.
Hardware and performance
The Asus ROG Flow X16 tops at an AMD Ryzen 9 6900HS configuration with up to 64 GB of DDR5 memory, up to RTX 3070Ti dedicated graphics with a MUX, and two gen4 SSDs for storage.
These specs are similar to what Asus offer with the 2022 Zephyrus G15, but with a few advantages for the Flow X16 model, such as a slightly higher-power dGPU implementation, upgradeable components with dual RAM + dual SSD slots, a larger capacity 90Wh battery, and what looks like a superior thermal design.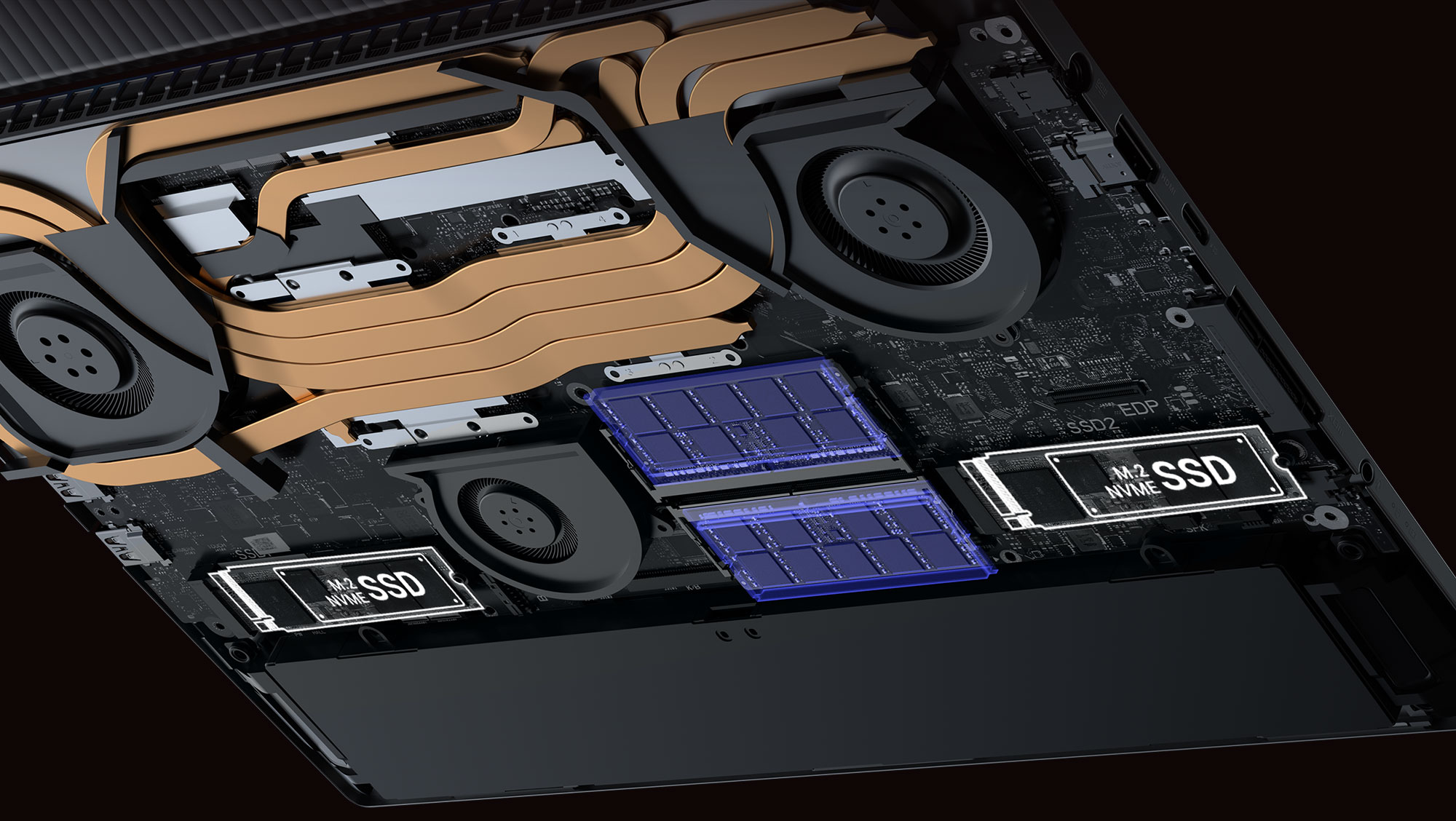 Asus went with a tri-fan cooling module here, with an extra fan in the middle of the chassis meant to pull in fresh air over the components.
Given our experience with the Flow X13, I expect the X16 to only have some slim rubber feet on the bottom, as required by the convertible format, and those might choke the fans with the laptop sitting on the desk. The available info kind of suggest to me that the ideal gaming experience is in tent mode with this laptop, with a connected controller, and that could be as a result of the choked fans in laptop mode. These are just my assumptions, though; we'll need to properly test all these in the review.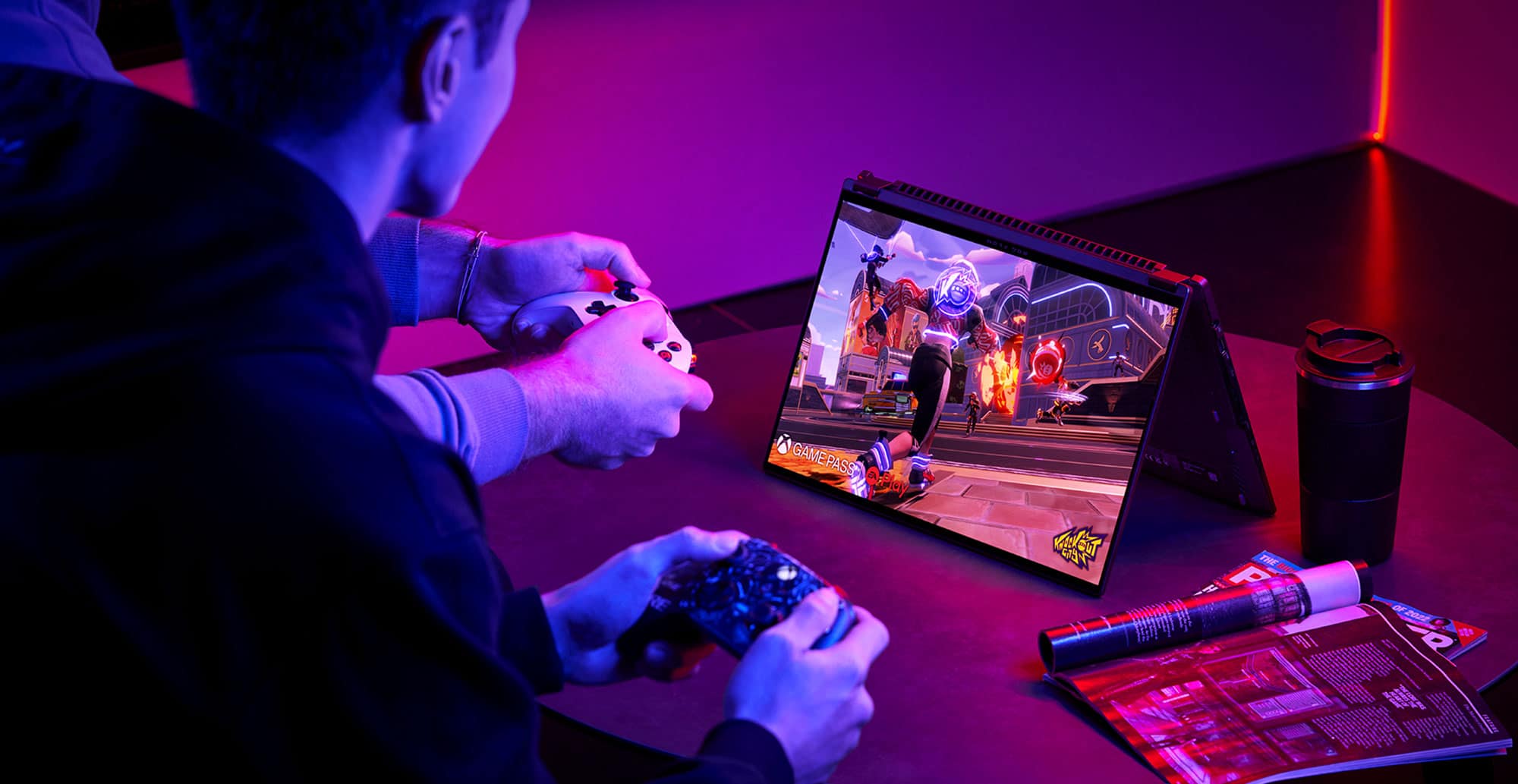 The two main fans still blow the hot air through the radiators placed onto the back and on the right edge, on the GPU side. From what I can tell, the design allows for most of the hot air to escape to the back of the laptop and not blow into the display.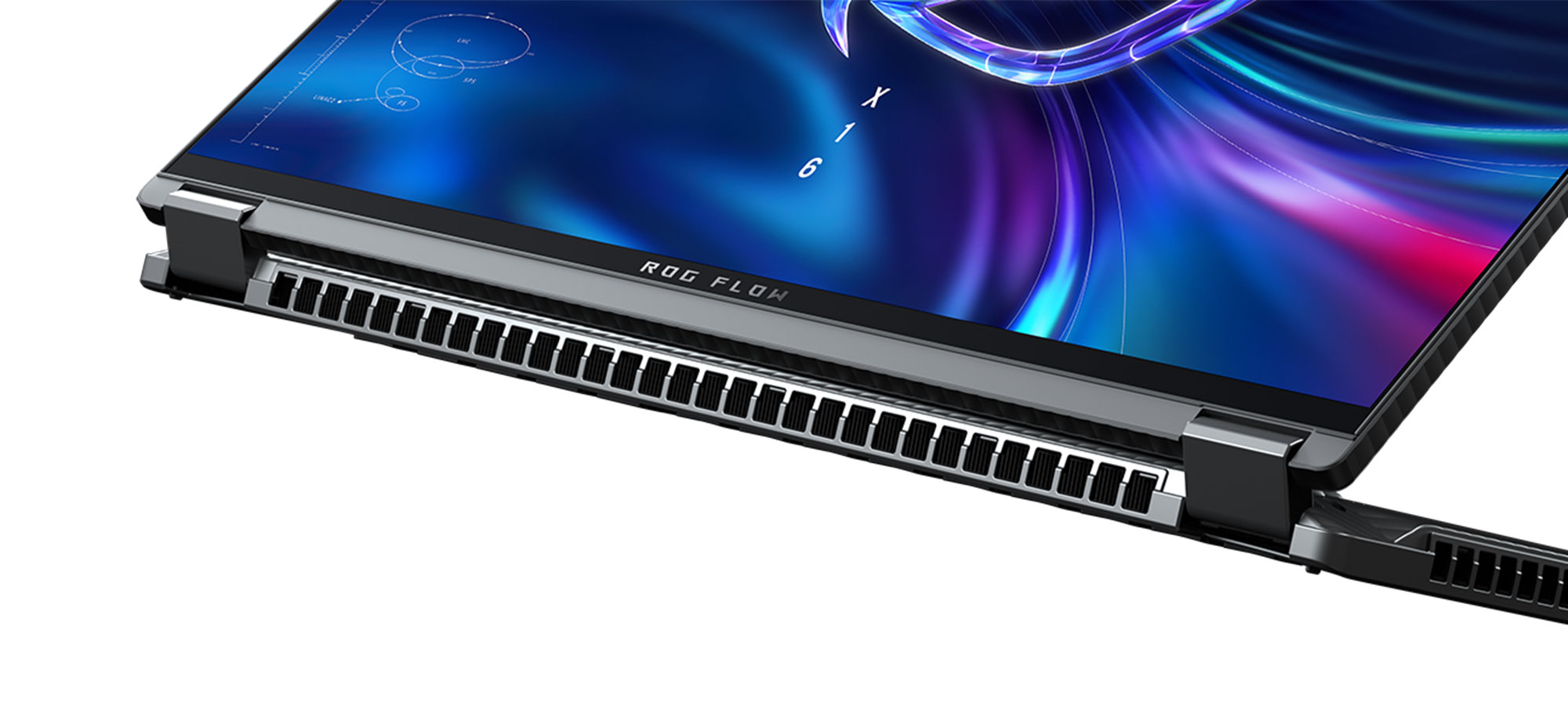 Alongside the third fan, the novelty of this design is a dense radiator implemented across the entire backside of the laptop, with some passive heatpipes connected to it.
According to Asus, all these combined allow the hardware inside the Flow X16 to run at quieter noise levels than if they had gone with a standard dual-fan triple-radiator cooling. I'm still filling up the blanks on these exact noise levels, though, as well as on the power settings that Asus will allow on this laptop. I'll update.
We do know that the GPU can run at up to 125W with Dynamic Boost, but we don't have the exact settings for combined CPU+GPU power. I would expect 60-80W sustained in CPU loads (update: Jarrod mentions up to 90W on his unit – video down below, but I'm not sure if that's peak or sustained) and around 140-150W combined, based on what the Zephyrus G15 and M16 are capable of, with whom the Flow X16 shares many design cues.
These would allow combined performance and gaming numbers similar to those recorded in our Zephyrus M16 review, but accounting for the slightly lower capabilities of the AMD platform compared to the 12th gen Core i9 in the M16. We have reviewed the Ryzen 9 6000 processor in the ROG Zephyrus G14 and the full-size ROG Strix G15, though, if curious how it fares against that i9.
I would also expect lower temperatures and/or quieter fans than on the M16 here, as long as this will be placed over a cooling pad or have the back bumped up from the desk in order to allow proper airflow into those fans. With the laptop sitting on the desk, thermal and overall performance throttling might occur, but we'll know more once we get to properly test this.
Pricing and availability – ROG Flow X16
The Flow X16 si already listed in stores in some parts of the world.
The Ryzen 9 + RTX 3060 + 16 GB RAM + 1 TB SSD is available at BestBuy in the US for under $2000, but currently out of stock.
At the same time, prices in Western European markets are expected at around 2500 EUR, but not sure for which exact configuration.
I'll update once we know more. In the meantime, follow this link for the latest updates in your region.
Early Conclusions on the Asus ROG Flow X16
As far as I can tell at this time, the Flow X16 is a potentially popular addition to the ROG lineup.
Its main selling points are the format, the screen options, the powerful specs for the class, and the unique thermal module that should allow for solid performance with lower fan noise levels than other designs. However, the overall performance/thermals/noise-levels trifecta is going to play a crucial role in determining the overall worth of this series in comparison to the clamshell Zephyrus models, alongside pricing and availability.
I'm looking forward to spending more time with this for the review, and sharing my findings with you.
Update: In the meantime, our full-reviews of the Asus ROG Flow X16 series are available here, both the RTX 3070Ti and the RTX 3060 models.
For now, that's about it for this short first look at the 2022 Asus ROG FLow X16 GV601 series. Let me hear your impressions and feedback on this lineup down below, in the comments section.
Disclaimer:
Our content is reader-supported. If you buy through some of the links on our site, we may earn a commission.
Terms
.