Even though I just got done reviewing the Razer Blade Pro 17, that doesn't stop the folks at Razer from keeping their models up to date.
Today, Razer has announced that the Razer Blade 17 is getting an update, and it's not just the CPU.  In fact, even the name changed – dropping the Pro moniker.
Not only is the new Razer Blade 17 getting the 11th Gen Intel processor, but the models are getting more screen options, the GPU is getting a significant boost and even the chassis is getting a new feature.
The chassis dimensions and weight aren't changing, which is fine because it was already pretty thin.  But they are adding a fingerprint-resistant coating to the aluminum finish, which should help keep it cleaner.  I've been using this on the new Razer Blade 15 Advanced for the past week and it's pretty good so far.
Razer Blade 17 mid-2021
Screen
17.3 inch, matte, multiple choices including
FHD 360 Hz with 100% sRGB
QHD 165 Hz with 100% sRGB and QHD 240Hz with 100% DCI-P3
UHD 120 Hz with 100% AdobeRGB and touch
Processor
up to Intel 11th Gen Tiger Lake i9-11900H CPU, octa-core, 65W PL1
Video
up to NVIDIA GeForce RTX 3080 with 16GB GDDR6 VRAM (115-130W with Dyn Boost)
Memory
16 or 32 GB DDR4-3200 (2× DIMMs)
Storage
dual M.2 PCIe gen4 slots, with RAID support
Connectivity
Intel AX210 Wifi 6 and Bluetooth 5.2
Ports
3x USB-A 3.2 gen2, 1x USB-C with Thunderbolt 4(PD 3.0 charging support), 1x USB-C 3.2 HDMI 2.1, mic/earphone, 2.5GB ethernet, UHS-III SD card reader
Battery
70.5 Wh, 280 W charger
Size
395 mm or 15.55" (w) x 260 mm or 10.24" (d) x 19.9 mm or .78" (h)
Weight
2.75 kg (6.06 lbs)
Extras
individually lit RGB keyboard, Windows Hello HD webcam, stereo speakers, Kensington lock
Update: Here are our thoughts on the updated 2023 Razer Blade 16 and Blade 18 designs, which are larger and heavier, but also significantly more powerful. Our full review of the Razer Blade 18 is available here.
Regarding the screen choices, there are actually four now: 165Hz QHD, 360Hz FHD, 240Hz QHD, and 120Hz UHD.  It's very likely that 120Hz UHD panel will have the slowest response time, but it's 100% aRGB and touch-enabled, so it's aimed for content creation.
But the other three panels all have features that most gamers can tailor to their liking.  The 360Hz FHD screen has the lowest resolution and a fast 3ms response time, so it'll be ideal for FPS shooters.  That panel will have 100% sRGB coverage.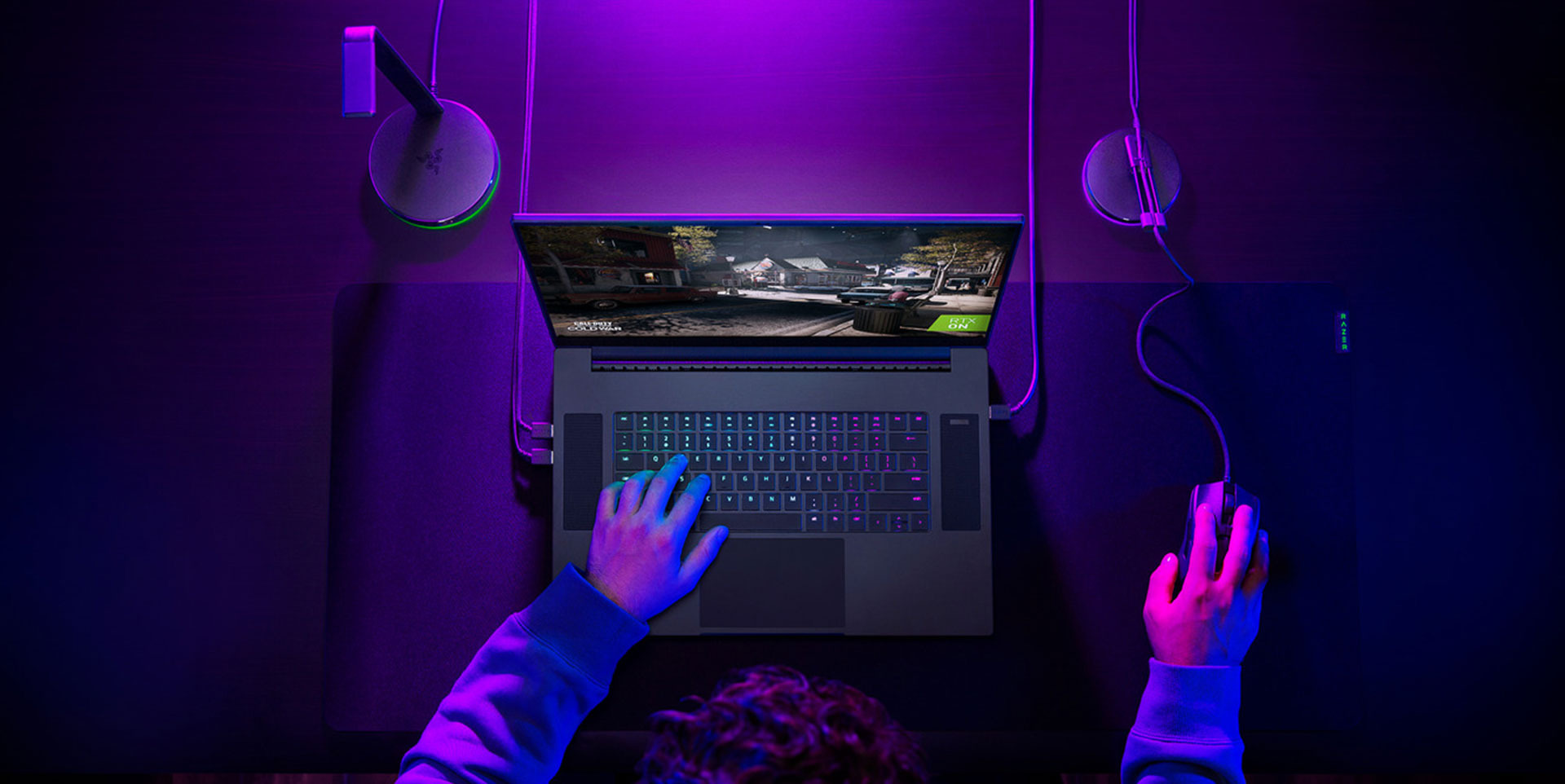 The QHD screens have two frequency options, but the 240Hz is going to be 100% DCI-P3.  The 165Hz panel will likely be the same panel I reviewed in the model earlier this year.  So I'm really excited to see this QHD 240Hz panel, as I think that would be the ideal choice for almost everyone.
These aside, the most significant update for the new Razer Blade 17 is going to be the power upgrades.  Not only is the CPU getting updated to the i7-11800H (or i9-11900H for the top model), Razer is also increasing the PL1 levels to 65W, so the performance will not be held back as much as it was in the past.
The Nvidia GPUs TGP is being increased as well, now boosting at 130W.  So the performance on the Razer Blade 17 should be significantly higher than that on the smaller Blade 14 and Blade 15-inch models, which only boost to 100W.  Good news there.
I did ask Razer how this was possible and was told that there is no significant change to the cooling chamber, but their engineers realized that they had more headroom on this model to increase the power settings anyways.
If you're thinking, but what about the early 2021 Razer Blade 17 Pro models, unfortunately, Razer did say that those models will be locked at their current TGP for the time being.
Another notable change includes two more upward-firing speakers.  This is something I've been hoping for some time – better sound.  Not that their previous speakers were bad, but with the real estate in the 17" model, they could have done better.  And they did, so hopefully, it is noticeable.
There's also an "improved trackpad" which I'm not sure was even necessary.  It was already good to begin with but Razer says they improved the palm rejection on this model.  Perhaps they were getting complaints on the previous version that they wanted to address.
Finally, the webcam is being updated to a FHD version.  It's still the same size and Windows Hello enabled, but the image quality should be sharper.  Either way, we'll see all this in our review unit which hopefully will be in the next few months.
Preorders open in mid-July with prices starting at $2399 for the 3060 version.  The RTX 3070 models will start at $2799 and the RTX 3080 will start at $3299.  Of course, these prices will change depending on the screen and RAM configuration you choose as well.  Here's a link to some listings on Amazon.
I'm looking forward to seeing how well this performs with the new power limits.  This definitely closes the gap between it and the new Asus Zephyrus S17, which Andrei is currently wrapping up a review on.  That laptop has similar dimensions and weight, but with a very high TDP/TGP due to the unique thermal solution they use.  So it'll be very interesting to see how this performs in comparison, especially with the prices being very similar. Check out the review for more details.
Disclaimer:
Our content is reader-supported. If you buy through some of the links on our site, we may earn a commission.
Terms
.