Dell recently announced the Alienware X15 and Alienware X17 lineups of slim performance/gaming laptops, and I wanted to quickly go over these, as they seem to be some of the more powerful portable notebooks of this generation, mostly thanks to their complex thermal module with no less than four high-capacity fans.
But I do have some nits with these designs, based on the available information.
This complex thermal design allows Alienware to put high-power Intel 11th gen CPUs and Nvidia graphics inside, up to a Core i9-11900HK and an RTX 3080 that goes up to 110W in the 15-inch model, and up to 165W in the 17-inch model. That's more powerful than what most other OEMs put in their full-size 17-inch products, such as the MSI GE76 Raider, for example, so this cooling module has some very large shoes to fill in these slimmer products.
At the same time, though, most of the left and right edges are reserved for radiators and cooling on these laptops, and that means the IO is mostly sent on the back.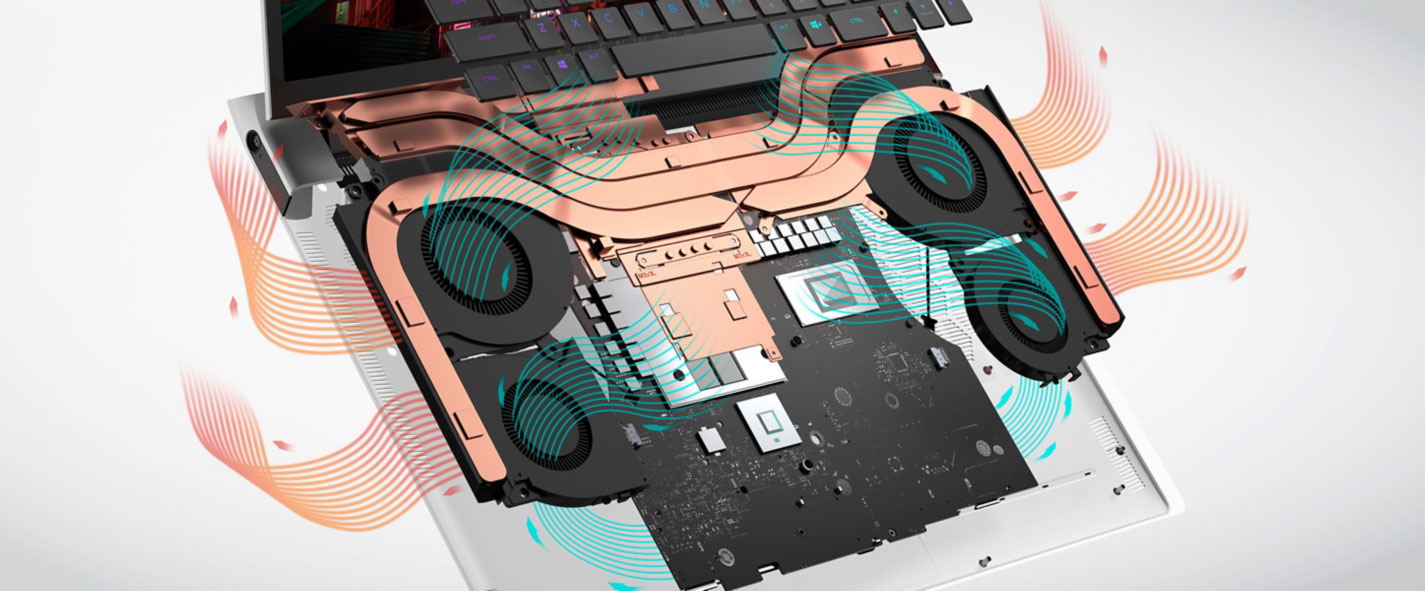 For some reason, you're only going to get a single USB-A slot, 2x USB-Cs, a microSD card reader, and an HDMI 2.1 port on the 15-inch model, while the 17-inch variant squeezes in an extra USB-A, DP 1.4 and LAN.
The PSU is placed on the side on both, on the left edge, and the 3.5 mm jack is on the right, at the back of the laptop, both rather inconveniently positioned as far as I'm concerned.
2021 Dell Alienware X15
2021 Dell Alienware X17
Display
15.6-inch, 16:9, non-touch, matte,
FHD 165/360 Hz or QHD 240 Hz with 100% DCI-P3,
with Advanced Optimus and GSync
17.3-inch, 16:9, non-touch, matte,
FHD 165/360 Hz or UHD 120Hz with 100% AdobeRGB,
with either AdaptiveSync or Advanced Optimus(GSync)
Processor
Intel Tiger Lake Core H, up to Core i9-11900H, 8C/16T
Intel Tiger Lake Core H, up to Core i9-11980HK, 8C/16T
Video
Intel Iris Xe +
up to Nvidia GeForce RTX 3080 Laptop 8GB (up to 110W with Dyn Boost)
Intel Iris Xe +
up to Nvidia GeForce RTX 3080 Laptop 16GB (up to 165W with Dyn Boost)
Memory
up to 32 GB DDR4-3200, onboard
2x DIMMs, up to 64 GB DDR4-3200
Storage
2x M.2 PCI x4 slots
2x M.2 PCI x4 slots
Connectivity
WiFi 6 (Killer) 2×2 with Bluetooth 5.2
WiFi 6 (Killer) 2×2 with Bluetooth 5.2, Killer 3100G Etherner
Ports
1x USB-A 3.2 gen1, 1x USB-C with Thunderbolt 4, 1x USB-C gen2 with video, data and charging,
HDMI 2.1, microSD card reader, headphone&mic
2x USB-A 3.2 gen1, 1x USB-C with Thunderbolt 4, 1x USB-C gen2 with video, data and charging,
HDMI 2.1, DP 1.4b, microSD card reader, LAN, headphone&mic
Battery
87 Wh, up to 240 W power adapter
90Wh, up to 330 W power adapter
Size
359 mm or 14.16" (w) x 257 mm or 10.9 (d) x 15.9 mm or .63" (h)
399 mm or 15.7" (w) x 299 mm or 11.8 (d) x 21 mm or .82" (h)
Weight
from 2.27 kg (5 lbs)
from 3.05 kg (6.7 lbs)
Extras
rubber-dome RGB backlit keyboard, dual speakers ??, HD webcam
mechanical RGB backlit keyboard with CherryMX switches, dual speakers ??, HD webcam
Update: Here's our coverage of the newer Alienware X16 2023 model, which slots in between the 15 and 17 inch variants available in the past.
Furthermore, the oversized thermal module adds in weight, and while these are slim laptops (16 mm for the X15 and 21 mm for the X17), they're also fairly large, as you can tell from the bezels around the screens, and heavy: from 2.3 kilos (5 lbs) for the X15 and 3.05 kilos (6.7 lbs) for the X17.
That puts these Alienware models outside the range of most ultraportable performance laptops (such as the Razer Blade 15 or the Blade Pro 17/MSI GS76 Stealth/Asus ROG Zephyrus S17), and could make them a tough choice for those of you looking for a baggable and comfortable to lug around product.
Bottom point, looks to me like we will be compromising on the IO and weight/size with these products, and hopefully, these quirks will be compensated by the overall performance.
I'm also highly curious about the impact that thermal module will have on temperatures and noise levels. Best case scenario, Dell are able to get solid temperatures without having to spin those fans loudly, thanks to the extra fans, radiators, and heatpipes. Worst case, those fans will ramp up a fair bit in order to cope with that hardware inside these slimmer designs, and that could lead up to a lot of noise. I'm rooting for scenario A, but I'm a bit skeptical of this whole approach that no one has done on slim performance notebooks so far.
I should also add that Dell's marketing materials mention a couple of other aspects they've implemented on this thermal design that they're calling the Alienware Cryo-Tech cooling technology. Among those, they implemented high-capacity VRMs for the CPU (6-phase on both) and GPU (8 phase on the X15, 12-phase on the X17), ample intakes at the top of the keyboard and bottom of the laptop, an array of IR sensors that help the software control the fans' behavior under load, and an enhanced thermal interface, a Gallium-Silicone liquid metal compound used to transfer the heat from the components to the thermal plates. We'll see how all these add up in real life.
Now, specs and cooling aside, the Alienware X15 and X17 notebooks undoubtedly follow in the footsteps of existing Alienware products, with similar design lines, branding accents, and customizable RGB elements. Both are available in white and dark-gray variants.
There are, however, some important differences between the two variants when it comes to screens and input options.
FHD and QHD fast-refresh panels are available for the X15, with DCI-P3 color coverage on the QHD version and Advanced Optimus and GSync support on all. FHD and UHD panels are available for the X17, most of them with Advanced Optimus, with the exception of the UHD 120Hz option, which btw is 100% AdobeRGB 500-nits and 4 ms, so excellent for both creative work and gaming. Expensive as well, though.
For the keyboard, the X15 gets a rubber-dome keyboard with 1.5 mm of travel and per-key RGB lighting. The secondaries are not lit.
The X17, on the other hand, gets Dell's CherryMX optical-mechanical switches, arguably the best such switches currently available on mobile products, with 1.8 mm of travel and excellent feedback. They're also per-key RGB, except for the non-lit secondaries. That aside, both the X15 and the X17 are available with an optional RGB clickpad (on the 3080 configurations), a reminiscence of past Alienware models. Not my thing, but might be yours.
There are some grills flanking the keyboard on both model, and I was thinking maybe they've put speakers there, but I think those are intakes for the side heatpipes, and the audio-only fires through the front lip. One more thing sacrificed for that cooling?

Finally, as far as the availability goes, the Alienware X15 starts at $2,000 and the X17 at $2,100, and both will ship from June 15th. 3080 configurations go for 3000+ on both.
Now, the Alienware x17 is by far the more interesting of the two variants here, because of those powerful GPU options, the Cherry MX mechanical keyboard, the more ample IO, and the good screen options. It's all coming down to that thermal module though and whether it can deliver a more consistent experience than the dual-fan variants available in more compact and lighter 17-inch products.
The X15 makes less sense, very little I would say. It's heavier and larger than the competition without a significant CPU/GPU advantage, since most performance 15-inch ultraportables offer up to 100W RTX graphics these days. It also lacks the CherryMX keyboard available on the X17, so I'd reckon it would need to be aggressively priced for customers to pick it over something like a Blade 15.
To wrap this up, I'll advise you to wait for detailed reviews if you're interested in any of these products. We'll most likely not have them here on the site, since we're not on Dell's good graces for review samples, and I don't think getting one of these just for review is worth it for us. I'd love to hear your thoughts on them in the comments section down below, though, if you end up getting any of these.
Disclaimer:
Our content is reader-supported. If you buy through some of the links on our site, we may earn a commission.
Terms
.