While you'll find many excellent compact ultrabooks out there, some of you still favor full-size 15-inch or 14-inch laptops with larger screens and enough power to smoothly handle daily tasks, workloads, and even games.
And here's where this article comes in handy. Over the last 10+ years, we've tested here on UltraBookreview.com most of the laptops ever launched, of all kinds, and from all brands, and in this article I'll tell you which are my favorite 14 and 15-inch ultraportable laptops available in stores these days. We'll also cover the newer format 16-inch laptops in a future article.
To make it easier for you to find the device that best suits your needs and budget, I've split the article into a couple of sections:
You'll find a selection of units in each of these sections, with links towards our detailed reviews and Amazon pages where you can find user reviews and updated configurations/prices for each specific model. Our content is user-supported and buying from our links allows us to continue to provide useful articles and reviews such as this one.
The Thinnest and Lightest 14/15-inch ultrabooks
While I wouldn't primarily recommend going for the lightest and especially the thinnest laptop in a specific class without accounting for everything else, in here we'll just touch on these ultraportable 14 and 15-inch models and talk about their particularities and potential quirks to consider.
The main issue with ultra-lightweight laptops is that some of the OEMs tend to sometimes sacrifice the build quality, features, and battery size in order to get their products under a certain weight limit.
The same happens on the thinner models, and that's even more problematic if you're looking for a thin performance/gaming notebook, as the thinner they go the less space is available inside for the components and the thermal designs required to run those components at full-blast in sustained loads.
So with that in mind, here's a list of the lightest 14 and 15-inch options currently available. I've set the limit at 1.15 kilo (2.5 lbs) for the 14-inch ultrabooks and at 1.35 kilos (3 lbs) for the full-size 15-inch laptops, and we're covering more options in our dedicated article about the lightest laptops in general, available over here.
| | | | |
| --- | --- | --- | --- |
| Model | Type | Characteristics | Weight |
| Acer Swift 7 | Ultrabook | 14″ matte, older Intel Core Y, 32 Wh battery | 1.96 lbs / 0.89 kg |
| Asus ZenBook 14 Ultralight | Ultrabook | 14″ matte, recent Intel Core U + MX450, 63 Wh battery | 2.16 lbs / 0.98 kg |
| Asus ExpertBook B9 | Business | 14″ matte, recent Intel Core U, 66 Wh battery | 2.18 lbs / 0.98 kg |
| LG Gram 14 | Ultrabook | 14″ glossy, recent Intel Core U, 72 Wh battery | 2.2 lbs / 0.99 kg |
| Acer Travelmate P6 | Ultrabook | 14″ 16:10 matte, recent Core U, 56 Wh battery | 2.2 lbs / 0.99 kg |
| Acer Swift 5 15 | Ultrabook | 15.6″ matte, older Intel Core U, 54 Wh battery | 2.2 lbs / 0.99 kg |
| Acer Swift 5 14 | Ultrabook | 14″ matte, recent Intel Core U, 56 Wh battery | 2.27 lbs / 1.03 kg |
| Vaio Z | Ultrabook | 14″ matte up to 4K, recent Intel Core U + Iris Xe, 54 Wh battery | 2.32 lbs / 1.06 kg |
| Samsung Galaxy Book Pro 15 | Ultrabook | 15″ AMOLED glossy, recent Intel Core U, 68 Wh battery | 2.35 lbs / 1.07 kg |
| Lenovo ThinkPad X1 Carbon | Business | 14″ matte/touch, recent Intel Core U, 57 Wh battery | 2.39 lbs / 1.08 kg |
| Schenker Via 14 | Ultrabook | 14″ matte, recent Intel Core U, 73 Wh battery | 2.4 lbs / 1.09 kg |
| System76 Lemur Pro | Ultrabook | 14″ matte, recent Intel Core U, 73 Wh battery | 2.4 lbs / 1.09 kg |
| LG Gram 15 | Ultrabook | 15″ glossy, recent Intel Core U, 72 Wh battery | 2.42 lbs / 1.1 kg |
| Acer Swift 3 14 | Ultrabook | 14″ matte, recent Intel Core U, 48 Wh battery | 2.5 lbs / 1.14 kg |
| LG Gram 16 | Ultrabook | 16″ matte 16:10, recent Intel Core P + Iris Xe, 80 Wh battery | 2.65 lbs / 1.2 kg |
| Samsung Galaxy Book Ion 15 | Ultrabook | 15″ touch, recent Intel Core U, 69 Wh battery | 2.78 lbs / 1.26 kg |
| LG Gram 17 | Ultrabook | 17″ matte 16:10, recent Intel Core P + Iris Xe, 80 Wh battery | 2.86 lbs / 1.7 kg |
Keep in mind that these options are 14-inch and 15-inch ultrabooks built on low-power high-efficiency Intel and AMD hardware platforms, so ideally suitable for everyday chores and light multitasking. On top of that, due to their ultralight nature, many of these tend to get expensive and are not usually the best-value options in their classes, which is a topic we're going to cover in the next section of this article.
As for the thinnest 14 and 15-inch laptops, this info is a bit more difficult to gather together. The Acer Swift 7 14 is still the thinnest Windows laptop in the world right now at less than 10 mm (.39″) in height, but it's an older laptop that compromises on ergonomics, performance, and battery life in order to get that thin and lightweight. In the Chromebook world, the 13-inch Galaxy Chromebook is also about the same 10 mm (.39″) thick, and it's a more viable and competitive option these days, but still sacrifices on battery life in comparison to other modern Chromebooks.
Smaller Windows laptops such as the Apple MacBook 12, Asus ZenBook UX390A, HP Spectre 13, or the Samsung ATIV Book 9 also tackled thinness in their time, a few years ago, but more recently the manufacturers strayed away from what proved to be a disappointing strategy that lead to compromises that users were righteously not willing to accept, as well as very high price tags.
That's why most of the other 14 and 15-inch ultralight models stray away from being as thin as possible these days, most of them averaging between 12 to 17 mm in thickness, which is pretty much the sweet spot for a portable computer that won't significantly cut any corners. For what is worth, the Samsung Galaxy Book Pro is right now the thinnest modern 15-inch laptop that you can find in stores, from what I could find, at roughly 12 mm (.47″) thick on both the clamshell Book Pro and the convertible Book Pro x360 model.
I haven't properly reviewed them yet, but they seem viable ultralight options based on other reviews and buyers' feedback.
The best-value all-around 15/14-inch laptops
This section includes portable all-around 14-inch and 15-inch laptops with modern designs, specs, and features.
Due to the vast number of good options, I'm going to split these between affordable models selling for under $1000, and more premium performance thin-and-lights going for a higher budget, with links to our detailed reviews and articles where you can find more about them.
Affordable options
Among the multitude of mid-range 14-inch ultrabooks out there, my go-to's in the $500 to $1000 segment based on our detailed reviews are the:
Keep in mind that most of these laptops are available in a couple of different versions and certain aspects such as the type of screen, inputs, memory, storage, wireless connection, etc. differ between them, and these differences impact the everyday experience with the laptops.
For example, Asus puts a dimmer display and a mushier keyboard on the more affordable AMD-based ZenBook UM425, and a better screen and keyboard on the more expensive Intel-based ZenBook UX425. We highlight these differences and particularities in our reviews, which you should definitely check out before concluding on your purchase.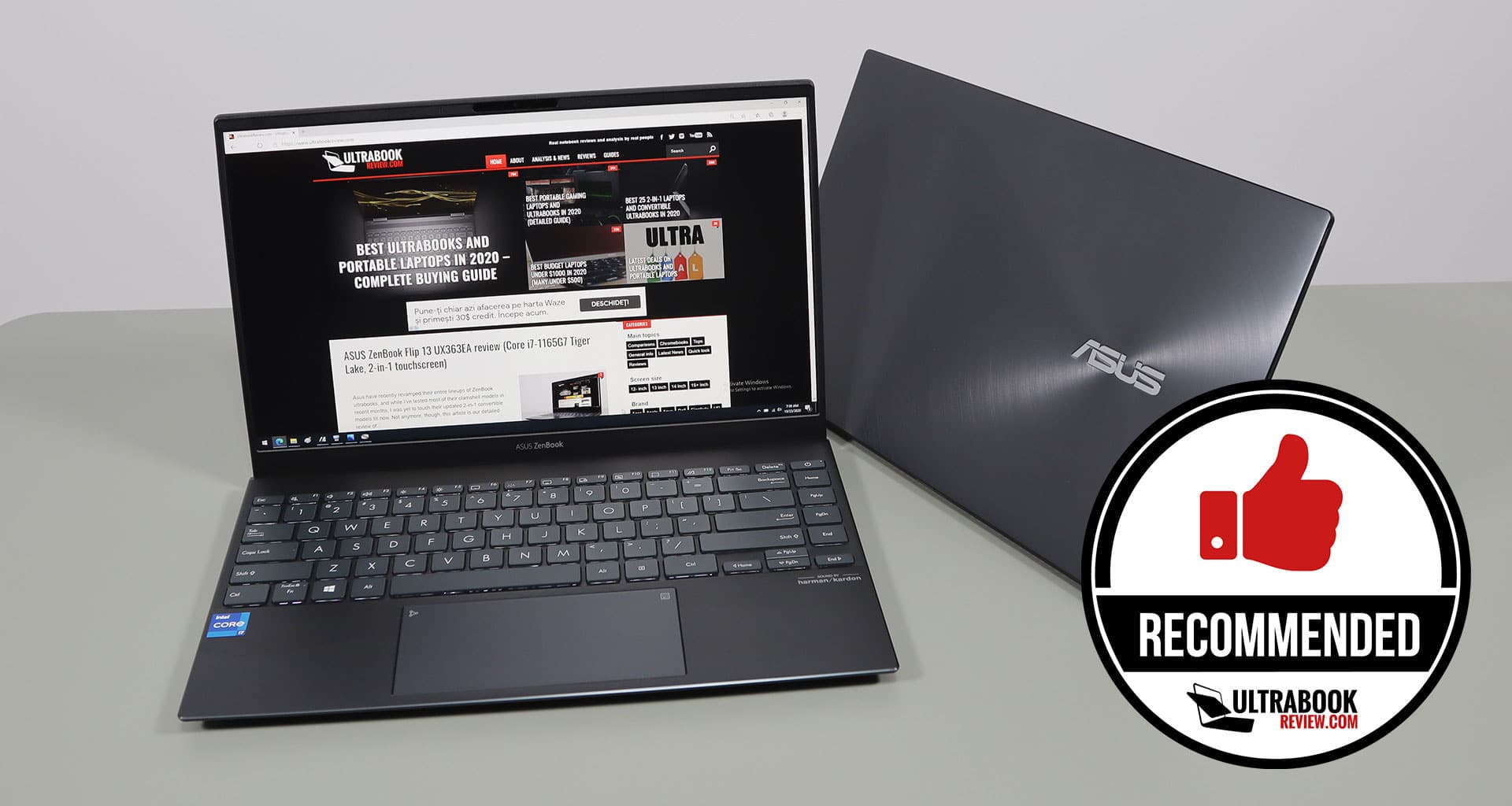 When it comes to affordable full-size 15-inch Windows multimedia notebooks, our recommendations go towards lineups such as the Acer Aspire 5 series, Asus VivoBook 15 X/K series, Dell Inspiron 15 3000, HP Laptop 15, or the Lenovo IdeaPad 3 15.
These are all fairly compact and lightweight computers mostly built out of plastic, and mostly equipped with rather dim and washed-out LED screens. They are available in a multitude of configurations, and preferably I'd aim for at least a recent Intel Core i3 or an AMD Ryzen 3 processor, 8 GB of RAM, and 256 GB of SSD storage on something that you plan to keep for a few years. Athlon/Celeron/Pentium configurations might also be available in the most inexpensive configurations, and most of these are fanless models, but don't offer the same performance and versatility as the Core/Ryzen variants.
If you're willing to go with a Chromebook instead, which are snappy and efficient options for casual use and multitasking, then the Acer Chromebook 715 is an excellent option to consider around $500 to $700 at the time of this update; this gets you a higher-tier metallic construction and an IPS screen, which you'll hardly be able to find on a new Windows notebooks in this class.
Finally, as you expand your budget closer to the $1000 limit you will find a handful of higher-tier 15-inch ultraportables that are more compact, better made, and better equipped than those options mentioned earlier. Among these, I'd consider one of the options shortlisted down below:
Once more, make sure to read our reviews for more details on the potential hidden quirks of these laptops, such as the kind of IPS panels offered in each case and how they handle multitasking and more demanding loads.
I must also add that as of late-2021, OEMs have started to include 16-inch 16:10 screens on many of the laptops that would fall within this sub-niche, such as the Acer Swift 3 16, Huawei Matebook 16, or the Lenovo IdeaPad 5 Pro 16, and we're going to cover those in a separate article.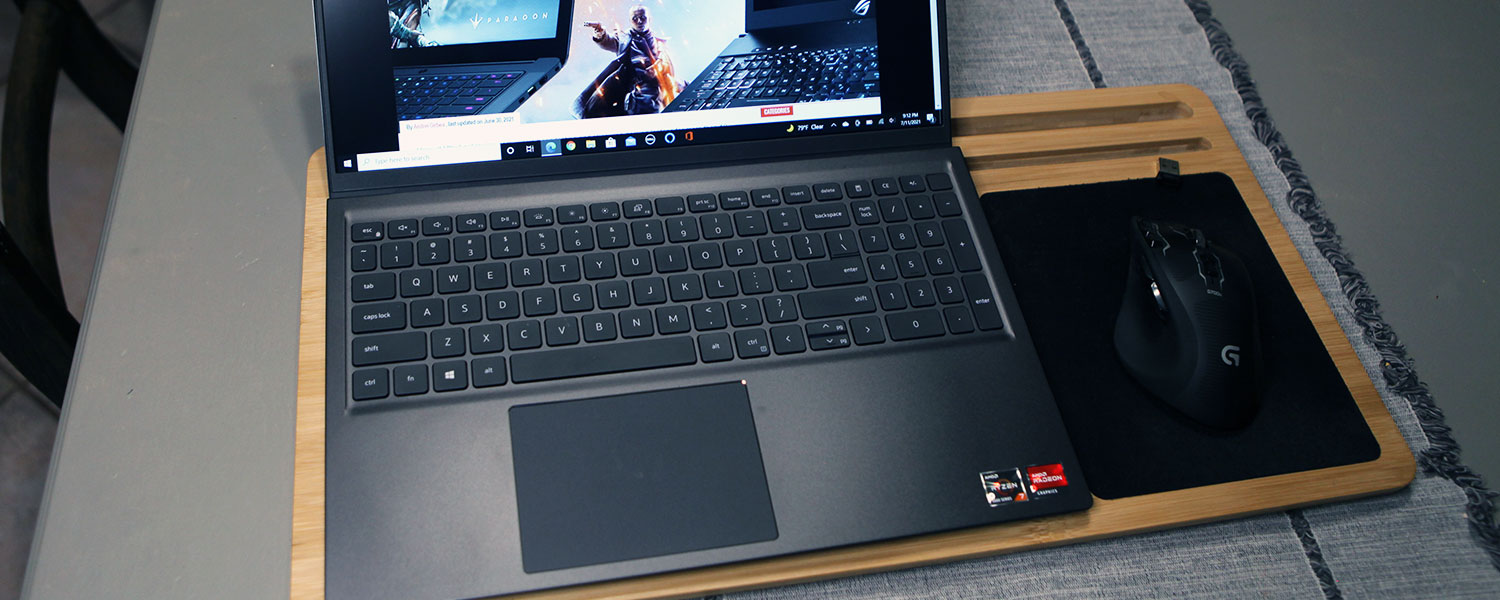 A multitude of higher-quality 15 and 14-inch laptops are available for you when you're no longer limited by a tight budget, and we can mostly split them into two camps: More Portable/ Less Powerful and Less Portable / More Powerful.
First, we'll go over our recommendations in the former subsection, the thinnest and lightest 14-inch  and 15-inch premium notebooks with an emphasis on the compact lightweight form factor, but without sacrificing quality craftsmanship, good inputs and display options, recent specs, or long battery life.
Many of the best business laptops of this generation get 14/15-inch displays, and we will cover these further down in a separate section.
As for the consumer products, I'd take a good look at the premium Samsung Galaxy Book Pro 15 and Book Pro x360 15 ultrabooks, as well as at the LG Gram 15, 16, and 17 series. All these are among the lightest full-size laptops on the market, weighing under or around 3 lbs (1.35 kg), are built on the latest Intel Core U hardware, and offer excellent screens and big batteries. The Galaxy Book series has an edge over the Grams by including AMOLED panel options and a slightly sturdier chassis.
Going slightly up in weight, the Acer Swift X 14 and the Asus VivoBook Pro 14X are two of the most competitive 14-inch laptops available for around $1000-$1200. Both are built on AMD Ryzen hardware with optional Nvidia RTX graphics chips, and the newer VivoBook Pro series offers an excellent OLED screen, a more advanced thermal module, and a bigger battery than what you're getting with the Swift X.
Furthermore, the Lenovo IdeaPad Pro 5/5i series includes a couple of other recommended 14+inch all-purpose mid-range options. This is a classic IdeaPad design but now built on either Intel Core H or AMD Ryzen HS full-power hardware and optional Nvidia GTX/RTX graphics chips, paired with a matching thermal module, a big battery, and a 14-inch 2.8K+ 16:10 display with 400+ nits of brightness, 120Hz refresh rate, and 100% sRGB color coverage.
Follow this link for more details and the latest configurations and prices.
With few exceptions, most of the options above are merely large-sized ultrabooks and not ideal as multi-purpose computers able to also handle professional workloads or maybe even gaming, to some extent. These higher-end professional-grade ultraportables down below, on the other hand, can do all that, as long as you can squeeze them into your budgets:
Gaming and high-performance 15/14-inch laptops
We're not going to cover full-size gaming and performance laptops such as the Acer Predator, Asus ROG, HP Omen or Lenovo Legion series in this article, but we've tested most of those and you'll find our thoughts and impressions in our reviews.
Instead, this section will briefly touch on the portable 14/15 inch gaming units out there, and point you towards our detailed gaming ultrabook buying guide for a more in-depth look at this sub-genre of modern computers.
You can game on many of the units already mentioned in the previous chapters, especially if you opt for one of the RTX 3050Ti configurations with powerful processors. However, the experience will greatly improve once you're willing to step up to a more powerful configuration and a fast and high-refresh display specifically designed for gaming.
The Razer Blade 14 is by far the most powerful 14-inch gaming laptop currently available in stores, configurable with up to a Ryzen 9 processor and an RTX 4090 graphics chip, the kind of hardware normally offered in 15-inch chassis by the other manufacturers. This doesn't come cheap, though, not even in the lower-tier versions with RTX 4060 GPUs.
However, the latest generation of the Asus ROG Zephyrus G14 is a similar configuration now, that can be specced to a Ryzen 9 + RTX 4090 version, but is also available in a multitude of other versions, with more affordable prices. The G14 has another advantage on tis side, and that's the option for a miniLED display with zone lighting on the higher variants, which few other 14-inch laptops offer.  You'll find more about all these laptops from our detailed reviews.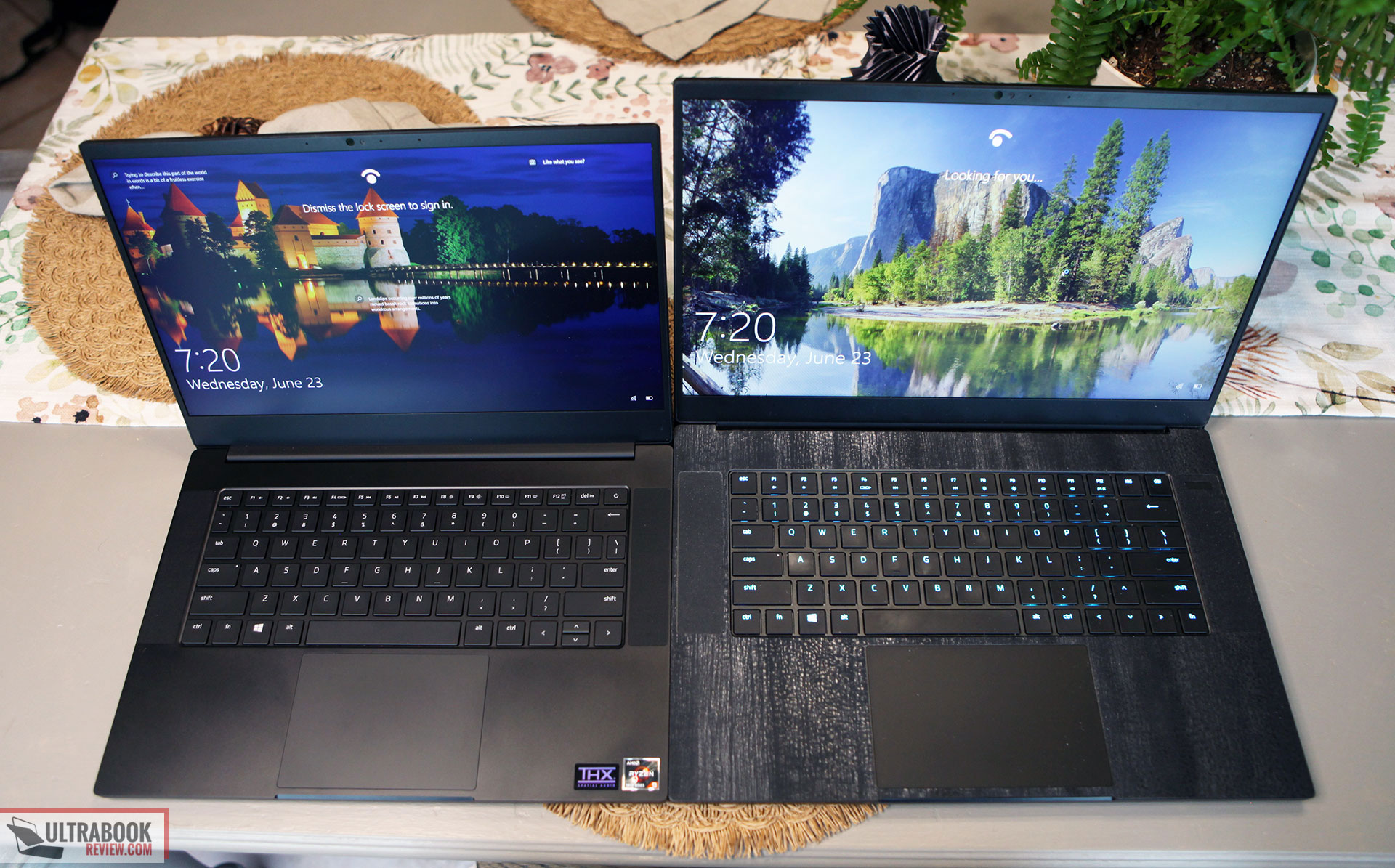 As for the 15+ inch premium performance ultraportables available on the market, I'd advise you to go through our reviews of the following options:
All of these are premium computers with the latest specs and features currently available, pretty much the best each OEM has to offer in a thin-and-light chassis these days. You won't go wrong with any of them, just make sure you understand the particularities and quirks of each series before deciding on one.

Portable 15-inch and 14-inch business laptops
While the laptops in this section are generally referred as "meant for business' and they indeed offer certain features that allow for better security, control and reliability in business environments, they also make for excellent all-purpose options and will attract potential users with studier builds and inputs, better IO, simpler designs, and a few extra nits and bits that might not be available on consumer products. Just be aware that most of these business models are expensive premium options.
Not all of them, though, as in recent year most OEMs have developed some mid-range business lineups alongside their premium tiers. Among those, I'd look at the Acer TraveMate P6, the Asus ExpertBook B5, the Dell Vostro, the HP EliteBook 800, or the Lenovo ThinkBook lineups, in various implementations ranging between 13 to 17 inches in size.
At the other end, the premium business lineups are the Asus ExpertBook B9, the Dell Latitude 7000, the HP EliteBook 1000 and EliteBook Dragonfly, or the Lenovo ThinkPads, which are also available in a multitude of varieties and sub-lineups. Among these, the ExpertBook B9, ThinkPad X1 Carbon, Dell Latitude 7000, and the HP Elitebook Dragonfly are the superlatives of what the 14-inch portable business laptop segment can offer these days.
You'll find reviews of most of these laptops on the site, even if our main focus are primarily the consumer products that regular people can easily find and afford.
Wrap up
There you have it, these are some of the best 14 and 15-inch ultrabooks that you should consider these days. They are thinner and lighter than most regular laptops, they offer the ergonomics and performance required by your daily activities and occasional sustained loads, and they last for quite a few hours on each charge.
You've got plenty of options to choose from, with or without touchscreens, with or without dedicated graphics, with premium builds and features, or more basic and more affordable designs. So if you do want one of these large-format ultrabooks, you should find the right one for you in this article.
However, in case you haven't found what you were looking for, these posts might also help:
I'm constantly updating this list of the best 14 and 15-inch ultraportables and I'm also here to reply to your questions and help you in any way possible, so if you do want to ask something or add to the post, get in touch in the comments section below.
Disclaimer:
Our content is reader-supported. If you buy through some of the links on our site, we may earn a commission.
Terms
.