Earlier in the year, Acer released the Swift X series of mid-range portable laptops with powerful specs, and the 14-inch model (which I reviewed in this article) ended up being very popular in its class, as one of the best-value all-purpose laptops that you can get for around 1000-1100 USD/EUR.
More recently Acer followed up on that compact variant with a full-size model, this time with a larger 16-inch display and built on Intel Core H35 + RTX 3050/3050Ti graphics running at higher power than in the 14-inch model.
I got my hands on an early sample of this Swift X 16, code name SFX16-51G, and will share my findings with you down below. This sample runs on Windows 11 with unfinalized BIOS and software, so we're not getting in-depth on the performance details at this point, but we'll touch on everything else that you should account for when looking at this series, and hopefully upgrade with benchmarks later on.
In just a few words, this is an incremental refinement of the Swift X 14: same metallic build, but in darker gray color, the same type of IPS 100% sRGB matte screen, but a larger size, similar inputs, but with a larger clickpad and a NumPad keyboard sections, same IO, but with Thunderbolt 4 support, same internal design, but with a more advanced cooling module, and the same battery.
These aside, the internal specs are the major differentiator between the two series, with Core H35 CPUs and higher power RTX 3050 graphics on the 16-inch model, and AMD Ryzen U CPUs and lesser RTC 3050 graphics on the smaller version. I'm still looking for a potential AMD configuration of this Swift X 16 as well, but as far as I can tell right now, this series seems to be Intel exclusive.
Specs as previewed – Acer Swift X SFX16-51G
| | |
| --- | --- |
| | Acer Swift X SFX16-51G |
| Screen | 16 inch, 16:9 format, 1920 x 1080 px, IPS, matte, non-touch, Chi Mei N161HCA-EA3 panel |
| Processor | Intel Tiger Lake Core H35, up to Core i7-11390H, 4C/8T |
| Video | Intel Iris Xe + RTX 3050Ti (35-40W) 4GB |
| Memory | 16 GB LPDDR4x-4266 (soldered) |
| Storage | 1x 1 TB M.2 PCIe x4 SSDs (WDC PC SN530) – 2x M.2 2280 slots |
| Connectivity | Wireless 6 AX (Intel AX201), Bluetooth 5.1 |
| Ports | 2x USB-A 3.1 gen1, 1x USB-C with Thunderbolt 4, HDMI 2.0b, audio jack, Kensington Lock |
| Battery | 59 Wh, 90W barrel-plug charger |
| Size | 368 mm or 14.5" (w) x 236 mm or 9.3" (d) x 18.9 mm or 0.74" (h) |
| Weight | 4 lbs (1.8 kg)+ .95 lbs (.43 kg) charger and cables, EU version |
| Extras | white backlit keyboard, HD webcam, stereo speakers, fingerprint reader |
Design, inputs, and screen
As mentioned already, this Swift X 16-inch model is pretty much an oversized iteration of the 14-inch variant already available in stores, with one important design change: this is available in a uniform dark-gray color and with the same matte finishing for the interior, top, and bottom of the laptop.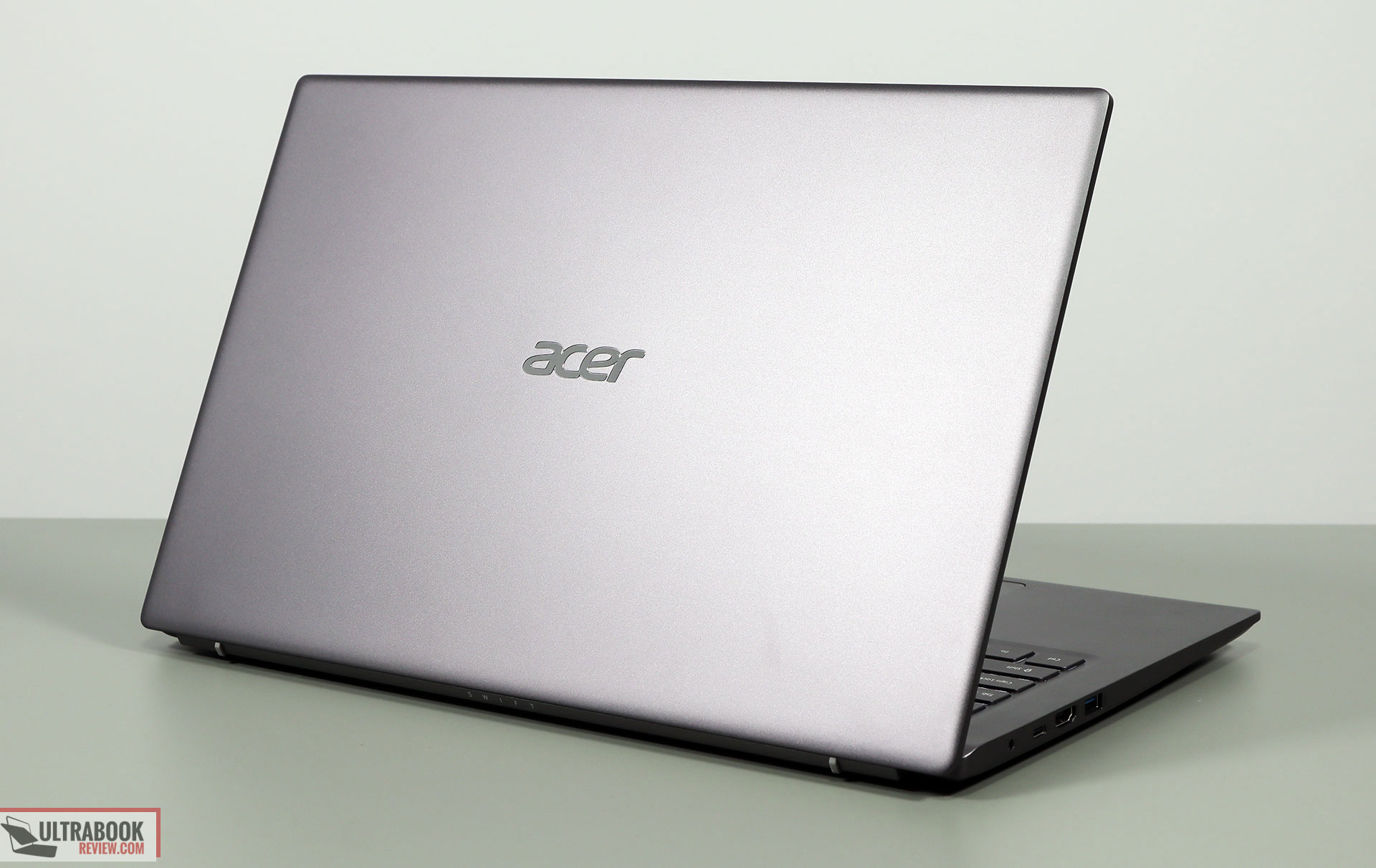 Aesthetically, I much prefer this approach, and I consider this 16-inch Swift X to look nicer and more modern than the smaller Swift X, with its silver/gold exterior.
On the other hand, smudges and fingerprints are more visible on these darker-gray materials, and scratches might also show up easier over time. Nothing happened during my weeks with this unit, but you should still pamper this if possible. Overall, though, I'm OK with the choice of metals here and how they feel with daily use.
Moving on, the Swift X 16 also gets a dark-gray keyboard, which makes the keys much easier to read than the silver keys of the 14-inch model. This might seems like a small change, but made a big difference to me.
Of course, this Swift X 16 is also bigger and heavier than the 14-inch model. It weighs 4 lbs, in comparison to 3.1 lbs of the smaller unit, and the pictures down below show how the two compare in terms of size and design.
I still find this Swift X 16 model to be compact and portable for a 16-inch laptop, and you can especially tell that from the size of those bezels around the screen. Acer went with a 16:9 display format, which leaves a fair chin underneath, but that actually helps this whole design, as a smaller chin would have potentially caused the panel to overheat due to how the thermal module is designed here.
One thing to further add is that Acer also offers a very similar Swift 3 16-inch SF316-51 model in stores, pretty much the same in design with this Swift X 16, but slightly thinner and lighter, as that doesn't get any sort of dedicated graphics. It might be worth considering as well if you're shopping on a lower budget and don't need that Nvidia dGPU.
Ok, back to our Swift X 16, you might have also noticed this extra punctured grill on the 16-inch model positioned at the top of the keyboard. It's used for air-intake, alongside all the extra cuts under the screen. Those are split for intake at the left side of the Acer logo, as you're looking at the screen, and for the radiator and output of hot air for the entire part at the right of the Acer logo.

That means this Swift X 16 uses a similar thermal design to the 14-inch Swift X, with the hot air blown into the screen, and actually implements a larger radiator, as the thermal module inside has also been bumped to include two fans grouped together, this larger radiator and slightly thicker heatpipes. We'll address that further down in the Emissions section.
This whole design also implies that the laptop lifts up when you open up the screen on these smaller rubber feet placed on the bottom of the lid part, in order to allow for better airflow underneath the laptop, into the fans. Acer use hard plastic for these feet, and as a result, the laptop's grip on a flat surface is lacking, much like on the 14-inch model. Furthermore, this design limits the screen back-angle to about 140 degrees, which is OK for desk use, but limiting on the lap.
The ergonomics are fine otherwise. The screen can be easily picked up and adjusted with a single hand, the hinges are stiff enough to properly keep it in place as set-up, without moving or wobbling, the status LEDs are smartly placed on the edge and out of sight, and Acer dulled the front lip and corners so they won't dig into your wrists. Compared to the 14-inch model, this larger variant also offers a more ample arm-rest and better arm support.
The IO is identical between the two, though, which is mostly fine, but I was hoping for perhaps a card-reader here. There isn't any, but you do get USB-A slots, full-size HDMI, an audio jack, a Lock, and a USB-C port with Thunderbolt 4 and support for data, video, and charging, since this is an Intel platform. There's also a finger-sensor on this laptop and a webcam at the top of the screen, but no IR cameras.
Keyboard and trackpad
There's a full-size keyboard on this Swift X 16, with a NumPad section, a layout we've seen before on 15 and 16-inch Acer Swift models.
I'm not a fan of the cramped NumPad area and especially of how the arrow keys are narrower and cramped in on this design, and I for one would have preferred a layout without a NumPad and perhaps an extra column of Function keys at the side instead.
Once you get used to this layout, though, it should be OK. The big upgrade from the Swift X 14 series is that Acer went with dark-gray keycaps here, which are much easier to tell apart when the white illumination is active.
That part is still not great by today's standards, though. It does its job of lighting up the keys in the dark, but light still creeps out quite annoyingly from underneath some of the keys, there's no Caps Lock indicator and you have to press a key in order to restore the illumination once it times out, it doesn't come back on by swiping your fingers over the clickpad. This also means that the keyboard will time out when normally browsing around and using the clickpad unless you press a key from time to time.
At the same time, though, as someone used to short stroke and mushier keyboards, I ended up typing quicker and more accurately on this keyboard than in many other implementations that I prefer in terms of design and layout. This is also a fairly quiet type, so OK for library, class, or office use.
So all in all, even if this is a good match for my typing style, I still feel that Acer need to update their keyboard designs on their future models.
The clickpad is Precision, reliable, and accurate with daily use. It's larger than on the 14-inch model, as Acer made good use of the extra space on this 16-inch laptop, but still made out of plastic, so it doesn't feel as nice to the touch as the glass implementations available on higher-tier products.
I did find this a bit more solid than on the Swift X 14, and less prone to rattling when tapped. The physical clicks are still on the stiffer and clunkier side, though.
As for biometrics, you'll find a dedicated finger sensor on this series, but no IR cameras.
Screen
There's a 16-inch matte screen on this laptop, with a 16:9 FHD IPS panel.
It's an average quality panel and a good choice for a mid-tier laptop, with excellent blacks and contrast, good viewing angles, and color coverage at ~100% sRGB, but only middling max brightness at just shy of 300-nits on this unit. That's fine for indoor use, but might not suffice for bright environments or outdoors. However, I've seen this panel measuring up to 350-nits in some other reviews, so expect some variation in quality and perhaps settings.
Here's what we got in our tests, with an X-Rite i1 Display Pro sensor:
Panel HardwareID: Chi Mei CMN160B (N161HCA-EA3);
Coverage: 98.6% sRGB, 69.9% AdobeRGB, 72.0% DCI-P3;
Measured gamma: 2.11;
Max brightness in the middle of the screen: 295.40 cd/m2 on power;
Min brightness in the middle of the screen: 19.88 cd/m2 on power;
Contrast at max brightness: 1485:1;
White point: 6700 K;
Black on max brightness: 0.19 cd/m2;
PWM: 25KHz under  ~60% brightness.
The panel came well calibrated out of the box, which might be an explanation for the lower max-brightness on this sample, and shows excellent color uniformity in our tests, with only a light deltaE variation in the lower-left corners, but well within acceptable limits. We also noticed a slight pinch that lead to light bleeding in that corner, but otherwise, no complaints.
The article linked above also tested for PWM on this panel in the Swift 3 16, and discovered that PWM is indeed used for brightness levels under 90-nits, which is about the 60% setting, but not for higher brightness levels. Nonetheless, they measured 25 KHz frequencies, which are not detectable by the human eye, so you should not be worried about noticeable flickering here at any brightness.
I will also mention that this is a 60 Hz panel with slow response times, so if you're heavily considering this for its potential gaming abilities, this screen might not cut it for you. In that case, you should also consider some of the mid-tier gaming ultraportables available with higher-refresh or faster panels, both in 15 and 16-inch sizes. Furthermore, if you're primarily considering this for creative image-sensitive work, you should be aware that options with 100% DCI-P3 OLED screens are also available these days in this mid-tier niche, and while OLED panels have their particularities and quirks on laptops, you might still want to at least check out those options for their better blacks, contrast, and colors.
Hardware, performance, and emissions
Our sample is a top-specced configuration of the Acer Swift X SFX16-51G, with an Intel Core i7-11390H processor, Nvidia GeForce GTX 3050Ti graphics, 16 GB of LPDDR4x-4266 RAM, and a fair-quality SSD.
The two M.2 storage slots and the wifi chips are accessible inside for upgrades, while everything else is soldered in the motherboard.
Accessing the internals requires you to remove the back panel, hold in place by a couple of screws, all visible around the D-panel.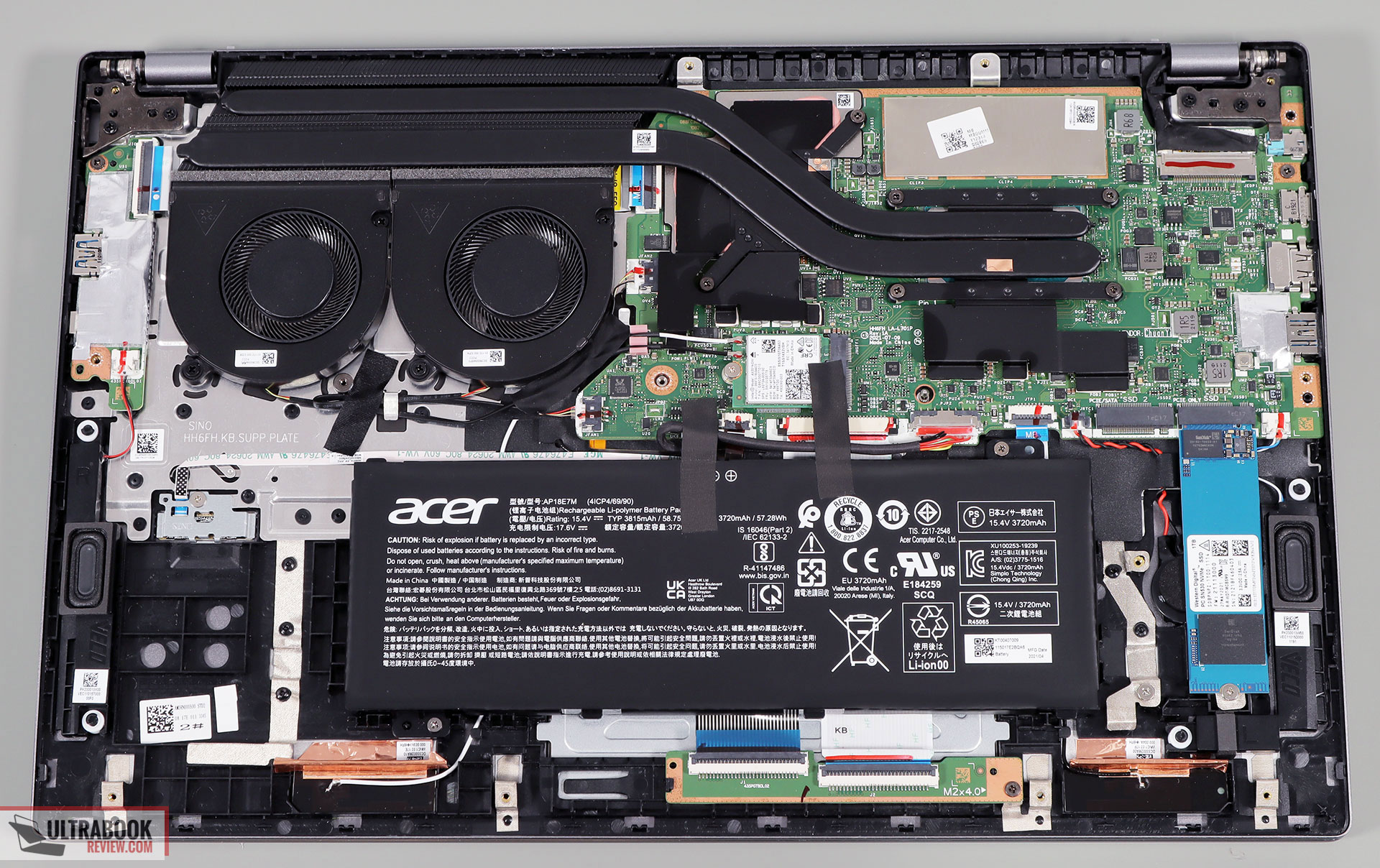 However, this is a pre-release sample running on Windows 11 and pre-launch BIOS and software (V1.00, Nvidia GeForce 472.12 drivers), and it did not perform as I would have expected from this hardware based on our prior experience. More precisely, the GPU in our unit was locked at 35W and abnormally low frequencies, which impacted the performance in GPU loads and games. In fact, our sample seems to be locked in some sort of Eco mode, much like on the Aspire Vero tested recently, which was also running on Windows 11 and pre-release software.
Hence, at this point, I'm not going to get in-depth on the performance tests and numbers, as what we got here is not indicative of what this platform will be able to deliver in the retail units.
I can tell you that the Intel Core i7-11390H processor in this unit easily ran at 35W sustained in the Cinebench loop tests, with temperatures in the mid-60s and the fans spinning at 40-42 dB at head level. That means there's plenty of headroom for Acer to improve the sustained power and performance on a higher-tier profile in the retail units.
Even so, this Core H35 platform is only 4C/8T, and even if excellent in IPC and single-core performance running at 5 GHz on this i7-11390H configuration, it's also not great for multi-threaded loads, where the 6C/8C Ryzen or Intel Cre H45 counterparts available in this space deliver much-improved performance.
Furthermore, we measured quiet fans (40-42 dB) with games and combined CPU+GPU loads, with the CPU running at around 25W and the GPU locked at 35W, for a total of 60W combined. That translated into temperatures of around 65-80 degrees on the CPU and 60-70 degrees on the GPU, which further shows that there's room for the GPU to run at higher power in this design, especially if Acer also pairs those settings with a more aggressive fan profile.
Acer's website actually mentions the RTX 3050Ti would go up to 60W in this laptop, and I'm not entirely sure that's realistic with this sort of design, based on our experience with the other similar laptops with similar specs that we tested. However, 70+W combined would make perfect sense, with 40-50W on the GPU. The Swift X 14 goes to 40W on the GPU and can be physically updated to 50W if you're willing to break your warranty, so this X16 should go higher.
Thermals might end up a little problematic at higher power levels, though, based on our findings on these power-limited settings. That's mostly because the cooling design of this laptop is not ideal imo for a high-power hardware implementation. Sure, it's an upgrade over the Swift X 14, with two fans, a bigger radiator, and a thicker heatpipe, but still not on-par with what a setup with the fans spread out on both sides and the components placed in between would deliver.

This also still mostly draws air from the bottom of the laptop and that tends to suffocate the fans. In our tests, even lifting up this power-limited model from the desk in order to better facilitate air intake lead to a noticeable decrease in internal CPU/GPU temperatures, somewhere around 3-7 degrees.
Furthermore, this design blows all the hot air into the screen, and while the plastic chin soaks up a fair bit of the heat, the actual panel still ends up in the low to mid-40s Celsius in the area right near the radiator. A higher-power implementation would lead to higher internal temperatures and potentially faster-spinning fans, which would then translate in increased chassis temperatures and the panel reaching mid to high-40s and maybe even low-50s, which might not be safe long-term.

*Gaming  – playing Far Cry 5 for 30 minutes,  fans at 40-41 dB
With daily use, on the other hand, this Swift X 16 faired excellently, keeping completely silent with daily use and running cooly. I haven't noticed any coil whine or electronic noises during my time with it.

*Daily Use – streaming Netflix in EDGE for 30 minutes, Better Battery Mode, fans at 0-35 dB
Of course, at this point, you should take these early findings with a lump of salt and look into more detailed reviews of the final units for proper conclusions. I might retest this with later software at some point, but I do have a lot on my plate and can't guarantee I'll get the time to circle back to this one. Perhaps if there's enough interest expressed in the comments section.
Moving on, I'll also mention that there's Gigabit LAN and WiFi 6+ with Bluetooth 5.1 through a fast and modern Intel AX201 module on this laptop, so no complaints here. In comparison, the 14-inch Swift X shipped with a lesser-quality Mediatek chip.
As for the audio, that's still not much, with average volumes in the 75-76 dB at head-level and little bass. No surprise, given this gets the exact same speakers that are also found on the Swift X 14 and most Swift 3 models.
Finally, there's also an OK HD camera at the top of the screen, flanked by microphones. They'll do fine for occasional calls.
Battery life
There's a 59 Wh battery inside this Swift X 16-inch laptop, which is fine for this class and only marginally smaller than some of the competition offers.
Here's what we got in terms of runtimes on our review unit, with the screen's brightness set at around 120 nits (~70 brightness).
15 W (~4 h of use) – text editing in Google Drive, Better Battery Mode, screen at 70%, Wi-Fi ON;
8 W (~7+ h of use) – 1080p fullscreen video on Youtube in Edge, Better Battery Mode, screen at 70%, Wi-Fi ON;
6 W (~9+ h of use) – Netflix fullscreen in Chrome, Better Battery Mode, screen at 70%, Wi-Fi ON;
12.5 W (~4-5 h of use) – browsing in Edge, Better Performance Mode, screen at 70%, Wi-Fi ON.
This is not as efficient as the AMD-based Swift X 14, but still lasts for a fair while with casual use and video streaming. Our Text Editing test is still impacted by this bug that draws more power when using the keyboard, not sure what's that about, but I've seen this happen on a couple of different laptops lately.
The laptop comes with a 90W charger that plugs in via a classic barrel plug. It's a two-piece design with a mid-sized brick and long cables, and a full charge takes about 2 hours. USB-C charging is also possible.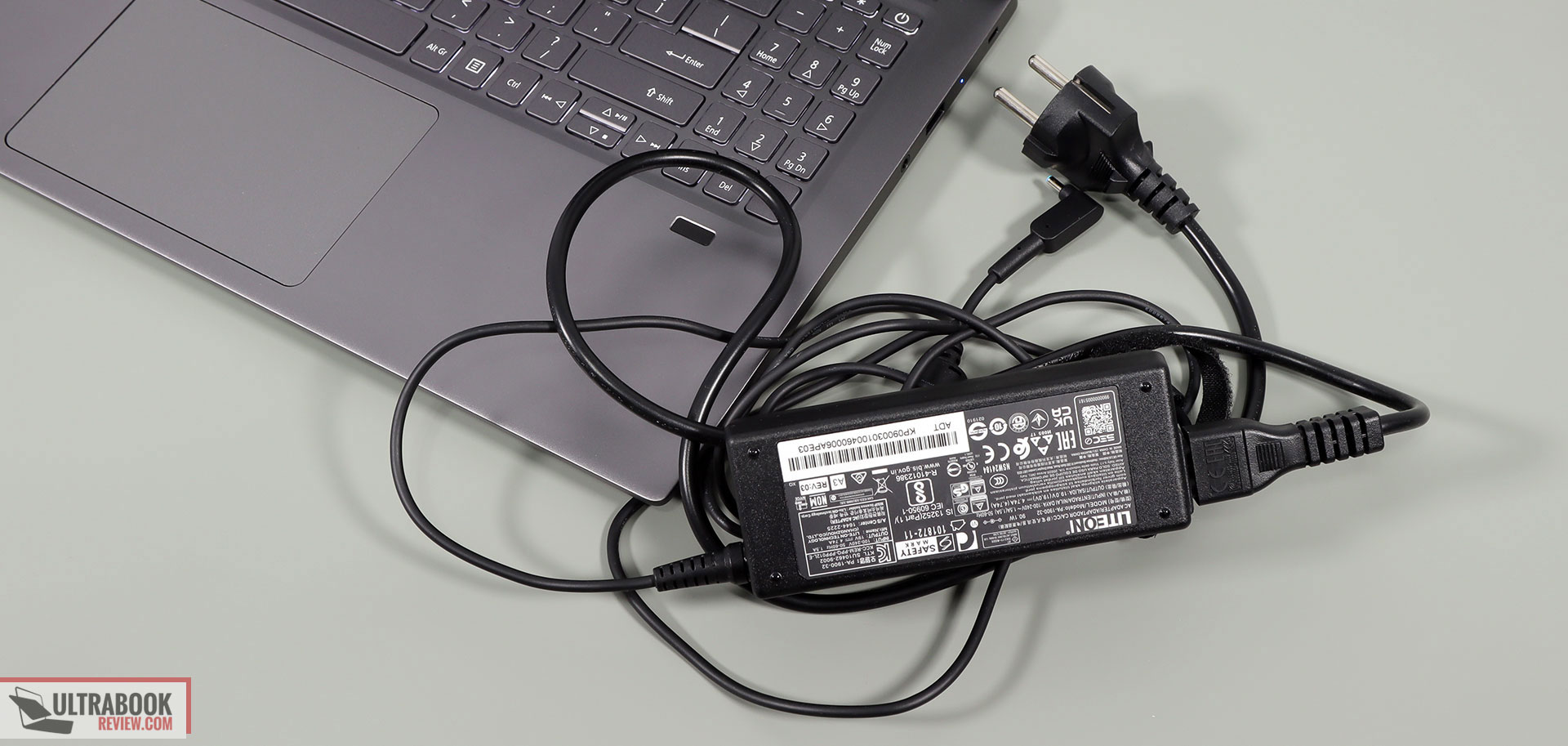 Price and availability- Swift X SFX16-51G
I'm not yet seeing this Swift X 16 in stores in most regions, so we'll need to update in a few weeks.
Update: A few configurations are now listed in stores, with a starting price of 1199 EUR in Germany and 1279 USD in the US. Those seem to be for i5-11320H configurations with standard RTX 3050 graphics and 16 GB RAM/512 GB SSD. That seems rather steep to me, but we'll have to wait for a few more details before drawing any conclusions on the competitiveness of this series.
In the meantime, follow this link for updated configuration/prices in your regions, as well as more details.
Final thoughts
If priced right, this 16-inch Swift X 16 might meet the success of the smaller 14-inch Acer Swift X, which ended up highly recommended and popular among buyers and reviewers in its class of mid-tier compact performance laptops.
However, the Swift X 14 is most popular in the US, where it is aggressively priced, and less so over here in Europe or the UK, where the higher-specced configurations sell for a fair bit more. Based on the few listings available so far, that might be the case for the Swift X 16 as well.
Regardless, there are a few reasons why you might want to go with this 16-inch model over the smaller unit: it looks more modern and it's arguably more practical with the dark-gray design and keyboard, it offers a larger display with still a good-quality panel, it's well built and still fairly portable for its class, and it's potentially a better-balanced performer than the 14-inch model, with an advantage in daily multitasking and GPU-heavy loads. Oh, and the higher-power hardware in this Swift X 16 is backed up by a more advanced internal cooling module.
At the same time, this Swift X 16 series seems to be Intel H35 exclusive, and that alone might steer some of you away. I for one find this platform to be competitive for anything that doesn't require top multi-threaded performance and a good match for a mid-tier 3050/3050Ti dGPU. It also ran efficiently with daily use, but it's still not a match for the AMD hardware at that end.
All in all, I'd suggest looking into more reviews for a better picture of the performance this Swift X 16 series is capable of in the retail units, and then consider your needs and options available locally within your budget.
This Acer Swift X 16 laptop might end up a viable all-purpose choice for some of you, but at the same time, it might not. Those of you looking for either an AMD platform, a viable gaming portable laptop, or even a modern creator laptop with an excellent display might find better value with some of the alternatives out there, both in Acer's lineup or from competing OEMs. This article on the best full-size portable laptops should be a great way to further research those options.
That wraps up my take on this Acer Swift X SFX16-51G. I might come back to this and update the Performance section for a proper review, once Acer starts selling these in stores and releases the final software, but only if there's enough interest from you. Let me know in the comments section down below, and I'm also interested in your feedback and thoughts on this series.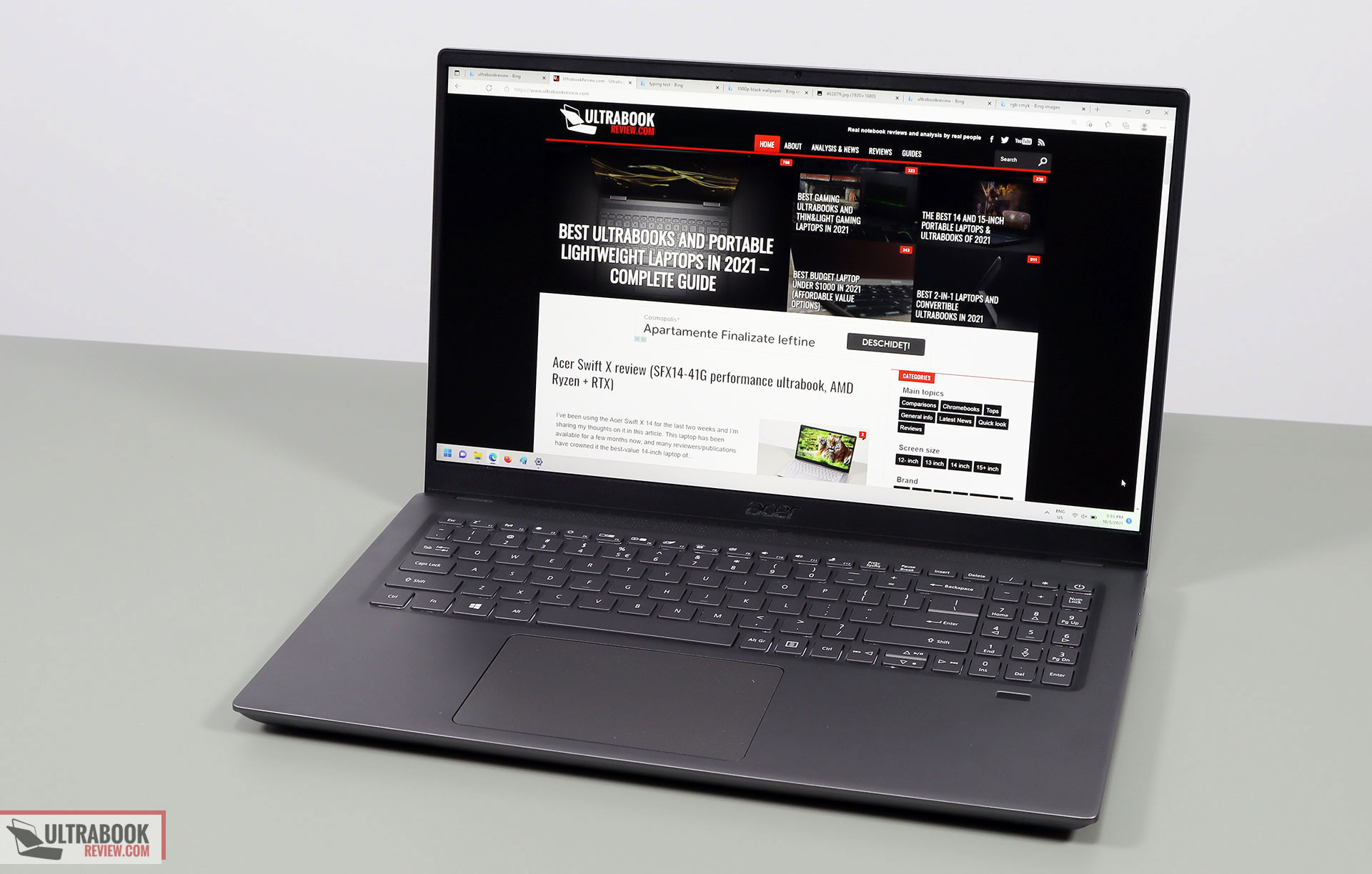 Disclaimer:
Our content is reader-supported. If you buy through some of the links on our site, we may earn a commission.
Terms
.