Looking for a good-value laptop and portable ultrabook and don't plan to spend an arm and a leg for it? In this article, we're going over the best budget laptops and ultrabooks that you can get for under 1000 USD (or EUR) these days, based on our 15+ years of experience in reviewing and testing notebooks.
The article is mostly about portable lightweight ultrabooks in both price segments, but I've also touched on 2-in-1 convertibles and some performance/gaming models that can also handle gaming and demanding work/school chores, especially in the sub-$1000 category. Also, while we are primarily looking at options available in North America and Europe, the article is relevant no matter where you're living, just be aware that the prices might differ in your region.
And of course, keep in mind that the lower the budget, the more compromises you'll have to accept, and I'll briefly explain these compromises in each case, so you'll know what to expect.
With that in mind, let's have a look at the best budget laptops you can get these days. You can go through the entire article or jump straight to the section of interest:
Best-value laptops under $1000 in 2023
There are many good-value laptops selling for between 500 and 1000 bucks these days, and we're going to mention the better ones in this section. In this budget, you can either look at full-size laptops with fairly powerful specs, at mid-tier compact ultrabooks, not as powerful, but a lot more portable and overall nicer made, or at something in-between. We'll cover all three sub-classes down below.
Portable ultrabooks under $1000
If you're after a premium compact ultrabook, $1000 can get you base-level versions of some of the best options on the market, such as the ultra-compact Dell XPS 13 and Microsoft Surface Laptop, the versatile Apple Macbook Air, the convertible HP Spectre X360, or the ultra-light LG Gram 14, to name just some of the top options. Those are perfectly fine for daily use and multitasking, just make sure you're getting Core i5/Ryzen 5 configurations with at least 8 GB of RAM and at least 256 GB of storage.
However, even the base configurations of these laptops run somewhere alongside the top of the $1000 budget, and there are some better-value options to consider if you're perhaps looking to spend less, or maybe you'd rather get a more powerful configuration with a Ryzen 7/Core i7 processor, 16 GB of memory and more storage space. You'll somewhat sacrifice on features with these options down below, but only to a little extent, as this class of mid-tier ultrabooks has greatly improved in recent years and the better models in this segment are extremely competitive and overall better-value buys than the premium ultraportables mentioned earlier.
So here are some of our favorite options to consider here (listed alphabetically), with links to our detailed reviews and guides where available, or to their product pages.
Acer Swift 3 – from $599 – 14-inch mid-sized aluminum chassis, sturdily built; comes with matte IPS screens, alright inputs and IO, AMD Ryzen or Intel Core hardware, 48 or 56 Wh batteries, start at 1.2 kg (2.6 lbs);
Asus Zenbook 13 OLED and ZenBook 14 – from $699 – lighter, more compact, and nicer made models; available with matte IPS or touch OLED screens, good inputs(especially on the 14 inch models), AMD Ryzen or Intel Core hardware with optional Nvidia MX graphics, larger 63 or 67 Wh batteries, start at 1.1 kg (2.4 lbs) for 13-inch and 1.2 kg (2.6 lbs) for 14-inch;
Dell Inspiron 13 and Inspiron 13 2-in-1 – from $699 – 13-inch compact builds with clamshell or convertible form-factors, 16:10 matte/touch screens on the latest models, mostly Intel exclusive, but AMD hardware available on the 14-inch versions, 53/54 Wh batteries, start at 1.27 kg (2.8 lbs);
HP Envy 13 – from $599 – sturdily made 13-inch compact clamshell, but heavier than the other options, good inputs, Intel exclusive, 51 Wh battery, starts at 1.3 kg (2.9 lbs);
HP Pavilion Aero 13 – 13-inch ultralight clamshell, 16:10 touch screens, AMD Ryzen exclusive, 43 Wh battery, starts at only .95 kg (2.1 lbs);
Lenovo IdeaPad 5 14 and Flex 5 14 – from $599 – mid-sized 14-inch models with a matte or convertible touch screen (on the Flex), partially plastic, but well built, heavier than the other options, balanced AMD Ryzen or Intel Core hardware implementations, 57/52 Wh batteries, start at 1.4 kg (3.1 lbs);
Lenovo ThinkBook 14 – from $799 – 14-inch business/daily clamshell laptop, highly configurable, solid build quality and good keyboard, AMD Ryzen or Intel Core, 45 Wh battery, from 1.4 kg (3.1 lbs);
Microsoft Surface Pro – from $1099 for the latest base model without the keyboard – 13-inch tablet with high-resolution 3:2 touchscreen, Core U hardware, 51 Wh battery, from 1.96 lbs (.89 kg) without keyboard.
Finally, if you don't necessarily need a Windows or Apple laptop, I'd also suggest checking out some of the snappy premium Chromebooks that you can get for between $500 to $1000, such as the Samsung Galaxy Chromebook or the ASUS Chromebook Flip CX5. These are excellent daily drivers, run smoother than most of the options above, and last for longer on a charge. Just make sure you understand what a Chromebook can and cannot do for you.
Good-value performance ultraportables around 1000 USD/EUR
While the previous section mostly covered ultracompact sub-14-inch ultrabooks, this one goes over 14 to 16-inch all-around laptops that offer larger screens and/or faster hardware implementations (especially on the GPU side), as well as more capable thermal designs, all in still portable formats.
Here are some of the models I'd have on my radar, listed alphabetically. Just keep in mind that these might sell for a little over 1000 USD/EUR in some regions, especially for the higher-specced configurations, but if you're interested in the superior performance for demanding multitasking, creative work, or even gaming, these are well worth paying a little extra for:
Acer Swift 3 14X – 14-inch metallic built all-rounder, powerful Ryzen U hardware with GTX 1650Ti/RTX 3050 graphics, 16:9 IPS matte screen, 59 Wh battery, from 1.4 kg / 3.1 lbs, competitively priced;
Asus ZenBook 14X – 14-inch premium ultrabook, AMD Ryzen H or Core U + Nvidia MX configurations, 16:10 IPS or OLED screens, 63 Wh battery, from 1.3 kg / 2.86 lbs;
Asus VivoBook Pro 15 – compact 15-inch all-rounder, metallic build, AMD Ryzen H or Core H hardware with optional Nvidia 1650/3050 graphics, IPS or OLED screens, 63 Wh battery, from 1.65 kg / 3.7 lbs;
HP Envy 14 – 14-inch premium ultrabook, Intel Core U hardware with GTX 1650, IPS 16:10 matte or touch screens, 63 Wh battery, from 1.5 kg / 3.3 lbs;
Lenovo Slim 7 Pro X – 14-inch and 16-inch all-rounders, metallic build, Intel Core H or AMD Ryzen HS + RTX 3050+ GPU configurations, high-res IPS and OLED screens, up to 70 Wh batteries, from 1.5 kg / 3.3 lbs for 14-inch model, from 2.1 kg (4.6 lbs) for 16-inch;
We're covering this topic more in-depth in our guide on recommended 14 and 15-inch laptops, as well as in this list of ultrabooks with dedicated graphics.
Gaming notebooks under $1000
If you're interested in a budget gaming laptop, you could either consider one of the all-rounders mentioned in the previous section, or completely disregard portability and go with a full-size computer with even more powerful hardware and gaming-specific features.
If the gaming experience is a priority for you, I would most likely go with the latter class of options, as these would allow me to get a Core/Ryzen H implementation with a GTX 1660Ti or RTX 3050Ti GPU, a proper cooling module to match the specs, as well as a fast 144/165Hz display, all for around $1000 or sometimes even less, with occasional discounts and deals.
As for the exact notebooks that I'd look at, I'd start with the Acer Nitro 5, the Asus TUF Gaming series, the HP Pavilion 15 Gaming, the Lenovo IdeaPad 3, and especially the excellently balanced Lenovo Legion 5 series (reviewed here and here).
We've covered all of these in our reviews, so make sure to check out our detailed articles for a more in-depth look at their particularities and quirks, as well as our detailed buying guide on modern gaming ultrabooks and laptops.
Best affordable laptops under $500 in 2023
As long as you're willing to properly adjust your expectations, you will be able to find a wide range of good-value affordable laptops in stores today, selling for somewhere between $200 to $500 (or equivalents).
Given the multitude of choices and types of computers available in this segment, I've further split this section of the article into two parts. First, we'll talk about options with full-size 15 and 17-inch screens, and then we'll talk about the lighter and smaller variants in this class.
Full-size cheap laptops under $500
Budget full-size laptops have come a long way in recent years. Yes, you're still sacrificing on some features with sub $500 options and they're not as nicely made as the more premium alternatives, but you can get competent all-day computers for well under $500 these days.
Just be careful about a few things. The most affordable versions get dimmer and poorer-quality screens, some get small batteries and some even lack a backlit keyboard.
At the lower end of this price segment (around $300 or even less), you'll mostly find Intel Celeron/Pentium and AMD Athlon configurations, but the performance loss on Windows laptops over the Ryzen/Core configurations available for a little extra is significant, and you should only consider these options for lightweight daily use, video streaming, and browsing.
In fact, at this budget, I'd rather opt for a Chromebook, as these are faster and simpler to use at this level. But only as long as you don't have to run Windows-specific software on your computer of choice.
Among the available budget Chromebooks, I'd check out the affordable Samsung Chromebook 15  and Acer Chromebook 15, both selling for sub $300, but also the higher-tier HP Chromebook 15 that occasionally goes for around $500 for the better-specced Core i3 model with an IPS screen. You'll find more about these by following the links, but also from our detailed Chromebook-buying guide that better explains what Chromebooks are and what they can and cannot do for you, while also providing a more ample list of recommendations, based on a couple of different criteria.
As far as the Windows-based recommendations go in the +/- $300 price segment, most OEMs offer very similar Windows laptops here, with compact and lightweight plastic builds, LED low-gamut screens, backlit keyboards in some cases, and low-power AMD Athlon and Celeron/Pentium hardware, most of the time paired with only 4 GB of RAM and 128/256 GB of storage. They also get similarly-sized batteries around 40-45 Wh in capacity, capable of 4-6 hours of daily multitasking and 7+ hours of video on this lower-power hardware.
Such laptops are the Asus Vivobook L510 (the most affordable, fanless Intel older hardware), or the Acer Aspire 3, Dell Inspiron 15 3000, HP Laptop 15, and Lenovo IdeaPad 3 15, these latter ones starting at around $300 and available in a wider range of configurations, in most cases with more recent hardware than on the Asus L510.
Furthermore, most of these laptops, including different variants of the VivoBooks (F/K series), are available with faster up to Intel Core i7/Ryzen 7 hardware, 16 GB of RAM, and more storage, if you're willing to up your budget. Those configurations are far more capable and versatile for daily use, but still somewhat drawn back by their lower-tier designs and poor-quality screens.
That's what I'd also keep an eye on a few of the higher-tier 15-inch budget laptops when shopping closer to $500, and make sure to prioritize an IPS screen as much as possible, as well as maybe better IO, a better keyboard, and a slightly nicer-quality build.
You'll find these in laptops such as the Acer Aspire 5 series, the HP Pavilion 15, the Huawei MateBook D 15, or maybe even the Lenovo IdeaPad 5. Just keep in mind that most of these might go for more than $500 in your region, so you'll need to look around for discounts/deals to grab them at the best prices possible.
Finally, you'll have a harder time finding something good with dedicated graphics in this price range, or a hybrid with a touchscreen and 2-in-1 form factor. Some GeForce MX laptops dip below $500 at sales, though, as well as some of the basic convertibles such as the Lenovo Flex, Acer Spin 3, or Asus VivoBook Flip. Follow this link for more details on affordable 2-in-1 hybrids.
Budget ultrabooks (10 to 14-inch) under $500
Finally, this last section of the article goes over the portable ultrabook-like options you can get for under $500 these days. Spoiler alert, most of the good-value ultrabooks are available in the $500 to $1000 range, and for less than $500 I'd primarily look at niched products such as Chromebooks, if they're OK for your needs, or some of the mini-laptops and tablets with sub-12-inch screens.
Chromebooks
We'll mention these first, before getting to the Windows options, simply because they offer a superior user experience over the Windows alternatives available in this price range.
Basic models with plastic builds and LED screens are available for less than $300, ranging from 10 to 15-inch variants. We've covered them in our detailed best Chromebook-buying guide and won't go over them here again.
I will however mention the Lenovo Chromebook Duet, as the best-value mini computer you can get for under $300 MSRP right now without compromising on anything important. The Duet is a tablet format, though, with a good quality 16:10 touchscreen and pen-support, but only 10-inches in size. This particular aspect will make it or break it for you, as on one side it allows this to be highly portable and well made in this price segment, but on the other, it might be too small and cramped for some of you to use. I do consider it a great option for kids, school, and traveling.
For less than $300, you're getting the Duet tablet here, as well as a keyboard folio and protective cover. Follow this link for more details.
If, on the other hand, you're willing to spend between $350 to $500 on a thin-and-light Chromebook, I'd turn my attention towards the Acer Spin 713 and the Lenovo Flex 13 models. Both are hybrid 2-in-1s with convertible IPS displays, snappy hardware, bug batteries and portable metallic builds. You're not getting anything better with Windows laptops at this price, unless you might consider going with a used or refurbished product.
Compact Cheap Windows laptops
What you will find on the Windows side are cheap mini laptops that sell in the $150 to $300 price range at the time of this update.
They're still alright for basic tasks like browsing, video and music streaming, text-editing, and the likes and they have the advantage of offering the full Windows experience in an inexpensive product, being able to run many of the software you might be familiar with from other computers. But they are limited in what they can do by the hardware inside, that's why these only make for good travel computers, small and lightweight options for your kids, or inexpensive secondary computers. Plus, they are also not as snappy with daily use, as long-lasting, or as nicer made as the Chromebook options mentioned above.
Nonetheless, if you must go with a Windows computer, you're fine with the hardware limitations and you're also willing to favor a tiny form factor over performance, you should look into the Microsoft Surface Go tablet.
This is not like many of the other options in this segment, as it's a premium-feeling 10-inch tablet with an excellent 3:2 display, touch and pen support, and modern fanless hardware that allows for alright multitasking performance and good battery life. It's not very powerful, though, so only consider this for casual daily use.
It's also more expensive than other options in this class, starting at $399 for the tablet alone, and around $500+ with the keyboard folio and pen, but you can find it discounted most of the time, and Microsoft also offers good deals for students. In fact, this Surface Go, much like the Lenovo Chromebook Duet mentioned above, excels as an inexpensive option for kids and school.
You'll find more about the Surface Go from this article and you can also check out the latest configurations and prices via this link.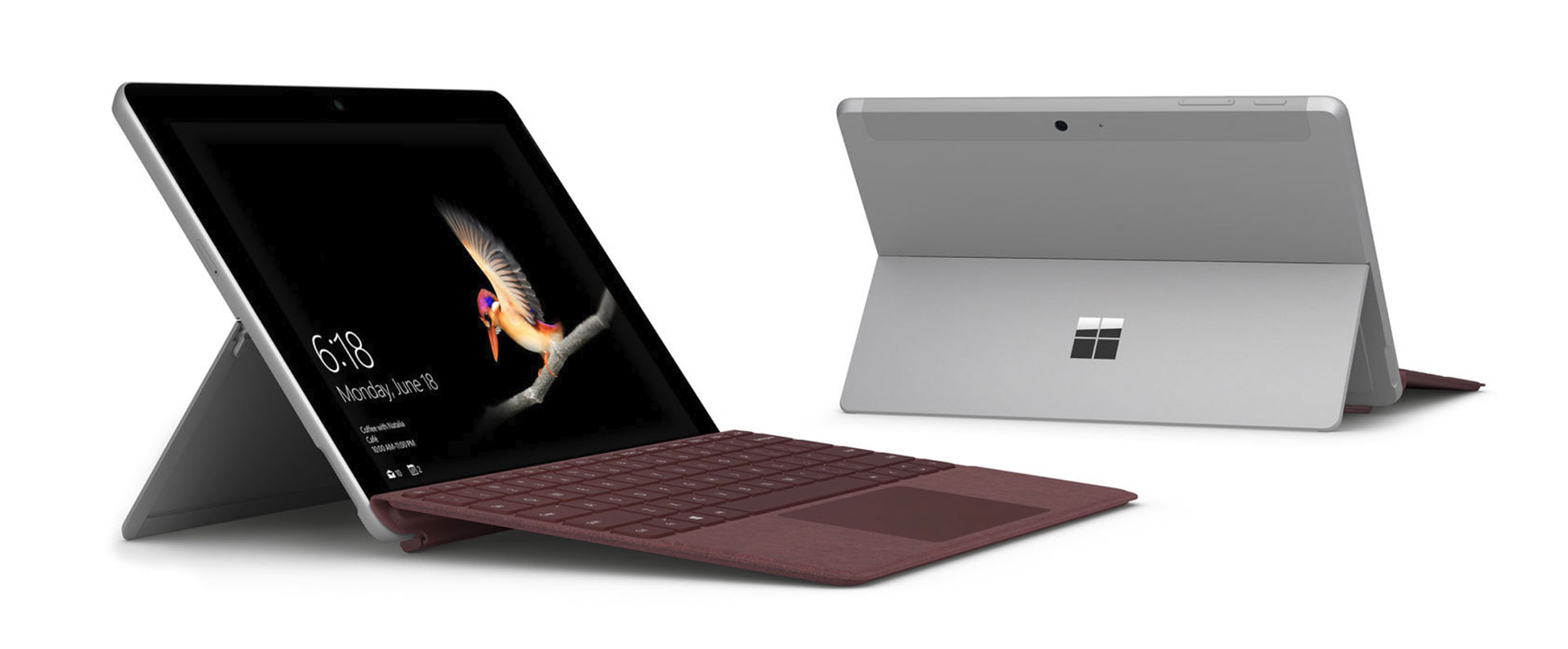 And here are some other budget options to consider:
HP Stream 11 – available for under $250, it's compact, light (2.4 lbs) and made out of plastic, gets a non-backlit keyboard, 11-inch HD TN screen, Atom hardware, 4 GB of RAM and 32 GB of eMMC storage, as well as 38Wh 6+ hours battery. The HP Stream is also available as a larger 14-inch model, but there are better options at that size.
Lenovo IdeaPad 1 – available for under $300, still compact, light (2.6 lbs) and made out of plastic, gets a non-backlit keyboard, 11 or 14-inch HD TN screen, and slightly faster Celeron hardware, 4 GB of RAM and 64 GB of eMMC storage, but a smaller 32Wh 5+ hours battery.
Asus VivoBook L210 – available for around $230, a little bit smaller and lighter than the others (2.2 lbs), still made out of plastic and with an 11 or 14-inch HD TN screen, fanless Celeron hardware, 4 GB of RAM and 64 GB eMMC, but 38Wh 6+ hours battery.
I'll also mention that you will find in stores a multitude of other budget Windows tablets and mini laptops made by lesser-known OEMs, most of them from China, such as Chuwi or Jumper and others. Some of these can be good-value buys, but make sure to read some reviews first and get them from places that allow returns, in case you discover that the manufacturers decided to skimp on certain aspects or on the build quality. Even if cheap, I wouldn't normally consider these options over the others mentioned earlier, despite my pretty good impressions with Chuwi products, which have been a partner of the site for the last years.
Wrap up
All in all, I'm pretty sure the majority of you will be able to find a sub-$1000 laptop that would meet your requirements these days. Perhaps not a top-tier ultrabook, or work/gaming machine, but definitely something that can cope with the everyday hassle.
You will have to make some sacrifices the lower you're going with your budget, that's true, but you can still find viable options even in the $300 to $500, as long as you have the right expectations.
We've mentioned some of our favorite recommendations above, but there are also others you might want to consider in certain regions, so if you need any help picking the best option for your needs and budget, don't hesitate to get in touch in the comments section below, or check out some of the other articles on the site:
Keep in mind that I'm constantly updating this list of budget laptops and ultrabooks under $1000, adding new models as they are launched, and retiring the older versions as they become obsolete. We're a small team, though, and there might be some delays, so if spot any units that should be in here and are not, just let us know in the comments section.
Disclaimer:
Our content is reader-supported. If you buy through some of the links on our site, we may earn a commission.
Terms
.