After dabbling with the dual-screen design in the ZenBook Pro Duo last year, Asus are finally updating their standard all-round ZenBook Pro 15 lineup that has been neglected over the last year.
As of late-2020, the ZenBook Pro UX535 is their latest model in the mid to premium segment of portable performance 15-inch notebooks, available in a couple of different variants. These are based on an Intel 6Core hardware platform with up to Nvidia GTX 1650Ti graphics, and available with an OLED 4K touchscreen and either a 64 or 96 Wh battery, all tucked inside a compact and lightweight aluminum chassis.
Based on those specs, the ZenBook Pro UX535 could be a worthy alternative for the other performance ultraportables on the market, such as the HP Envy 15, Lenovo IdeaPad 740, Dell XPS 15, Lenovo ThinkPad X1 Extreme, or even the MacBook Pro. It lacks some of the configuration options available with those, especially at the higher-end, but if properly implemented and priced, this could be a good choice in the mid-tier price brackets.
However, since this seems to share a fair bit with the ZenBook 15 UX534 series, I'd carefully look at how Asus managed to thermally balance a 45+ W processor and a 35W dGPU inside this form factor.
Update: In the meantime, you should check out our coverage of the newer Asus ZenBook Pro 16X OLED series.
We'll have all the answers for you once we get to properly review this ZenBook Pro UX535 and put it through its paces, and in the mean-time, here's a quick summary of its important traits, as well as some potential quirks that you'd want to be aware of.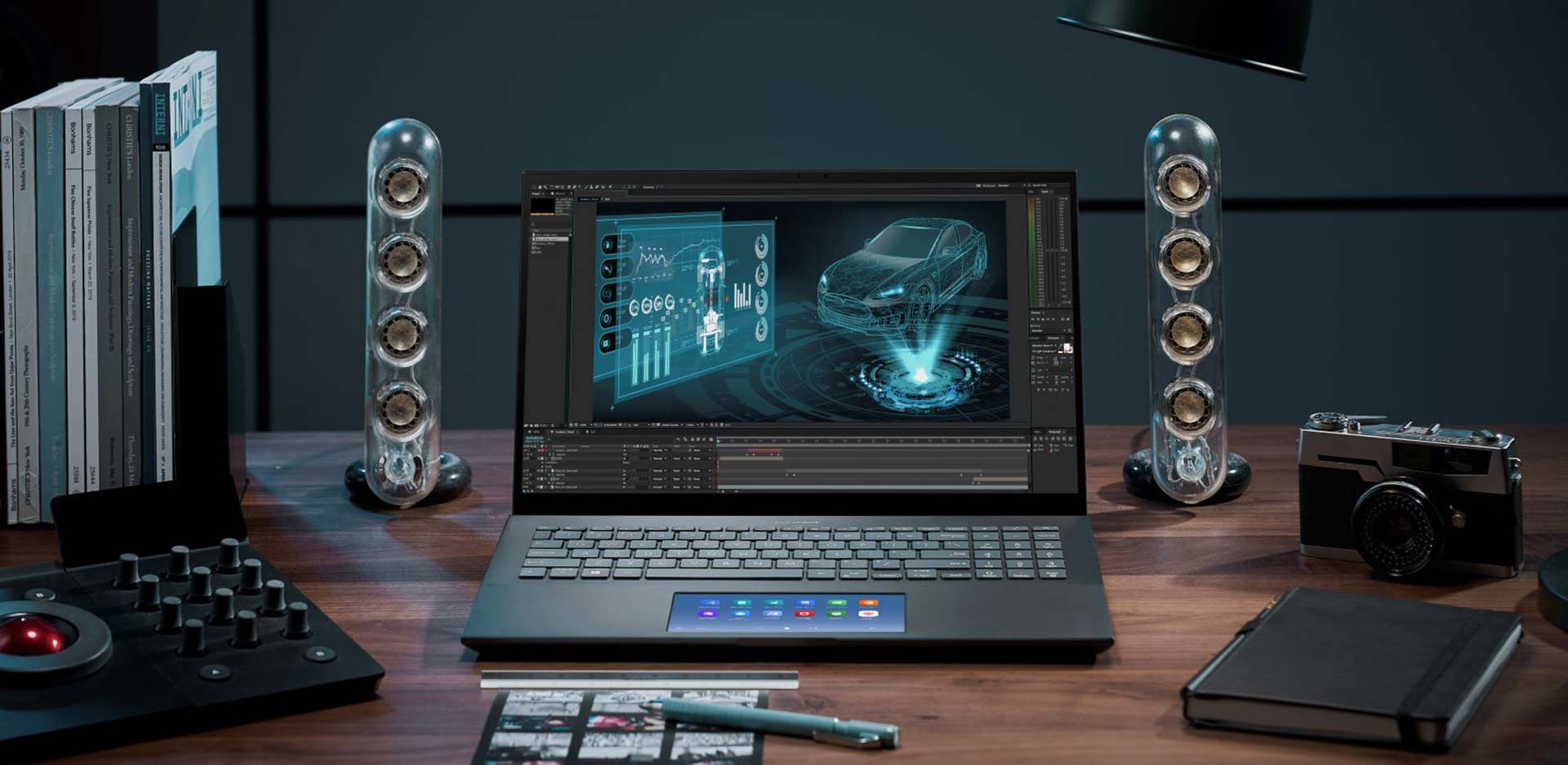 Specs – Asus ZenBook Pro 15 UX535 LH/LI
ASUS ZenBook Pro 15 UX535LH
ASUS ZenBook Pro 15 UX535LI
Screen
15.6 inch, 3840 x 2160 px, OLED, glossy, touch, 450-nits and 100% DCI-P3 panel
Processor
Intel Comet Lake Core i7-10750H, 6C/12T
Video
Intel UHD + Nvidia GeForce GTX 1650 35W, with 4 GB GDDR6
Intel UHD + Nvidia GeForce GTX 1650Ti 35W, with 4 GB GDDR6
Memory
up to 16 GB DDR4 2933 MHz (soldered)
Storage
1x M.2 PCIe x4 SSD, Intel Optane H10 support + 2.5″ bay
1x M.2 PCIe x4 SSD, Intel Optane H10 support
Connectivity
Wireless 6 (Intel AX201), Bluetooth 5.0
Ports
1x USB-A 3.2 gen1, 1x USB-C 3.2 gen2, HDMI 2.0, SD card reader, audio jack
1x USB-A 3.2 gen1, 1x USB-C 3.2 with Thunderbolt 3 (data, video, and power), HDMI 2.0, SD card reader, audio jack
Battery
64 Wh, 135W charger with quick-charging
96 Wh, 135W charger with quick-charging
Size
354 mm or 13.93" (w) x 233 mm or 9.17" (d) x 17.8 mm or 0.7" (h)
Weight
from 3.97 lbs (1.8 kg)
Extras
backlit keyboard, glass touchpad, HD+IR webcam with Hello, stereo bottom speaker
backlit keyboard, glass ScreenPad, HD+IR webcam with Hello, stereo bottom speakers
Hardware-wise, all the ZenBook Pro 15 variants are based on the Intel Comet Lake 6Core i7 processor, up to 16 GB of DDR4 on-board memory and Nvidia GTX 1650/1650Ti graphics, in the efficient 35W Max-Q implementation. In other words, this is not meant for those of you looking for the most powerful specs inside this kind of a form-factor, bur rather for a versatile all-around notebook for everyday use and creative work, further supported by the IO and OLED display.
I'm not a big fan of OLED screens on laptops, due to their various quirks and possible burn-in problems with the static interfaces in Windows, but OLED has improved in recent years and I know some of you are willing to go this route. The blacks and contrast are unbeatable on this technology, and backed-up by a highly color-accurate panel here, with 100% DCI-P3 coverage, making it that fine option for creative and graphics work.
Too bad this ZenBook is only available with a 6Core i7 processor and especially only 16 GB of RAM, though, I fear those might not suffice for especially this kind of chores for a fair share of the potential buyers. What do you think?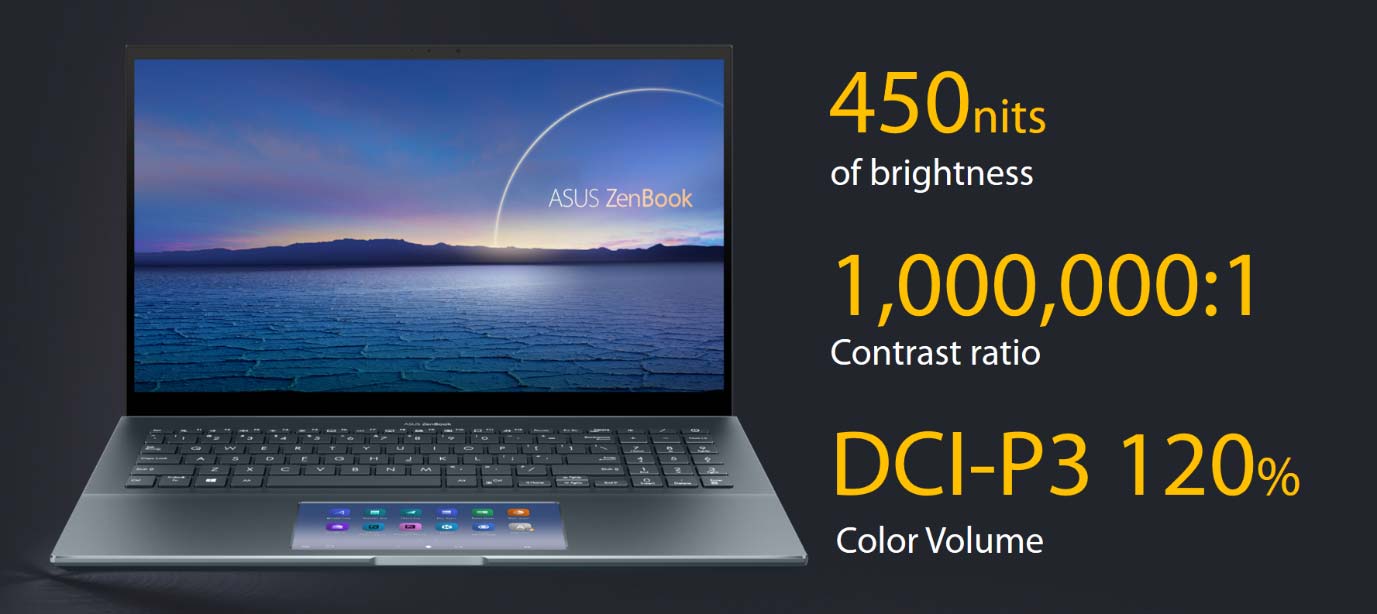 Furthermore, I'm looking forward to testing this laptop's performance and thermal behavior in demanding loads. As mentioned already, this is built on Asus's Ergolift design, much like their entire current ZenBook lineup, and while I'm looking for further clarification on this matter, some of the hot-air might be blown straight into the screen, as on the previous ZenBooks with this sort of construction.
Asus mentions a dual-fan dual-heatpipe thermal module in this laptop, and we can clearly observe exhausts on the laterals, but I'm just not sure whether we should expect a quad-radiator setup as well, with two exhausts on the sides and two between the hinges, under the screen. I'll update this section once we know more, but I'm inclined to believe there are exhausts blowing hot air into the display here, and we'll need to test their thermal impact over the panel, given the very small chin on this implementation. Nonetheless, I'm glad that Asus at least implemented side vents, those were absolutely a must on this sort of slim design with this sort of hardware. Hopefully, they did well here.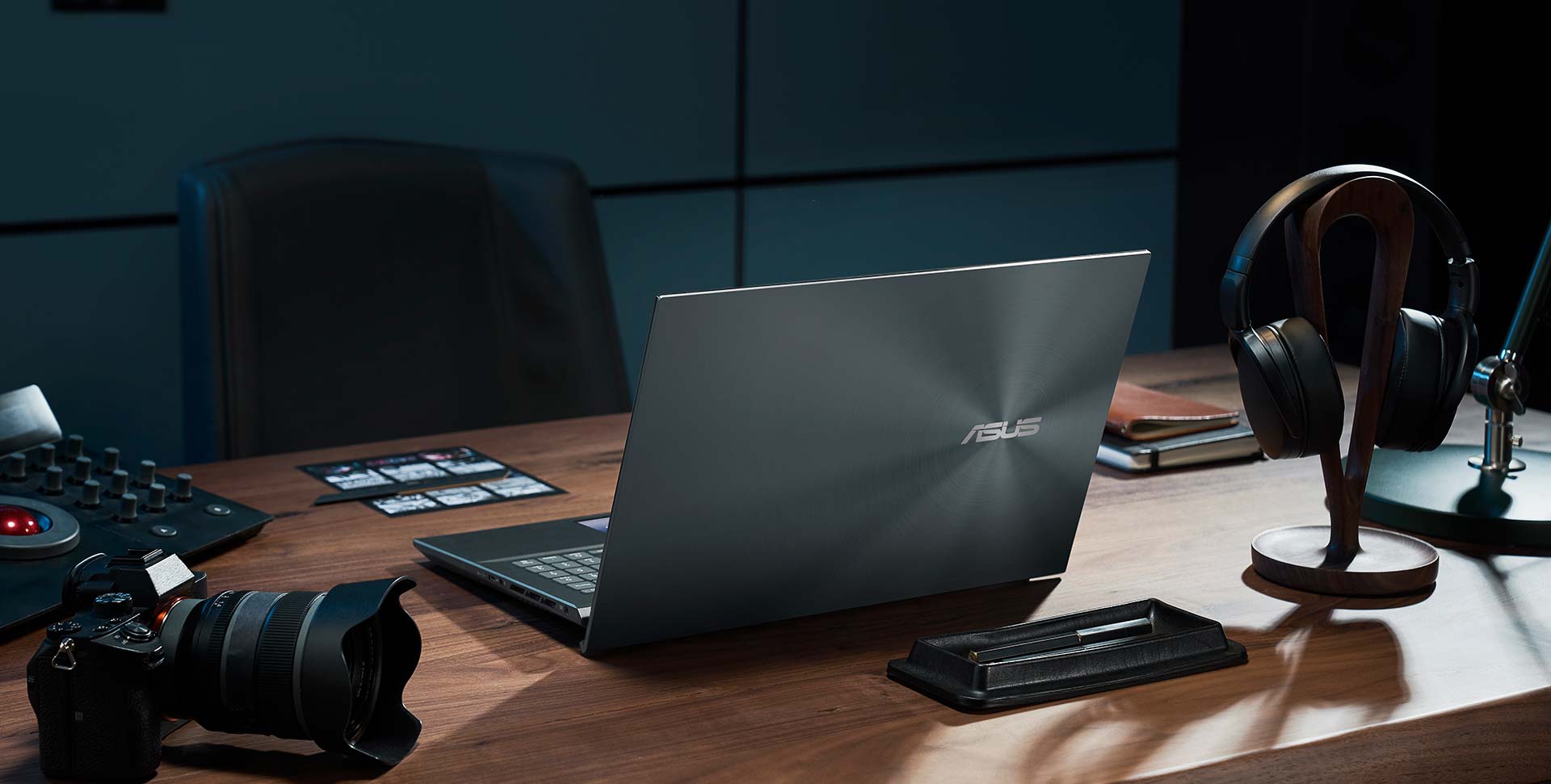 Platform and screens aside, Asus offers this ZenBook Pro lineup in mostly two variants: a lower-tier model with a regular touchpad, GTX 1650 graphics, a 64 Wh battery + a 2.5″ storage bay, and no Thunderbolt 3 support, as well as a higher-tier variant with Asus's ScreenPad technology, GTX 1650Ti graphics, a larger 96 Wh battery, Thunderbolt 3 and SSD only storage. The IO is complimented by an IR camera at the top of the screen, an HDMI 2.0 port, a USB-A port, and a full-size SD card reader on both variants. Hopefully, it's a fast card reader that photographers/videographers could actually use in their workloads.
As an extra note, this series charges via a standard barrel-plug charger and will most likely get a compact 135W power brick. I'd expect both variants to support USB-C charging as well though, and some sort of quick-charging technology.
Design and build wise, this ZenBook Pro 15 seems a lot like an oversized version of the ZenBook 14 that we've recently reviewed. It's compact and fairly light for a 15-inch device, and entirely made out of aluminum and magnesium alloys. It's also a clean and nice-looking laptop, perfectly suited for all sorts of environments, including strict school and business use.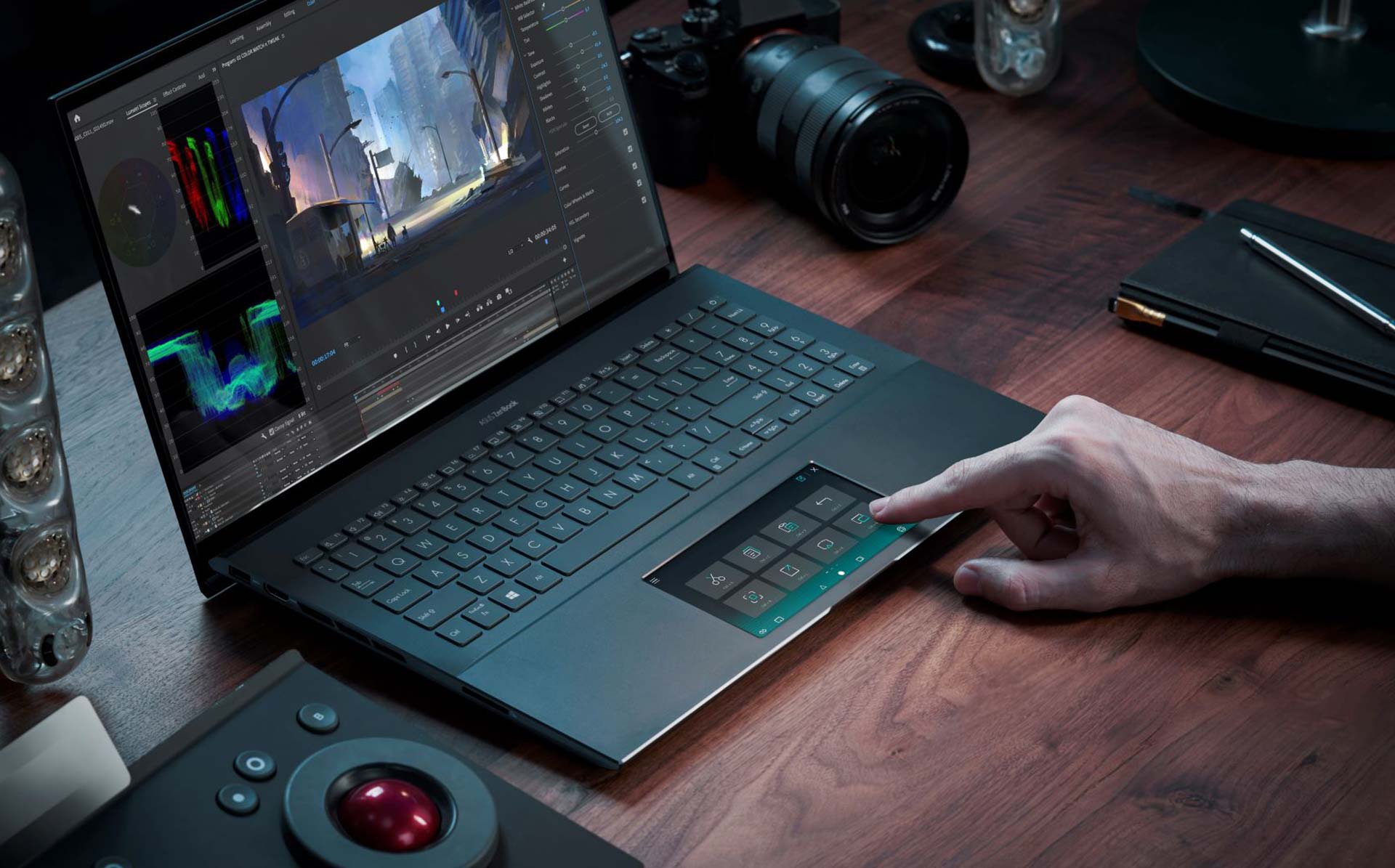 As for inputs, this most likely gets a full-size version of the same keyboard tested in the ZenBook 14 UX425, but with a full-size NumPad section as well. That would be great news, as the ZenBook 14 is one of my favorite typers reviewed in the last year. Keyboard aside, the basic UX535LH model gets a spacious and simplistic glass touchpad, while the higher-tier variant gets Asus's ScreenPad, which acts as either a touchpad, or as a secondary screen.
In conclusion, I would have expected this ZenBook Pro UX535 earlier, around the spring of this year where most of the other laptops in this segment were released, and I guess those might have been Asus's initial plans, and later pushed back by the current pandemic. Nonetheless, this could still be an option to consider in Q4 2020 and early next year if it meets your hardware requirements, if Asus manage to properly balance the performance/thermals/acoustics on this implementation, and if they price it right.
On that matter, I'm not fond of the OLED-only screen choice, as that will push-up the price on even the lower-tier UX535LH models. Still, no word on pricing or availability for now, though. Stay tuned for updates and our proper review in the near future, and in the meantime, I'd love to hear your thoughts on this ZenBook Pro 15 UX535 in the comments section down below.
Disclaimer:
Our content is reader-supported. If you buy through some of the links on our site, we may earn a commission.
Terms
.