In this article, we're taking a close look at the ASUS Zenbook 14 UX434FL, the mid-2019 update of the popular ZenBook 14 series of ultraportable laptops.
This is based on last year's ZenBook 14 UX433FN, with a similar design and construction, but updated hardware (still a Whiskey Lake processor, but the newer MX250 dGPU) and a ScreenPad, the neat secondary-screen that ads extra functionality to the classic clickpad, something we've previously seen on the ZenBook Pro line and has been added to the entire ZenBook and VivoBook S lineups this year.
The 2019 iteration also gets a touchscreen this time around, as well as a more mature hardware and software package, which allows for quieter daily use and better performance in demanding loads. On the other hand, nothing has changed in the IO and battery-life departments, where the previous ZenBook fell a little short of the competition.
We're currently spending time with a pre-production sample of the ZenBook 14 UX434FL, and we'll gradually add our impressions in the article down below that's eventually going to develop into a detailed review, so if you have any questions or specific aspects that you might want us to check out, drop us a line in the comments section at the end of the post.
Specs as reviewed
| | |
| --- | --- |
| | Asus ZenBook 14 UX434FL |
| Screen | 14.0 inch, 1920 x 1080 px, IPS, touch, glossy, |
| Processor | Intel Whiskey Lake Core i7-8565U CPU |
| Video | Intel UHD 620 + Nvidia MX250 2GB DDR5 10W (GeForce 430.86) |
| Memory | 16 GB LPDDR3 (soldered) |
| Storage | 1 TB M.2 NVMe SSD (Samsung PM981 MZVLB1T0HALR – 80 mm) |
| Connectivity | Wireless AC (Intel AC 9560), Bluetooth 5.0 |
| Ports | 1x USB-A 3.1, 1x USB-A 2.0, 1x USB-C 3.1 gen2, HDMI, microSD card-reader, mic/headphone |
| Battery | 50 Wh, 65W charger |
| Size | 320 mm or 12.56" (w) x 200 mm or 7.83" (d) x 15.9 mm or 0.63" (h) |
| Weight | 2.84 lbs (1.29 kg)+ .44 lbs (.2 kg) charger, US version |
| Extras | white backlit keyboard, ScreenPad, HD webcam, IR Hello camera and near-field mics, available in Royal Blue |
Just like with the past series, Asus will most likely offer the ZenBook UX434 in various configurations, with Core i5 and i7 processors, with or without the MX250 GPU (UX434FL – with, UX434FA – without), as well as with or without a touchscreen. The availability is going to vary between regions, and there's no way to tell in advance which variants will make it to your country.
Design and construction
On the outside, the 2019 ZenBook UX434FL is mostly identical to the previous Zenbook UX434FN, so I'll direct you to our existing article for in-depth impressions on the build and design.
There are, however, three important differences to keep in mind. Firstly, the 2019 model is only available in the Royal Blue color scheme as far as I can tell, which looks nice, but at the same time shows smudges and fingerprints much easier than the Silver variant of the UX434. Secondly, the 2019 model gets a large ScreenPad that occupies a bigger part of the palm-rest, but that doesn't interfere with the everyday use practicality in any way.
The third change is hidden underneath, where Asus redesigned the air intake grills, opting for a larger intake on top of the entire hardware ensemble, and no longer the limited side vents we've seen on the 2018 lineup. We'll talk about this aspect's impact on the performance and thermals in a further section.
These aside, the UX434 builds on already one of the nicest designs out there. It's beautiful and is built well, even if it's not a unibody design as the ZenBook S UX392 and there's still some flex in the keyboard deck and the lid cover, around the Asus logo.
Aside from the stylish looks, the compact form-factor remains this laptop's main selling point. Asus went with tiny bezels around the entire screen, including a small visible chin, as most of it tucks away behind the body as part of the Ergo-lift hinge design. This lifts up the laptop on the screen's bottom frame, allowing for a slightly inclined typing position and improved airflow underneath, in corroboration with the redesigned intakes mentioned earlier. The mechanism is strong and can be operated with a single hand, but there's a downside: you can only lean back the display to about 145 degrees, which is limiting for an ultraportable laptop when using it on the lap or in confined spaces.
Here's how the UX434 compares to the popular XPS 13 in terms of size and design. You can see that it's about the same height and only a little bit longer, despite the fact that it packs a 14-inch display.
The IO hasn't changed either, and for some, it could be this laptop's Achilles heel, as there's no Thunderbolt 3 support and no full-size card-reader. You do get two USB-A slots, a USB-C gen2 with support for data and video, as well as a microSD card reader, which I'd reckon will suffice for most users and is actually more than most of the existing ultraportables offer these days, as many rely heavily on just USB-C connectors.
For me, the single important drawback is the lack of USB-C charging, as the laptop still rellies or a barrel-plug for that. It's also worth adding that Asus might include a USB to LAN adapter in some regions, as well as an optional protective sleeve, but their availability varies.
All in all, there's little to complain about this laptop's build in terms of design, quality, or practicality. Yes, it's not the sturdiest out there and doesn't check all the right boxes, but it checks most and compensates for some of the lacks with aggressive pricing.
Keyboard and trackpad
The ZenBook UX434FL inherits its keyboard from the previous model, which is a pretty good typer, but still not one of my favorites.
The layout is standard for an Asus ultraportable, with softly finished full-size keys, proper spacing, short arrows and a set of smaller Function keys at the top, as well as the Power button integrated into the top-right corner, which I'd advise you to disable from Windows in order to prevent putting the computer to sleep when looking for Delete, even if this is stiffer than the other buttons and pressing it requires more force.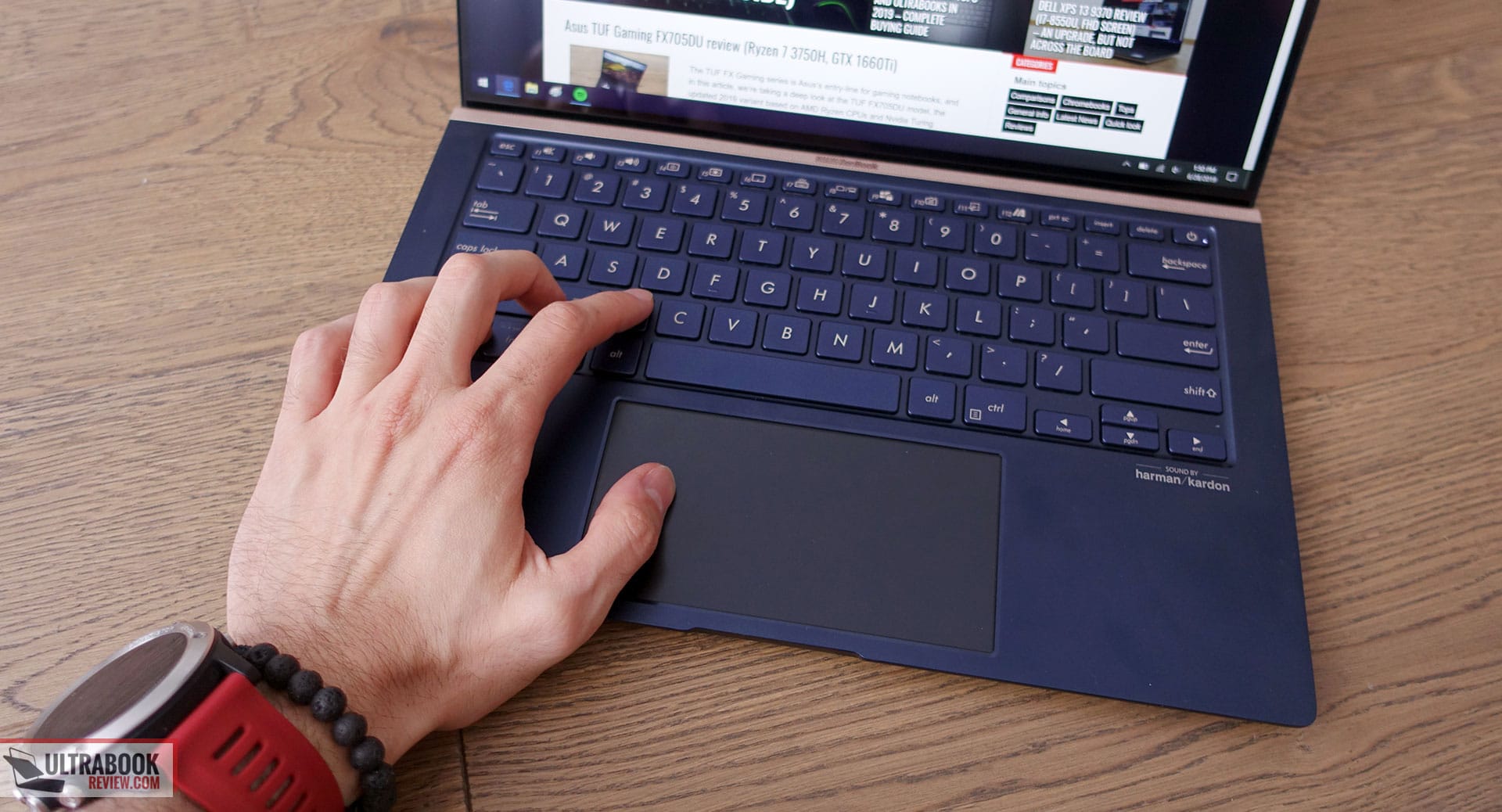 As expected on an ultraportable, this is also a fairly short-stroke keyboard, with 1.4 mm keystrokes. However, there's a little bit of flex in the main-deck and the keys require a firm press to properly actuate, as the actuation point is at the very bottom and an incomplete press won't register. For me, that translated in a fair bit of errors while typing fast. I am used to the slightly shallower and more forgiving keyboard on the XPS 13, so you might feel different about this implementation.
For what it's worth, I'd expect the average buyer to get along with it just fine, but if you're a fast typer and plan to input a lot of text on your notebook, I'd probably look elsewhere.
This keyboard is otherwise fairly quiet, thus appropriate for library use or other low-noise environments. It's also backlit, with white LEDs and gold writing on blue keycaps, which makes them clearly visible in all conditions, with or without the lights being activated.
I like that the illumination can be activated by swiping fingers across the clickpad, as it should on every laptop imo, and the fact that you can choose between three different levels, but I'll also add that there's a fair bit of light creeping from some of the keys on this particular implementation, as well as a fair bit of unevenness in the LEDs intensity. I don't remember noticing this aspect on last year's ZenBooks, so there's a good chance that's due to the pre-production status of our sample.
The novelty here is the addition of the ScreePad, which consists of a large clickpad with an actual screen (5.65″, 2160 x 1440 px resolution, IPS panel) hidden underneath, which users can choose to enable or disable with a press of the F6 key. When off, the surface looks and feels just like a glass-covered clickpad, which works great with daily swipes, taps, and gestures. The surface is sturdy and doesn't rattle with taps, and the lower part clicks smoothly and quietly, so even without the screen functionality, this is one of the best clickpads I've encountered on Asus laptops so far.
Activating the ScreenPad ads in extra functionality, but takes a toll on battery life. This can work as either a secondary screen visible in Windows, and in this way can display everything you could put on a secondary screen, or as a companion screen running apps tied to certain software that you're running on the main screen. These apps need to be developed, though, and right now there aren't many available. Our sample came with companion screens for the Microsoft Calendar, MS Music, Spotify, Evernote, Word, Excell and Powerpoint, as well a Numpad feature.
There's no finger-sensor on the Zenbook UX434, but there's an even more useful set of IR Hello cameras at the top of the screen, providing an effortless method of logging into Windows.
Screen
There's a 14-inch display on the Zenbook UX434 series, like the name suggests, with a choice of either a non-touch or a touch variant, both with a layer of protective glass on top. The UX433 used to offer a matte variant as well, but that no longer seems to be the case with this updated model.
Our sample comes with the touch variant, so there's still the glare that you'll have to make due with in bright environments, but you do get the extra functionality of a touchscreen.
The panel is also a little bit brighter than on last year's model. At 300+ nits, though, it's still not as bright as the panels on the ZenBook UX392 or the important competitors from Dell, HP or Lenovo, which offer 400-nits panels at this point, and that makes this ZenBook difficult to use outdoors or in bright interior spaces, which is something to keep in mind when deciding between options.
You'll find more details down below, recorded with a Spyder4 sensor, but in just a few words, this is a fair-quality panel, with solid viewing angles and above average color reproduction, contrast, and brightness. Blacks tend to get a bit washed out once you pump up the brightness, and you should know that our testing method returns lower contrast and brightness results than others, as these are measured by quickly switching between a white and black image at intervals of about 3 seconds.
Panel HardwareID: BOE BOE07E9 (NV140FHM-N63);
Coverage: 97% sRGB, 71% NTSC, 75% AdobeRGB;
Measured gamma: 2.3;
Max brightness in the middle of the screen: 306 cd/m2 on power;
Contrast at max brightness: 730:1;
White point: 7100 K;
Black on max brightness: 0.42 cd/m2;
PWM: No.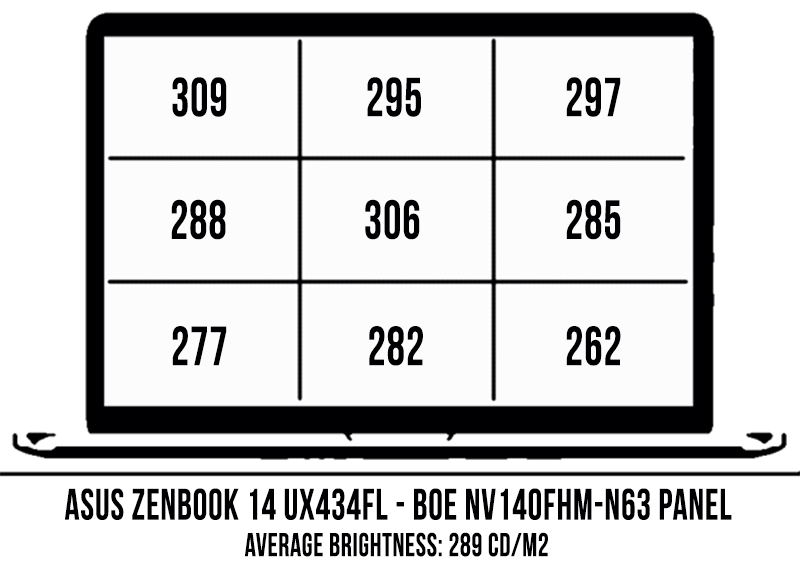 Calibration is fairly poor out the box, with skewed gamma, White Point and gray levels, so we'll add an improved color profile in a future update. We also noticed a fair bit of brightness variation towards the lower corners, even if light-bleeding was not noticeable with the naked eye.
Hardware, performance and upgrade options
Out test versions is a higher specced configuration of the Asus Zenbook 14 UX434FL, with the Core i7-8565U Whiskey Lake processor, Intel UHD 620 and Nvidia MX250 graphics with Optimus, 16 GB of RAM, and a 1 TB NVMe SSD.
— We're still developing the reminding of this article. Come back in a few days for the final update, and in the meantime, get in touch in the comments section for requests or questions.
Cinebench
530+ points, 15W TDP, 2.4 – 2.5 GHz, 70 C
Cinebench undervolted -100 mV stable
620-670, 15-20 W TDP, 2.7+ GHz, 70-75C
runs at higher than 15W TDP for the most part, which translates in the high scores
perf on battery – excellent, stable 15W TDP , 600+ points
Back to our gaming results, we ran a couple of DX11 and DX12 games on our test-unit, on FHD resolution and Low/High details, and compiled the results in the following table.
| | | |
| --- | --- | --- |
| | FHD Low Preset | FHD High Preset |
| Bioshock Infinite- | – fps | – fps |
| Far Cry 5 | 21 fps | 17 fps |
| Middle Earth: Shadow of Mordor | – fps | – fps |
| Rise of Tomb Raider | – fps | – fps |
| Shadow of Tomb Raider | – fps | – fps |
| The Witcher 3: Wild Hunt | – fps | – fps |
The Witcher 3 – recorded with Fraps in campaign mode
Bioshock, Far Cry 5, Middle Earth, Tomb Raider games – recorded with the included Benchmark utilities
This is what we got in terms of CPU and GPU speeds in Witcher 3, a very taxing title for this kind of hardware.