These days the offer for thin, light and fast ultraportable laptops is vast, but for those of you for whom size matters more than anything else, a mini laptop might be the ideal choice.
This post is all about the best 11-inch and smaller notebooks available these days in stores. We've been reviewing portable light-weight laptops for about 15 years now, so we can tell you which are the better options and why, in order to help you pick the right device for your needs and budget.
Just to make things a little easier for you, I've split the post into several sections:
I'll tell you what I like about each option, the quirks that you need to be aware of, and I've also added links to our detailed reviews and to our deals website, where you can usually find these devices for sale at discounted prices. Last but not least, you can also get in touch with me in the comments section if you have any questions or anything to add to the article, I'm around and will help out if I can.
Affordable mini-laptops and 2-in-1 hybrids
The offer for budget 11-inch mini laptops is diverse, especially in the $200 to $400 spectrum of inexpensive secondary notebooks, travel companions or laptops for kids.
Don't expect premium features or materials in this class, but you will find simple and compact computers that can handle everyday tasks and run for quite a few hours on a charge.
Chromebooks
Chromebooks are by far your best bet in this segment. As long as they meet your requirements, you're not going to find better value for your money elsewhere.
It is, however, imperative to understand what a Chromebook is and what it can and cannot do, and I've put up a whole article on this topic over here, that you should go through. In very few words, if you're on the Internet most of the time and your activities mostly involve browsing, watching movies and clips on Youtube or Netflix, listening to music on Spotify, eMail, text-editing, and other web-related activities, a Chromebook is a perfect match.
These devices are quicker than the Windows computers you'd find for the same kind of money, as well as safer and simpler to use. Due to their design, you don't have to deal with updates or viruses, and you install applications from a store, like on your phone. On the other hand, if you need to run specific Windows software, games, or plan to use your computer offline for long periods of time, you'll better go for one of the Windows alternatives we'll discuss in the next sections.
Most of the available Chromebooks in this price segment get dual-core or quad-core processors, 4-8 GB of RAM, 16-64 GB of storage expandable through the included card reader, IPS screens with HD or even Full HD resolution, an HDMI port for watching movies on an external screen, as well as long battery life and fast charging abilities, in some cases. As a recommendation, stay away from older devices with Intel Atom processors and only 2 GB of RAM, those get sluggish with today's requirements.
Over here I've gathered a detailed selection of the best available Chomrebooks at the time of this update, and you'll also find a more ample selection via this link.
That aside, our simplified list of recommendations for affordable ultra-compact Chromebooks is down below:
The Chromebook Duet is by far the best-value option at this point, as long as you're fine with a 10-inch device and its slightly cramped keyboard, expected at this size.
Windows notebooks
This section includes 11-inch mini-laptops with either clamshell or 2-in-1 form-factors, selling for between $150 to $400.
There are a couple of different options out there, but my advice would be to aim for a configuration with at least 4 GB of RAM, at least 64 GB of storage, and one of the faster CPU options (newer generation Gemini quad-core or later), otherwise the computer is going to struggle even with daily browsing and light multitasking, or you won't have enough storage space for Windows and programs (especially on the 16 GB versions).
Here are some of the sub-$400 clamshell units that I'd have on my radar:
Most of these options are similar in specs, with 11-inch HD TN screens and Gemini Lake hardware. I lean towards the Asus VivoBook for the slightly nicer build and its reduced weight, but you should be fine with the HP Steam and IdeaPad 1 as well. The IdeaPad 1 is a newer launch, though, so I'd look into that AMD platforms a little more carefully before jumping on one.
And here are some of the sub $400 convertible I'd consider:
Most of these are more expensive than the clamshell offers int he previous section, for pretty much the same hardware specs, btu they do get nicer IPS touchscreens and the convertible form-factor. The VivoBook Flip 11 is the exception, but that's still a plastic-built laptop with slower Apollo hardware, and not the more recent Gemini CPU available with the other options. Finally, the ThinkPad Yoga offers the ruggedized Thinkpad build and an IPS screen, but even older hardware and a heavier chassis.

Premium 11.6-inch ultraportable laptops
While many manufacturers migrated their premium ultraportables towards the 12 and 13-inch segments in recent years, you might still find good value with the few premium 11-inchers listed below. Some of them are old though, and you should make sure to understand and accept their quirks before getting them.
HP ProBook X360 11 Education
This is one of the very few options with modern hardware, a sturdily built 11-inch convertible that meets MIL-STD-810G standards, thus is ideal for kids, thanks to its ability to survive the daily hassle and occasional bumps.
The specs list includes either Gemini Lake Celeron or 10th-gen Intel Core Y i3/i5 processors, up to 8 GB of RAM and 256 GB of NVMe SSD storage, alongside a 48 Wh battery and a spill-proof keyboard, all tucked inside a 3.2 lbs plastic shell. Unfortunately, HP skimps on the screen with this product, only offering it with a low-gamut and dim TN panel, and I would have expected an IPS panel in this price range.
The ProBook x360 11 starts at a little over $400 at the time of this update, but the higher end configurations sell for around $700 to $800. Follow this link for more details and updated configurations/prices.
HP EliteBook Revolve 810
The Elitebook Revolve 810 is an older model, but still one of the most complete 11-inchers you might still find in stores. It gets a sturdy and compact metallic chassis, an excellent backlit and spill-proof keyboard, a bright IPS convertible multi-touch touchscreen, Core U (5th gen) hardware, and a 44 Wh battery.
Potential buyers might complain about the screen's HD-only resolution and the dated hardware inside, but both are still good enough for everyday use.
If you can look past these quirks, the Revolve 810 might be worth getting at the greatly discounted prices it goes for these days, as a Core i5 configuration with 8 GB of RAM and 128 GB of SSD storage sells for a little over $500. Follow this link for more details.
Lenovo Yoga 710 11
This is another older model, but a slimmer and lighter convertible that only weighs 2.3 lbs, so much easier to carry around. It's made out of plastic, but is still nicely built and good looking. It also gets an FHD IPS touch screen, something the other options lack, and a fairly good non-backlit keyboard.
The Yoga is powered by Intel Pentium or 5th gen Intel Core M hardware, with up to 8 GB of RAM, SSD storage and a 40 Wh battery, so is not as fast as the EliteBook, but will handle everyday chores well and it's much quieter, as it's built on fanless hardware.
The 11-inch Yoga 710 was pricey at launch and has still retained a fair chunk of its value. These days you can find the Pentium versions for under $500, but the Core models still sell for over $600, if you can track them somewhere. Follow this link for more details and updated configurations and prices.
Apple Macbook Air 11
We'll still mention the 11-inch MacBook Air in here, although it's no longer something we'd normally recommend, due to its dated hardware and poor-quality TN glossy screen.
The build quality, typing experience, the long battery life and even the performance to handle everyday tasks are still here though, so this might still be a decent option for some of you looking to get a cheap MacBook, even with these significant quirks, but only if you can find it greatly discounted, for $500 or less. Follow this link for updated prices.
Just keep in mind that a discounted or a Certified Refurbished 12-inch MacBook could be a better alternative, and you'll also find better-value devices in the Windows and Chrome OS camp.
In all honesty, though, if a premium ultracompact laptop is what you're after, there's hardly any compelling options in this 11-inch segment anymore and I'd advise jumping over to the 12-inch and 13-inch segments for a wider pool of options. You're getting a slightly larger product there, but also larger and better quality displays, modern specs, and a lot of features that are no longer available in 11-inchers.
And if you absolutely have to go the ultra-compact route, I'd rather suggest one of the few 11-inch options below. They're still not much in terms of performance, but they're highly portable and at least offer updated specs and good-quality displays.
How about 10-inch mini laptops?
With netbooks no longer a reality, you can hardly find a 10-inch mini laptop in stores anymore these days, with some exceptions only available in Japan. There are however quite a few good 10-inch tablets to consider, and these are usually paired with keyboard docks or folios, so can be used as notebooks as well.
Among them, the Microsoft Surface Go is the go-to recommendation as one of the few 10-inch Windows devices with modern specs and features.
It's not cheap, starting at $399 for the tablet alone, and the keyboard folio and the Surface pen come as extras. That's for the base-model, and higher-tier options go up to $700 for faster specs and LTE connectivity. With the Folio, you'll mostly get the bundle for around $500 and sometimes less with occasional sales. Microsoft also offer discounts for students/parents/teachers/ military personnel all year-long, as well as various bundles and periodical discounts for everyone else, so you should keep an eye on their site for updates.
Now, even if not cheap, I feel that the Surface Go is worth every penny, especially in its entry-level version as a portable and affordable travel companion or computer for kids. DOn't expect to run demanding tasks or games on this thing, but it will handle everyday browsing, content streaming, text-editing, and the likes just fine.
It's built from a durable magnesium alloy with Gorilla Glass on top of the screen, it's extremely light at only 1.15 lbs (for the tablet, and 1.7 with the keyboard folio), gets an excellent-quality 10-inch IPS touchscreen with a 3:2 aspect ratio and pen support and the cameras, one of the front and another on the back.
All these are powered by Intel fanless hardware, with either a Pentium Gold platform on the lower-end models, or a Core i3 on the higher-even version, the kind Apple puts on the MacBook Air. These are paired with 4-8 GB of RAM and 64-128 GB of storage and a 28 Wh battery that offers around 5-8 hours of real-life daily use and 10+ hours of video on a charge. The battery charges via USB-C and supports quick charging.
The Surface Go is usable as a stand-alone device, with the cleverly integrated stand on the back, but much more versatile when hooked up to its backlit keyboard cover. Given this is a 10-inch device, expect the keys to feel rather cramped for those of you with larger hands, but it's perfectly fine for kids and smaller hands.
You'll find more about the Surface Go from this review (of the previous generation), and you can check out the latest configurations and prices via this link.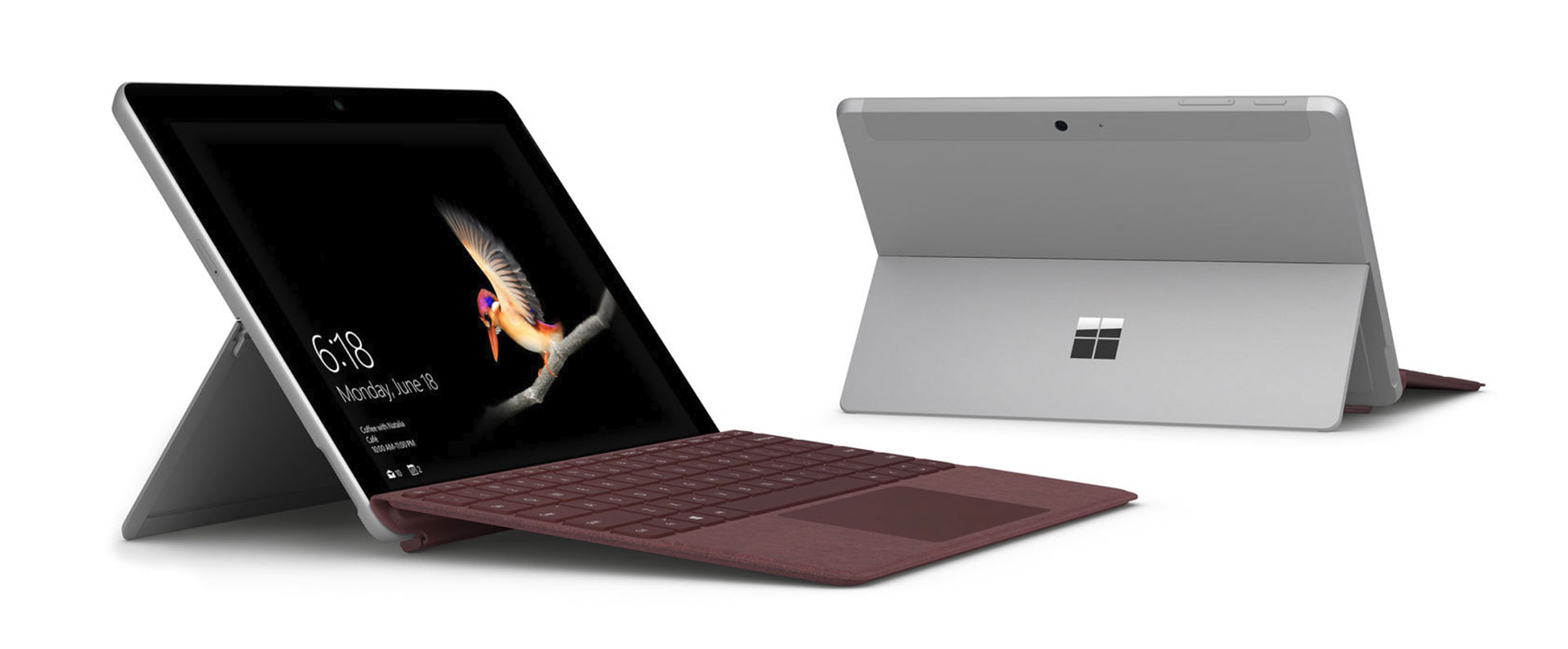 The Lenovo Tablet 10 could be an alternative to consider if you're after a 10-incher that can last for longer on each charge, offers more ports and is overall a more ergonomic laptop, as this one gets a keyboard dock, not a keyboard folio (see the pictures for details).
It starts at around $400 as well, or $500 with the keyboard, but Lenovo offers occasional discounts for as low as $350. As the name suggests, this Tablet 10 gets a 16:10 10.1-inch IPS touchscreen with pen support, and Intel Gemini Lake hardware with 4 GB of RAM and 64 GB fo storage, so it's not as speedy as the Surface Go. It will outlast it on a charge, though, thanks to the 39 Wh battery inside. You should also consider that the keyboard is not backlit.
All in all the Surface Go is still my favorite, but the Tablet 10 from Lenovo can be a good alternative if you're on a tighter budget and can find it for cheap. Follow this link for a more detailed comparison between the two, and this one for updated prices and configurations at the time you're reading this post.

Other affordable Windows tablets include the rather unique Lenovo Yoga Book or the some of the older Asus Transformer Pad Minis and Acer Aspire Switch tablets, if you can still find them in stock.
Finally, you'll also find some lesser-known products that sell for under $200, like the CHUWI Hi10 Air or the Fusion5 Tablet PC (more details via this link), but we don't have first-hand experience with these and cannot openly recommend them. Still, as long as you're getting them from a reputable store like Amazon, Walmart or Best-Buy, you could give them a try, but adjust your expectations according to their price.
But how about something else
But that's not all. What if you don't necessarily have to run Windows on your compact computer. What if you're activities are mostly Internet-based and there's no need to run any Windows-specific software?
In this case, an iPad or perhaps an Android tablet might be options to consider, especially since these are backed up by solid ecosystems and a wide range of compatible accessories such as stands, keyboards or pens. At the same time, these could end up fairly expensive, but there's one more option that sells for a lot less: the Lenovo Chromebook Duet.
Yep, we started this article by suggesting a couple of Chromebooks and finish it with another one of these. I'm not going to go over what a ChromeBook can and cannot do all over again, I've covered the topic in this and this article, so let's look at the Duet.
Much like the Surface Go, the Lenovo Chromebook Duet is made out of metal and feels premium and sturdy. It comes with a back piece that includes a built-in kickstand, and a keyboard folio, both bundled with the tablet by default, and all these starting at sub $300.
The screen is 16:10 aspect-ratio, FHD IPS and touch, so not the 3:2 available on the Go. It's bright and punchy and colorful though, which is awesome for a budget device that normally compromises at this level. As for the keyboard, it's cramped, as you'd expect from a 10-inch implementation, it's not backlit and can't be angled like on the Surface Go, but it's otherwise fine, and the same can be said about the integrated clickpad. And USB-C ports handles the connectivity, and there's a camera ont he front-face, but no 3.5 mm jack.
Specs wise, the Chromebook Duet runs on a ARM-based MediaTek 8Core platform with 4 GB of RAM and 64/128 GB of storage. That's fine for a lightweight and optimized environment such as ChromeOS, and the experience is snappy and smooth in both tablet and laptop modes. Not as smooth as on an iPad or some of the higher-tier Chromebooks out there, but fine for everyday use, and this can also run Android apps/games well since it's an ARM platform. Finally, battery life is where this kills it, with 10+ hours of real-life daily use and 12+ hours of video on a charge.
Bottom point, the Chromebook Duet is a game-changer and an excellent buy for under $300. Lenovo nailed it, so if a ChromeOS device would work for you, this would be my go-to in this niche even over the Surface Go. As long as you can actually find it in stock, since this is in very high demand.
Follow this link for more details and updated prices and configurations.
Wrap up
These are the 11.6 and 10 inch small laptops and mini tablets I'd look at right now if I'd be in the market for an ultra-compact computer, either Chromebooks or Windows running options.
Most of them cater to those of you on limited budgets, those looking for devices for primarily tablet use, or those looking for secondary travel notebooks or inexpensive notebooks for your kids. The options for high-end 11 and 10-inchers are limited nowadays, when most OEMs have migrated their higher-tier options towards the 12-inch and 13-inch classes, which offer an increased screen-area and more space for the required components and battery cells.
If you need more power in a small form-factor though, you should also check out our list of recommended 13-inch ultrabooks and thin-and-light laptops, where you'll find marginally larger, but significantly more competent options.
With that in mind, we'll wrap this up here. I'm constantly updating this list of mini-laptops as new qualifying devices are launched, so do save the link and come back in the future. If you spot any mistake, care to suggest a device that's missing from the list, or just want to add anything to the article, leave a comment below, I'm around to reply and help out.
Disclaimer:
Our content is reader-supported. If you buy through some of the links on our site, we may earn an affiliate commission.
Learn more.