While a few years ago the word "ultrabook" had not been even invented, today, ultrabooks are widespread and the kinds of portable thin-and-light computers many desire to get.
But what is an ultrabook in 2022/2023? How do you define this term and what sets these ultrabooks apart from other types of laptops?
You'll find the answers to those questions down below in this article, as well as in these dedicated in-depth posts that compare ultrabooks vs. regular notebooks, ultrabooks vs. Chromebooks, and ultrabooks vs. Apple MacBooks.
What is an ultrabook – the brief ultrabook definition
Ultrabooks made their debut around 2011-2012, when a couple of laptop manufacturers launched a handful of thin and light designs, built on select Intel hardware and running Windows.
At that time, regular laptops were chunky and fairly slow, especially in the more affordable price categories, and the few models that earned the ultrabook moniker stood out as lightweight and premium-made computers that were able to smoothly run everyday chores and multitasking, offered competitive specs, and didn't cut corners when it came to screen quality or battery life.
These days, however, the lines between the premium ultrabooks and the regular models are a lot finer, and the two segments intertwine with each other.
As per the strict definition, ultrabooks are the higher-end types of laptops that have to meet a couple of Intel-imposed requirements. Intel owns the Ultrabook TM trademark and they decide on the criteria that a specific laptop has to meet in order to earn the ultrabook naming. They also update those requirements periodically, and over the years we've seen directions such as Project Athena and more recently the Intel Evo platform specifications.
More generally, though, ultrabooks are the premium thin-and-lightweight laptop options available in stores these days, regardless if they're built on Intel, AMD, or ARM hardware. You'll find a selection of the best ultrabooks currently available in this separate article.
Ultrabook specifications – size, thickness, and weight
Back in the day, the norms for ultrabook imposed a thickness limit: up to 21 mm (0.83 inches) for clamshell 14-inch models, up to 23 mm (0.9 inches) for 14-inch models, and up to 18 mm (0.71 inches) thick for ultrabooks with 13.3-inch or smaller screens.
That was the only size restriction imposed by Intel, without any weight-related limitations. Regardless, most 13-inch or smaller ultrabooks weighed around 3 pounds or less, while larger 14 and 15-inch ultraportables weighed around 4 – 4.5 pounds (up to 2 kilos). All these were lighter than the average laptops in their classes.
These days, the modern Intel Evo specifications no longer include size/weight criteria, but that's because these modern designs are already thin and lightweight, with many of the smaller models even weighing less than 1 kilo (2.2 lbs). Here's a list of the lightest laptops by class.
That allows OEMs to create a multitude of ultrabook designs, for pico-computers with sub-10-inch displays and up to full-size compact laptops with 16/17-inch displays. The image below illustrates a 13-inch model next to a 16-inch device.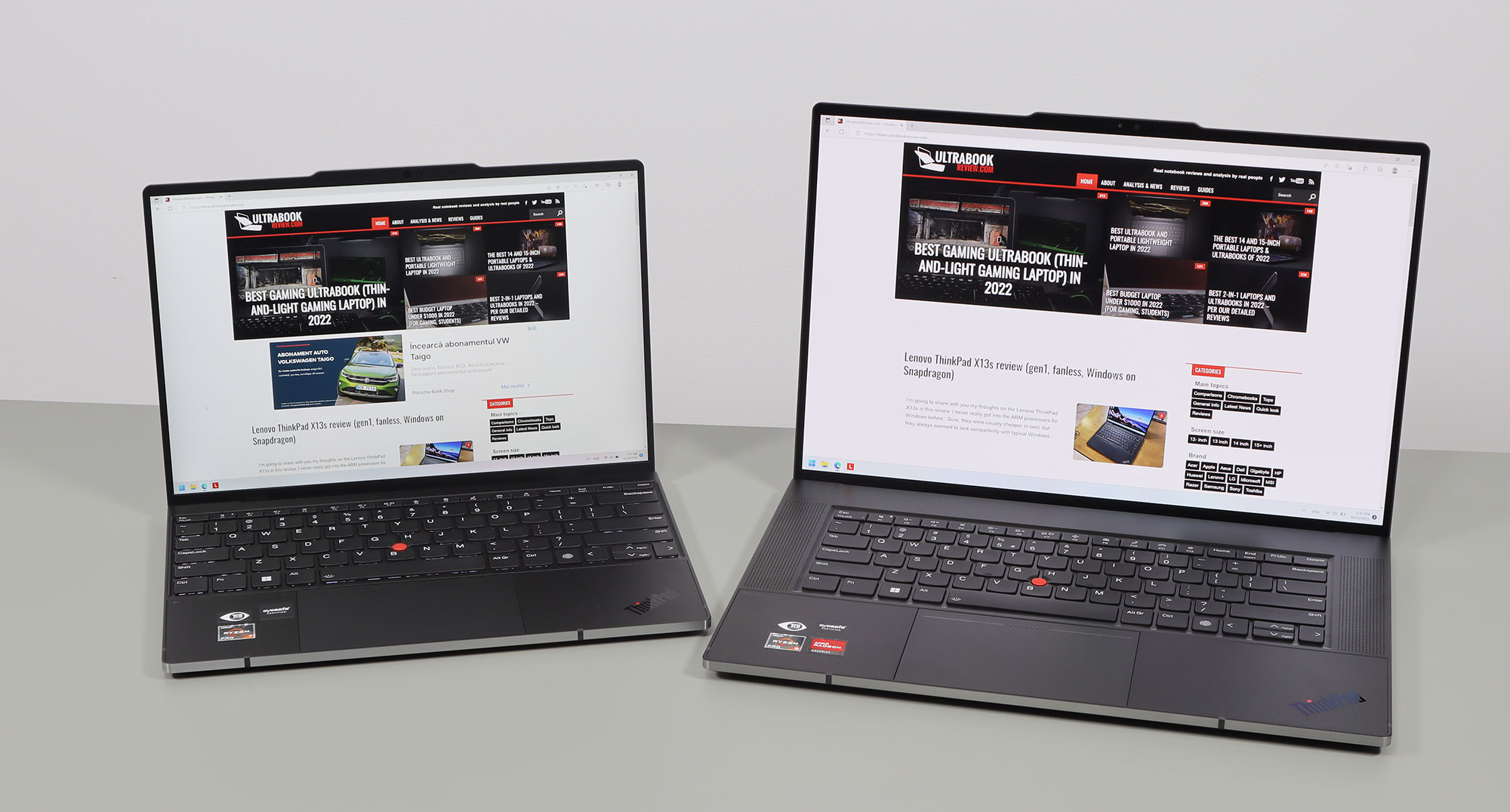 Ultrabook specifications – hardware platform and battery life
As per the Intel-imposed criteria, ultrabooks need to be powered by an Intel hardware platform. With the latest Intel Evo requirements, that's either an Intel 11th-gen Tiger Lake Core platform, a 12th-gen Alder Lake Core platform, or the latest 13th-gen Rocket Lake hardware. In the past, ultrabooks were built on the previous Intel Core U Sandy Bridge, Ivy Bridge, Haswell, or Broadwell platforms.
These processors need to be paired with at least 8 GB of memory and a 256 GB SSD for storage, while the laptops have to include modern connectivity options such as WiFi6 (or later) or USB-C ports with Thunderbolt support. A few years ago, the bar was set lower at only 4 GB of RAM and either SSD or hybrid storage, which no longer suffice for the applications and workloads of these days. In fact, if you're getting one of these laptops for serious multitasking, you should look at configurations with 16 GB of RAM and as much storage space as you'll need – SSD storage is upgradeable on most ultrabook designs, but the RAM is not, so you must choose the right configuration from the get-go.
As far as the performance goes, modern Intel Core U and Core P platforms are perfectly capable of handling any everyday task and even some serious multitasking and brief workloads, especially in the better designs with superior cooling and higher power settings. You'll need to check our reviews to identify those designs, but popular models from the Asus ZenBook, Dell XPS, HP Envy, or Lenovo ThinkPad series are our recommendations.
With that out of the way, while against the "rules", we can broadly include AMD-based premium laptops under this "ultrabook" umbrella as well, especially with the latest AMD Ryzen U specs being so competitive and efficient these days.
Speaking of, Intel claims Evo-certified ultrabooks must provide 9+ hours of real-world battery life and must include rapid-charging technology that can replenish 4+ hours of battery life in 30 minutes of charging time. Those 9+ hours aren't quite representative of what we got on Core U and Core P devices, though. In fact, AMD models do last longer on a charge with both multitasking and with light use and video streaming. Hopefully, Intel units will improve with the future generations, but for now, you should rather expect around 4-6 hours of daily multitasking and 8+ hours of video streaming with most modern Intel ultrabooks.
Other requirements
There are a few other details that OEMs need to account for when designing a premium ultrabook or thin-and-light laptop. Among them:
the performance on battery power must be consistent with the plugged-in performance, as these devices are made for on-the-go use;
the laptops need to be able to resume from sleep in under 1 second and offer good battery management in sleep mode;
some sort of biometrics have to be included, either a figner-sensor, an IR camera, or both;
ultrabook designs must be compact and offer top and lateral narrow bezels – here's a list of bezel-less laptop designs;
backlit keyboard and Precision-type clickpads are a must;
good speakers are required, but without a clear indication on what this means – audio quality is rather poor on the ultraportable models, due to a lack of internal space for bigger speakers;
ultrabooks need to have at least one USB-C Thunderbolt port. The latest Intel models support Thunderbolt 4, while some of the AMD models offer USB 4.0, which is a close match to Thunderbolt in functionality – less so in compatibility, though;
the higher-end business ultrabooks embed technologies like TPM, Intel Anti-Theft, and Identity Protection, meant to protect the content of your storage drives in case your laptop gets stolen. Also, these will allow you to remotely lock the laptop and make sure it's completely unusable, in case something happens to it.
Ultrabooks vs other types of laptops
This is mostly a topic we're going to cover in separate in-depth articles, but here's a brief intro:
ultrabooks vs. regular notebooks – while ultrabooks are mostly premium light-weight designs, regular laptops are available in a multitude of formats and prices. You can find cheap options that lack some of the features you're getting with ultrabooks, as well as full-size performance and gaming laptops that far exceed the capabilities of an ultrabook, but are also thicker and heavier.
ultrabooks vs. Chromebooks – ultrabooks are fully-capable Windows computers, while Chromebooks are simpler and more affordable computers meant for Internet use and light-daily activities;
ultrabooks vs. Apple MacBooks – while ultrabooks run Windows and are mostly based on Intel/AMD hardware, MacBooks run MacOS and are built on Apple silicon. They have an advantage in energy management and efficiency, while ultrabooks have a performance edge and are available in much greater numbers and formats.
Conclusions
In conclusion, modern ultrabooks have come a long way in the last 10+ years.
These days, ultrabooks are premium-tier computers perfectly capable of handling everyday activities and running for many hours on a charge. They're also available in a multitude of sizes and formats, from ultra-compact clamshell units to 2-in-1 laptop designs and lightweight daily drivers with large screens. They all meet a few criteria meant to ensure they'll get their job done, and it's up to you to choose the one that makes to most sense for your needs and budget. Here's our selection of the best current ultrabooks, it will help you get started in your search.
Anyway, that's about it for now. Hopefully this article provides a proper explanation of the ultrabook term and helped you figure out what is an ultrabook and how this specific class of laptop is different from the other options available out there. I'm going to constantly update this post and add more details about ultrabooks as the technology changes and matures.
In the meantime, check out the reviews and the guides on the site, and if you have any questions about ultrabooks or any device in particular, leave a comment down below.
Disclaimer:
Our content is reader-supported. If you buy through some of the links on our site, we may earn a commission.
Terms
.