I was looking forward to spending some time with the updated 2021 version of the ExpertBook B9 business ultrabook from Asus, prior to my experience with the 2020 model which was one of my favorite ultrabooks tested throughout the whole year.
The ExpertBook B9 is a step forward in terms of construction, feel, features, and even overall performance from the mainstream Asus ZenBook models, but also a more expensive product.
Last year the series was gutted by the fact that it only came with a 300-nits display, but this year Asus upgraded the panel to a 400-nits high-efficiency option, updated the keyboard, and bumped the hardware to the 11th gen Intel Tiger Lake platform with Iris Xe graphics. And it's not just your average Tiger Lake implementation, but one that tops at an Intel Core i7-1185G7 processor capable of sustained 28W in demanding loads on the most aggressive Performance profile, which is impressive in this sort of ultra-compact chassis. This is also an Evo-certified design.
In fact, Asus emphasizes the lightweight construction of their ExpertBook B9 series that doesn't compromise on the build-quality, and for good reasons, as some configurations start at under 900 grams (with a smaller battery), and the one we have here goes for just around 1 kilo (2.2 lbs) with the larger 66 Wh battery that delivers a full day's worth of battery life on a charge.
With all these in mind, I've spent time with an early sample of the 2021 ExpertBook B9 B9400 and gathered my impressions down below. This is not a full review, though, as we're not going to run all our performance, thermals, and battery life tests on this pre-production sample with yet immature software, but I will update the article if we get to re-test a finalized retail unit.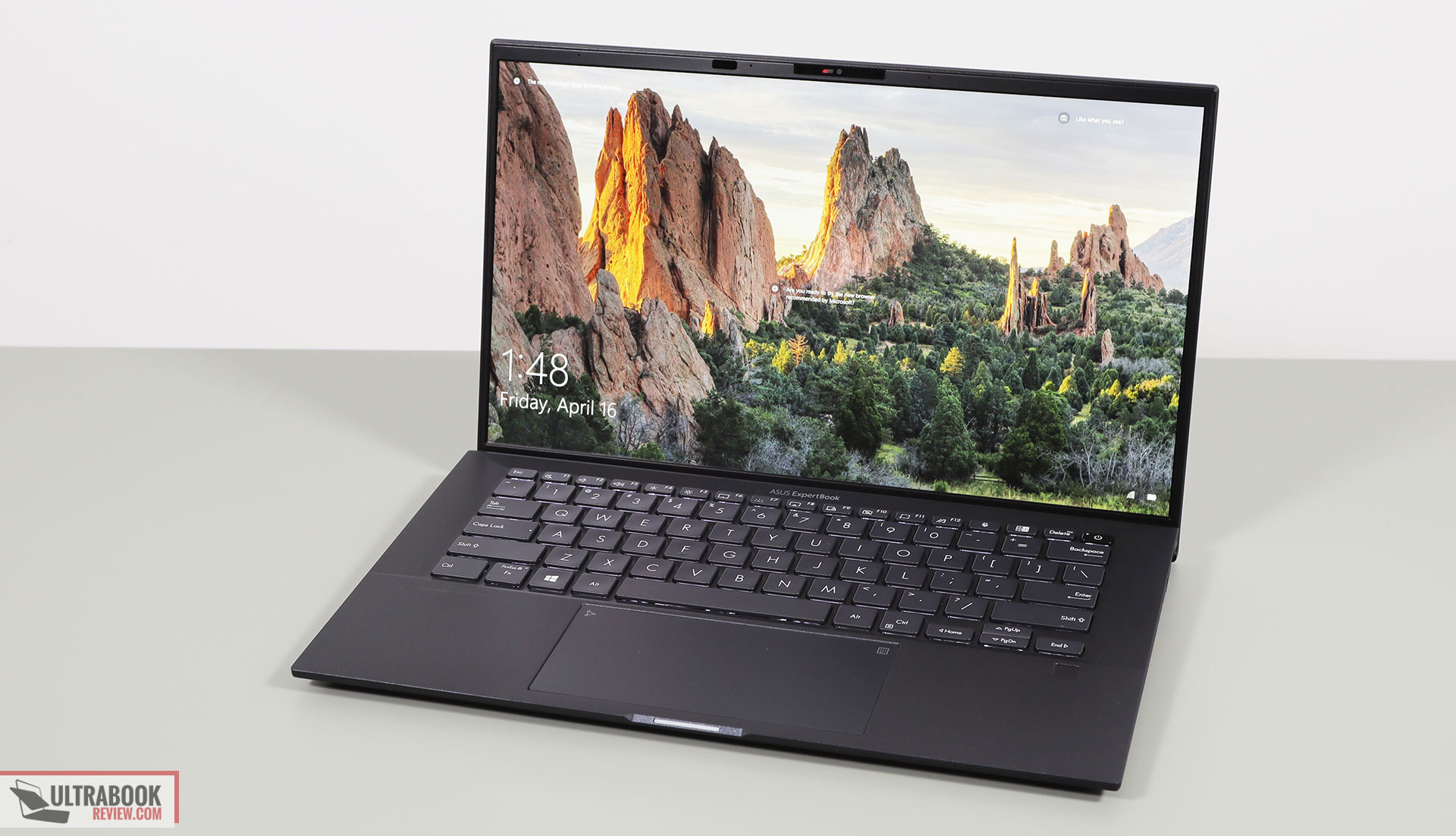 Specs as previewed – Asus ExpertBook B9 B9400CEAV
| | |
| --- | --- |
| | Asus ExpertBook B9 B9400CEAV |
| Screen | 14 inch, 1920 x 1080 px, 16:9, IPS, matte, non-touch, AU Optronics B140HAN06.B panel |
| Processor | IntelTiger Lake Core i7-11865G7 CPU, quad-core |
| Video | Intel Iris Xe |
| Memory | 32 GB LPDDR4x 4266 MHz (soldered, dual-channel) |
| Storage | 2x 1 TB SSDs in RAID 0 (M.2 2280 PCIe x4) |
| Connectivity | WiFi 6 Gig+ (Intel AX201), Bluetooth 5.0, GbE via included adapter |
| Ports | 1x USB-A 3.2 gen2, 2x USB-C with Thunderbolt 4, HDMI, micro HDMI 2.0b, mic/headphone, Lock |
| Battery | 66 Wh, 65W charger with a USB-C plug |
| Size | 320 mm or 12.6" (w) x 203 mm or 7.99" (d) x 14.9 mm or 0.59" (h) |
| Weight | 2.18 lbs (.99 kg)+ .53 lbs (.30 kg) charger and cables, US version |
| Extras | white backlit keyboard, NumberPad, finger sensor, HD webcam with physical cover and IR, stereo speakers |
Design and construction
The 2021 ExpertBook B9 B9400 is built on the exact same design as the 2020 model, with a lightweight chassis made out of magnesium-lithium alloys and a compact clamshell form-factor.
Among its particularities, the slightly rugged feel of the magnesium materials stands out as different from what you'll find on most other laptops, as well as the muted branding elements. The materials also seem to do a great job at repelling smudges in this dark-gray color with blue sparkling shades in it.
That aside, the whole thing feels sturdy and well made, with a strong screen and limited amount of flex in the keyboard deck, only noticeable when pressed hard. It's also lightweight, at under 1 kilo, which you'll immediately tell when you'll pick this up in your hands, but without feeling cheap in the way other magnesium-made computers do, and meets a handful of MIL-STD-810H standards for durability and reliability (most of the modern ZenBooks do that as well, though).
In fact, much like all the other modern Asus ultrabooks, this also implements the Ergolift hinge design that raises the main chassis on rubber feet placed at the bottom of the screen, allowing for an inclined typing position and improved airflow underneath. Unlike the other models, though, the screen can go all the way back flat on this unit, without sacrificing on how smooth the hinges feel to operate or the fact that you can easily pick up the screen and adjust it single-handedly. Compared to the previous-gen ExpertBook, I also feel that the hinges do a better job at keeping the screen in place as set up, even when grabbing and moving around the laptop.
At the same time, the Ergolift design still means that the heat expelled from inside the laptop is blowing out into the screen here, which is going to be especially problematic given there's almost no chin in this form-factor, so nothing to soak up the brunt of that heat. Paired with an aggressive Performance power profile that pushes temperatures to high limits, this aspect might be even more problematic on this unit than on other Asus ultrabooks. We'll cover this in-depth in the final models when available, but keep in mind that the screen part around the exhaust, in the lower-right section, is going to run toasty on this laptop.
This aside though, I have little to complain about this ExpertBook's design and ergonomics. It's incredibly lightweight and sturdy, easy to use on either a desk or on the lap, the materials on it should hopefully age well, and there's a camera at the top, with a privacy cover.
Furthermore, I find the IO highly versatile for this form factor, with two USB-Cs with Thunderbolt 4 and a full HDMI on the left, as well as a USB-A, Lock, and headphone jack on the right. Add in fast wireless and biometrics for a complete package.
Keyboard and trackpad
It looks to me that Asus changed the keyboard on this 2021 ExpertBook and implemented something closer to the ones previously experienced in their recent 14-inch ZenBooks, but with a simpler layout, without that extra column of Function keys at the right.
It's an alright typer for this class of thin computers, but felt a bit mushier here than on the ZenBook 14 UX425 series or the UX435 Lightweight. Don't forget this sample is pre-production, so the experience might be different on the retail units. We'll see.
The keys do feel smooth and nice to the touch, though, and they're backlit. Unlike on the previous model, the new profile does a better job at preventing the light from bleeding out from underneath the keycaps. Asus also put a physical Caps Lock indicator and made sure you can activate the illumination with a swipe over the clickpad once it times out.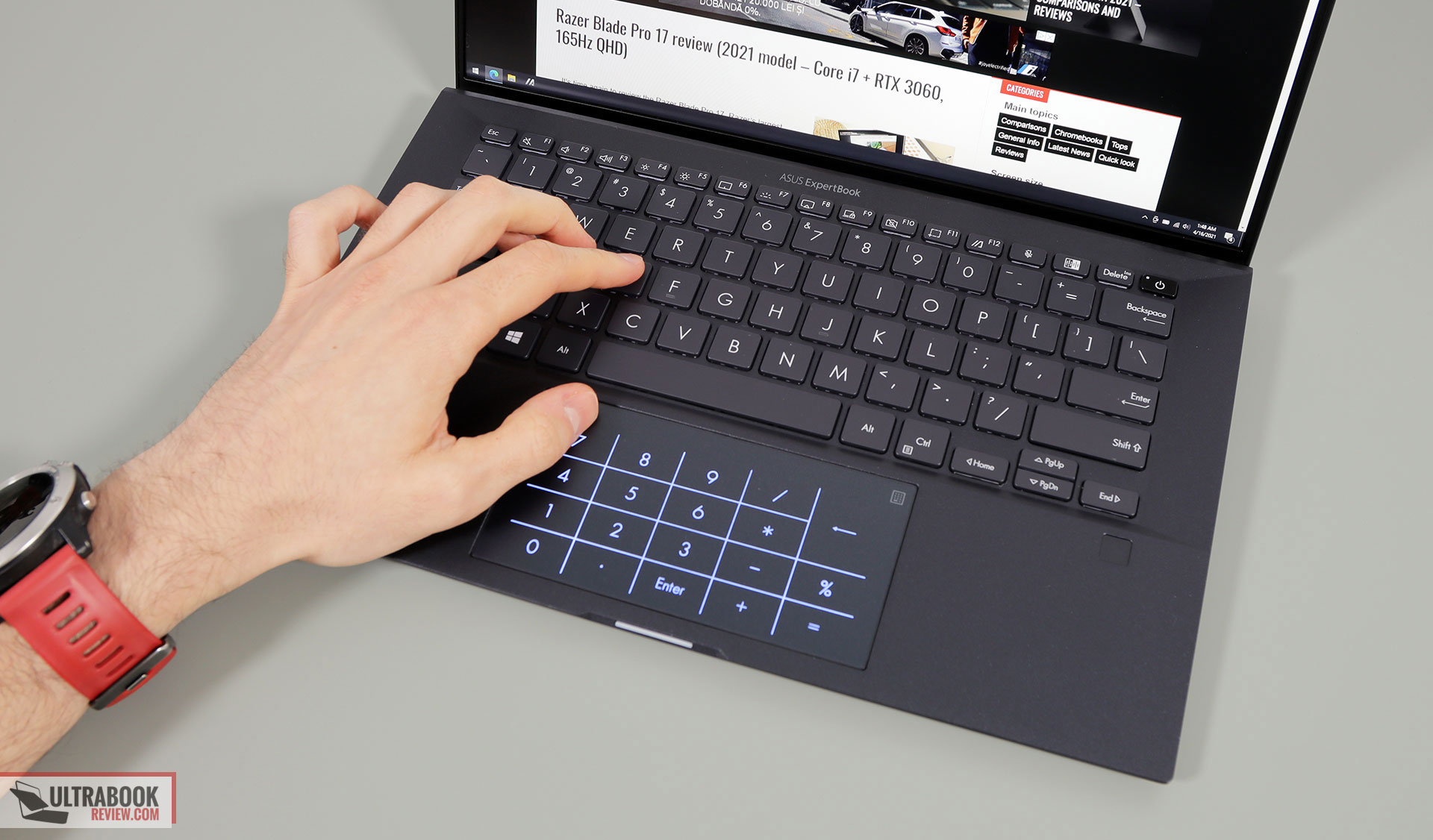 The clickpad is excellent, a spacious glass surface with Precision drivers It's smooth and responsive with daily use and gestures. This also doubles as a virtual NumberPad with a press of the tactile button in its top-right corner.
One aspect to mention here is the inclusion of a stand-alone finger-sensor placed beneath the arrow keys, as well as IR cameras with support for Windows Hello, backed up by near-field microphones for Alexa or Cortana.
Screen
There's a single screen option available for this series, and it's the 1W 14-inch FHD matte panel made by AU Optronics that Asus puts on most of their other current ZenBooks.
This is a solid panel with 400+ nits of brightness, good back and contrast levels, wide viewing angles, and no flickering. It's excellent for daily use, fine for occasional color-accurate work with 100% sRGB coverage, and good uniformity (with a slight imbalance in the lower-left and top-right corner).
Here's what we got in our tests, with an X-Rite i1 Display Pro sensor:
Panel HardwareID: AU Optronics AUOA48F (B140HAN06.B);
Coverage: 99.3% sRGB, 71.3% AdobeRGB, 73.7% DCI-P3;
Measured gamma: 2.27;
Max brightness in the middle of the screen: 385.39 cd/m2 on power;
Min brightness in the middle of the screen: 20.07 cd/m2 on power;
Contrast at max brightness: 1629:1;
White point: 6600 K;
Black on max brightness: 0.23 cd/m2;
PWM: No.
This came well calibrated out of the box, but further running our calibration programs actually lead to an increase in the max-brightness in the middle of the screen.
In all fairness, some might still argue that 400-nits might not suffice for bright-light environments and yes, that's true, and yes, there are brighter panels available on business laptops out there. For most users and uses, though, this will suffice. There's no touchscreen option, though, which could kill this for some users.
I should also add that this panel is 60 Hz with slow response times, something you might want to consider in case you were planning on running any fast-paced casual games on this Iris Xe powered ultrabook. You're not going to find a faster screen in this form-factor, though, so it is what it is.
Hardware and daily use
Our preview unit is a top-specced configuration of the Asus ExpertBook B9 in the B9400CEAV variant, with an Intel Tiger Lake Core i7-1185G7 processor and Intel Iris Xe graphics, 32 GB of LPDDR4x 4266 MHz memory, and two SSDs in Raid 0 (4 GB in totally capacity). In other words, this is one of the top configurations available in the business ultrabook space.
As mentioned already, we're not running tests and benchmarks on this pre-production model with still immature software, and we'll update this section once (or if) we get our hands on a finalized retail unit.
I will mention that much like all the other modern Asus portable laptops, this also gets a choice of a couple of different power profiles in the MyAsus control app, with a Standard mid-level profile meant to balance the performance, thermals, and noise levels, as well as a Performance mode that pushes the fan noise and temperatures to their limits, but also drives up the performance.
For what is worth, the Core i7-1185G7 runs at 28W sustained in demanding loads (the Cinebench loop test) on this Performance mode, which is impressive for the form-factor. At the same time, the CPU also runs hot and a fair bit of that heat is blown out into the screen with this Ergolift design, as mentioned earlier, so you'll probably want to use the Performance mode sporadically, when really needed.
The thermal module is also not really meant to properly handle a 28W sustained Tiger Lake implementation either, as it's a single-fan module with a single thin heatpipe, much like on the existing ZenBooks that normally run at much lower power even in the Performance profiles. Based on our experience, I feel that you do need a more complex dual-fan design and extra heatpipes to properly cool off a 28W platform in this sort of a chassis, and you're not getting that with this product.
The temperatures and noise levels are much friendlier with daily use on the Standard profile, and the laptop feels snappy and pleasant to use with daily multitasking. It's also efficient, delivering 6-8 hours of daily use and 10+ hours on video on our early model, but again, we're not going to get into a lot of details on this early sample, as our current findings might differ from what the retail units will end-up providing.
I will mention that Asus pairs the laptop with a 65Wh charger that plugs in with USB-C. It's compact, but the cables do add up a whole bit in your backpack, so it doesn't feel as portable as the power-brick designs offered with the current ZenBooks, with the power plug integrated within the brick. I'm not sure if the retail models are sticking with that design, or this one that we had here.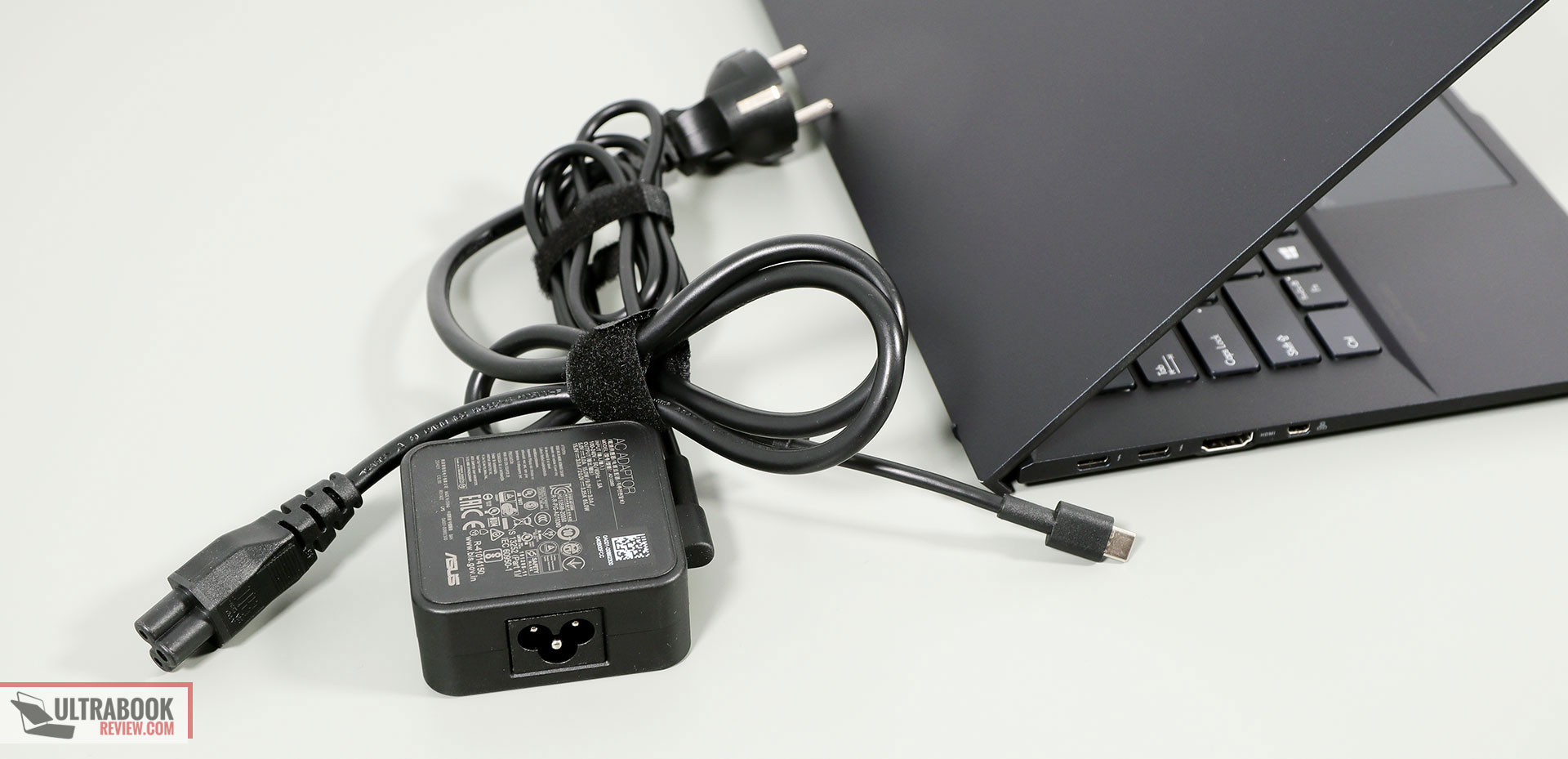 Price and availability
The Asus ExpertBook B9 B9400 is not yet available in stores at the time of this article, so we'll have to update once we find know more about final prices and configurations.
Previously, we were looking at around 1600 EUR over here for an i7 + 16 GB of RAM + 1 TB SSD in the 2020 ExpertBook B9450, so I'd expect around the same for this 2021 model. Add in the 32 GB of RAM and RAID storage and you'll end up above 2G EUR or USD, but even so, I feel that this is going to be competitive for what it is and for that sort of specs.
Correction: The 32 GB 2x1TB configuration is available over here for ~1800 EUR, so this is even more competitively priced than I anticipated. Thanks @Marius for the heads-up in the comments.
Some initial conclusions
Having used this ExpertBook B9 B9400 for the last few weeks, I do think this is one of the better ultrabooks you can get from Asus these days, and possibly a competitive product in 2021, even with all the new launches in the business space such as the HP Elite DragonFly or the Lenovo ThinkPad X1 Nano. Hard to say if this has what it takes to compete with the heavyweights in the business space though, it takes more than a good product to succeed there and I don't know if Asus has the brand power (with this ExpertBook series), the configurability, or the post-sale/warranty/support services required in that space.
What the ExpertBook has on its side over all the competition is the performance of the implemented hardware platform, the IO, and the lightweight compact design, among others.
So if competitively priced, I think this could do well in certain markets and for those buyers looking for an ultra-light multi-purpose ultrabook that goes a bit further than a regular ZenBook in terms of weight, design, and specs.
I for one enjoyed my time with this product and appreciate the design, the build, and the overall feel that this ultra-light ExpertBook delivers on, but a lot is going to come on how much extra Asus are going to charge for this over the existing ZenBooks, especially over the ZenBook 14 UX435 UltraLight series that matches this model in so many ways, and even offers MX450 graphics on top. You do get 32 GB of RAM, up to 4 TB of storage, and a finger-sensor with the ExpertBook, but are these enough to make a difference?
Anyway, I'm looking forward to updating this preview to a proper review if we get our hands on a retail model and can run our full set of tests on it. In the meantime, though, I'd like to hear your thoughts on this series and how it stacks against the ZenBooks and the competition in the business segment, so please get in touch down below.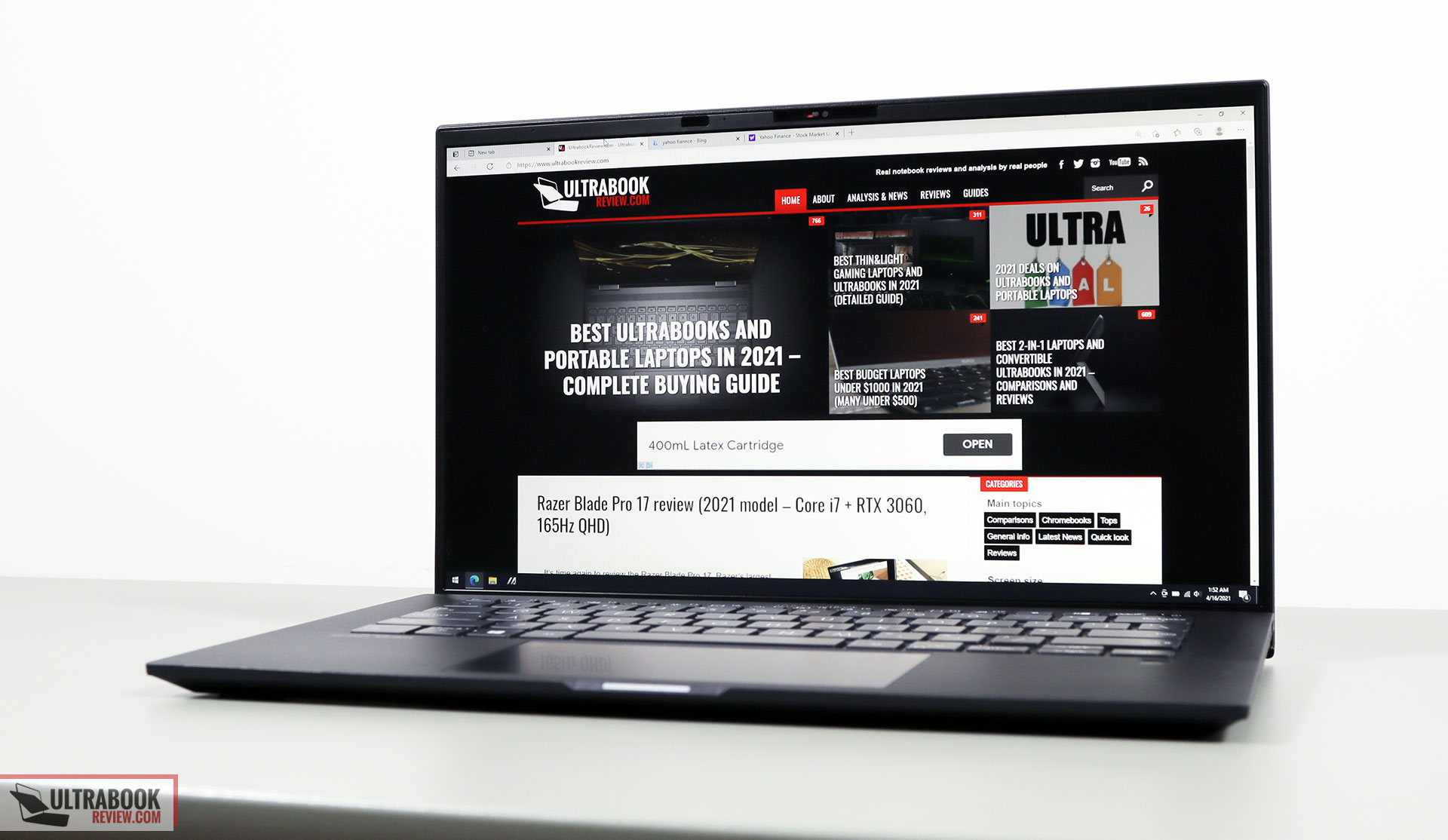 Disclaimer:
Our content is reader-supported. If you buy through some of the links on our site, we may earn a commission.
Terms
.