We've seen Thunderbolt ports on enthusiast computers for a while now, but these days Thunderbolt is becoming the port everyone wants on a new laptop, regardless of size, form-factor or budget.
The 3rd generation of Thunderbolt is a significant upgrade over its predecessors and in many ways, the one port that could replace all others.
Physically, it's an USB Type-C connector, thus compact and reversible. Technically, it can provide transfer speeds of up to 40 Gbps, it allows to connect up to two 4K 60 Hz displays while outputting video and audio signal at the same time, it supports DisplayPort 1.2, HDMI 2.0 and 10 GbE fast networking, as well as charging.
In other words, Thunderbolt 3 is the compact and versatile connector you can use to charge your laptop, transfer files at fast speeds, connect external monitors and other peripherals, including PCIe compatible graphics units (like the Razer Core, which we reviewed here). This last aspect is particularly interesting, as it allows OEMs to design ultra-portable laptops able to actually handle some serious gaming once hooked up to these eGPUs.
The versatility and compact size of the Thunderbolt 3 connector also makes it ideal for slim and ultra-compact computers, which wouldn't otherwise have the space around their sides for regular-sized ports.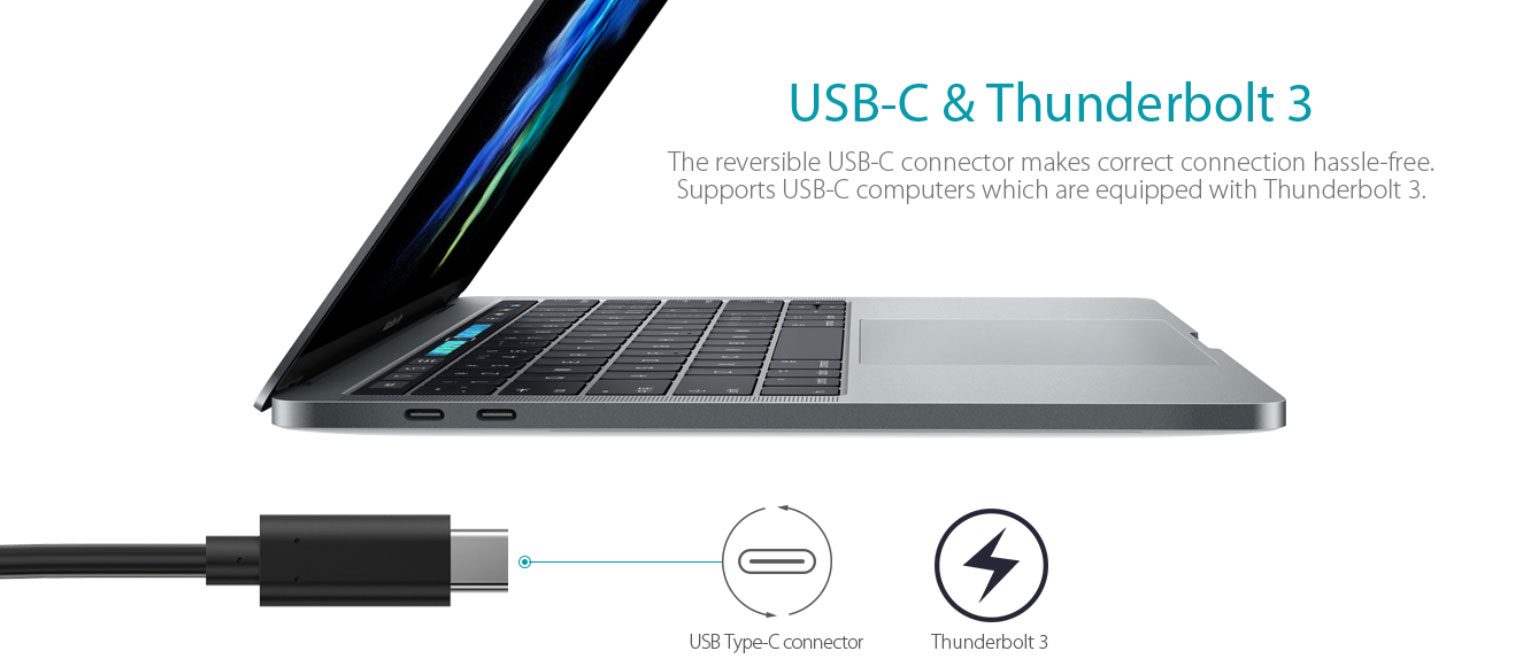 We're going to talk more about Thunderbolt 3 and its capabilities towards the end of the post. For now, let's get to the complete list of all the available laptops and ultra-portables that offer at least one Thunderbolt 3 port at the time of this update.
Since there are many such computers out there, we'll split them in three different groups: compact laptops (with 13-inch screens or smaller), large-screen portable laptops (15 to 17-inch screens) and full-size notebooks (15-inch screens or larger).
This list only includes laptops released in the last 2-3 years, and only the latest version of each laptop is mentioned, although the previous generations might also support Thunderbolt 3.
If you're looking for a larger screen and faster hardware, but still want to stay within compact and portable ranges (under 4 lbs for 14-inchers, under 5 lbs for 15 inchers, under 6 lbs for 17-inchers), then these are the options to consider.
Last but not least, if you don't care about portability at all and simply want a powerful computer with a large screen, capable graphics and a Thunderbolt 3 port, these are the options for you.
*these laptops get two TB3 ports that share a 4 lane PCIe connection. That means you get the 4x speeds while only one peripheral is hooked in, but when you hook up two different ones they'll share the lines. In other words, you don't get two ports with two dedicated 4x lanes each, but two ports that share a single 4x line connection.
There's a catch about the Thunderbolt 3 connection, it can be hooked up to the motherboard via x2 or x4 PCIe lanes. The x2 TB3 port is half the speed of the x4 TB3 connection and is primarily a problem when hooking up an external graphics chip and playing on the notebook's internal display. Hooking up the eGPU and playing on an external monitor hooked to the eGPU works fine.
Now, let's get back to why this Thunderbolt 3 port is such a big deal. Here are a couple of thoughts:
the USB Type-C connector is compact and reversible, so compatible cables are not going to take a lot of space. Also, unlike most other connectors like USB Type-A, DisplayPort, HDMI, etc, an USB Type-C cable not longer has a "right-way" to plug in, making it easier to use.
the Thunderbolt 3 port could replace all the other standard connectors in the near future, that means we'll have one universal connector and one type of cable for pretty much all basic needs.
TB3 allows for very fast transfer speeds, which opens up space for a multitude of compatible accessories: fast external storage units, external graphics and processing units, external docking stations, etc.
TB3 can output video, audio and power at the same time, so is a solution for connecting high-resolution external monitors or TV sets.
TB3 is also capable of network transfer speeds of up to 40 Gbps, so can be a solution if you want to transfer content fast within your network.
TB3 can also be used for charging your device, as long as it doesn't require more than 100 W of power. So good-bye dedicated charging cables.
One compact port can do all of these, so no wonder manufacturers are adding TB3 on the latest laptops.
But what does Thunderbolt 3 mean for ultraportable notebooks? It allows OEMs to design thinner, lighter and smaller devices which wouldn't have the space around their sides for regular sized ports. Yes, that means you'll need to buy adapters for your existing cables and devices, but to some extent, that's a sacrifice I'm willing to make. These smaller computers can be hooked up to peripherals and transformed from the ultraportable travel companions they represent by their own, to business, multimedia and even gaming computers. You can hook up an external monitor for extra screen real-estate, a storage unit, a docking station with extra ports or those graphics units. External graphics units won't show their true power when hooked up to an ultraportable, as these are usually built on Core M or Core U processors, but thin-and-light 15-inchers with quad-core processors and a solid amount of RAM will be good matches for the graphics capabilities of a full-size desktop card.
There is however a fair-amount of confusion around Thunderbolt 3, mostly because it's impossible to determine whether a device is TB3 compatible or not simply by looking at the physical connector. And that's because TB3 and regular USB 3.1 ports both use an USB Type-C connector, but have different capabilities. The Apple Macbook for instance offers an USB 3.1 port, but not Thunderbolt 3. Standard USB 3.1 Type-C connectors still support data, video and audio transfers, but are limited to a lower bandwidth, so will perform slower, can't carry power and aren't compatible with graphics units, among others.
As of early 2016 there aren't many Thunderbolt 3 compatible accessories available in stores, but that's going to change in the future (and we'll cover them in a later article). Knowing that, having a Thunderbolt 3 port on your laptop might not sit that high on your list of priorities right now. However, if you plan to keep the laptop you're buying today for at least 2-3 years, then you should consider something with TB3 for future proofness, especially if you plan to take advantage of the matching peripherals down the line.
With that in mind, we'll wrap this up here. I'll continue to update this list of Thunderbolt 3 compatible laptops as often as possible, adding the new entries as they become available, but if you spot something that should be in here and it's not, make sure to drop a line in the comments section below, where I'll also wait for your feedback and questions, if any.