The 15-inch Asus Zenbook Pros have been some of the most popular thin-and-light premium laptops of 2017, alongside the Dell XPS 15, the Lenovo Yoga 720 and Yoga 730, and perhaps the HP Omen 15.
With the launch of the Intel Coffee Lake hardware platform in early April 2018, we were expecting Asus to update the series to the new hardware, and as Notebook Italia discovered, the updated SKUs are now listed on Asus's official website.
Just like with the previous generation, Asus offers two distinct series of the updated Zenbook Pro, the UX550GD with Nvidia GTX 1050 4GB graphics and the UX550GE with Nvidia GTX 1050Ti 4GB graphics. It's a pity there's no GTX 1060 Max-Q version, that could have made the Zenbook Pro a more worthy competitor for 2018 ultraportables like the Dell XPS 9570 and Gigabyte Aero 15.
Both are of course built on Intel Coffee Lake platforms, with the new Intel 300 series chipset, support for faster DDR4 2400 MHz RAM and faster Wireless/Bluetooth solutions, among others, as detailed in this article about the 8th generation Core hardware.
Update: In the meantime, you should check out our coverage of the newer Asus ZenBook Pro 16X OLED series.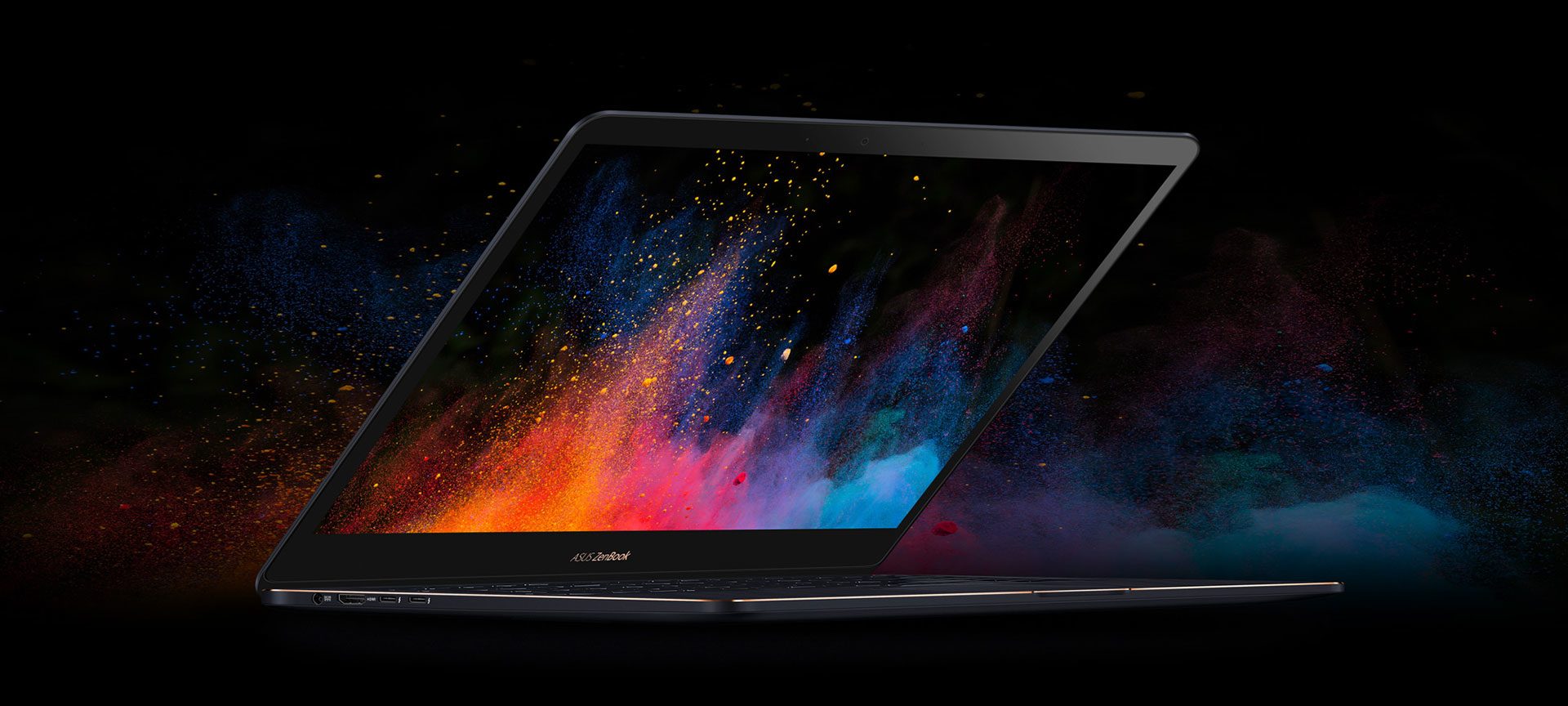 Asus Zenbook Pro UX550GD (link)
Asus Zenbook Pro UX550GE (link)
Screen
15.6 inch, IPS, options for FHD matte, FHD touch or UHD touch with 100% AdobeRGB gamut
Processor
Intel Coffee Lake Core i5-8300H, i7-8750H or i9-8950HK CPU
Video
Intel HD 620 + Nividia GTX 1050 4 GB GDDR5
Intel HD 620 + Nividia GTX 1050 Ti 4 GB GDDR5
Memory
16 GB DDR4 2400 MHz (soldered)
Storage
up to 1 TB M.2 NVMe SSD (80 mm)
Connectivity
Dual Wave Wireless AC, Bluetooth 5.0
Ports
2x USB 3.0 Type-A, 2x USB Type-C with Thunderbolt 3, HDMI, mic/headphone, microSD card reader
Battery
71 Wh, 150 Wh charger
OS
Windows 10
Size
365 mm or 14.37" (w) x 251 mm or 9.88" (d) x 18.9 mm or 0.74" (h)
Weight
~4.1 lbs (1.84 kg)
The choice in CPUs includes the entry level Core i5-8300H (quad-core, HyperThreading, 8MB Cache), the mid-range Core i7-8750H (six-core, HyperThreading, 9 MB Cache), and also the high-end Core i9-8950HK (six-core, HyperTreading, 12 MB Cache). As detailed in our other articles, the i5-8300H is an excellent entry-level CPU whose performance matches that of the KabyLake i7-7700HQ in most tasks, while being cheaper and a bit more efficient. The i7-8750H offers a significant boost in performance in multi-core loads, due to the 50% increase in cores and working threads, but its behavior is greatly influenced by the cooling solution's ability to keep temperatures at bay and prevent throttling.
Last, but not least, the i9-8950HK runs at higher clocks than the i7 and can yield even better results in demanding multi-core activities. The i9 is also an unlocked processor which can be overclocked to even higher than stock speeds, but again, that matters only as long as the cooling can prevent throttling.
If you've read our reviews on the 2017 Zenbook Pros, namely the UX550VD and UX550VE, you probably know by now they had a hard time keeping performance at bay in games or other tasks that stressed both the CPU and GPU simultaneously. The GTX 1050 models could be tweaked to perform well with undervolting and repasting the components, but the GTX 1050 Ti configurations were just too much for the cooling to handle.
That's why I'm looking forward to find out if Asus did anything to improve the cooling on the new units, or just plastered the Coffee Lake hardware on the same design. If they kept the same internal design with few heat-pipes and obstructed air intake and output cuts, then I'm pretty sure these 2018 models will throttle as well and not offer the performance you'd expect from the six-core i7 and especially the i9.
From the little we know so far, the 2018 models look exactly like their predecessors and are the same size and weight. The hardware specs are also very similar, with up to 16 GB of soldered RAM and 1 TB PCie SSD, and the only internal difference is the slight change in battery capacity: 71 Wh – 2018 models vs 73 Wh – 2017 models. Even the demo on Asus's website in fact suggests the same internal design, as you can see comparing the picture below with that of the UX550VE's layout.
Other changes are the inclusion of a bigger power brick (150W vs 120W) and the option for a UHD screen with 100% AdobeRGB color coverage, which professionals will probably appreciate, but without an impact on the internals.
All in all, the 2018 versions of the Zenbook Pro 15 look a lot like just hardware refreshes of the older models. We're looking forward to see how they actually perform in our future reviews, but given the issues of the previous generation with performance in demanding loads, as well as their rather average typing experience and build, I would have expected a more chiseled update.
Stay tuned for more details, we should find extras at Computex in June and then expect these to be available in stores during the Summer.
Disclaimer:
Our content is reader-supported. If you buy through some of the links on our site, we may earn a commission.
Terms
.