For the last two years, the Dell Inspiron Gaming line has been one of the best series of mid-range gaming laptops you could get, with solid traits and an excellent price (especially for those of you living in the US).
The latest iteration in the series, the Inspiron Gaming 7577, ships as of late September 2017, with a redesigned body, faster graphics, IPS screens, but also poorer speakers and a smaller battery than on the previous Inspiron 7567 model.
It starts at around $1000 (but goes for less with discounts) for a Core i5 HQ and GTX 1060 Max-Q configuration, with an IPS FHD screen and a 256 GB SSD, so there's no wonder people are all over it, as most other mid-range gaming notebooks in this price range would only get you an Nvidia 1050 Ti graphics chip.
We haven't got our test unit yet, but the first impressions and reviews are starting to pile-up online from people who already got theirs, and we've gathered them in this article, so you'll know what to expect from the Inspiron 7577 if you plan to buy one.
What it is
The Dell Inspiron Gaming 7577 is a mid-range multimedia and gaming laptop with a 15-inch matte screen, a sturdily built metallic body, a backlit keyboard and modern hardware specs. We're having a look at the configuration listed for $999 below, but we'll also refer to the higher end options throughout this article.
| | |
| --- | --- |
| | Dell Inspiron Gaming 7577 |
| Screen | 15.6 inch, 1920 x 1080 px, IPS, non-touch, matte |
| Processor | Intel Kaby Lake Core i5-7300HQ CPU |
| Vide0 | Intel HD 630 + Nvidia GT 1060 6GB (60 W – Max-Q design) |
| Memory | 8 GB DDR4 RAM (2x DIMMs – up to 32 GB) |
| Storage | 256 GB SSD (M.2 80 mm NVMe)  + spare (2.5″ bay) |
| Connectivity | Gigabit LAN, Wireless AC (Intel 8265), Bluetooth 4.1 |
| Ports | 3x USB -A 3.1, 1x USB-C with Thunderbolt 3, HDMI 2.0, LAN, mic/earphone, SD card reader, Noble Lock |
| Battery | 56 Wh |
| Operating system | Windows 10 |
| Size | 383 mm or 15.1" (w) x 261 mm or 10.3" (d) x 24 mm or 0.94" (h) |
| Weight | ~5.9 lbs (2.67 kg) |
| Extras | red backlit keyboard, stereo speakers, webcam |
The Inspiron Gaming 7577 is also available with a Core i7-7700HQ processor, 16 GB of RAM and dual storage for $1300, but at that price point it's not as interesting as the base configuration. There's also an UHD screen available for those of you interested in a high-resolution panel, but as of right now it's only an option for the top-tier configuration that also includes a 512 GB NVMe SSD and sells for $1650.
Prices and configurations will change in the future, so you should check out this link for updated info at the time you're reading the article.
Sources
As I mentioned already this is not one of our usual reviews, but a collection of impressions from other reviewers and regular buyers who already got their units.
Your first stop if interested in this laptop and if you have the time to go through multiple posts is this dedicated thread on Notebookreview.com's forum. These reddit threads are good reads as well, but keep in mind some of the issues these people encountered on their early units will be addressed as time goes by. We'll talk about them in our analysis below.
If you'd rather watch a video about the Inspiron Gaming 7577, well, I've added two of them below, one from Andrew Tran and another from Dave Lee, both some of the best reviewers on Youtube. Check them out.
These clips don't get in-depth with all the potential issues of this mid-range gaming laptop, but corroborated with the info on the forums and Reddit, help us paint a pretty accurate picture of where this Inspiron 7577 shines and what it lacks. We'll talk about all these aspects below.
Performance – what to expect
On a first look, there's no other GTX 1060 laptop selling for under $1000 as of early October 2017, but that shouldn't be your main reason to consider this one. If you're looking to get the best value for your buck, the Acer Predator Helios 300 (reviewed here) sells for as low as $1050 these days and comes with a full-power 1060 and a Core i7 processor.
The $999 version of the Inspiron Gaming 7577 only gets a Core i5-7300HQ processor, 8 GB of RAM, a GTX 1060 Max-Q graphics chip and a 256 GB NVMe SSD (Samsung PM961). The RAM and storage can be easily upgraded. Accessing the components is much easier than on other notebooks, as the back panel is hold in place by a single screw. The connector for a 2.5″ HDD is included, in case you opt for the base version with SSD storage. Getting to the cooling system in order to repaste the CPU/GPU is a little more complicated though.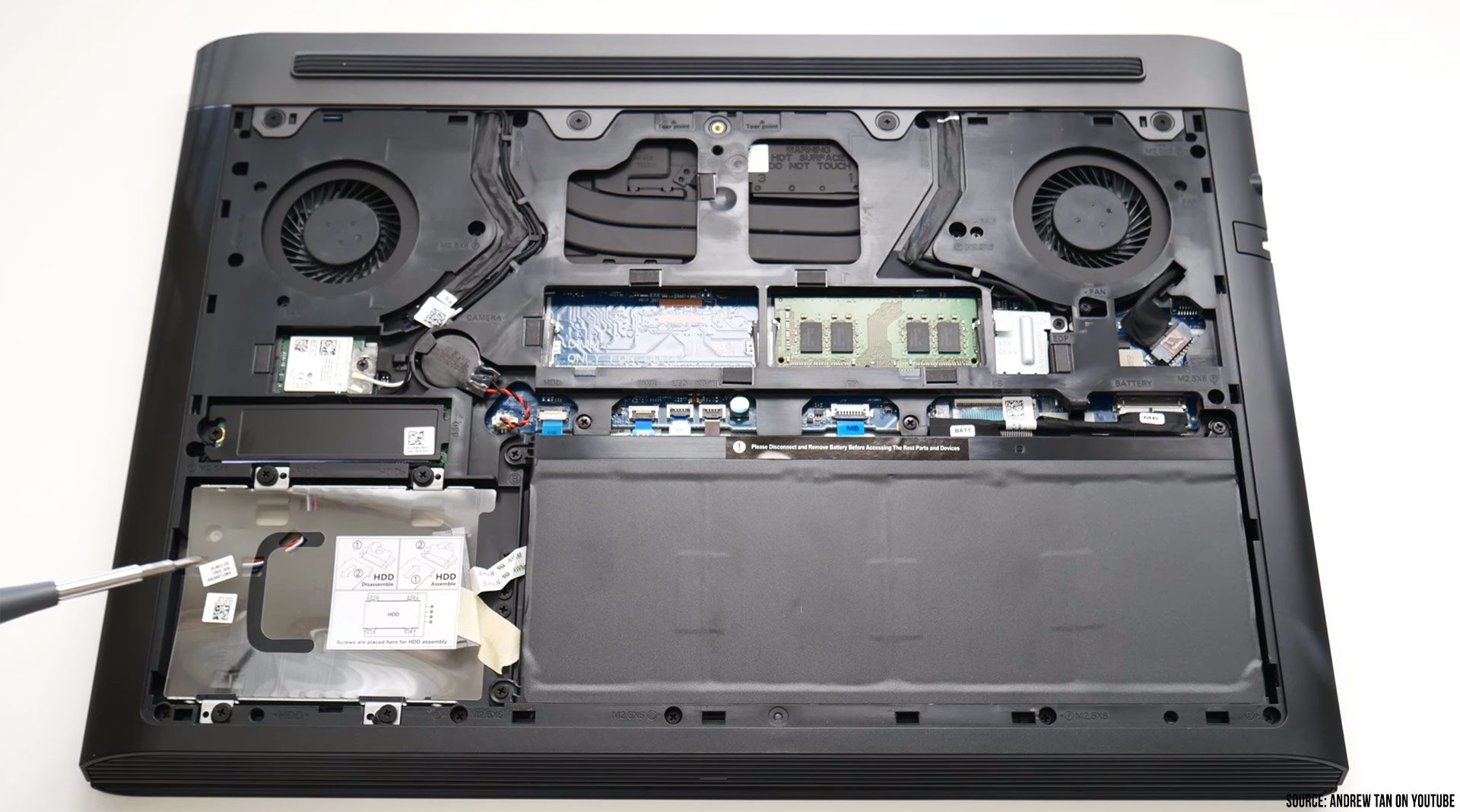 The CPU and GPU are soldered and you'll have to understand exactly what they offer in order to decide if they're enough for your needs or not.
Let's talk about the elephant in the room first: the 1060 chip. Dell mentions it's a 60 W version of the chip, thus a Max-Q design. We've explained what the Nvidia MAx-Q is all about in this article, but in fewer words, it's a down-clocked version of the standard chip, designed to run cooler and quieter, which of course implies a decrease in performance as well. Normally a Max-Q chip should make its way inside a thin-and-light laptop, but this Inspiron is far from it at its almost 6 lbs.
Still, I'd reckon many would be interested in a quieter/cooler notebook that still performs better than a 1050Ti model. There aren't a lot of benchmarks out there as of yet, so you should further look into this aspect, but from what we know so far here's what you should expect from the GTX 1060 MQ chip inside the Inspiron 7577.
| | standard GTX 1060 | GTX 1060 MaxQ on Inspiron 7577 | standard GTX 1050 Ti |
| --- | --- | --- | --- |
| Core Clock | 1506 MHz | 1063 MHz | 1493 MHz |
| Boost Clock | 1708 MHz | 1342 MHz (*) | 1620 MHz |
| Memory size | 6GB GDDR5 | 6GB GDDR5 | 4GB GDDR5 |
| TDP | 80W | 60W | 70W |
| 3DMark – FireStrike Graphics | ~11500 | ~10200 | ~7800 |
| Overwatch – FHD Ultra | ~106 fps | ~90 fps | ~75 fps |
| Battlefield 1 – FHD High | ~77 f | ~70 fps | ~58 fps |
* Dave's video review mentions that his unit hits boost clocks of up to 1645 MHz, but he doesn't provide any further details on the actual average clock speeds with gaming sessions. I'd expect the average to be much lower, around the 1300 MHz mark at best.
In fewer words, this GTX 1060 MQ is about 10-15% slower than a regular 1060, but still a significant upgrade from a 1050 Ti configuration. And keep in mind these are stock performances, you can squeeze more with some further tweaking: undervolting the CPU, overclocking the GPU, repasting both the CPU and GPU (this guide explains how to).
This guy on the forums mentions here that : "I turned on my undervolt (-.165v) and overclocked the GPU by 200mhz on the core and 250mhz on the ram. Max fan speed was 4800 rpm (na: from the 5400 rpm out of the box). The highest ambient temp was 74C. The GPU and CPU stayed at max clocks and I had no throttling". This allowed him to run Witcher 3 at 50-60 fps with Ultra settings, with the CPU and GPU averaging around 65C (on the base i5 configuration). In other words, with this kind of tweaks you can expect nearly full-size 1060 performance, but from a chip that runs cooler due to its lower TDP.

Then there's also the CPU to consider. The Core i5-7300HQ is a quad-core processor without HyperThreading, and as a result it trails the i7-7700HQ CPU (4-cores, 8-threads) in multi-core benchmarks and real-life use that would require the extra processing power.
There are plenty of articles online that compare the two options, but in very few words, the i5 is good enough for daily use and should handle most games well too. If you plan to edit photos/videos, run Mathlab, programming software or other applications that can benefit from the extra four threads though, the i7 is the recommended choice. It's not going to help that much with most modern DX12 games, as these are mostly GPU heavy, but there are some older titles that rely heavier on the CPU and in those cases the i7 will again help get better fps results.
In the end, choosing between the i5 and i7 is entirely up to you. At list prices, the i7 configuration is not worth the extra $300 imo, but with all the available discounts you might get it for much less. You should also keep in mind the i7 is going to run a little hotter than the i5, but given what we know so far, temperatures and performance should not be a concern on this laptop. In fact, with the CPU/GPU averaging mid 70s out of the box without any tweaks, we could argue that Dell could have put a proper GTX 1060 chip inside this laptop and not the snipped Max-Q version, although there are some benefits of going for this option, as mentioned earlier.
As for the outercase temperatures, I'm seeing high 40s with gaming, with the area on top of the keyboard getting the hottest, while the WASD keys hit mid 30s. I couldn't' find anything about the bottom temperatures, but I'd expect high 40s down there as well. In other words, expect the Inspiron 7577 to run hot with games, but not hotter than most other gaming laptops on the market.

As far as the cooling system goes, Dell put a two-fan two-heatpipe solution inside the 7577, just like on the older models.
The existing reviews report on 44-47 dB noise level in front of the laptop with gaming, which is not what I'd expect from a Max-Q laptop. However, the latest Nvidia drivers with Whisper Mode (that's supposed to tweak the fans to run at up to 40 dB, as per the Max-Q design guidelines) do not work on the Inspiron 7577 as of early October 2017, so chances are the fans would run quieter once Dell updates the drivers. For now, quite a few people complain about fan's behavior on their unit. Take it with a grain of salt though and further look into this matter.
Other selling points
With that out of the way, here are a few of this laptop's other selling points.
First of all there's the build and the design. The Inspiron 7577 is a little different than the previous 7567, with most design changes happening towards its back, where it now gets a silver framing around the exhaust grills that somewhat resembles the design lines of the Alienware 15. All the other parts are still black, with a red logo on the lid cover and a red frame around the trackpad on the inside. The keys are red-backlit, but there aren't any other annoying lights or LEDs like on most other gaming laptops (well, except for the charging LED on the front edge).
What's perhaps less obvious is the fact that the 7577 no longer gets a soft rubbery coating on the hood and interior, as these are now simpler metallic panels. Reviewers claim that's a welcomed change, as the previous finishing felt nice and looked well out of the box, but didn't age that nicely.
The build quality is still one of the better you'll get in this price range, with a solid keyboard deck and a sturdy inner chassis. There is however some flex in the screen and the fact that the hinges are placed towards the middle and only attach to it on one side doesn't help either, as they allow the screen to warp if you'll grab it from the corners in order to lift it up.
Speaking of the screen, Dell offers the Inspiron 7577 with a 15.6-inch matte display and a choice for two panels:
FHD IPS – LG LGD053F (156WF6) panel with roughly 250 nits of brightness and 52% AdobeRGB gamut coverage;
UHD IPS – AUO Optronics AUO20EB (B156ZAN) panel with advertised 99% AdobeRGB gamut coverage.
You'll only get the UHD panel on the high end configurations. It's not the same Sharp panel used on the previous Inspiron Gaming models, but I'd reckon it should be similar. Still, aside from its price, the UHD panel isn't the best match for the hardware inside the laptop if you plan to use yours primarily for gaming, and will also take a significant toll on battery life.
The FHD IPS panel is, well, decent, and on par with what's available on most other laptops in this price range. The colors aren't great, the viewing angles aren't great either, but it's still better than a TN panel. Those interested in gaming should also know that this uses no PWM, gets a Black to White response time of roughly 28 ms and is a 60 Hz panel, with no way to overclock it for higher refresh rates.
The IO is another aspect we should mention here, as the Inspiron 7577 now gets an HDMI 2.0 connector and Thunderbolt 3 (PCIe x4), on top of all the standard ports for the class. This latter aspect makes it compatible with eGPUs and overall a more future-proof option for those who plan to keep this laptop for a longer time. The 7577 doesn't charge via Thunderbolt 3 though.
The keyboard and trackpad haven't changed much from the previous Inspiron Gaming. They're not the best out there, but there's not much to complain about them either. The keyboard is comfortable and quick to type on, albeit a bit shallow, while the plastic clickpad gets Microsoft Precision drivers and works well out of the box. The keys are backlit and from what I can tell, the US versions come with red LEDs, but there are some models that get white backlightning (1050Ti models shipping in the UK, for example)
As a novelty, the 7577 also gets a fingerprint sensor integrated within the power button.
Quirks
You'll notice out of the box that with the new metallic construction, the Inspiron 7577 is heavier than its predecessor and also heavier than most other laptops in its class, at over 6 lbs with a HDD included. It's also fairly chunky, with a 1-inch rectangular body and a toll front lip that might get in the way with daily use. The corners are also pointy and annoying, like on the previous model.
With the extra weigh you'd expect perhaps some extra features or a bigger battery on the newer model, but in fact the new Inspiron lost two of its main selling traits with the upgrade.
For one, there's the battery. The 7577 gets a 56 Wh battery, while the previous model bundled a 74 Wh battery. At 56 Wh, the battery is still bigger than what you'll find on most other laptops in the segment, but no longer a clear reason to opt for the Inspiron. Expect about 4 hours of everyday use and one a half of gaming. At least the charger supports quick-charging and you'll be able to fill the battery from 10 to 80% in about an hour.
The speaker system is the other downgrade, as there's no longer a sound-woofer included with the new model and as a result, the audio coming out of those two cuts placed on the front lip is clean, but not as rich on the low end as on the previous iteration.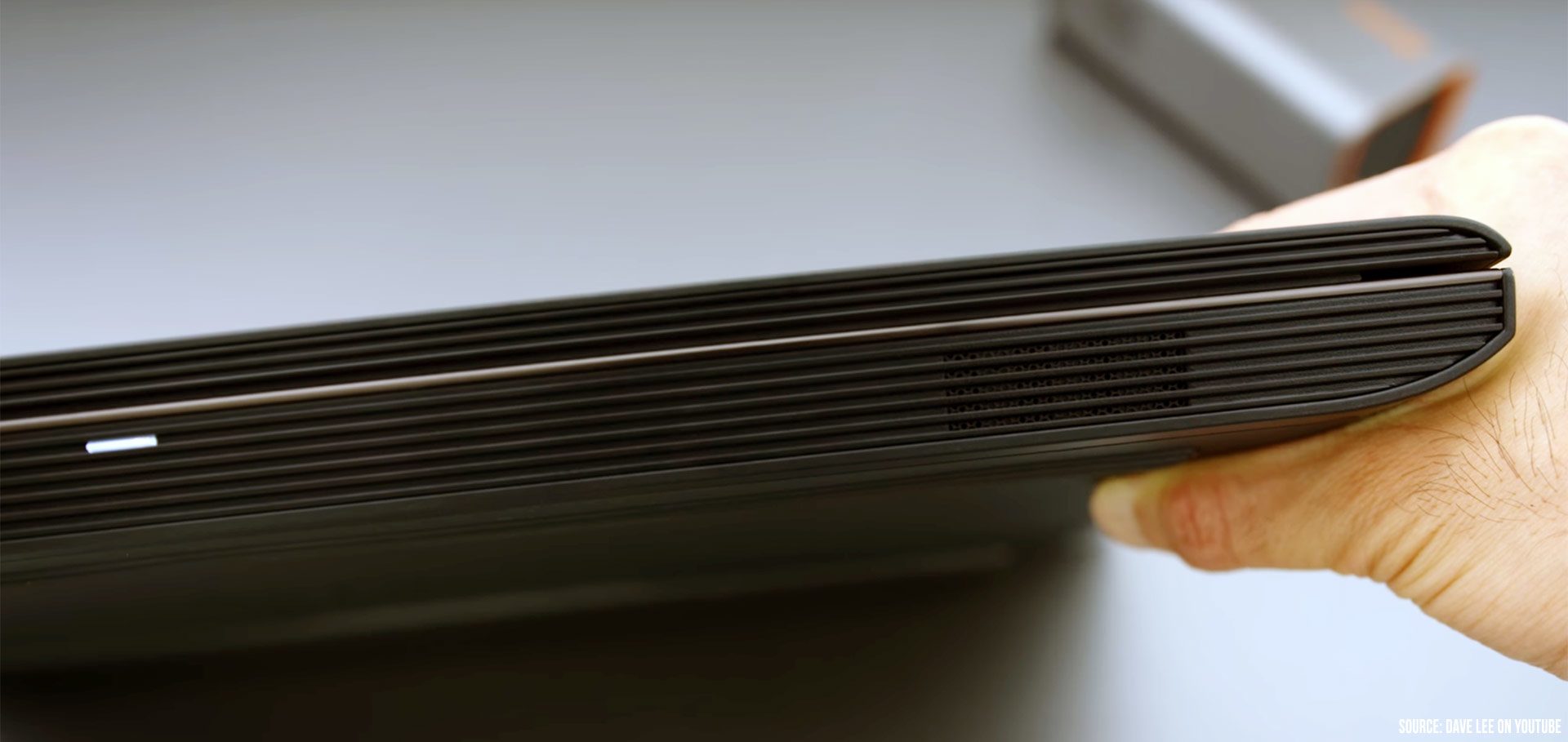 One final aspect to mention here is the webcam, which is pretty crap, if you care about that.
Wrap-up
The Dell Inspiron 7567 is one of the best mid-range gaming laptops that were available in 2017, and the updated Inspiron 7577 improves on some of its aspects, but at the same time looses some of its aces.
It's a faster laptop, that's for sure, and from what we can tell so far the GTX 1060 MQ graphics chip that Dell chose to put inside it will perform well with games, while the entire laptop is going to run fairly cool and quiet once Dell figures out the drivers. The graphics chip can be overclocked to nearly match a standard 1060 chip, and is paired with other top-tier components and features, like the easily upgradeable RAM, dual storage options and Thunderbolt 3 connectivity.
The Inspiron 7577 also comes with an IPS screen out of the box. It's not a great panel, but is still a step-up from the FHD TN panel available in most regions for the 7567 (you could get that one with a FHD IPS panel in the US, but over here in Europe it only came with the TN screen).
As for the price, well, its the icing on top of the cake, especially if you're living in the US, where you'll probably get the base Core i5 configuration for as low as $900, while most other 1060 notebooks sell for at least $1000.
The filling on the other hand is not as delicious as you'd expect based on the icing, though.
The 7577 only gets an average sized battery and average speakers on one hand, is fairly heavy and large on the other, and even the price might not be that appealing once your start specking it up to a Core i7 processor and more RAM. By that point you will find full-power GTX 1060 laptops selling for less, like the Acer Predator Helios 300, or laptops with better screens and larger batteries, like the Asus ROG Strix GL503VM or the Lenovo Legion Y720, to name just some of the other good GTX 1060 gaming laptops out there. Of course, each has its fair share of quirks, but you should at least consider them alongside this Dell if shopping for a laptop in this segment.
Bottom point, as long as you only have around $1000 to spend, you're primarily interested in a laptop for gaming and don't plan to run tasks that would require a more powerful processor, the Core i5 / GTX 1060 MQ configuration of the Dell Inspiron 7577 is a great choice, as a well rounded laptop with few quirks and and excellent price tag. On the other hand, if you're aiming for a higher end configuration, you should also have a proper look at the competition.
That's about it for this post, but let me know what you think about the Dell Inspiron Gaming 7577 in the comments section below.
Disclaimer:
Our content is reader-supported. If you buy through some of the links on our site, we may earn a commission.
Terms
.