As more and more reviewers rely on loaner devices and being first with a review to stay afloat, long-term reviews of laptops are becoming rarer. However, the overall user experience, manufacturer support, and engineering are aspects that are difficult to speak of without an extended period of time with a machine. The lack of an initial reviews' ability to judge such issues has led, in my opinion, to many machines receiving sub-par after-sales support.
I hope to break this trend by logging my long-term experiences with certain machines as an end-user, and today we will do just that with the Lenovo ThinkPad P1 / X1 Extreme.
I've made little secret of the fact that the ThinkPad P1 is my favourite laptop to date, mentioning it quite a few times in articles and podcasts. Andrei reviewed the 4K X1 Extreme variant (meaning it had a GTX 1050Ti Max-Q rather than P2000), awarding it a 4.25/5. While his unit was a loaner, however, I purchased my P1 with my own funds and have been using it daily for the past 3-4 months, meaning I've been much more exposed to its shortcomings.
Just how well has the ThinkPad X1 Extreme/P1 held up over daily long-term usage? Read on to find out.
Update: If interested, our recent review of the latest ThinkPad X1 Extreme series is available here.
Specs as reviewed
| | |
| --- | --- |
| | Lenovo ThinkPad P1 |
| Screen | 15.6 inch, 1920 x 1280, IPS, matte, non-touch |
| Processor | Intel Coffee Lake-H Core i7-8850H CPU |
| Video | Intel HD 630 + Nvidia Quadro P2000 Max-Q 4 GB |
| Memory | 16 GB DDR4 2666 MHz (2x DIMMs) |
| Storage | 512 GB SSD (SAMSUNG MZVLB512HAJQ-000L7; 2x M.2 NVMe 80 mm slots with RAID 0/1) |
| Connectivity | Wireless AC (Intel AC 9560), Bluetooth 5.0, Gigabit LAN (with adapter) |
| Ports | 2x USB-A 3.1, 2x USB-C Thunderbolt 3, HDMI, SD card, mic/earphone, network extension port, Kensington Lock, optional SmartCard reader |
| Battery | 80 Wh, 135 W adapter |
| OS | Windows 10 Professional |
| Size | 362 mm or 14.2" (w) x 246 mm or 9.7 (d) x 18.7 mm or .72" (h) |
| Weight | 3.75 lbs (1.7 kg) + 0.99 lbs (450 g) power adapter, US model |
| Extras | Backlit keyboard, fingerprint sensor, HD webcam w/ privacy shutter, TrackPoint |
Design
The P1 / X1 Extreme scored points with us for its smart design, but sometimes small design problems don't become evident until you're forced to use the laptop for a few hundred hours.
In the case of my P1, I have very little to complain about. The 180-degree hinge characteristic of ThinkPads, camera shutter, dedicated trackpad buttons, TrackPoint, weight, and overall ergonomics of the machine are things I appreciate on a daily basis, even after months of use. The fact that the FHD model of the P1 is only around 3.75 lbs is absolutely fantastic compared to the competition, which are all around half a pound heavier or more.
There are only a couple of mild complaints I have on the overall design, which are the propensity of the finish to pick up oil and grease smudges, and the fact that I don't feel comfortable just throwing the P1 in my backpack's laptop section without a case.
The soft-touch finish is very comfortable to have on the deck when typing, but I do get a little paranoid about accidentally slashing it with a nail or damaging it somehow. Unlike my X1 Carbon, luckily, I haven't found a single point of wear in the finish despite over a hundred days of throwing it into my bag (in a case) and working several hours a day on it. Very nice, Lenovo. Smash like and subscribe.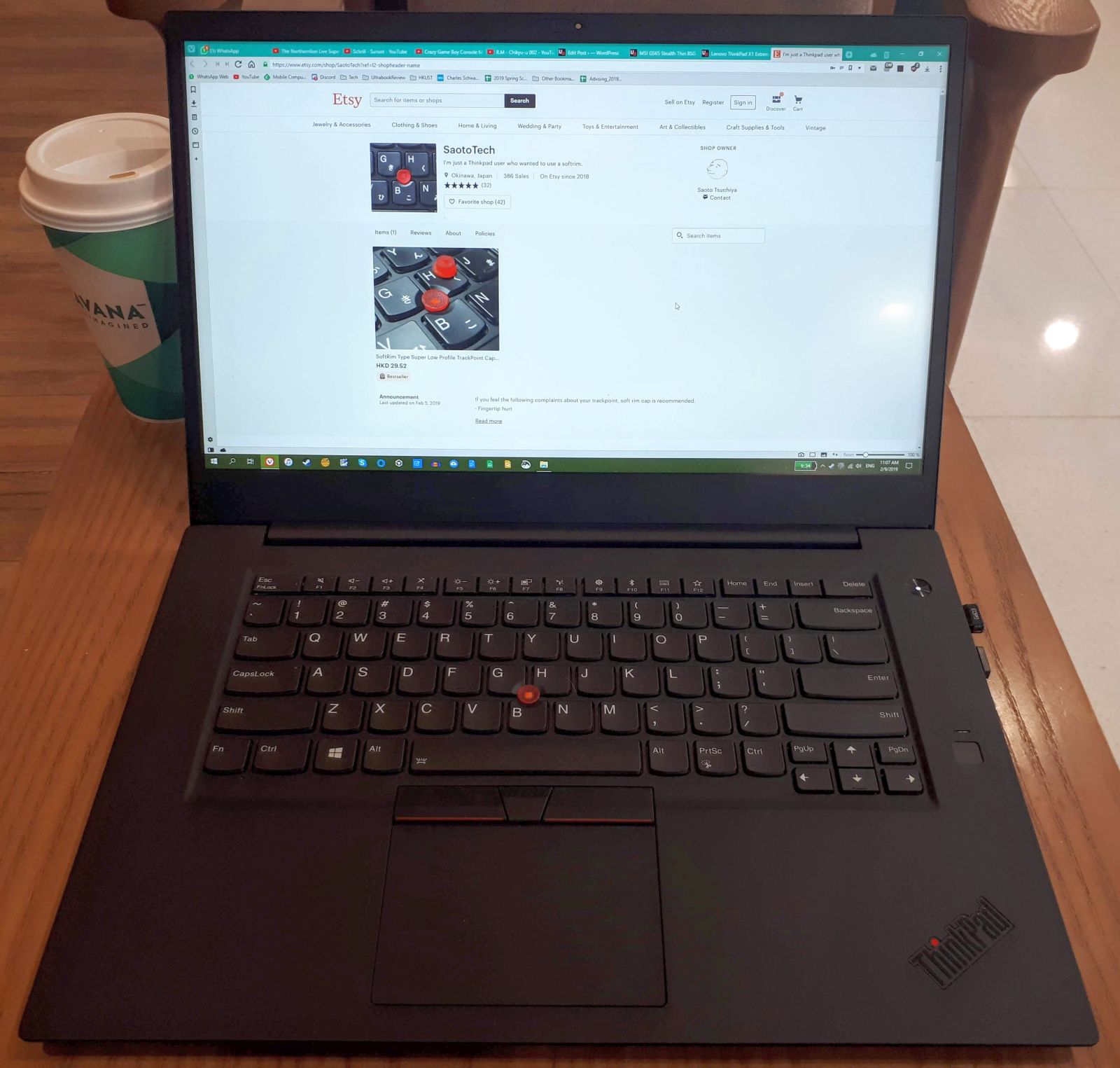 Input and Biometrics
ThinkPads are known for their input, and the P1 provides an overall excellent experience with a couple of small asterisks. The action and travel of the keys, in general, is sublime, and I really like the smoother texture of the keys on here compared to the anti-bacterial keyboard on my T470. It really does feel like giving your fingers a massage.
The TrackPoint, for which I got a custom-made soft-rim replacement (easier on the fingertip), is always a benefit on ThinkPads, as it allows one to type and mouse without ever removing the hands from the home row of keys. The trackpad is quite nice to use, as well, and it's on par with the best Windows machines have to offer, such as the XPS 15. If I did use the trackpad, I would prefer to have a second set of dedicated clickers at the bottom of it, but that's a matter of taste.
There are a couple of occasional bothers I have with the input, however. The first is the well-documented ThinkPad keyboard firmware bug, which still seems to affect both X, T, and P-series machines. In short, typing two adjacent letters very quickly will result in the key presses being read erroneously. For example, typing "download" very quickly will reliably produce "download". Lenovo has been informed about the bug and they fixed it on their E-series laptops, but there is still no word on whether they are working for a fix for the rest of their ThinkPads.
The second mild annoyance I have is with the dedicated buttons above the trackpad. Occasionally, my left-clicks are not registered when I press the right-most side of the button, despite getting firm feedback. More annoying is the middle scroll-button, which modifies the TrackPoint to control directional scrolling when depressed. Unfortunately, you have to keep this pressed quite hard, as otherwise, the scrolling action will often cease registering after a couple of sections. It's a small thing, but it throws you off every time it happens.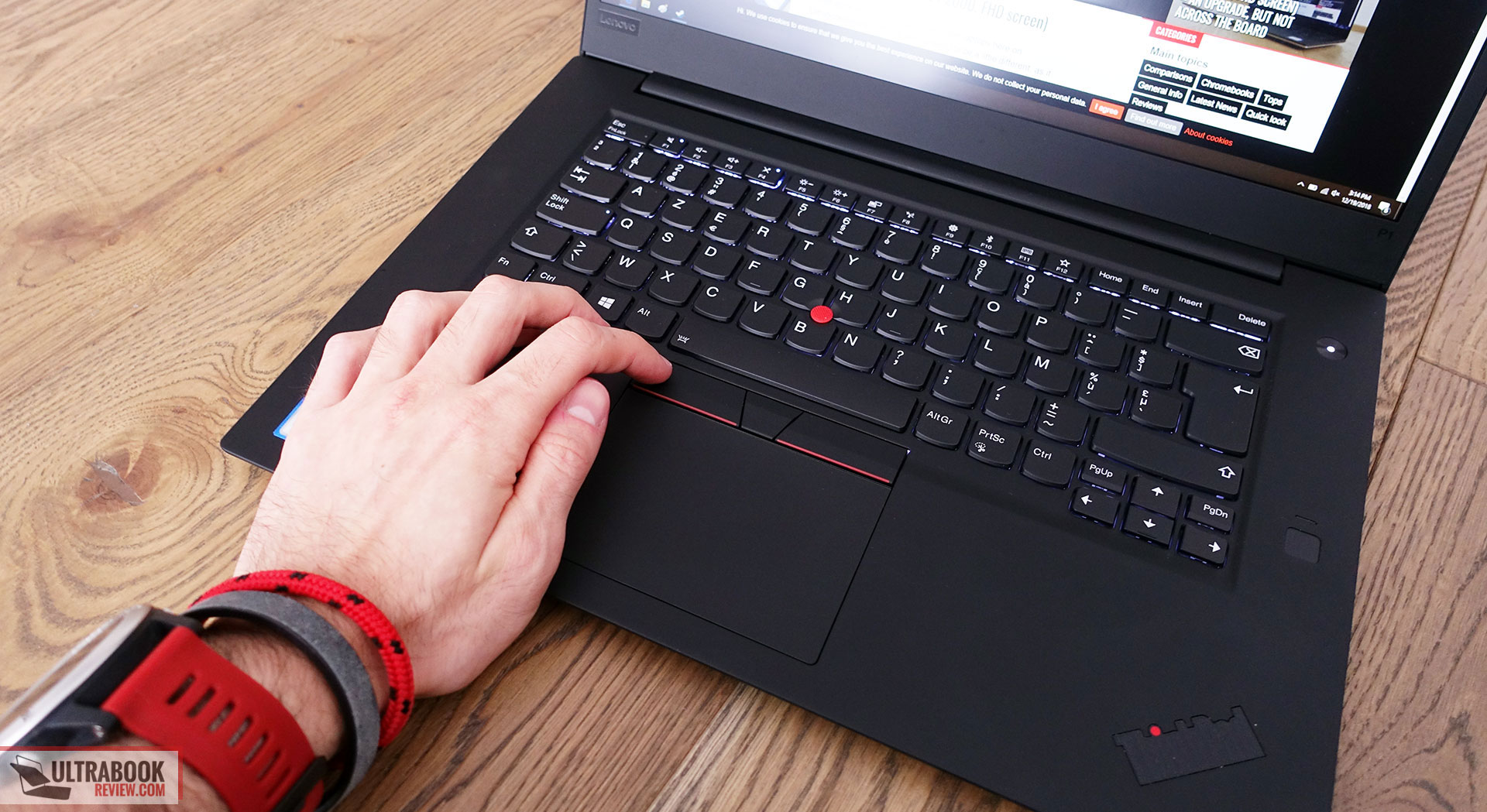 Probably the biggest gripe I have with the P1 overall is its fingerprint scanner, which is a Synaptics SGX. It works around 40% of the time for me, and even when it does work, it takes a good 2 seconds to place my finger in just the right spot and wait for it to scan. I have tried registering different parts of my scanning finger and updating the software, but it is still an unreliable and frustrating biometrics device that achieves little of the improvement it was designed to provide. This is one area where I expect significant improvement from Lenovo on in the future.
Performance and Emissions
Equipped with 16GB of DDR4 2666 RAM, an i7-8850H hexa-core CPU, and Nvidia P2000 GPU with 4GB of GDDR4, the P1 should feel snappy in quick operations and burly when tasked with heavy multi-threaded operations or blended loads, such as gaming. Luckily, it does all this with aplomb.
The P2000 is roughly 5-10% slower than the X1 Extreme's GTX 1050Ti in gaming, but it still provides more than enough performance for 60FPS+ 1080p gaming at medium-to-high details for most modern titles. I do a lot of processing of audio files, which taxes all 12 cores of the i7-8850H, and it just chews through the workloads when plugged in.
With such a thin and light chassis, the P1 does produce noticeable noise and heat when taxed, but also at sometimes less predictable times. I play a lot of Killing Floor 2 (great game, by the way; it has evolved immeasurably since I bought it in early-access a few years ago) and the fans noise is only occasionally audible over the sound from the game, though it does rev up at times. With a -120mv undervolt, temperatures on my CPU tend to max out around 85C. This is fairly good for a Coffee Lake device with such a slim profile, in my opinion.
Less thrilling are the warm chassis temperatures and fan spin that occur whenever Windows feels like hijacking the CPU, which usually happens when restarting or at occasional random times. This is Microsoft and Intel's problem more than Lenovo's, but with such a thin chassis, it is quite noticeable when a Coffee Lake laptop has its CPU utilized. Still, the carbon-fiber case does a good job at not getting as blistering hot as aluminum, and external temperatures never get to the point of uncomfortable.

Battery Life
The P1 and X1 Extreme pack a moderately-large 80 Wh battery, which is large for an ultrabook but smaller than other similar laptops such as the XPS 15 and Gigabyte Aero, which pack in 97 Wh+ batteries. The P1 is smaller and lighter than either of those laptops, however, and one-ups the XPS by having 2 m.2 NVMe slots rather than 1. Battery life on my FHD model is usually 7-8 hours with my regular (light) workload of browsing with Vivaldi, Google Docs, and music. This is after some tweaking with ThrottleStop including undervolting and disabling turbo on battery, however, so expect around 6 hours if you are not into tinkering.
There is an annoying bug with Windows and machines with a dedicated GPU that is directly connected to video output, such as the case with the P1. Basically, when using an external monitor either through HDMI or USB-C, the dedicated GPU will always be used to power new apps/processes. When you unplug the monitor, the processes continue running on the dedicated GPU. The GPU will not terminate the processes until you force it to, the easiest way of which seems to be to go to the Device Manager then disable and enable the GPU. If I do not do this, the GPU stays active on battery power and will chew through the 80 Wh in less than 3 hours, all while generating more heat and noise.
This is my personal bug-bear on this machine, and I hope Microsoft, Lenovo, or Nvidia can find a way around this bug. They cannot possibly expect an average consumer to figure out that the dGPU remains active and draining power because an external monitor has been used at some point.
General Support
Lenovo deserves to catch a bit of flak for their BIOS support of the X1 Extreme and P1. Essentially, these models shipped from the factory with an option in the BIOS that could permanently brick the machines when utilized. The really ridiculous part is that it's taken Lenovo more than 3 attempts and 4 months to finally produce a BIOS update that fixed the bricking issues, which you can read about the recent development of here. Luckily, I read forums quite frequently and was not caught off-guard by the buggy BIOS, but it's still not acceptable to have such unreliable and poor quality BIOS/firmware support on professional and workstation-class machines of the caliber of the P1. At least they didn't pull a Dell and permanently throttle the GPU without telling anyone, though.
Final Thoughts
The P1 remains my overall favourite laptop to date, and it will hopefully only improve as better software and firmware address the GPU/battery drain bugs. You aren't going to find a laptop with better build quality, input, I/O, and overall performance anytime soon, in my opinion.
The next contender to beat the P1 / X1 Extreme is likely simply to be the next iteration of this model. Lenovo just needs to step up their support game and ensure that their updates are being thoroughly tested before being pushed out to end users.
If you are looking for a reliable, powerful, and well-designed laptop for professional uses and some gaming, I still highly recommend buying the P1 or X1 Extreme.
Disclaimer:
Our content is reader-supported. If you buy through some of the links on our site, we may earn a commission.
Terms
.