While still one of the best Windows tablets on the market, the Microsoft Surface Pro 7 was for many years now in dire need of an overhaul, as we concluded in our review of the series. Thankfully, Microsoft have been working on an update behind closed curtains, and this late-2021 Surface Pro 8 addresses most of our complaints with the previous generation and finally brings back the Surface Pro series to the current times.
In just a few words, the Microsoft Surface Pro 8 now offers a slightly larger 13″ display with a 120Hz panel, an updated pen that can be holstered inside an also updated keyboard folio, more powerful hardware specs with a redesigned internal thermal module, and, at last, USB-C Thunderbolt 4 connectivity.
The premium construction and overall feeling of the Pro 8 haven't changed, but this time the design brings the Pro closer to the Surface Pro X lineup. It's still roughly the same format as the Pro 7 and marginally thicker, as well as heavier at .89 of a kilo compared to the .79 kg of the Pro 7.
Here's a more detailed specs sheet of the two, before we continue discussing this new updated Surface Pro model.
Microsoft Surface Pro 8 specs sheet, vs Pro 7
Surface Pro 8
Surface Pro 7
Screen
13 inch, 2880 x 1920 px resolution (3:2 aspect ratio), up to 120 Hz refresh rate, IPS, touch, 450+ nits
12.3 inch, 2736 x 1824 px resolution (3:2 aspect ratio), IPS, touch, 450+ nits
Chipset
Intel Tiger Lake Core i5-1135G7 or i7-1185G7, 4C/8T
Intel Ice Lake Core i3-10051G, i5-1035G4 or i7-1065G7, 4C/8T
Memory
up to 32 GB LPDDR4X-4266 (soldered, dual-channel)
up to 16 GB LPDDR4X-2667 (soldered, dual-channel)
Storage
up to 1 TB SSD (upgradeable)
up to 512 GB SSD (upgradeable)
Connectivity
WiFi 6 AX with Bluetooth 5.1
WiFi 6 AX with Bluetooth 5.0
Ports
2x USB-C with UBS4.0/Thunderbolt 4, 1x Surface Connect port, 1x Surface Keyboard connector, 3.5 mm audio jack
1x USB-C gen1,1x USB-A gen1, 1x Surface Connect port, 1x Surface Keyboard connector, microSD card reader, 3.5 mm audio jack
Battery
51.5 Wh, 65 W USB-C charger
45 Wh, 65 W USB-C charger
Size
287 mm or 11.3" (w) x 208 mm or 8.2" (d) x 9.3 mm or 0.28" (h)
292 mm or 11.5" (w) x 201 mm or 7.9" (d) x 8.5 mm or 0.33" (h)
Weight
~.89 kg / 1.96 lbs (without the Type Cover)
~.775 kg / 1.7 lbs for fanless i3/i5 models (without the Type Cover)
~.79 kg / 1.74 lbs for fan-cooled i7 models (without the Type Cover)
Price
from $1099 (US)
from $599 (US)
Others
5 MPx front-camera with Windows Hello, 10 MPx rear camera, stereo 2W speakers with Dolby Atmos, available in Graphite or Platinum
5 MPx front-camera with Windows Hello, 8 MPx rear camera, stereo 1.6W speakers with Dolby Audio, available in Matte Black or Platinum
So on the outside, Microsoft unified the general design language of their Pro and Pro X lineups, both now offering a similar metallic construction with a fully adjustable kickstand on the back and a 13-inch touchscreen on the front, with smaller bezels all around and an updated Hello camera at the top. The Pro does come with some air-grills around the side, required for the thermal module to cope with the updated hardware inside, and there are none of those on the Qualcomm-based Pro X variant (which did not receive any update at this point).
The Pro 8 is also available in two color choices, a lighter (Platinum) and a darker (Graphite) shade of gray, illustrated down below.
Unlike the Pro X, though, the display on the Surface Pro 8 can dynamically adjust its refresh rate between 60 to 120 Hz, from what I can tell right now. This helps create a smoother feeling when interacting with the screen at 120 Hz, and then the refresh drops to 60 Hz on static content to preserve the battery.
Other than that, Microsoft opted for a fair quality 3:2 IPS panel here with 450-nits of brightness, 1000:1 contrast, and ~100% sRGB color coverage.
This is fine by today's standards, but I would have preferred an option with deeper blacks and perhaps wider-gamut colors, especially in something targeted towards creators and graphics artists with the updated hardware and pen. In comparison, the screen on the Surface Pro 7 was slightly smaller at 12.3-inches, but otherwise the same format and characteristics, so this screen on the Pro 8 is not that much of an upgrade.
For what is worth, Microsoft mentions the integration of adaptive light technology that adjusts the screen's settings based on the ambient light around. Hopefully, this is more advanced than how Night Light mode works on regular laptops.
The pen that Microsoft offers (if you buy it alongside the keyboard folio) with the Surface Pro 8 is also similar to the one previously available with the Pro X, with a flatter shape and the ability to magnetically store and charge it in a dedicated slot in the keyboard folio. And while it might not look so at first, the keyboard's been updated from the previous Pros as well, with its inner frame now made out of carbon fiber which allows it to feel stiffer and reducing the flex when resting on your hand on the arm-rest or punching the keys harder, but without increasing its overall thickness or weight. That inner frame is still wrapped in this sort of felt material, available in a couple of different colors.
The trackpad is slightly bigger than before as well.
The presentation video also mentions that this new stylus (called Surface Slim Pen 2) has haptic feedback in it, in order to better mimic the sensation of using a pen or brush. We'll have to see how much this matters with real use, and how much is just marketing.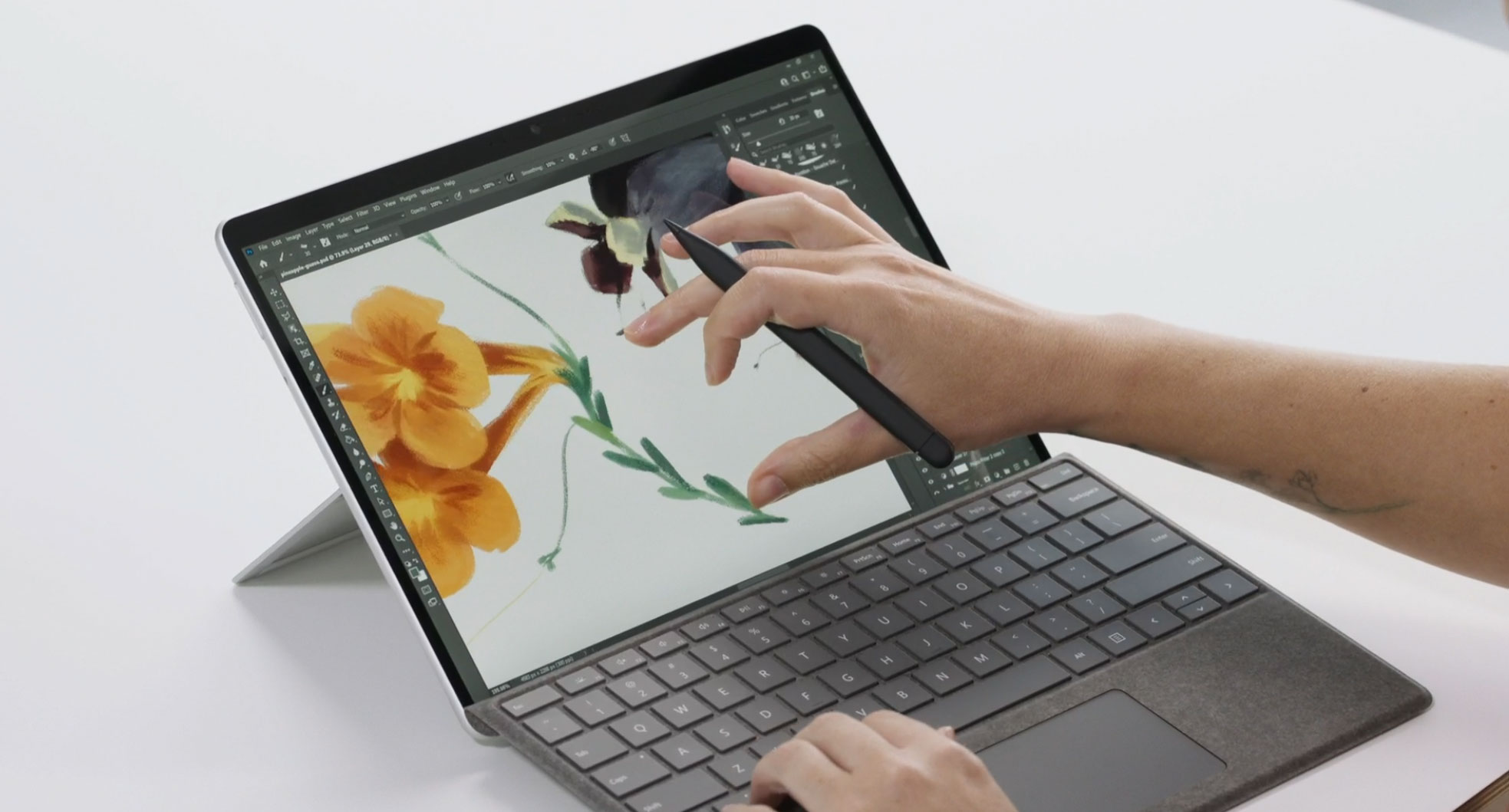 Specs-wise, the Surface Pro 8 has been bumped to the latest Intel Core platforms and will be available with either a choice of an Intel i5 or i7 processor, both with G7 Iris Xe graphics, 8-32 GB of LPDDR4x memory, and fast SSD storage. The SSD is upgradeable, and it's the proprietary format previously seen on the Pro X.
Compared to the previous generation, Microsoft went with more powerful processors in this updated model and ditched the i3/4GB versions. They also showcased the updated thermal design with three heatpipes and one fan, so we can assume this Pro 8 is no longer fanless on the base configurations, the way Surface Pros of previous generations have been.
The battery has also been bumped to 51 Wh in the Surface Pro 8, compared to the 45 Wh in the previous version, and charging happens via USB-C on both. But the Surface Pro 8 now offers Thunderbolt 4/USB 4.0 as well, not through Microsoft's effort, but by simply integrating the 11th gen Intel Tiger Lake hardware with baked-in Thunderbolt 4 support.
Finally, it should come as no surprise that the bump in specs and features also attracted a bump in price. While the base Surface Pro 7 was going for around $600 as of recently, the base Surface Pro 8 MSRPs at $1099. And of course, the folio and the pen come as extra, at $279 combined.
In all honesty, the base Surface Pro 8 is a different configuration altogether, with a Core i5 processor, 8 GB of RAM, and 128 GB of storage. A similarly specced Surface Pro 7 went for $1099 as well at launch, but is now significantly discounted at $899 + $129 for the Type Cover.
Microsoft does run all sorts of coupons, discounts, and bundles on their site, so you'll most likely not get this at MSRP anyway.
All in all, this Surface Pro 8 is a major update over the previous generation, now available with a larger display, an updated pen, faster hardware, a bigger battery, and USB-C Thunderbolt 4 connectivity. It's also a fair bit more expensive, and no longer fanless.
We'll have to wait for reviews to figure out the kind of performance you can realistically expect from this device in real-life multitasking and sustained loads, as well as feedback on that new Pen, which is a significant selling point for the series.
The fanless Surface Pro 7 could only support high Turbo Speeds for a very limited time, but this should do better now with the updated thermal design. I just hope Microsoft will properly balance the profiles on this Surface Pro 8 and make sure that fan stays quiet with daily use, and doesn't get very noisy with demanding loads either.
We'll keep you posted, and in the meantime, I'd like to hear your thoughts on this tablet. Is this the Surface Pro you were waiting for or is it not enough by today's standards for a premium 2-in-1 product?
Disclaimer:
Our content is reader-supported. If you buy through some of the links on our site, we may earn a commission.
Terms
.