Acer and Lenovo are looking for their own share of the pie called "budget gaming-notebooks" in 2020, and are working on both Intel 10th gen and AMD Ryzen 4000 configurations of their Nitro 5 and Legion 5 lineups.
We've already covered the Intel models in previous articles here and here, so in this one, we'll touch on the AMD variants, as well as quickly compare these newer entries with those already launched and (some of them) already available in stores, such as the Asus TUF Gaming A15 or the MSI Bravo 15.
For those of you interested, a wider variety of AMD 4000 powered notebooks is available in this dedicated article, while these ones explain what to expect from the top-tier Ryzen 7 4800H and mid-range Ryzen 5 4600H APUs in terms of performance, thermals, and efficiency, in comparison to their main counterparts.
All these are budget-gaming laptops targeted at around $800-$900 for GTX 1650Ti configurations at launch, as well as more powerful GTX 1660Ti and RTX 2060 versions in some (very few) cases. The MSI Bravo gets AMD graphics though, and we'll talk about that below. They also share a few important aspects, such as middling build quality, screen choices and thermal designs, as well as most, but not all, of the connectivity and features available on the higher-tier products.
We've summarized the four variants currently available in this segment down below. We're still filling the blanks here and there, though, so look for updates in the near future.
Lenovo Legion 5 – review
Acer Nitro 5 – review
Asus TUF Gaming A15 – review
MSI Bravo 15
Screen
15.6 inch, matte, non-touch, FHD IPS 60/120/144 Hz options
17-inch version not available
15.6-inch, non-touch, matte, FHD IPS 60/144 Hz (?? tba)
15.6-inch, non-touch, matte, FHD IPS 60/144 Hz,
17-inch versions also available, FHD IPS 60/120 Hz
15.6 inch, matte, non-touch, FHD IPS 60/120/144 Hz options
17-inch versions also available, 60/120 Hz
Processor
AMD Ryzen 4000 CPU, up to Ryzen 7 4800H 8C/16T
Video
up to Nvidia GTX 1650Ti (other configurations might also be available in some regions)
up to Nvidia GTX 1650Ti (other configurations might follow later)
up to Nvidia RTX 2060 90W OC
up to AMD Radeon RX 5500M
Memory
up to 32 GB DDR4 3200 MHz (2x DIMMs)
Storage
2x M.2 SSD, optional 2.5″ HDD cage
2x M.2 PCI x4 slots, with RAID support + 2.5″ bay
2x M.2 PCI x4 slots on 90Wh battery
2x M.2 PCI x4 slots + 2.5″ HDD bay on 48Wh battery
1x M.2 SSD, 2.5″ HDD cage
Connectivity
Gigabit LAN, Wireless 6 AX, Bluetooth 5.0
Ports
2x USB-A 3.1, 1x USB-C with DP, HDMI 2.0, LAN, mic/headphone, Kensington Lock
2 x USB-A 3.1, 1x USB-A 2.0, 1x USB-C, HDMI 2.0, LAN, mic/headphone, Kensington Lock
2x USB-A 3.2, 1x USB-A 2.0, 1x USB-C gen 2 with DP and charging, HDMI 2.0b, LAN, headphone/mic, Kensington Lock
2x USB-A 3.1, 1x USB-C with DP, HDMI 2.0, LAN, mic/headphone, Kensington Lock
Battery
60 Wh or 80Wh (without HDD)
58 Wh
48 or 90 Wh
51 Wh
Size
363 mm or 14.29" (w) x 260 mm or 10.23" (d) x 25.5 mm or 1" (h)
362 mm or 14.25" (w) x 263 mm or 10.45" (d) x 20.9 mm or 0.82" (h)
360 mm or 14.17" (w) x 256 mm or 10.079" (d) x 24.9 mm or .98" (h
358 mm or 14.13" (w) x 254 mm or 9.99" (d) x 21.6 mm or .85" (h)
Weight
~2.2 kg (5.1 lbs)
~2.22 kg (4.9 lbs)
~2.22 kg (4.9 lbs)
~1.9 kg (4.2 lbs)
Extras
white or optional Corsair 4-zone RGB backlit keyboard with 1.5 mm travel, webcam, plastic build
red or optional 4-zone RGB keyboard, webcam, stereo bottom speakers, plastic build
single-zone RGB backlit keyboard, webcam, stereo bottom speakers, metal exterior on some versions, plastic interior
4-zone RGB Steelseries keyboard, webcam, stereo bottom speakers, metal interior, exterior build
OK, so as far as performance and specs go, the MSI Bravo steps aside as the only one to get AMD Radeon graphics. It still tops up at a Radeon RX5500M though, and I would have hoped for at least an RX5600M to be able to compete with the Nvidia higher-tier configurations, the kind Dell announced in the G5 Gaming. That's why the Bravo, in these current 5500M configurations, is only an option in the lower price brackets, especially if you plan to run games at higher graphics settings, in which case I'd recommend going with at least a GTX 1660Ti model.
This aside, each unit's thermal design is something to carefully consider if gaming sits high on your list of priorities and that's even more important if you're after a Ryzen 7 model with higher power graphics, thus more difficult to cool. I recommend looking into detailed reviews to see how each implementation handles this hardware and what to expect in terms of temperatures and noise levels.
So far, we've only reviewed the Asus TUF Gaming A15, which proved to run hot and fairly noisy in the FA506IV model with the RTX 2060 90W OC GPU and Ryzen 7 4800H processor. We haven't tested the MSI Bravo, but it seems to run cooler from the few other reports I've seen, as it also gets a more complex thermal design and a lower-power GPU. The Nitro 5 and Legion 5 are not yet available, so we'll come back and update this part once we review some of the other options. You can also check for our reviews in the dedicated section.
At the same time, Asus offers the most powerful GPU out of these options, and right now the most powerful available on a Ryzen 4000 notebook, with that 90W RTX 2060. Most of the others top at 50W GTX 1650Ti chips in North America, while other regions might get higher specced 80W versions of either the RTX 2060 and GTX 1660Ti at a later date. Sure, it would be awesome to see some Ryzen HS laptops with higher tier RTX 2070, maybe even 2080 Super graphics, but that's not happening now and won't happen for a while, for a multitude of reasons we're not going to touch on in this article. I sure root for that change as soon as possible.
As far as the other aspects go, the four laptops are about the same size, with the MSI Bravo being the lightest of the bunch. It also gets the smallest battery though, as well as a fairly flimsy metallic interior and lid-cover. In comparison, the others are made out of plastic, with an optional aluminum lid only available on the Asus TUFs, but the build quality should be slightly nicer. The Lenovo 5 is the heavier here, which might suggest some sturdy plastic chassis and competent thermal design. However, that's to be confirmed.
I can't comment on the typing experiences without properly testing these first, but I will note a distinct particularity of the Legion 5, and that's the fact that most of the IO is placed on the back edge, leaving the sides less cluttered when hooking up an external monitor and maybe a wired Internet connection. In comparison, Asus puts all the ports on the left side, which is the next best approach, while Acer and MSI spread them on both sides. The Nitro 5 at least gets the PSU on the back, though.
The Legion is also the cleaner looking of the two, with a simple design and no awkward gaming accents. Asus did clean-up their 2020 TUFs, but still use some cheap textures and branding on the interior, while MSI and Acer stuck with a fair bit of red accents. If you're looking for a sleeper gaming laptop that won't stand out at school or in your office, the Legion 5 stands out, with the metal Gray version of the Asus TUF as a fairly close second.
Screens – the Achile's heel for most AMD notebooks
Screens are another make or break for these laptops. So far, the Asus TUFs top up at a 144Hz IPS panel with middling brightness, color coverage and response time, while the MSI Bravo 15 tops at an even lower-end 120 Hz IPS panel.
If Lenovo or Acer implement a higher gamut and faster 144 Hz 3ms panel on their options, that could be decisive in choosing between the two. I'm waiting for conformation, but as far as I can tell, that might not happen.
And I can't stress this enough, the screen is an essential aspect for your laptop, you're going to look at it every day, and I'd rather sacrifice other aspects and get up a nicer screen. In fact, I would prefer a lower-tier configuration of a higher-class laptop (such as the Acer Predator Helios 300 or even HP Omen Gaming) over a beefier configuration in this class, but with a 60% sRGB screen and ghosting in games. What do you think?
Battery life might also be a decisive factor for some of you, and the 90Wh configurations of the Asus TUF A15s win here, and I don't mind that this means sacrificing that 2.5″ HDD bay. Acer and MSI don't offer an option for a larger battery, and nor does Lenovo with their AMD-based Legion 5, although they seem to offer a choice for a 60 or 80 Wh battery on the Intel-based Legion 5i variant. That also gets the 240Hz 3ms 100% sRGB screen which probably won't be included with the Legion 5.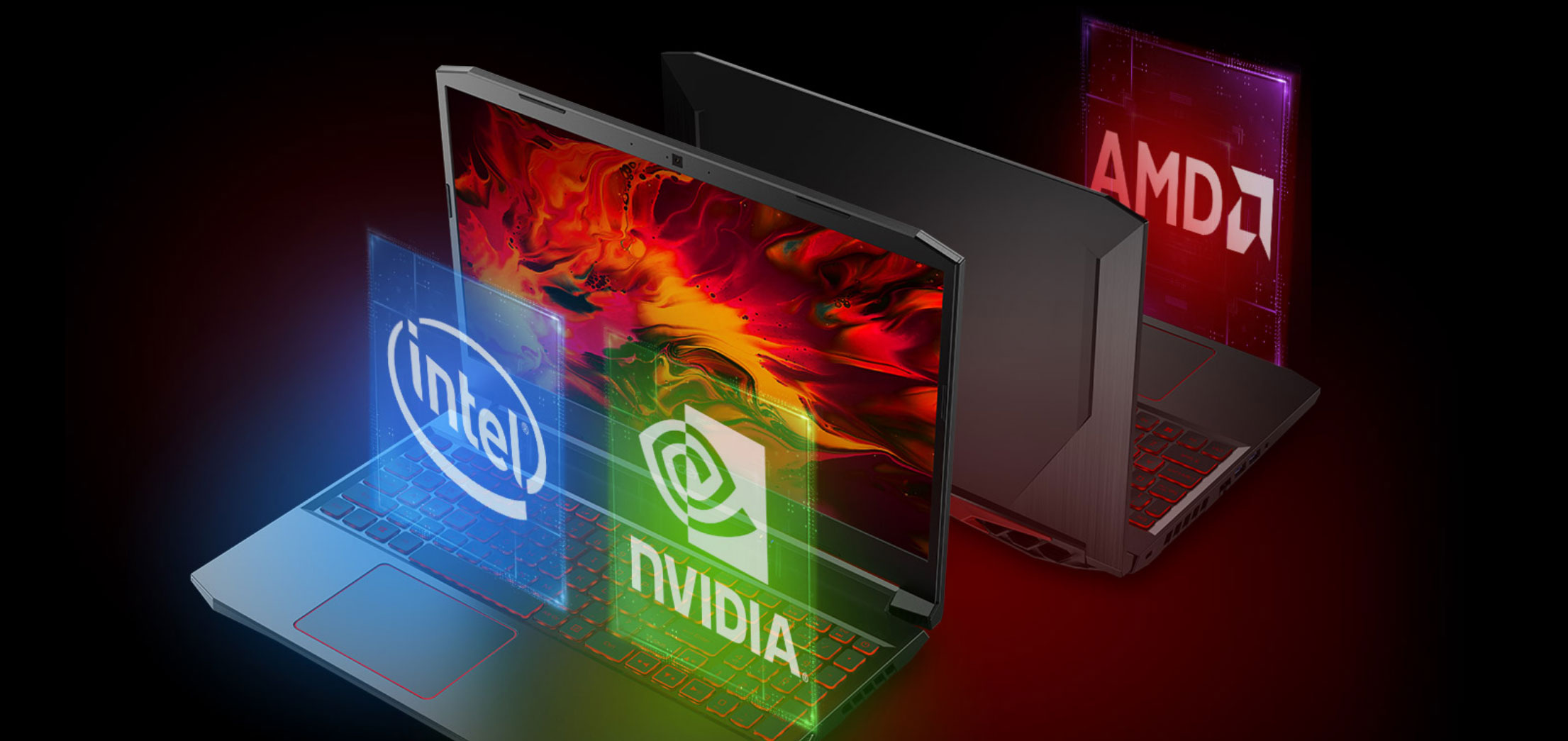 How about the Intel versions?
Most of these laptops are also available with matching Intel configurations, but those tend to get a few important extras, such as higher-quality screens and configuration options not available for the AMD models. And we're not even touching on the premium ultraportable designs with metal construction, extra features, and 2070/2080 graphics.
The Zephyrus G14 is pretty much the only attempt at a premium AMD-based ultraportable, but it's a 15-inch model and only gets RTX 2060 Max-Q graphics as a result.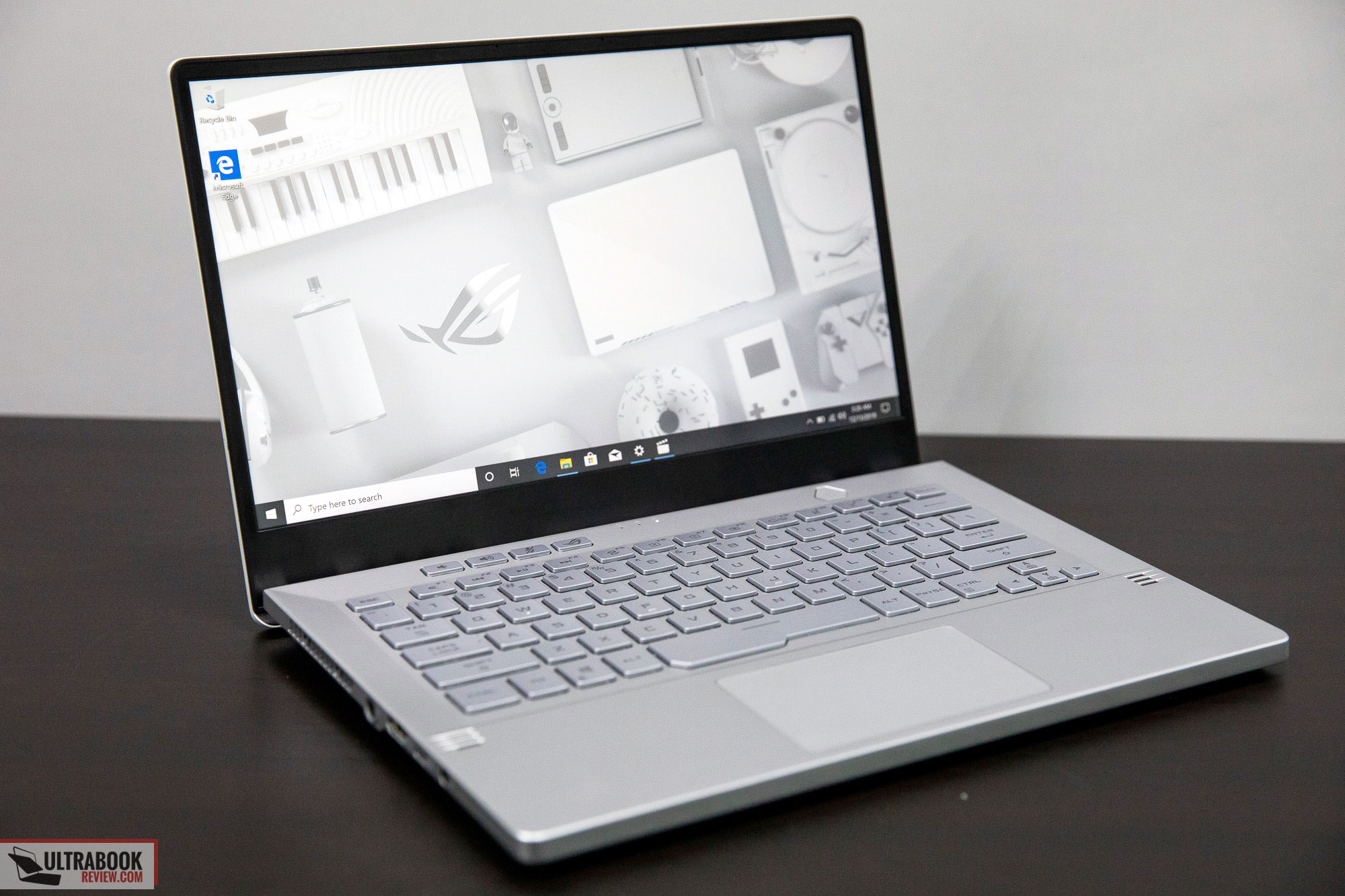 That's why these AMD notebooks might have a fairly hard time ahead of them. Sure, the value of these AMD 4000 platforms in demanding multi-threaded loads is unrivaled by Intel's options right now, and on top of that, the 7nm process helps with efficiency and power consumption. For the first time in a very long time, these Ryzen platforms are more efficient than the Intel counterparts, both in demanding tasks where they return matching or superior results for a fraction of the power, but also with daily use, with browsing and video.
Still, if you're the average guy looking for a well-balanced product with good thermals, a good screen, and nice construction, most of these AMD models fall short somewhere. Among those already available, the Asus TUFs lose on screens and CPU/GPU temperatures, while the MSI Bravos get the same kind of screens, lower-tier hardware, a smaller battery, and a flimsier chassis. Hopefully, Acer, Lenovo, Dell and whoever is coming to this segment next will deliver on an uncompromised mid-range AMD Ryzen notebook. I'd expect them to sell hoards of them if they do.
Disclaimer:
Our content is reader-supported. If you buy through some of the links on our site, we may earn a commission.
Terms
.