In this article, we're going to have a look at how the mid-tier AMD Ryzen 5 4600H APU fares against the higher-tier AMD Ryzen 7 4800H in benchmarks, games and real-life use, but also how these two compare to a couple of the other platforms included on mid-tier performance laptops, such as the Ryzen 7 3750H or the 9th gen Intel Core i9-9800H, i7-9750H, and i5-9300H processors.
All these results are based on our findings and reviews, available here on the site.
The new Ryzen 7 and Ryzen 5 4000 processors have been both tested on the same chassis, the Asus TUF Gaming A15, which eliminates any differences that might be caused by different internal designs and thermal modules. Furthermore, the Ryzen 7 3000 APU has also been tested on an Asus TUF Gaming laptop from the previous generation, the FX505DV, with a very similar internal layout.
Keep in mind that these are entry-level gaming notebooks with mid-tier thermal designs, thus later designs with better cooling might perform better. Also, our findings are based on early review units with early software, and future updates might also favorably impact some of the AMD results discussed down below.
The Intel Core i7 results are based on one of the better designs you can find out there in the 15-inch segment, the MSI Raider GE65, while the Core i5 was reviewed on the Lenovo Legion Y540. All these laptops get dual-channel RAM, SSD storage and roughly similar Nvidia graphics, as you can see in this quick summary of all these tested configurations:
All our tests are running on the highest performance profiles available for these laptops, and we've also undervolted the Intel processors. That's something everyone can easily do with XTU or Throttlestop if looking to increase the performance and thermals of their laptop, that's why we've included these undervolted profiles in this comparison, even if it might seem somewhat unfair for the Ryzen processors that cannot be undervolted at this point.
AMD Ryzen 5 4600H – benchmarks and tests
With that out of the way, we'll start by having a look at Cinebench results. This is a CPU heavy test that pushes all the processor cores and threads to the max.
Both of the Ryzen 4000 platforms come at the top in Cinebench R15, and keep in mind these are best-effort results and not necessarily an illustration of sustained CPU performance.
Nonetheless, they demolish the Intel options in the multi-core part of this test, and the Intel i7 only has a small edge over the 6-Core Ryzen 5 4600H in the single-core test, but looses to the Ryzen 7 8Core processor.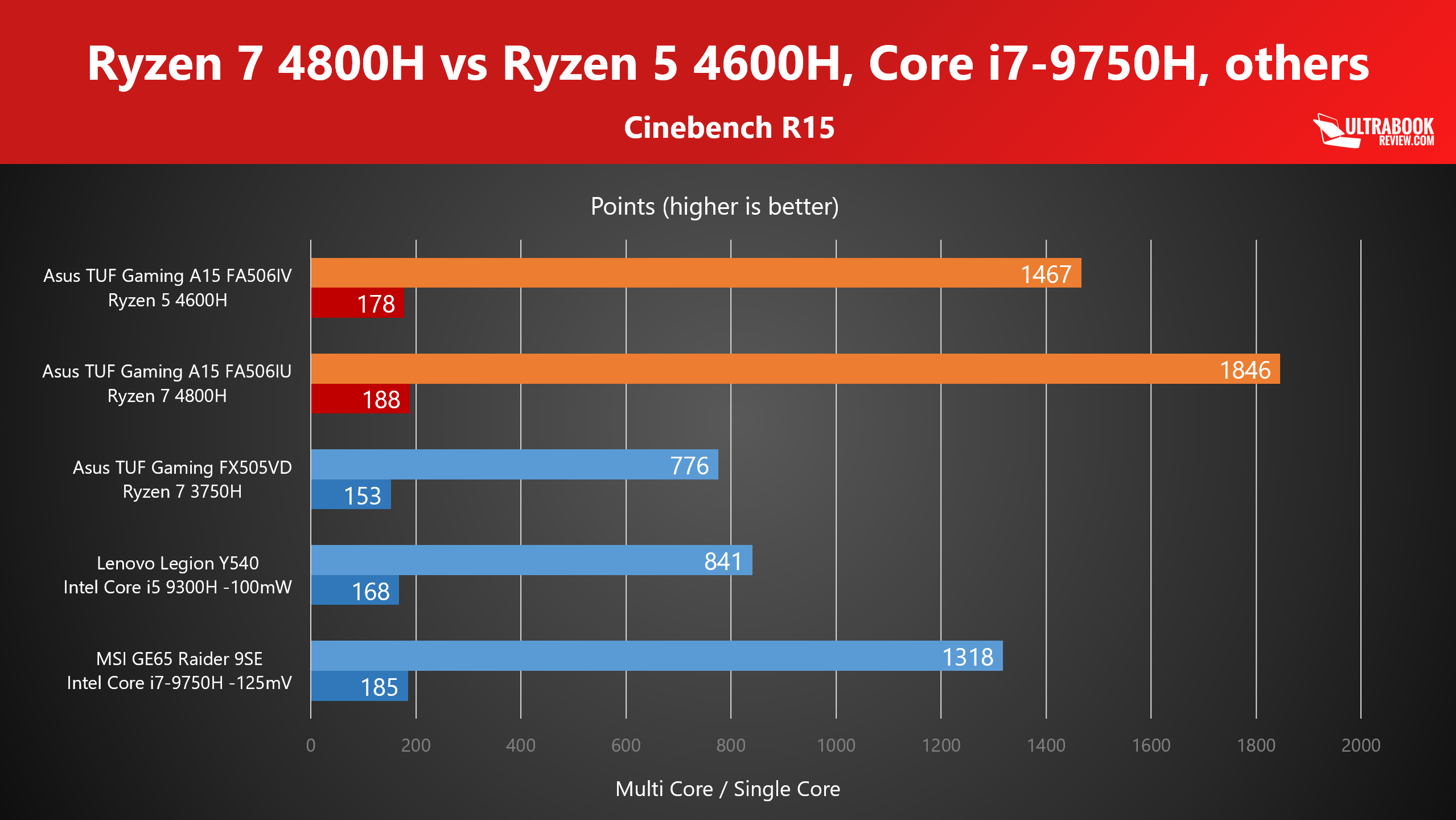 It's also important to keep in mind that many notebooks can return high scores in Cinebench and other such CPU demanding loads for the first runs, but then the performance drops once the heat builds-up and the hardware has to clock down in order to cope with it. That's why we're also running a longer-term Cinebench loop test on our laptops, and see how the scores fluctuate after 15 runs.
The results are illustrated in this chart, and you can see that all the laptops included here can sustain solid performance over multiple runs, with a slight drop for the Core i9-9880H and the Ryzen 5 4600H configurations. All the CPUs are also running at higher than average power on these max-performance profiles, except for the R7 3750H which runs at its stock 35W TDP.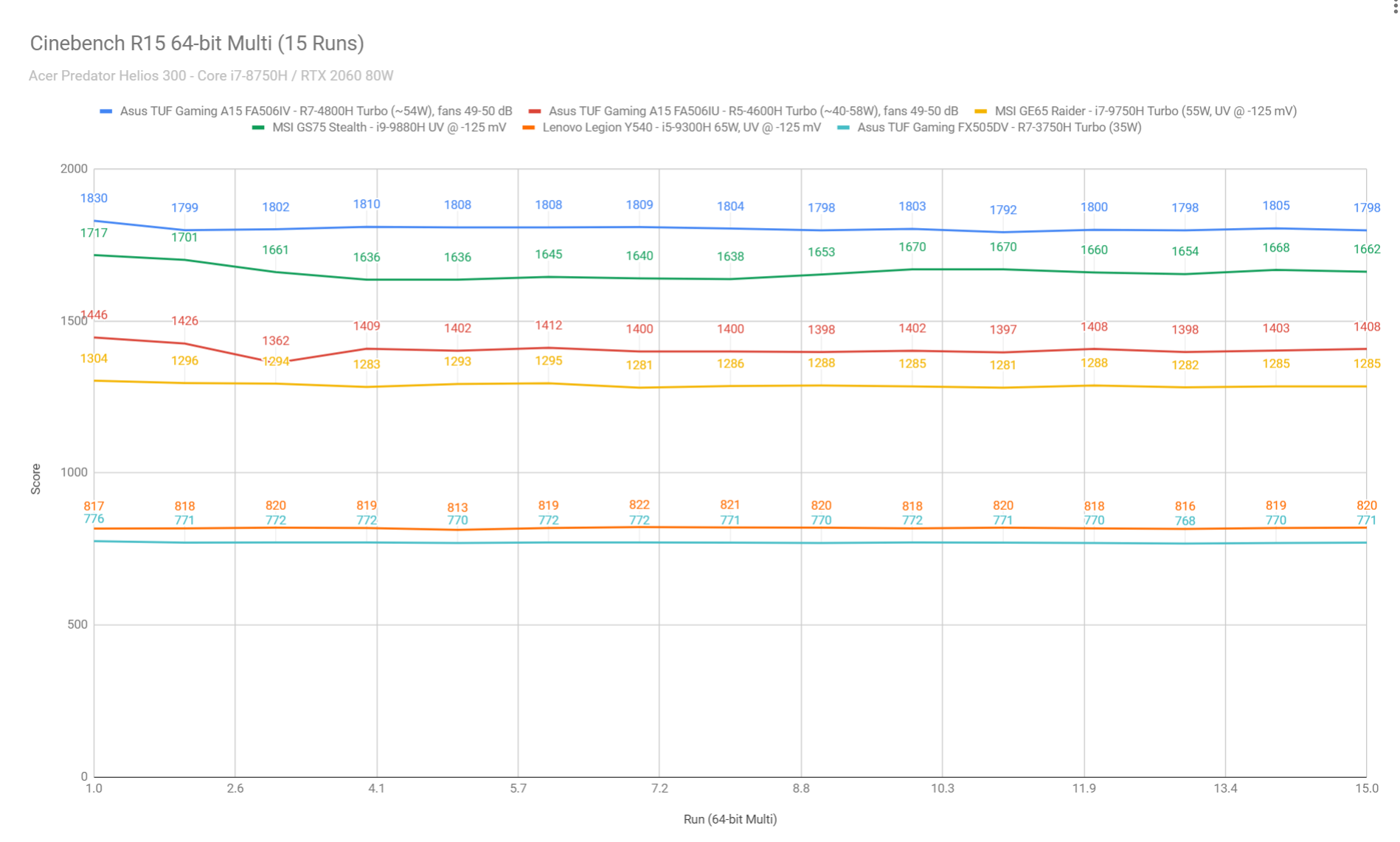 We also ran Cinebench R20, which is a similar CPU benchmark, but takes longer to execute and thus stresses the processor for a longer time. There's no surprise here, the Ryzen 4000 models come on top in both Single and Multi-Core loads.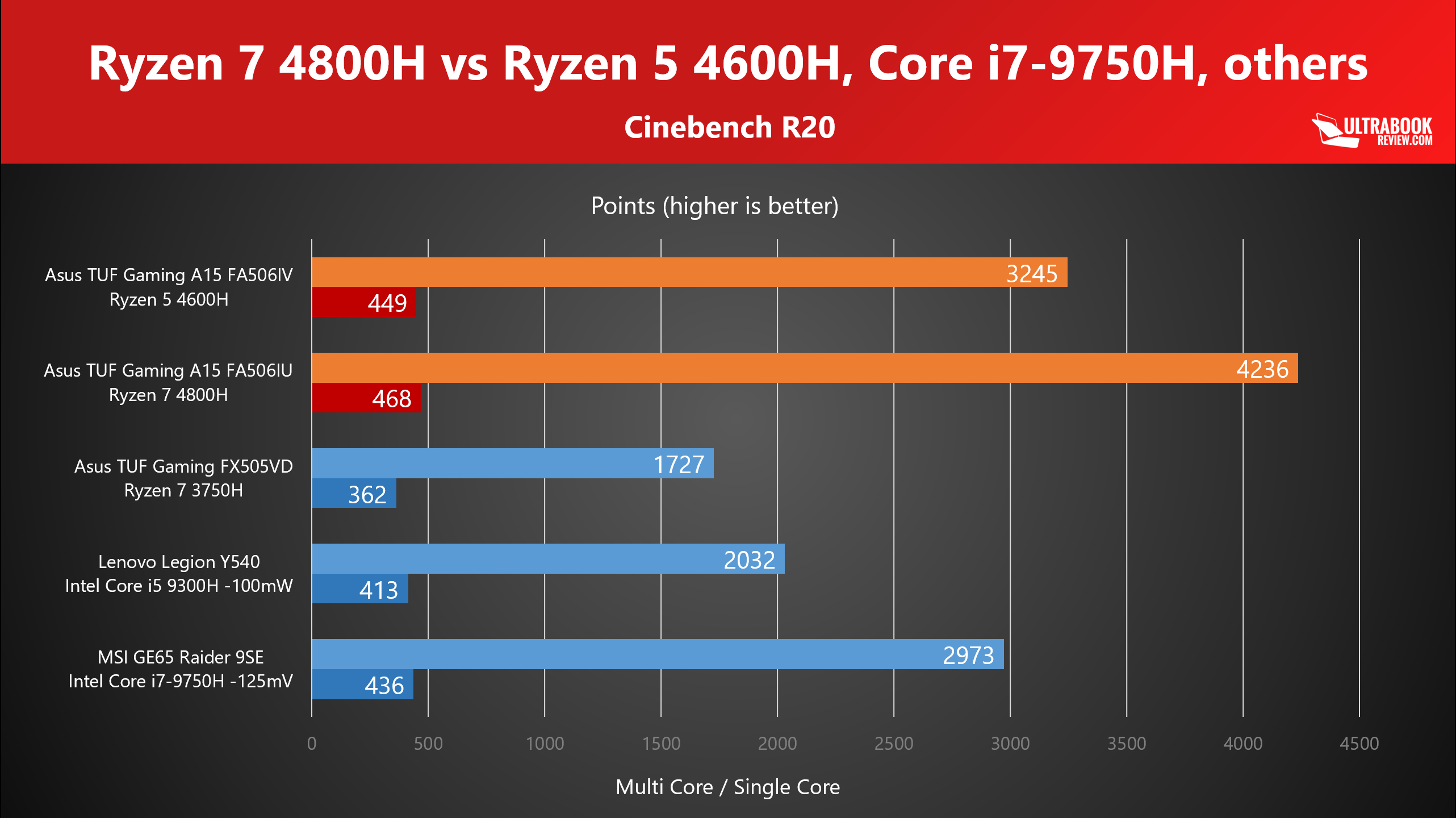 Blender is a popular rendering application and we've run our CPU tests on the BMW and Classroom scenes. However, we don't have results for all our test samples, since this is something we've more recently included in our benchmarks suite. The Ryzen 7 4800H finishes fastest, but event he Ryzen 5 manages to outmatch the Core i7 on the MSI GE65 Raider by about 10%.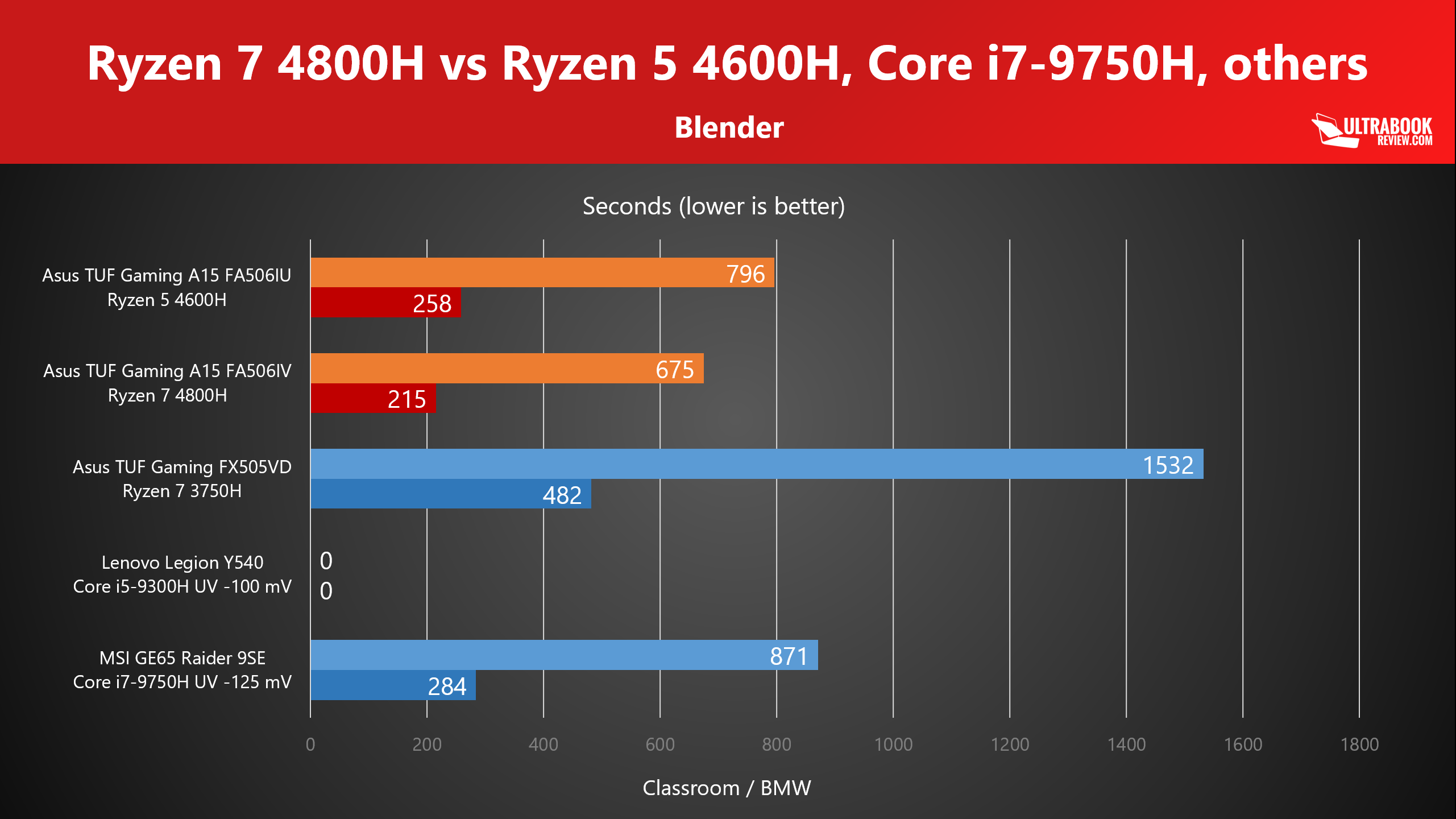 Next, we're looking at Passmark results, which runs a suite of different CPU and 3D graphics tests. Ryzen systems come on top in the CPU tests, which include mathematical calculations, compression, encryption, and physics simulation. The Intel RTX 2060 models win in the 3D graphics test, though.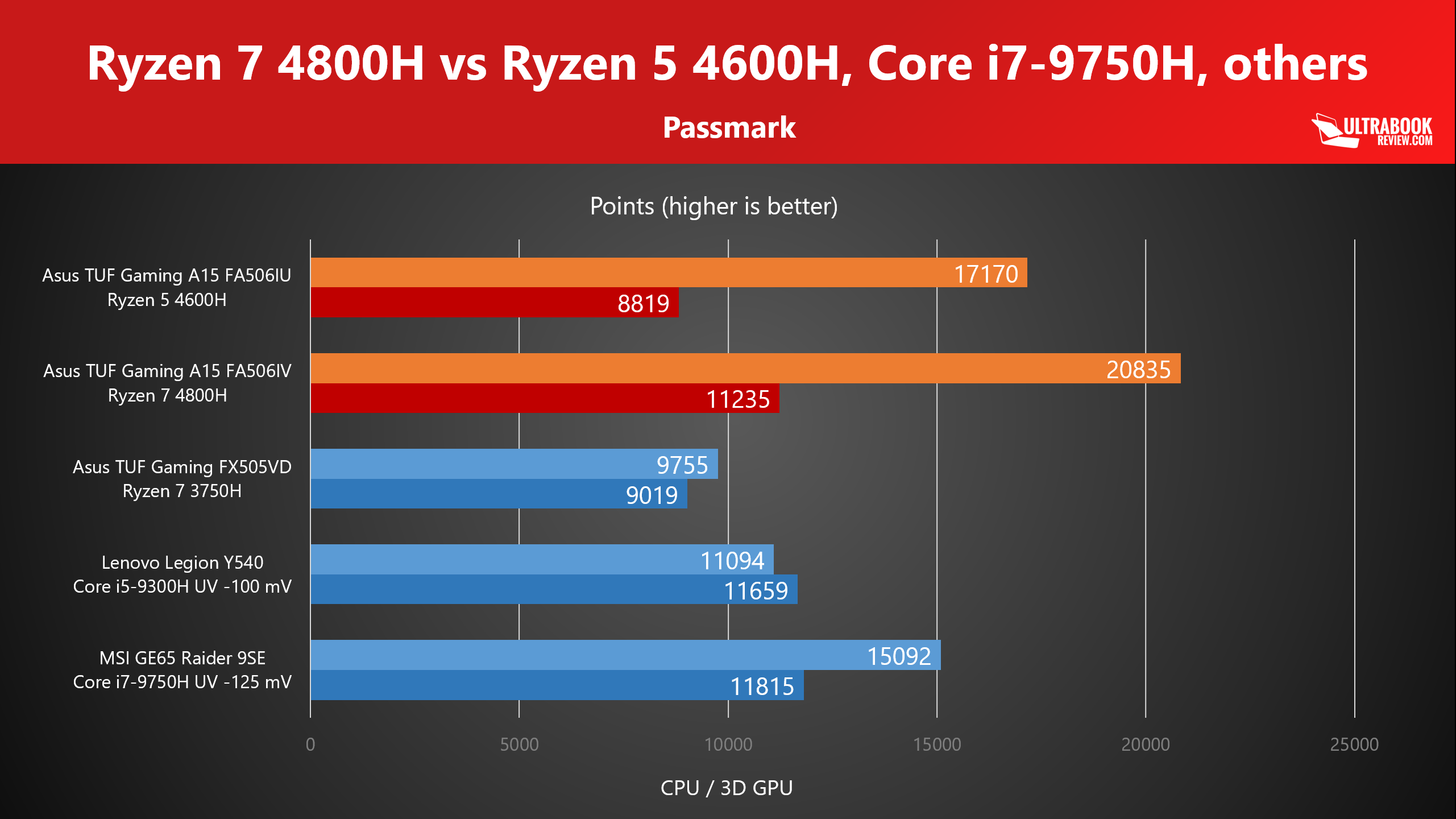 PCMark 10 is a productivity test and assesses not just the CPU, but rather the entire hardware configuration in a couple of different scenarios.
Essentials looks at everyday workloads such as web-browsing, video conferencing and app load time. Productivity measures the system's performance in office applications, such as working with word or spreadsheet documents. Digital Content Creation looks at the system's ability to handle digital content, with photo/video editing and video rendering tests. The Ryzen systems fare well in the first tests, but surprisingly lose to the Intel RTX models in the Digital Content Creation test.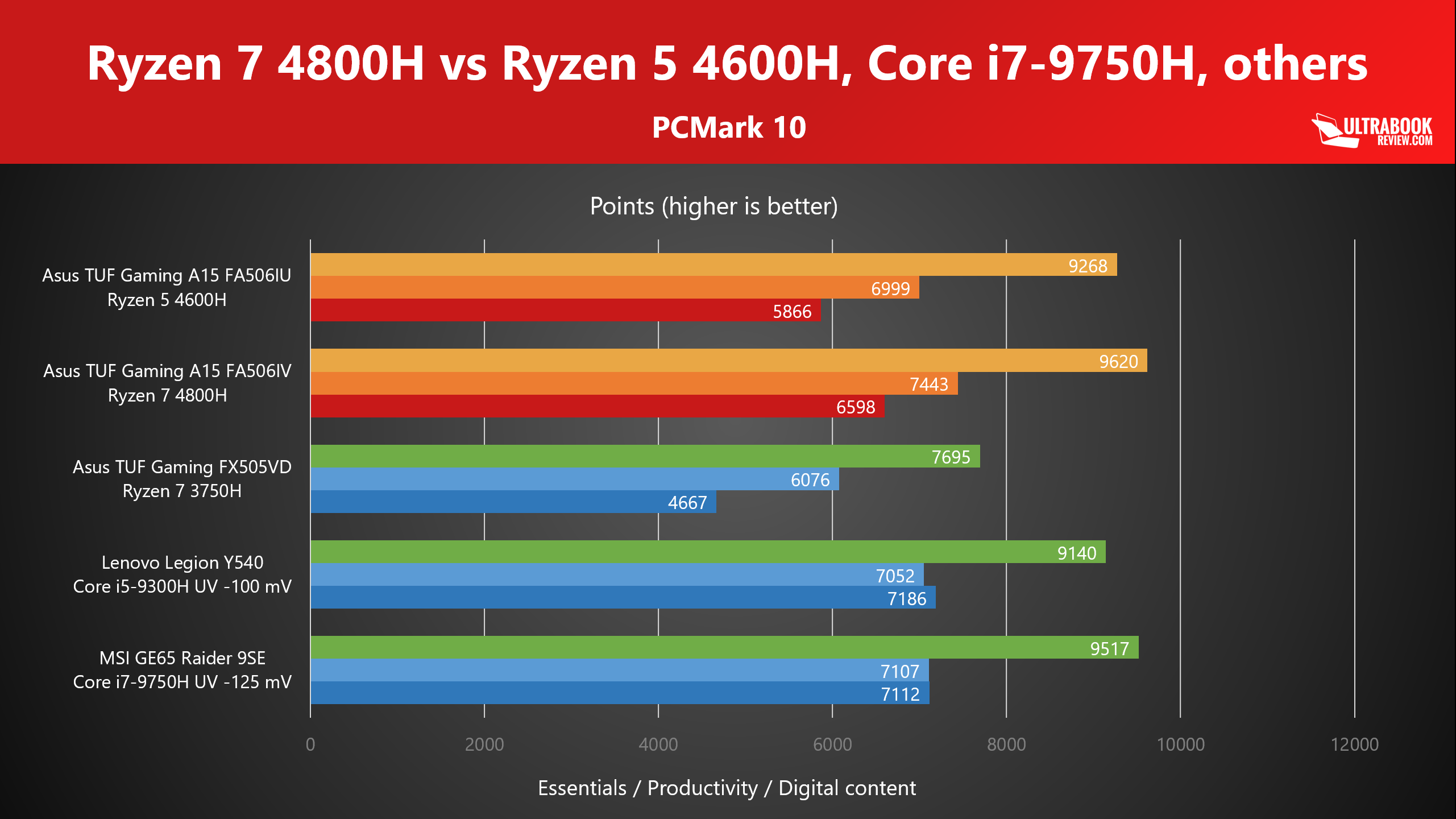 Geekbench is a balanced synthetic CPU benchmark that includes a couple of different operations such as encryption, compression or memory operations, and we ran both the 4th and the 5th versions of this test on our laptops. The Intel i7 keeps an edge in some of the SIngle Core tests, but looses to both of the Ryzen 4000 models in multi-core loads.
Next, x264 and X265 Benchmarks are designed to asses the processors' FHD video encoding capabilities, and we ran both versions on these laptops. The 1Pass version of x264 runs faster, but with poorer quality and efficiency, while the 2Pass takes longer, but delivers superior results. Both of the Ryzen 4000 models come on top in this instance, and similar results are returned by the newer x265 FHD Benchmark.
Handbrake is another video-test that measures how fast the CPUs transcode a clip from 4K to 1080p. We haven't run this test on all our laptops, so we only have the Ryzen 4000 and Core i7 data to compare in this case.
Finally, we're also looking at some 3Dmark tests, primarily the CPU-related sections of FireStrike and TimeSpy. The Ryzen 7 wins in both cases, while the i7 and the Ryzen 5 trade blows, each winning in one case. The MSI GE65 Raider wins in the graphics department in both cases, though.
AMD Ryzen 5 4600H – gaming performance
Ok, that's about it for the synthetic benchmarks. Let's also look at some gaming results now.
As I mentioned earlier, all these systems get dual-channel memory and SSD storage, and most get RTX 2060 graphics, but in a couple of different implementations. Furthermore, the Ryzen 5 4600H is only paired with a GTX 1660Ti, that's why we've also thrown in a Core i7 9750H + GTX 1660Ti configuration here, from our review of the Asus ROG Zephyrus GU502.
It's also important to keep in mind that the GPUs are overclocked by default on all these configurations on their Turbo profiles. The Lenovo Legion Y540 is the only one that doesn't offer a default overclocked GPU profile, so we manually overclocked it for our tests and included those results here, in order to make the comparison fairer. However, it ended up overclocked higher than the other options, which means you could squeeze 1-5% increased scores on most of the other configurations if you're willing to manually tweak them. The detailed reviews explain how to do it in each case.
Finally, our Ryzen 4000 results are based on early drivers and software available as of early April 2020, so consider that they might improve with future software updates.
Here's a general list of all the results, and we'll further get in-depth down below.
| | | | | | | |
| --- | --- | --- | --- | --- | --- | --- |
| | TUF FA506IU | TUF FX505DV | TUF FA506IV | ROG GU502 | Legion Y540 | GE65 Raider |
| Battlefield V (DX 12, Ultra Preset, Ray-Tracing OFF) | 78-90 fps | 78-84 fps | – | 74–88 fps | 78-94 fps | 82-94 fps |
| Battlefield V (DX 12, Ultra Preset, Ray-Tracing ON, DLSS OFF) | – | 36-48 fps | – | – | – | 44-54 fps |
| Far Cry 5 (DX 11, Ultra Preset, SMAA) | 83 fps | 72 fps | 91 fps | 82 fps | 91 fps | 101 fps |
| Middle Earth: Shadow of Mordor (DX 11, Ultra Preset) | 140 fps | 138 fps | 147 fps | 141 fps | 123 fps | 125 fps |
| Red Dead Redemption 2 (DX 12, Ultra Optimized, TAA) | 59 fps | 57 fps | 69 fps | – | – | – |
| Rise of Tomb Raider (DX 12, Very High Preset, FXAA) | 85 fps | 61 fps | 91 fps | 75 fps | 100 fps | 96 fps |
| Shadow of Tomb Raider (DX 12, Highest Preset, TAA) | 73 fps | 65 fps | 78 fps | 67 fps | 79 fps | 83 fps |
| Strange Brigade (Vulkan, Ultra Preset) | 106 fps | – | 119 fps | – | – | – |
| The Witcher 3: Wild Hunt (DX 11, Ultra Preset, Hairworks On 4) | 58-82 fps | 68-92 fps | 64-98 fps | 64–92 fps | 74-104 fps | 84-116 fps |
Battlefield V, The Witcher 3 – recorded with Fraps/in-game FPS counter in campaign mode;
Far Cry 5, Middle Earth, Strange Brigade, Red Dead Redemption, Tomb Raider games – recorded with the included Benchmark utilities;
Red Dead Optimized profile based on these settings.
Witcher 3 is the first title we're considering here, and it's mostly a GPU heavy title. In this case, we're using FRAPS to recorder min and max fps settings during roughly the same gameplay section, since this title lacks a built-in benchmarking tool. I know it's not the most conclusive way to do this, but it's what we have for now and we'll update our testing methodology for future reviews.
The Intel configurations come on top in this test, especially the overclocked GE65 Raider, and surprisingly, the Ryzen 5 4600H A15 even trails the Ryzen 7 3750H model by a fair margin. That's odd.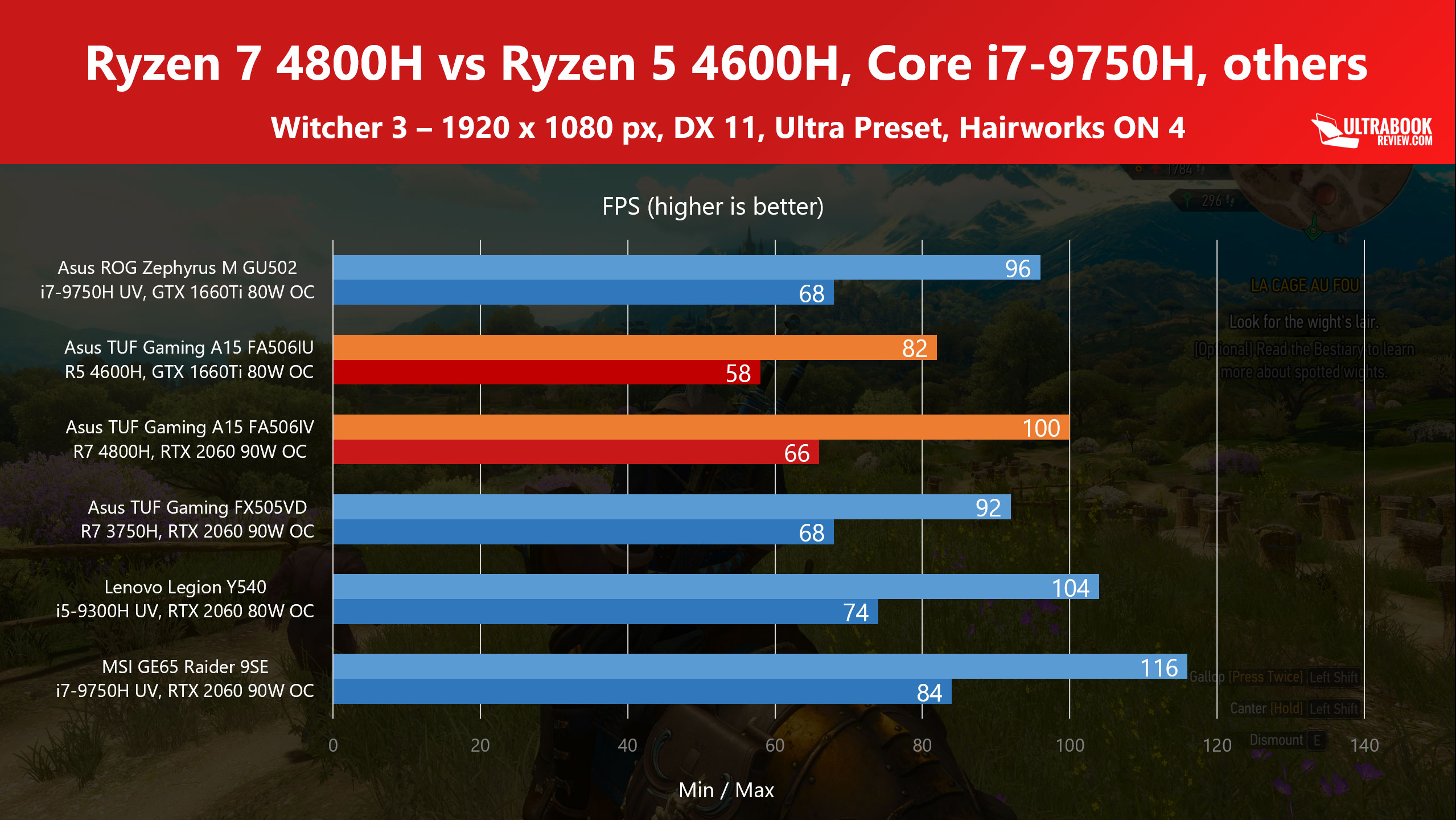 Far Cry 5 is a more balanced title and all the results are based on the included Bechmarcking utility.
The higher-clocked RTX 2060 on the GE65 Raider comes on top once more, but the Ryzen configurations fair pretty well against the other competitors.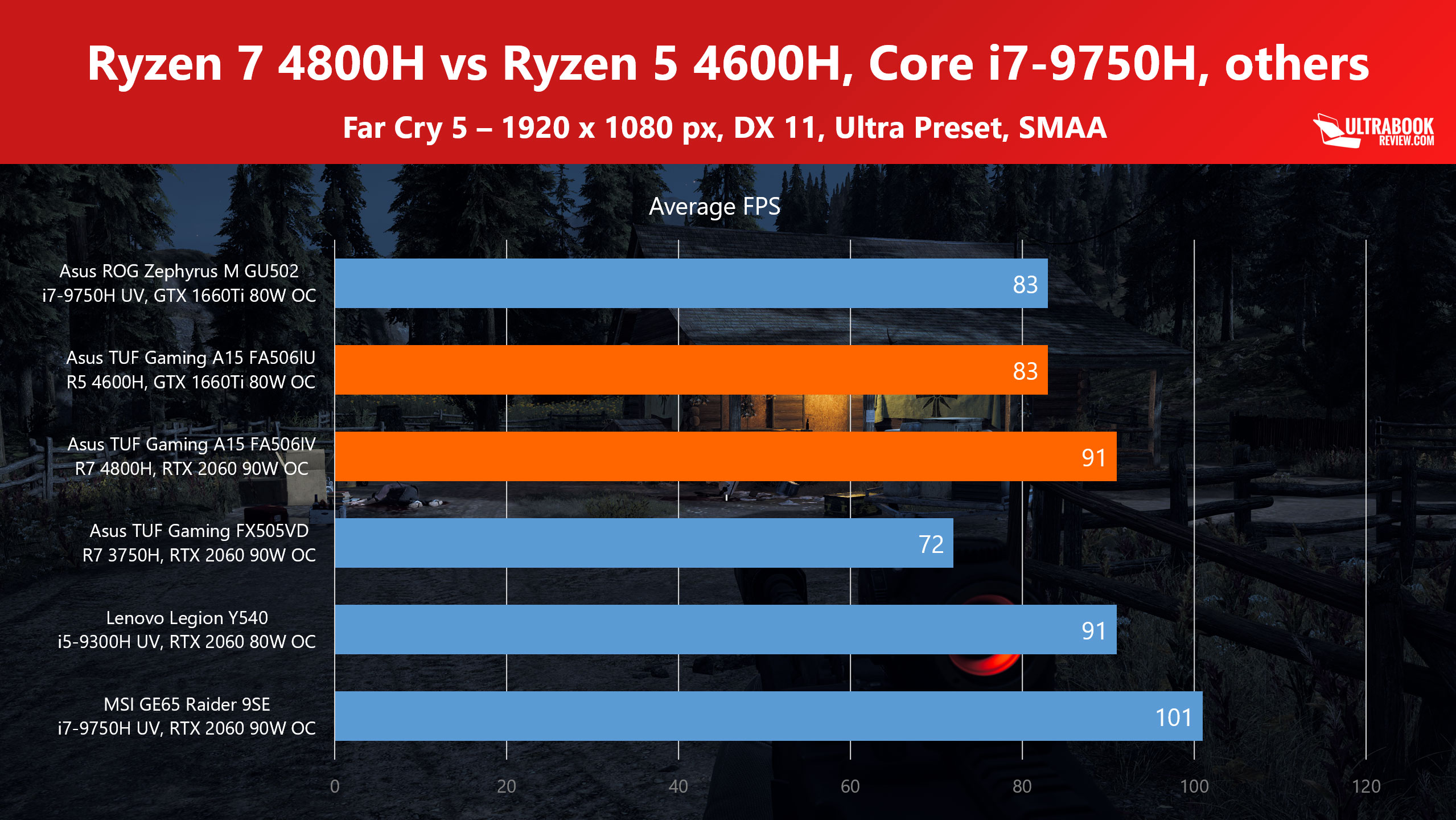 Shadow of Tomb Raider is the next title in our list, and this is a GPU heavy title. The results are from the included Benchmarking utility. The Intel RTX models come on top as well, while the GTX 1660Ti versions score lower. There's also a big jump from the Ryzen 3000 to the Ryzen 4000 RTX 2060 models.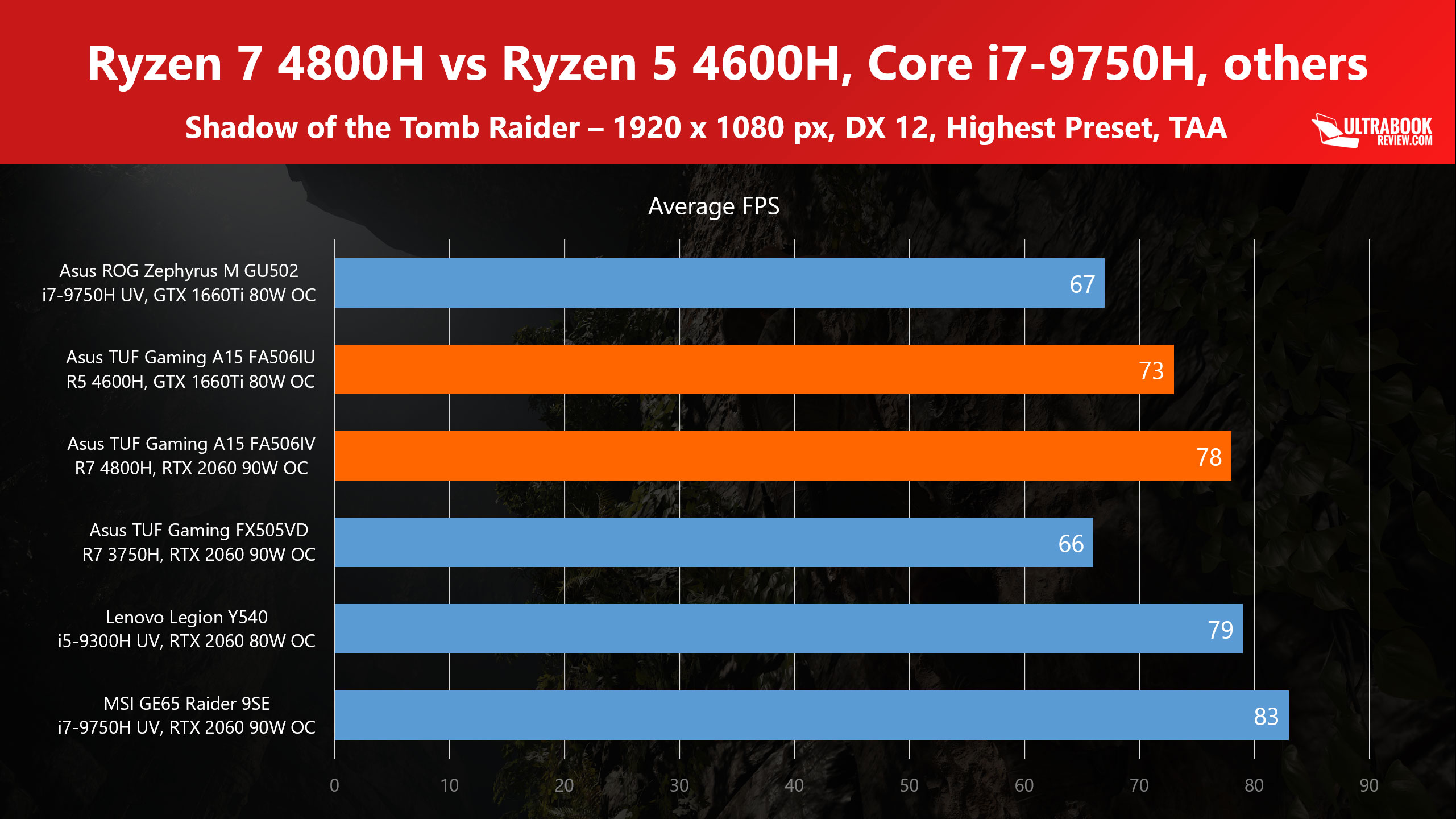 Middle of Earth: Shadow of Mordor is an older title that we're including here, to see how these platforms handle aging titles. As expected, they all do well in this case, and the AMD models even score above the Intel models.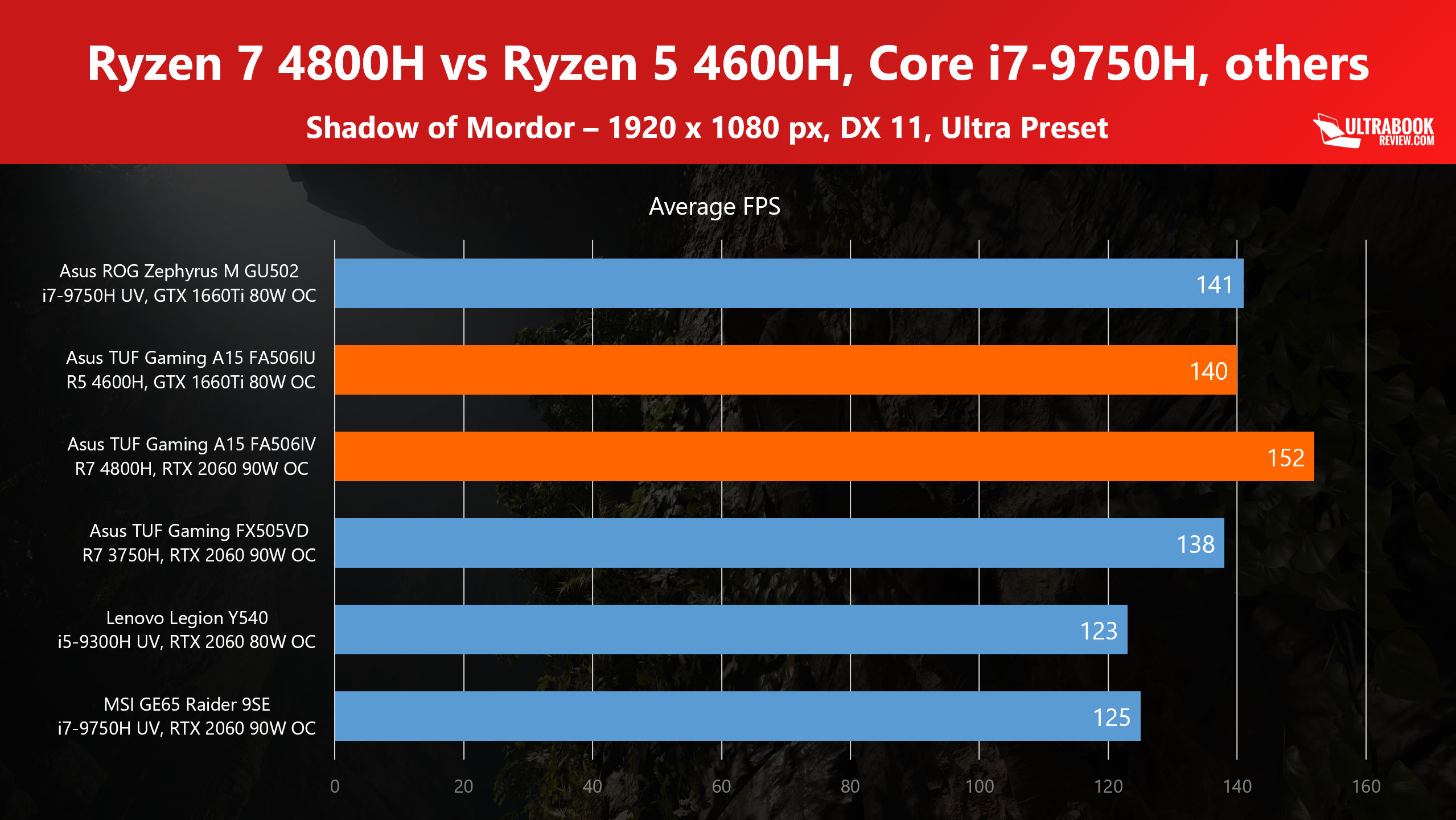 Finally, Battlefield V is a recent game that supports DX12 and RayTracing. It doesn't get a benchmarking tool, so the results are min and max fps recorded while playing a Single Player mission. For some reason, the game failed to start on our Ryzen 7 4800H configuration, so there's no data for it here.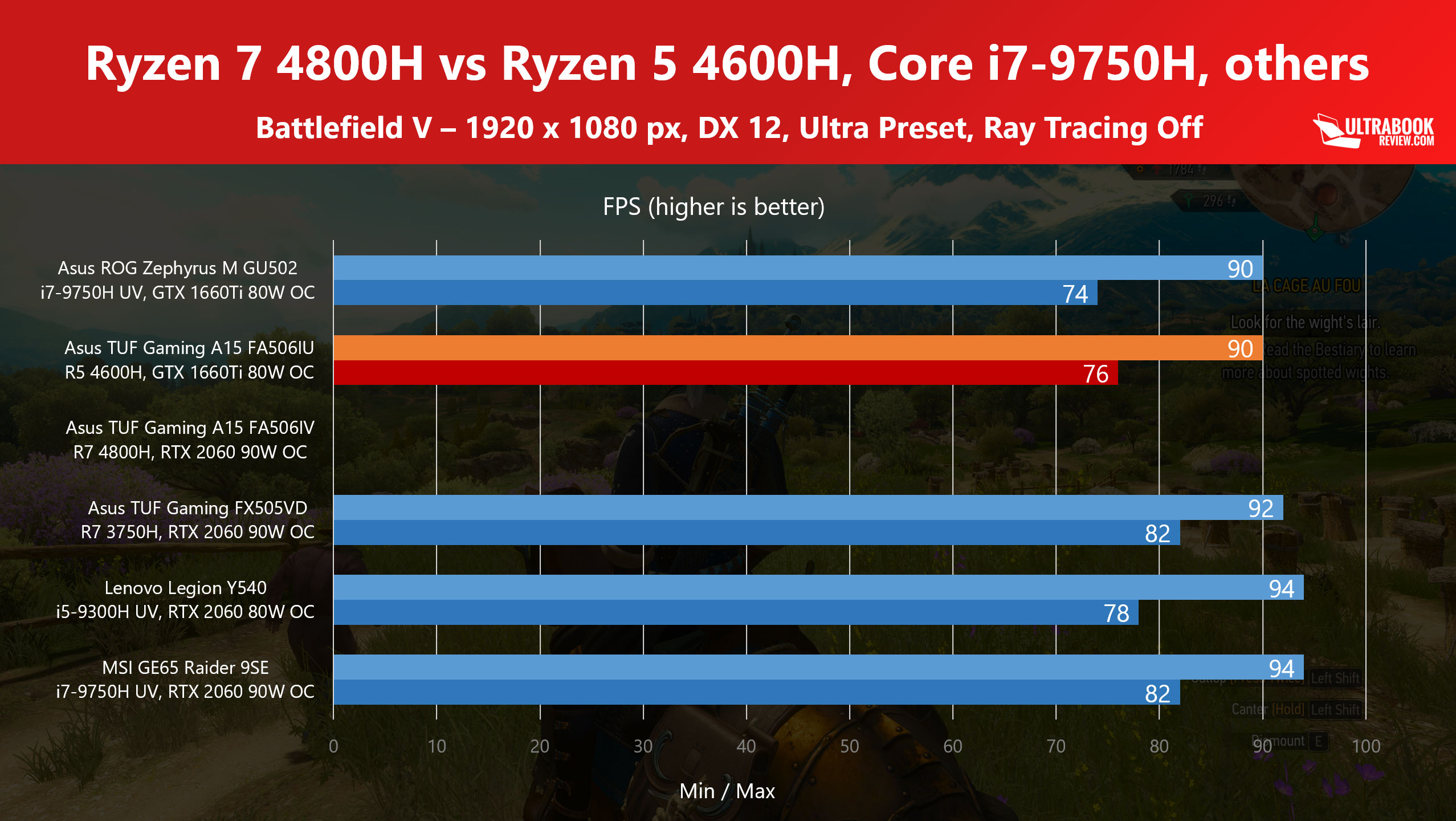 As expected, an eight Core processor such as the AMD Ryzen 7 4800H won't do that much for you in games, which can hardly scale over this many cores. The Ryzen 5 4600H would perform roughly the same in games with matching graphics, but that's only an option for lower-tier configurations with up to GTX 1660Ti graphics, so if you're looking for the best overall performance in a Ryzen notebook, you'll be forced to go with the Ryzen 7 or APUs.
Furthermore, the A15 Ryzen models we've tested get mid-tier thermal modules and thus tend to run very hot, which further impacts their gaming performance in comparison to some of the better Intel designs, such as the MSI GE65 Raider included here. But that's only one of the many, as Intel still have that aspect on their side, as well as the option for better quality graphics. Right now, and RTX 2060 is the best you can hope for on an AMD Ryzen 4000 laptop, while Intel 10th gen notebooks get up to RTX 2080 Super chips. So for now, Intel is still the way to go for gaming, and that won't change very soon.
Nonetheless, AMD notebooks fair a lot better in games then they used to, as the gains over the previous Ryzen 3000 platform are significant. On top of that, these Ryzen 4000 platforms are excellent power horses and options to consider if you plan to put them to good work in applications that can benefit from their increased core-count and power. And definitely not least, AMD laptops still have the value factor on their side, usually selling for less than their matching-tier Intel versions.
That's gonna wrap up this review and comparison of the Ryzen 5 4600H AMD platform, and I'm looking for your comments and impressions down below, in the comments section.
Disclaimer:
Our content is reader-supported. If you buy through some of the links on our site, we may earn a commission.
Terms
.