With 10th gen Intel Core H hardware now available, everyone is updating their notebook lineups, including Lenovo.
Among others, they have some brand new Legion gaming models in the works, called Legion 5 and Legion 7, scheduled as follow-ups for the popular Legion Y540 and Y740 series. Looks like Lenovo decided to dump on their previous naming scheme, so these are no longer called Legion Y550 and Legion Y750, instead just 5i and 7i for the Intel versions, and Legion 5 for the AMD model.
First off, both of these are powered by Intel Core H 10th platforms, with the 4C/8T Core i5-10300H and the 6C/12T Core i7-10750H in most configurations, as well as the 8C/16T Core i9-10980HK on the higher-tier Legion 7i. No mention of the enticing 8C/16 Core i7-10875H, so that's most likely not going to be an option.
An AMD Ryzen variant of the Legion 5 is also in the works. That's only going to be called Legion 5, as the i at the end is only reserved for the Intel versions. While the Intel version are available in 15 and 17-inch variants, the AMD model is only available as a 15-inch laptop with up to a 144 Hz panel, 60Wh battery and only up to GTX 1650Ti graphics (we're waiting for confirmation on this, other sources mention up to RTX 2060 and 80W battery). There's no AMD variant of the higher-tier Legion 7.
Update: Our detailed review of the Legion 5 is available here, while our detailed review of the latest-generation Legion 7 is available here (Intel model) or over here, for the AMD-based Legion 7 variant.
The Intel-based Legion 5i is going to top at an RTX 2060 GPU configuration, while the Legion 7i variants will get an up to RTX 2080 Super graphics chip, most likely the Max-Q 80W version. Both offer support for up to 32 GB of DDR4-3200 MHz memory, although 32GB DIMMs might also be compatible, for up to 64 GBs.
Update2: Aside from the AMD Legion 5, there are also two versions of the 5i: a basic Legion 5i with a plastic chassis, and a Legion 5Pi available with higher tier specs and an 80Wh battery, and perhaps partially made out of aluminum. This needs to be confirmed. We've been told that the 5Pi won't be available in North America.
Update3: There's also an IdeaPad Gaming 3 model introduced at the bottom of the stack, as a follow-up for the IdeaPad L340 from 2019. It only gets Intel 10th-gen and lower-tier GTX 1650/1650Ti graphics. We'll cover it in a separate article.
Lenovo have also improved the internal design and cooling module to some extent, and we've covered that further down. The i7's chassis looks much like the Y740's, so I wasn't expecting much to have changed, but it actually did. Those early rumors suggesting 2.x M.2 storage with RAID support and an 80Wh battery have been confirmed for the 7i.
Here's a quick specs sheet of the two 2020 Legion models, and we'fill in the blanks when possible.
Lenovo Legion 5i 15/17-inch / Legion 5 – review
Lenovo Legion 5Pi 15-inch
Lenovo Legion 7i 15IMH
Screen
15.6 inch, matte, non-touch, 60/120/144/240 Hz options on Intel 5i models
17.3 inch, matte, non-touch, 60/144 Hz options on Intel 5i models
15.6 inch, matte, non-touch, 60/120/144 Hz options on AMD models
15.6 inch, matte, non-touch, 240 Hz 500-nits
no 17-inch version
15.6-inch, matte, non-touch, 144 or 240Hz 3ms, 100% sRGB, 500-nits
no 17-inch version
Processor
10th gen Intel Comet Lake Core H CPU, up to Core i7 6C/12T
AMD Ryzen 4000 CPU, up to 8C/16T (on Legion 5)
10th gen Intel Comet Lake Core H CPU, up to Core i7 6C/12T
10th gen Intel Comet Lake Core HK CPU, up to Core i9 8C/16T
Vide0
up to Nvidia RTX 2060, with NVIDIA Advanced Optimus/G-SYNC on Intel models
up to Nvidia GTX 1650Ti on AMD models in NA (up to RTX 2060 in other regions)
up to Nvidia RTX 2060
up to Nvidia RTX 2080 Super, with NVIDIA Advanced Optimus/G-SYNC
Memory
up to 32 GB DDR4 2933 MHz (2x DIMMs) on Intel and DDR43200 MHz on AMD versions
up to 32 GB DDR4 3200 MHz (2x DIMMs)
Storage
1x M.2 SSD, 2.5″ HDD cage
1x M.2 SSD
2x M.2 SSDs with RAID support
Connectivity
Gigabit LAN, Wireless 6 AX, Bluetooth 5.0
Ports
2x USB-A 3.1, 1x USB-C with DP, HDMI 2.0, LAN, mic/headphone, Kensington Lock
3x USB-A 3.1, 1x USB-C with Thunderbolt 3,  1x USB-C,HDMI 2.0, LAN, mic/headphone
Battery
60/80 Wh on 15-inch models,
80Wh on 17-inch variant
80 Wh
80Wh
Size
15-inch – 363 mm or 14.29" (w) x 260 mm or 10.23" (d) x 25.5 mm or 1" (h)
17-inch – 363 mm or 14.29" (w) x 260 mm or 10.23" (d) x 25.5 mm or 1" (h)
–
360 mm or 14.19" (w) x 255 mm or 10.03" (d) x 19.9 mm or .78" (h)
Weight
~2.5 kg (5.5 lbs) for 15-inch
~3 kg (6.6 lbs) for 17-inch
~2.5 kg (5.5 lbs)
~2.2 kg (4.9 lbs)
Extras
white or optional Corsair 4-zone RGB backlit keyboard with 1.5 mm travel, webcam, Black or Green variants, plastic build, bottom speakers
Corsair TrueStrike RGB backlit keyboard with 1.3 travel, RGB light bars, webcam, Iron gray version, fully metallic build, quad speakers
On the other hand, there seem to be some slight design and exterior changes between the 2020 and the 2019 Legions. Both the 5i and the 7i keep the simple lines and known Legion/Lenovo branding elements.
The 7i also gets RGB illumination in the exhausts, as well as a redesigned RGB keyboard and a new light bar spreading around the front, like on the ROG Scar, plus redesigned speaker cuts on the bottom. There's also an extra set of speakers above the keyboard.
These aside, there's also a slight IO redesign on that back edge between the two generations, and what looks like a new color scheme for the 7i, with a Dark-Blue tint. Perhaps some new materials as well, based on these previews images. Oh, and no longer a nose cam, but instead a webcam at the top of the screen, where it should be placed. This also gets a privacy shutter, the kind we've previously got with ThinkPads.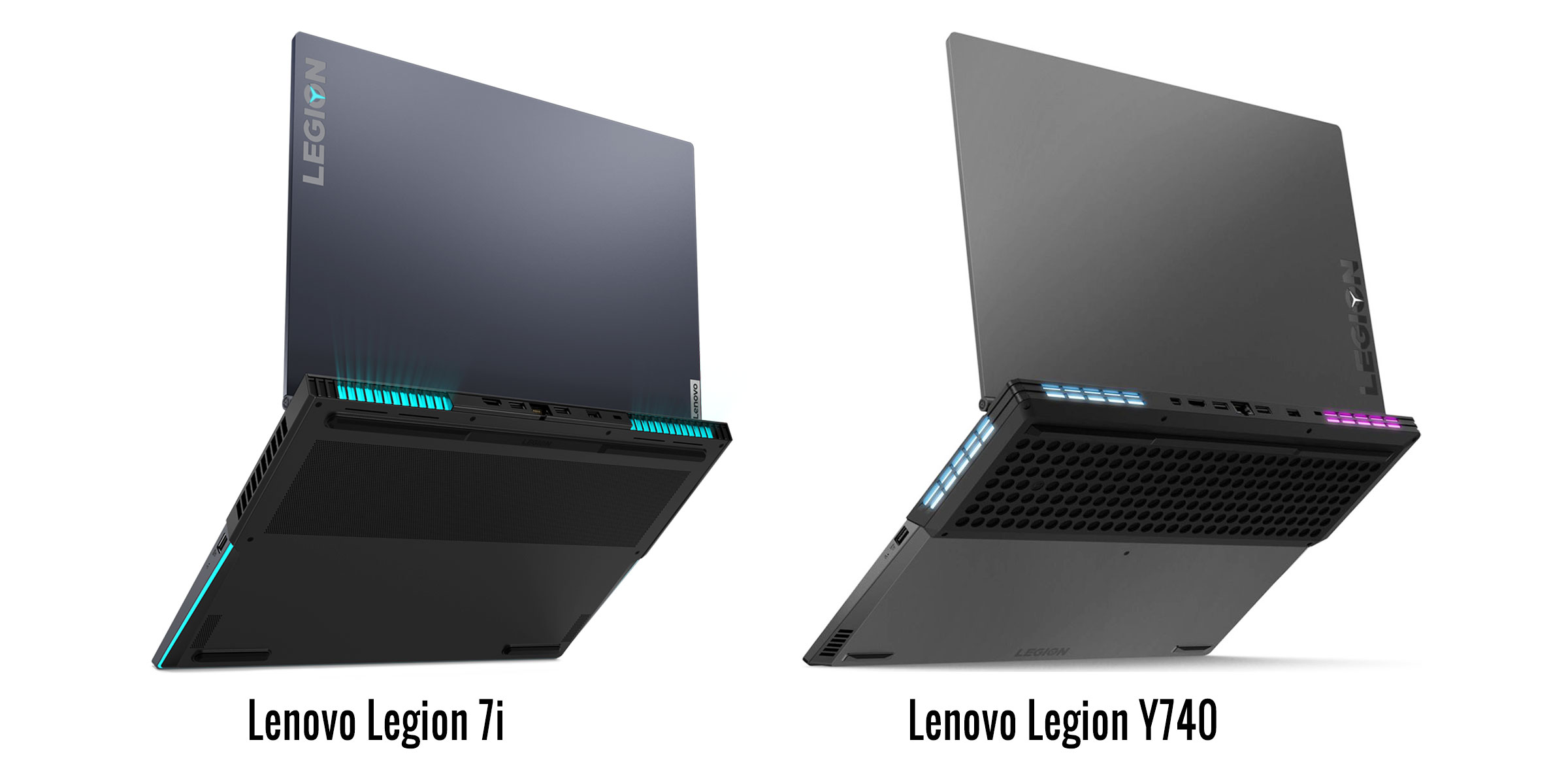 And here's the redesigned keyboard on the Legion 7i in more detail. It's a shallower implementation this time around, with 1.3 mm of travel and what Lenovo calls Soft-Landing switches, and I'll need to spend some time with it before drawing any conclusions. There's also a larger clickpad, made out of glass and with Precision drivers.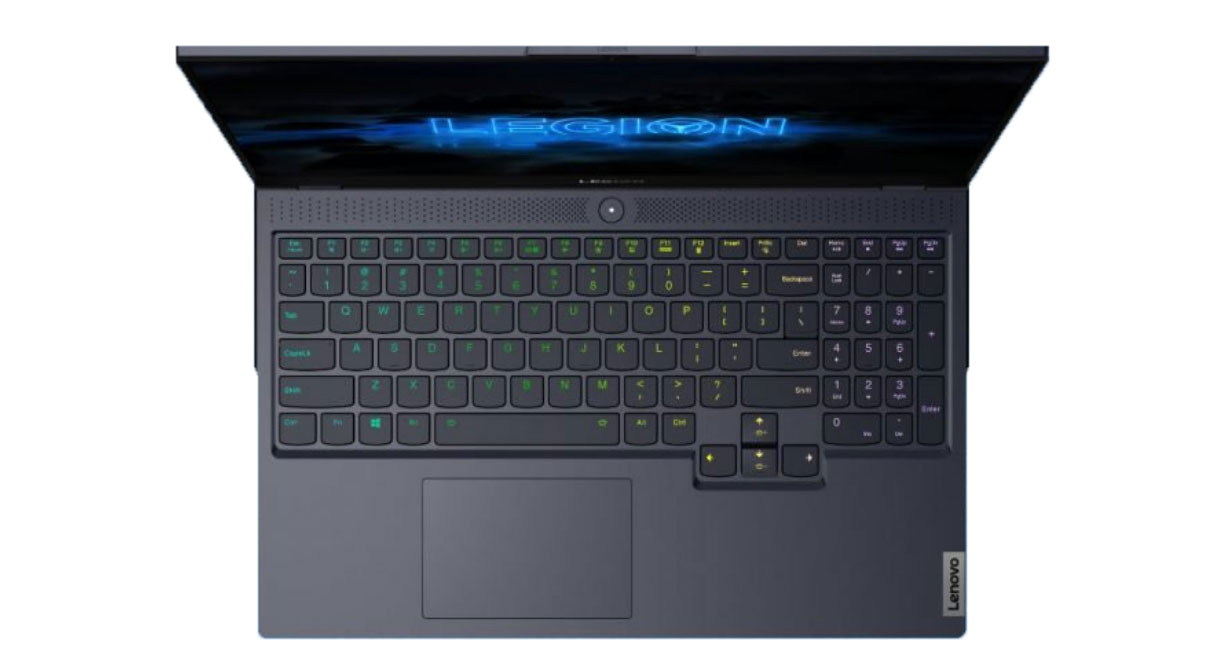 And here's another picture hinting the interior redesign, the blue color and the new webcam on the Legion 7i Y750.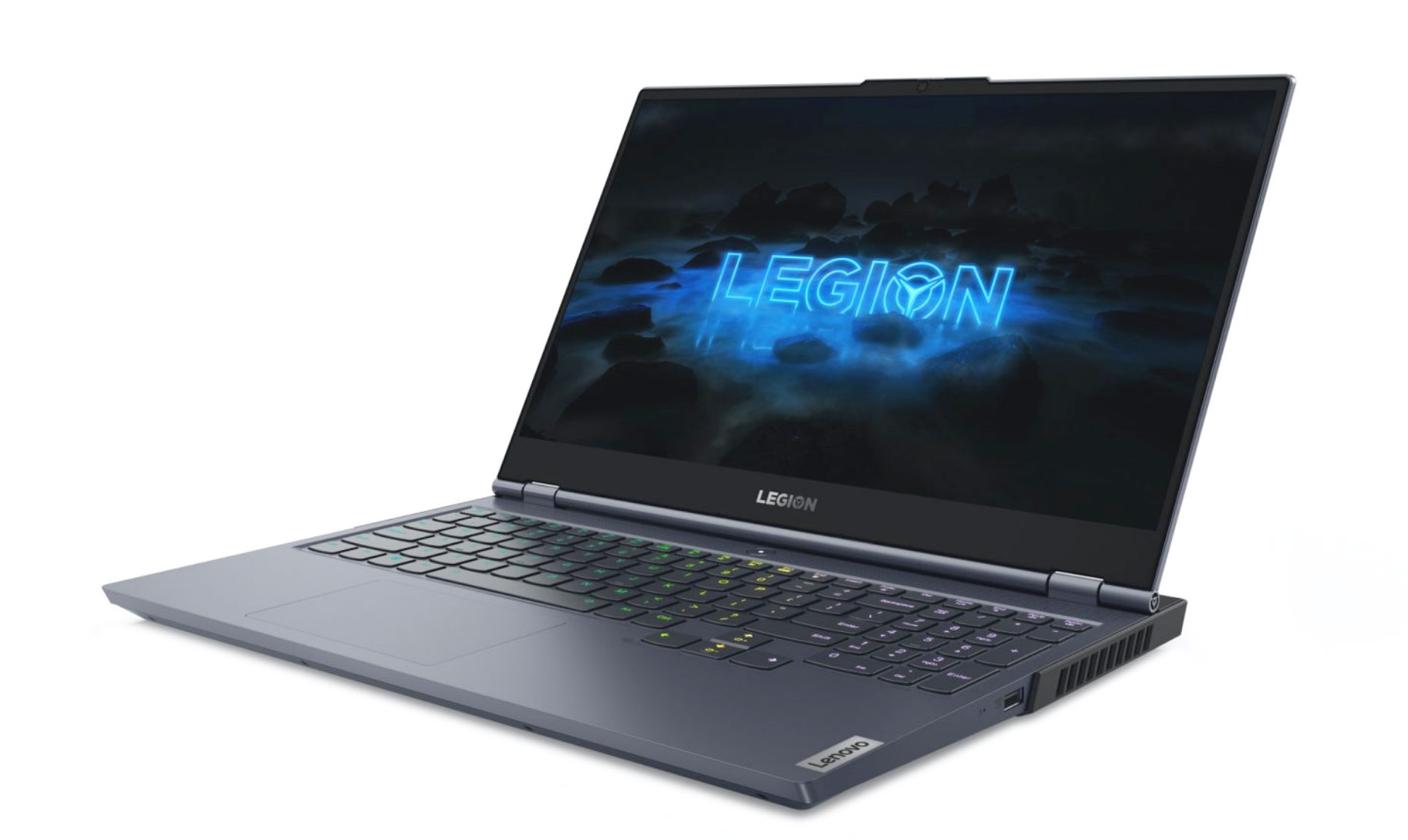 I've also added a picture of the internal redesign (Source: lab501). The source mentions a redesigned thermal system with larger fans, increased fin-count, and a new vapor chamber module. This is reported to do a good job cooling the Max-Q 2080 Super (80W, as far as I can tell), but the CPU still reaches high temperatures of up to 100 C in demanding tasks. I look forward to getting our own review unit and take this through our own set of tests. The reported GPU temperatures and fan noise of under 40 dB seem almost too be good to be true.
Down below you can also notice that the HDD bay was thrown out and replaced with a large 80W battery. The speakers are still small, so don't expect much on that front.
The 5i remains the more basic model, with a black color scheme and without RGB chassis elements.
It too seems to have been redesigned, though, and while I can't tell these details for the few existing pictures we've got from Lenovo so far, I'm rooting for a metallic build this time around and hopefully an RGB keyboard as well. Looks like the RGB keyboard might be an option, but the exterior is probably still plastic. Update: There are actually two versions, the Legion 5i gets a plastic construction, while the legion 5Pi is made out of metal.
The image below does suggest a new keyboard implementation, with a redesigned NumPad/Arrows section.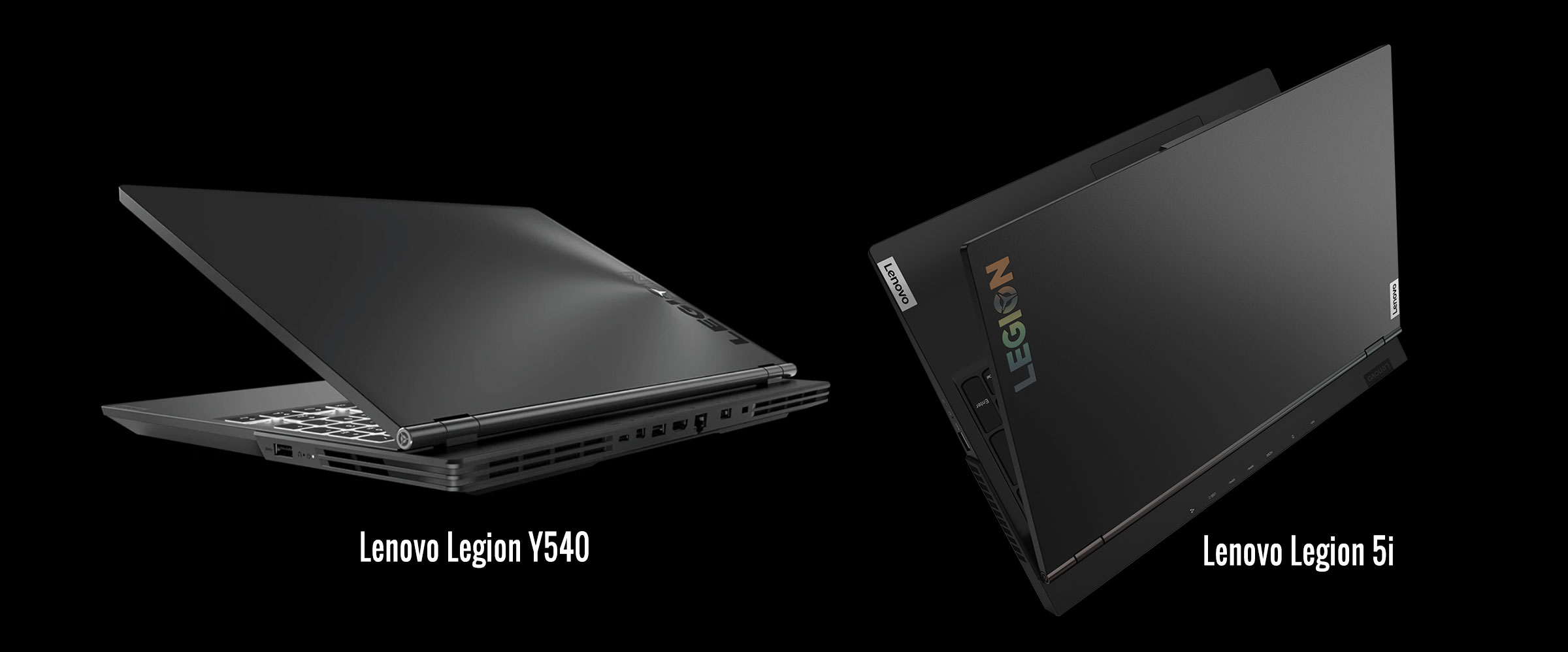 I've also added a few more pictures of the AMD-based of the Legion 5i Y550, which might differ from the Intel model in some ways.
Lenovo were eager to communicate that the Intel-based Legion 5i and 7i are the first performance notebooks to get Nvidia's Advanced Optimus technology. In few words, this allows both Optimus and GSync simultaneously on a laptop. GSync was offered on the previous Legion Y740 as well, but only at the expense of battery life, when you opted to disable the iGPU in software.
This time around, the iGPU and the dGPU are both connected to a physical switch called Dynamic Display Switch, which smartly selects the GPU of use based on the active load. This means the Intel UHD iGPU takes over with light use and video, and then the GPU and GSync get activated with games. This was not available in this form in the past, and I'm looking forward to seeing it in action.
Keep in mind there's no way to implement this technology on existing products, as it requires both a software and a hardware component.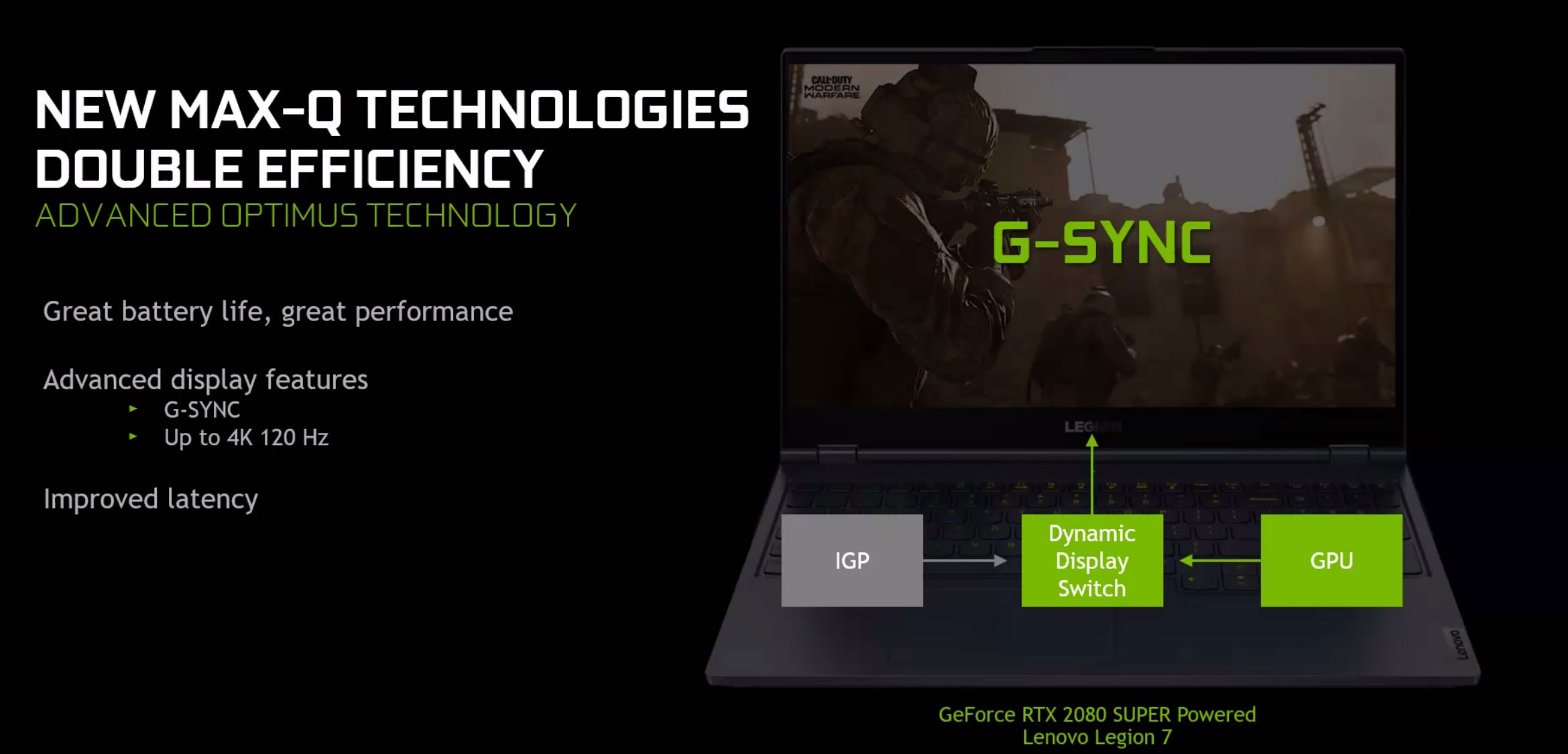 In all fairness, though, GSync and Optimus have been previously available on laptops from Acer, Asus and Lenovo, but not at the same time. You had to choose between one mode or the other and then restart the laptop, while now it happens on of the fly, as far as I understand.
No word on whether Dynamic Boost is also implemented on these laptops, but hopefully it is.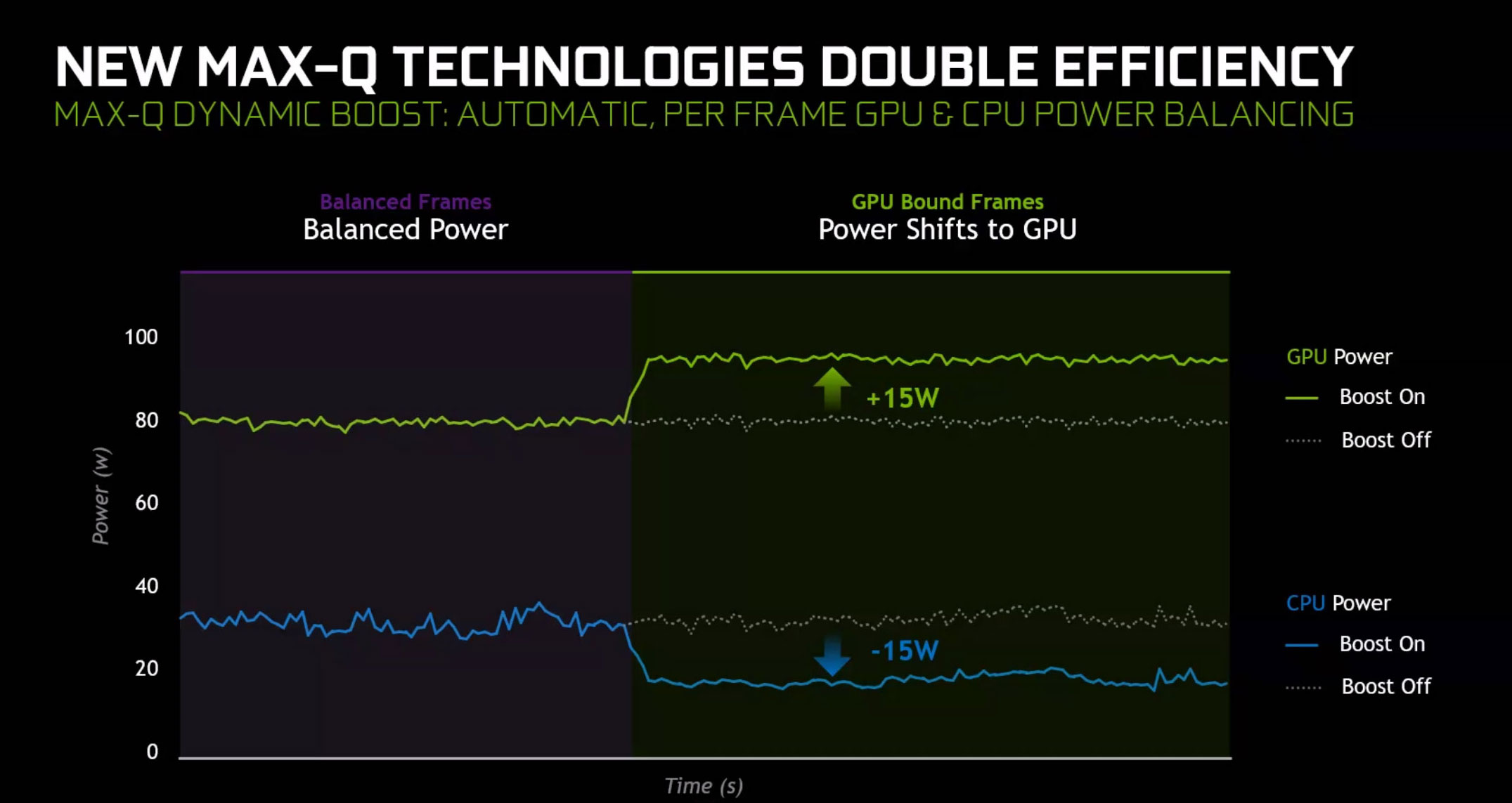 There's not much we can tell about these two right now, so I'll leave you with some pricing information. The RTX 2060 configuration of the Legion i5 is set to start at $829, while the RTX 2070 version of the Legion 7i is scheduled from $1599, with availability varying between regions and starting around May 2020. Those are some aggressive prices on what were previously some of the more aggressively priced options in their niches, so I'd expect a lot of interest around these.
The IdeaPad Gaming 3 is set to start at around $730, and also scheduled for availability around May.
AMD Ryzen 4000 variants of the Legion 5 have also been recently listed in some stores, starting at around 1400 $CDN with a Ryzen 7 4800H processor, 32 GB of RAM and 512 GB of SSD storage. Base level variants are expected to start for as low as $759 in the US.
Update: Our detailed review of the Lenovo Legion 5 is available here. Stay tuned for our reviews of the Legion 5i and 7i in the near future.
Looking forward to spending more time with them for some proper reviews.
Disclaimer:
Our content is reader-supported. If you buy through some of the links on our site, we may earn a commission.
Terms
.