Up until the Spring of 2020, Intel-based Core i9 configurations were the only 8-Core available hardware platforms you could get on a performance laptop. However, i9 configurations were only available in premium notebooks and came with a hefty price-tag. Not anymore though.
With the latest hardware updates, 8-Core/16-Thread processors are available in mid-tier products and for much more affordable budgets, both on AMD (Ryzen 7 4800H/ 9 4900H and their HS versions) and on Intel platforms (Core i7-10875H). We've covered the AMD options in separate articles, and this one focuses on the available Intel i7-10875H notebooks you can find in stores, as more affordable alternatives for the i9-10880H and 10980HK models of the same generation.
For starters, I'm just going to list a specs sheet of this 8-Core i7 next to the mainstream i7-10750H 6-Core alternative, as well as next to the i9-10980HK higher-tier alternatives in the same Comet Lake platform.
Further, we'll quickly discuss on the overall value of these i7-10875H configurations, who should benefit from them and whether they're the right choice for you, and finally, we'll jump to the complete list of notebooks you can get with i7-10875H hardware right now.
Compared to the 10750H, the 10875H gets 33% extra Cores and Threads, as well as 33% more L3 Cache memory. At the same time, it runs at lower Base and Max-Turbo clock speeds and is $55 more expensive.
That means the 10875H will show its strength in multi-threaded CPU loads that can utilize these extra resources, such as rendering, programing or engineering software, virtual-machines, big data crunching, and the likes. At the same time, this will hardly make a difference in most modern games, which mostly benefit from higher clocks and a powerful GPU, and cannot properly scale over 8-Cores in most cases.
However, It's extremely important to keep in mind that the platform's performance is greatly dependent on the thermal module and power allocation in each implementation. That means not all i7-10875H are the same, even if they might seem so on paper, and only in-depth reviews can tell you how well (or poorly) each model performs and whether the 8Core platform makes sense in that chassis or not.
At the other end, the i9-10980HK is an unlocked and overclockable processor, with higher Base and Turbo clock speeds than the 10875H, but a higher price as well. 10980HK builds are even greatly dependent on the thermal design, due to their increased potential TDP limits, required to reach those high clocks in continuous demanding loads. Nonetheless, we're treating the i9s in a separate article, both the 10980HK and the i9-10880H, so we'll just move on for now.
As far as benchmarks go, based on the very limited details available so far, the 10750H is about on par with the 9750H and 10875H in single-core loads, and roughly 3-5% faster than a good 9750H implementation in multi-core tests, while 10875H models score roughly 10-15% higher than the 10750H in this case. However, as already mentioned earlier, take these numbers with a lump of salt, as results are going to greatly vary between implementations.
We'll update on benchmarks and performance expectations in future articles once we churn through more data.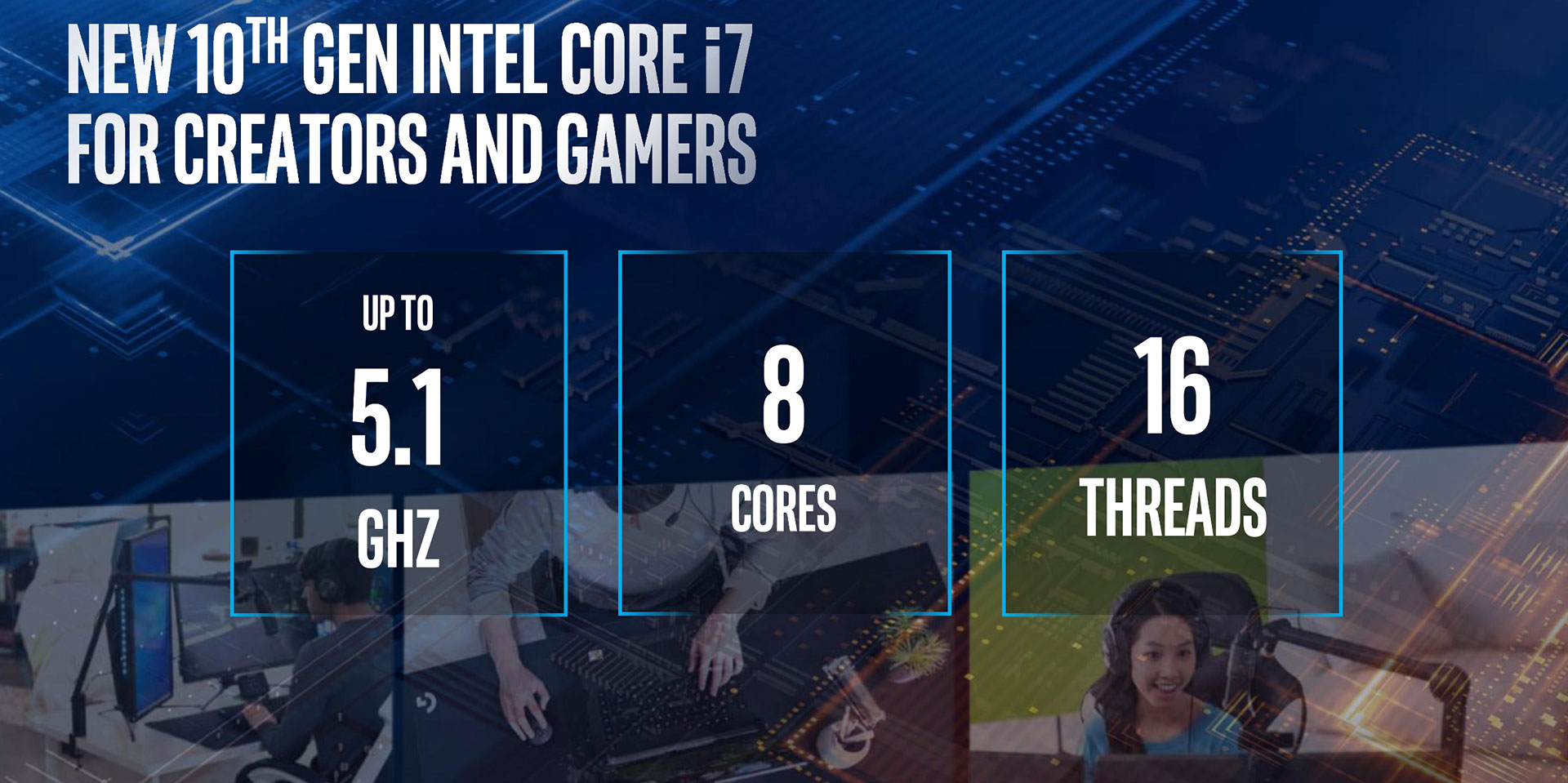 OK, with that out of the way, let's jump into the available Intel Core i7-10875H models. to make ti easier for you to find what you're looking for, we've split these options into two sections: portable light-weight ultrabooks, and full-size notebooks.
Furthermore, we're constantly updating the list and adding new info as it becomes available, but the details are still scarce and scattered for now, so if you spot any errors or any configurations that should be included here and are not, please let us know in the comments section down below.
Portable Intel Core i7-10875H (8-Core) laptops
This section includes a list of the light-weight and compact notebooks that can be configured with a Core i7 8Core mobile processor. With these, it's especially crucial to go through the reviews and see how the cooling-system and overall hardware implementation can cope with the power and thermal requirements of the i7-10875H, and whether going with this option is worth paying the premium, since most of these options are also available with the 6-Core 10750H for a less price.
I'll also add the some of the available ultraportables do not get i7-10875H configurations, but only 10750H and i9-9880H/HK variants. Those are not included here and covered in this separate article.
Full-size Core i7-10875H laptops
This section is reserved for full-size performance notebooks, for those of you who value performance over portability.
We'll update with more i7-10875H models once they're launched.