Asus make some of the better performance/gaming ultraportables money can buy with their ROG Zephyrus lineups. But the main reasons they've earned my appreciation over the years is the fact that they're not resting on their laurels, instead, they're constantly working on pushing the industry forward.
With 10th-gen Intel Core H and Nvidia Super hardware available now, everyone is refreshing their models as of the beginning of April 2020, and some OEMs are also launching brand new designs. This article is about one of the most interesting novelties, the ROG Zephyrus Duo GX550, from Asus.
This one follows-up on last year's GX531 as the top-tier 15-inch ROG Zephyrus, with the latest and greatest in terms of hardware specs and features. That means an 8-Core Intel Core i9-10980HK processor and an Nvidia RTX 2080 Super Max-Q graphics chip, both overclocked.
Furthermore, these are supplemented by new screen options (FHD 300 Hz or 4K 100% AdobeRGB), a 90W battery, dual storage with RAID0 support, and an uncompromised IO, including the much-awaited Thunderbolt 3 with charging and LAN. All these are tucked inside a premium, compact, metallic chassis that weighs around 2.4 kilos (5.3 lbs).

You'll notice that this GX550 no longer tries to be the "thinnest gaming laptop" the way the GX531 used to, and that's smart. This approach allows for more space inside for the components, for the thermal module and that extra battery, with a slight increase in thickness and weight that I doubt many will complain about, given the improvements brought over with this new design.
Update: In the meantime, we've also covered the more recent Zephyrus DUO GX551 and the updated Zephyrus DUO 16 GX560 lineups.
Update: And here are my thoughts on the updated 2023 Asus ROG Zephyrus Duo 16 generation, with Ryzen 9 7945HX CPU and up to RTX 4090 graphics.
And there's one more thing. Remember how the GX531 used a down-shifted keyboard in order to leave the top part of the chassis for the hardware and cooling, and all that space felt somehow wasted. Well, that's now a secondary screen instead.
Zephyrus Duo Specs, vs Zephyrus GX531 and ZenBook Pro Duo UX581
Zephyrus Duo GX550
Zephyrus S GX531GX
Zenbook Pro Duo UX581
Screen
15.6 inch, 1920 x 1080 px, IPS, 300 Hz, 2ms, non-touch, matte, Pantone Validated or
15.6 inch, 3840 x 2160 px, IPS, 60 Hz, non-touch, matte, 100% AdobeRGB
secondary 14-inch, 3840 x 1100 px, IPS, non-glare, touch
15.6 inch, 1920 x 1080 px, IPS, 144/240 Hz, non-touch, matte, Pantone Validated
15.6 inch, 3840 x 2160 px, OLED, glossy, touch
secondary 14-inch, 3840 x 1100 px, IPS, non-glare, touch
Processor
Intel Comet Lake-H Core i7-10785H or i9-10980HK CPU, 8C/16T
Intel Coffee Lake-H Core i7-9750H CPU, 6C/12T
Intel Coffee Lake-H Core i7-9750H CPU, 6C/12T
Video
Intel UHD + up to RTX 2080 Super 90W
Intel UHD + up to RTX 2080 90W
Intel UHD + RTX 2060 80W
Memory
16GB DDR4 3200 MHz soldered + 1x DIMM (up to 32 GB)
8GB DDR4 2666 MHz soldered + 1x DIMM (up to 32 GB)
16GB DDR4 2666 MHz soldered
Storage
2x M.2 NVMe 2280 with RAID0
1x M.2 NVMe 2280
1x M.2 NVMe 2280
Connectivity
Wireless 6 AX, Bluetooth 5.0, Gigabit LAN
Wireless AC (Intel AC 9560), Bluetooth 5.0
Wireless AC (Intel AC 9560), Bluetooth 2
2x USB-A 3.2 gen1, 1x USB-A 3.2 gen2, 1x USB-C with Thunderbolt 3 and PowerDelivery 3.0, HDMI 2.0b, LAN, separated mic&earphone, Lock
1x USB-A 3.1, 2x USB-A 2.0, 1x USB-C gen 2 with DP and PowerDelivery, 1x USB-C gen 1, HDMI 2.0, mic/earphone, Lock
2x USB-A 3.1, 1x USB-C with Thunderbolt 3, HDMI, mic/headphone
Battery
90 Wh, 230 W brick, USB-C charging up to 100W
60 Wh, 230 W brick
71 Wh, 230 W brick
Size
360 mm or 14.17" (w) x 268 mm or 10.55 (d) x 21 mm or .82" (h)
360 mm or 14.17" (w) x 268 mm or 10.55 (d) x 16.2 mm or .63" (h)
359 mm or 14.13" (w) x 246 mm or 9.68" (d) x 24 mm or 0.94" (h)
Weight
5.3 lbs (2.4 kg), redesigned, smaller brick
4.58 lbs (2.08 kg) + 1.72 lbs (.78 kg) power brick, EU model
5.44 lbs (2.47 kg)+ 1.76 lbs (.8 kg) charger and cables, EU version
Extras
per-key RGB keyboard, 14″ ScreenPad Plus, no webcam
4-zone RGB keyboard, HD webcam, 2x 2W front-facing speakers
white backlit keyboard, 14″ ScreenPad Plus, HD webcam, IR Hello camera, and near-field mics
We've seen dual-screen notebooks from Asus with the ZenBook Duo and the Pro Duo lineup. But this one is a tad different, as the system mechanically lifts the screen when you open the laptop, and that serves two purposes.
First, it improves the viewing angles and brings the content more into your line of sight, and second, it separates this display from the hot components and allows for fresh air to be sucked into the thermal module. Think of the AES cooling from the Zephyrus S GX502, but reversed, with the flap at the top and a screen instead of just a piece of metal.
Air is sucked in from the top on this design and expelled through the rear, sides, and bottom. You'll notice that Asus put rather tall back feet on the bottom of this laptop, to ensure proper airflow down there.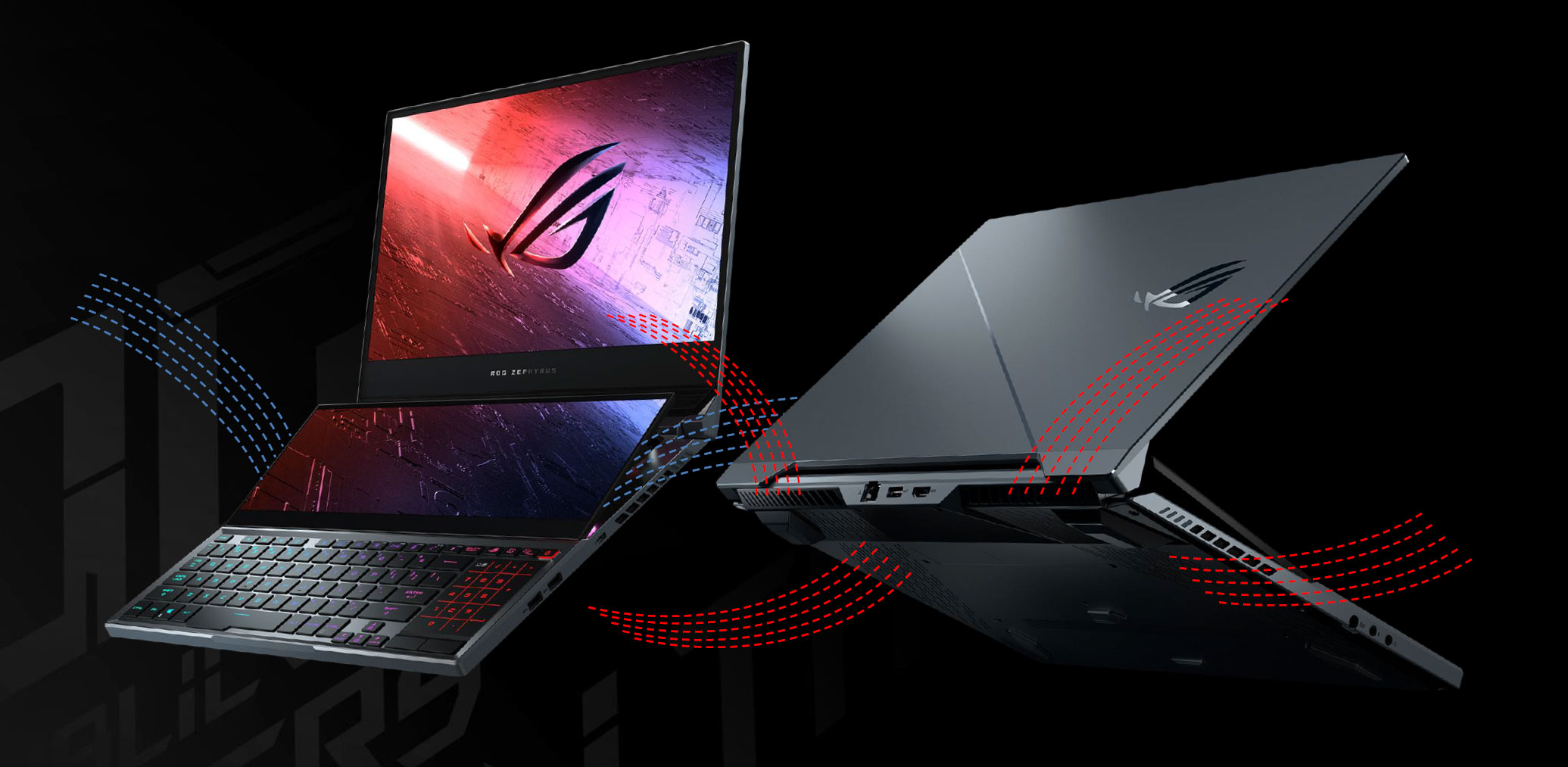 They've also rearranged the IO, splitting it between the sides and the back edge. They tucked the HDMI and LAN ports behind the screen, but the USB-C and the other USBs are on the right, while the left gets the headphone jacks and the PSU. With most of the back reserved for the cooling, the PSU is pushed towards the front in a rather inconvenient location, and that's something you'll just have to accept here.
Now, this whole design still means the keyboard is placed in the first half of the Zephyrus Duo GX550, and that's going to make it difficult to use the notebook on the lap and cramped desks. It also means that the touchpad is narrow and tucked to the right of the keys, like on the ZenBook Duo models, thus not that great with daily use due to its compact size. The positioning is less of an issue, albeit that also takes some time to get used to.
Nonetheless, you'll want this computer on a proper desk and with a mouse hooked up. And you'll most likely want to hook up some good headphones as well, to cover the fan noise. No details on that for now, so that's something we'll be discussing in a future review, alongside inner and outer temperatures. The speakers are on the bottom now, and probably not much, since there's no word about them in the preview materials, but the jack output should be spectacular here with the Sabre DAC we've seen on other Zephyrus notebooks before.
On the other hand, on a desk and with enough arm support, typing on a laptop with this sort of down-shifted keyboard feels a lot like typing on a desktop keyboard. However, that also means that the screen is placed slightly farther away (15-20 cm or so) than it would be on a more standard design, and can make things more difficult to see. This aside, I noticed that the keyboard layout is still similar to the GX531, which means there are no dedicated or even secondary keys for Home/End/PgDn. That's perhaps not a problem for gamers, but programming, engineering or design software abuse of these keyboards, and not having them could be an issue for professionals.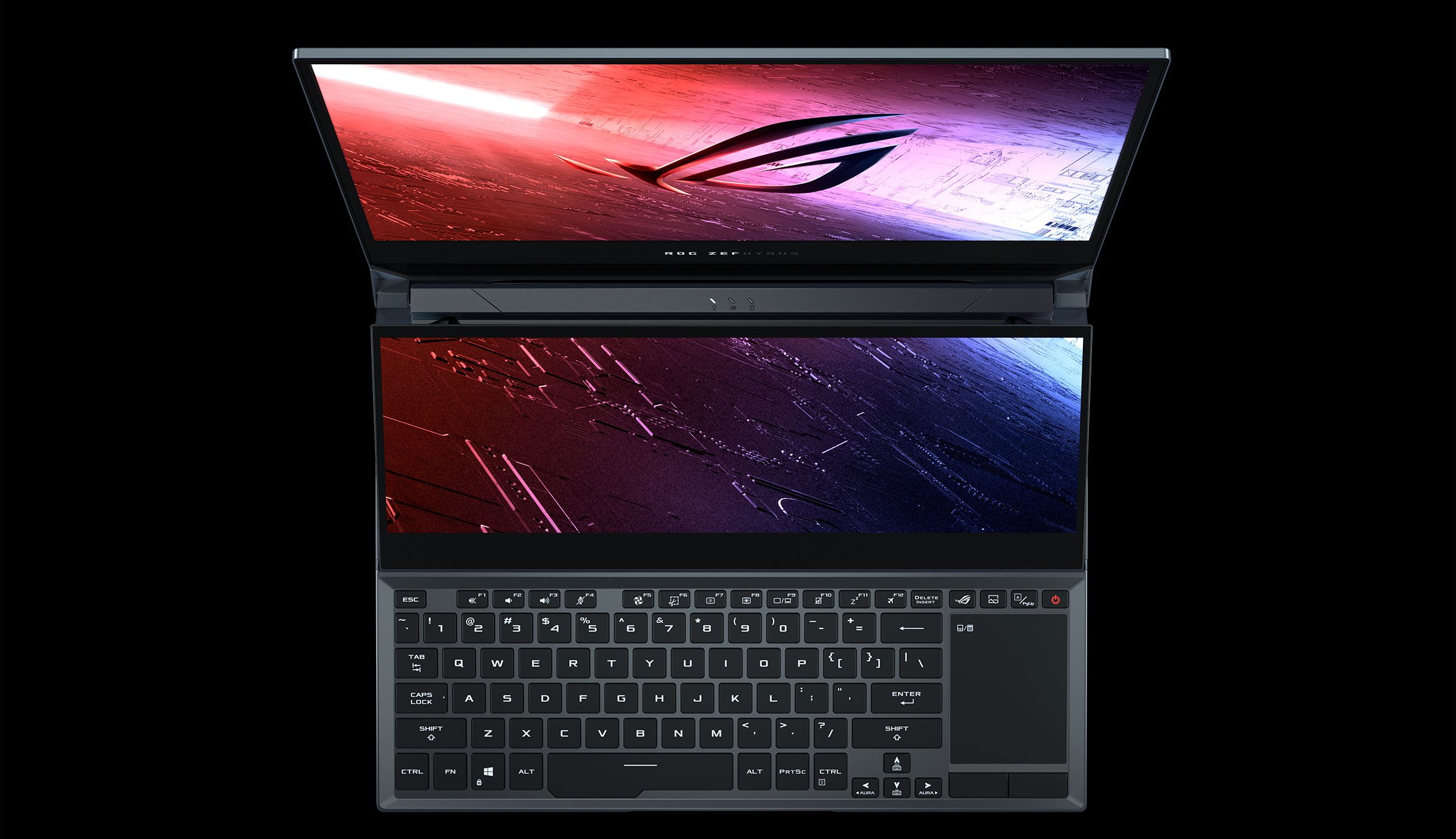 Back to that secondary screen, it's 14-inch and half-4K resolution, matte, and supports touch, so most likely the same panel from the Zephyrus Pro Duo. Having it angled towards the user is going to help, but I'm not sure it's enough. Back when I reviewed the Zephyrus Pro Duo, I constantly found myself pulling over the laptop to read this secondary screen, due to the limited viewing angle, and I can only hope this has been improved with the inclined implementation here. Of course, there's also the aspect of what you can do with this screen. It acts as a secondary Windows display, but Asus also claim they're working with 3rd party software and game developers to add functionality that can be pushed down here.
As for the main display, there are two options to choose from: FHD IPS 300 Hz, the same available on most modern premium gaming laptops, or 4K IPS 60 Hz with 100% Adobe RGB coverage, for content creators and photographers/videographers. It's nice to see this option as well, as I'm sure quite a lot of creators and professionals will look into this notebook and consider the workflow optimizations that secondary display could provide.
Now, as far as that hardware goes, well, it's the best money can get in a compact chassis these days, with the HK version of the Intel 10-gen Core i9 processor, up to 48 GB DDR4 3200 MHz RAM, dual M.2 PCIe x4 storage and up to RTX 2080 Super graphics from Nvidia. That's the top-end configuration, and a base level model with the 8-Core i7-10875H processors and RTX 2070 Super graphics is also available. Not that 16 GB of RAM are still soldered here and there's only one RAM DIMM available for upgrade, but that still allows easy 32 GB of RAM that should suffice for most users.
The RTX 2070/2080 Super GPUs are both Max-Q in the Zephyrus Duo, but the 90W higher-performance versions and overclocked with ROG Boost. Furthermore, Thermal Grizzly's Conductanaunt Liquid Metal Compound is used instead of regular thermal paste, and that helps lower CPU temperatures by up to 8 degrees in demanding loads (according to Asus). No word on the fan noise, but expect performance to be top-notch on this thing, given the specs and optimizations, paired with Asus's competitive thermal profiles offered in Armoury Crate.
Finally, as far as I can tell the GX550 also integrates a variation of the Nvidia Advanced Optimus technology. Asus says they've developed their own switch that routes signal for both the iGPU and dGPU at the same time, opting for one or the other based on the requirement. That means the system can switch between the iGPU and dGPU automatically, without having to exclusively opt for one or the other in the software/BIOS, like on past implementations. And that also means GSync can be automatically activated while the dGPU is in use, and then Optimus kicks in for longer battery life when the iGPU takes over.
That's a nice feature offered by a handful of 2020 performance laptops, not just by this Zephyrus. Still, I'm happy to see it implemented here, especially when paired with the larger 90 Wh battery, the largest ever on a ROG Zephyrus. Looks like everyone is pushing on battery size these days, with Asus hitting the 90Wh threshold and MSI implementing 99Wh batteries in the GS66 Stealth.
Oh, the GX550 also supports USB-C charging up to 100W, just in case you don't want to carry the larger 230W brick with you. Just keep in mind the performance is going to be limited on USB-C.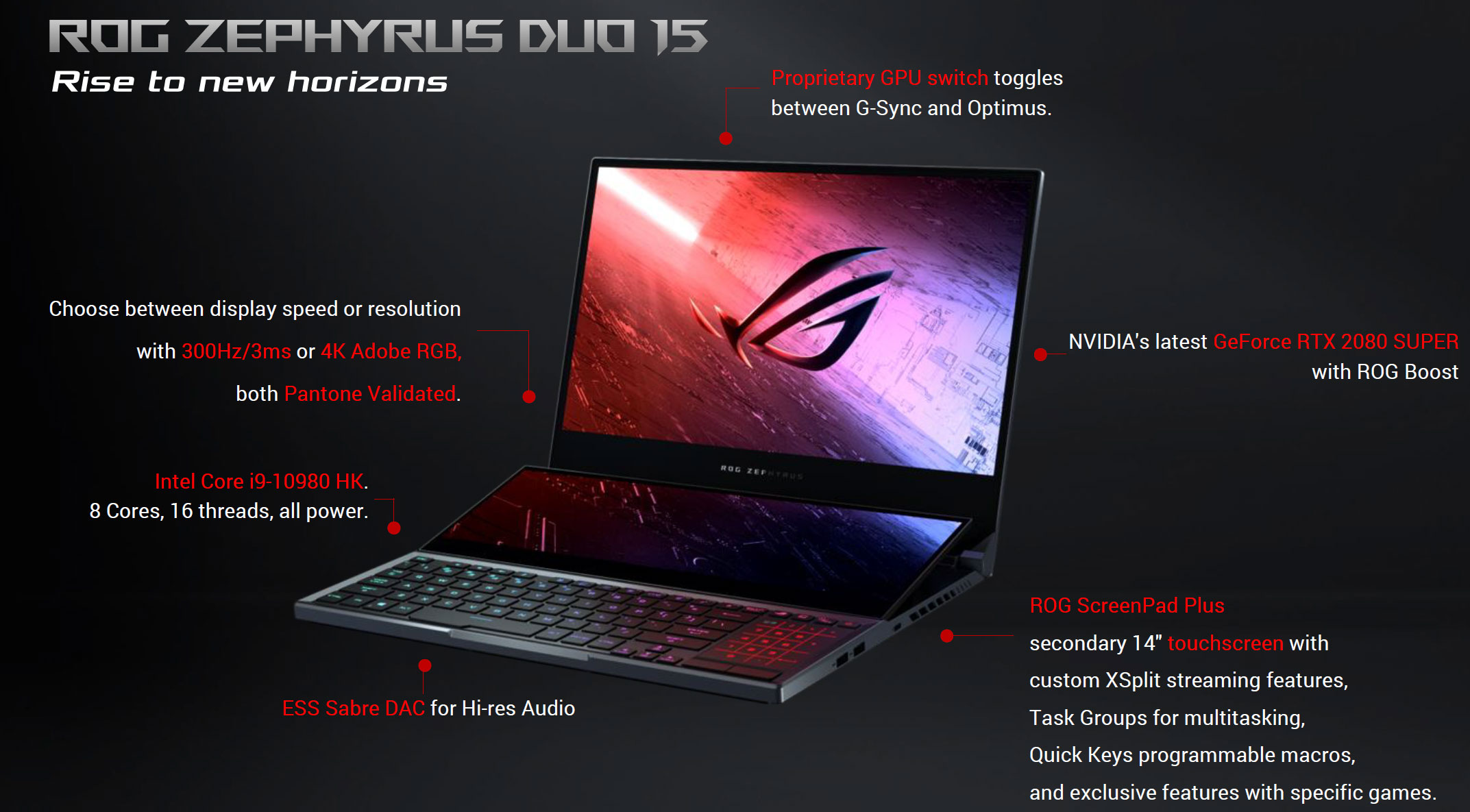 Some final thoughts
All in all, this Zephyrus Duo GX550 is more than just a GX531 with an extra screen slapped on top, although that aspect might catch most eyes. Sure, it's nice to see that space put to better work with this secondary display, but Asus worked on improving the top-tier Zephyrus across the board, both on the inside and the outside, and the results might well be the most interesting premium performance laptop of the moment. I can't wait to spend more time with it and share my findings with you.
As far as pricing goes, the Base version of this laptop with the i7-10875H processor and RTX 2070 Super graphics is set for $2999, with the top version going for $3999. That's 2999/3999 GBP in the UK and EUR across Europe. Availability is scheduled for July 2020.
Disclaimer:
Our content is reader-supported. If you buy through some of the links on our site, we may earn a commission.
Terms
.