As of late-May 2019, Asus announced its updated mainstream ZenBook line, laptops you'll find in stores in the second part of 2019 and the first part of 2020.
The update affects the entire lineup of 13 (ZenBook UX334), 14-inch (ZenBook UX434) and 15-inch (ZenBook UX534) devices, with a hardware refresh and new graphics chips, faster storage and wireless, as well as the implementation of a multifunctional ScreenPad across the entire range, a feature we've previously seen on the higher-tier ZenBook Pro UX580.
These add up to the characteristics of the previous late-2018 ZenBook notebooks: the ultracompact form-factors with narrow bezels around the screens, good keyboards, nice aesthetics, fair battery life, and competitive prices in most regions, which make-up for some of the existing quirks. And there were quite a few to compensate for, especially on the smaller UX333 and UX433 variants, as you can find out from the reviews.
Of course, there are many questions I can't answer in this preview article, like whether they addressed the performance on the 13/14-inch models, whether they implemented better screens and why there's still no Thunderbolt 3 support, but we'll touch on those in our future reviews. In the meantime, let's go through the specs sheets and see what we can find out when comparing these new ZenBooks to their predecessors.
Asus ZenBook 15 UX534FT
Update: We've reviewed the ZenBook 14 UX534FT and UX534FTC in this more detailed article, check it out.
Much like the others, the 15-inch 2019 ZenBook 15 UX534FT is pretty much a hardware bump of the previous ZenBook 15 generation. That's fine, though, as the UX533FD was actually the best product in the late-2018 ZenBook line-up, but whether the minor updates are enough to tackle the nowadays' competition, well, that's something to be seen.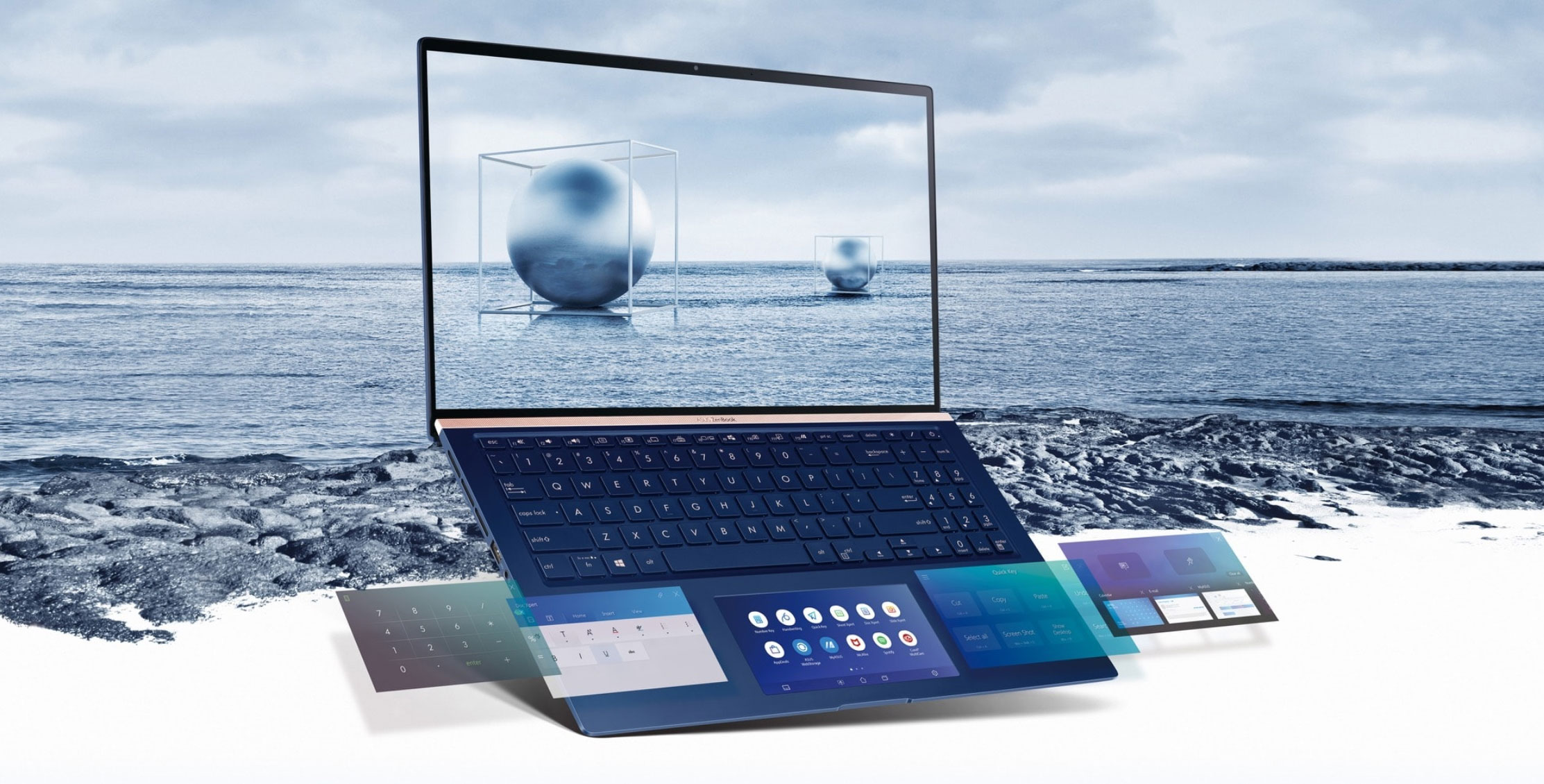 From what we know so far, Asus did not update the screen choices, so we're still stuck with a middling 300-nits FHD panel on most variations, good enough for indoor use, but something you'll struggle with in brighter environments. There's also a 4K screen option listed for the UX534FT, and although that was also offered for the UX533, most stores only carried the FHD configurations, so there's still a good chance the UHD screen won't be an option in your region.
Nothing has changed in terms of design and port selection, as there's still no Thunderbolt 3 support. According to the official specs, though, the updated UX533FT is slightly thicker than the older model, gets a smaller battery and a larger charger, which could suggest a slight internal redesign. No word on whether the RAM is still soldered, but I'd reckon it still is, and there's still only one M.2 storage slot. As a side note, Asus tends to ship their products with PCIe x2 SSDs and you'll have to jump to the 1 TB options to get a PCIe x4 stick out-of-the-box, which is imo an unfortunate cost-cutting strategy that could drive users away.
The addition of a ScreenPad is one of the major changes between generations and something Asus are heavily promoting in their marketing materials. I've seen it in action on the ZenBook Pro and it's a nice feature, but whether it's something you'll actually use on a daily basis depends on software. Back in 2018, you couldn't do much with the ScreenPad, but in the meantime, it looks like it integrates well with some of the Windows apps, Office, Spotify and Evernote, and Asus works with third-party developers to add adaptive functionality into the Screenpad, based on the app that you're running. If that happens, such Screenpads could become a must on future devices, but there are several IFs involved here.
The elephant in the room is the updated Nvidia GTX 1650 Max-Q GPU, the same chip you'll find on other compact 15-inch devices like the updated Dell XPS 15 or the 2nd generation Lenovo ThinkPad X1 Extreme. There are no detailed reviews of this chip yet, so we can't comment on the performance and thermals, but judging by the fact that this laptop ships with a 120W charger, it most likely draws more power than the GTX 1050 Max-Q in the 2018 model, so will be more difficult to keep cool. Anyway, that's something we'll focus on in our detailed review, as well as thermals and acoustics, both strong points of the previous variant and hopefully still strong-points of the 2019 update.
All in all, the 2019 ZenBook 15 UX534FT seems like a slightly polished variant of the 2018 model, with the same design, screens, keyboard and IO, but with a ScreenPad and updated graphics. With the right price and if Asus keeps the GPU and their known quality control issues in check this time around, I expect this to be a popular option in its tier in the months to come, but those with a larger budget might prefer devices like the brand-new ZenBook Duos or even the 2019 variants of the XPS 15 and X1 Extreme.
Asus ZenBook 14 UX434FT
The updated ZenBook 14 UX434FL is another hardware bump with two important changes over the previous ZenBook 14 models: gets the Screenpad and an Nvidia MX250 graphics chip.
Update: Our review of the ZenBook UX434FL is in this dedicated article.
Based on our experience with the 2018 ZenBook 14 UX433FN, I expect a lot of interest around this updated variant, as it's a sweet spot for performance and portability.
Just keep in mind that the implemented 10W MX250 is just a minor update of the 10W MX150 in the previous generation, and carefully look for reviews that analyze the performance if you're planning to run games on this computer, as our gaming experience has been problematic on the two different versions of the UX433 we've tested.
I for one am really looking forward to find-out if Asus managed to improve the cooling and thermals on the 2019 update, in order to cope with the demands of the MX250 chip. Judging by the design, though, I doubt much has changed, so I'd still expect the 14-inch ZenBook S UX392 to be the better performer in this range and my go-to option if you're willing to ditch the ScreenPad and up your budget, especially when considering the other benefits, like the brighter screen, sturdier construction and USB-C charging.
But let's refrain on suppositions for now, and wait for the review to draw conclusions.
Asus ZenBook 13 UX334FL 30-year Edition 
There are a few reasons why the 13-inch ZenBook 13 was my least-favorite model in the 2018 lineup: it was just a little bit smaller than the 14-inch variant, but looked the same, performed poorer, came with a dimmer 250-nits screen and a vertically cramped keyboard and a smaller clickpad.
Quick forward to 2019, the updated ZenBook UX334 still inherits some of these issues, but it's a completely different product in terms of style and aesthetics. And that's because this is what Asus calls an Aniversary Edition, with a white/gold design scheme and genuine leather on top of the screen, a reference to some Asus laptops of the past. This also doesn't get an Asus logo on the hood, but a special 30th-anniversary logo plated in real 18-karat gold.
These aside, though, the UX334 is once more a revamped UX333 with a ScreenPad and MX250 graphics, so the short keyboard is still a problem for those of you with larger hands, and performance in demanding loads is again something to further look into in our review. In all fairness, though, this product does not target those interested in performance and an ultracompact gaming computer, but primarily those attracted by its design, or perhaps some Star Trek fans who'd be willing to pay up for a laptop with a Star Fleet insignia on the lid cover. It's also worth adding that the UX334 is bundled with a matching leather-pouch, a white mouse and a white mousepad.
Asus hasn't announced any details on pricing or availability, but given the fact that the ZenBook 13 UX334L is a premium limited-edition product, this won't come cheap, so if you can live without the leather and don't care about the graphics, the white XPS 13 9380 is most likely an alternative you should consider instead, especially if Asus sticks with the same 250-nits screen on this 2019 ZenBook 14 update (I sure hope they don't, though).