Asus revamped their entire lines of Zenbook (all-round thin-and-lights), Zenbook S (ultraportables) and Zenbook Flip (convertibles) laptops for the second part of 2018 and first half of 2019, and these are not just some minor updates.
The updated models are thinner, lighter and more compact than before, with tiny bezels around the display and especially tiny chins, as well as screen-to-body ratios over 90%.
They're motorized by the updated Intel Whiskey Lake hardware, paired with various variants of dedicated graphics chips, and among their prime features Asus mentions updated keyboards, optional IR HD webcams and a backlit number-pad integrated within the glass clickpads, a simplified variant of the Screenpad implemented on the Zenbook Pro UX580. Oh, and there's also a 14-inch variant of the Zenbook Pro available, the UX480, with Whiskey Lake U hardware, Pantone validated screen and GTX 1050 Max-Q graphics, if you're looking for a capable all-rounder in a compact shell.
We'll get our hands on all these models in the weeks to come, so stay tuned for our detailed reviews. In the meantime, here's what you should expect from these new 2018 Zenbook lines, what's intriguing about them, where they still might fall short and how they compare to the competition.
Update: I'll link to our detailed reviews below, as we publish them:
2018 Asus ZenBook 13, 14 and 15
Asus prepared a complete update of the entire line of Zenbook ultraportables, with new 13-inch (UX333 series, replaces UX330), 14-inch (UX433, replaces UX430) and 15-inch variants (UX553, replaces UX530).
Update: Our full review of the ZenBook UX433 series is available over here, our full review of the ZenBook UX333 series over here, we're also working on the other reviews and will update when they're published.
The major update is the total redesign of the outer-shell, with a much smaller footprint and slim nanoEdge bezels around the screen. It comes to no surprise Asus followed this trend, but unlike many other laptops on the market, these Zenbooks not only get tiny 2.3 mm lateral bezels, but also a small forhead (5.9) and chin (3.3 mm), for a screen-to-body ratio of around 95% (on the 13-inch variant, there are slightly bigger bezels on the other two). The camera is still placed on top of the screen where it belongs, and it's an IR HD module compatible with Windows Hello. It's about time we see some decent cameras on Zenbooks and it should be a welcomed update over the crappy cameras on the current generations.
The new design also uses the ergo-lift hinge we've previously seen implemented on the Zenbook S UX391 series, which lifts the main-body in order to create an ergonomic and slightly downwards inclined typing position, as well as allow for better air circulation underneath the laptop. This approach works on the Zenbook S, but we'll have to see how well it can cope with the dedicated graphics inside these Zenbooks.
Everything else looks like very familiar Zenbook design, with an all-metal build, Blue and Gold themes, the pattern of concentric circles for the lid-covers and the IO lined on the sides.
The keyboard seems much like what Asus used on the previous generation as well, but early reviewers mention it feels more metallic, so I'd reckon Asus might have changed the materials used for the key caps. As a novelty, the 13 and 14 inch models can get an optional backlit numeric pad integrated withing the glass clickpad. It's probably not going to be very useful for most people, but it might be for some.
It's also worth noting that Asus claims the new shells are MIL-STD-810G compliant (can survive small drops and bumps, temperatures of up to 48 C – 118 F and altitudes of up to 15000 feet – 4500 m), which could translate in improved reliability as they age. Time will tell.
Here's what else to expect in terms of specs and features:
There's still no Thunderbolt 3 connectivity on these updated Zenbooks, which can be a deal-breaker for some potential buyers, especially as more and more competitors offer it at this point. The smaller units also merely get a microSD card-reader and two USB-A slots.
As a novelty, Asus seems to offer all these lines with either matte or glass-covered displays as far as I can tell right now. I'd expect the glossy versions to get touch as well, but that's yet to be confirmed. As for the panels, the official specs mention IPS units with 72% NTSC color coverage, so pretty much on par with what's available on the current Zenbooks. Hopefully, Asus chose some brighter panels this time and the 14-inch variant no longer gets the flickering pain that was implemented on the Zenbook UX430UN.
Speaking of that, these Zenbooks will be available with Intel UHD 620 graphics as the UX333FA, UX433FA and UX533FA lines. Notice that these variants get the FA moniker now, and not the UA used with the last several generations. It will help distinguish the Whiskey Lake builds from the older variants, but is nonetheless one more way to confuse potential buyers.
Versions with dedicated graphics are also available: UX333FN (MX150), UX433FN (MX150) and UX533FD (GTX 1050 Max-Q). The official specs don't offer details on whether the 13 and 14-inch variants get the full-power or the Max-Q variants of the MX150 chip. I'd expect the 25W variant on the Zenbook UX433FN and given its thickness, on the 13-inch model as well. That would also allow Asus to keep the fairly recent Zenbook UX331 in their lineup, which is a thinner 13-incher with MX150 Max-Q graphics.
— pictures via TheVerge and Engadget
These aside, some of you might be disappointed by the only 50 Wh batteries inside the 13 and 14-inch laptops, with competitors offering closer to 60 Wh batteries these days. I'm all for bigger batteries myself, but let's not forget these are some of the most compact devices in their classes, so I'd reckon Asus had to juggle carefully with the internal layout and could only do so much this time. 50 Wh batteries should still offer around 5-6 hours of daily multitasking and 7-8 of video, which is not that bad (Asus announced 15+ hours of battery life in their press release, but that's far from what you can actually get in real-life use).
As far as competition goes, the 13-inch Zenbook UX333 will have to face harsh competition from the Dell XPS 13 and LG Gram 14. The 14-inch variant will have to outmatch devices like the Acer Swift 3, MSI Prestige PS42 and especially the Huawei MateBook X Pro, while the 15-inch variant swims in less crowded waters and could be a good option for those looking for a more affordable alternative for the Dell XPS 15 and Asus Zenbook Pro UX550 lines.
The 2018 Zenbooks will be available in stores from October 2018, with prices starting at $899. Look further for updates and other articles once we know more.
Updated Asus ZenBook Flip UX362 and UX562
The 2018 editions of the Zenbook Flip come in 13 (UX362) and 15-inch (UX562) variants, both with nanoEdge displays and more compact builds than their predecessors.
Update: Our detailed review of the Zenbook Flip UX362 is available over here, and we'll update this section once we get to review the larger ZenBook UX562.
These share many traits and features with the clamshell Zenbook variants, but are of course 2-in-1s with 360-degrees convertible displays. The new design of these Flips also implies some sort of Ergo-lift hinge as well, with the hinge mechanism raising the main-body while in laptop mode. We'll have to wait and see how well this actually works in real-life use.
The 13-inch Flip UX362 remains compact and light for what it is, but in order to be this small and still able to house a 50 Wh battery and the Whiskey Lake hardware inside, it no longer gets the dedicated graphics available for the regular Zenbook 13 and relies mostly on USB-C connectivity. It does however get the same keyboard and glass clickpad, as well as the IR camera on top of the screen.
The 15-inch model is larger and heavier, but gets a dedicated GTX 1050 Max-Q graphics chip, a 57 Wh battery, dual-storage, better IO and can be specked up with an Pantone validated UHD panel (with the sensor next to the keyboard, to the left). All these make the Zenbook Flip UX562 an interesting option for creatives and a worthy competitor for the 15-inch Lenovo Legion Y730.
Both the Zenbook Flip UX362 and UX562 are expected for Q4 2018, but we don't have any exact pricing information for the time being.
Zenbook S UX391FA
An updated version of the ultraportable Zenbook S UX391 line is also available for the second part of 2018, with Whiskey Lake hardware and the appropriate moniker change: UX391FA.
This is an excellent 13-inch notebook with a compact and light (2.2 lbs) build, nice matte screen with slim bezels, a great keyboard, solid performance and pretty good battery life (50 Wh battery), as you'll find from our review of the series. The article analyzes the KabyLake-R configuration, but given how Whiskey Lake is merely a bump in Turbo Speeds with marginal performance gains over KabyLake-R, everything in the article still applies to the updated UX391FA variant as well.
If you're interested in this unit, I'd advise you to stick with the Core i5 configurations and the FHD screen, that's where you'll get the best value for your buck.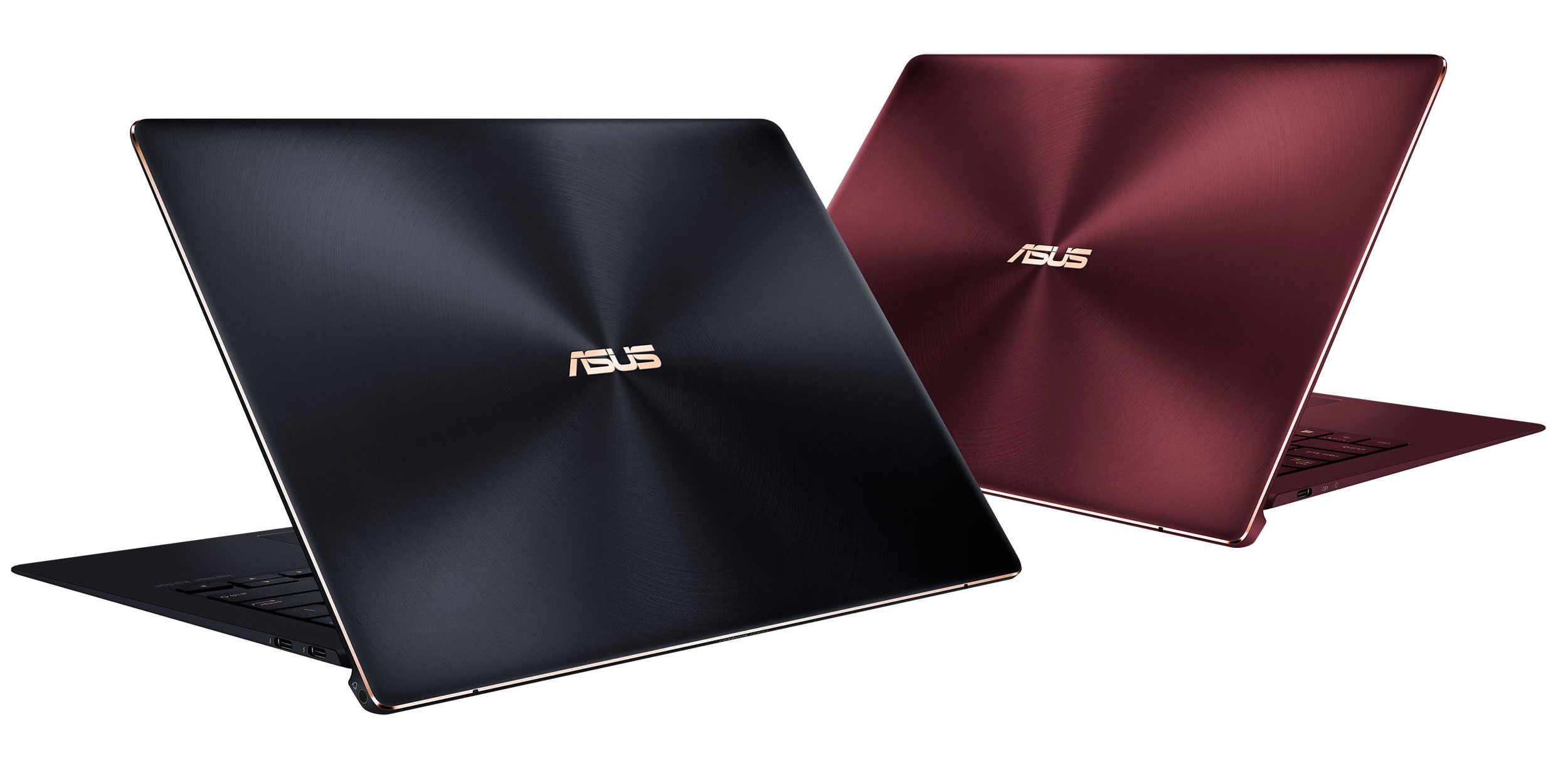 Zenbook Pro UX480
This is the more compact variant of the Zenbook Pro UX580 (reviewed in here), and while it shares the design lines and the ScreenPad integrated within the clickpad, it's also a different computer in many ways.
For starters, this is a more compact and lighter device, with a 14-inch FHD Pantone screen and 86% screen-to-body ratio. It also gets a more standard keyboard, without the annoying extra row of keys on the right side that Asus put on the UX580. On the other hand, the UX480 lacks the Thunderbolt 3 connectivity that you get with the larger variant, which would have sure been a nice addition.
The UX480 is also not as powerful as the 15-inch model, as it's built on Intel Whiskey Lake Core U processors, DDR4 RAM, fast PCIe storage, and only relies on the Max-Q GTX 1050 chip for graphics, so is not as capable with games either.
For many though, this could be a better balanced all-rounder, a computer you can use for work and occasional fun, with more powerful components, a better screen and larger battery than you can normally find in a 14-inch notebook.
| | |
| --- | --- |
| | Asus Zenbook Pro UX480FD |
| Screen | 15.6 inch, FHD IPS, glossy, touch |
| Processor | up to Intel Whiskey Lake Core i7-8565U CPU |
| Video | Intel UHD 630 + Nividia GTX 1050 4 GB GDDR5 Max-Q |
| Memory | 16 GB DDR4 (soldered) |
| Storage | up to 1 TB M.2 NVMe SSD (80 mm) |
| Connectivity | Wireless AC (tri-band Intel AC 9560), Bluetooth 5.0 |
| Ports | 1x USB-A 3.1, 1x USB-A 2.0, 1x USB-C gen 2, HDMI, mic/headphone |
| Battery | 70 Wh, 90 Wh charger |
| Size | 323 mm or 12.71" (w) x 225 mm or 8.85" (d) x 17.9 mm or .70" (h) |
| Weight | 3.5 lbs (1.6 kg) |
| Extras | backlit keyboard, LCD touchpad, VGA camera, dual-speakers, available in Deep Dive Blue |
In fact, the Zenbook Pro UX480 is quite unique in today's market, thus with the right price, this should turn many heads.
We'll update once we know more.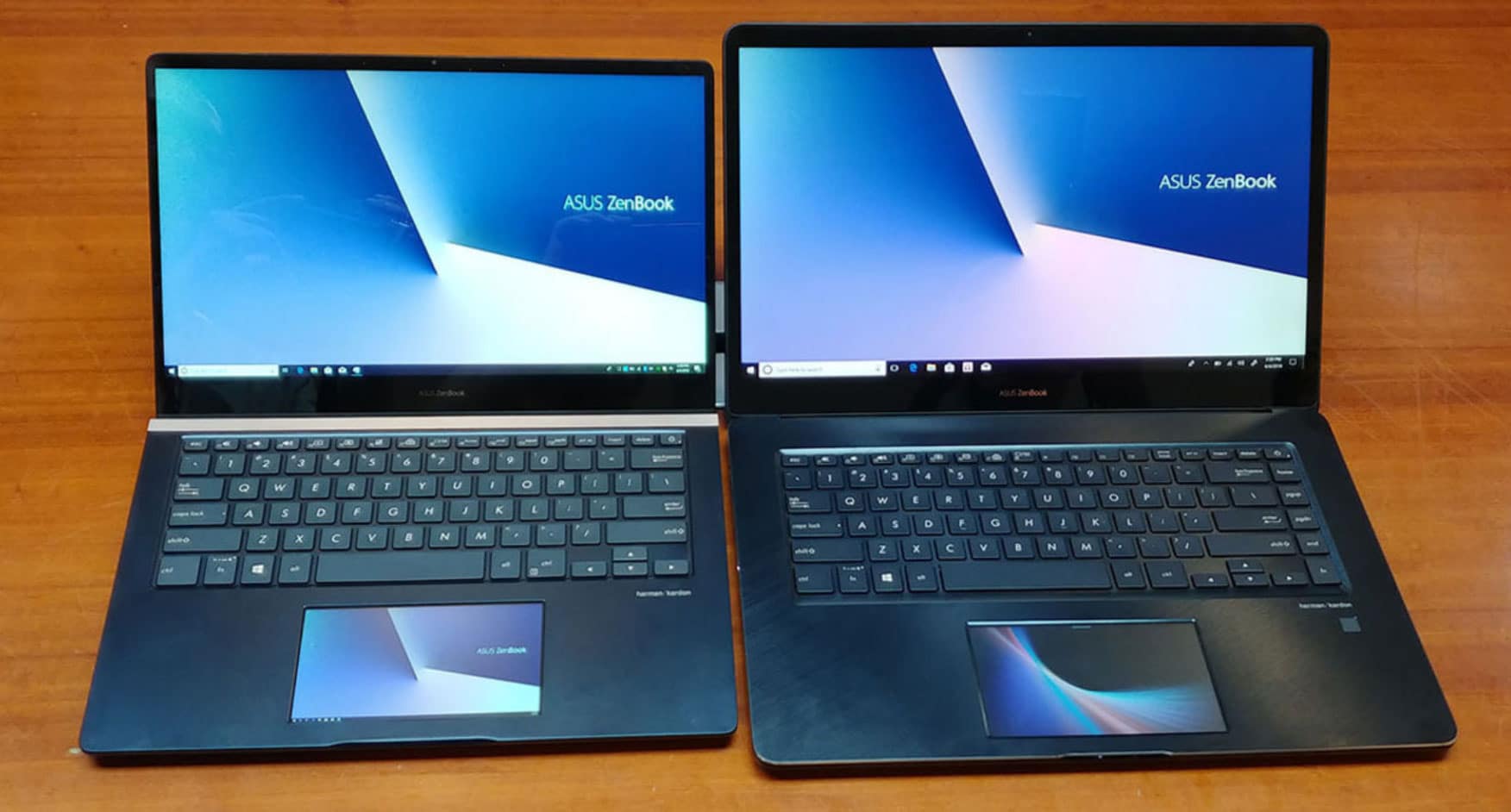 That's about it for now, these are the important Asus Zenbook updates for the second part of 2018 and first part of 2019. Check out our detailed reviews and other articles on the site for more details.