The Dell XPS 13 has been my ultrabook of choice for a few years now.
I own and have been constantly using while on the go an XPS 13 9343, and I've reviewed here on the site all the later updates released in the last years, up to the XPS 13 9370 from 2018.
As of January of 2019, there's an updated model, the XPS 13 9380, and this post will take you through the important changes, the laptop's main strong-points and the important findings from the existing reviews. We'll also warn you about the potential issues you might still run into, as the XPS 13 line is not without its share of potential hidden flaws.
If you don't want to go through the entire article, we can resume the XPS 13 9380 in very few words as one of the most refined ultrabooks of its generation, a device that builds on the strengths of the previous versions and addresses a few of its quirks, with updated hardware, a camera finally placed at the top of the screen, a new color scheme and revised screen options, this time with options for a matte non-touch FHD panel, touch FHD, and a splendid, but also expensive, touch UHD panel with HDR support.
There's more than meets the eye about these changes though, and we'll talk about them down below, but first, here's a quick specs sheet of the Dell XPS 13 9380 vs the previous model XPS 13 9370.
Updates: More recent Dell XPS 13 series are available in the meantime, such as the XPS 13 Plus 9320 and XPS 13 9315, reviewed in our articles.
Dell XPS 13 9380 (2019)
Dell XPS 13 9370 (2018)
Screen
13.3 inch, 1920 x 1080 px resolution, IPS, matte, non-touch, 400 nits
13.3 inch, 1920 x 1080 px resolution, IPS, touch, 400 nits (post launch)


13.3 inch, 3840 x 2160 px resolution, IPS, touch, 400 nits, 

all with edge-to-edge anti-glare coated Gorilla Glass, HDR and Dolby

Vision

 Ready

13.3 inch, 1920 x 1080 px resolution, IPS, glossy, non-touch, 400 nits


13.3 inch, 3840 x 2160 px resolution, IPS, touch, 400 nits, 

all with edge-to-edge anti-glare coated Gorilla Glass, HDR and Dolby

Vision

 Ready

Processor
up to Intel Whiskey Lake i7-8565U (4 cores, 8 threads @ 1.8-4.6GHz)
up to Intel Kaby Lake Refresh i7-8550U (4 cores, 8 threads @ 1.8-4.0GHz)
Video
UHD Graphics 620 (integrated)
UHD Graphics 620 (integrated)
Memory
up to 16GB LPDDR3-2133 (soldered, dual-channel)
up to 16GB LPDDR3-2133 (soldered, dual-channel)
Storage
1x M.2 80 mm NVMe, 256 GB to 2 TB
1x M.2 80 mm NVMe, 256 GB to 1 TB
Connectivity
Killer 1435 WLAN with Bluetooth 4.2
Killer 1435 WLAN with Bluetooth 4.2
Ports
2x USB-C Thunderbolt 3, 1x USB-C 3.1 Gen 2, 1 MicroSD, Noble Lock
2x USB-C Thunderbolt 3, 1x USB-C 3.1 Gen 2, 1 MicroSD, Noble Lock
Battery
52 Wh, 45W power adapter (USB Type-C)
52 Wh, 45W power adapter (USB Type-C)
Size
302 mm or 11.9″(W) x 199 mm or 7.8″(D) x 11.6 mm or .46″(H)
302 mm or 11.9″(W) x 199 mm or 7.8″(D) x 11.6 mm or .46″(H)
Weight
~1.25 kg / 2.7 lbs (+230 g power supply)
~1.25 kg / 2.7 lbs (+230 g power supply)
Extras
new 720p camera placed at the top of the screen, on-button Goodix fingerprint sensor, new White/Frost color scheme, USB-C-to-A dongle included
Windows Hello Facial Recognition, camera system placed beneath the screen, on-button Goodix fingerprint sensor, USB-C-to-A dongle included
So what's new on the Dell XPS 13 9380?
For the most part, the XPS 13 9380 is a hardware refresh of last year's 9370, updated with Core i3, i5 or i7 Intel Whiskey Lake processors, but once you start digging through the details, you notice that it actually refines its predecessor on quite a few different levels.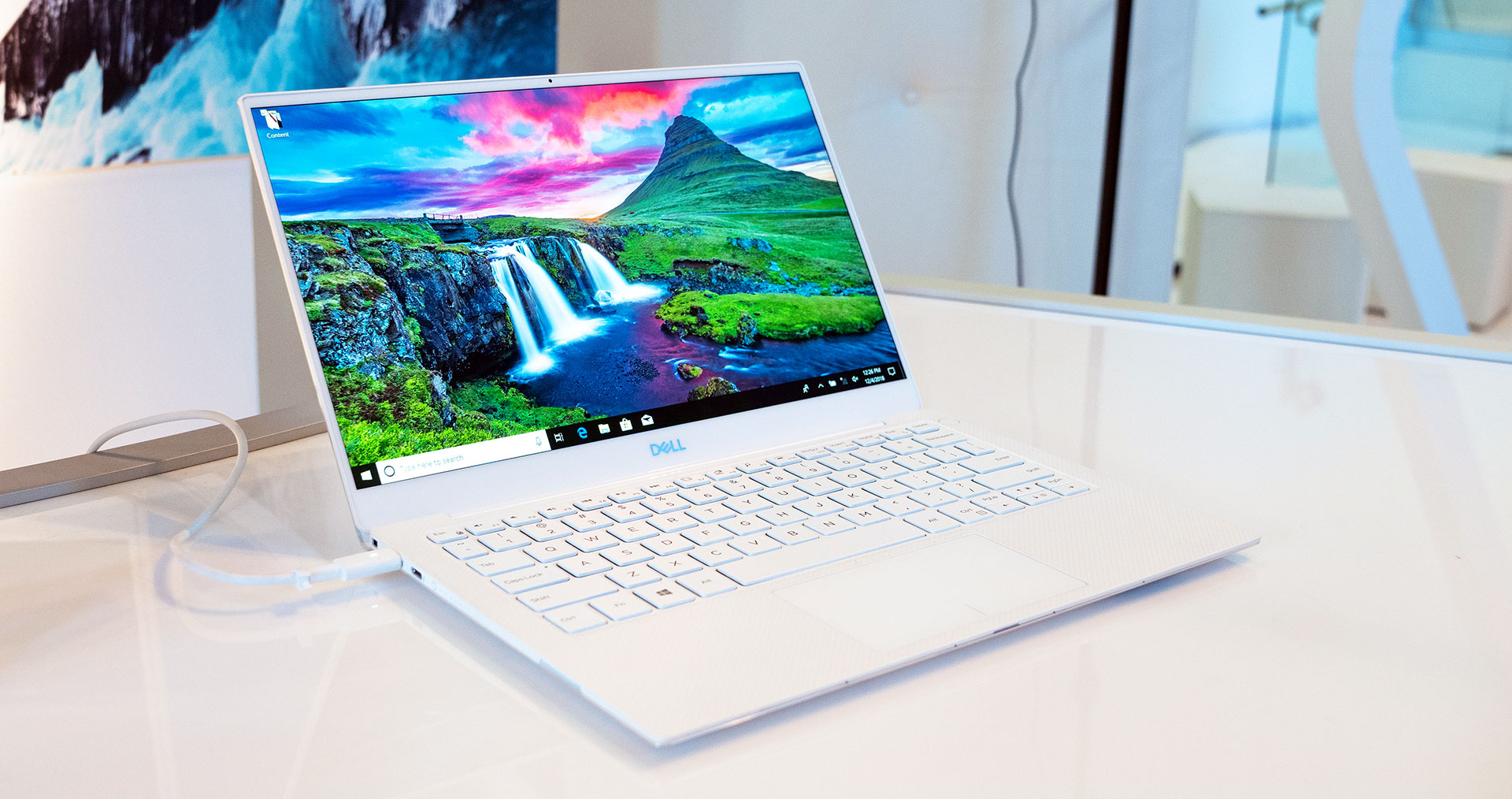 It's sure nice to see latest gen hardware on the XPS 13, but you should nonetheless keep in mind that's a fairly minor platform upgrade, with small performance gains in real-use in such a thin-and-light device.
The Whiskey Lake quad-core CPUs (here's what to expect from the i7-8565U) are mostly refined versions of the KabyLake-R generations, able to run at higher Turbo Clock speeds if the cooling solution is able to keep temperatures in check. The XPS 13 9370 was, in fact, one of the better performers in this class, as you can see in our detailed review, and the 9380 inherits its internal architecture and cooling particularities. As a result, the XPS 13 9380 scores 5-10% higher results in CPU benchmarks, as you can see in this article, especially when set on the new Ultra Performance power mode from the Power Manager control panel, which trades in slightly higher temperatures and louder fans (around 44 dB at head-level) for increased performance.
The fan profile of the 2018 XPS 13 rather favored low-noise over performance, and this time around the software allows the option to choose the operation mode you require for a specific task. That makes the 2019 XPS one of the fastest i7-8765U ultrabooks on the market, although the gains are small in synthetic tests and should be even smaller in real-life use.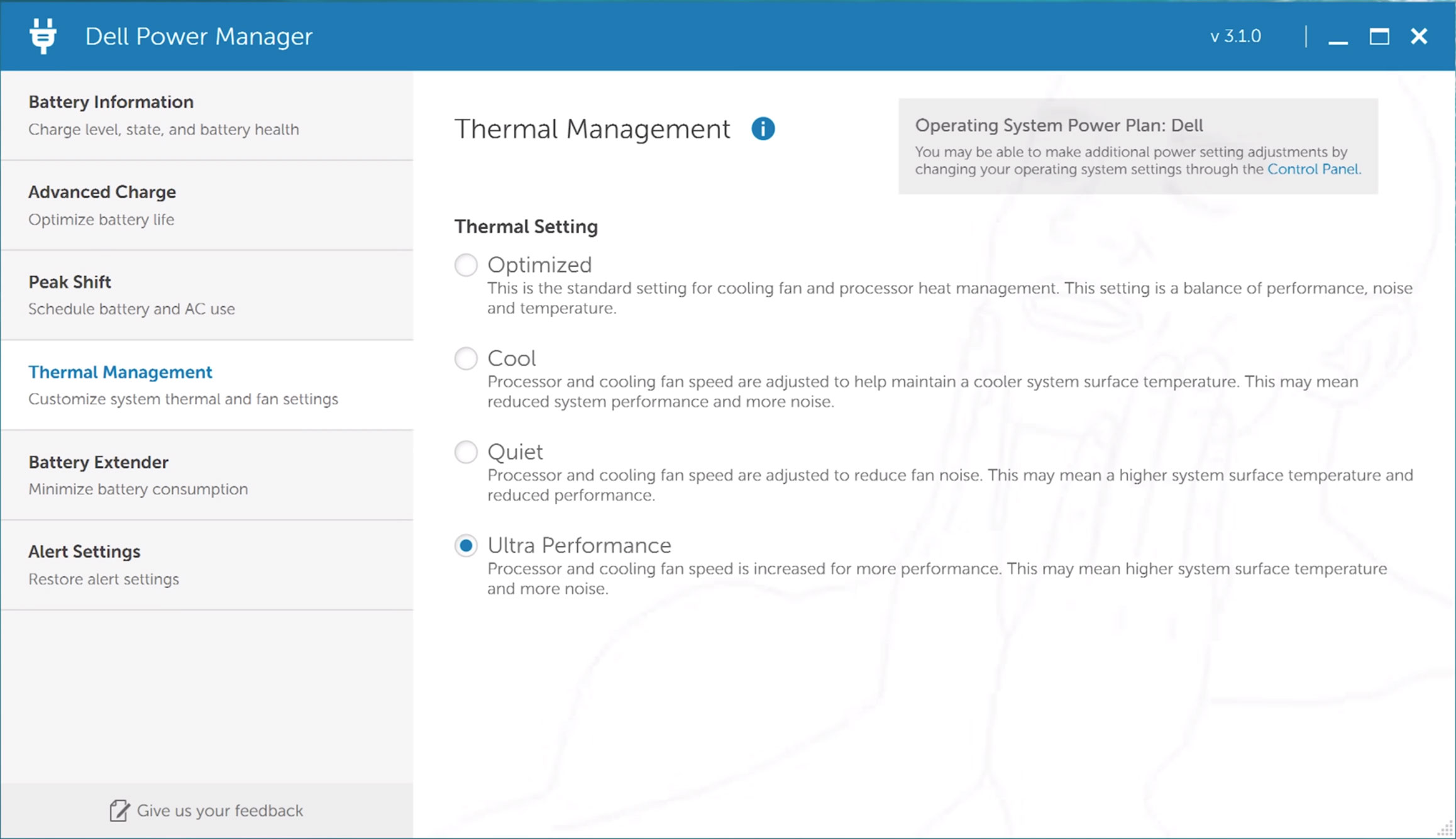 Potential buyers should also carefully consider whether the higher-end i7-8565U configurations are worth paying extra for, as the mid-level Core i5-8265U models are within 10% of their performance. Dell only offers the i5 models with up to 8 GB of RAM though, and you'll just have to upgrade to the i7 to get this with 16 GB of memory. If you don't need the extra RAM, though, the i5 should definitely server most fo you well.
Moving on through the specs list, nothing has changed when it comes to the RAM or storage, except for the fact that you will be able to buy the 9380 with a 2 TB PCIe SSD out of the box this time around, if you want to. However, given Dell's high upgrade prices and how easy it is to replace the storage yourselves, as well as the fact that you can get the convenience of using an SSD of your own choice, I doubt that's something that would interest the vast majority of potential buyers.
The XPS 13 9380 also remains one of the smallest laptops to offer two Thunderbolt 3 ports. They share a PCIe x4 connection, which makes the laptop a good hook-up for an external eGPU enclosure, especially when corroborated with the newer and slightly faster processors. Just keep in mind that connecting and using two TB3 peripherals at the same time will joggle the single PCIe x4 connection between the two.
The 2019 XPS 13 still gets the same 52 Wh battery as before, with that neat battery life indicator in the side. That's enough for 6-8 hours of daily use on the UHD variants, am 9-11 hours on the FHD variants, even if Dell advertises "up to 21 hours of battery life" for the FHD display models.
All the other main traits of the 2019 XPS 13 have remained unchanged, which is not surprising. I would have hoped however to see an upgrade to faster Wave2 Wi-Fi and Bluetooth 5.0, but the 9380 unfortunately still sticks to the Killer 1435 module. There were a lot of issues with Killer wireless in the early versions of the 9370, however, Dell mostly fixed them in the meantime, so at least the performance should be reliable.
Not much has changed in terms of design and build either. The 2019 model inherits the same chassis as the previous generation and still weighs around 2.7 pounds, but you will be able to get it in a new color scheme called Frost, with the woven artic white palm rest and a more grippier silver outer shell, alongside the black/silver and the white/Rose Gold schemes available for the 9370. A lot of people swear by the UV and stain resistant white woven finishing, by how it feels and fends of dirt and smudges, so I'd reckon this should appeal to some of you. I, for one, still prefer the looks of the darker carbon-fiber interior, even if it's a smudge magnet and have to constantly rub it clean, but that's just me.
There are however at least two other notable changes that address two of the complaints around the 2017 XPS 13 version. First of all, the XPS 9380 now gets a webcam at the top of the screen. It's still 720p, but Dell claims it's their smallest and most capable camera ever, so hopefully, the quality is good. Update: It's much of what you'd expect from a laptop camera these days, alright for occasional use in proper lit environments, but still fairly washed out and grainy (details).
However, the top bezel of the InfinityEdge Display is a little bit thicker now in order to accommodate this camera, but the screen-to-body ratio that made this line popular is still above 80%, so the design hasn't changed in any significant way.
However, the 9380 no longer gets the set of IR Hello cameras available on the 9370, which means you'll only have to rely on the Hello compatible fingerprint sensor integrated within the power button. For me, that's not a thread-off worth taking, but judging by how many were complaining about that nose-cam on the previous generations, I reckon many of you might feel otherwise.
New screen options
That aside, you might have noticed by now that the screen choices now include an FHD touch screen option for the XPS 13 9380. As of early March 2019, the FHD touch display version is available as a $100 extra option for the Core i3 and i5 configurations with up to 8 GB of RAM. For now, you can't get it with the i7 processor, 16 GB of RAM and more than 256 GB of storage, and I don't think that's going to change anytime soon.
In the past, touch was only an option on the high-res UHD screen, which surely is an excellent panel to look at, but at the same time a pricey upgrade that took a significant toll on battery life, that's why I'm glad to see an FHD touch option this time around. In fact, this might well be my favorite novelty of the 9380, alongside the fact that the standard FHD screen option is now matte (with an anti-glare finishing), and not covered with a layer of glossy glass as on the previous XPS 9370 version.
Update: Dell sources panels from both Sharp and AOU this time around. In the US, 4K models ship with a panel from AU Optronics (AUO 282B B133ZAN), while in Europe they still sell with the Sharp SHP148B panel used on the previous generations. The AUO 4K displays are somewhat dimmer (around 400-nits, compared to the 480+ nits of the Sharp options), offer a brighter black level and thus lower contrast (around 1100:1, compared to around 1400:1 for the Sharps), but at the same time, they no longer use PWM for brightness adjustments. Color reproduction is still about the same between the two, at about 78% of Adobe RGB.
Overall, while there is a theoretical loss in quality between the Sharp and AUO panels, most users won't probably notice the differences in real-life. I do expect the XPS 13 9380 to be more difficult to use outside though, in bright light, due to its lower brightness.
It's also worth adding that the max-brightness is by-default reduced on battery, and you can deactivate this setting from the BIOS, where you'll also find the option to deactivate Content Adaptive Brightness Control (CABC).
Update2: The situation is similar for the FHD screen options, with AU Optronics AUO5B2D panels shipping in the US, and Sharp SHP1484 panels available in Europe. In this case, the two panels are similar, though, with a max brightness of 400+ nits, a contrast of around 1600:1 and 77% AdobeRGB coverage. The Sharp panel still uses PWM for brightness modulation, but only at levels under 20%.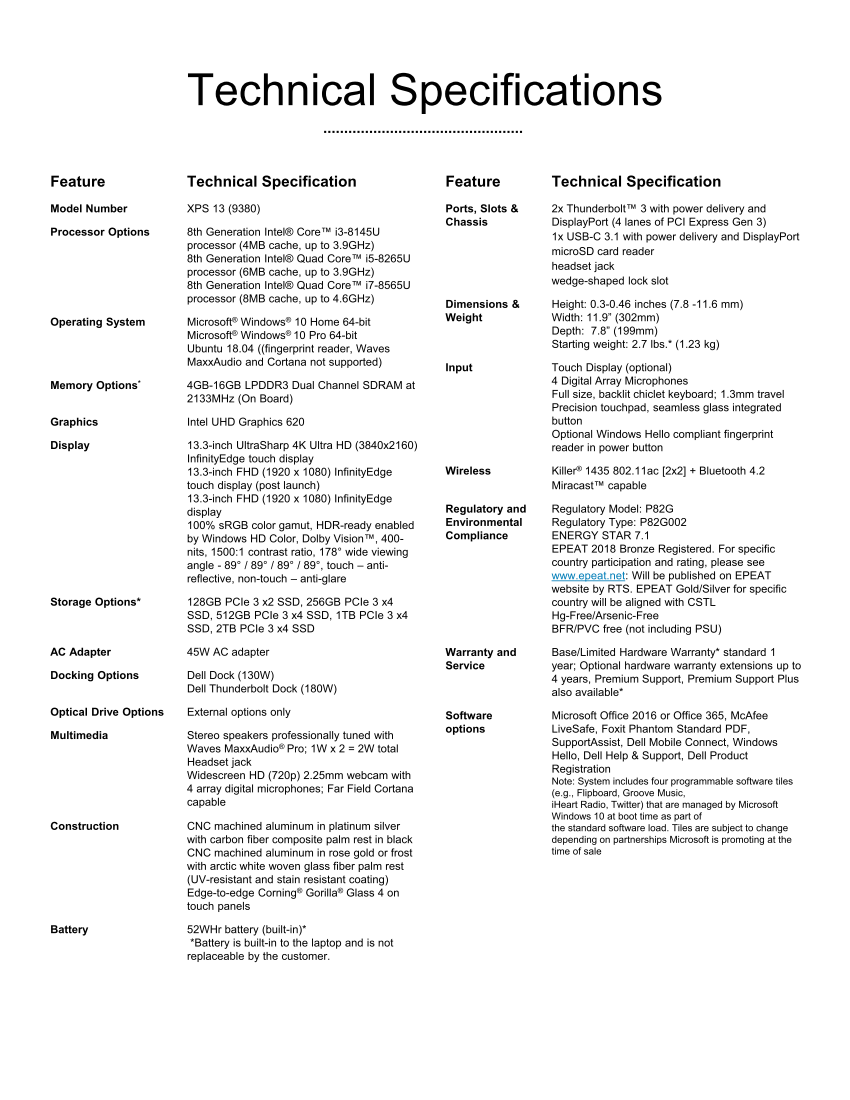 All in all, the XPS 13 9380 is undoubtedly one of the best ultraportables you can get in the first part of 2019.
It marginally improves on the 2018 model, much like with most other modern generation bumps, but actually addresses some of the important complaints with a new color scheme, a more affordable touch display option and a camera at the top of the screen. On top of that, the hardware update, corroborated with the tweaked performance power mode, allow it to fair a little better in demanding CPU loads. You'd still have to accept certain nuisances though, like the miniaturized IO, the fairly shallow keyboard and those other issues and quirks you might still run into, which short-term reviewers cannot usually cover. We'll touch on them in the last section of this article.
Some of you might have also expected dedicated graphics inside the XPS 13, something other ultraportables offer these days, but I'm actually glad there's none of it. That allowed Dell to focus on optimizing the thermals for CPU performance, making the XPS 13 9380 one of the fastest small-size i7-8565U devices on the market, which wouldn't have been possible if the same cooling would have also had to keep an MX150/MX250 chip in place. Of course, if a dGPU is what you want on your ultraportable notebook, you'll find that in the Razer Blade Sharp, the Huawei Matebook X Pro or even the Asus ZenBook UX392, as well as other ultrabooks with GeForce MX150 and MX250 graphics. Just make sure not to fall for nitty specs sheets and go through detailed reviews that carefully analyze performance, thermals, and acoustics, so you'll know exactly what each device is actually capable of in real use.
In the meantime, if you're interested in a few detailed reviews of the Dell XPS 13 9380, up until we get our reviews units in our part of the world, I'd go through these articles:
Review of the i5-8265U model with the UHD AUO touchscreen, carbon-fiber design option (Notebookcheck);
Review of the i7-8565U model with the UHD AUO touchscreen, woven-white design option (Notebookcheck);
Still looking for some good reviews of the FHD matte and FHD touch screen options, get in touch if you can find any.
Availability of the XPS 13 9380 and buying advice
The XPS 13 9380 is available all around the world as of March 2019, in a multitude of different configurations. There are however a few aspects to keep in mind when deciding on the option that would best fit your needs (and budget):
While the base model starts at $899 in the US, that's for a configuration with a Core i3-8145U processor (which is actually perfectly fine for daily use) and only 4 GB of RAM and 128 GB of storage. The RAM cannot be upgraded on this laptop, and 4 GB are just far too little for 2019'd needs, even for very basic tasks like browsing and streaming.
The Best Buy version is the i5-8265U / 8 GB / 256GB SSD configuration, with an MSRP of $1199 in the US. It comes with either the FHD matte screen, or you can upgrade to the FHD touchscreen for $100 extra. This offers the best balance between performance, battery life and price.
The versions above come in the carbon-fiber/Silver color scheme, upgrading to the artic-white palm-rest variants is normally a $50 upgrade.
The i7-8565U CPU is a $250 upgrade, and only offers roughly 10% increase in performance in certain CPU-intensive tasks.
The UHD screen is a $250 upgrade, and given the capabilities of the new AUO panels and the fact that you'll hardly see the extra pixels on such a small screen, I'd say is not worth getting over the FHD touchscreen.
You will be forced into getting the i7 CPU and UHD screen in most regions if you want 16 GB of RAM on your device, which is available on these higher tier configurations, with a starting price of $1799 in the US at the time of the post.
Prices and configurations are subject to change over time though, and you can find the latest updates on Dell's website. There's also a good chance you'll find discounted pre-built configurations with 3rd party sellers, so it's definitely worth checking out their offers.
Potential issues of the Dell XPS 13 9380
If you'll go to Reddit, Youtube or the various forums you'll see quite a few people complaining about their XPS 9370 and the older XPS versions. Some of those complaints make sense, some a little less, but it's also important to understand that the XPS 13 sells in greater numbers than most other thin-and-lights, that's why its issues are a lot more visible.
You should also keep in mind that the potential issues don't affect all XPS 13 models. In fact, there's a good chance you're not going to run into any of them, but then again you might also lose at the QC raffle and end up with some of them on your unit. Dell's support is pretty good though, so as long as you buy from Dell and other places that handle returns and post-sale services properly (Amazon, BestBuy, Microsoft Store, other big retailers in your area), you should be able to get them addressed, at least for the most part.
Ok, so the list of complaints include the following:
noisy fans and sluggish performance – that mostly happens out of the box, when the laptop performs all its updates, including the Windows updates; the experience is going to get smoother once those are done with and the fans should keep quiet with daily use;
rattling fan – a quality defect, some units get rattling and squeaking fans, ask for a fix or replacement; could also try opening the laptop and see if there's anything interfering with any of the fans, if it's not a defective ball-bearing, you might be able to fix this yourselves;
coil whine – no way around it, most modern laptops get it, some, however, get more than others; return the laptop if it's too much to handle;
Wi Fi/Bluetooth issues with the Killer chip, keyboard misses strokes – were fixed with BIOS updates, should hopefully no longer be a problem with the 9380;
sleep issues – battery drain during sleep, the laptop turns on while set to sleep, the laptop does not come back from sleep – no real solutions, as far as I know, something that also plagues the XPS 15 series;
bottom gets hot with daily use – now way around it, it's a small laptop with beefy specs; undervolting helps to some extent;
stuttering and freezes – most likely an issue with Dell's drivers for the Intel HD chip, should be addressed by installing fresh drivers directly from Intel; disabling Panel Self Refresh in the UHD graphics Panel Control might also help, in fact, try this first;
short battery life with the UHD models – the high-resolution panel takes its toll and the battery is fairly small, there's little you can do about it.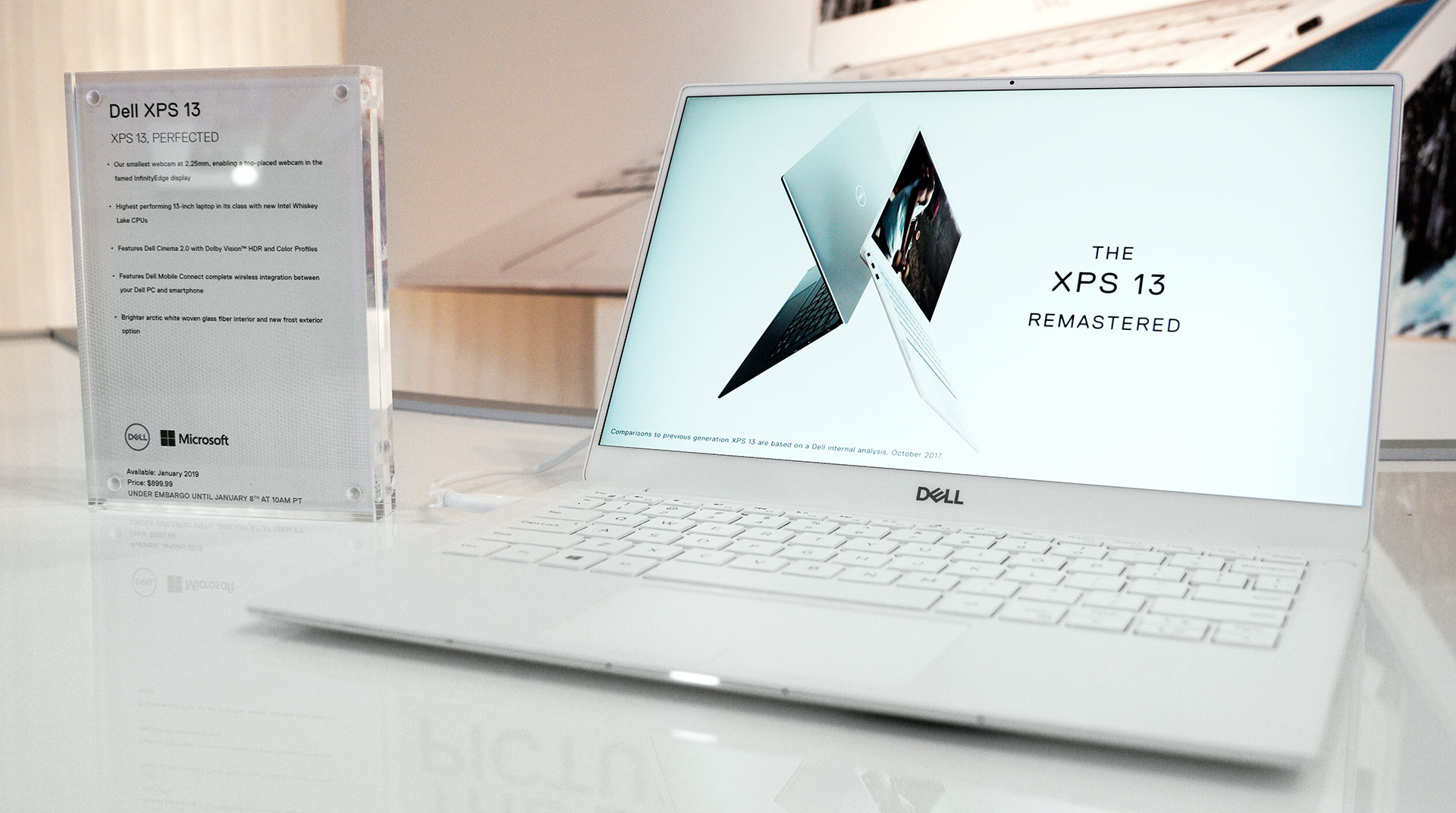 These should cover most potential issues. Hopefully, the XPS 9380 won't suffer from all of them, but coil whine, rattling fans, hot bottoms and performance hiccups, those are probably still on the menu. Luckily, given the popularity of this series, you will find a lot of support on Reddit and forums, Google is your friend.
For now, this is what you should expect from the 2018 Dell XPS 13 9380. The comments section is open for your feedback and questions though, and stay tuned for a proper review in the months to come.
Disclaimer:
Our content is reader-supported. If you buy through some of the links on our site, we may earn a commission.
Terms
.