The 13-inch Dell XPS has been my ultrabook of choice for a few years now.
I own and have been constantly using while on the go an XPS 13 9343, and I've reviewed here on the site all the later updates released in the last years, up to the XPS 13 9370 from 2018.
As of January of 2019 there's an updated model, the XPS 13 9380, and this post will take you through the important changes, the laptop's main strong-points, but also warn you about the potential issues you might run into, as the XPS 13 line is still far from being flawless. Nonetheless, last year's XPS 13 9370 is my favorite ultrabook of 2018, so the 2019 iteration has big shoes to fit into.
But first, here's a quick specs sheet of the XPS 13 9380 vs the 9370.
Dell XPS 13 9380
Dell XPS 13 9370
Screen
13.3 inch, 1920 x 1080 px resolution, IPS, matte, non-touch, 400 nits
13.3 inch, 1920 x 1080 px resolution, IPS, touch, 400 nits (post launch)


13.3 inch, 3840 x 2160 px resolution, IPS, touch, 400 nits,

all with edge-to-edge anti-glare coated Gorilla Glass, HDR and Dolby

Vision

Ready

13.3 inch, 1920 x 1080 px resolution, IPS, glossy, non-touch, 400 nits


13.3 inch, 3840 x 2160 px resolution, IPS, touch, 400 nits,

all with edge-to-edge anti-glare coated Gorilla Glass, HDR and Dolby

Vision

Ready

Processor
up to Intel Whiskey Lake i7-8565U (4 cores, 8 threads @ 1.8-4.6GHz)
up to Intel Kaby Lake Refresh i7-8550U (4 cores, 8 threads @ 1.8-4.0GHz)
Video
UHD Graphics 620 (integrated)
UHD Graphics 620 (integrated)
Memory
up to 16GB LPDDR3-2133 (soldered, dual-channel)
up to 16GB LPDDR3-2133 (soldered, dual-channel)
Storage
1x M.2 80 mm NVMe, up to 2 TB
1x M.2 80 mm NVMe, up to 1 TB
Connectivity
Killer 1435 WLAN with Bluetooth 4.2
Killer 1435 WLAN with Bluetooth 4.2
Ports
2x USB-C Thunderbolt 3, 1x USB-C 3.1 Gen 2, 1 MicroSD, Kensington Lock
2x USB-C Thunderbolt 3, 1x USB-C 3.1 Gen 2, 1 MicroSD, Kensington Lock
Battery
52 Wh, 45W power adapter (USB Type-C)
52 Wh, 45W power adapter (USB Type-C)
Size
302 mm or 11.9″(W) x 199 mm or 7.8″(D) x 11.6 mm or .46″(H)
302 mm or 11.9″(W) x 199 mm or 7.8″(D) x 11.6 mm or .46″(H)
Weight
~1.25 kg / 2.7 lbs (+230 g power supply)
~1.25 kg / 2.7 lbs (+230 g power supply)
Extras
new 720p camera placed at the top of the screen, on-button Goodix fingerprint sensor, new White/Frost color scheme, USB-C-to-A dongle included
Windows Hello Facial Recognition, camera system placed beneath the screen, on-button Goodix fingerprint sensor, USB-C-to-A dongle included
So what's new on the XPS 9380?
Just a few aspects, actually, as for the most part the XPS 13 9380 is just a hardware refresh of last year's 9370, updated with Core i3, i5 or i7 Intel Whiskey Lake processors, but with a few refinements.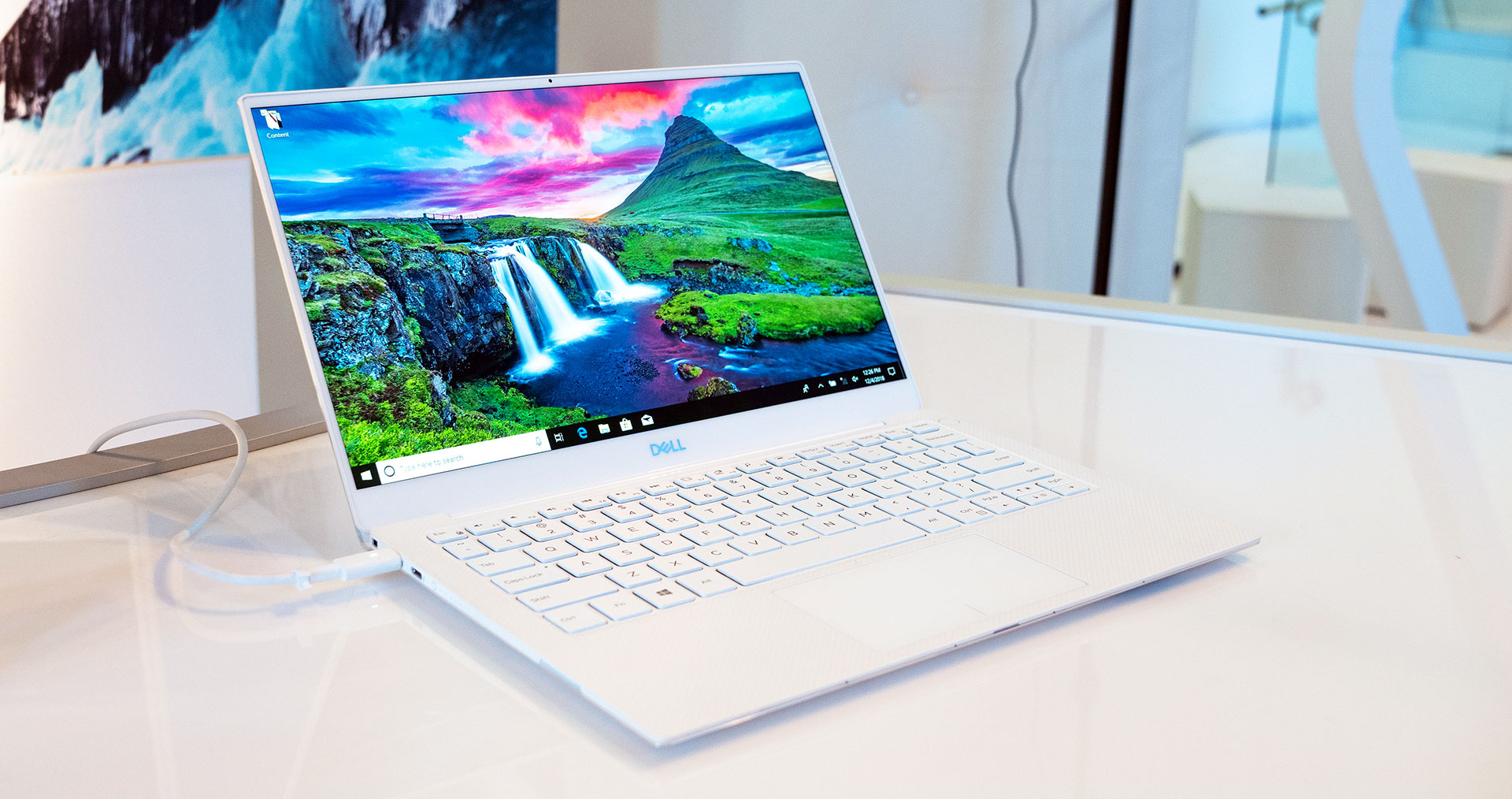 It's sure nice to see latest gen hardware on the XPS 13, but you should nonetheless keep in mind that's a fairly minor upgrade, with little to no perceived performance gains in real-use in such a thin-and-light device.
The Whiskey Lake CPUs (here's what to expect from the i7-8565U) are mostly refined versions of the KabyLake-R generations, able to run at higher Turbo Clock speeds, but only for limited time. The XPS 13 9370 was, in fact, one of the better performers in this class, as you can see in our detailed review, and the 9380 inherits the same architecture and cooling, but the CPU still clocks down quickly in sustained loads in order to prevent overheating, so there's little benefit from having a CPU that can potentially reach higher Turbo Clock speeds, but most likely only for split-seconds in real-use. Regardless, we'll touch more on this subject in a future review.
Moving on through the specs list, nothing has changed when it comes to the RAM or storage, except for the fact that you will be able to buy the 9380 with a 2 TB drive from Dell if you want to. However, given Dell's high upgrade prices, how easy it is to replace the storage yourselves and the fact that you can get longer warranty and the convenience of using an SSD of your own choice, I doubt that's something that would interest the vast majority of potential buyers.
Going through the specs sheet you'll notice the pretty much all the other main traits remain unchanged, which is not surprising. I would have hoped however to see an upgrade to faster Wave2 wireless and Bluetooth 5.0, but the 9380 unfortunately still sticks to the Killer 1435 module. There were a lot of issues with Killer wireless in the early versions of the 9370, however, Dell fixed them in the meantime so at least the performance should be reliable.
Not much has changed in terms of design and build either, but you will be able to get the XPS 13 9380 in a new color scheme, with the woven white interior and a silver (Frost) outer shell, alongside the black/silver and the white/gold schemes available for the 9370. A lot of people swear by the white finishing, by how it feels and fends of dirt and smudges, so I'd reckon this should appeal to some of you. I for one prefer the looks of the darker carbon-fiber interior, even if it's a smudge magnet and have to constantly rub it clean.
There are however at least two other notable changes that address two of the complaints around the 2017 version. First of all, the XPS 9380 now gets a webcam at the top of the screen. It's still 720p, but Dell claims it's their smallest and most capable camera ever, so hopefully, the quality is good. It's not like the bar was set high by the previous webcams, though.
However, the top bezel is a little bit thicker now in order to accommodate this camera, and the 9380 no longer gets the set of IR Hello cameras available on the 9370, which means you'll only have to rely on the Hello compatible finger sensor integrated within the power button. For me, that's not a thread-off worth taking, but judging by how many were complaining about that nose-cam on the previous generations, I reckon many of you might feel otherwise.
That aside, you might have noticed by now that the specs sheet includes a potential FHD touchscreen option for the XPS 13 9380, which will be available at a later time and not at launch.
Update: As of early March 2019, the FHD touch version is available as a $100 extra option for configuration the Core i3 and i5 configurations, with up to 8 GB of RAM. For now, you can't get it with the i7 processor, 16 GB of RAM and more than 256 GB of storage.
In the past, touch was only an option on the high-res screen, which was a pricey upgrade and took a significant toll on battery life, that's why I'm glad to see an FHD touch option this time around. In fact, this might well be my favorite novelty of the 9380, alongside the fact that the standard FHD screen option is now matte, and not glossy as on the previous XPS 9370 version.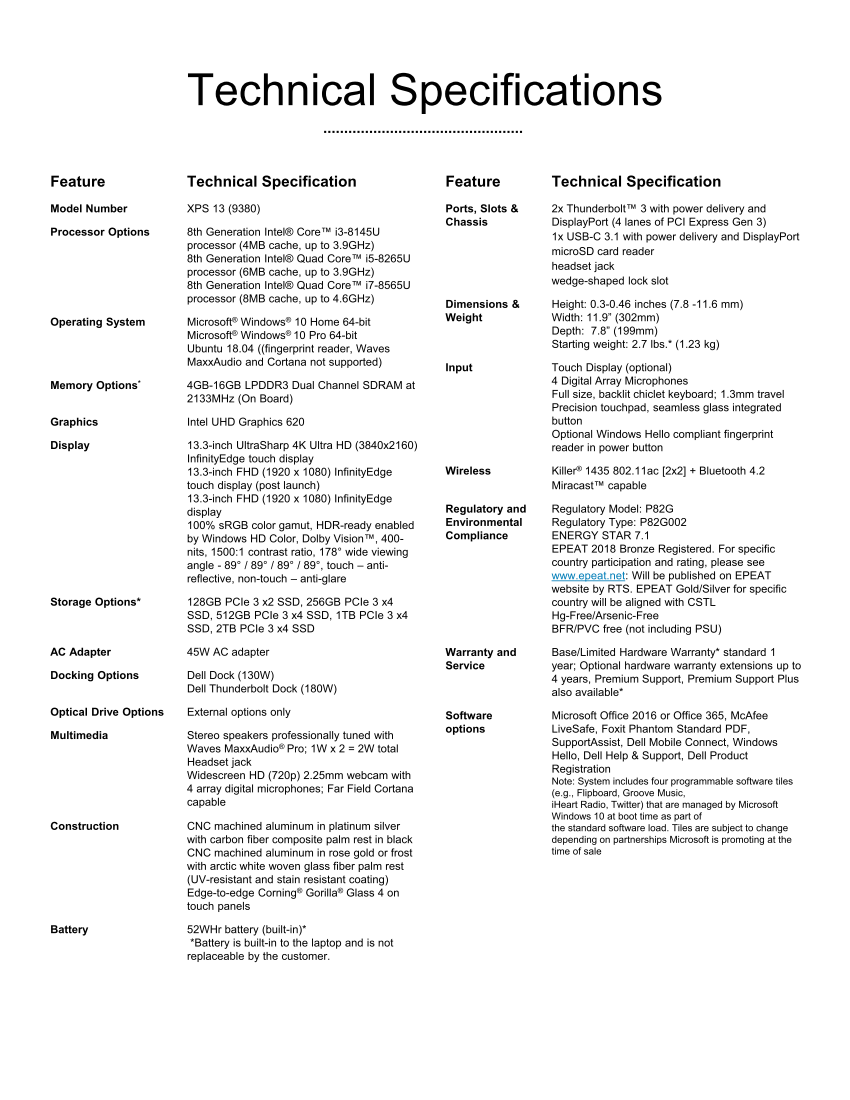 All in all, the XPS 13 9380 is undoubtedly going to be one of the best ultraportables you can get in the first part of 2018. It marginally improves on the 2018 model, much like with most other modern generation bumps, but actually addresses some of the important complaints with a new color scheme, a more affordable touch display option and a camera at the top of the screen. You'd still have to accept certain nuisances, like the lack of a matte screen option, the miniaturized IO, the fairly shallow keyboard and those other issues and quirks you might still run into, which short-term reviewers cannot usually cover. We'll touch on them in the next section.
Potential issues
If you'll go to Reddit, Youtube or the various forums you'll see quite a few people complaining about their XPS 9370 and the older XPS versions. Some of those complaints make sense, some a little less, but it's also important to understand that the XPS 13 sells in greater numbers than most other thin-and-lights, that's why its issues are a lot more visible.
You should also keep in mind that the potential issues don't affect all XPS 13 models. In fact, there's a good chance you're not going to run into any of them, but then again you might also lose at the QC raffle and end up with some of them on your unit. Dell's support is pretty good though, so as long as you buy from Dell and other places that handle returns and post-sale services properly (Amazon, BestBuy, Microsoft Store, other big retailers in your area), you should be able to get them addressed, at least for the most part.
Ok, so the list of complaints include the following:
noisy fans and sluggish performance – that mostly happens out of the box, when the laptop performs all its updates, including the Windows updates; the experience is going to get smoother once those are done with and the fans should keep quiet with daily use;
rattling fan – a quality defect, some units get rattling and squeaking fans, ask for a fix or replacement; could also try opening the laptop and see if there's anything interfering with any of the fans, if it's not a defective ball-bearing, you might be able to fix this yourselves;
coil whine – no way around it, most modern laptops get it, some, however, get more than others; return the laptop if it's too much to handle;
wireless/Bluetooth issues with the Killer chip, keyboard misses strokes – were fixed with BIOS updates, should hopefully no longer be a problem with the 9380;
sleep issues – battery drain during sleep, the laptop turns on while set to sleep, the laptop does not come back from sleep – no real solutions, as far as I know, something that also plagues the XPS 15 series;
bottom gets hot with daily use – now way around it, it's a small laptop with beefy specs; undervolting helps to some extent;
stuttering and freezes – most likely an issue with Dell's drivers for the Intel HD chip, should be addressed by installing fresh drivers directly from Intel; disabling Panel Self Refresh in the UHD graphics Panel Control might also help, in fact, try this first;
short battery life with the UHD models – the high-resolution panel takes its toll and the battery is fairly small, there's little you can do about it.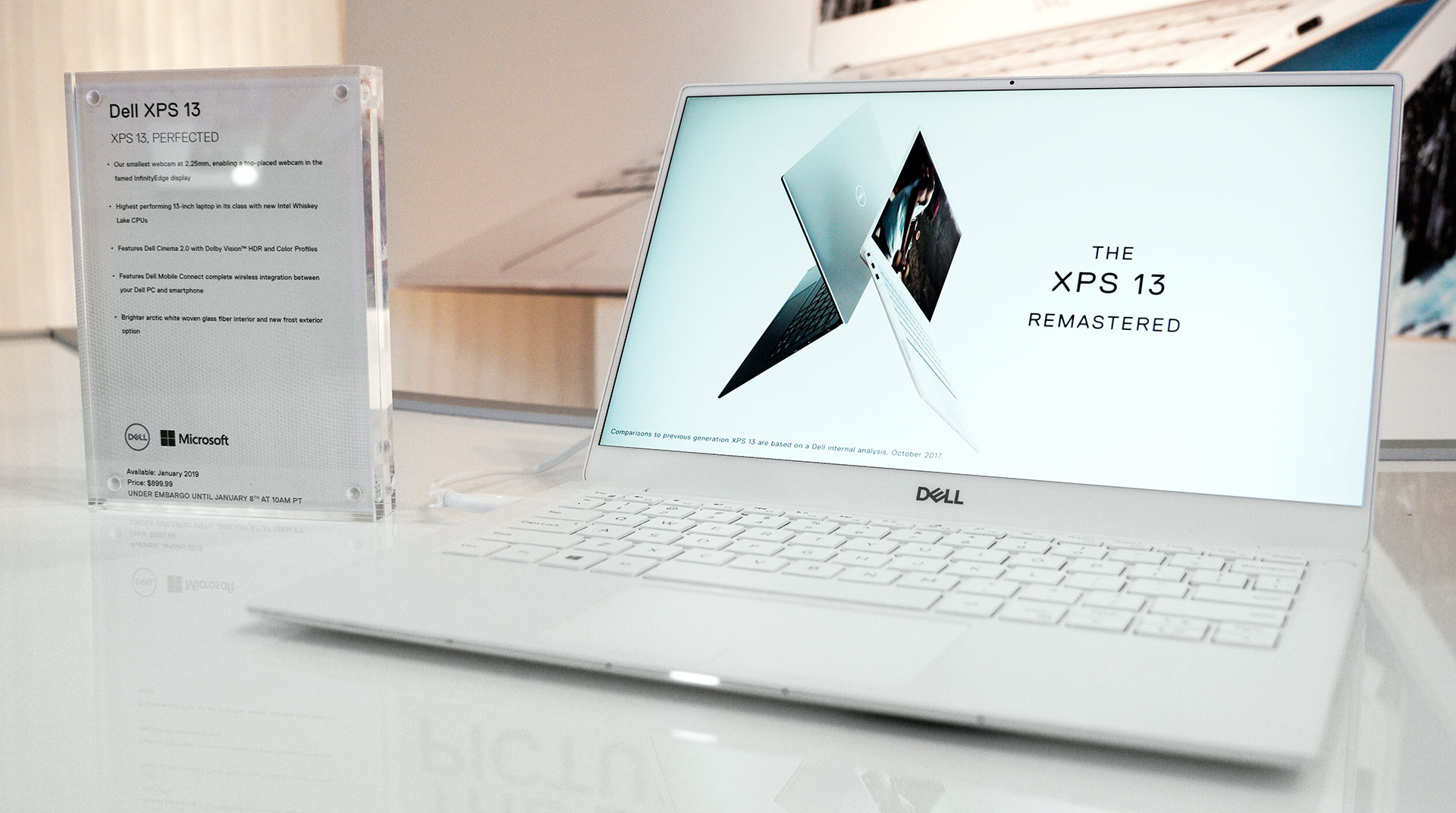 These should cover most potential issues. Hopefully, the XPS 9380 won't suffer from all of them, but coil whine, rattling fans, hot bottoms and performance hiccups, those are probably still on the menu. Luckily, given the popularity of this series, you will find a lot of support on Reddit and forums, Google is your friend.
For now, this is what you should expect from the 2018 Dell XPS 13 9380. The comments section is open for your feedback and questions though, and stay tuned for a proper review in the months to come.