While laptops based on Nvidia RTX graphics chips have been available in stores for a while, the mobile versions of the lower-tier and more affordable GTX 1650 and 1660Ti Turing chips will only make their way inside notebooks from the second part of April 2019.
We're already working on several different reviews of GTX 1650 and 1660 Ti laptops, and we'll further update the article with our findings once those are finished.
In the meantime, in this article, we'll tell you what to expect from these Nvidia chips and what are the main similarities and differences between them, the higher-tier (and at the same time most affordable GPU with support for RayTracing) RTX 2060 GPU and the older GTX 960M and GTX 1060 GPUs, which power the vast majority of the gaming laptops you might look to replace this year.
We'll also compile a detailed list of all the available GTX 1650/1660Ti laptops down below, in the second part of the article.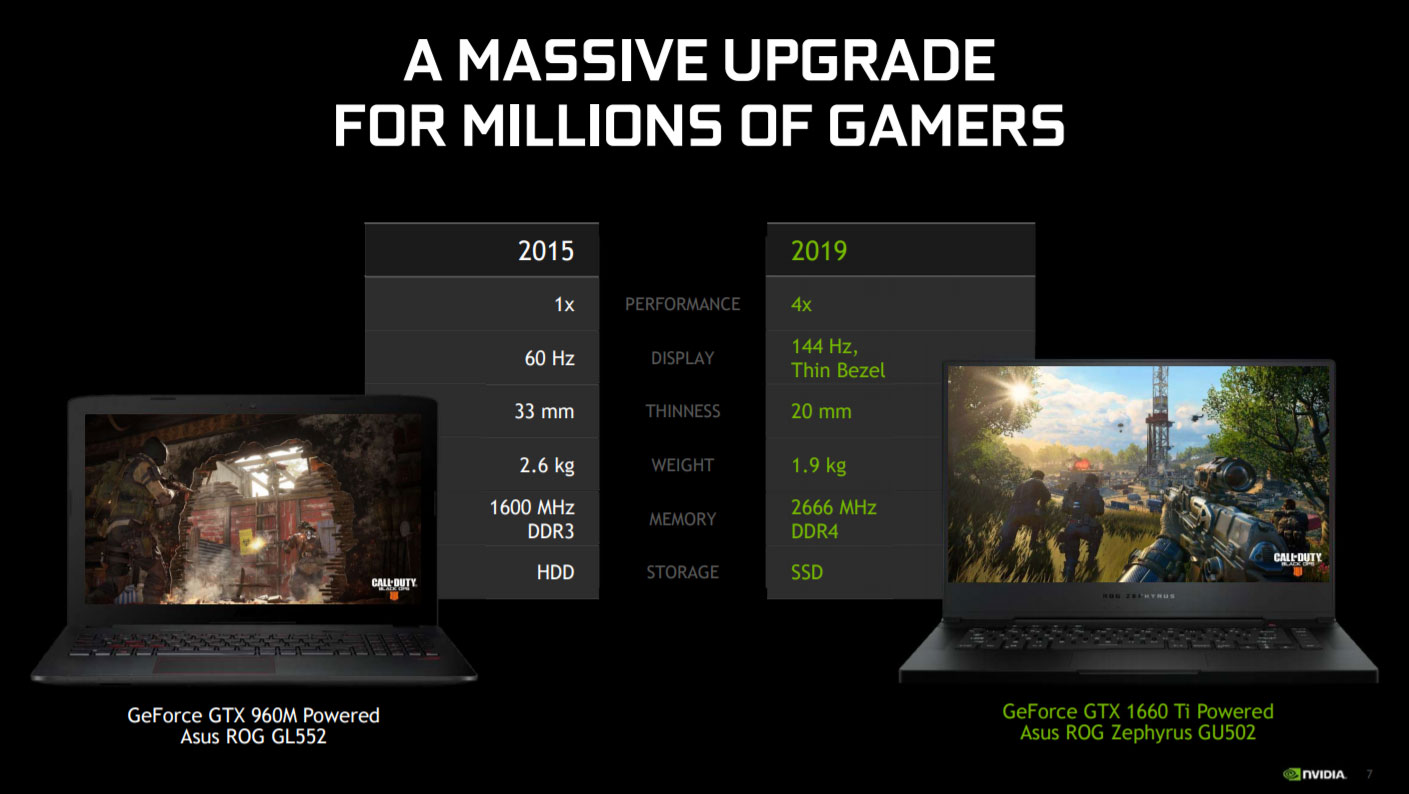 For starters, here's a quick specs sheet of the GTX 1650/1660Ti chips, next to the next best thing, the RTX 2060, and the older chips that they replace in budget gaming laptops.
I've also added a short list of benchmark results down below, but only take them as a general reference between platforms, as each implementation performs differently, based on the thermal solution's ability to keep the hardware at bay.
This table is also a work in progress, and we'll update our findings as we review more of these Turing GTX laptops.
In very few words though, GTX 1660 Ti laptops should get within 10% of the existing RTX 2060 in most standard games, but, of course, lack any sort of RayTracing capabilities. Compared to the existing 1060 laptops of the last years, GTX 1660 Ti units should provide 30-50% better gaming performance, varying between implementations.
GTX 1650 laptops, on the other hand, fall somewhere between existing GTX 1050 Ti and GTX 1060 3GB computers.