We've reviewed most thin-and-light performance laptops with RTX graphics in the last few months, and out of the existing options, Asus were the only ones to stick with an inverted design in their ROG Zephyrus S GX531 line. That came with several sacrifices, though, that's why the GX531 scored lower than the competition in our review.
Luckily, that's changing with the new ROG Zephyrus M GU502 and Zephyrus S GX502 (there's also a Zephyrus G lineup, and yes, Asus have a neck for confusing name schemes).
Update: We've spent more time with the Zephyrus M GU502 and you'll find our detailed review and impressions in this separate review article. Our review of the updated 2020 ROG Zephyrus M15 is also available here.
Unlike the Zephyrus S models, the Zephyrus M uses a standard form-factor, with the keyboard placed on top of an arm-rest and the hardware underneath. Asus kept the premium metallic build, but the GU502s are shorter than the GX531 models and made from a mix of magnesium, aluminum and plastic materials, thus more compact and lighter. Despite that, they incorporate improved hardware, more RAM, 2x storage SSDs and a larger 76 Wh battery, as well as an optional 240 Hz display.
There is one catch, though: the Zephyrus M only comes with GTX 1660Ti and RTX 2060 GPU variants, and higher-tier GPU won't make it inside this frame. I'd reckon that's mostly for two reasons: the cooling might not be able to handle a higher-tier GPU, and Asus will probably want to separate the Zephyrus lines, keeping the S at the top, with RTX 2070 (in the GX502, reviewed over here) and 2070/2080 Max-Q (in the GX531, reviewed here) graphics.
The article below tells you what to expect from the Zephyrus M GU502 series, how it compares to the Zephyrus S line and touches on some of the potential concerns that need to be vetted in a future review (which should be available in the following weeks), before concluding whether this can take on the Razer Blade 15, probably the most balanced option in this niche as of April 2019.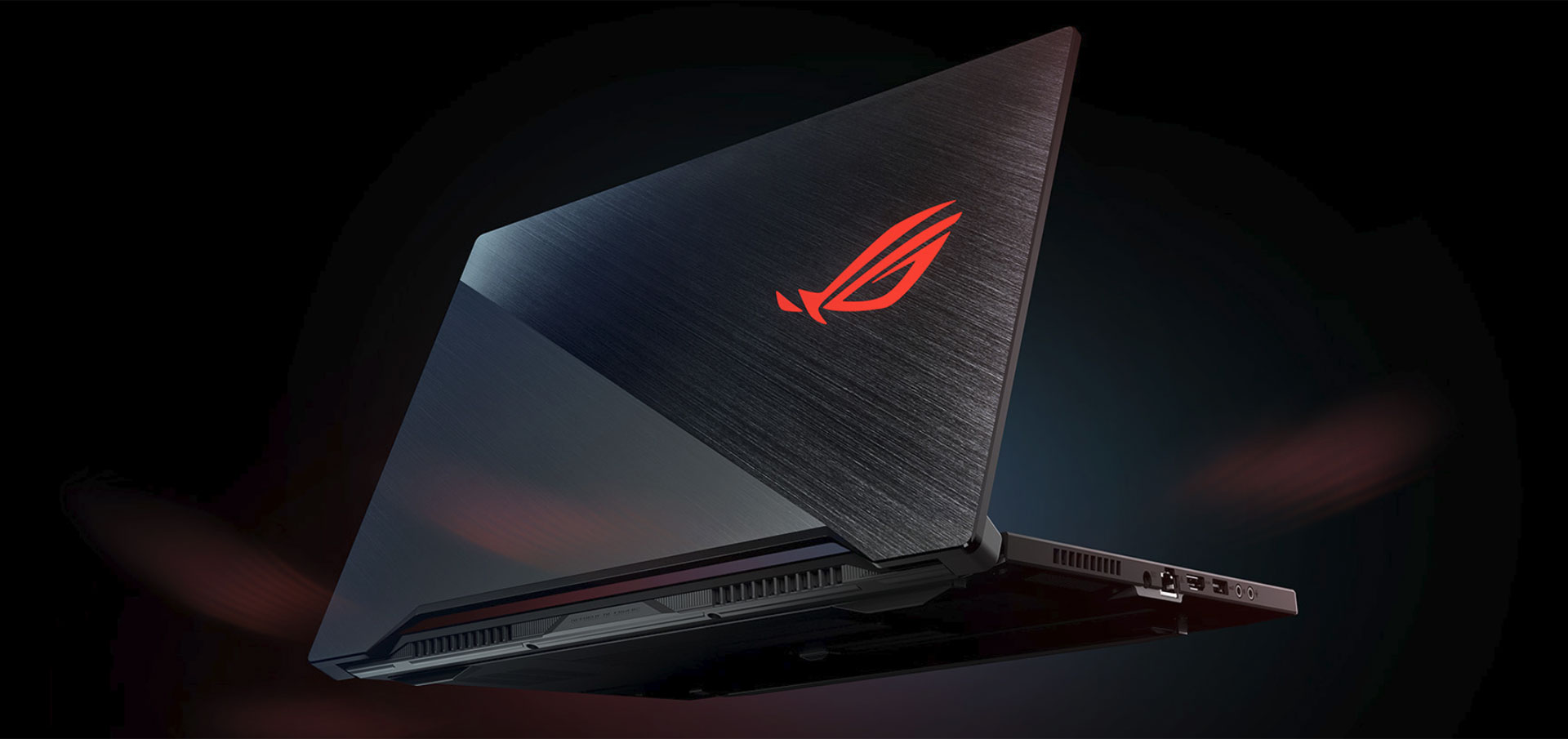 Specs as reviewed
| | | |
| --- | --- | --- |
| | Asus ROG Zephyrus M GU502 | Asus ROG Zephyrus S GX531 |
| Screen | 15.6 inch, 1920 x 1080 px, IPS, 144/240 Hz, 3 ms, Pantone Validated, non-touch, matte | 15.6 inch, 1920 x 1080 px, IPS, 144 Hz, 3 ms, Pantone Validated, non-touch, matte |
| Processor | up to Intel Coffee Lake-H Core i7-9750H CPU | up to Intel Coffee Lake-H Core i7-9750H CPU |
| Video | Intel HD 630 + Nvidia 1660 Ti 6 GB or RTX 2060 6 GB (90W) | Intel HD 630 + up to Nvidia RTX 2080 Max-Q 8 GB (90 W) |
| Memory | up to 32 GB DDR4 2666 MHz (2x DIMMs) | up to 24 GB DDR4 2666 MHz (8GB soldered + 1x DIMM) |
| Storage | 2x M.2 NVMe 80 mm slot with RAID 0 support | 1x M.2 NVMe 80 mm slot |
| Connectivity | Wireless AC (Intel AC 9560, 2×2), Bluetooth 5.0 | Wireless AC (Intel AC 9560, 2×2), Bluetooth 5.0 |
| Ports | 2x USB-A 3.1 gen 1, 1x USB-A 3.1 gen 2, 1x USB-C gen 2 with DP 1.4 and PowerDelivery, HDMI 2.0b, LAN, mic/earphone, Kensington Lock | 1x USB-A 3.1, 2x USB-A 2.0, 1x USB-C gen 2 with DP and PowerDelivery, 1x USB-C gen 1, HDMI 2.0, mic/earphone, Kensington Lock |
| Battery | 76 Wh, 230 W brick | 60 Wh, 230 W brick |
| Size | 360 mm or 14.17" (w) x 252 mm or 9.92 (d) x 18.9 mm or .74" (h) | 360 mm or 14.17" (w) x 268 mm or 10.55 (d) x 16.2 mm or .63" (h) |
| Weight | 4.2 lbs (1.9 kg) + 1.72 lbs (.78 kg) power brick, EU model | 4.58 lbs (2.08 kg) + 1.72 lbs (.78 kg) power brick, EU model |
| Extras | per-key RGB backlit keyboard, external webcam, 2x speakers, ESS Sabre Hi-Fi DAC | 4-zone RGB backlit keyboard, HD webcam, 2x 2W front-facing speakers, ESS Sabre Hi-Fi DAC |
Update: We've spent more time with the Zephyrus M GU502 and you'll find our detailed review and impressions in this separate article.
Main selling points
The Zephryus M GU502 is smaller and lighter than the Zephyrus S models, and pretty close to competitors like the Razer Blade 15 or the MSI GS65 Stealth Pro. It no longer gets a hump at the back, the screen is framed by narrow bezels and even the chin at the bottom is a little thinner than on the Zephyrus S variants, which lead to the smaller footprint.
That also translates in a loss in weight, combined with the use of magnesium and aluminum alloys for the construction.
From my experience with this laptop, the magnesium main-deck seems like one of the better finishes on the market. It's tough and sturdy, unlike other magnesium shells I've seen before, both thanks to the part's thickness and the honeycomb structures used to reinforce the chassis, it does an excellent job at keeping fingerprints and smudges away, and it's also fairly friendly to the wrists, with a blunt front-lip design and rounded corners.
The finishing does feel a bit harsh, though, like some sort of fine-grain sanding paper, at least that's how I felt after spending about an hour with the product.
The design lines are otherwise consistent with the rest of the Zephyrus line-up, with brushed metal used for the hood, the matte metal for the interior and matte plastic for the underside, as well as a big ROG logo on the lid-cover, with RGB backlighting this time around.
It's worth noting that the Zephyrus M lineups no longer get the mechanical AAS system implemented on the Zephyrus S, so the bottom is no longer pushed-up in order to help with fresh-air intake. Construction wise, that makes that whole design simpler and sturdier (also cleaner, since the LEDs within the system are dumped), but it might have an impact on thermals and even on performance.
I noticed that there's still plenty of space underneath, as the rear-feet are fairly tall in order to ensure proper air intake, which combined with the redesigned thermal implementation should be enough to keep the mid-tier Turing GPUs at bay. I've spoken to Asus's officials about this matter, and they said they're expecting the RTX 2060 variants of the GU502 and GX502 to perform roughly the same, but the GX502 should run a little cooler on the outside (and especially on the back).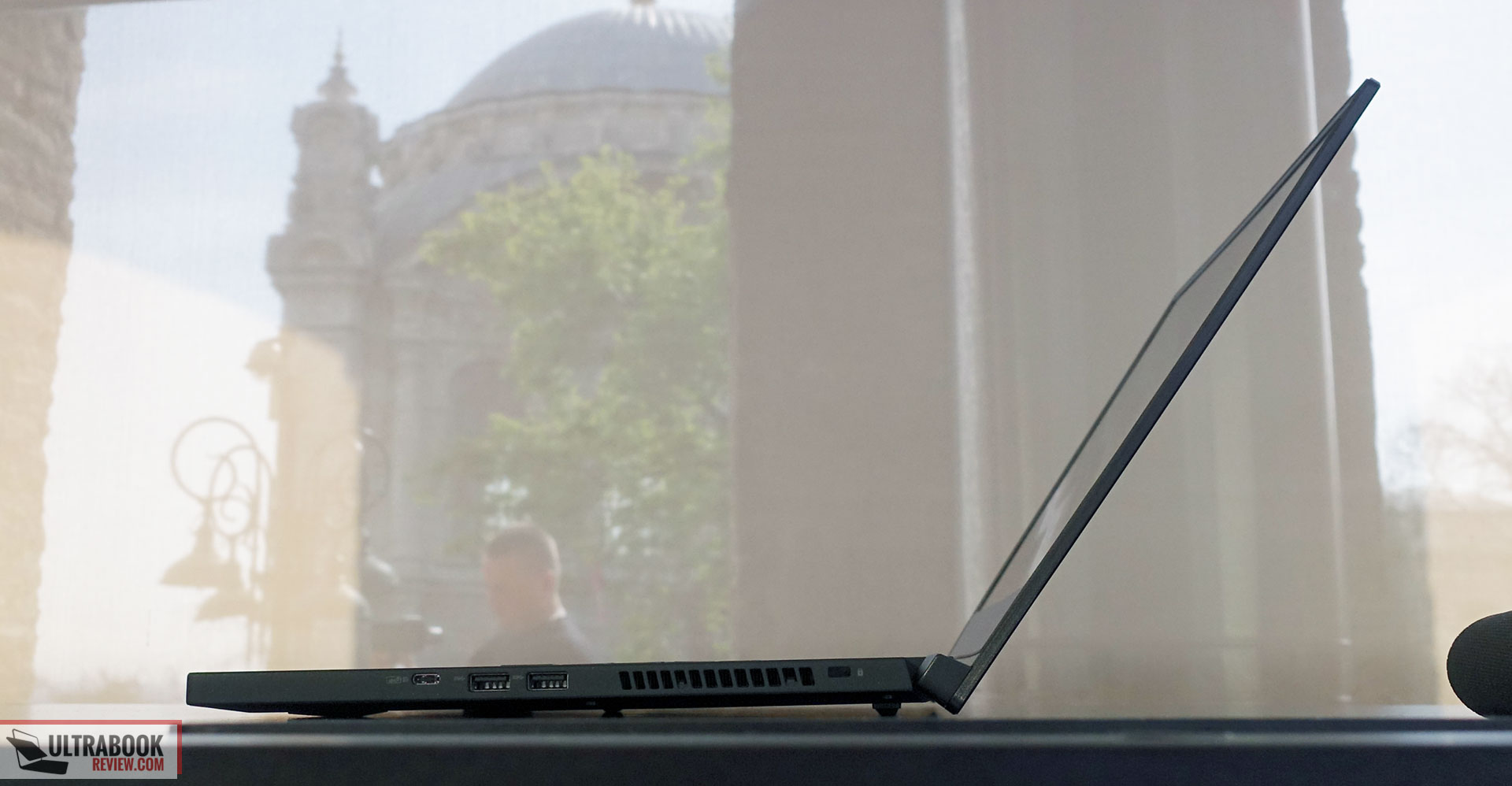 Speaking of the screens, Asus offers two FHD IPS matte panel options for the GU502 models, with either 144 or 240 Hz refresh rates. I don't have exact details on the 240 Hz panel option, but I've been told it should be similar to the existing 144 Hz options in terms of brightness, contrast, and colors, so expect around 300 nits of brightness, 1000:1 contrast and about 75% of AdobeRGB coverage.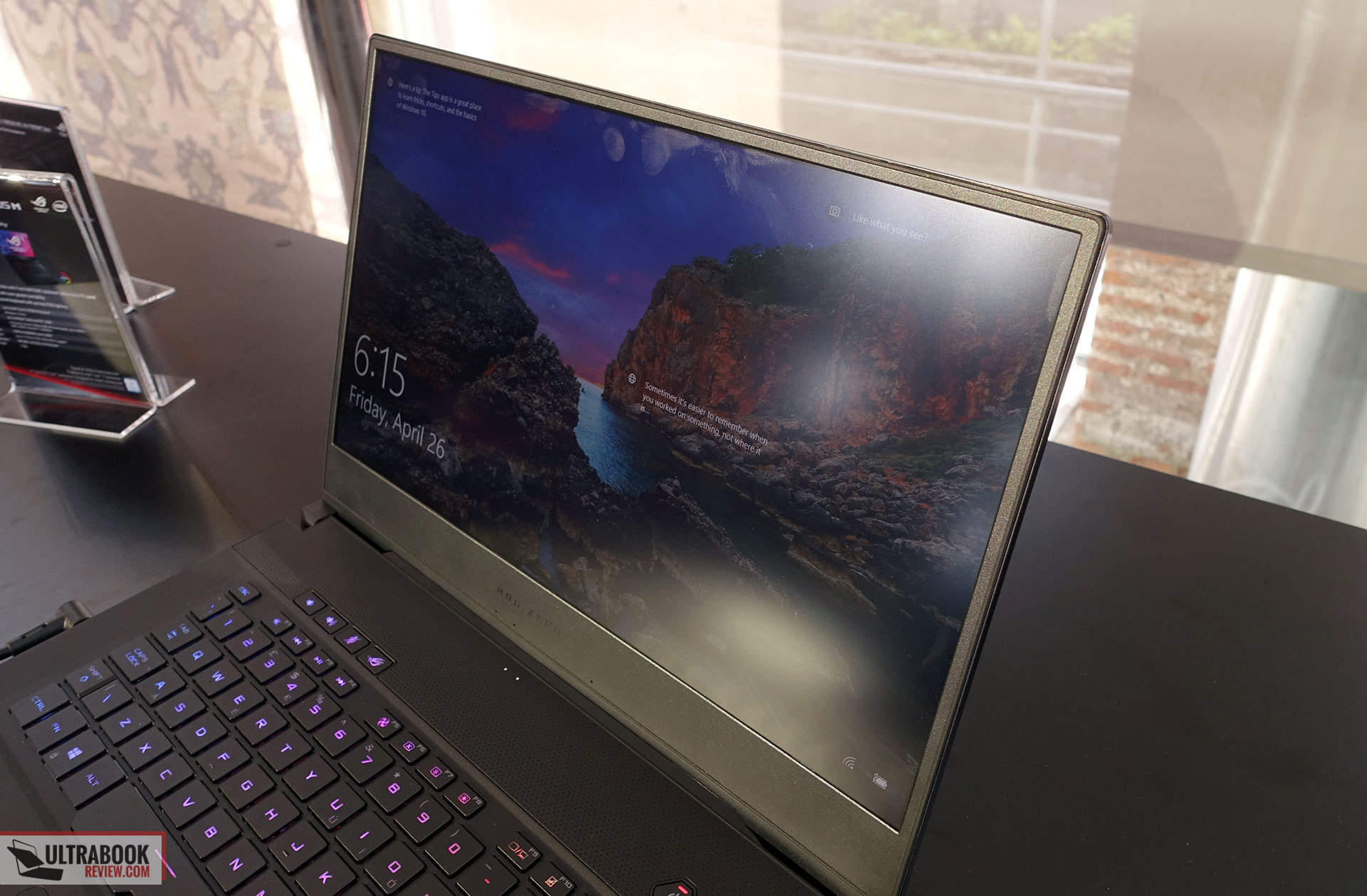 There's no GSync support on this series, the dual Optimus/GSync mode remaining a distinctive feature of the Zephyrus S lineup, but that's hardly going to be missed on such fast screens, and the alternative of implementing Optimus should translate in pretty good battery life with daily use, especially with the inclusion of a 76 Wh battery. That's still smaller than what you can get with the competition, but only within 10% this time around, not within 30+% as on the Zephyrus S GX531.
The new design also leads to a slightly better selection of ports. The novelty is the addition of an RJ45 Lan port, but there's still no card-reader and no Thunderbolt 3, which we'll touch in the next section. The barrel power-plug is still placed on the middle of the left edge, which some might find a little inconvenient.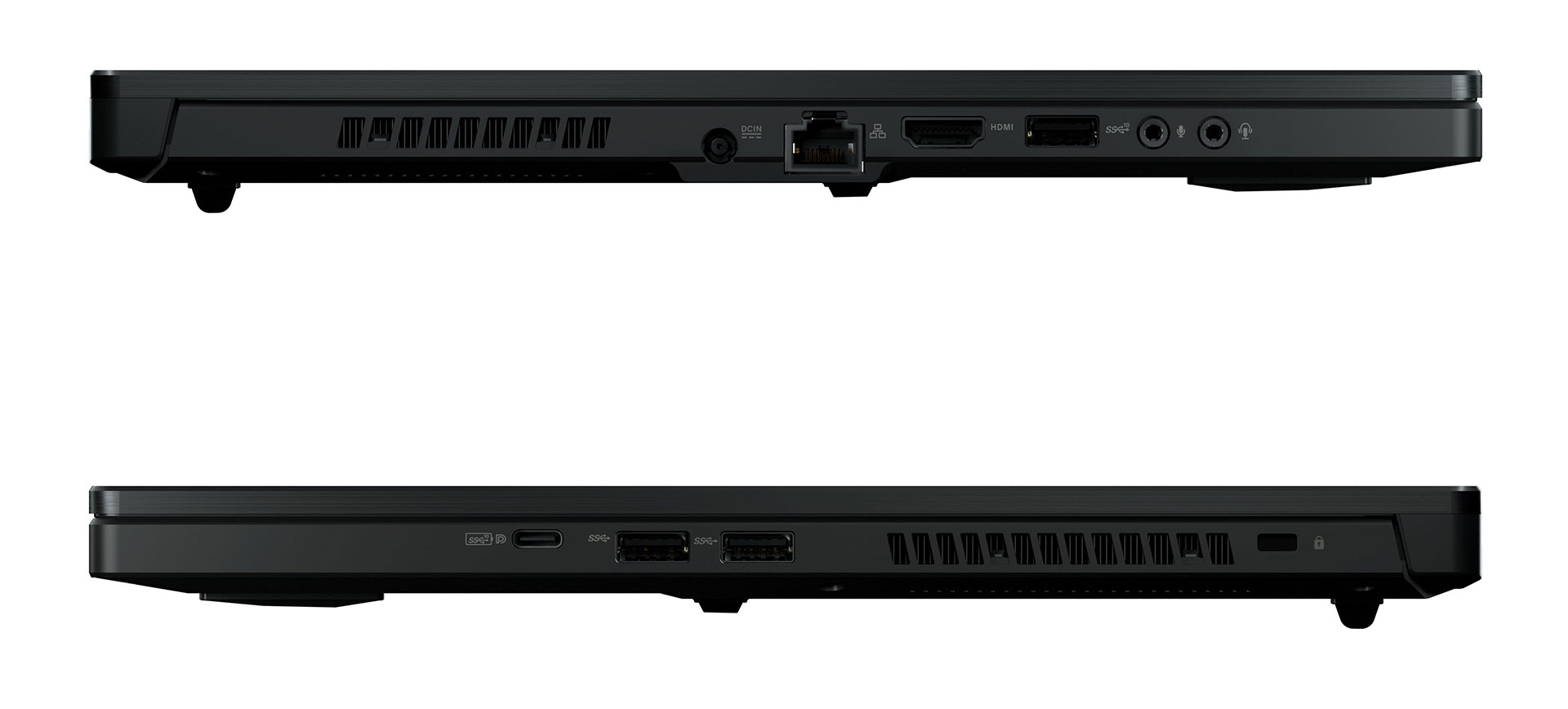 That aside, both the Zephyrus M GU502 and Zephyrus S GX502 lines get a redesigned keyboard layout, with firmer feedback and per-key illumination control.
The addition of dedicated multimedia keys and that extra row of Function keys at the right will surely enhance the overall experience, compared to the Zephyrus S. I sure hope those multimedia keys can be switched off and are not permanently lit, although the experience of watching a movie in a dark room is going to be impacted by that lit power button and the status LEDs placed just beneath the screen. Oh, and while we're on this matter, that backlit ROG logo on the lid is still there, but Asus said they'll make a note to offer the option to disable that LED from the Armoury Crate app in a future update.
Just like the other 2019 Zephryus lines, the M GU502s can charge via USB-C, at up to 65W. Of course, you'll still need to plug-in the beefy 230 W included charger for performance work and gaming, but you can use a much smaller USB-C charger or a power-bank if you need to juice this up while on the go. A USB-C charger will be included with the final retail versions of this product, alongside the standard 230W brick.
Specs wise, the Zephyrus M addresses most of my complaints about the S models. It gets two memory slots and two M.2 storage slots with support for RAID0, and the hardware should hopefully be much easier to access and upgrade, given the simpler design without the mechanical raiser on the underbelly. That, however, is something we'll have to look for in the final review, where we'll also touch on performance.
Asus bundles the M GU502s with a 9th gen Coffee Lake R Core i7-9750H processor, which is still a 6-core 12-thread CPU just like the i7-8750H, but with the ability to run at higher clocks speeds if allowed by the thermal implementation. I wouldn't, however, expect more than 5-10% gains between the two generations, and perhaps even smaller in this kind of ultraportable designs. The Zephyrus S was, nonetheless, an excellent performer in our Cinebench loop test, and I'd expect the 9th gen Ms to at least match that.
As for graphics, two variants of the Zephyrus M have been announced to date, with either GTX 1660 Ti 6 GB or RTX 2060 60 GB graphics. Asus mentions that a 90W variant of the RTX 2060 chip is included on the GU502GV variant, just like on the ROG Scar GL504, but doesn't give any further details on the 1660 Ti option. As far as we know right now, the GTX 1660 Ti chips should come close to the RTX 2060 in most games, but with a lower TDP (probably around 80W in this implementation) and no RayTracing or Tensor cores. Nvidia also advertises up to 1.5x the performance of a GTX 1060 implementation, which is mostly in line with what the existing 2060 variants offer.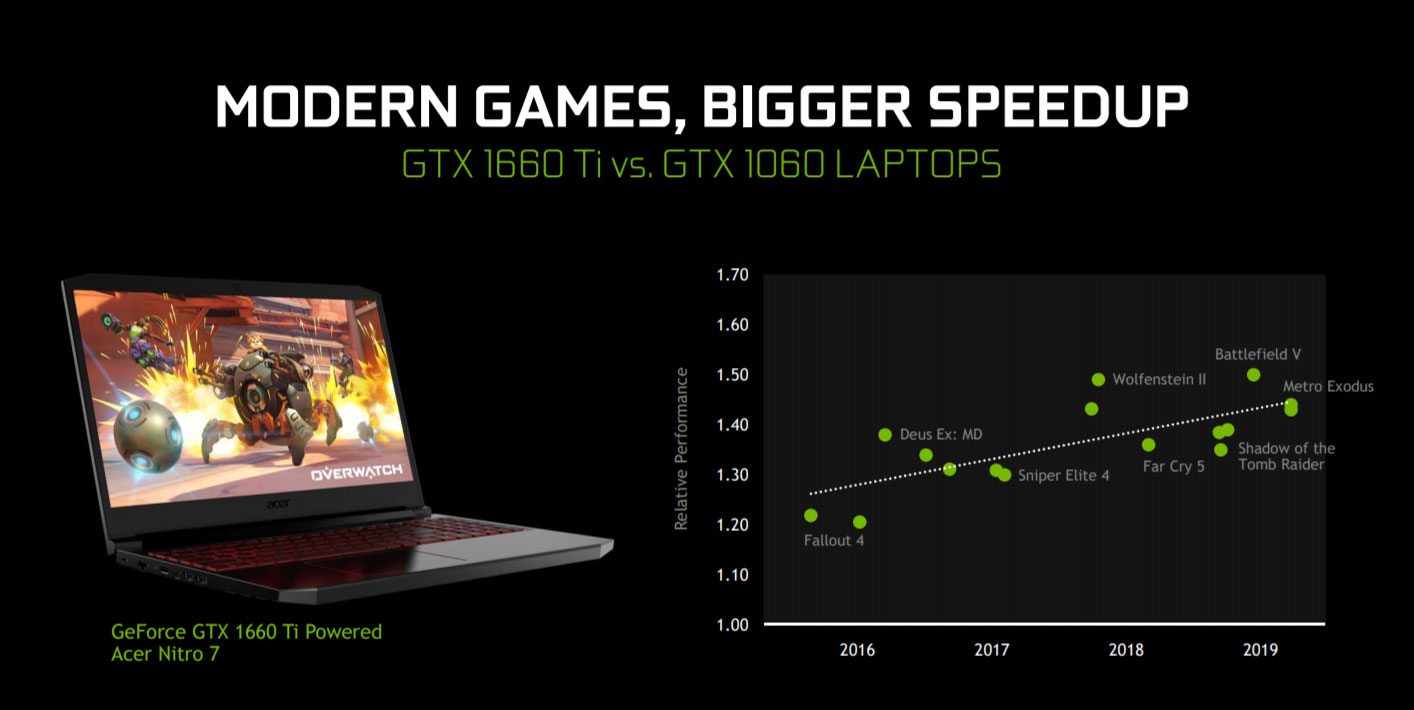 Quirks and potential concerns
We'll touch on the IO first. There's still no Thunderbolt 3 on the Zephyrus M, unlike on pretty much all the other competitors, and I'm looking forward to finding why Asus insists on not including support for Thunderbolt 3 on their gaming devices.
You do get DP and power-delivery and charging via the existing USB-C gen2 port, but the transfer speeds are still limited to 10 Mbps and there's no possibility to connect an external GPU enclosure, something a lot of buyers might want to on an RTX 2060 configuration.
There's also no card-reader, which professional users might want.
Update: I've asked the Asus officials about the lack of Thunderbolt 3, and they're saying it's not included because it's not something most buyers actually use. Thunderbolt is a feature journalists and a select few power-users are vocal about, but the reality is that most buyers don't use dGPUs or Thunderbolt 3 accessories, and that's the main reason TB3 is not a part of most ROG laptops, aside from some of the top-tier variants (like the ROG G series and the ROG Mothership). I was told they are looking into implementing USB 4 or even Thunderbolt on PCIe 4 in the future, which should offer similar capabilities to Thunderbolt 3, but with fewer limitations. For now, though, if Thunderbolt 3 is a must for you, you'll have to look for it elsewhere.
Alright, so while I'm mostly nitpicking in the lines above, the thermal implementation is definitely going to make or break the Zephyrus M GU502 series. We'll have to wait for the review unit to draw any conclusions, but Asus talks extensively about it in the initial press-release, emphasizing on a redesigned thermal controller, two high-cfm fans with thin more fins and anti-dust tunnels, as well as on the complex system of heatpipes and radiators that cover the CPU and GPU.
It's worth noting that there's no intake grill at the top of the keyboard, and that's mostly because the fans are placed lower onto the chassis, beneath the keys, and get fresh air from between keys and from the bottom and sides. According to Asus, this approach allows them to keep the WASD area rather cool, while ensuring enough air goes through the radiators to cool the CPU and GPU.
Fan noise is another important aspect to check out in the detailed review. Given that the GU502 models don't get Nvidia Max-Q graphics, they don't have to adhere to the theoretical 40 dB noise-limit imposed by the Max-Q standard. It's not like the Zephyrus S models did though, as their fans ramp up to as high as 55 dB at head-level in the higher-performance Turbo mode.
As a side-note, Asus will offer a noise-level read up in the Armoury Crate app, which shows the expected noise level at head-level (100 cm away, 70 cm up), but we'll have to see if those expectations are in line with the real-life results.
Finally, I'll also add that the Zephyrus M lacks any sort of biometric login options, whether a finger-sensor or IR cameras, and doesn't get front-facing speakers either, all of these being features offered by the Razer Blade 15. I asked Asus about these aspects, and they mention they're working on adding a fingerprint sensor on the future lineups, and they're also considering front-facing speakers, but for the time being, they preferred to favor the performance and lightweight, and could not fit in these traits inside this mid-2019 generation.
Oh, and there's no camera at the top of the screen, so I'd reckon an external webcam is included, like on the Zephyrus S GX701 model.
Prices and availability
Availability and pricing details on the 2019 Zephyrus M update are still unknown at the time of the article, but I'd expect around $1800-$2000 as a starting price for the RTX models, based on the price of the existing RTX 2060 configurations of the Zephyrus S GX531, and a little lower for the GTX 1660 Ti variants.
We'll update this section once we know more, and in the meantime, you should follow this link for updated configurations and prices in your region.
That's about it for now on the Asus Zephyrus M GU502. We'll spend more time with the new Asus ROG notebooks in the next few days and meet up with some of the Asus officials, so we'll hopefully have answers to some of the questions above. We did spend some time with the Asus officials and were able to fill in some of the initial gaps in the article. We'll also have our reviews up in the weeks to come, and we'll update the article once those are published.
Update: We've spent more time with the Zephyrus M GU502 and you'll find our detailed review and impressions in this separate article. Our review of the higher-end Zephyrus S GX502 lineup is available here, and our review of the updated 2020 ROG Zephyrus M15 is also available here.
In the meantime, if you have any feedback or questions, don't hesitate to get in touch in the comments section below.
Disclaimer:
Our content is reader-supported. If you buy through some of the links on our site, we may earn a commission.
Terms
.