In this article we're discussing the 2023 Asus ZenBook Pro 14 lineups of performance ultraportables, which include a brand new ZenBook Pro 14 clamshell design, as well as a hardware refresh of the dual-display ZenBook Pro Duo 14 series.
I'm excited about the ZenBook Pro 14.
If done right, this is potentially an excellent all-purpose laptop for daily use, work, and occasional gaming, in a niche previously occupied by popular devices such as the Acer Swift X 14 or the Lenovo Slim 7 Pro X. It's also a non-gamer alternative for the ROG Zephyrus G14 series, slightly more portable and aesthetically more appealing to an audience that's not quite prepared to get an ROG as their daily driver.
This Pro looks and feels like a premium product should and implements a complex quad-radiator cooling and a mid-powered hardware platform with modern specs, going up to an Intel Core i9-13900H with RTX 4070 graphics and a MUX. Add in good inputs and IO, and a beautiful OLED display, and this could be one of the best mid-sized ultraportables of the year.
The 2023 ZenBook Pro Duo 14, on the other hand, is a hardware update of the 2022 model reviewed here, with the dual-display format as its main selling point. It's not for everyone, though, as the form factor does come with some potential quirks.
For now, I got to spend a little time with a preview sample of the 2023 ZenBook Pro 14, and down below I've gathered my first impressions on this design and its important features, as well as shared my thoughts on the updated Pro Duo.
2023 Asus Zenbook Pro 14 UX6404, ZenBook Pro Duo 14 UX8402
But first, here's a full specs sheet of the two 2023 ZenBook Pro 14 models.
Asus Zenbook Pro 14 UX6404
Asus Zenbook Pro Duo 14 UX8402
Screen
14.5 inch, 16:10, glossy, touch,
OLED 2.8K 2880 x 1800 px, 120 Hz, 600 nits, 100% DCI-P3
14.5 inch main display, 16:10 format, glossy, touch,
OLED 2.8K 2880 x 1800 px, 120 Hz, 350-nits, 100% DCI-P3
12.7-inch secondary ScreenPad, 32:10 format, matte, touch
IPS 2880 x 864 px, 120 Hz, 650-nits, 100% DCI-P3
Processor
Intel Raptor Lake 13th gen, up to Core i9-13900H, 6C+8c/20T
Intel Raptor Lake 13th gen, up to Core i9-13900H, 6C+8c/20T
Video
Intel UHD, 96 EUs + up to Nvidia RTX 3070 8GB (80+W ??),
with MUX
Intel UHD + Nvidia RTX 4000 (up to 65W),
with MUX
Memory
up to 48 GB LPDDR5-4800 (16GB onboard + 1x DIMM)
up to 32 GB LPDDR5-4800 (soldered)
Storage
1x M.2 PCIe gen4 SSD, single M.2 2280 slot
1x M.2 PCIe gen4 SSD, single M.2 2280 slot
Connectivity
Wireless 6E (Intel AX211), Bluetooth 5.2, Ethernet with included USB adapter
Wireless 6E , Bluetooth 5.2, Ethernet with included USB adapter
Ports
1x USB-A 3.2 gen1, 1x USB-C 3.2 with Thunderbolt 4, 1x USB-C 3.2 gen2, SD UHS-II card reader, audio jack
1x USB-A 3.2 gen2, 2x USB-C 3.2 with Thunderbolt 4, HDMI 2.1, microSD card reader, audio jack
Battery
76 Wh, 180W barrel-plug charger with quick-charging, USB-C charging support up to 100W
76 Wh, 180W barrel-plug charger with quick-charging, USB-C charging support up to 100W
Size
322 mm or 12.67" (w) x 224 mm or 8.6" (d) x from 17.9 mm or 0.7" (h)
323 mm or 12.71" (w) x 224 mm or 8.82" (d) x from 17.9 mm or 0.7" (h)
Weight
~3.65 lbs (1.65 kg) + charger
3.85 lbs (1.75 kg)+ 1.19 lbs (.54 kg) charger + cables, EU version
Extras
white backlit keyboard, glass touchpad with DialPad, FHD webcam with IR + ALS, no finger sensor, stereo bottom speakers, dual-fan quad-radiator thermal design
white backlit keyboard, glass NumberPad, HD webcam with IR + ALS, stereo bottom speakers
On the outside, the Pro 14 UX6404 looks a lot like the ZenBook Pro Duo 14 UX8404, with the same choice in materials (anodized aluminum used for the entire case) and similar design lines. The lid looks exquisite and branding is kept at a minimum, with the monogram Asus logo and a discrete Asus ZenBook engraving on the bottom of the lid and under the display.
At the same time, this is heavier and thicker than the standard ZenBook 14 or the ZenBook 14X models, at around 1.8 – 2 cm in thickness and 1.65 kilos in weight. It's not far from the Zephyrus G14 in this regard either, and heavier than the Swift X or the Slim Pro X mentioned earlier.
Well, the sturdy metal construction adds up to the weight, and so does the OLED touchscreen, the cooling module, and the large battery. The cooling in particular is an important differentiator for this series, with two fans, quad-radiators, and an array of heatpipes, and it's designed to ensure 105W of sustained power in this chassis. That's significantly higher than on those competitors, or any of the other ZenBooks or VivoBooks.
The internal cooling module is helped out by unrestrained intakes on the bottom of the laptop and outputs on the back/sides, as illustrated in this image down below. You'll probably want to clean this often, though, as I expect dust to easily gather inside over time.

But let's roll back a little bit.
Here are some preview images of this ZenBook Pro 14 series.
As long as you're alright with the slightly higher weight and thicker design, this Pro 14 looks like pretty much the best traditional ZenBook design ever made.
It implements a 16:10 display with small bezels and cameras at the top, full-size inputs, and an excellent set of ports on the sides, all tucked inside a premium-looking and sturdily-built metal chassis.
The display is a 14.5-inch Samsung OLED panel with 120Hz refresh and .2 ms response times, excellent contrast and blacks, up to 600 nits of HDR brightness (and around 450 nits SDR), and 100% DCI-P3 color coverage. It supports touch and pen input, and from what I remember during my time with the laptop, the hinges allow the screen to fall back flat to 180 degrees (to be confirmed).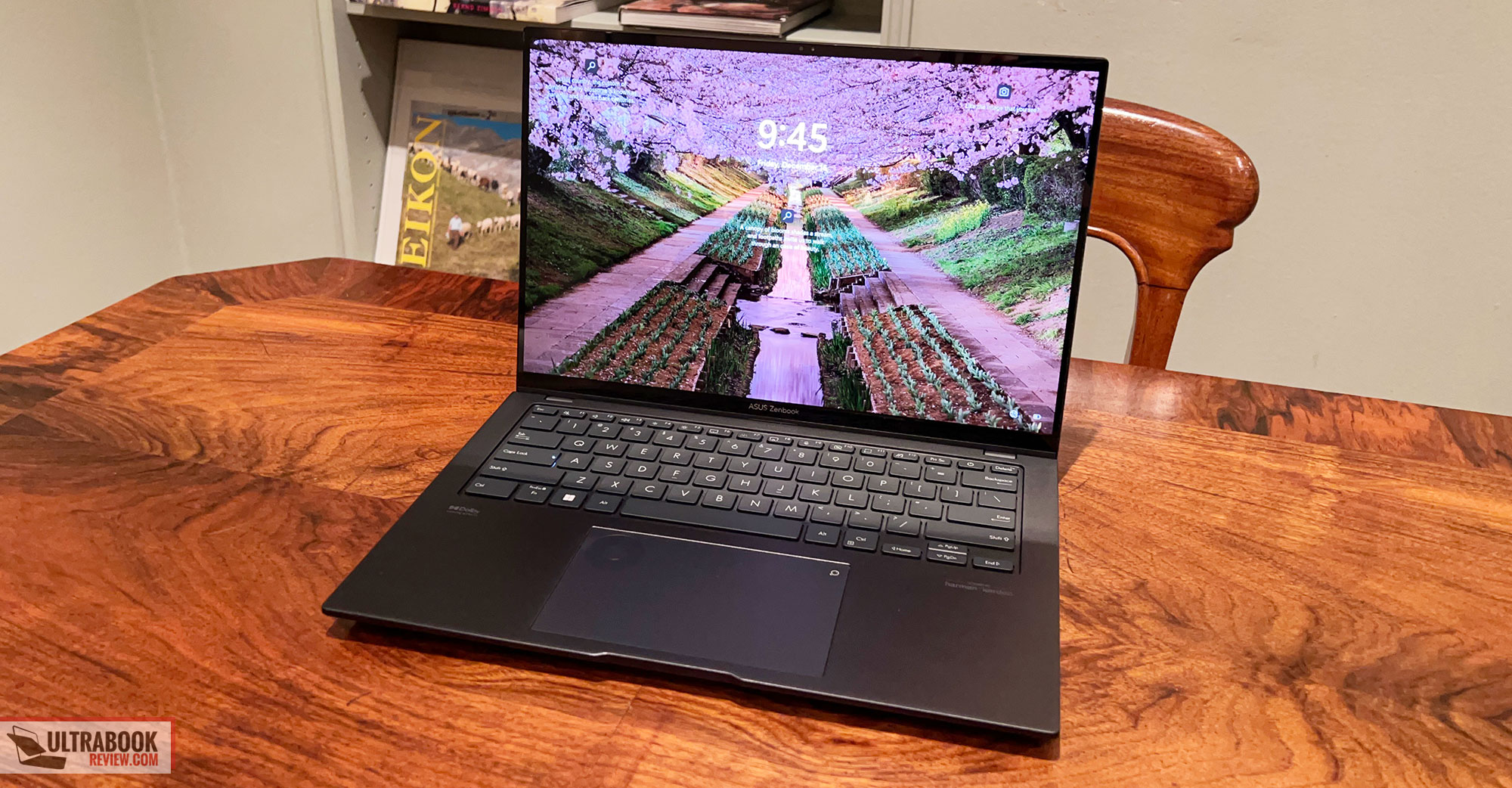 The inputs are a standard ZenBook assortment with one of the better keyboards in the space and a spacious glass touchpad, that incorporates a DialPad in this implementation. It's a physical DialPad, not the virtual variant seen on past Vivobook devices, so you'll feel it when using the touchpad with daily swipes and taps, but it didn't seem to impact in any way the touchpad's response and behavior.
The implemented keyboard comes with black keycaps and white illumination, and there's no finger sensor in the power button (key), as on some of the other past ZenBooks.
Instead, biometrics are handled by a 2MPx webcam placed at the top of the display, with IR and ALS (RGB sensor) support. Audio is captured by an array of 3-mics on this design, and the speakers are placed on the bottom, firing towards the sides, as on pretty much all other modern ZenBooks.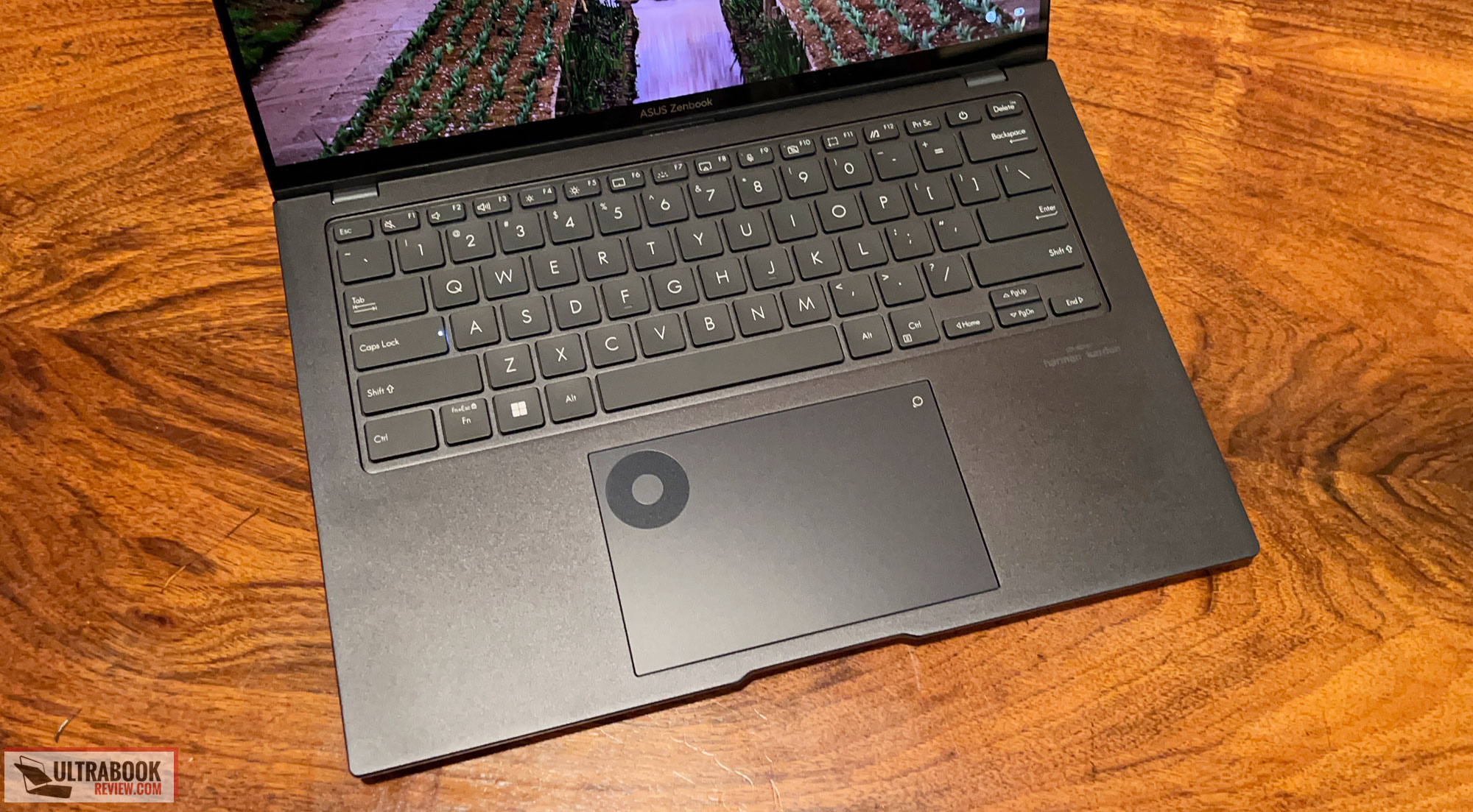 As for the IO, this ZenBook offers everything I want on a mobile device, including USB-C ports with Thunderbolt 4 support, full-size HDMI and USB-A ports, a full-size SD card reader, and an audio jack. There's no Lock, if it matters to you, and the USB-C ports are both rather weirdly placed on the left edge, so you'll get some clutter around your mouse area if you plan on using these for peripherals.
I'll also add that the status LEDs are placed on the right edge as well, and there's no light in the power button, making this an excellent option for dim-environment use.
As for the hardware specs, this Asus ZenBook Pro 14 OLED UX6404 series is configurable up to an Intel Core i9-13900H with up to an RTX 4070 dGPU, as well as up to 48 GB of memory and 2 TB of fast gen4 storage.
The memory is partially soldered on this laptop (8/16 GB), with an extra spare DIMM for upgrades, and there's a single M.2 2280 slots of storage.
Inside the chassis, you'll also find the wifi module, the battery, and the speakers. I don't have a picture of the internals for now, as I wasn't allowed to open up the preview sample.
Now, Asus will offer this in a multitude of other configurations as well, with i7 and i9 Core H 13th-gen raptor Lake processors and RTX 4050, 4060, and 4070 graphics chips. BTW, there's a MUX implemented here, for unrestrained GPU performance in games and select other applications. This is a creative notebook, though, and not primarily a gaming device, as it will come with Nvidia Studio drivers by default and not with GeForce drivers.
I don't know much about the TGP limits of the GPUs implemented in this chassis, but Asus mention up to 105W combined CPU + GPU power on the Full Speed mode here, which suggests around 80W on the GPU and 25W on the CPU. Not bad at all, albeit the fans might end up noisy on that Full Speed mode. Regardless, expect a balanced middle-ground profile as well for everyday use.
That battery is 76 Wh inside the laptop, just like on the Pro Duo, and this design comes with a 180W barrel-plug main charger. It also charges via USB-C if needed, but won't run at full capabilities on USB-C power.
As we wrap this up, there's little I can share about availability and prices at this point. I'm hoping around the end of Q1 2023, but will have an update as soon as possible.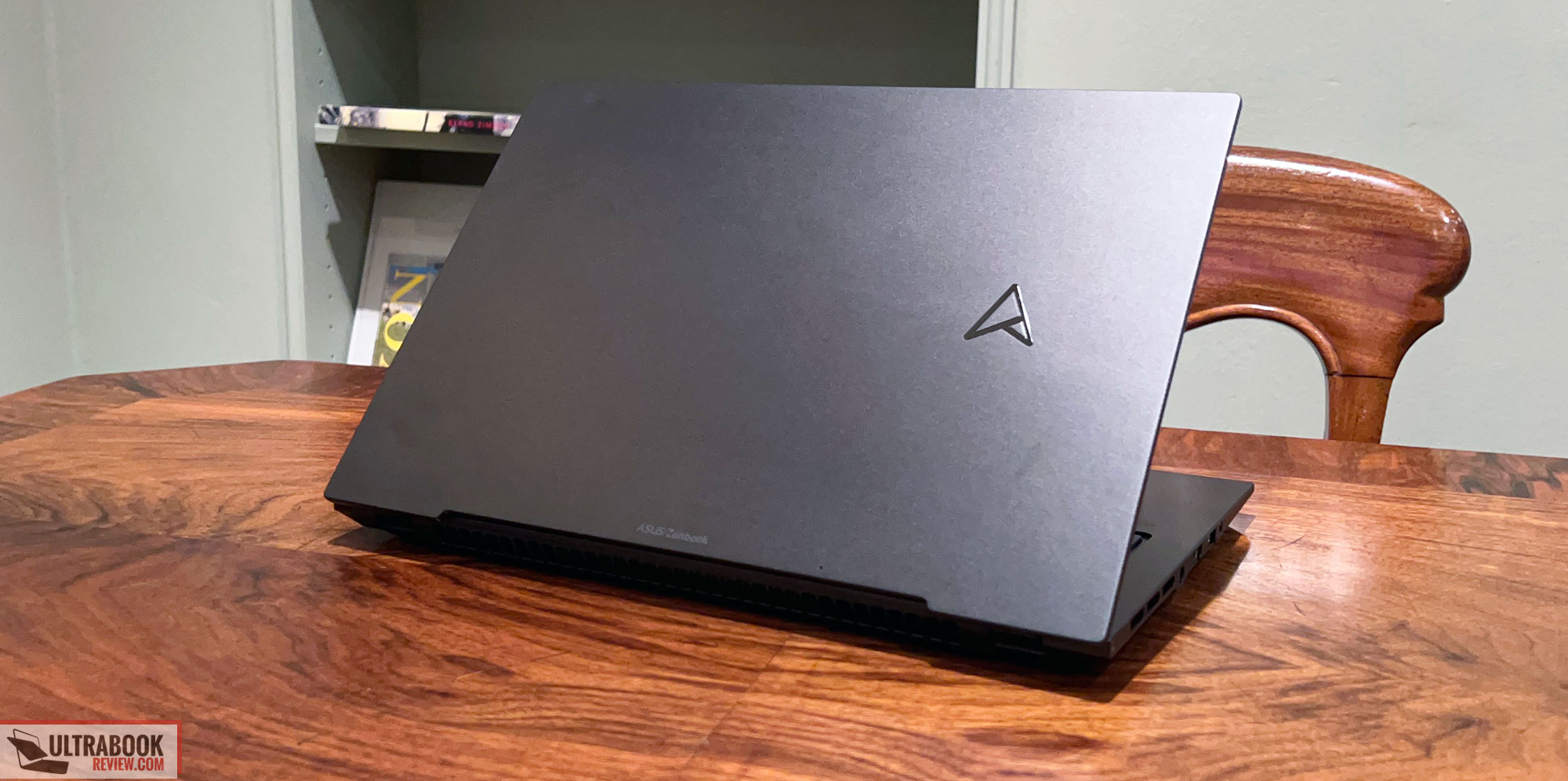 2023 ZenBook Pro Duo 14 OLED UX8402 update
From what I know right now, Asus will offer an update of the dual-screen ZenBook Pro Duo OLED in the first part of 2023, built on the UX8402 chassis reviewed here.
You'll find my thoughts on the design and the particularities of this series in the review. The image below briefly summarizes the whole Pro DUO concept next to a regular clamshell ZenBook 14 design: the extra screen is the main selling point of the Duo, but the form factor impacts the laptop's practicality when not used on the desk.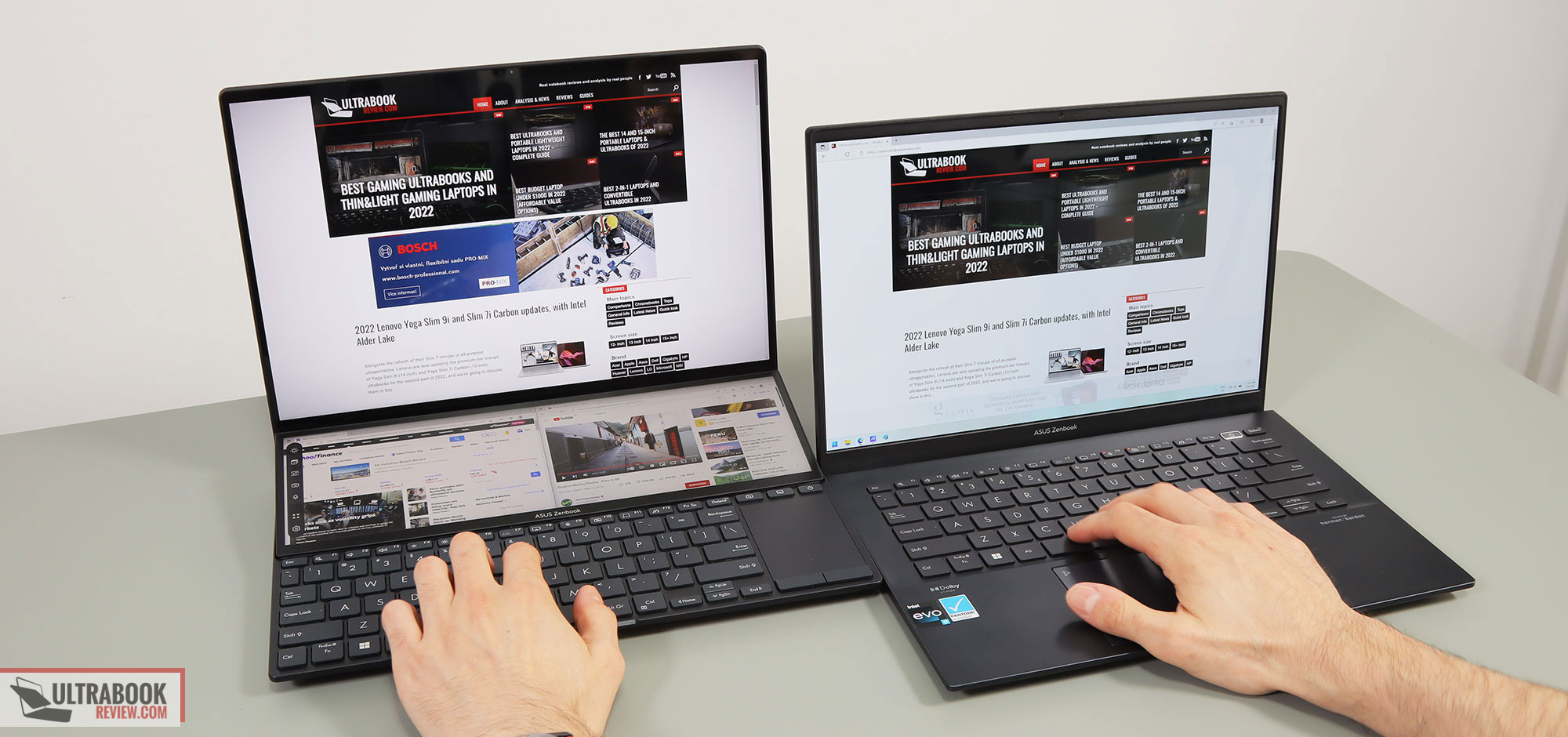 For the 2023 generation, the Pro Duo gets updated hardware specs, with up to an Intel Core i9-13900H processor and Nvidia RTX 4000 graphics, up to 32 GB of RAM, and 2 TB of gen4 storage.
The Duo is a dual-radiator cooling design, though, as illustrated down below, so it won't match the performance of the newer ZenBook Pro 14 chassis. In fact, we already know from the previous generation that this is an 85W combined power design, with up to 65W allocated to the GPU, so there's a good chance this will only be available with RTX 4050 graphics (and maybe a 4060?).
I'll update this section once I find out more about this update.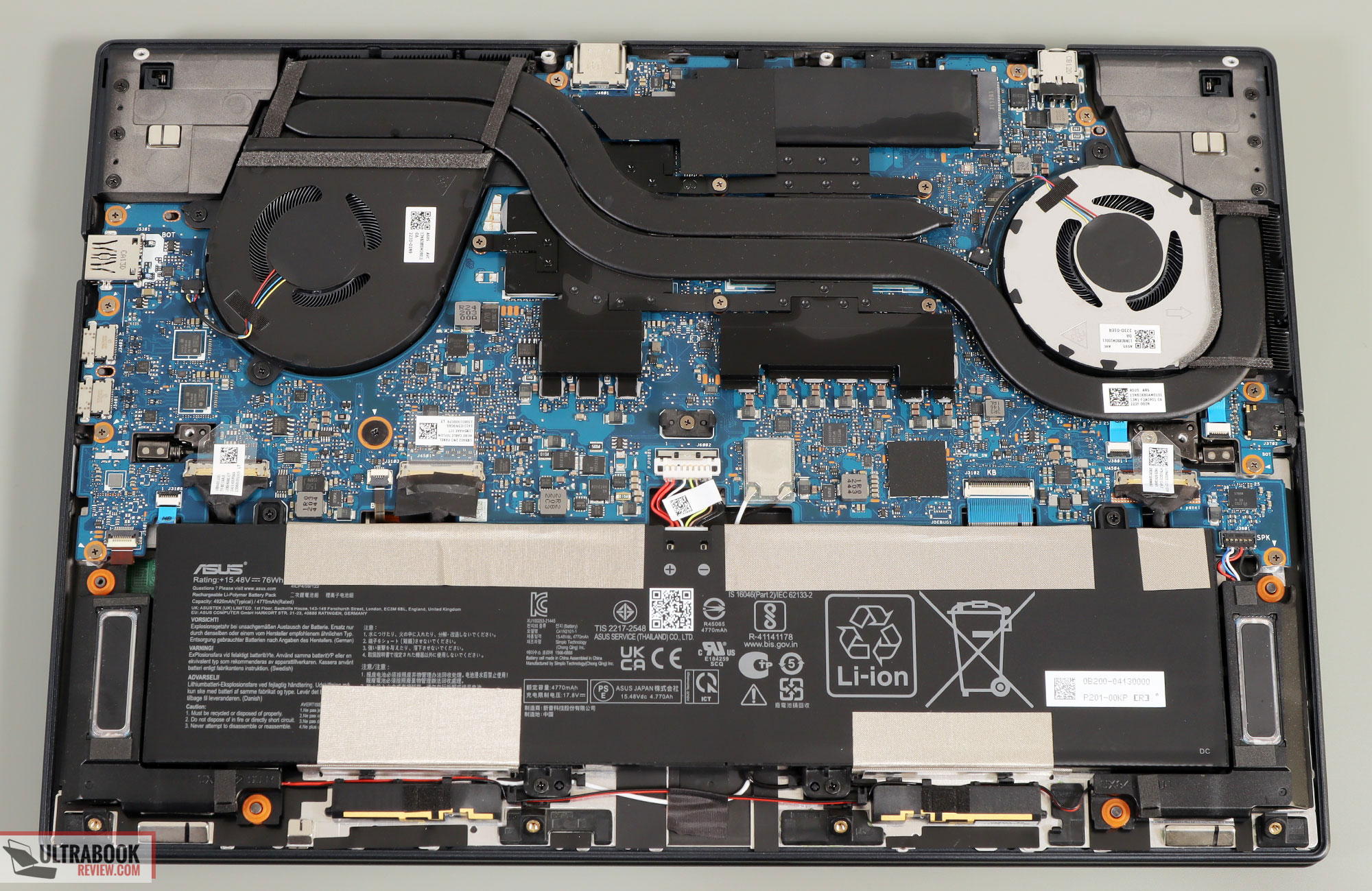 Anyway, that's about it on these 2023 Asus ZenBook Pro models. The ZenBook Pro Duo format has its fans, and the updated specs should be a breath of fresh air for the series, especially when it comes to the GPU performance. At the same time, I'm happy to see a powerful and properly-cooled ZenBook Pro 14, which I'd expect will be a popular all-purpose compact laptop and fill in a niche that the Zephyrus G14 does not cover, especially in the more powerful and more expensive 2023 updates.
Stay close for our reviews, and in the meantime, let me know what you think about these lineups?
Disclaimer:
Our content is reader-supported. If you buy through some of the links on our site, we may earn a commission.
Terms
.