In this article, we're discussing the 2023 Lenovo Legion 9i series, now the top-of-the-line model within Lenovo's gaming/performance lineup.
The 9i is the first of its kind, as so far Lenovo only went up to the Legion 7 as their flagship. However, with the 2023 Legion Pro 7 series being dumbed down compared to its predecessors, rumors gathered on the imminent launch of a new top model. And there were plenty of rumors, especially since Lenovo already unveiled the device in China a few days ago, before launching it for the Western markets.
But this Legion 9i isn't quite what I was expecting, to be frank. It's not a step-up from the Pro 7i series, but rather a step side-wards, as a thin performance series. They could have easily called it the Legion Slim 9i, in fact. And perhaps a Legion Pro 9i will follow suit in a few months.
Briefly, this new Lenovo Legion 9i is a slightly larger and, at the same time, thinner and lighter chassis than the existing Legion Pro 7i, and offers a few important extra features such as a mini LED display with 1200 nits of peak brightness and 100% AdobeRGB color coverage (at last!), latest-generation wired and wireless connectivity, as well as slightly refined IO and inputs.
Plus, the Legion 9i bundles arguably faster hardware than the Pro 7i, with the highest-tier Intel Core HX and Nvidia RTX 4000 specs.
Don't expect major differences in real-life performance, though, as we'll explain in a bit, but you should be aware that the hardware is helped out by an innovative thermal design that includes a triple set of fans, extended air intakes and radiators, and an extra self-contained liquid cooling module that only kicks in with demanding loads. Hopefully, these can keep thermals in check in this sort of thinner chassis.
These aside, the 9i should be mostly a familiar design for Legion enthusiasts, but with some aesthetic and ergonomic differences over the existing 2023 Legion models.
We'll further touch on the essential features of the 2023 Lenovo Legion 9i series down below, and follow up with updates and a detailed review in the coming weeks. The 9is are expected in stores around October 2023, starting at a whopping $4399 MSRP on the US market (I'd reckon that's for a high-specced 4090 configuration, at least).
2023 Lenovo Legion 9i specs, vs Legion Pro 7i
But first, here's a full specs sheet of the Lenovo Legion 9i, next to the 2023 Legion Pro 7i series, which is now relegated to the second echelon within Lenovo's lineup.
2023 Lenovo Legion 9i
2023 Lenovo Legion Pro 7i – review
Screen
16-inch, 3.2K 3200 x 2000 px mini LED, 16:10, non-touch, matte
165 Hz 3ms response, VRR support
500-nits SDR, 1200-nits peak HDR, 100% Adobe and 100% DCI-P3
16-inch, QHD 2560 x 1600 px IPS, 16:10, non-touch, matte
240 Hz 3ms response, VRR support
500-nits, 100% sRGB, Pantone certified
Processor
Intel 13th-gen Raptor Lake Core HX,
Core i9-13980HX, 8PC+16Ec/32T (up to 230W max TDP ??)
Intel 13th-gen Raptor Lake Core HX,
up to Core i9-13900HX, 8PC+16Ec/32T (up to 190W max TDP ??)
Video
Intel UHD + RTX 4000 graphics, up to RTX 4090 16GB 175W
with MUX, Advanced Optimus, GSync support
Intel UHD + RTX 4000 graphics, up to RTX 4090 16GB 175W
with MUX, Advanced Optimus, GSync support
Memory
32 GB DDR5-6400,
up to 64 GB DDR5-5600 OC (2x DIMMs)
32 GB DDR5-6000,
up to 64 GB DDR5-5600 OC (2x DIMMs)
Storage
PCIe gen4 (2x M.2 2280 slots)
PCIe gen4 (2x M.2 2280 slots)
Connectivity
Wireless 7 (Mediatek Filogic 380) with Bluetooth 5.3, 2.5G LAN ??
Wi-Fi 6E and Bluetooth 5.2, 1G LAN
Ports
Left: SD card reader 3.0, 1x audio jack
Right: 1x USB-A 3.2 gen1, 1x USB-C 3.2 gen1 , 1x eShutter button
Back: 1x USB-A gen1 (always on 5V2A), 2x Thunderbolt 4 (data, DP, 140W power), HDMI 2.1, LAN
Left: 1x USB-C 3.2 with Thunderbolt 4, 1x USB-A gen1
Right: 1x USB-A 3.2 gen1, 1x audio jack, 1x eShutter button
Back: 2x USB-A gen1, 1x USB-C gen2 (DP, power), HDMI 2.1, LAN, DC-In
Battery
99.9 Wh, 330W GaN power adapter, USB-C charging up to 140W
charges to 70% in 30 min, to 100% in 80 min
99.9 Wh, up to 330 W GaN power adapter, USB-C charging up to 140W
charges to 70% in 30 min, to 100% in 80 min
Size
357.7 mm or 14.08" (w) x 277.7 mm or 10.93 (d) x 18.99 – 22.7 mm or .74″ – .89" (h)
363.4 mm or 14.33" (w) x 262.2 mm or 10.31 (d) x 21.95 – 25.9 mm or .86″ – 1.02" (h)
Weight
from 2.56 kg (5.65 lbs) + power brick
from 2.65 kg (5.9 lbs) + power brick
Extras
per-key RGB backlit keyboard with NumPad, 1.5  mm travel, glass clickpad, finger-sensor in the power button,
2x 2W stereo speakers, FHD webcam with eShutter and Tobii Horizon,
tri-fan quad-radiator with self-contained liquid-cooling system,
available in a Carbon Black
per-key RGB backlit keyboard with NumPad, 1.5  mm travel, plastic clickpad, no finger-sensor in the power button,
2x 2W stereo speakers, FHD webcam with eShutter and Tobii Horizon,
dual-fan quad-radiator vapor chamber cooling,
available in Space Grey
Design and ergonomics
My mind flew over to the Alienware X16 the first time I saw the Legion 9i. That's because of how this Legion is designed to be slim and to somewhat favor cooling over ergonomics, much like the Alienware X16 is as well.
Down below, I've added a picture of the Legion 9i next to the Legion Pro 7i (or the Legion Slim 7i, which is more or less the same).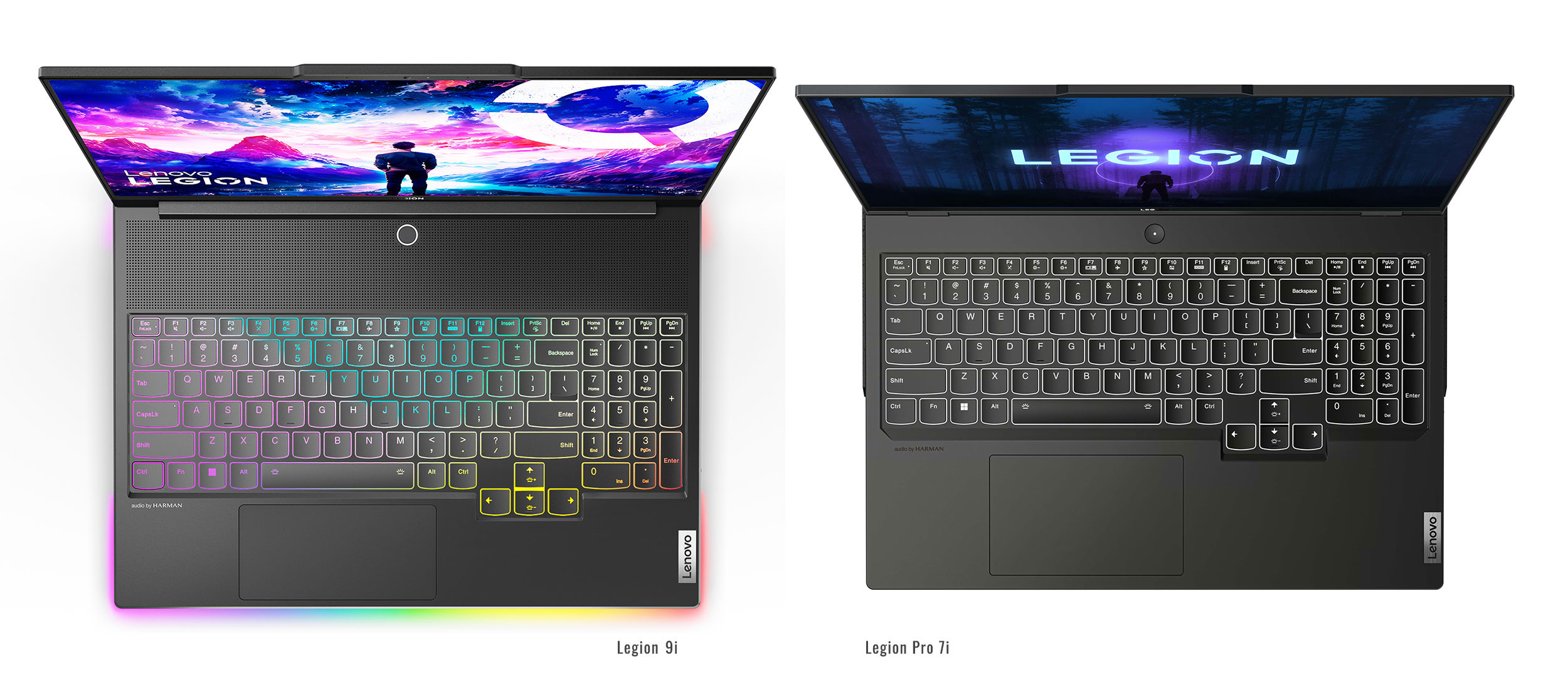 The 9i is a longer device, and yet the keyboard is positioned lower onto the chassis, leaving space for a narrower armrest and clickpad underneath. That's because the area at the top of the keyboard is reserved for cooling, for air intake, and I'd reckon Lenovo also went with this approach in an effort to isolate the hot components from the keywords and the areas that you'll normally touch during use. The 2023 Legion Pro 7i, with its standard design and thicker construction, already runs very hot to the touch in demanding loads, and I'd reckon this thinner and higher-powered 9i would have been painful to the touch if not for this design choice.
Anyway, ergonomically, this chassis offers a smaller armrest, and you'll notice it when using this computer on the lap. Furthermore, this approach puts the display slightly farther away from the eyes than on the 7i, but I don't think that's going to be that noticeable in real use, for sure not as much as on devices with a front-placed keyboard, such as the ROG Zephyrus Duo.
That aside, we must discuss the lid of the 9i, which is made from a forged carbon alloy in order to save weight, and as a result comes out with what Lenovo calls a "carbon chip pattern". I'll refrain from conclusions before seeing this for real, but I find it rather ugly from the pictures. It seems nicer in the available preview videos, though, so perhaps it's not that big of a deal.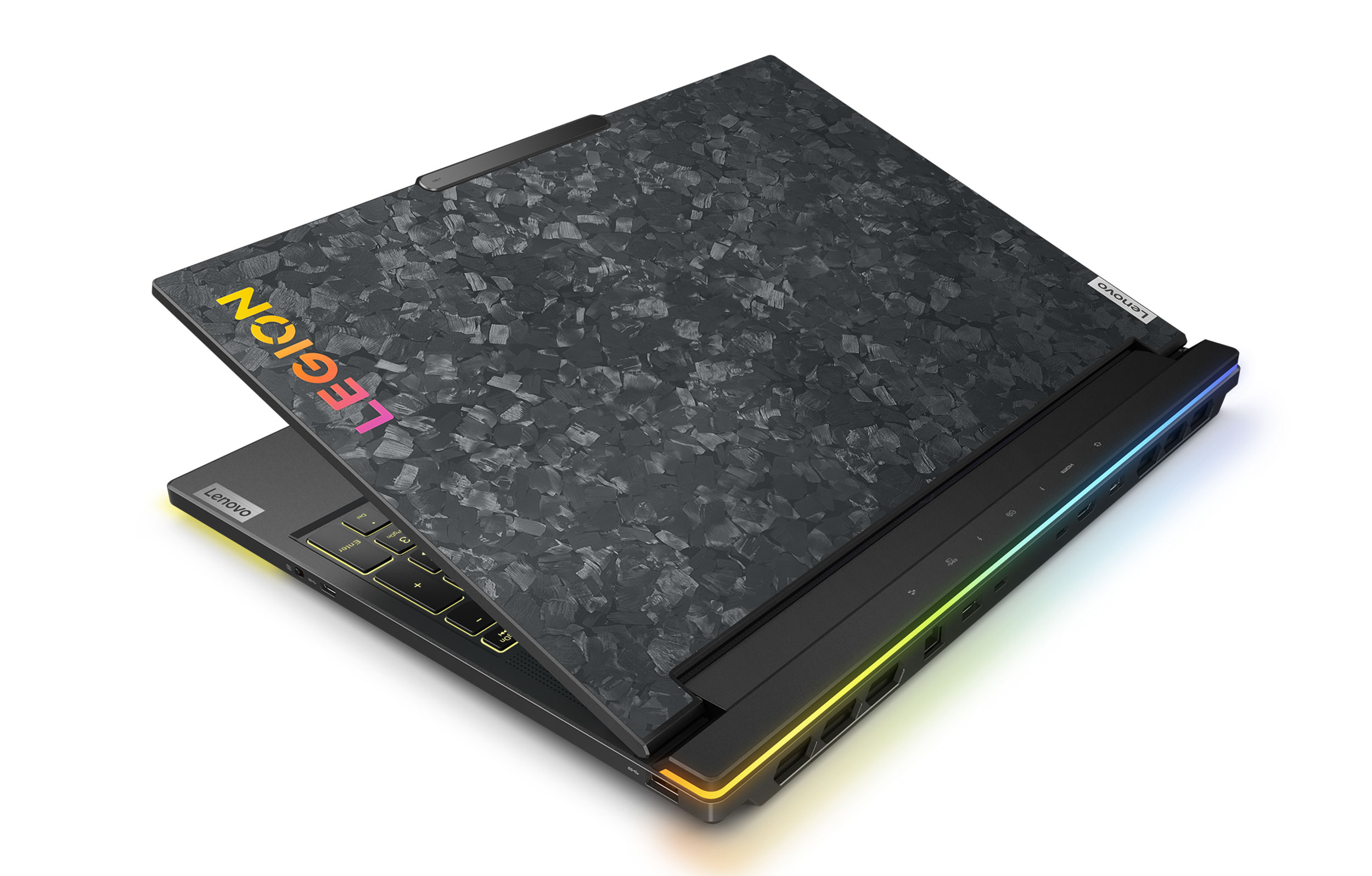 Nonetheless, for the past years, their clean professional looks have been a selling point for Legion laptops over the competition, and that might no longer be the case for the 9i. There are also the front and rear lightbars and the RGB LEGION logo on the lid, but those can be switched off from the software if needed. But the pattern lid… I guess it could be "fixed" with a decal of some sort?
These aside, this Legion 9i feels and looks just like a Legion. It offers a 16-inch display with slim bezels and a notch at the top for cameras. It's most likely excellently made, with an all-metal chassis and solid craftsmanship quality.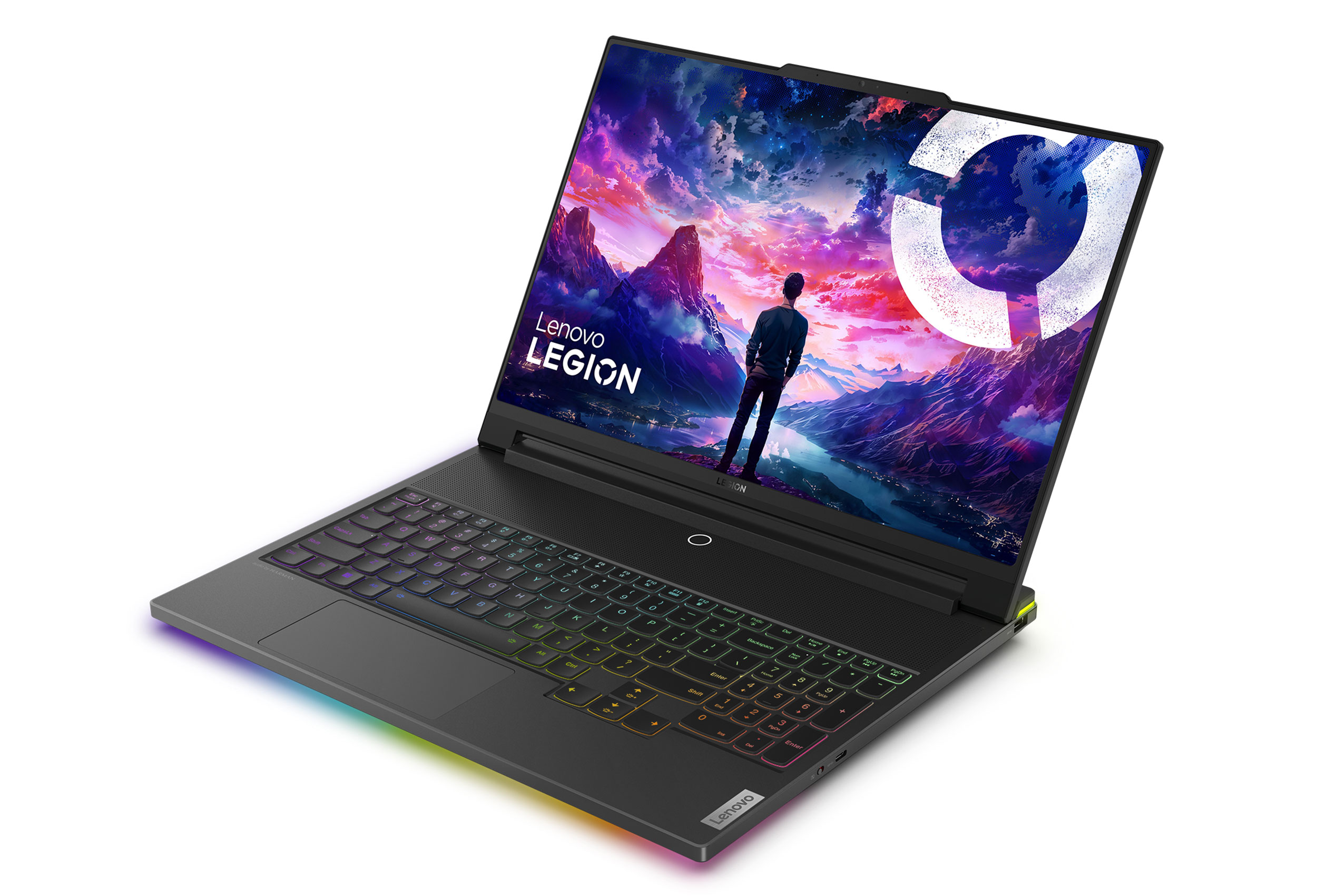 It weighs 2.65+ kg, which is mid-level for a 16-inch laptop and a little lighter than the Legion Pro 7i series. It's also a little lighter than the Alienware X16, but not quite as lightweight as an Asus ROG Zephyrus M16 (which is, of course, a piece of lower-power machinery, although still an i9 with RTX 4090 graphics).
You'll also notice the thin profile of the main chassis, particularly towards the front of the laptop. There is a thicker hump behind the display, though, where most of the ports are placed.
For the display, Lenovo went with a longer and bulkier one-hinge design, instead of the small dual-side hinges used on their other models, and I'd expect the display to lean back to 180 degrees.
Just underneath the hinge, all alone in that space reserved for cooling at the top of the chassis, sits the power button – this includes a finger sensor, since it's the same design as on past Legion models, with the ring light that changes in color based on the selected power mode. For biometrics, there's also an IR camera with Tobii support.
As for the IO, that's conveniently lined around the edges and the rear of the laptop. Compared to the Legion Pro 7i, there are two USB-C ports with Thunderbolt support here, and there's finally an SD card reader on the left edge. Suposedly a fast one. So there's nothing to complain about here when it comes to the selection of ports. The ports' markup on the back doesn't seem to be backlit, but I can't tell for sure.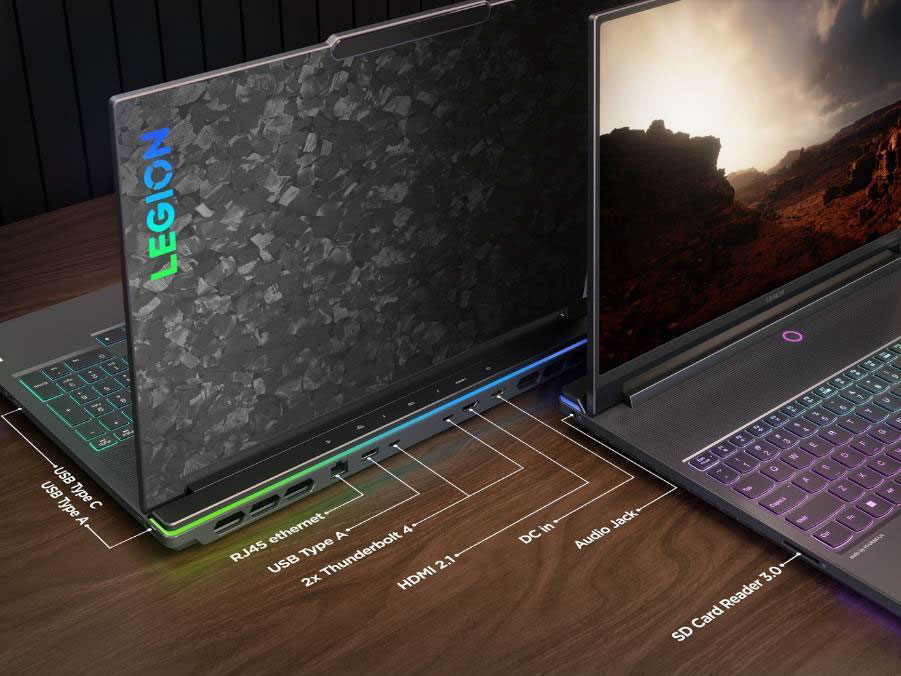 I should also mention that the Legion 9i is one of the very first laptops to ship with Wireless 7 connectivity and Bluetooth 5.3. via a Mediatek 380 chip. There's also a LAN port, and hopefully a 2.5G chip inside (to be confirmed).
Finally, you should also be aware that the speakers on this Legion 9i don't seem to have changed significantly from the ones implemented on the Pro 7i, which means you're still getting 2x 2W bottom-firing speakers here, which are OK for everyday use, but nowhere near on par with the more complex audio implementations offered by most competitors in the premium gaming space.
Lenovo Legion 9i – Display and inputs
At last, there's a Legion with a proper modern display.
Lenovo offer a mini LED panel for this Legion 9i series, with 3.2K resolution, 1200-nits of peak HDR brightness, and 100% DCI-P3 and AdobeRGB color coverage.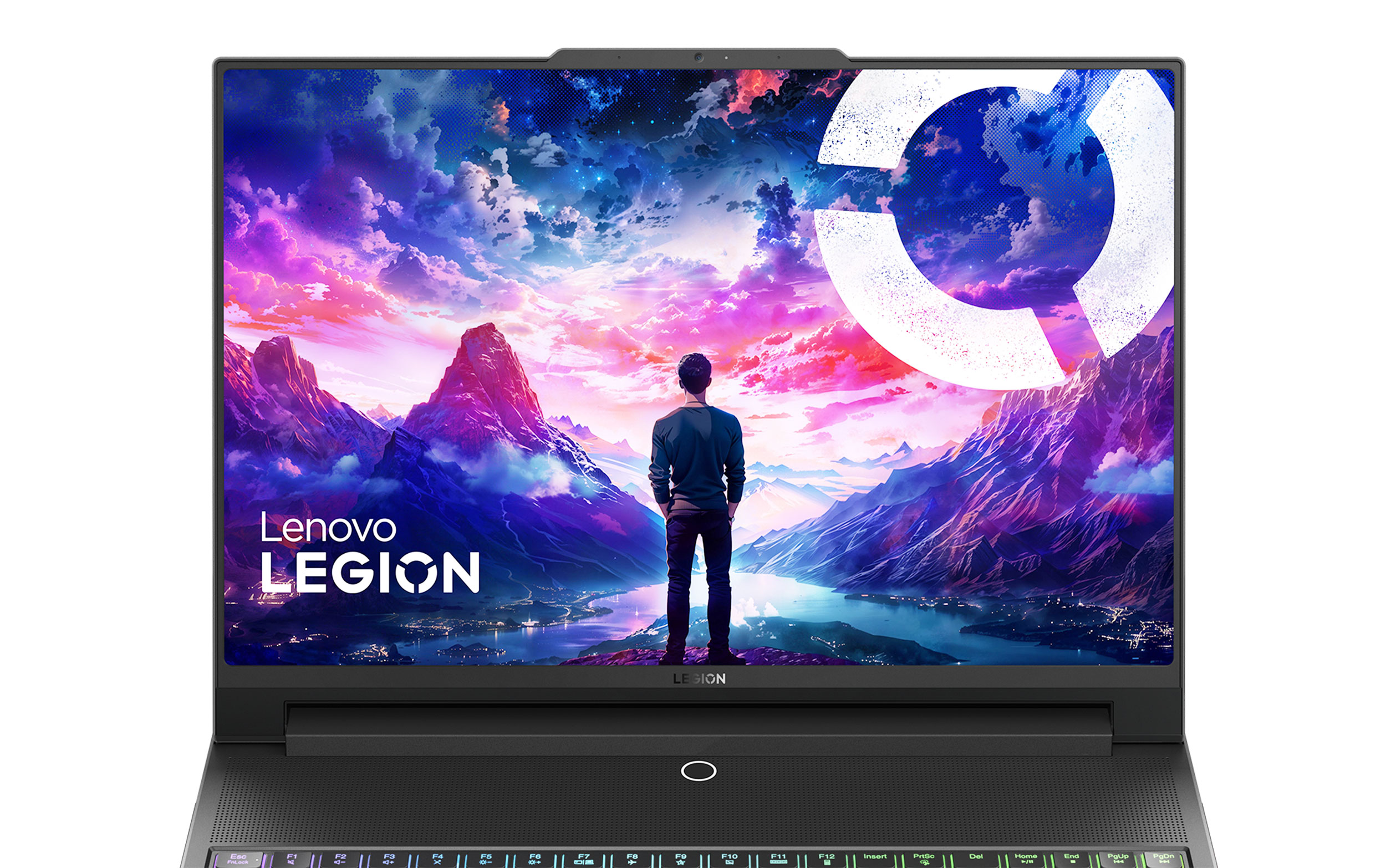 This display is higher-res and slightly better in gamut coverage than the QHD+ mini LED panels offered by the competition, making it an excellent option for multimedia and creative use. You'll just have to double-check on the uniformity of this implementation, as dimming zones can interfere with uniformity and accuracy in color-sensitive activities, based on our experience with other mini LED devices.
As far as I can tell, this display should work in the same way as on the MSI Titan GT77 and Lenovo Slim Pro 9i creator laptop, which means it uses single-zone backlighting for SDR (with about 500-nits on peak brightness), and multi-zone for HDR content. Alex from NBC talks about this in the following video preview.
Furthermore, this seems like an excellent display for gaming, with fast response times, 165 Hz refresh rate, and G-Sync support. It's only 165Hz, and not 240Hz as other mini LED options, but that's still perfectly fine for most users, unless you're in that .0001% of professional gamers.
For what is worth, Lenovo also mention in their press materials an LA-2 AI chip that "interfaces with the display to track frames-per-second and automatically adjust power to the GPU and CPU, ensuring maximum FPS no matter the gaming scenario". This is also supposed to sync the visuals on the display with the RGB lighting of the keyboard and the LEGION logo on the lid. At this point, I can't tell whether any of these would mean anything significant in actual use, or they're just marketing…
Speaking of the keyboard, that's identical to the one implemented on the Legion Pro 7i, with a full layout, nicely spaced out full-size arrow keys, and per-key RGB control through the Spectrum app. I found it a bit shallow compared to nother keyboards available on gaming laptops, but I guess that's to be expected in a thinner device such as this one.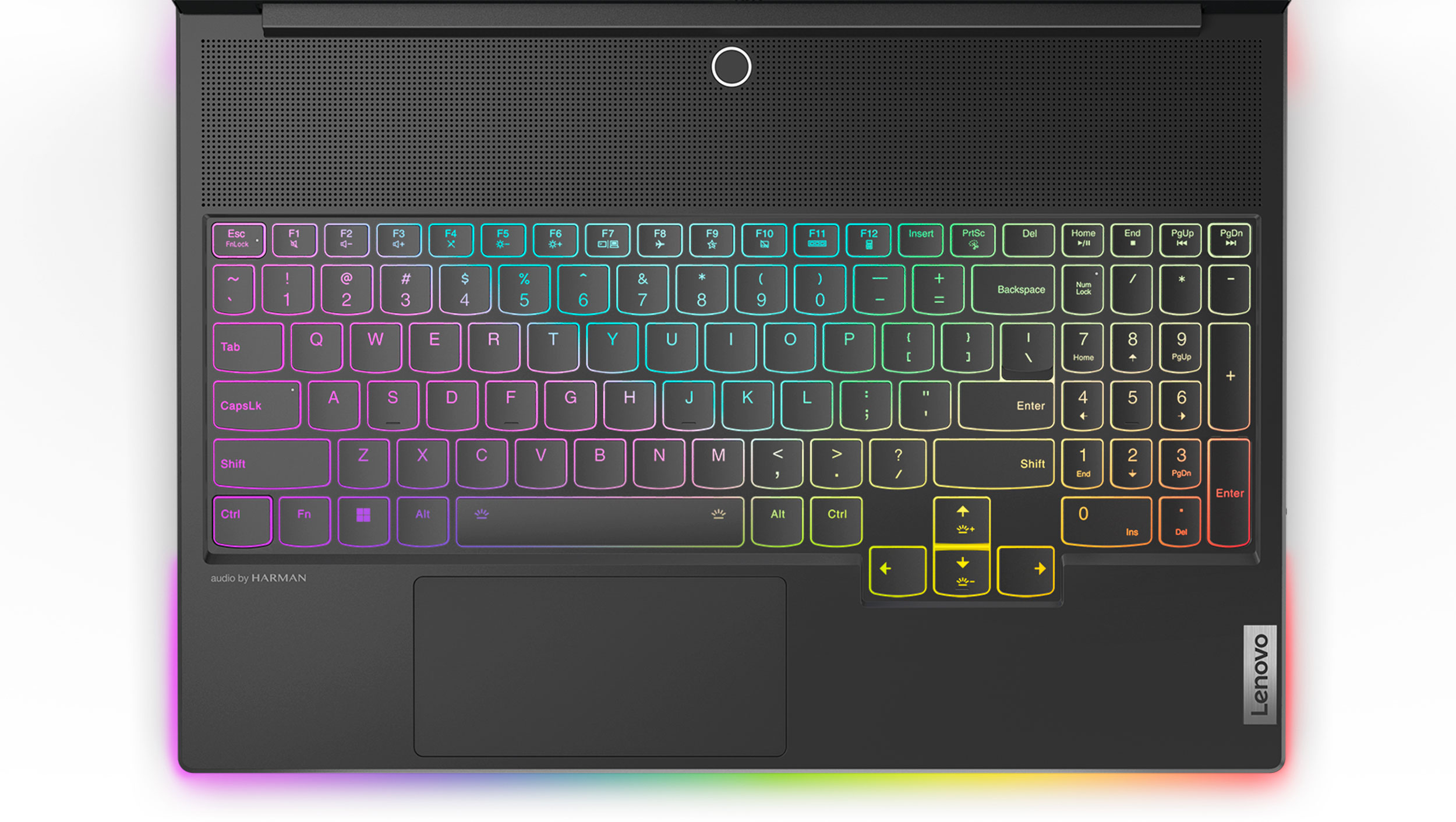 The clickpad, on the other hand, is shorter and much wider than on other Lenovo devices. I've seen similar designs on MSI and HP ultraportables, but not on a performance laptop such as this one. We'll have to see if this is any good. I expect this to be made of glass, and not plastic, as on the other 2023 Legion models.
Lenovo Legion 9i – Hardware specs and capabilities
On paper, this Legion 9i is the fastest hardware configuration available on a Lenovo laptop today, with an Intel Core i9-13980HX processor, 32 GB of DDR5-6400 memory, PCIe gen4 storage, and an RTX 4090 running at up to 175W on power with Dynamic Boost. It's also one of the fastest performance notebooks available from any brand, despite its rather portable format.
As a side note, the internal motherboard design seems to be reversed, thus access to the RAM slots is going to be difficult. The two SSD slots, however, are accessible from the underside.
Now, the same RTX 4090 is also available in the Legion Pro 7i series, but that can only be specced to an Intel Core i9-13900HX processor and DDR6-6000 memory. These wouldn't matter in actual use, though, if not for the completely different cooling design implemented on this Legion 9i.
I must warn you that at this point, there's no way to tell for sure yet if this is a better design than what Lenovo offer with the Legion Pro 7i. It is different, though, but at the same time the 9i is also a thinner chassis, so you'll have to wait for our review for a more in-depth opinion on this implementation.
For now, though, let's discuss the internal and cooling design.
First of all, it looks like the Legion 9i draws most of the fresh air from the top of the laptop, through that ample mesh grill space above the keyboard. That means that using this laptop flat on a desk might not have the same impact on internal temperatures as on the Legion Pro 7i, where most air comes from underneath the chassis and the fans are slightly choked up, thus placing the laptop on a stand is recommended for proper cooling.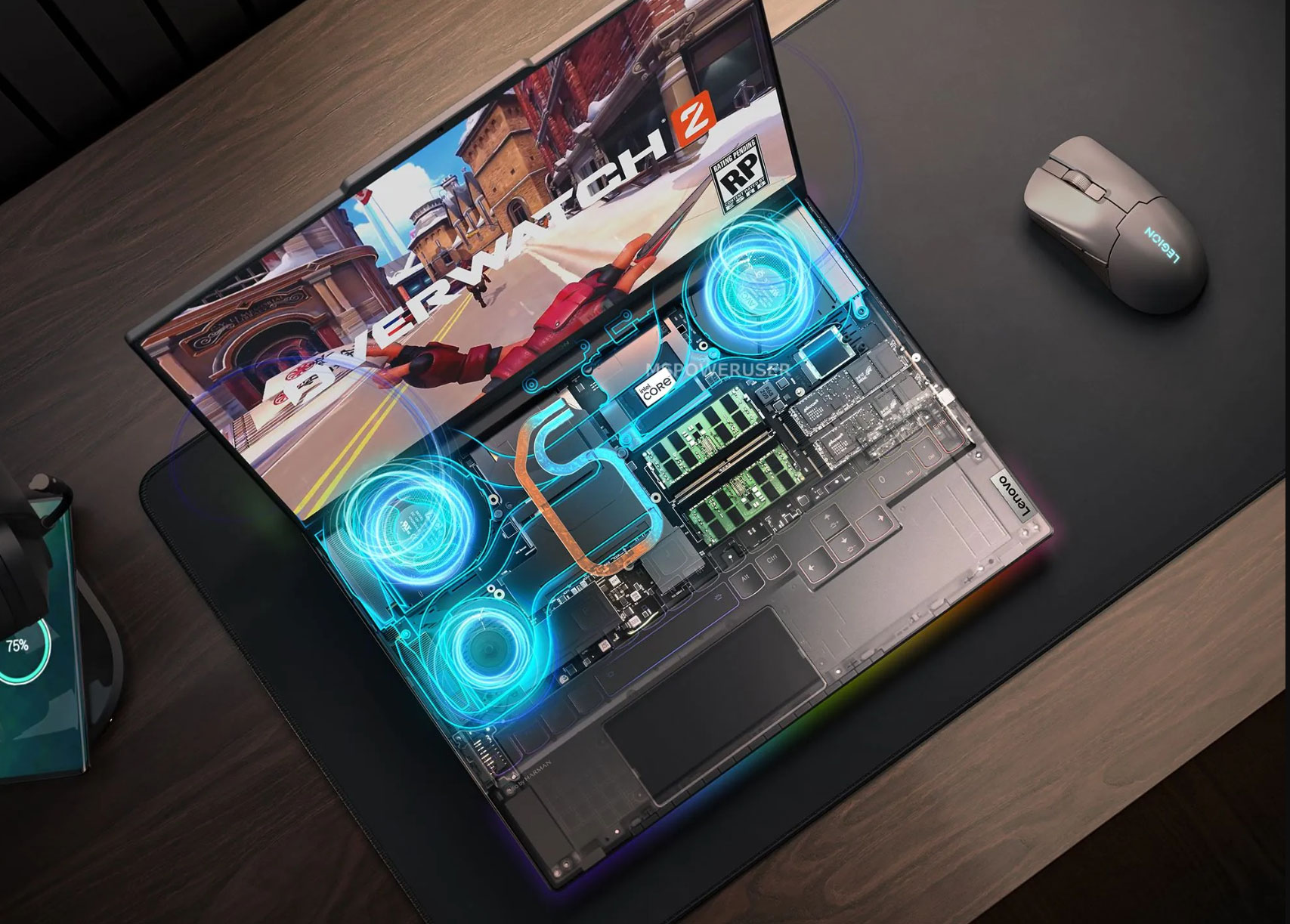 Then, there are three fans inside this laptop, as well as five radiators: two on the back, and three on the left and right sides. However, the side radiators are much larger than on the Pro 7i, as allowed by the larger footprint of the 9i's chassis.
On top of these, the icing on the cake is a so-called "self-contained liquid-cooling system". As far as I understand, in addition to the standard array of heatpipes, there's an extra liquid-cooled loop that goes over the components, where a tiny pump pushes liquid agent through a heatpipe to help tame the CPU/GPU at the highest of loads. Sources at the Legion 9i launch event in China mention that this liquid-cooling loop only kicks on once the system reaches temperatures over 84 C, but that's vague and doesn't properly explain how this is supposed to work. I'm not attending the European launch event in Berlin this year, so I can't offer hands-on info at this point, but will update this section with new info as available.
Lenovo are mentioning a high peak-TDP for the Legion 9i, throwing a 230W TDP number in their press materials. In comparison, the Legion Pro 7i goes up to 190W peak TDP, but other i9-13980HX can reach 200++ W in other laptops as well. However, I'd be more interested in the sustained TDP in sustained CPU loads, where the current Pro 7i felt a little shorter compared to some of the competing Core i9 HX configurations.
All in all, in broad terms, this liquid-cooling system is designed to offer a boost in cooling capacities at high load, but will otherwise remain dormant with most activities. I'm looking forward to testing this out for the review, as well as finding out how this Legion 9i performs in benchmarks, workloads, and games, and how it fares in terms of thermals/noise levels in comparison to the Legion Pro 7i models that we've already tested.
All these aside, I should also mention that Lenovo aren't skimping on the battery size on the Legion 9i, which still bundles the 99.99 Wh battery available on other premium Legion devices, paired with the 330W GaN charger. This is smaller than a traditional charger of this capacity, while allowing for faster charging times (0-70% in 30 minutes).
Wrap-up and availability
The Lenovo Legion 9i is expected in stores around October, starting at 4399 USD in the US, and probably around 5000 EUR in this part of the world. That's most likely for a top-specced configuration with the i9-13980HX processor, 32 GB of RAM, 2 TB of storage, the RTX 4090 dGPU, and the mini LED display. There won't be lesser specced models. And there's no AMD Ryzen 9 HX variant either.
Now, that's a lot of money for a laptop, even for a top-specced one. As of right now, early September 2023, RTX 4090 16-inch laptops are available for a wide range of prices: the Legion Pro 7i and the Alienware m16 for around 3k, the Alienware x16 for 3.3 K, the ROG Scar 16 mini LED for around 3.5K, or the Razer Blade 16 4K mini LED for 4.3K. Sure, the Lenovo Legion 9i is the new guy in town and will most likely go down in price over time. It's also thinner than most of the other devices with similar specs. But it's still a very expensive piece of tech.
I'll have to spend some time with it and put it through the proper review procedure before drawing conclusions on its worth. As of right now, I'm not entirely sold on the design and ergonomics, but that 3.2K mini LED display and the combo of specs and cooling solution might be enough to put this towards the top of the list in its niche of high-tier performance/gaming notebooks. As long as that thermal module delivers on its promises. We'll see.
In the meantime, get in touch down below and let me know what you think about this 2023 Lenovo Legion 9i, and whether there's anything in particular that you might be interested for us to check out in the review.
Disclaimer:
Our content is reader-supported. If you buy through some of the links on our site, we may earn a commission.
Terms
.