In this article, we're discussing the 2023 Asus ROG Strix Scar 16 G634 and ROG Strix Scar 18 G834 lineups, the most powerful ROG – Republic of Gamers laptops available this year.
These follow up the 2022 ROG Scar 15/17 generations, which we've reviewed in previous articles (here for the Scar 15 G533 and here for the Scar 17 G733), and transition towards 16 and 18-inch displays with 16:10 aspect ratios.
They're not just a screen refresh, though, they're entirely new chassis designs with updated inputs and IO, as well as a more capable thermal module required to cope with this year's hardware. As a result, they have gained a few mm in size and thickness in the process, as well as a few hundred grams in weight.
The 2023 Asus ROG Scars remain Intel-exclusive platforms, bundling the fastest Core i9 HX 13th-gen mobile processors of the moment, with up to 64 GB of DDR5 RAM, 4 TB of storage, and various GPU options going up to the latest Nvidia GeForce RTX 4090 16 GB running at up to 175W TGP.
At the same time, the ROG Scar 17 is still available as a 2023 model, but that is an AMD CPU + Nvidia GPUs configurations, and the main-stream ROG Strix G16 and ROG Strix G18 are also available now, as the mid-specced and more affordable alternatives for the high-end Scars.
Update: Here's our detailed review of the 2023 Asus ROG Scar 18 model, and here's our review of the more compact Asus ROG Scar 16 series. And here's our review of the 2023 ROG Scar 17 update, with AMD and Nvidia hardware.
We'll go over the two 2023 Asus ROG Scars down below, comparing them to each other and to their predecessors, and then we'll follow up with our in-depth reviews in the near future, once these are available in stores.
2023 Asus ROG Strix Scar 16 and Strix Scar 18
Here's the complete specs sheet of these 2023 ROG Scar 16 and Scar 18 models.
2023 ASUS ROG Strix SCAR 16 G634 – review
2022 ASUS ROG Strix SCAR 18 G834 – review
Display
16-inch, 16:10, non-touch, matte
Nebula HDR QHD+ 2560 x 1600 px miniLED,
240 Hz 3ms, 1100-nits, 100% DCI-P3
Nebula QHD+ 2560 x 1600 px IPS,
240 Hz 3ms, 500-nits, 100% DCI-P3
18-inch, 16:10, non-touch, matte
Nebula QHD+ 2560 x 1600 px IPS,
240 Hz 3ms, 500-nits, 100% DCI-P3
FHD+ 1920 x 1200 px IPS,
165 Hz 7ms, 300-nits, 100% sRGB
CPU
Intel 13th-gen Raptor Lake, up to Core i9-13980HX
GPU
Intel UHD + up to Nvidia GeForce RTX 4090 16GB Mobile (up to 175W TGP with Dyn Boost)
with MUX, Advanced Optimus, GSync
Memory
up to 64 GB DDR5-4800 (2x DIMMs)
Storage
2x M.2 gen4 SSD slots
Connectivity
WiFi 6E (Intel AX211) 2×2 with Bluetooth 5.2, 2.5Gigabit LAN
Ports
Left: power, 2.5G Lan, 1x USB-C with Thunderbolt 4, 1x USB-C gen2 (with video, data, power), HDMI 2.1, headphone&mic
Right: 2x USB-A 3.2 gen2
Battery
90Wh, 280/330 W power adapter, USB-C charging up to 100W
Size
354 mm or 13.94" (w) x
264 mm or 10.4″ (d) x
22.6 – 30.4 mm or .89″ – 1.2" (h)
400 mm or 15.75" (w) x
294 mm or 11.57″ (d) x
23.1 – 30.8 mm or .9″ – 1.21" (h)
Weight
from 2.5 kg (5.5 lbs) + charger
from 3.1 kg (6.85 lbs) + charger
Extras
updated touchpad and rubber-dome per-key RGB backlit keyboard (with NumPad on the Scar 18), HD camera, quad speakers, updated tri-fan cooling module
Design changes, screens, and inputs
I got to spend some time with an early prototype of the new Scar 18 and I could compare it side by side with the previous Scar 17. I also got to ask the Asus reps a few questions about the new design.
So down below you'll find a few images that should help you understand what has changed with the 2023 model. Just a heads-up, the main chassis of this engineering Scar 18 unit is transparent, but that is not the final design. Instead, the final model is going to resemble the previous Scars, with a mostly matte finish, and only a partially transparent section.
With that out of the way, the Scar 18 is a little larger and thicker than the previous Scar 17 model. For me, these aspects don't really matter on this sort of full-size computer that's going to spend most of its time on a desk anyway, especially when considering the advantageous consequences: a bigger display and extra interior space that leads to higher performance in games/workloads.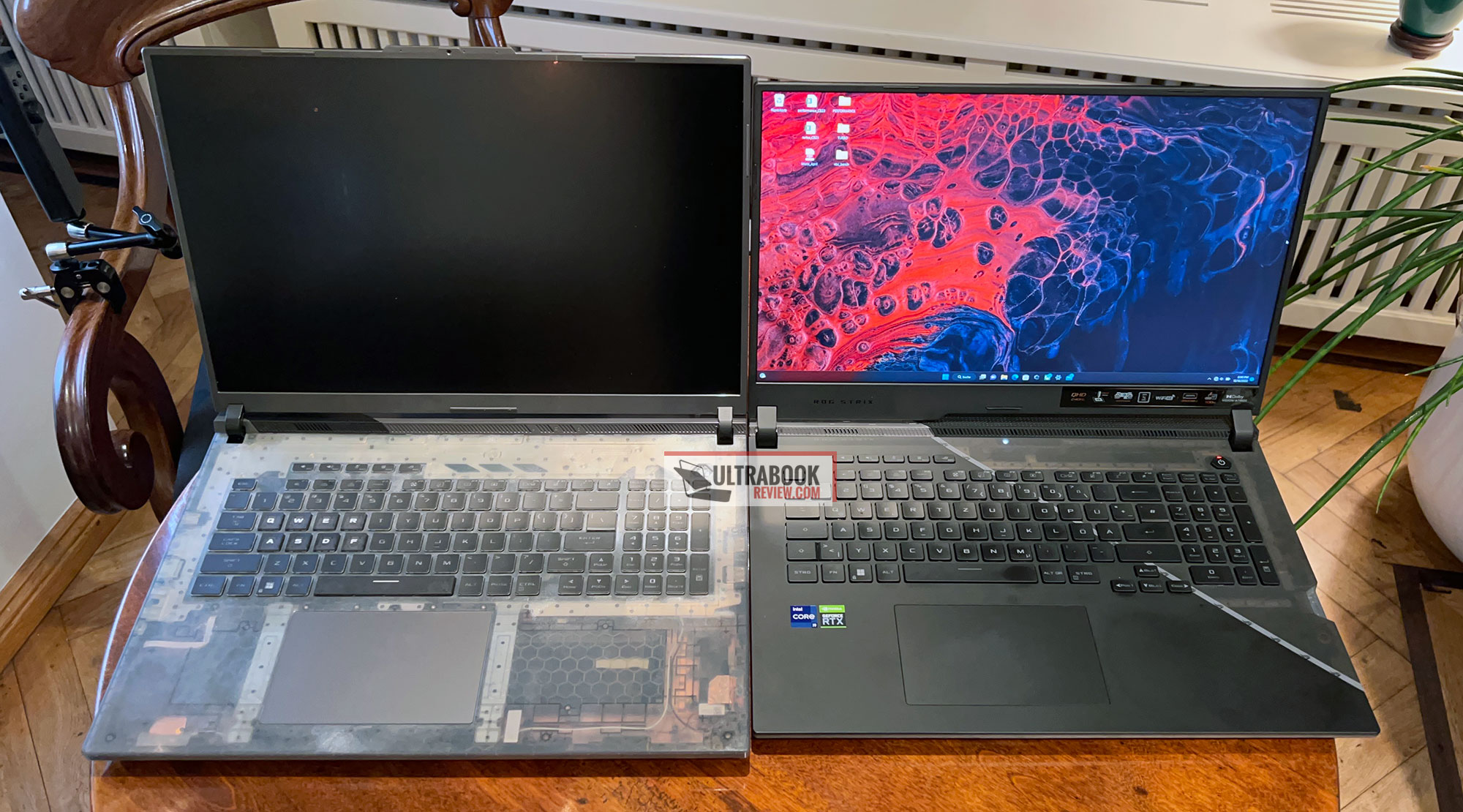 Sure, the mid-sized Scar 16 model is also a little bigger, heavier, and thicker than the Scar 15, but is comparable in volume to the competition in the 16-inch performance segment, such as the Lenovo Legion 5 Pro and Legion 7 lineups.
In fact, I do preffer having a bigger 16:10 display on these laptops, and the extra screen real-estate is noticeable on both sizes. The smaller bezels are noticeable as well.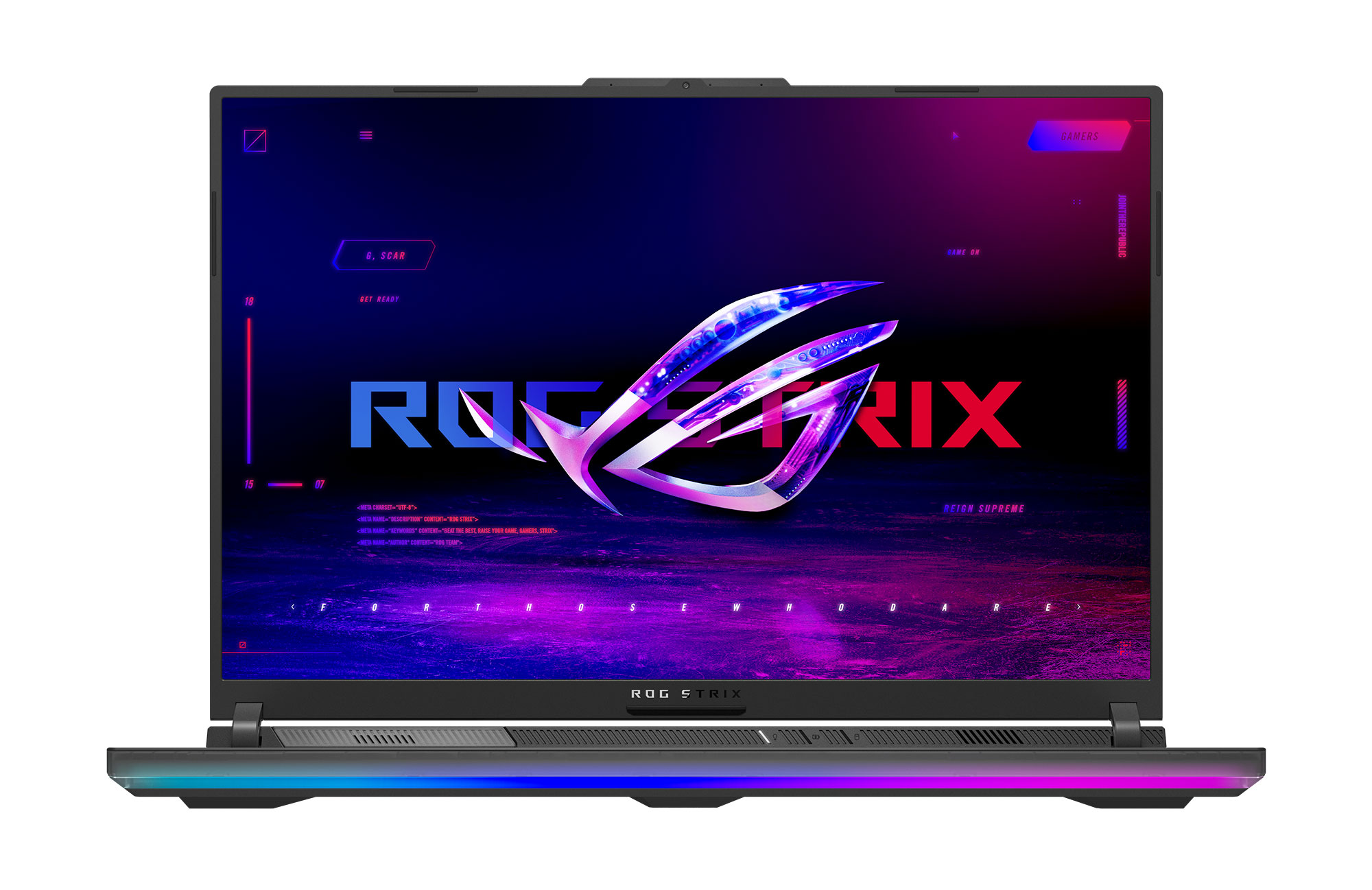 As far as the actual choice in panels goes, Asus put their Nebula HDR mini LED panel on the Scar 16, a refined variation of the miniLED panel that we've seen on the 2022 ROG Flow X16 and Zephyrus Duo 16, this time around with 1024 dimming zones (compared to 512 zones in the past). This is still a very bright panel with up to 1100-nits peak HDR brightness (900-nits SDR) and beautiful colors with 100% DCI-P3 color coverage. Furthermore, this is also perfectly suited for gaming, with the 1600p resolution, 240Hz refresh, and 3ms response time.
There's no such miniLED panel on the Scar 18, which instead can be specced up to an 18-inch Nebula IPS panel with 500 nits of peak SDR brightness, but otherwise similar colors and gaming capabilities. Both these panels are pretty much the best you can find these days in the 16 and 18-inch segments.
That aside, the other notable design change with these 2023 Scars is represented by the updated cooling module.
This new iteration includes 7 heatpipes, triple fans, and a long radiator that spans alongside the entire back edge (called the Pulsar heatsink), in addition to the extra two side radiators. This design is a beefed-up variation of what Asus implemented on the 2022 ROG Flow X16 series, with the full-length back radiator and the extra middle fan that pulls fresh air over the main components.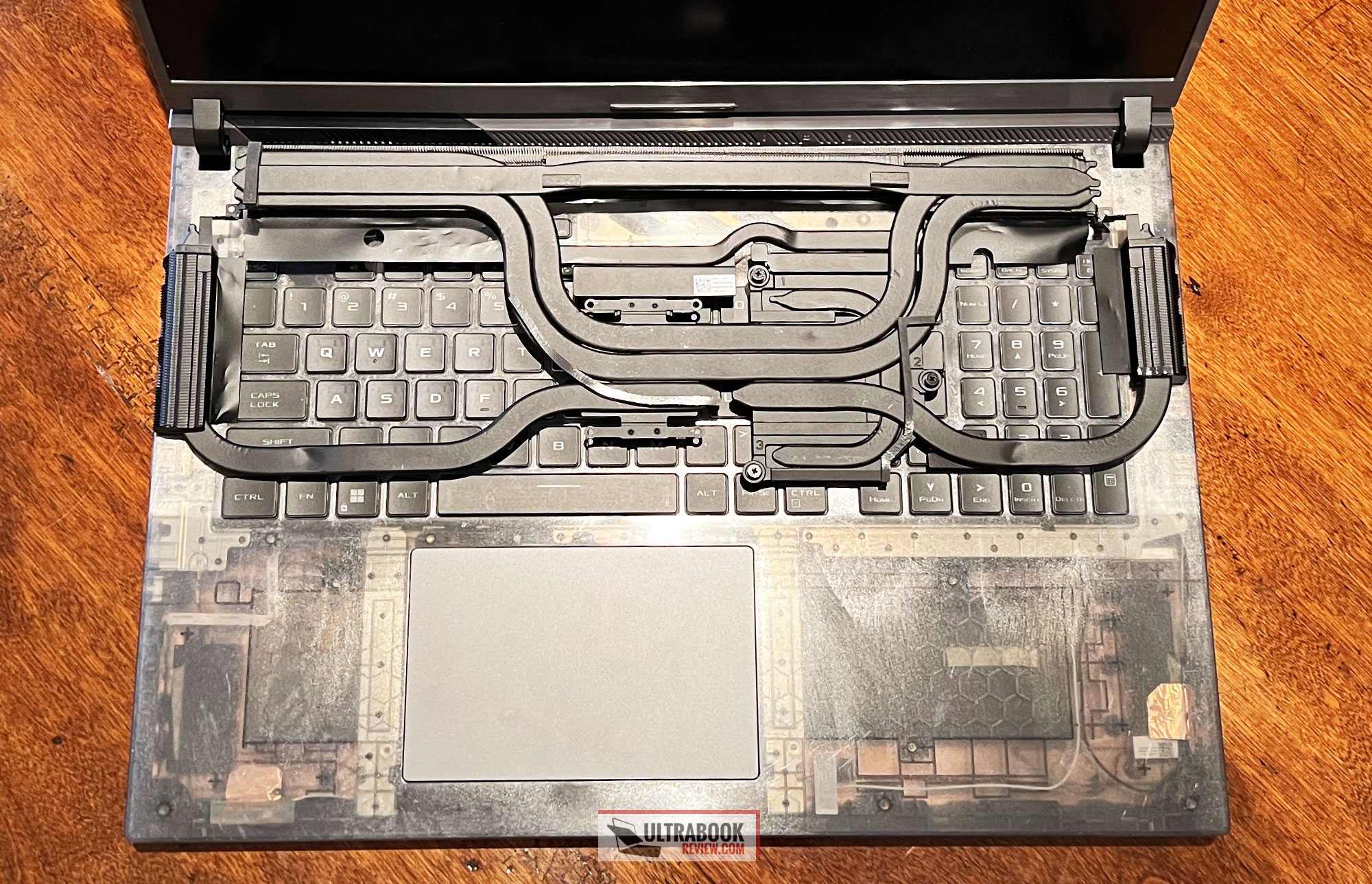 On the Flow, this sort of cooling allowed for excellent temperatures and quieter fan noise than on regular dual-fan Asus cooling implementations. Over here, we'll have to wait for some proper reviews before drawing any conclusions. What we do know for now is that Asus are able to implement higher power settings in these 2023 Scars than on the previous models, thanks to this updated thermal module. We'll get to that in a bit.
First, though, there are a few other aspects that I wanted to touch on.
On the construction side, these 2023 ROG Strix Scar laptops are a familiar design, with a soft-plastic main chassis, hard-plastic bottom and sides, and a metal lid. Based on past experience, expect the whole chassis to feel sturdy and durable, but also the arm-rest and keyboard area to smudge easily and perhaps not feel as premium as the metals implemented by the competition. At the same time, though, a plastic main deck is less heat-conductive, so allows the laptops to keep cooler to the touch in demanding loads.
That aside, with the updated cooling module, all the ports are now lined on the left/right edges, without any connectors on the back anymore. That's not ideal, and I would have at least appreciated having the PSU on the back. I sure don't mind that the useless Keystone was cut out and replaced with USB-A ports on the right edge, though.
As far as the actual ports go, there's pretty much everything you'll want on these laptops, with still the exception of a card reader and some sort of Lock. Most of the ports are lined on the left edge.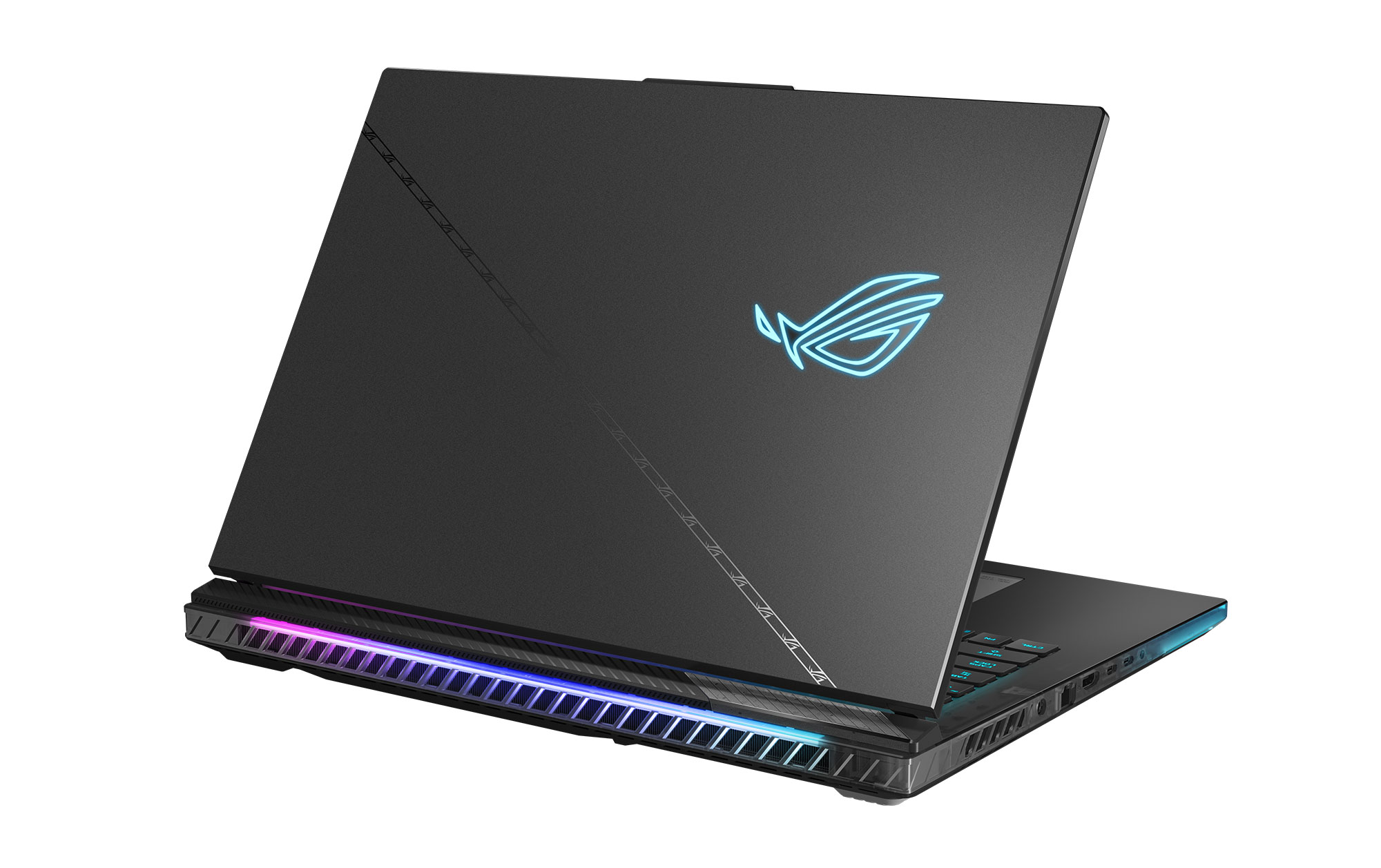 I'll also mention that Asus are still implementing status LEDs under the display, in the line-of-sight and most likely annoying when using the laptop at night or when watching movies. I sure wish they'd put them anywhere else.
You're also getting 4x speakers on these laptops, two under the screen and two on the bottom, as well as a handful of RGB lightbars around the main chassis and behind the display. BTW, Asus gave up on that rather ugly cutout in the screen's bottom bezel, which is now a full-piece instead, and implemented a camera at the top of the screens on both models, on that reversed notch part that also acts as a screen-leaver when opening up the laptop.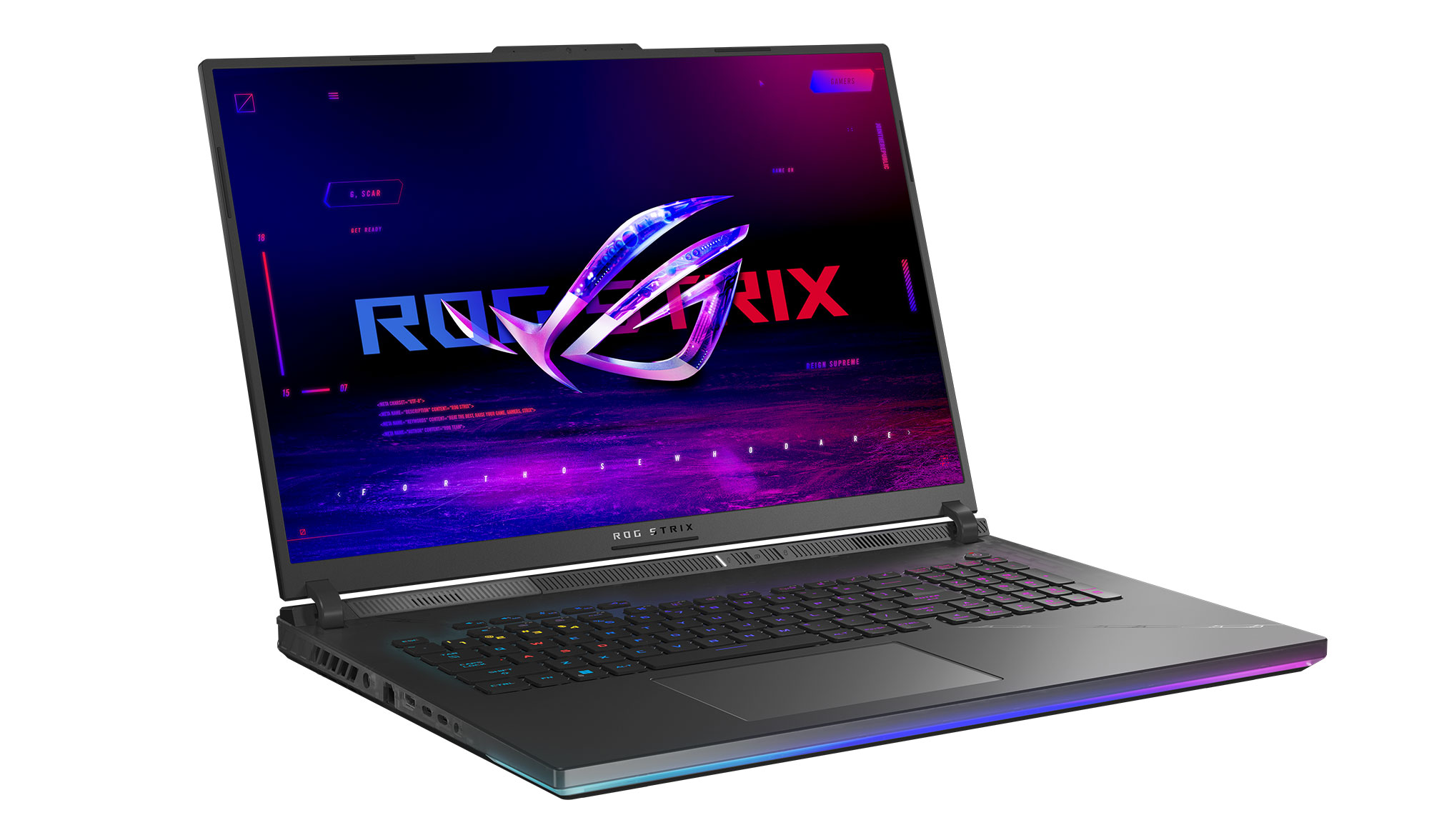 And then there are the inputs, which have been slightly updated as well.
The keyboard is still a rubber-dome design with adequate travel and per-key RGB control, but the novelty is a slight layout change around the arrow keys, which are now full-size instead of miniaturized as in the past, but at the same time squeezed in between the other keys, and no longer spaced out. I'm not sure how I feel about this update, I'll have to spend more time with the keyboard before making up my mind about it.
The clickpad is a spacious surface on both, taller now than on the past Scars, and with NumberPad functionality on the 16-inch model (which lacks a NumPad keyboard section).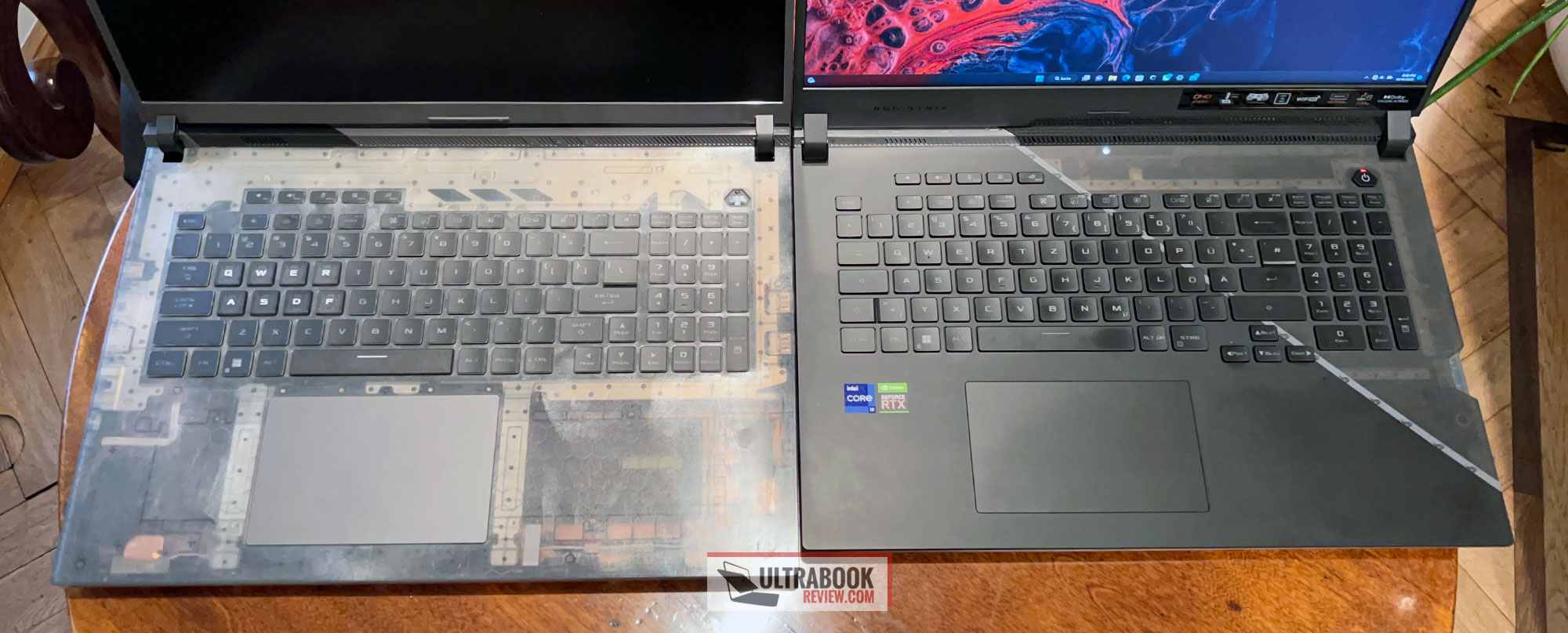 Now, if you don't like all these design/ergonomic changes, tough luck, as most of the Strix Scar and Strix G 2023 models are built on these lines.
That leaves you with the Scar 17 and Strix G17 as the only 2023 models built on the previous chassis, but these are only available with AMD processors and Nvidia graphics. You are giving up on the 18-inch screens, though, and there are no mid-sized 15-inch variants available either. You're also giving up on the updated tri-fan thermal module, but you're getting an interesting vapor-chamber cooling module on the Scar 17.
Hardware specs for the 2023 ROG Scars
The 2023 ROG Strix Scar 16 and Scar 18 models are exclusive Intel 13th-gen Raptor Lake Core HX platforms with Nvidia graphics.
Asus will mostly offer these Scars in top-tier configurations with a Core i9-13980HX processor and RTX 4080 12GB and RTX 4090 16GB dedicated graphics chips, with up to 64 GB of DDR5 memory and 4 TB of SSD storage (2x M.2 drives). The novelty for this generation is the higher sustained power on both of the main components, with the graphics TGP going up to 175W with Dynamic Boost. For comparison, 2022 Scars were only able to run at up to 150W TGP.
Furthermore, both these Scars are an up to 230W total power crossload design: 55W CPU + 175 GPU. For reference, a few other performance laptops are 250W total power designs, such as the MSI Raider GE78, with the difference being on the CPU side.
All these are mostly a consequence of the updated cooling described in the previous section. The higher-tier Thermal Grizzly Conductonaut Extreme liquid metal compound is also applied on both the CPU and GPU on these models.
Update: Here are the configurations available for the Asus ROG Strix Scar 16 and Scar 18 (2023) series:
Asus ROG Strix Scar 18 G834JY / Scar 16 G634JY – Intel Core i9-13980HX + RTX 4090 175W + QHD display;
Asus ROG Strix Scar 18 G834JZ / Scar 16 G634JZ – Intel Core i9-13980HX + RTX 4080 175W + QHD display.
There's another notable novelty for the 2023 ROG laptops: a MUX with Advanced Optimus is now implemented, which means you no longer have to restart the systems when switching between the hybrid and dGPU modes. This also means G-Sync is now supported on the main displays of both laptops on the dGPU mode, with some potential benefits in certain games over the ActiveSync implementation of the past.
We'll know more about the performance of these news specs in these updated implementations once we get to review the 2023 Scars, somewhere in the next few weeks. We'll also carefully look into the thermals and noise levels of these designs, on the various power profiles offered in Armoury Crate.
One final aspect worth mentioning here regards the battery and charger. There's still a 90 Wh battery inside this laptop, but the choice in chargers goes up to 330W now, in order to cope with the increase in platform power. The laptop can still charge via USB-C when needed, but of course, won't work at full capabilities on USB power.
As far as availability goes, that's going to vary between regions, but I'd expect the ROG Strix Scar 16 G634 and Scar 18 G834 models around February-March in most markets. It's early to discuss exact prices, but given our experience with the previous models, I expect to see the i9 + RTX 4090 configurations go for 4000++ USD/EUR.
Update: Here's our detailed review of the 2023 Asus ROG Scar 18 model, and we'll follow up with our take on the more compact Scar 16 in due time.
Anyway, I'll update the article as we find out more. In the meantime, I'm looking forward to your thoughts on these 2023 Asus ROG Scar 18 and Scar 16 laptops, so let me know what you think about them in the comments section below.
Disclaimer:
Our content is reader-supported. If you buy through some of the links on our site, we may earn a commission.
Terms
.