In this article, we're discussing the 2023 Acer Predator Helios 16 and Predator Helios 18 lineups of full-size gaming/performance laptops, the most powerful Acer laptops available so far for the 2023 generation.
We've reviewed the Predator Helios notebooks over the years and watched them evolve and improve.
The 2023 generations are brand new designs, both on the outside, where the aggressive Predator branding elements of the past have been tamed down to some extent, and on the inside, with refreshed specs and updated thermal modules. They're also the first Predator Helios laptops available with 16:10 displays and a selection of modern panels, including miniLED options with zone dimming.
Internally, these Helios models are built on the latest Intel 13th-gen Core HX and Nvidia RTX 4000 specs, with capable cooling designs, upgradeable memory and storage, and big batteries.
I also appreciate that Acer simplified the naming of these updates. In the past, they used to offer Predator Helios 300 and Helios 500 models, in either 15 or 17-inch sizes, and now they brought them all together into the mid-sized all-purpose Helios 16 and the full-size desktop replacement Helios 18. They're also simplifying the updated Acer Nitro 16 and Nitro 17 lineups discussed in this article.
Down below we'll further go over the important features and novelties of these two Predator Helios 2023 models, and then we'll follow up with our detailed reviews in the next few weeks.
2023 Acer Predator Helios 16 (PH16-71), Helios 18 (PH18-71)
Here's the complete specs sheet of the 2023 Acer Predator Helios 16 and Predator Helios 18 models. We're still filling up the blanks on certain aspects, so look for updates in the very near future.
2023 Acer Predator Helios 16 PH16-71
2023 Acer Predator Helios 18 PH18-71
Display
16-inch, 16:10, non-touch, matte,
QHD+ 2560 x 1600 px, miniLED – 1024 dimming zones, 250 Hz 3ms, 1000+ nits, 100% DCI-P3
QHD+ 2560 x 1600 px IPS, 240Hz or 165Hz 3ms
18-inch, 16:10, non-touch, matte,
QHD+ 2560 x 1600 px, miniLED – 1024 dimming zones, 250 Hz 3ms, 1000+ nits, 100% DCI-P3
QHD+ 2560 x 1600 px IPS, 240Hz or 165Hz 3ms
FHD+ 1920 x 1200 px IPS, 165 Hz 7ms, 300 nits, 100% sRGB
Processor
Intel 13th gen Raptor Lake, up to Core i9 HX
Video
Intel UHD + up to Nvidia GeForce RTX 4080 12GB (up to 165W with Dynamic Boost)
with MUX, Advanced Optimus, GSync
Memory
up to 32 GB DDR5-4800 (2x DIMMs)
Storage
2x M.2 PCIe gen4 2280 slots
Connectivity
WiFi 6E (Killer AX1675) 2×2 with Bluetooth 5.2, 2.5Gigabit LAN (Killer E2600)
Ports
3x USB-A 3.2, 2x USB-C with Thunderbolt 4, HDMI 2.1, LAN, headphone&mic, microSD card reader, Lock
Battery
90 ?? Wh, 280 W power adapter, USB-C charging ??
Size
to be updated
to be updated
Weight
to be updated
to be updated
Extras
miniLED per-key RGB backlit keyboard with NumPad on both sizes, FHD 2MPx IR webcam,
Much like the previous generations, these Predator Helios models are by no means portable designs, but full-size computers with uncompromised features, specs, and cooling. Acer's design language resembles what other OEMs are doing with their similar laptops, with a hump at the back behind the display, designed to integrate most of the cooling and some of the IO. This bump is more pronounced than on the previous Helios models, and also incorporates most of the RGB lighting available on these models.
Acer haven't yet shared the exact dimensions and weight of these laptops, but expect them to be in line with the competition, at 2.7+ kg for the Helios 16 and 3+ kg for the Helios 18. I'll update the specs sheets above in the next few days.
For what is worth, the Predator Tritons are Acer's more portable performance models, but those have not been yet updated for the 2023 generation.
I was mentioning earlier the refined looks of these 2023 Helios lineups, with minimal branding elements on the lid and under the screen. The whole chassis looks clean and sober, and specific details such as the Turbo button, the air grill above the keyboard, or the way the touchpad integrates with the armrest around have been refined with this generation in comparison to the previous models. Aesthetically, these Predator Helios notebooks have come a long way for Acer gaming laptops, although the whole design around the rear hump is still rather questionable.
I expect metals to be used for the entire chassis, the kind that should feel premium to the touch and ensure a sturdy build. Acer are still implementing some sharp edges and corners in their products, though, the kind that can bite into your wrists, especially on these sorts of thicker chassis.
That aside, both the Helios 16 and the Helios 18 implement the same set of inputs, with a full-size keyboard with a NumPad section and full-size arrows on both. This keyboard uses miniLEDs for full per-key RGB control and is a 1.8 mm stroke-depth design with anti-ghosting N-key rollover technology, so appears to be similar to the keyboard implemented in the previous Helios models, and reviewed here. The touchpad, on the other hand, looks like a larger surface and hopefully is made out of glass this time around. No word on any biometrics on this generation.
No word on updated speakers, either, which have been a weak point of the Predator laptops over the years.
That aside, these two Helios notebooks also implement the same set of ports, with the PSU, HDMI, and USB-C – Thunderbolt 4 ports positioned on the rear edge, and the other ports placed on the left/right edge. There's everything you'll want here, except for a full-size SD card reader.
Here are some preview images of the 16-inch Predator Helios 16 model.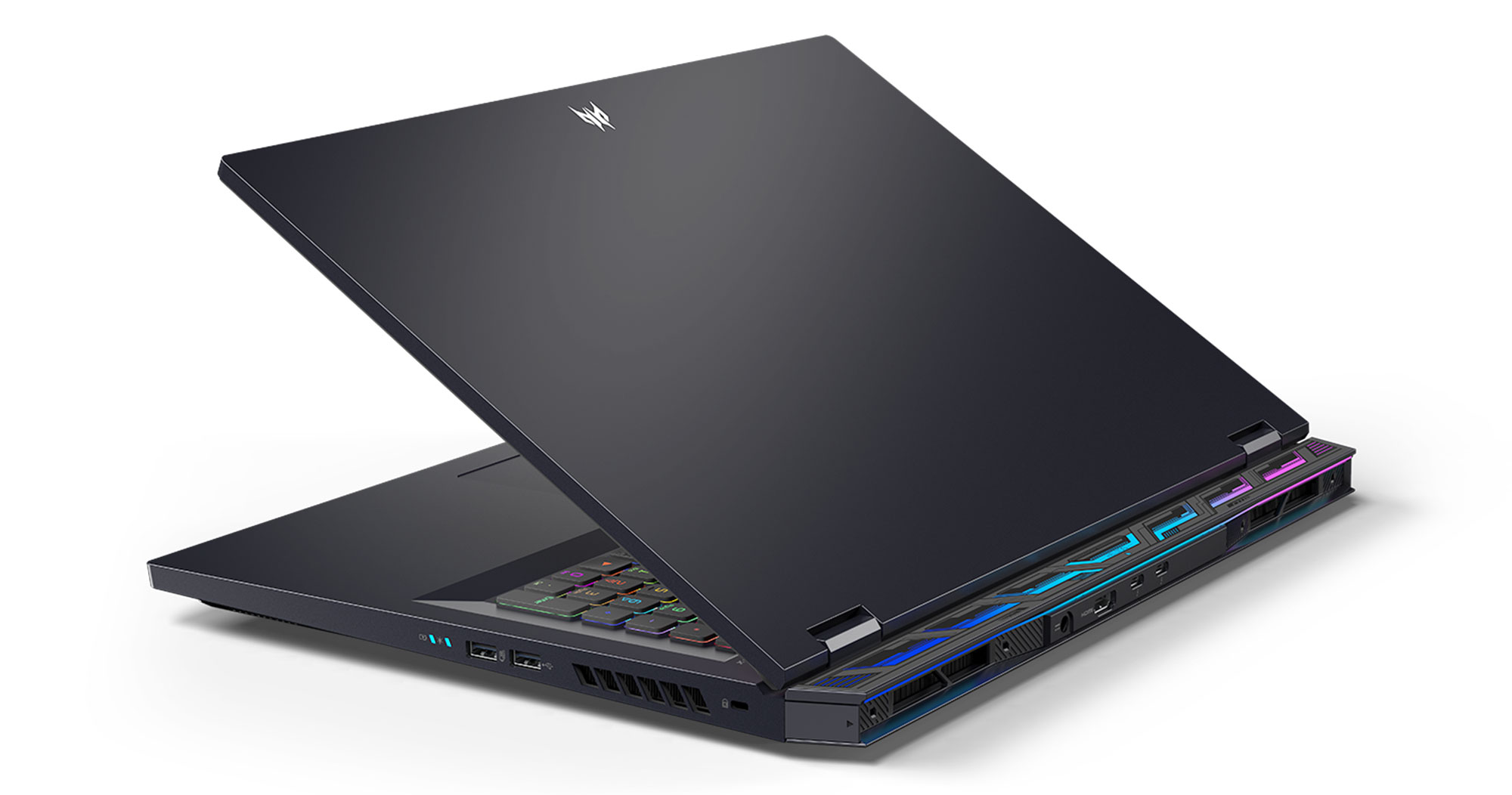 And here are some images of the larger 18-inch Helios 18 variant.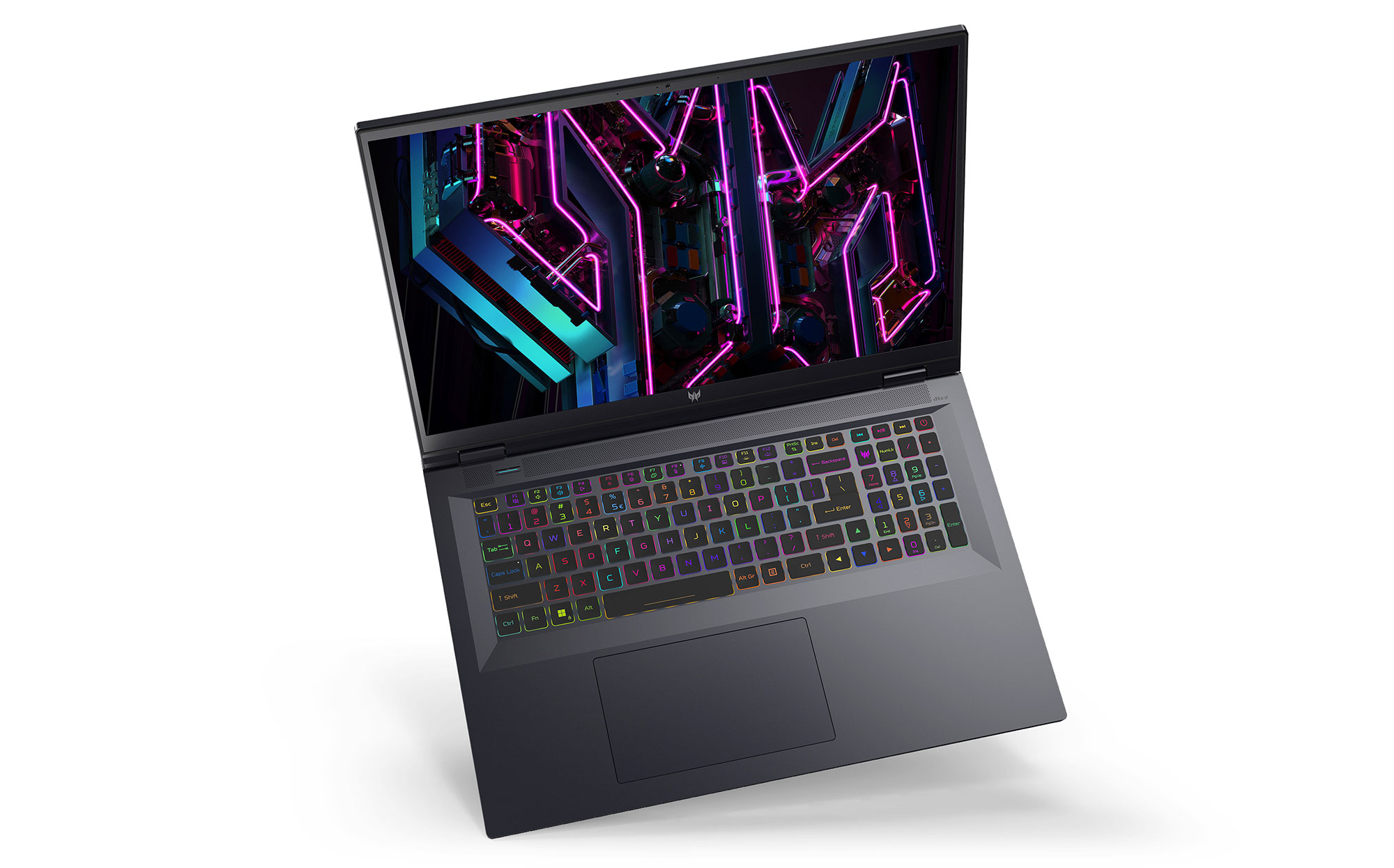 The two are identical designs, with a larger chassis and extra space on the 18-inch model.
The screens are 16:10 formats on both, with mid-sized bezels and cameras/mics at the top. Not sure if those hinges allow for 180-degree back angles, but I'm hoping they do.
Acer mention a handful of different panels available for the two sizes, both toping at miniLED panels from AU Optronics with 1000 dimming zones and 1000+ nits of brightness. We've seen this sort of miniLED panels on other modern 16-inch laptops, but not on the 18-inch models, which can be a potential differentiator for the Helios 18 over its direct competitors. However, these miniLED panels are going to be exclusive for select high-tier configurations, and might not even be available worldwide.
Hardware specs and internal design
Speaking of the configurations, the Predator Helios 16 and Helios 18 are built on Intel 13th-gen Raptor Lake hardware platforms with Nvidia RTX 4000 graphics. Both are running at high power here, with up to Core i9 HX Intel processors and the dGPU going up to an RTX 4080 12GB at 165W with Dynamic Boost – there's no option for the 4090 on these Helios models, though, which I find to be rather weird and could hint at a possible higher-tier Predator in the future.
The internal specs further include 2x RAM DDR5 slots, 2x PCIe gen4 SSD slots, a MUX, and a large-sized battery. Acer haven't mentioned the capacity yet, but I'd expect at least the 90Wh batteries in the previous-gen Helios notebooks.
The press release does mention an updated thermal solution with 5th-gen Aeroblade fans, a complex array of heatpipes, and liquid metal applied to the CPU (and GPU ??).
From what I can tell right now, Acer are still implementing a variation of their dual-fan quad-vent cooling design here, which has worked well in the past, but proved to be noisy on the high-performance Extreme and Turbo profiles. It's probably beefier in these 2023 models, though, as we can tell from the more massive bump at the back of the laptop and the higher GPU power – for comparison, the 2022 Predator Helios 17 implemented a 150W dGPU, while these 2023 updates offer 165W chips.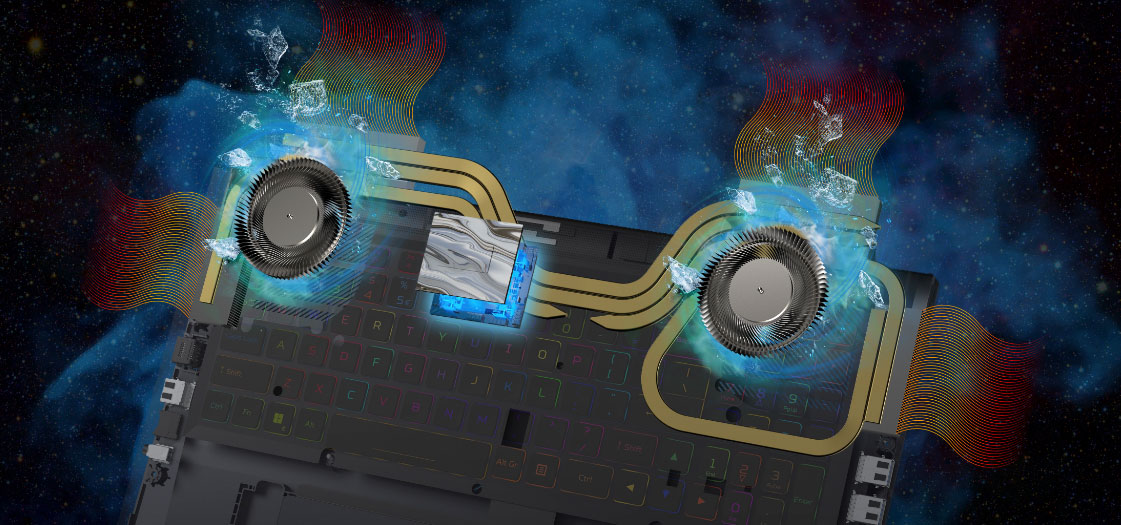 Furthermore, for what is worth, the press materials also mention an updated PredatorSense 4.0 control software on these laptops, which hopefully improve the power/fan settings of the previous generations.
We'll know more in the review, and hopefully, we'll get our hands on review units soon enough, by the time these will be available in stores.
All in all, I'm quite excited by these new Acer Predator Helios generations. Acer laptops have been highly competitive in the mid-range gaming/performance segment in the past, and I'm happy to see the refreshed designs, the 16:10 displays, and the updated specs on these 2023 models.
Pricing and availability
The Predator Helios 16 PH16-71 is excepted in stores in Europe in February 2023, starting at 2399 EUR, and around March in the US, starting at 1699 USD. The exact configurations will vary between regions.
The Predator Helios 18 PH18-71 comes out a little later, in March 2023 in Europe (starting at 2499 EUR) and around April on the North American market (starting at $1599).
That's about it for now, but I'll update the article and fill in the blanks in the near future, and when we start working on the reviews. In the meantime, get in touch down below and let me know what you think about these 2023 Acer Predator Helios 16 and Predator Helios 18 updates.
Disclaimer:
Our content is reader-supported. If you buy through some of the links on our site, we may earn a commission.
Terms
.