Many of the thin-and-light notebooks available these days in stores are 2-in-1 laptops, or convertibles/hybrids, which means that they get some sort of rotating/detachable touchscreen and can be used as standard laptops, as tablets, or something in between.
However, choosing that one convertible that best fits your needs and budget can prove overwhelming, with the multitude of available choices.
We've reviewed hundreds of laptops here on UltrabookReview.com over the last years and gathered our conclusions in this article, in order to simplify this task for you.
We've further split the post into three main sections, so you can quickly narrow down your options. We'll list our recommendations for each class, with links towards more detailed articles and reviews for further research:
top five 2-in-1 hybrids – the condensed version, if you don't want to go through the whole article;
a detailed section on good affordable laptops – for the budget-oriented buyers among you, options priced between $300 and $800;
and another on premium and specialized 2-in-1 ultrabooks – for those of you looking for the best features and traits (includes the best business model, best large-format 15-inch convertible, best gaming 2-in-1, best option for creators and graphics artists, and so on).
Top 5 2-in-1 laptops
Before we get to the actual recommendations, let's quickly touch on the selection process.
Portability was a major factor in our decision, simply because a 2-in-1 is not just meant to live its life on a desk, it's meant to be brought along to work, or school, or wherever you're going, as well as used as a tablet at least occasionally. However, aspects such as build quality, display quality and features, typing experience, performance, battery life, and the overall daily-use impressions were also factored in, and these laptops had to check most of the right boxes to qualify for this condensed version.
At least one of these top options should meet most of your needs, but if you don't find your answer in this summarized section, make sure to go through the more detailed analysis in the following two subsections of this article.
Dell XPS 13 and HP Spectre x360 – the complete 2-in-1 ultrabooks
After reviewing most of the 2-in-1 laptops available in stores, we concluded that these two are our favorite convertible ultrabooks: the HP Spectre x360 13 and the Dell XPS 13 2-in-1.
Both are compact, lightweight, and premium-built computers entirely made out of metal-alloys and bundled with 13-inch screens. As 2-in-1s, they both convert into tablets with touch and pen support, but are at their best as laptops, sitting on a desk or on the lap.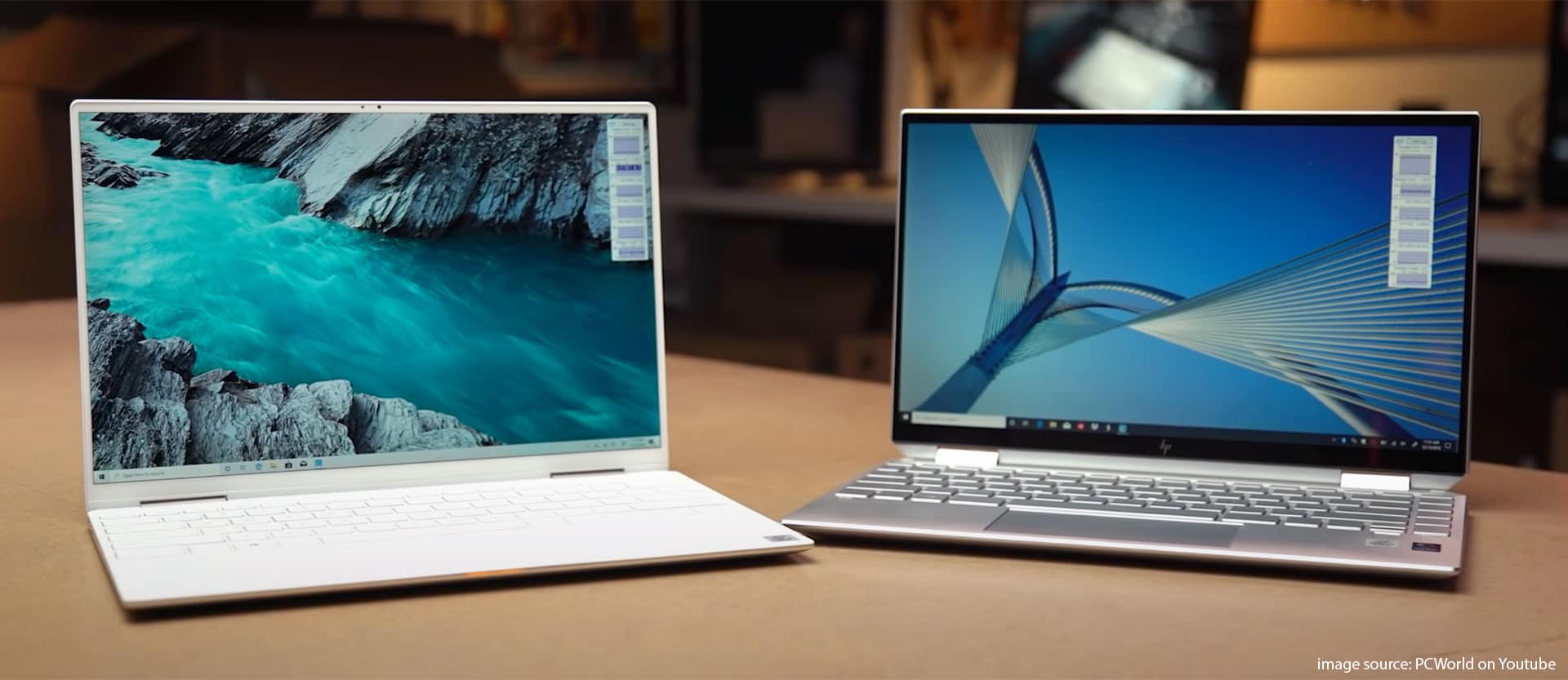 Back to those screens, the XPS has an edge here with a 16:10 display, while the Spectre 13 only gets a traditional 16:9 screen and a thicker chin. However, HP have recently unveiled the Spectre x360 14 as a potential follow-up for those interested in a productive convertible, this one offered with an even taller 3:2 OLED display.
As far as inputs go, HP equips the Spectre x360 with a traditional ultrabook-like chiclet keyboard, and a fairly short glass clickpad. Older XPS 13 models were equipped with a rather mushy Maglev keyboard, but that's no longer the case with the latest update, which now gets a standard chiclet keyboard with rubber-domes as well, the same Dell also put on their traditional XPS 13 series. All in all, both are excellent typers, but the XPS marginally wins with its larger clickpad and slightly more precise tactile feel.
In terms of ports, both gets USB-C ports with Thunderbolt support, and the Spectre is the only one to also offer a USB-A. The Spectre also gets slightly richer and punchier speakers, but both fire the sound through the bottom.
Specs-wise, both are built on Intel Core U hardware platforms, with different power modes available to choose from based on whether your favor improved performance or better-balanced thermals and noise levels. The Spectre has a slight edge once more with the fact that it offers upgradeable M.2 storage and a larger 60 Wh battery, roughly 15% larger than the one in the XPS 13.
The Dell wins at pure performance, as the slightly faster of the two, with a more power-aggressive profile, but that also means that it runs hotter, especially since it's also the thinner of the two. At the same time, the Spectre is a lighter and overall smaller product, something to keep in mind.
Long story short, you'd be fine with either of these, and while I prefer the 16:10 screen on the XPS 13, the Spectre is the one that would probably get my money, with the superior IO, Battery life, and especially the more competitive pricing. The Spectre X360 sits a fair bit cheaper for similar specs right now, but that might differ where you're living. Follow these links below for updated configurations and prices.
Microsoft Surface Pro – the best Windows tablet
While the two above are convertibles and primarily excelled as laptops, this here is a more compact and portable option that feels a lot better in tablet mode, while also being a competitive notebook on a flat desk.
The Surface Pro is a stand-alone tablet with an adjustable kickstand on the back. It's a premium product with a sturdy magnesium shell and a 12.3-inch 3:2 high-resolution touchscreen on the front face, weighing roughly 1.7 lbs (~.8 kg). The design makes it an awesome tablet both in the hand or for watching movies and presentations, sitting straight thanks to its kickstand.
This is also a competent performer and runs a full version of Windows, so any of the software you can run on larger notebooks. Microsoft offers this in a few different configurations, all based on Intel Core U hardware, and it's important to know that the i3 and i5 variants are fanless and perfectly quiet, while the i7 uses a fan to keep cool. RAM and storage are non-upgradeable, so make sure to choose the right configuration from the get-go.
But how about the laptop experience? You can get a matching keyboard-folio for the Surface Pro, which attaches magnetically to the bottom. It's available in a few different colors, weighs about .7 lbs (.3 kg), and is a competent typer, with clicky keys, nice feedback, and illumination. But there's a but: the Surface Pro is an OK laptop as long as it's on a desk or other flat surface, but not that great on the lap on in cramped spaces, where a regular convertible is far more versatile.
This aspect, as well as its high-pricing, might ruin the Surface Pro for some of you. The base model starts at $750, but that's for an i3 configuration with only 4 GB of RAM and 128 GB of storage, which is slow for this day and age and I'd avoid. Jumping to a mid-level i5/ 8 GB/ 256 GB configuration will set you back $1100 at MSRP prices, and the keyboard dock or the pen are not included, so you'll have to pay an additional $250 for those. That's expensive.
For what is worth, though, Surface products often get discounts or are occasionally bundled with a free TypeCover, so you won't buy them at MSRP. Microsoft also offers all sorts of discounts for students, veterans, .etc , and you should profit from them as well. On top of all these, older Surface Pro variants are also available, and offer pretty much the same experience at a fraction of the price, as this product has only been minorly updated over the years. Follow this link for more details.

HP Envy x360 13 – the best mid-range convertible
If you only have around $800 to spend on a compact 2-in-1 convertible, but don't want to compromise on the build quality, screen, and especially the performance and battery life, this HP Envy x360 built on the amazing AMD Ryzen 4000 hardware platform is the one for you.
This is a step-down in terms of design and features from the Spectre x360, but a step-up in performance and efficiency with the AMD hardware. In fact, Ryzen is a major chnage from the Intel platforms in terms of performance in mobile chassis, and this article covers a larger selection of Ryzen ultrabooks. The Envy x360 is one of the very few hybrids, though, with a 13.3-inch convertible touchscreen, and is a balanced implementation that properly juggles with the power, thermals, and noise, and will smoothly handle daily use and occasional demanding loads.
Furthermore, the Envy x360 doesn't compromise on the typing experience or clickpad either, includes a finger-sensor and a fair-selection of ports. It comes with a barrel-plug charger, but it can also charge via USB-C.
Overall, the HP Envy x360 is a versatile compact all-rounder, more powerful and more affordable than the premium 2-in-1s mentioned earlier, with only some minor compromises. Follow the link below for more details and updated configurations and prices.
Lenovo Flex 5 13 – the best budget convertible
The Lenovo Flex 5 13 is a Chromebook, thus a different and potentially controversial pick.
It's very important to understand what a Chromebook is, what it can do, and how it compares to a Windows laptop, and we've explained it thoroughly in this article. In a few words, Chromebooks are excellent for everyday tasks that involve a browser and an Internet connection: browsing, email, text-editing, video and music streaming, etc. They're blindfolded without Internet access though, and can't normally run the specialized software and games you get on Windows. They can emulate Windows/Linux apps to some extent, but it's not their strength, that's why you shouldn't get a Chromebook if you plant to run that kind of applications.
On the other hand, Chromebooks are snappier, easier to use and safer with everyday tasks than their Windows counterparts within the same budget. They also last longer on a charge and resume from sleep much quicker, which helps enhance the overall experience.
Back to our recommendation, the Lenovo Chromebook Flex 5 13 sells for a little over $400 right now. That kind of money will get you an aluminum-made computer with a 13-inch 360-degree touchscreen with decent brightness and colors, a nice backlit keyboard, full-size IO, smooth performance, and 6-10 hours of battery life. This laptop is built on a Core i3 hardware platform with 4 GB of RAM, so is not nearly as powerful as the Windows options mentioned above, but due to its nature and optimized OS, you're not going to notice sluggishness with daily use, which is what this is meant for.
Follow this link for updated configurations and prices at the time you're reading this, or this link for a more detailed comparison between modern Chromebooks, with various other recommendations.
Affordable hybrids and convertibles
This section is reserved for budget-friendly 2-in-1 laptops that sell for well under $1000. We'll start with a first subsection on the most affordable options under $500, and we'll continue further down with the best-buy allrounders in the $500 to $1000 segment.
Sub $500 2-in-1s
We've already covered this topic in-depth in a separate dedicated article, which you should check out.
In a few words, though, at $500 or less you can opt for either a well-rounded Chromebook or a compact entry-level Windows mini laptop with a 10-12 inch display. In theory, Intel/AMD based full-Windows notebooks are more capable devices, in practice, though, Chromebooks will perform much smoother at this price, so you should carefully consider if you really need a full Windows computer or even a convertible. That's because you'll get a few more competent options if you're willing to go with a standard clamshell notebook instead (also covered in the article above).
As far as Chromebooks go, my top choice in this niche is the Lenovo Chromebook Flex 3 already mentioned in the previous section, the 13-inch convertible that sells for a little over $400 right now and surprisingly, doesn't compromise on any important aspect. If you're after a competent computer for daily use, for browsing and streaming and text-editing, you're not going to find something better.
The HP Chromebook 12 x360 is another interesting option for about the same kind of money. This one is a 12-inch convertible, but slimmer, lighter and with a versatile 3:2 display, much like the premium 2-in-1s. It's only meant for basic use, though, as it's powered by a low-performance and high-efficiency Intel Pentium platform.
Further down in budget, the Lenovo Chromebook Duet is once more unbeatable in the $200 to $300 price range. This one is an ultrasmall 10-inch tablet with a high-resolution and good-quality 10-inch 16:10 touchscreen, metallic construction, and a keyboard folio included by default. Once more, this is only meant for casual use, with the efficient Mediatek hardware on-board, and only packs a smaller battery that is good for about 6 hours of daily use and 8-10 of video. I'd primarily recommend this one as an inexpensive travel companion or computer for your kids.
Now, while these above are best-buys in their categories, you'll also find a larger selection of budget 2-in-1 Chromebooks in this separate article.
As for the Windows options, there a handful of entry-level mini-notebooks still available for a fair bit under $500, such as the Dell Inspiron 11 3000, Acer Aspire R 11, Asus VivoBook Flip 11, or the HP Pavilion x360 11. However,  what you're getting with these ones are plastic builds, non-backlit keyboards, average-quality touchscreens, and low-power hardware platforms (Pentium or Celeron). They won't excel in terms of performance or multitasking capabilities, but can still handle browsing, video, or music, and will last for a fair while on a charge.
In all fairness, though, unless you need to run specific Windows software, Chromebooks are overall superior products in the price-segment. If you truly need a Windows 2-in-1, I'd suggest upping your budget for one of the options we'll cover in the next section of this article.
.
The mid-range everyday 2-in-1 laptops
In this section, you'll find a larger selection of recommended 13 to 15-inch convertibles that sell for between $500 to $1000 and the time of this update.
Full-size convertibles with 15-inch screens
While I primarily prefer compact 2-in-1 devices that are more comfortable to use in tablet mode, I know that many of you would rather get a full-size computer with a 15-inch display, the kind that can fit all your info on the screen without making it too small, or the kind that accommodates a spacious keyboard, full-size ports, and a balanced hardware platform.
Most manufacturers offer mid-priced 15-inch convertibles these days, and we'll list some of the better modern options down below:
There are also a couple of other premium options that sell for $1000++, which we'll discuss in a further section.
Among these, the Lenovo Flex 15 and the HP pavilion X360 are the value picks for those of your shopping at a lower budget. You'll somewhat sacrifice on the design and build quality, and you won't get any of the excellent screen options available with the higher tier options, but these are still fair everyday laptops in their price range.
You won't go wrong with any of the others if you're willing to spend a little extra. Each have their own share of pros and quirks, though, so make sure to narrow them down by watching and reading some detailed reviews. Among them, the HP Envy x360 stands-out as the most powerful option, with either an Intel/MX450 or an AMD Ryzen 4000 configuration, while the Dell Inspiron 15 and the Lenovo Yoga C740 and Yoga 7i are balanced options with solid screen options, nearly impeccable craftsmanship, and larger batteries.
Mid-size convertibles with 13-14 inch screens
There's a vast option of hybrids in this segment, from all the important manufacturers, and we're only going to list some of the better choices with modern specs and features down below. First, the 14-inch models:
Asus VivoBook Flip 14 – 14-inch FHD 250-nits touchscreen; part metal build and good IO; Core U/Iris Xe Max or AMD Ryzen hardware; 42 Wh battery; weighs 1.5 kg/3.3 lbs;
Dell Inspiron 14 5000 2-in-1 – 14-inch HD/FHD screen options; part metal build and good IO; Core U hardware; 40 Wh battery; weighs 1.55 kg/3.4 lbs;
HP Pavilion x360 14 – 14-inch FHD 250 to 400-nits screen options; more affordable option with mostly plastic construction, Core U hardware and smaller 44 Wh battery; weighs 1.64 kg/3.6 lbs;
Lenovo Flex 14 –  14-inch FHD 300-nits touchscreen; part metal build; Core U hardware; 52Wh; weighs 2kg/4.4 lbs; slightly older hardware, but competitively priced;
Lenovo Yoga C740 14 – 14-inch FHD 300-nits touchscreen; premium metallic build; Yoga keyboard and limited IO; Core U hardware; 60 Wh battery; 1.4 kg/3.1 lbs;
Most of these are affordable hybrids with part-metal/part-plastic constructions, slightly larger formats, mid-range screen options, and smaller batteries. The VivoBook steps-out as the most powerful model here and is among the most affordable models, but also gets the poorest quality display.
On the other hand, the Yoga C740 14 is the exception in this class, the only higher-tier product with a metal build, smaller format, and larger battery. It's also surprisingly well priced in most regions.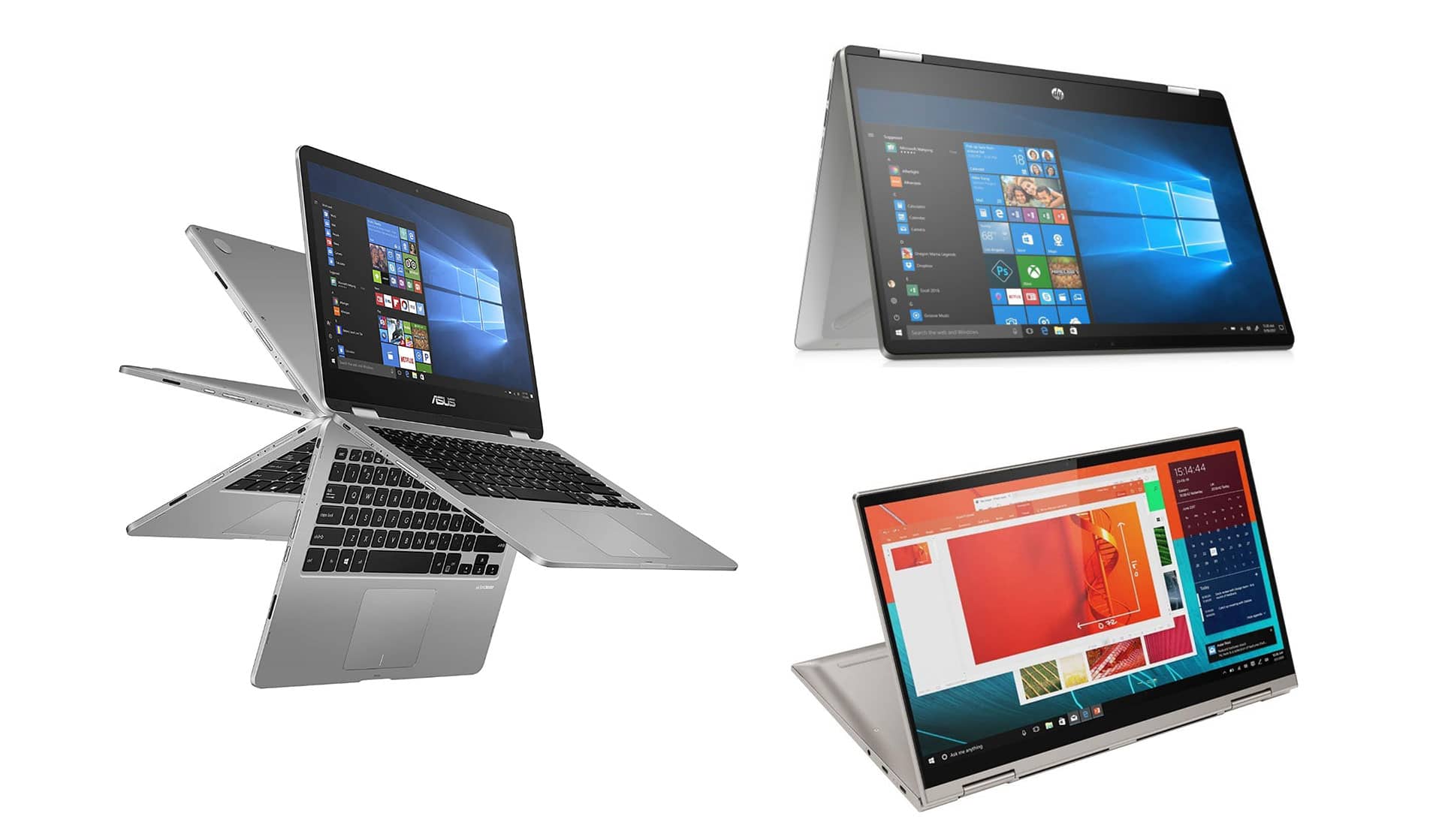 And here are the more compact and portable 13-inch alternatives:
Dell Inspiron 13 7000 2-in-1 – 13-inch FHD/UHD touch screen options; compact metallic build; clean design; good IO; Core U hardware; 53 Wh battery; 1.28 kg/2.81 lbs;
HP Envy x360 13 – 13-inch FHD 300-nits touchscreen; compact metallic build; good  IO; Core U with optional MX450 or AMD Ryzen hardware; 51 Wh battery; 1.3 kg/2.9 lbs;
Lenovo Yoga C640– 13-inch FHD 300-nits touchscreen; compact metallic build and design; Yoga keyboard and miniaturized IO; Core U hardware; 60 Wh battery; 1.35 kg/3 lbs;
Lenovo ThinkPad L13 Yoga – 13-inch FHD 300-nits touchscreen; ThinkPad build, design, IO and inputs; Core U hardware; 46 Wh battery; weighs 1.4 kg/3.2 lbs.
Among these, the Envy X360 13 is the obvious choice if you're interested in faster-performance within this compact format, as already mentioned in a previous section where this earned our best mid-range convertible title.
The others are pretty solid options as well, though. The Yoga C640 is the most compact and longer-lasting, the ThinkPad L13 Yoga offers the sturdy ThinkPad build and ample IO, and the Inspiron is the lighter option and the only one that can be specced with a UHD display, if that's something that might interest you.
Tablets
This segment has been more or less abandoned in recent years by every OEM except for Microsoft, with their Surface Pro, Pro X, and Go series.
The Surface Pro is a 12.3″ inch tablet with a 3:2 high-resolution display and Intel Core U hardware tucked inside a premium magnesium chassis. It starts at $749, but you'll pay extra for the keyboard folio and pen.
The Surface Pro X is an even more compact 13″ tablets with the same type of 3:2 display, but based on an efficient ARM hardware platform. This article compares the Pro and Pro X and explains their particularities.
The Surface Go, on the other hand, is a smaller 10-inch tablet with a 16:10 screen and lower-power Intel Pentium hardware. This one starts at $399, plus the keyboard and pen.
As mentioned in a previous section, these two are fully baked computers that run Windows and all the applications you can run on larger computers. Of course, the Go is meant for lighter everyday use, but the Surface is quite a powerhouse for its class once specced up. Both are far more comfortable for tablet and pen use than the other 2-in-1 formats, thanks to their slimmer and lighter designs, but at the same time are not as versatile on the lap or in cramped spaces.
Aside from these Surfaces, Dell, HP and Toshiba still offer some specific Windows tablets, most of them meant for rugged work conditions, but most of their models have not been updated in a fair-while.
Premium 2-in-1 convertible laptops and ultrabooks
This section gathers the best hybrid laptops available in stores right now. Modern specs and features, awesome screens, large batteries, premium materials, and solid craftsmanship are some of their selling points, just don't expect them to come cheap.
Full-size 2-in-1s with 15 and 17-inch screens
First off, there's a very small market for 17-inch 2-in-1 laptops, and for a good reason, as these are big and chunky and hardly usable in tablet mode.
Nonetheless, if that's what you're after, the Dell Inspiron 17 7000 2-in-1 is the only option worth considering in this minuscule niche. It packs a big battery, Core U hardware + optional Nvidia MX350 graphics, and a 17-inch QHD+ touchscreen with tiny bezels and pen support, all tucked inside a premium metallic chassis, but it still weighs about 2.4 kg (5.4 lbs), so is not the most comfortable laptop to lug around or hold in tablet mode.
As for 15-inchers, there are a couple of those to choose from:
HP Spectre x360 15 – convertible; compact premium design and construction; 15.6-inch 16:9 touchscreen, up to 4K AMOLED panel; Core H hardware + GTX 1650Ti MQ graphics, 73Wh battery; weighs from 1.9 kg/4.25 lbs;
Lenovo Yoga 9i 15– convertible; premium design and metallic construction; 15.6-inch 16:9 touchscreen, up to UHD IPS 500-nits panel; up to Core HK hardware + GTX 1650Ti graphics, 63.5Wh battery; weighs from 2 kg/4.4 lbs;
Microsoft Surface Book 15 – detachable; premium design and magnesium construction; 15-inch 3:2 touchscreen, high-res; Core U hardware + up to GTX 1660Ti MQ graphics, 22+ 63Wh batteries; weighs from 1.95 kg/4.2 lbs;
All these are interesting in their own ways.
The Spectre x360 is the most compact and portable of the bunch, among the most beautifully designed, and the only one that can be specced with a 4K AMOLED screen on the highest-tier configurations. Specs-wise, this is on par with the competition, but the performance isn't impressive, due to conservative power-profiles that favor thermals and low noise over speed, and nor is battery life if you opt for that OLED screen.
Bottom point, the Spectre x360 15 should be a good pick for everyday use if you don't mind spending extra for a premium ultrabook, but if you also plan to run demanding workloads or perhaps games on your computer, this might not cut it for you.
The Yoga 9i is a newer launch at the time of this update, so we can't yet properly comment on how it performs and behaves with actual use. It does follow-up on the solid Yoga C940 from 2019, though, so I'd expect it to be a well-polished product and solid performer for this class, as well as competitively priced. For most, this should be the better-balanced product in this section.
The Surface Book 15, on the other hand, is by far the most interesting product here, but also by far the most expensive. This is a unique detachable 2-in-1: the screen can be used as a standalone tablet, or can be hooked up to the main-chassis for laptop mode.
For this to happen, the processor, some of the hardware, and a smaller 22Wh battery are embedded within the screen-half, underneath the display, while the dock houses an optional dGPU and the larger 63Wh main-battery, as well inputs and ports. That's why the Surface Book is only powered by a Core U platform, so not as powerful as the other options in this segment.
That's unfortunate, as the Surface Book is meant to be a creator-laptop, with the detachable screen with pen-support and the panel's tall 3:2 aspect-ratio that can fit plenty of content on it. However, despite these, the limited Intel Core U hardware platform makes this a tough choice for serious workloads, and might steer some of you away, despite this product's other solid traits, such as the excellent inputs and build-quality, or the long battery life. So if you're primarily looking for performance in this form-factor, this Surface Book is not for you either.

Premium ultraportable 2-in-1 laptops
This subsection includes the top-tier 12 to 14-inch thin-and-light laptops with convertible screens, the prime choices if you're primarily interested in the best features in a compact shell, and don't mind spending $1000++.
First off, here's a quick list of more "affordable" options that sell for only a little over the $1000 mark:
Acer Spin 5 – mid-range convertible; 13.5-inch 3:2 2K touch 300-nits; metallic build; Core U hardware; 55 Wh battery; 1.2 kg/2.6 lbs;
Asus ZenBook Flip 13 – mid-range convertible; 13.3-inch FHD touch 400+ nits; compact metallic build; Core U hardware; 67 Wh battery; 1.28 kg/2.8 lbs;
Lenovo ThinkPad X13 Yoga – mid-range business convertible; 13.3-inch FHD IPS/OLED up to 500-nits touchscreen; ThinkPad build, design, IO and inputs; Core U hardware; 50 Wh battery; weighs 1.3 kg/2.85 lbs.
I'm not entirely sold on any of these, and here's why. The ZenBook is a compact, snappy, and well-priced 2-in-1 laptop for daily-use, it's well built and includes a big battery, but only gets a mid-level display and a rather cramped keyboard, as you'll find out from our detailed review. The Spin 5 is a more comfortable typer and a very light product, but includes a smaller battery and uses PWM for that otherwise amazing 3:2 display, so is not an option for those of you sensitive to flickering.
That brings us to the X13 Yoga, which is the better-balanced product here, but also the heaviest of the three, packs the smallest battery, and gets the most expensive once specced up to a higher-tier configuration and the upgraded OLED screen.
With these out of the way, here's the list of money's no object premium 2-in-1s:
Asus ZenBook Flip S Evo – premium convertible; 14-inch UHD OLED touch 500+ nits; compact metallic build; fair IO; Core U hardware; 67 Wh battery; 1.22 kg/2.7 lbs;
Dell XPS 13 2-in-1 – premium convertible; 13.4-inch 16:10 FHD+/UHD+ IPS touch 500-nits options; compact metallic build; limited IO; Core U hardware; 52 Wh battery; 1.32 kg/2.9 lbs;
Dell Latitude 7400 2-in-1 – premium business convertible; 14-inch FHD IPS touch 300-nits; clean design; good IO; Core U hardware; 52 Wh battery; 1.36 kg/ 3 lbs;
HP Elitebook Dragonfly – premium business convertible; 13.3-inch FHD/UHD IPS touch, up to 1000-nits; ultracompact metallic design; good IO; Core U hardware; 56 Wh battery; 1.15 kg/ 2.55 lbs;
HP Spectre x360 13 – premium convertible; 13.3-inch FHD/UHD IPS touch 400-nits options; ultracompact metallic build; fair IO; Core U hardware; 60 Wh battery; 1.3 kg/2.88 lbs;
HP Spectre x360 14 – premium convertible; 13.5-inch 3:2 2K IPS/OLED touch 400-nits options; compact metallic build; fair IO; Core U hardware; 66 Wh battery; 1.34 kg/2.95 lbs;
Lenovo Yoga 7i Evo – premium convertible; 13.3-inch FHD FHD/UHD IPS touch 500-nits options; compact metallic build and design; Yoga keyboard and miniaturized IO; Core U hardware; 60 Wh battery; 1.35 kg/3 lbs;
Lenovo ThinkPad X1 Yoga – premium business convertible; 14-inch FHD IPS 500-nits options; ultracompact ThinkPad build and design, but uncompromised IO and inputs; Core U hardware; 51 Wh battery; weighs 1.35 kg/3 lbs.
It's hard to go wrong with any of these.
The XPS 13, Spectre x360 13, and the Yoga 7i Evo are all excellent consumer ultrabooks, with friendly designs and comfortable inputs, solid screen options, and snappy everyday performance. The Spectre has been my go-to recommendation in this class for years now, but the latest Dell and Lenovo models have stepped up their game from their predecessors, and right now these three are neck in neck.
Choosing one over the other depends entirely on your preference and local prices, but make sure to read detailed reviews before jumping to conclusions, as each of these still have their quirky particularities that you'd have to accept.
The newer Spectre x360 14 and the ZenBook Flip S are both available with OLED displays, if that's what you're after, as well as pack the latest gen hardware specs and largest batteries in this niche. The Flip S loses points with its cramped keyboard, though, and I'd expect the Spectre x360 14 to also catch plenty of attention with the front-speakers and its 3:2 screen. Sure, it makes the laptop larger overall than the ultracompact Flip S, but the tall screen greatly helps with everyday productivity.
As for the business products, I feel that the HP Elitebook Dragonfly and the Lenovo ThinkPad X1 Yoga are the main contenders in this sub-section of professional hybrids, with the Dell Latitude 2-in-1 lagging behind in recent years.
The Elitebook offers a splendid 1000-nits display, excellent ultra-compact modern craftsmanship, and a larger battery, but hasn't been updated to the latest hardware platform at the time of this article, while the ThinkPad X1 Yoga is the pinnacle of ThinkPad business laptops, but slightly heavier and larger than the Elitebook, with its 14-inch format. Once more, choosing between these is up to you and their overall value in your market.
Wrap up
These here are the best 2-in-1 ultrabooks you can find in stores right now, either convertibles, tablets, or detachables. We're constantly updating the list though, adding new products as they hit the stores and discarding the ones that become obsolete, so bookmark this and come back when ready to make a new purchase.
Drawing the line on all these 2-in-1 laptops, you've seen that the market offers a multitude of options these days, and they should cater to even the most specific of needs. Generally speaking, though, a 2-in-1 Chromebook si what I'd primarily recommend for everyday use, especially when shopping on a budget, while the better Windows laptops start at around $600 and up, with the top-tier picks going for well over $1000. In that class, you'll find a multitude of pristine ultrabooks, but also some full-size hybrids that can also handle workloads or games in the spare time. For the most part, though, if performance is what you're after, you'll probably find improved value with some of the standard clamshell notebooks of this generation, and this article is perfect for you to start your research from.
At the end of the day, you know what you want from your next computer and how much you're planning to spend on it, that's why the final decision belongs to you. Hopefully, this article has helped you, but if you need further advice, make sure to jump in with your comments and questions in the comments section below. I'm around and I'll reply as soon as possible.
And before you go, keep in mind that such posts take countless hours of work, so if you found this useful in any way, please show this link to your friends, use our links for your purchases and bookmark this for future updates.
Disclaimer:
Our content is reader-supported. If you buy through some of the links on our site, we may earn an affiliate commission.
Learn more.