Many of the thin-and-light laptops available these days in stores are 2-in-1s, or convertibles, which mean they get some sort of rotating/detachable touchscreen and can be used as regular notebooks, as tablets, or something in between.
There are however many good convertible laptops out there, so choosing the one that best fits your needs and budget might be a little overwhelming. We reviewed hundreds of laptops here on UltrabookReview.com over the last years and gathered out conclusions in this article that's going to make simplify this task for you.
We've split the article into three main sections, so you can quickly narrow down the options, and we'll give you a few recommendations for each class:
Top 3 2-in-1 laptops
First choice – After reviewing most of the 2-in-1 laptops available in stores, we conclude that THE BEST option in this niche is the HP Spectre x360 13 (our review).
It's a compact and well built computer with a 13-inch touchscreen, excellent quad-speakers and a nice keyboard, meant for everyday use and able to run for 6-10 hours on a single charge.
The latest version weighs 2.85 lbs (~1.3 kg), is 0.54″ (~1.4 mm) thick, is entirely made out of aluminum and is compact for a 13-incher, as you can tell from the slim bezels around the screen. Despite its thin silhouette, The Spectre x360 is motorized by Intel Core U hardware with up to 16 GB of RAM, fast NVMe SSD storage and packs a 58 Wh battery. It can get a bit hot with demanding loads and the IO is somewhat limited, but you still get two Thunderbolt 3 ports and a full-size USB 3.0 slot on the sides.
The most recent Spectre x360 13 also includes a digitizer (N-trig) and supports active pens for inking and taking notes.
The Spectre X360 13 is also well priced for what it is. The best-buy configuration in our opinion includes a Core i7 processor, 16 GB of RAM and a 512 GB SSD for around $1150, but there are also some cheaper versions. Follow this link for more details, updated configurations and prices. Keep in mind you'll also find the 2016 Spectre x360 in stores, which is a bit bigger and lacks TB3, but should be quite affordable and still worth considering.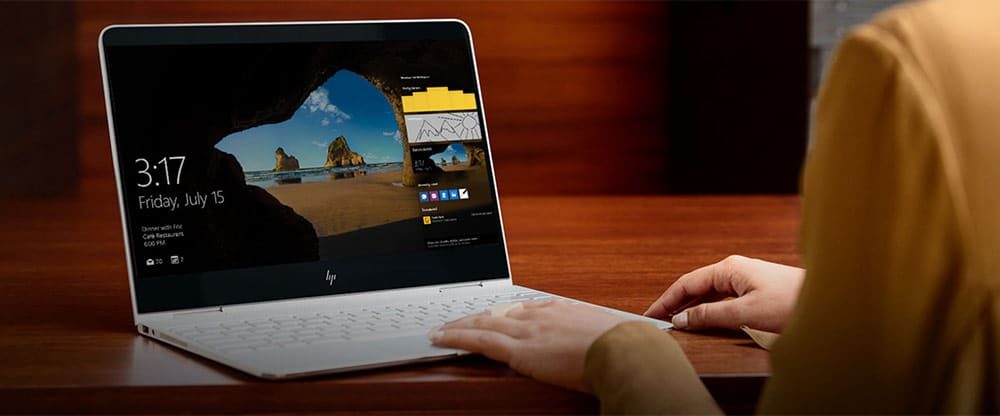 Second choice – The Asus Zenbook Flip UX360CA (our review) is a best-buy ultraportable 2-in-1 if you don't have North of $1000 to spend on your device.
This one is also a 13-inch thin-and-light laptop with a convertible touchscreen, just a tad larger than the Spectre x360, but still made out of aluminum.
It sells for under $700 though and that kind of money will get you a configuration with a Core i5 processor, 8 GB of RAM and a 512 GB SSD, as well as a 54 Wh battery. This Zenbook is however built on Core Y hardware platforms, which on one hand means it doesn't get a fan inside and thus runs quietly, but on the other it is not as powerful as the Core U options, so is only recommended for casual everyday use. It will do fine for movies, music, editing texts and browsing between a few tabs, but if you're a multitasker or plan to run demanding apps and games on your notebook, you'd better look elsewhere.
The Zenbook UX360CA also lacks Thunderbolt 3, doesn't support Active pens and only gets a non-backlit keyboard, which are the important trade-offs you'll have to accept with the lower price tag, but even so it is a best-buy in its price range. Follow this link for more details, user reviews as well as updated configurations and prices at the time you're reading the article.
As a side note, Asus also offers a Zenbook Flip UX360UA model for those interested in a well priced Core U configuration with a backlit keyboard, as well as a highly compact and portable Zenbook Flip S UX370 variant that only weighs 2.4 lbs and is incredibly light. Follow the links for our detailed reviews on those models.

Third Choice – If you're after for a more portable option and expect to often use your device as a tablet, the Microsoft Surface Pro is the one for you.
Unlike the other options above that are primarily laptops and can switch into decent tablets, this one is primarily an excellent tablet and does alright as a laptop in most cases, attaching to a keyboard folio.
The Surface Pro gets an excellent 12.3-inch high resolution screen with a 3:2 aspect ration, N-trig digitizer and supports active pens for inking and drawing. It weighs about 1.70 lbs (785 g) and is 0.33″ (8.5 mm) thick, thus is much more comfortable to use as a tablet, but despite its reduced weight it is impeccably built and finished. It also packs a fair sized 45 Wh battery considering its size and is very efficient, able to squeeze 6-8 hours of life on a charge.
For the laptop experience you have to rely on the kickstand on the back and hook up a keyboard folio. It does fine while on a flat surface, but the experience is rather lacking otherwise and the folio adds to the weight and is not included by default, you have to buy it on the side.
And here's where many of you might steer away from the Surface Pro 5: it's expensive. The base model starts at $900 without the Folio and Pen, but it only comes with a Core m3 processor, 4 GB of RAM and 128 GB SSD. A mid-range configuration gets you a fanless Core Y i5 processor, 8 GB of RAM and 256 GB SSD for $1300, while Core U i7 models with 16 GB of RAM and 512 GB SSDs go for $2200. There's a fair chance you'll find these discounted (follow this link for updated configurations and prices), but even so the Surface Pros are nontheless pricey.
All in all, the Surface Pros are the best portable Windows tablets with notebook capabilities available in stores, but if you're not primarily interested in their tablet abilities or want a fast performing 2-in-1, you should look elsewhere. Microsoft also offers the Surface Book, a different concept that's a laptop with a detachable screen that acts like a nice stand-alone tablet. It's well appreciated, and even if also expensive, worth at least a few looks.

Premium 2-in-1 convertible laptops and ultrabooks
This section gathers the best hybrid laptops available in stores right now. Beefy specs, splendid screens, large batteries, premium materials and solid craftsmanship are some of their selling points, just don't expect them to come cheap.
Full-size 2-in-1s with 15-inch screens
If you're after a full-size laptop with a big screen, but still a convertible factor, these are the better options available in stores.
HP Spectre x360 15 – the multimedia option
The 15 inch version of the HP Spectre x360 mentioned above is an excellent mix of craftsmanship, portability and performance.
On the outside, it's entirely metallic and weighs about 4.4 lbs (~1 kg). Open it up and you'll notice a nice backlit keyboard and a touchscreen with a bright UHD IPS panel and pen support, as well as a Thunderbolt 3 port on the sides. On the inside it gets the modern quad-core Core U processors, PCIe x4 SSD storage, a dedicated Nvidia MX150 graphics chip and a big 79 Wh battery, which translates in solid performance when needed, but also efficiency with daily use. This is not a gaming laptop by any means, but with the MX150 inside it can still tackle titles like Overwatch, CS:Go or LOL.
So what's not to like about this one? Well, the IO is a bit limited, the speakers are only average and it gets fairly hot with demanding loads, but these aren't deal breakers by any means.
The Spectre x360 15 is cheap, but is definitely not overpriced for what you're getting, with a Core i7 quad-core processor, 16 GB of RAM, 256 GB NVMe SSD and Nvidia MX150 configuration going for around $1400. There's also an older model with dual-core processors and Nvidia 940MX graphics going for less.
Follow this link for updated configurations, more details and potential discounts.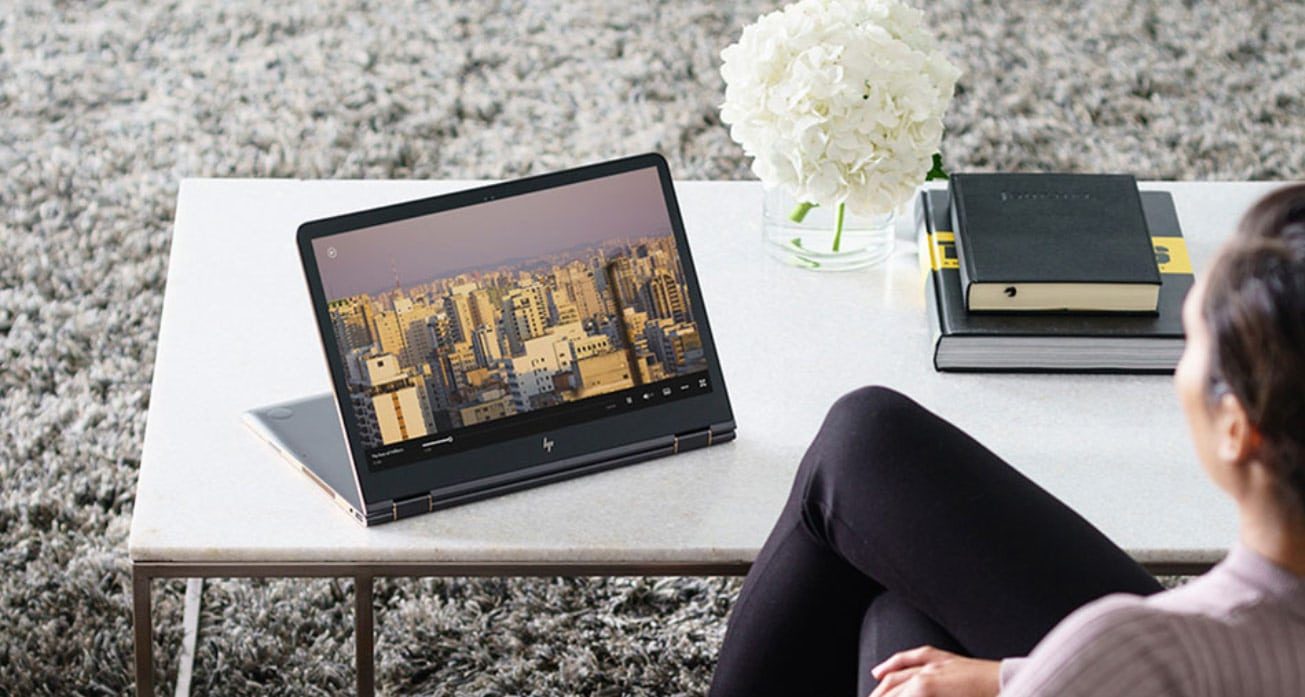 Lenovo Yoga 720 15 – the gaming option
Unlike the HP Spectre above, this laptop is built on Intel Core HQ processors and gets an Nvidia GTX 1050 graphics chip inside, so it can tackle a larger selection of games and deal with more demanding applications, even if it's not entirely capable of squeezing the best out of the hardware inside, as you'll find from our analysis.
The Yoga 720 15-inch is also much more affordable than the Spectre x360 15, starting at around $1000 at the time of this post (follow this link for updates when you're reading the article), although that's only for the basic configuration with a Core i5 processor, 8 GB of RAM and a FHD touchscreen. You can upgrade to a nicer UHD screen, but that's and expensive option that I would't recommend if you're getting this notebook for games, nor would I recommend the Core i7 configurations, given the i5s struggle with demanding loads.
That base Core i5 model on the other hand is an excellent buy and let's not forget this Yoga 720 has a few other aces down its sleeve: the compact and light build (4.4 lbs), the excellent keyboard, the large 72 Wh battery and the good IO (including TB3, but only 2x PCIe). It's not as nicely built as the Spectre or the Samsung Notebook Pros, but I'd reckon most potential buyers will find its simple metallic case good enough.
Lenovo also offers an updated version of this laptop, with 8th gen Core U hardware, GTX 1050 graphics, a smaller battery and more affordable price. You'll find all about this Yoga 730-15 from our detailed article.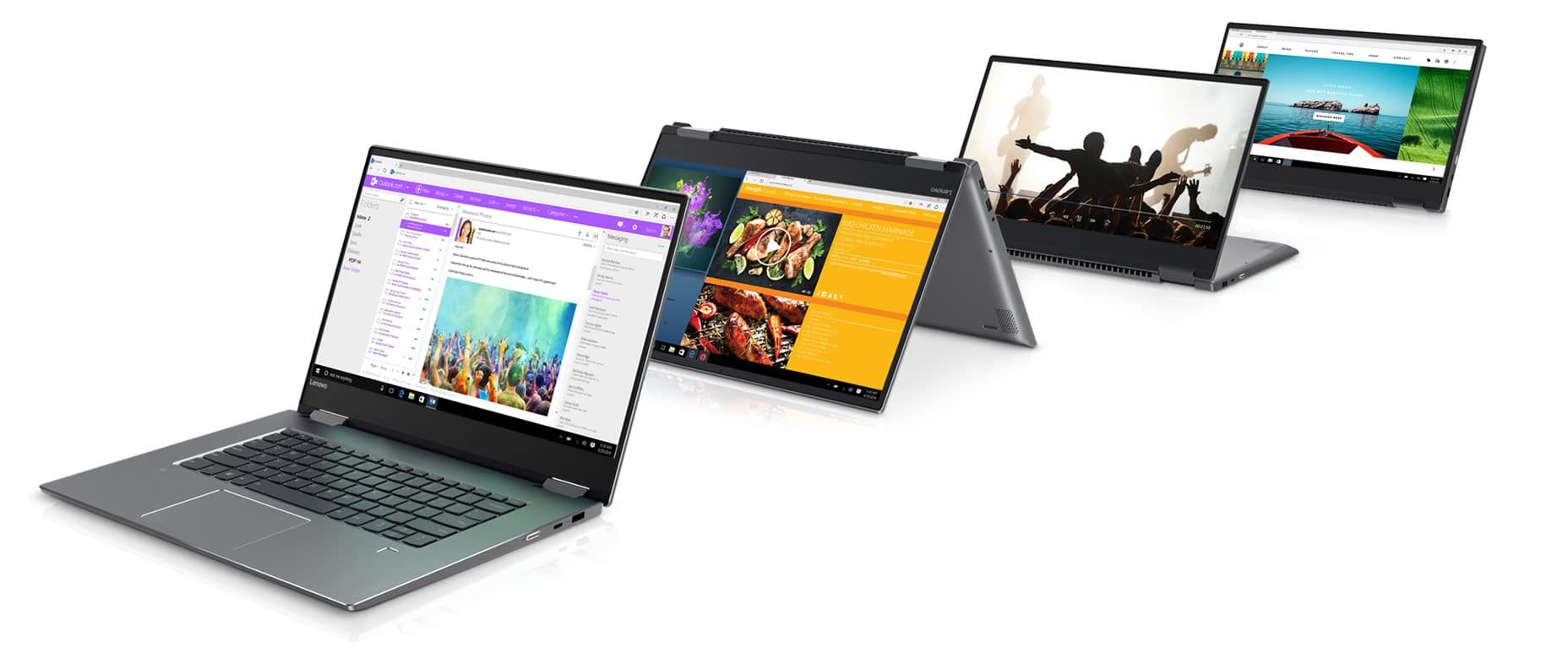 Samsung Notebook 9 Pro 15-inch – the ultraportable option
Samsung's offer in the niche is a more portable computer that only weighs 3.8 lbs and comes with an included S-Pen that can be tucked inside its dedicated slot on the laptop, like o Samsung's phones and tablets. It's a passive pen and you'll always have it around, which combined with the laptop's lower weight and bright and accurate IPS touchscreen, makes the Notebook 9 Pro an option for those who greatly value the pen functionality and the tablet mode of such a 2-in-1 laptop.
And that's because the Notebook 9 Pro is not overall a match for the two other options mentioned earlier: is not as powerful, as it's motorized by a dual-core Intel Core U platform with entry-level AMD Radeon 540 dedicated graphics. It's also rather average when it comes to looks and build quality, with a simple plastic case that's hard to accept in this price range, and it falls behind the Lenovo and HP options when it comes to battery life as well, mostly because it only gets a smaller 56 Wh battery.
Price wise the Samsung Notebook 9 Pro 15-inch falls in between the Lenovo Yoga 720 and the HP Spectre x360, starting at $1300 for an i7 configuration with 16 GB of RAM and 256 GB SSD. There's a good chance you'll find it discounted online though (follow this link for updated configurations and prices), and despite its quirks, people seem to like this Sammy notebook a lot, as it scores very excellent reviews with existing buyers, which is actually the main reason we included it in this selection.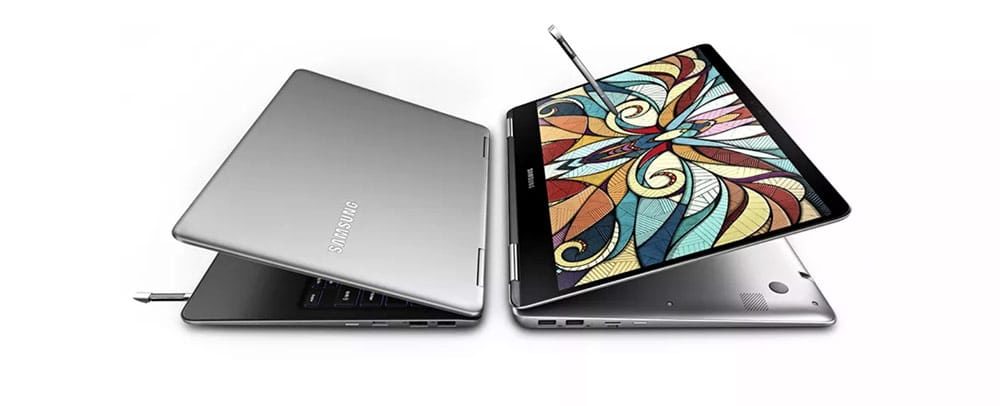 Premium ultraportable 2-in-1 laptops
This subsection includes the better 12 to 14 inch thin-and-light laptops with convertible screens, the ones to get if you're primarily interested in the best features in a compact shell.
HP Spectre x360 13 – the best
We already mentioned the 13-inch HP Spectre x360 in the first section of this article as the best 2-in-1 hybrid out there.
We're not going to reiterate why we like it so much, you can read all about it in our review. In very few words though, the Spectre X360 gets compact and sturdy craftsmanship, an excellent keyboard, a quad-core speaker system, a nice screen with pen support and tiny bezels around, but also the latest Core U hardware inside with NVMe storage, Thunderbolt 3 connectivity and a 58 Wh battery.
The latest versions sell for around $1150 for a Core i7 configuration with 16 GB of RAM and 512 GB of storage space, but there are some lower end configurations available as well. Follow this link for more details and updates.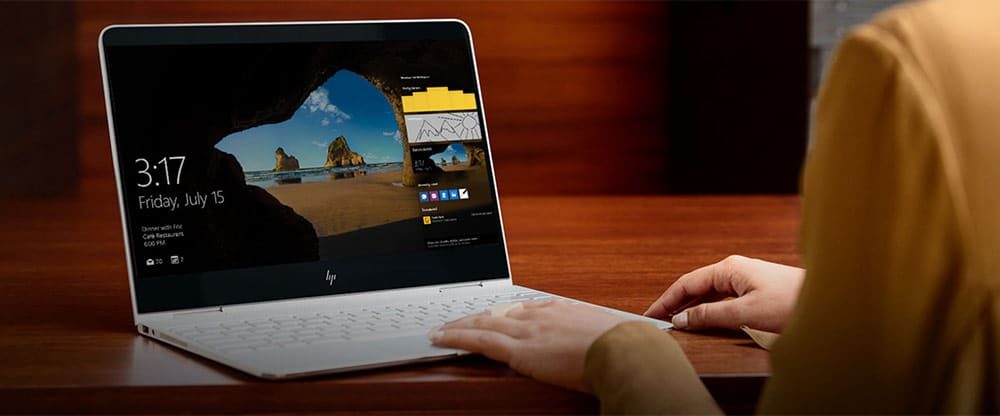 Lenovo Yoga 920 – even better, but expensive
As of Q4 2017 the Lenovo Yoga 920 is a strong contestant for the Spectre's top podium position.
It's a more expensive computer and it's also a bit larger and heavier, but that's mainly because it gets a slightly larger 13.9-inch screen with either a FHD or an UHD high-gamut panel, as well as a larger 70 Wh battery. It otherwise matches the Spectre on most levels, as it's also a splendidly crafted unibody computer with an excellent keyboard, pen support, Thunderbolt 3 connectivity and the latest hardware on the inside, as you'll find from our analysis posted here.
The Yoga 920 starts at around $1300, but the higher end configurations get closer to $2000, which might be a little steep for most buyers. Keep an eye for potential deals and discounts though.

Microsoft Surface Pro and Surface Book – the different ones
Unlike most other 2-in-1 convertibles that are primarily laptops and can switch into decent tablets, the Microsoft Surface Pro is primarily a Windows tablet with a secondary laptop mode.
That makes it more compact and lighter than most other hybrids (1.7 lbs for the slate alone) and corroborated with its excellent screen with pen support, a much nicer tablet. As a laptop though it does fine as long as it rests on a flat surface with the keyboard folio attached, but is otherwise rather uncomfortable to use on the lap.
The Surface Pro has a few distinct particularities, like its 3:2 high-resolution screen, the multi-angle adjustable kickstand on the back, the durable magnesium body, the long battery life, the quiet cooling system and the rather limited IO without TB3 support. The latest Surface Pro 5 version actually gets a passively cooled Core U i5 configuration, if you want a perfectly quiet computer that's more powerful than a Core Y model, but the high-end Core i7 models are still fan cooled and still throttle under intense loads.
All in all the Surface Pro is the best full-power Windows tablet on the market, but it's also expensive, with a mid-tier Core i5 config going for around $1500 once you add the keyboard and pen. There's a good chance to find it discounted online, but even so you should make sure this is indeed the device you want, as it comes with a significant premium and while it excels as a tablet, is not quite the laptop replacement Microsoft claims it is.

The Microsoft Surface Book is an unique 2-in-1. In a way it's still a tablet with a keyboard dock, but unlike the Surface Pro, it's primarily a laptop.
In few words, the Surface Book looks and feels like a regular notebook. It's available in two size options, with a 13.5-inch or 15-inch 3:2 touchscreen with pen support, and excellent keyboard and trackpad, plus quite a few ports on the sides. It also gets modern hardware, up to 16 GB of RAM, fast storage and dedicated Nvidia graphics on the higher tier configurations (1050 on the 13-inch version, 1060 on the 15-inch variant).
But there's a catch: the screen is detachable and works as a stand-alone tablet. The processor, memory, storage and a small battery are tucked behind this screen in a thin and light slate. It lacks a kickstand, it doesn't have ports and can only run for about 2-3 hours on a charge, so it's a bit limited while detached. Hooked up to the dock, the ensemble gets the keyboard, the IO, an extra battery and the Nvidia GPU, for a very compelling sub-notebook.
What's probably going to steer many from the Surface Book is the price. The 13-inch version starts at $1499 for a Core i5 processor with 8 GB of RAM and 128 GB of storage configuration. You'll need to pay around $2000 for more RAM and storage space, while the top configurations with an i7 processor, 1 TB of SSD storage and the Nvidia graphics goes for around $3300. The 15-inch model starts at $2499. Follow this link for more details and occasional discounts.

Asus Zenbook Flip S UX370 – the ultraportable one
The Asus Zenbook Flip is more compact and lighter than the other premium 2-in-1 convertibles, with a 2.4 lbs body and 0.43″ (11 mm) waist.
As you'll find out from our review, it's mostly a vanity product meant for those who must absolutely have the thinnest, lightest and arguably cutest hybrid available in stores, because it otherwise cuts some corners in order to meet the design lines. There's just a 39 Wh battery inside, much smaller than what you'll find on all the other devices mentioned in this section, there's limited IO on the sides and the cooling struggles to keep the powerful Core U hardware at bay with more demanding loads.
These aside though, the Zenbook UX370 is a really nice ultra-portable with a decent screen, surprisingly accurate keyboard, excellent construction and punchy speakers. It's also motorized by a modern Intel Core U platform and not Core Y hardware as you might initially expect on such a thin device.
As far as the price goes, a Core i7 configuration with 16 GB of RAM and 512 GB SSD sells for around $1400 at the time of this update.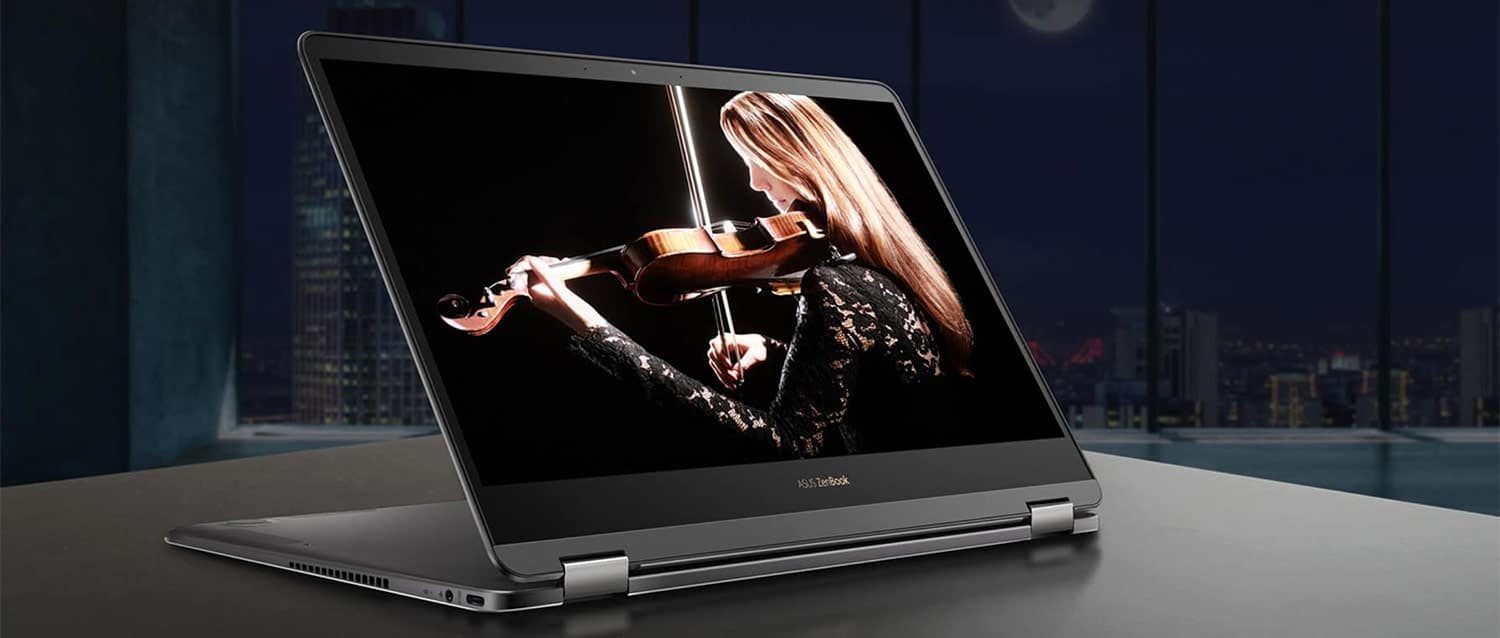 Lenovo ThinkPad X1 Yoga – the business option
This is a high-end convertible derived from the ThinkPad X1 Carbon series. It gets sleek aesthetics, a reinforced carbon fiber and magnesium body that weighs around 3 lbs, a 14-inch high-resolution touchscreen with an optional OLED panel, non-glare coating and a Wacom digitizer, modern Core U hardware and a 56 Wh battery. It also gets Lenovo's AccuType keyboard, a large trackpad with dedicated click buttons and the iconic Clickpoint, as well as a solid set of ports that includes two Thunderbolt 3 PCIe x4 slots.
The sober design and solid construction, the OLED screen and the Wacom digitizer set this one apart from the competition, but at the same time it trails behind some of the other options when it comes to the hardware inside and battery size.
It's also very expensive once you add up all these features mentioned earlier, the i7 configuration with 16 GB of RAM, 512 GB SSD and OLED screen is listed at around $2300 at the time of this update, with occasional discoutns and promotions.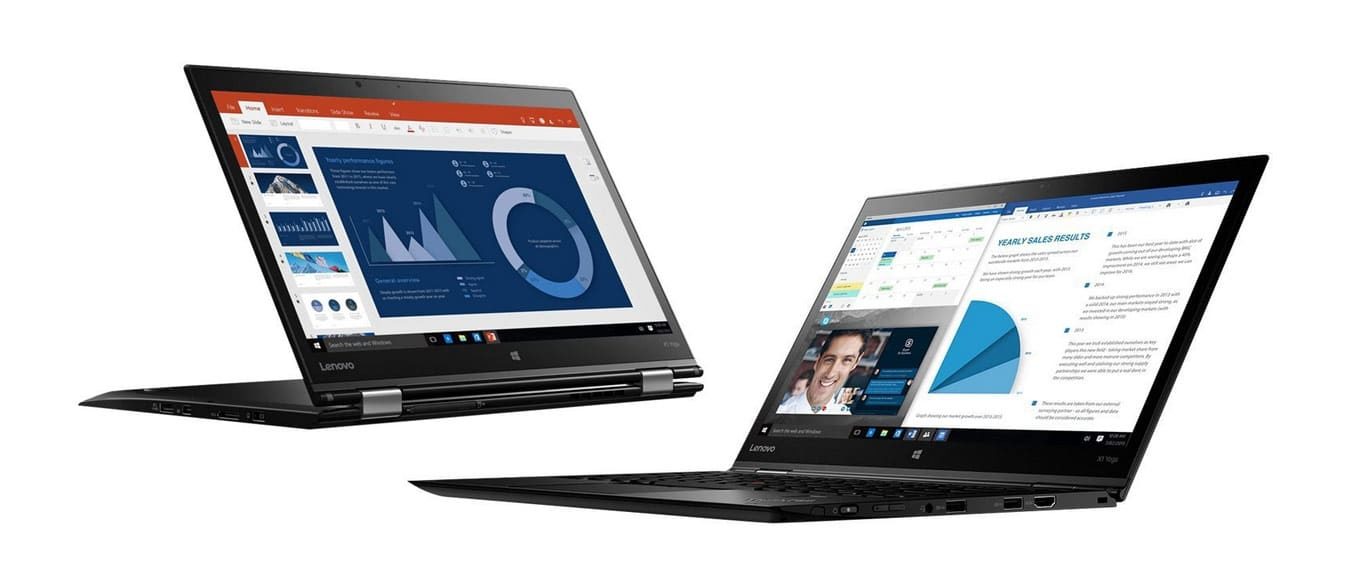 Affordable hybrids and convertibles
This section is reserved for more budget-friendly 2-in-1 laptops that sell for well under $1000. We'll start with a first subsection on the most affordable options with MSRPs under $500, and we'll continue with the best-buy options in the $500 to $1000 price range further down.
The sub $500 2-in-1 mini-laptops
If you only have $500 or less to spend for a portable 2-in-1, you should peruse the devices in this section. On the other hand, if your budget allows you to get something better, jumps down to the next chapter.
These are mainly built on Intel low-power hardware platforms (Atom, Pentium or Celeron), so they won't excel in terms of performance or multitasking capabilities, but still pack enough firepower to handle fine the standard everyday activities, like browsing, editing texts, checking out emails, listening to music, watching movies and so on, as long as you don't try to do all these things at the same time. On the other hand, what they do lose in performance they gain in battery life, as most of these devices can easily go for 6+ hours of use on a charge.
The Dell Inspiron 11 3000 is an 11.6-inch ultraportable with a 360-degree foldable display and a nice case available in a few different colors. There are also a few hardware options to choose from, with either Celeron, Pentium or Core m3 Skylake CPUs, and the gives it a fair amount of punch when dealing with multiple applications at once.
On top of these, the Inspiron 11 offers a full-size and fairly comfortable keyboard, a solid set of ports and a 32 Wh battery that can push it for about 6 hours on a charge, all tucked inside a 0.8 inch thick, 3.1 pounds body. Too bad the screen only gets a TN panel though, I would have expected an IPS upgrade by this time.
The Inspiron 11 3000 series is affordable though, with prices starting at around $250 for the Celeron versions and going to around $450 for the Core m3 configurations. Follow this link for up-to-date prices and user reviews.
HP have a very similar device in stores, the Pavilion x360 11, another convertible 11-incher available in a multitude of color schemes.
The Pavilion gets two major selling points over the Inspiron: an IPS display and a larger battery (35 or 43 Wh options). On the other hand, you can only configure it with Celeron and Pentium processors, so there's no option for faster hardware, plus you will have to pay a little extra than you'd pay for a similarly configured Inspiron, but that's normal considering the benefits. The Pavilion x360 11 convertible sells for between $280 and $380, and you will probably find it cheaper online. Follow this link for more details.
Other options in the same 11-inch segment are the Lenovo Flex 3 11 (with a 30Wh battery, TN display and Celeron configuration selling for around $350) and the Acer Aspire R 11, which we reviewed here on the site a while ago. This one starts at $249 for a Celeron configuration and gets a large 50 Wh battery, but potential buyers will have to accept its TN display and its rather heavy 3.5 lbs body.
A more detailed list of compact convertibles is available in this dedicated post, including small units with 10-inch screens like the Asus Transformer Pad or the Acer Aspire Switch series. You could also consider the available Chromebooks, like the Acer Chromebook R11 or the Asus Chromebook Flip, mentioned in this article.
And last but not least, in case you want an affordable notebook with a larger screen, I'd suggest taking a look at the Toshiba Satellite Fusion L55W, which offers a full-size keyboard with NumPad, Core i3 or i5 processors, a 45 Wh battery and a 15.6-inch TN HD touchscreen. As a 15-inch notebook, there's no surprise this unit weighs around 5 lbs and its TN screen isn't great by today's standards, but overall the Satelitte Fusion is well appreciated and affordable, with Core i3 configuration going for under $500.
The everyday affordable 2-in-1s
In this section you'll find 13 to 15-inch convertibles that sell for between $500 to $1000 and the time of this update.
Asus Zenbook Flip UX360CA and UX360UA
Compared to most other mid-range convertibles, the Zenbook Flips are completely new designs, that's why they feel and look spectacular in comparison. Metal is used for most of their bodies, the hinges are small, yet strong and smooth, and the weight was kept down, despite the fact that these pack powerful hardware and large batteries.
The Zenbook Flip is available in two variants: the UX360CA is fanless, built on Intel Core m hardware, while the UX360UA is running Intel Core i processors and thus gets a fan. There are some slight differences between the two, but most traits and designs lines are the same.
Still, among the differences, the Zenbook UX360UA gets a backlit keyboard, while the UX360CA does not. It also gets a full-size HDMI port, an exhaust grill on the left-side and a slightly different design of the lower body and hinges, plus a larger 57 Wh battery compared to the 54 Wh battery on the fanless model.
You'll find more about the UX360UA from our complete review, and our review of the fanless UX360CA model is available over here.
The similarities include the screen options, with either FHD or a QHD+ IPS panels, the keyboard layouts, the trackpads and the speakers placed on the belly, towards the front.
The Zenbook Flip UX360CA is available in stores at the time of this update, with prices starting at $699 for a configuration with a Core m3 processor, 8 GB of RAM and 256 GB of SSD storage.
The Zenbook Flip UX360UA is scheduled for release in early Fall 2016, and I'd expect a Core i5 configuration to sell for around $900-$1000. I'll update this section once we know more.
Dell Inspiron 7000 and 5000 2-in-1 series
The Inspiron 13 7000 is one of the most popular 13-inch 2-in-1s out there, and it's been around in one form or another for a few years now, with slight redesigns and changes along the way.
It offers a 13.3-inch IPS FHD convertible touchscreen, a nice backlit keyboard, plenty of ports and a sturdily built case, with a silver metallic finishing. Dell equips the latest model with Skylake U processors, up to 8 GB of RAM and various types of storage. There's only a 42 Wh battery inside though, while most similar devices offer a larger one, and as a result the Inspiron 13 7000 falls short in terms of battery life.
Still, this machine is a solid pick for the money. The base models start at around $650 for a Core i5 processor with 8 GB of RAM and 256 GB of SSD storage, and most configurations are available discounted online.
Dell also offers 15 and 17-inch versions of the Inspiron 7000. The former is just an oversized replica of the 13-incher, with the same hardware, battery size and keyboard, but a 15.6-inch convertible display and an overall weight of around 4.9 lbs. It even sells for the same price, with the base versions starting at $650. Follow this link for more details.
The 17-inch model keeps the same design lines, but it doesn't just get a 17.3-inch display, but also a different keyboard with a NumPad section, two RAM slots, space for a 2.5-inch storage drive aside from the M.2 slot included on the smaller versions, plus a 56 Wh battery. The Inspiron 17 7000 starts at $899 for a Core i5 configuration with HDD storage, and is actually one of the very few convertibles with a 17-inch display available out there. Follow this link for more details.
Dell also offers 13 and 15-inch version of Inspiron 5000 2-in-1s, with bulkier plastic cases, lower end specs, a non backlit keyboard and more affordable prices. In fact, on the outside the Inspiron 13 5000 is very similar to the previous generation Inspiron 13 7347 which we reviewed a while ago, so the Inspiron 5000s are follow-ups of the older Dell convertibles, while the higher end Inspiron 7000s have received a redesign and a slight hardware overhaul.
You can find more about the Inspiron 5000 convertibles by following these links: the 13-inch model and the larger 15-inch variant, which is an oversized version of the smaller unit with the same traits and specs, just like on the superior range.
Lenovo Yoga 710 series
The Yoga 710 series includes an 11, a 13 and a 15-inch model these days.
The Yoga 710 11 is highly portable, weighing just 2.35 lbs, and it's built on a fanless Intel Core M platform, with up to 8 GB of RAM and up to 256 GB of SSD storage. It also gets a 40 Wh battery, a bright IPD FHD touchscreen, a pretty good keyboard without backlightning and a decent trackpad. On the other hand, it does tend to run a bit hot and the IO is very limited, with a single USB 3.0 slot on the side and micr-HDMI for video output.
The Yoga 710 11 starts at $550 for a configuration with a Core m3 processor, 4 GB of RAM and 256 GB of storage. More affordable options built on Pentium processors are available, and you can also check out the latest configurations and up-to-date prices via this link.
The Yoga 710 14 is the power-horse in the series, a competitor for all the 13-inch convertibles mentioned in this section, but with a slightly larger 14-inch touchscreen. It's still compact, light (3.4 lbs) and thin (0.7″), and it's fairly well built, despite the fact that some of its case is made from plastic. The hardware includes Skylake Core U processors, an Nvidia GT 940MX graphics solution, SSD storage, a 53 Wh battery and an IPS panel, and the keyboard is backlit.
The Nvidia chip is what sets this apart from most competitors, as an options for those interesting in some casual gaming. The Core i5 configuration with 8 GB of RAM, 256 GB SSD and the Nvidia graphics starts at around $800, which is an excellent price for what you'll be getting. Follow this link for more details and potential discounts.
Last in this series is the larger 15-inch option, the Yoga 710 15, which is pretty much an oversized version of the Yoga 710 14, with the exact same specs, but a 15.6-inch screen. It weighs 4.2 lbs, which is light for a convertible in this size-range, and it doesn't get a NumPad section on the keyboard, but the keys are backlit.
The Yoga 710 15 is also available without dedicated graphics, with the base Core i5 models starting at around $750, while the Nvidia GT 940MX configurations start at around $900. Follow this link for more details.
The tablets: HP Specte X2, Samsung Galaxy Tab Pro S and others
While most convertibles in this list are laptops with a 360-degrees convertible screen, there are also a few devices that are primarily tablets and work as laptops when hooked up to their docking stations or keyboard folios, like the Microsoft Surface Pros and the Asus Transformer 3s mention in the previous section. Those are not the only ones though, there are also a couple of other good options that we'll mention below. Just keep in mind that these are highly portable and great for inking, taking notes or drawing with compatible pens, but lack the IO, the battery life and the versatility provided by other form-factors.
The HP Spectre X2 is my favorite of this bunch and you'll find out why from our review. This one gets the specs and the performances in a really beautiful aluminum body. It includes a 12-inch screen with an active digitizer, Skylake Core m hardware, a 42 Wh battery, a good keyboard dock with backlit keys and decent IO. It also weighs around 2.7 lbs with the dock.
The higher specked versions are rather expensive ($800 and up), but a Core m3 model with 4 GB of RAM and 128 GB of SSD storage goes for under $600 these days (you'll find out where from here). The keyboard dock in included on all models, while a pen is included on certain configurations, but the device is going to work with most pens so there's no specific need to buy the HP one.
Another interesting option is the Samsung Galaxy Tab Pro S. This one is very slim and light (1.72 lbs for the slate, 2.35 for the slate and keyboard), is built on Core m hardware, gets a 12-inch AMOLED display and a 40 Wh battery. The build quality is OK, despite the back being made from plastic. This device only gets a single USB Type-C port though, unlike the Spectre which gets two.
One other particular inconvenience of the Tab Pro S is the lack of a kickstand, which means you'll either have to hold it, or use it with the keyboard folio that only allows fixed screen inclination. Another is the fact that it's not going to work with any styluses. Samsung promised a compatible Pen a while ago, which it's not yet available, so in the meantime you can get something like the Bambook Fineline 2 stylus. Besides these, the keyboard is rather flimsy and feels a bit cheap, so using it on your lap is going to be uncomfortable.
Despite its inconveniences, the Tab Pro S is overall a highly portable slate that offers good performance and an unique screen. The $900 price of the base configuration is hard to swallow, but you will find this one cheaper online.
The Dell Latitude 13 7000 is a 13-inch business detachable also built on a fanless Core M platform.
The stand-alone slate weighs 1.9 lbs and includes a 13.3 inch FHD IPS touchscreen with support for Wacom pens, although a pen is not included in the pack. A keyboard dock is though, and when latched together the two parts make up for 3.7 lbs laptop. Part of the weight is due to the extra 20Wh battery inside the dock, on top of the 30 Wh one tucked inside the tablet itself.
Dell markets this device primarily for corporate users and thus it offers vPro enabled configurations and a large suite of compatible accessories. Despte all these, the Latitude 13 7000 is not that expensive, as the base version with a Core m5 processor has an MSRP of $599.
The Toshiba Portege Z20t is another Core M powered tablet with an attachable dock. It is a bit more compact and slightly lighter then the Dell (3.3 lbs for the tablet + dock), mostly because it gets a smaller 12.5-inch display, with a non-glare treatment and active digitizer with pen support. On top of that, a secondary Wacom digitizer is bundled in the pack, if you require more precise pen recognition.
The docking unit includes a great keyboard, solid IO and a 36 Wh battery, alongside the other 36 Wh battery inside the tablet, and combined the two will easily offer 10+ hours of everyday use on a charge.
Toshiba's Portege Z20T doesn't come cheap though, with the base model starting at $999, but if you need a capable and long-lasting business device, this might be the one for you.
There are a few other devices that we're not including here due to scoring poor reviews with buyers, despite otherwise receiving praises from the media. Among them, there's the Dell XPS 12 9250, the Lenovo Miix 700 or the Huawei Matebook. Check them out yourselves if interested in more details, and get in touch in the comments section at the end of the post if you have any questions about them.
Asus Transformer Book Flip and Vivobook Flip series
There are several models included in this series, with screen sizes ranging from 11.6 to 15.6-inches. We're not going to list all the available models, because there are dozens out there and Asus's naming policy is confusing.
I will tell you the the Flips are usually mid-range convertibles with solid prices and specs. The 13 and 15-inch versions are built on Intel Broadwell and Skylake Core U hardware, with different amounts of memory and storage. Most of them get IPS screens and some even include dedicated graphics, usually Nvidia GT 940M chips. As a general rule, the models with Nvidia graphics get the TD, LT or UB abbreviations after the series name (example: TP500TD, Q503UB), while the ones without dedicated graphics finish in LA or UA (examples: TP501UA).
Since these are not premium computers, you should expect to make some trade-offs when going to them. For instance, the build quality is good, but not excellent, plastic is used for some parts of cases, keyboards lack back-lightning on some configurations and others. The excellent prices usually compensate for all these and are one of the reasons these Asus notebooks are popular.
You should follow this link for more details on the 13-inch Transformer Book Flips and this one for the 15-inch models.
Lenovo Yoga Flex lines
These are Lenovo's most affordable 2-in-1s, and the latest generation in the series are the Flex 4 models, but the older Flex 3s are also worthy of attention.
The Flex 4s are available in 14 and a 15.6-inch variants, starting at around $500 (and going for less online). All versions offer Intel Skylake Core U hardware, with the base models getting Core i3 processors, 4 GB of RAM and HDD storage, while the higher end ones can be specked with faster CPUs, more RAM and SSDs. All also get backlit keyboards, FHD IPS touchscreens and 52.5 Wh batteries.
The build quality on the other hand is only average, with plastic being used for the cases and chassis, and these Flex ultraportables are also fairly thick and heavy – 3.9 lbs for the 14-incher and 4.6 lbs for the 15-inch model. Other than that though, if you want a simple and inexpensive computer with a convertible display, these Lenovos are options you have to consider.
HP Envy and Pavilion x360 lines
HP's lines of mid-range convertibles include the Envy and Pavilion series. Normally the Envy models are a step-up from the Pavilions, which target budget oriented customers, but in this case the two don't overlap, at least at the time of this post.
And that's because if you're after a 13-inch unit you'll have to look at the HP Pavillion x360 13t, a device built on Skylake Core U hardware, with a 48 Wh battery and a FHD IPS screen. The case is entirely made out of smooth plastic, is available in a few different colors and is rather heavy at 3.8 lbs, while the keyboard is not backlit, which is something you might be able to accept from a computer that's usually more affordable than other 13-inch convertibles, starting at around $500. Follow this link for mode details.
If you're after a full-size convertible with a 15.6-inch display, HP offer the more premium Envy x360 15t, with metallic construction and a backlit keyboard, among others. It weighs 5.1 lbs though, which makes it heavy for a convertible, even if the choice in materials is good.
You can get this notebook with a FHD IPS screen, Intel Skylake Core U hardware, an optional Nvidia GT 930M graphics chip, 8-16 GB of RAM and a 48 Wh battery, and configurations with AMD A12 processors and Radeon graphics are also available.
Overall though, the Envy x360 15t is mostly in this list because it's well built and sells for cheap, otherwise it wouldn't be able to compete compete with the other 15-inch 2-in-1s that offer better specs or are lighter. A Core i5 model with 8 GB of RAM and HDD storage sells for around $600. Follow this link for more details.
Wrap up
These are the best convertible ultrabooks you can find in stores right now. More are launched every month, so stay tuned, I'm constantly updating the list, adding new products as they hit the stores and discarding the ones that become obsolete.
In the meantime, if you're interested in a highly portable laptop, you should also check out my list of the best ultrabooks of the moment, my selection of highly recommended Chromebooks and maybe this other list of more affordable alternatives for those of you on a lower budget.
Drawing the line on 2-in-1 laptops, it's hard to say some models are better than the others, as they are different and address different needs. Some are overall more interesting than the other though. For instance, the HP Spectre X360 is a great all-rounder, if you have around $1000 to spend, the Zenbook UX360 is an excellent mid-range option, the Microsoft Surface Pro offers performance in a compact and light shell, the Lenovo ThinkPad X1 Yoga and the Toshiba Portege Z20t are great business options, while the Dell Inspiron 11 3000 or the HP Pavilion X360 11 are great buys if you don't want to spend a lot.
At the end of the day though, you know exactly what you want from your next computer and how much you're planing to spend on it, that's why the final decision is all yours. If you need more help deciding, if you spot any new product that's not included in here or if you just have something to ask or add to this list, don't hesitate to use the comments section below. I'm around and I'll reply as soon as possible.
And before you go, keep in mind that such posts take countless hours of work, so if you appreciate the result, make sure to show this link to your friends and stay around for future updates.