If you're shopping for a performance/gaming laptop on a tighter budget, you've most likely come across the Asus TUF Gaming series in recent years.
This is Asus's budget-friendly alternative to the ROG – Republic of Gamers notebooks, available in 15 and 17-inch variants, and they have entirely revamped the series for the 2022 generation, looking to address some of the quirks of the previous models.
The 2020 and even the 2021 TUFs took a lot of heat for some of the decisions Asus made around their thermal designs and cooling capacities, and while I understand the complaints and have measured high internal temperatures under load in our reviews as well, I still found those notebooks to be fairly competitive in some markets, especially in the AMD variants with mid-tier 3050Ti/3060 graphics. Nonetheless, I'm glad to see Asus redesigning these TUFs for 2022, they were in need of a revamp in order to stay competitive in this budget gaming niche where the bar has been raised very high by devices such as the Lenovo Legion 5 or the HP Omen 15.
Asus not just bumped the specs to the latest Intel Alder Lake/AMD Rembrandt platforms available to date with these 2022 TUF Gaming models, but they also made them smaller and lighter, improved the IO, inputs, and screen options, and also upped up the power of the GPUs and added a much needed MUX for uncompromised gaming performance.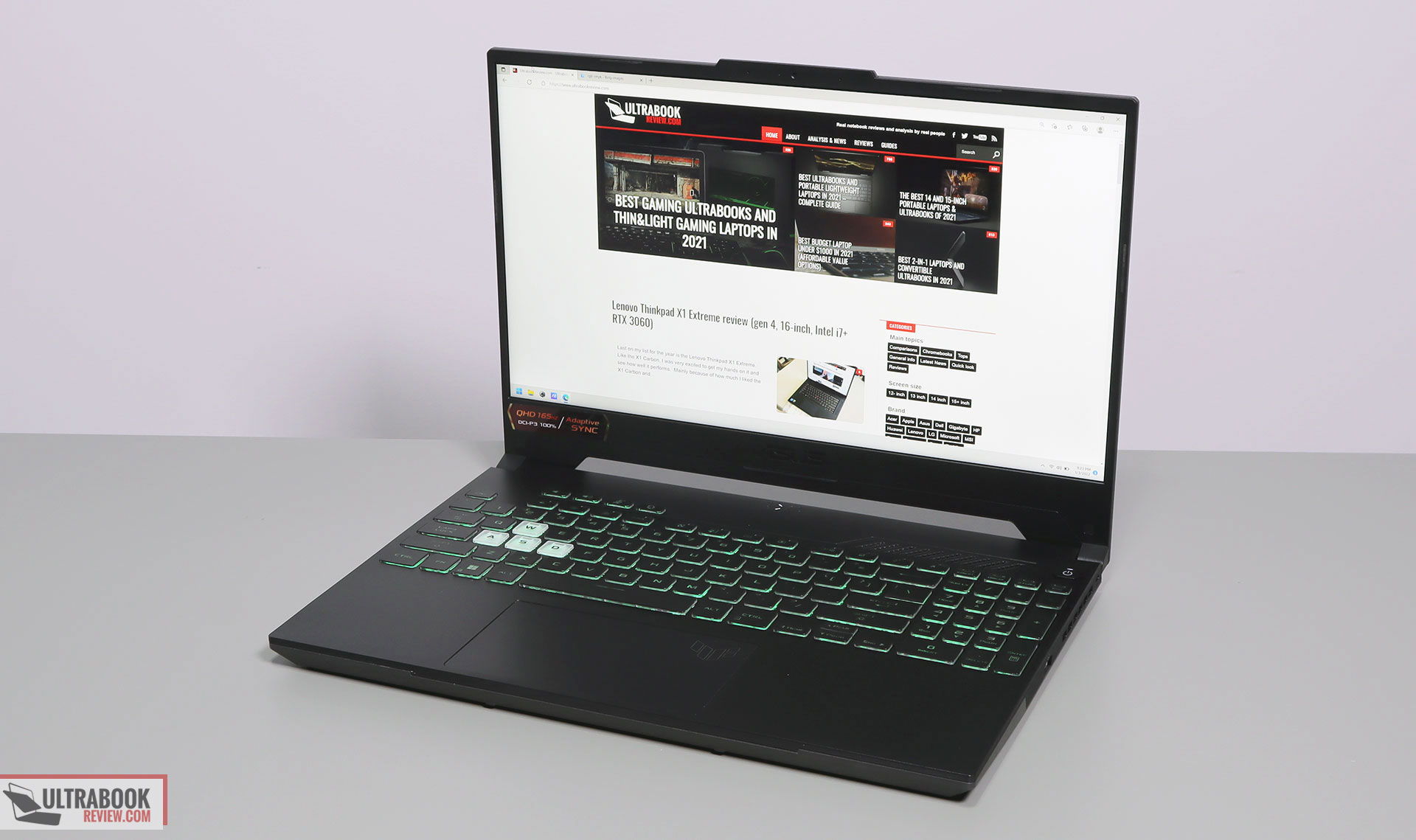 This article is a preview of the 2022 TUF Gaming A15 (AMD) and F15 (Intel) lineups and a sum of my first impressions of the redesign, after spending a few days with a pre-production model. We'll follow up with more technical/performance info once we get the review units in the next couple of weeks.
Update: Our detailed review of the TUF Gaming A15 series is available here, and our review of the Intel-based TUF Gaming F15 is available here.
Update2: A detailed comparison of the AMD Ryzen 7 6800H and the Intel Core i7-12700H platforms in the TUF Gaming chassis is available here.
For starters, here's a quick specs sheet of the two TUF variants, and down below we'll further get in-depth on some of the important updates for this generation.
2022 ASUS TUF Gaming A15 FA507R – review
2022 ASUS TUF Gaming F15 FX507Z – review
Display
15.6-inch, 16:9 format, non-touch, matte, several panel options:
FHD 1920 x 1080 px IPS 144 Hz with 72% sRGB,
FHD 1920 x 1080 px IPS 300 Hz 3ms with 100% sRGB,
QHD 2560 x 1440 px IPS 165 Hz 3ms with 100% DCI-P3
17-inch A17/F17 variants also available
Processor
AMD Rembrandt, up to Ryzen 7 6800H, 8C/16T
Intel Alder Lake 12th-gen, up to Core i7-12700H, 14C/20T
Video
AMD Radeon 680M + up to Nvidia GeForce RTX 3070 Laptop 8GB 140W,
with MUX, Optimus, Adaptive Sync
Intel Iris Xe + up to Nvidia GeForce RTX 3070 Laptop 8GB 140W,
with MUX, Optimus, Adaptive Sync
Memory
up to 32 GB DDR5-4800 (2x DIMMs)
Storage
2x M.2 PCIe x4 gen4, 2280 format
Connectivity
Gigabit LAN (Realtek RTL8168/8111), Wireless 6x (Mediatek) 2×2, Bluetooth 5.2
Gigabit LAN (Realtek RTL8168/8111), Wireless 6x (Intel) 2×2, Bluetooth 5.2
Ports
left: DC-In, LAN, HDMI 2.0b, 1x USB-C 3.2 gen2 with DP/data – dGPU, 1x USB-C 3.2 gen1 with data/video – iGPU, 1x USB-A 3.2 gen1, headphone/mic
right: Kensington Lock, 1x USB-A 2.0
Battery
56 or 90 Wh, up to 240 W power adapter
Size
354 mm or 13.94" (w) x 251 mm or 9.88" (d) x 24.9 mm or .98" (h)
Weight
from 2.05 kg (4.5 lbs), .73 kg (1.6 lbs) power brick and cables, US version
Extras
single-zone RGB backlit keyboard and larger clickpad, HD webcam, stereo speakers, available in either Mecha/Jaeger Gray colors
You're going to find a multitude of configurations available in stores, and this quick guide will help you figure out between those variants.
The 2022 AMD 15-inch models get the naming A15 FA507Rx, while the 2022 Intel models are called F15 FX507Zx. The FA/FX markups signal between the AMD and Intel hardware, the 5 right next signals the 15-inch screen size, the 07 is a markup of the 2022 generation (2021 models were marked as 06, 2020s as 05, etc), and x at the end differs between the available GPU options in this way:
TUF A15 FA507RR / F17 FA507ZR – AMD/Intel and RTX 3070 dGPU at up to 140W;
TUF A15 FA507RM / F17 FA507ZM – AMD/Intel and RTX 3060 dGPU at up to 140W;
TUF A15 FA507RE / F17 FA507ZE – AMD/Intel and RTX 3050Ti dGPU at up to 95W;
TUF A15 FA507RC / F17 FA507ZC – AMD/Intel and RTX 3050 dGPU at up to 95W.
All these are the 15-inch models, and then you're also getting the same in the 17-inch chassis. For example, the Asus TUF Gaming A15 FA707RR is the AMD + RTX 3070 17-inch model , while the Asus TUF Gaming FX707ZR is the Intel + RTX 3070 17-inch model, plus all the other equivalents for the 3060, 3050Ti, and 3050 GPU options.
On top of these, each model is available with various RAM, storage, and screen options. For the 15-inch models, there are three screen options available, while the 17-inch variants seem (based on the specs on the Asus site) to only be available with the same FHD IPS 144 Hz panel with 72% sRGB that we've tested on the previous generations. I hope this is a mistake, though, and better-quality panels are also available for the TUF A17 and TUF F17 2022 updates.
All in all, this naming is confusing, but hopefully you can now figure these configurations out, or you can ask your questions in the comments section at the end of the article if in need of any help.
Design and ergonomics
Just to be clear, I'm going to only discuss the 15-inch TUFs in this preview, because I haven't yet touched the 17-inch update. However, pretty much all the particularities apply to both sizes, as far as I can tell.
Ok, so these 2022 TUFs are ~5% more compact than the previous generations, but the changes are minimal and you'll hardly be able to notice them even when having the two model-years side by side.
What's I did notice is the overall drop in weight, with this F15 FX507 that I have here only weighing 2.05 kg, about 150 grams less than the 2021 version. And that's for a configuration with 2xRAM modules, 2x SSDs, and the 90 Wh battery. For some reason, the Asus site still mentions the weight at 2.2+ kilos for this series, but my scales are not lying and this pre-production sample that I have here is lighter than before.
Size aside, you'll also notice the updated materials and design lines of this generation. The main chassis and interior are still plastic, but with a simpler texture used for the inner deck and with a rougher gray finishing for the sides and undersize. This part reminds me of the recycled plastic experienced on the Aspire Vero series, with a similar aspect and sturdy feel to it. The build quality is overall solid, with almost no flex in the keyboard deck or the lid, and no funny noises when picking this up.
The lids have been redesigned as well, with two aluminum options to choose from now: one with an embossed TUF logo, the one that we have here, and another with a laser engraved TUF logo and some vertical lines. Both are a little more refined than the options available before, especially compared to the black plastic model used for the lower-tier 2021 configurations (the last of the pictures down below).
I also noticed a few more changes on the upper interior part of these 2022 TUFs. This part is cleaner looking now and the intake air grill is smaller in size and has been moved to the right of the chassis. What I don't understand are these new status LEDs that Asus went for, with four bright LEDs placed right under the display.
I wonder if whoever designed these ever used the laptop at night, in a dark room, or tried to watch a movie at night. I'm pretty sure the answer is no, otherwise, I can't see how they came up with this design. Bright indicator LEDs right in the line of sight are a big NO-NO for me, and yet someone at Asus keeps thinking otherwise and puts big and bright LEDs on all of the Asus lineups, including these TUF and the 2022 Scars and most of their Zephyrus. Are we the only ones to find these annoying and unnecessary? If anyone's reading this at Asus, please, move these LEDs to the sides and out of the way with your next generations, why would you want blinking bright lights under the screen? I'm going to make a separate rant article on this topic and keep it on the homepage until someone acknowledges it!
Oh, and have I mentioned that there's still an always-on white light in the power button? Why?!?!?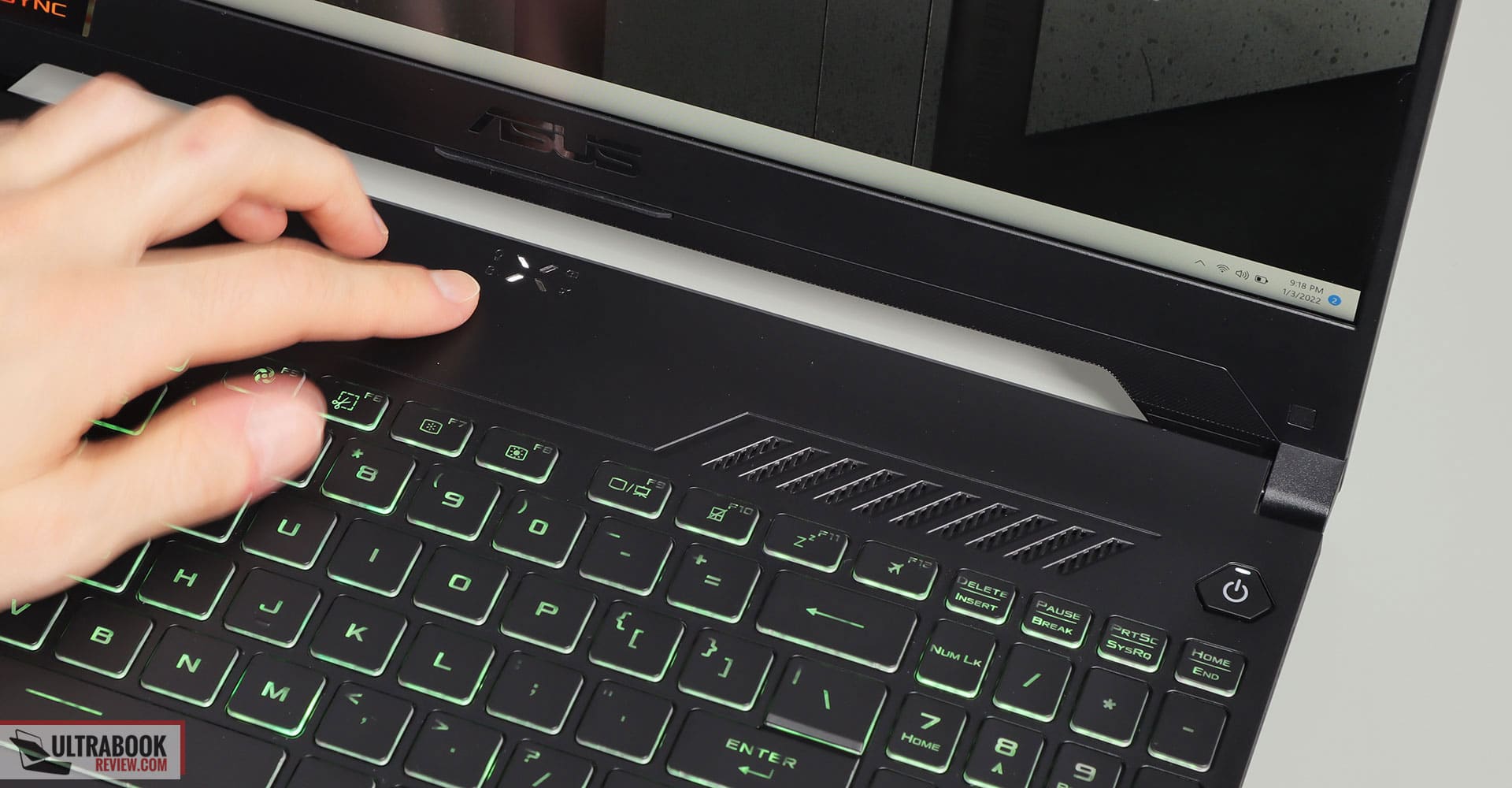 Anyway, as far as the other practical aspects go, I appreciate the full-size inputs and the larger clickpad on this TUF generation, and I also found the grip on the desk to be very good, thanks to the bigger and taller rubber feet on the underside. You'll also notice open-air intakes over the thermal module down here, and the speaker cuts – I would caution against covering and muffling them with daily use, due to how they are positioned.
Speaking of the thermal module, Asus transitioned to a much expected 4-radiator design with this TUF series, at least for the higher-tier GPU configuration that we have here. That means there are now radiators on the back edge and on both sides of the laptop, which should help with the overall cooling capabilities, but which also negatively impacts the IO placement, as you'll find out in a bit.

For now, though, I'll also mention that the hinges are strong and yet smooth enough on this design to allow easy one-handed adjustments. However, the screen only goes back to about 145 degrees, which is OK for desk use, but somewhat limiting otherwise.
Asus went with small bezels on the sides of the panel, a reversed notch housing the camera and microphones at the top, and still a hefty chin underneath, with a cut revealing anything that might be behind the laptop. You're not going to see any cables back there, though, because the IO is still lined on the laterals, and no ports have been moved to the back.
I'm also not the biggest fan of the rugged front lip and corners, I would have preferred more blunted variations, friendlier on the wrists, the kind offered with the ROG models.
So the majority of the IO is in fact grouped on the left side of this laptop, all the way to the front, a design we've complained about on other Asus notebooks, such as the Zephyrus G15s/M16s, and that's because it is not a very practical approach if you're planning on hooking up multiple peripherals. Most other laptops in this class do a better job spreading the IO around the chassis and especially utilizing that back edge for the DC-in, HDMI and LAN connectors, but not this TUF. Up to you if this is going to be acceptable or not.
Overall this TUF 2022 Gaming redesign leaves me with mixed impressions. I do like the cleaner looks, the simpler materials, and the fact that they updated the thermal module to a 4-radiator design, the same kind offered by most other competitive products in this segment. I also sure don't mind the smaller chassis and lower weight.
At the same time, though, I wish they would have better spread the IO around the sides, they would have implemented a 180-degree hinge system and friendlier lips and corners. And don't even get me started again on those indicator LEDs under the screen!
Inputs and screens
The blunt of the keyboard design hasn't changed between the 2021 and 2022 TUF generations, with the same full-size layout with a cramped NumPad section on the site and the same smooth plastic keycaps with translucent sides letting the RGB illumination shine through.
There are three notable changes, though. Number one, Asus added the extra 4-row of media keys at the top-left side of the chassis, which were previously only available on the ROGs. Then, they also cut off the height of the Space key and the arrows compared to the previous TUF models. I'm OK with a standard-sized Space key and I can live with this arrow layout, with wider, but shorter and more cramped keys – these are similar to the arrows on the Zephyrus models.
Layout aside, this is a good and quiet typer. The feedback is a little on the mushier side, but I can see myself typing thousands of words on this keyboard just fine.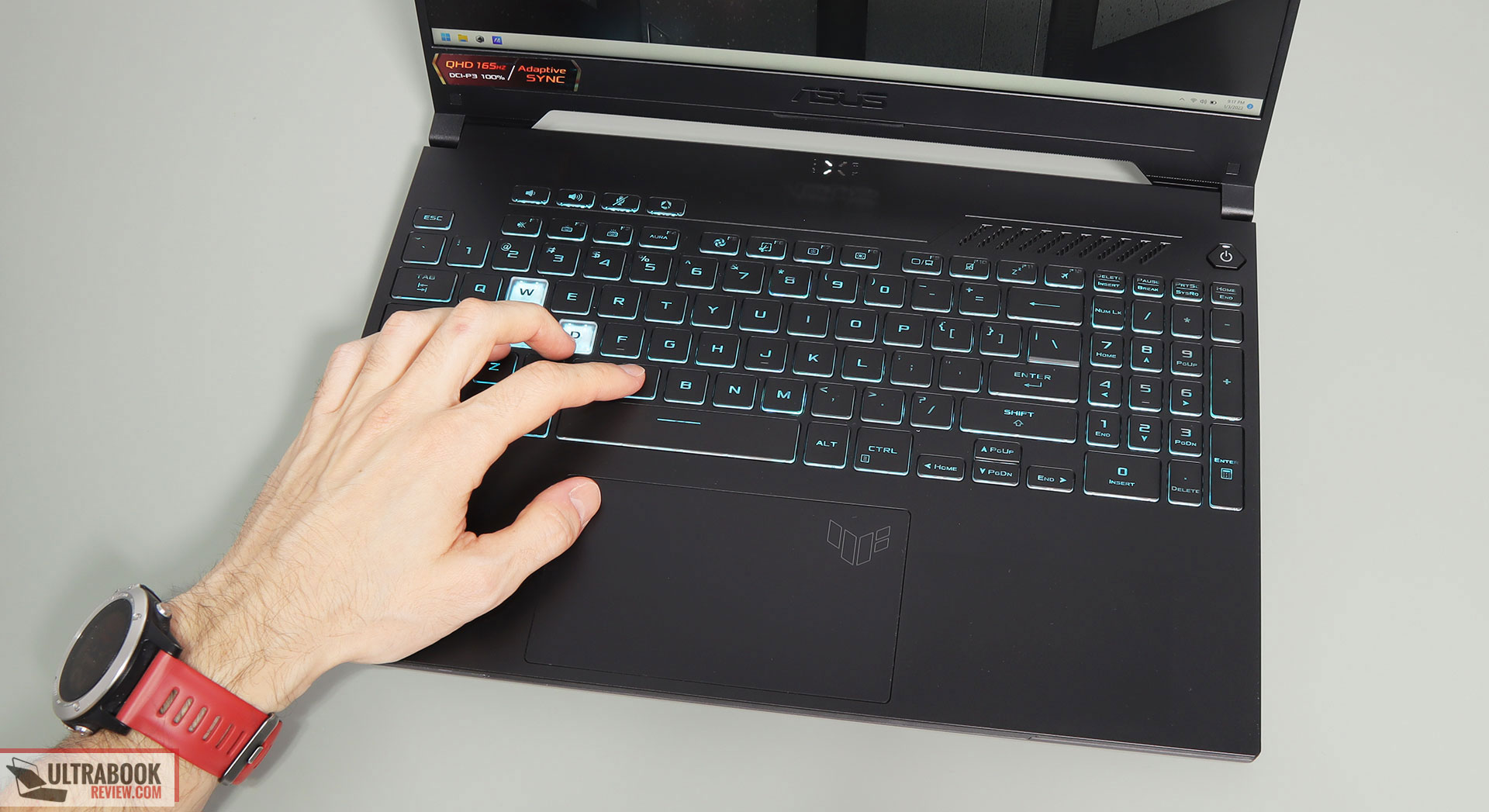 The clickpad is a major update with this generation, now 25% larger in size. It's still made out of plastic, and rattles a bit with firmer taps on this early unit that I have here, but I found it accurate and reliable during my time with it.
As for biometrics, there are still none on this TUF Gaming generation.
For the screens, you're still getting 16:9 matte panels on this series, in a multitude of varieties.
I'm happy to see Asus bumping the top-option to an excellent QHD 165 Hz panel with 100% DCI-P3 color coverage and fast response times, the one that we're having on this unit.
It's a really beautiful panel that's normally offered with higher-tier products, as most OEMs only stick to 100% sRGB options in this class. Just keep in mind that it's not that bright, at around 300-nits max, so you'll mostly want to consider it for indoor use. I'd also expect this QHD panel option to only be offered with the highest-end 3060/3070 configurations, so it might end outside of your budget. Get it if you can, though, you won't regret it!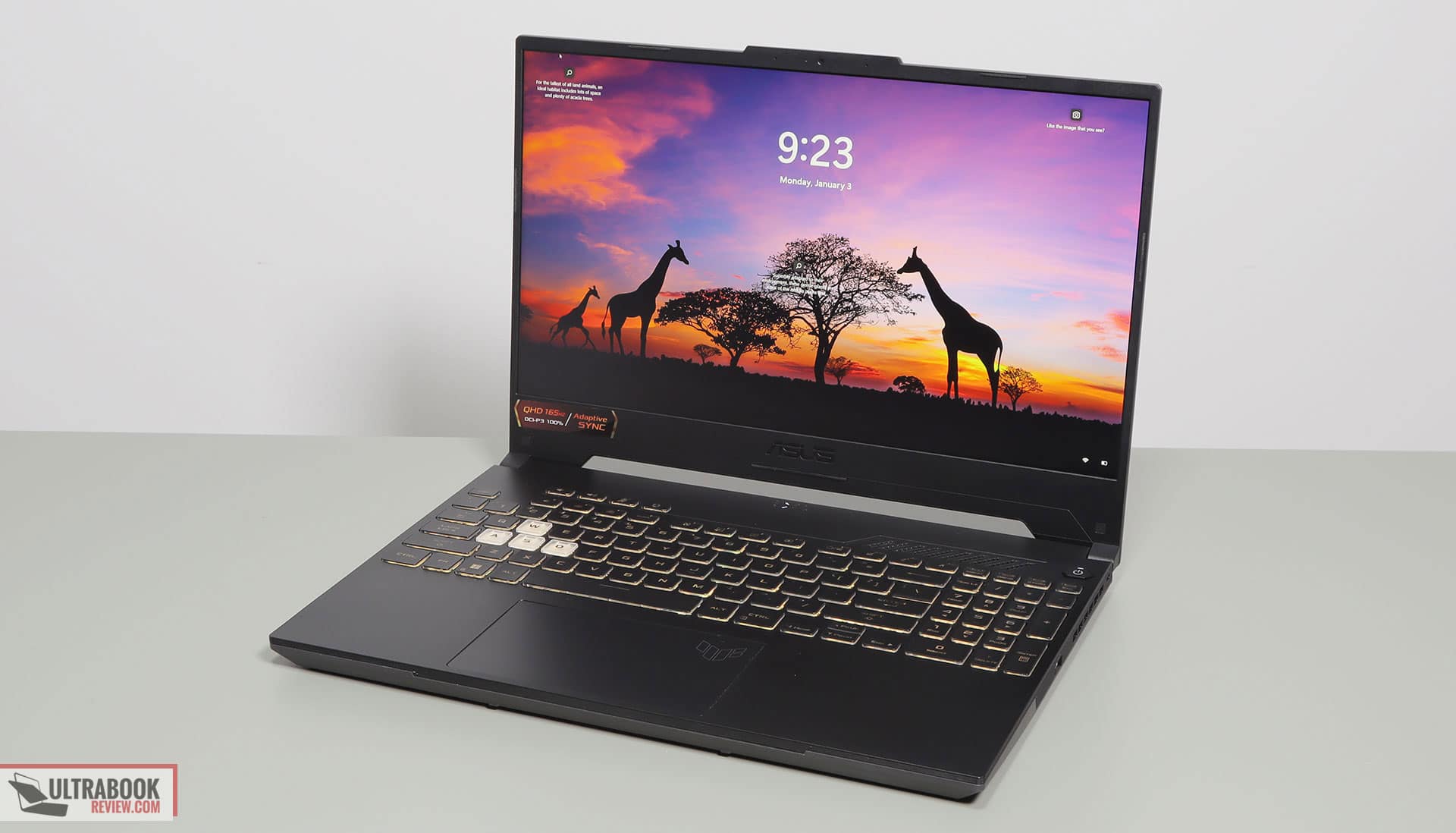 There are also two FHD panel options to consider, one with 300 Hz refresh, fast response times, and 100% sRGB color coverage, and another with 144 Hz refresh, slower response, and 70% sRGB. Stay away from this one as much as possible, as it's probably the dreaded Panda panel of the past generations. Just do what it takes to scramble up more money to squeeze in a 100% sRGB configuration.
Intel Alder Lake/AMD Rembrandt hardware
You can still get these laptops with either Intel or AMD hardware and various types of Nvidia RTX dedicated graphics chips.
You're also getting DDR5 memory and PCIe gen4 storage (to be confirmed) on all options, with 2x memory slots and 2xM.2 2280 SSD slots. Asus saved up a little on these budget models by opting for WiFi 6x connectivity and not upgrading to the WiFi 6E chips that they offer on the 2022 ROG models.
On the CPU side, the AMD Rembrandt 6000 platform is a mild refinement of the Cezanne 5000 hardware from 2021, so expect slightly higher clocks and fairly similar performance. The major update for Rembrandt is the RDNA2 based iGPU, but that's not going to matter much on these laptops that rely on powerful dGPUs for graphics tasks.
The Intel Alder Lake hardware is a major overhaul of the previous-gen platform, though, and that will make the TUF F15/F17 variants a lot more interesting than before, with most likely superior performance across the board over the AMD variants for the 14C/20T Core i7-12700H configurations. There are no Core i9 for this series, just as there are no Ryzen 9 models.
The Intel TUF F models might end up fairly expensive in comparison to the A AMD-based versions, though, so there's a place and a time for both variants. We'll know more once we get to review them and buy them in stores.
What's also extremely important to acknowledge here is that Asus they were able to set up the Nvidia GPUs at significantly higher power on these 2022 TUFs, and included a MUX on all variants. These two combined are going to greatly increase the gaming and overall GPU performance of these 2022 TUF Gaming models.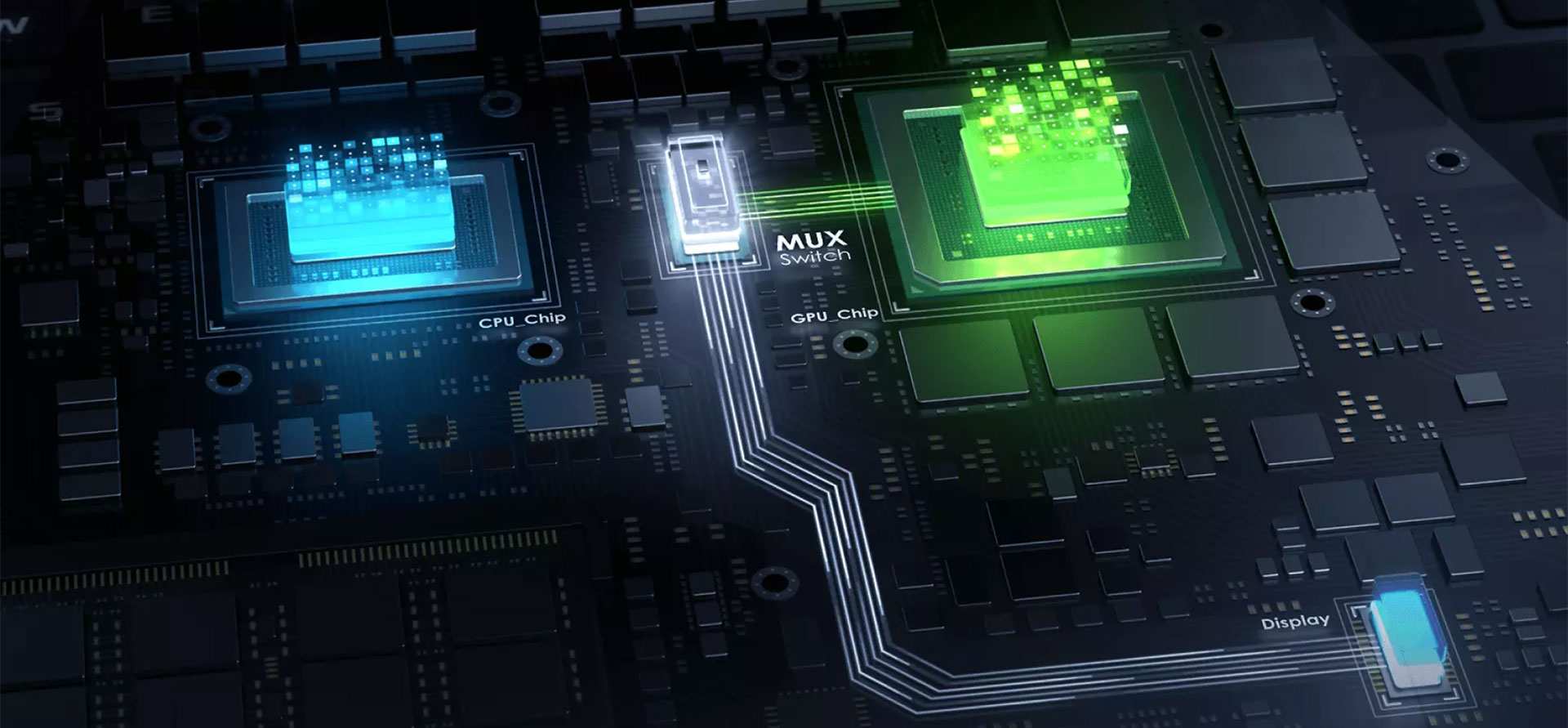 The 3050/3050Ti configurations are now capable of running at up to 95W in these designs (80 + 15 Dyn Boost), while the 3060/3070 configurations go up to 140W (115 + 25W Boost) in supported titles.
I'd expect there will be some differences in the thermal designs of these GPU configurations, as I've seen mentions of "up to 4 Exhaust vents", and that suggests some versions might have fewer than 4. What we have here is the higher-tier cooling module made for the 3070 option, and I've added a picture of it side by side to the cooling module in the 2021 RTX 3070 version of the TUF Gaming A15. There's a larger fan, an extra heatpipe, and an extra radiator on the GPU side with the 2022 TUF.
Update: Our detailed review of the TUF Gaming A15 series is available here, and our review of the Intel-based TUF Gaming F15 is available here.
This sample is pre-production so it's impossible to tell how the thermal module is going to cope with the significantly faster GPU in these updated TUFs. Stay around for more details in the reviews, somewhere in the next couple of weeks.
What I noticed is that Asus has updated the Armory Crate software support for the TUF series, unlocking access to the Manual mode that allows for CPU/GPU and fan tweaking. Previously, Manual mode was only available on the ROG models. That's good news and should offer much-needed customization options for these TUFs.
I also wanted to touch on the differences in speakers between the two models, with what look like smaller ones for the 2022 generation. The quality wasn't much with the 2021 TUFs, and I don't think it has improved – my unit didn't sound great, but it didn't include the DTS processing software that normally comes with these Asus laptops, so my first impressions aren't conclusive of what the final units will be capable of. I doubt you'll get these TUFs for their audio quality, though.
And while we're here I will also touch on the batteries. There's the 90Wh battery on our unit, but Asus will also offer 56Wh batteries with the lower-tier configurations, in order to keep prices at bay for those models. I'd stay away from those as much as possible if you plan to use your laptop on battery.
One aspect to mention here is that these 2022 TUFs ship with either a 200W or a 240W charger, between the two GPU power options, so overall you'll have to accept slightly bigger bricks with the 2022 TUFs. They're the compact Asus designs, though, so still portable for their wattage.
Initial final thoughts
Performance-wise, these 2022 TUF Gaming units should greatly outmatch their 2021 predecessors, both with demanding combined workloads and especially with games, where the higher-power GPUs and the addition of a MUX are going to make the most difference.
The series is still available with either Intel or AMD hardware, as well as a multitude of GPU, RAM, and storage options, so there should be something in there for every one of you, as long as you're OK with the design and ergonomics particularities mentioned throughout this article, and with the configurations/pricing available in your area.
I'd expect well-balanced implementations on the 3050/3050Ti configurations and excellent pricing, just stay away from the base 144Hz screen option as much as possible, and aim for the 90Wh battery if available.
Update: Our detailed review of the TUF Gaming A15 series is available here, and our review of the Intel-based TUF Gaming F15 is available here.
The screen quality and battery life should not be a concern with the higher tier configurations, but I would wait for indepth reviews before jumping on the high-power 3060/3070 models, just to better understand what this new design is capable of in terms of performance, cooling, and noise levels. We'll have our reviews up somewhere in the next couple of weeks.
In the meantime, let me know what you guys think about these revamped 2022 Asus TUF Gaming lineups and whether you have any questions or specifics that you'd be interested for us to cover in the reviews.
By the way, Asus also updated their TUF Dash lineups for the new year, and I might cover those in a separate preview article as well, if there's enough interest.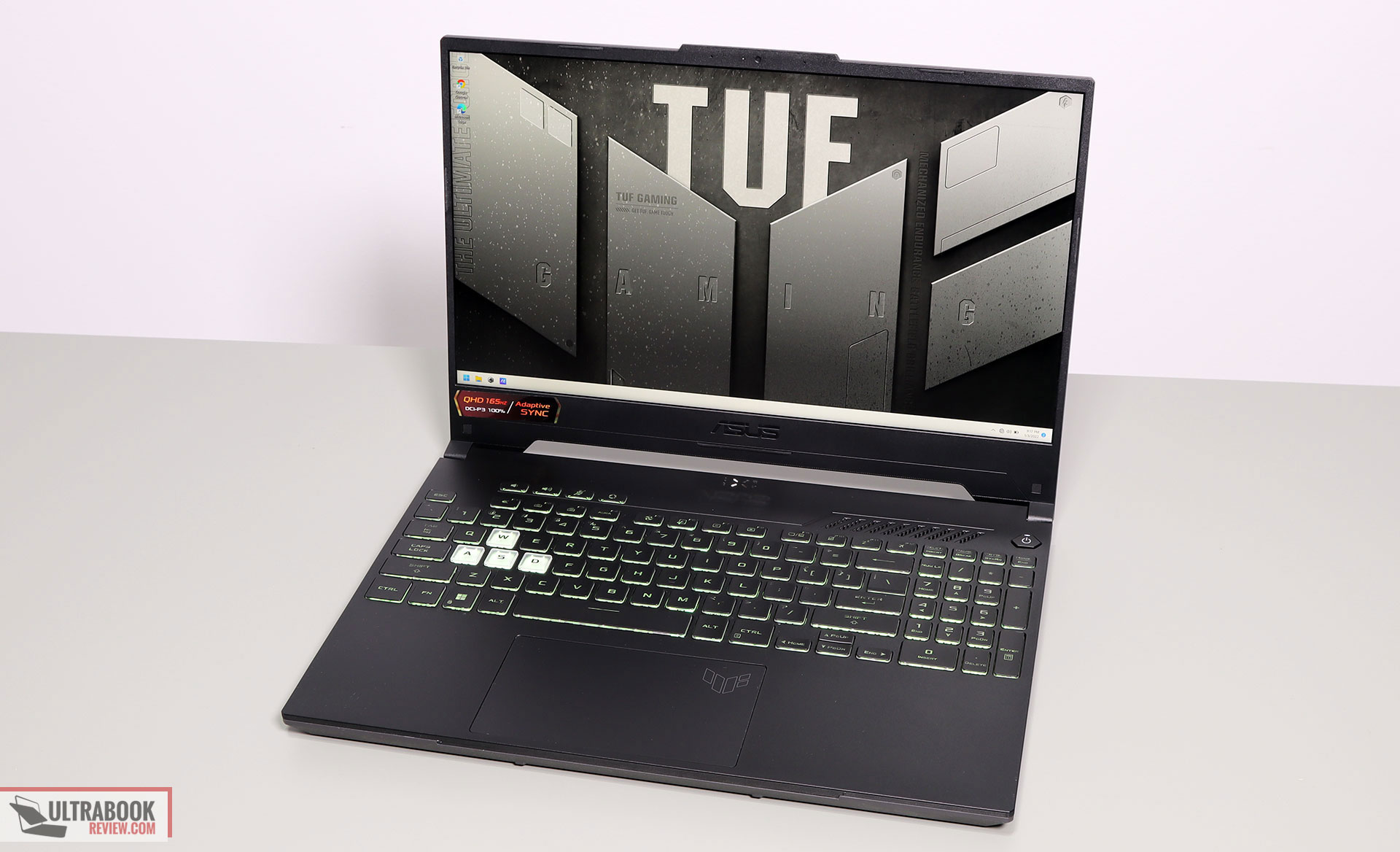 Disclaimer:
Our content is reader-supported. If you buy through some of the links on our site, we may earn a commission.
Terms
.