Dell are updating most of their notebook lineups at the beginning of 2022 with the latest hardware specs available from Intel, AMD and Nvidia, including their top-tier Alienware X series.
For 2022 generation, we'll be getting the updated Alienware X15 R2 and X17 R2, mostly platform refreshes of the initial designs launched around mid-2021, as well as a brand new Alienware X14 R1 design.
This one is a compact full-performance laptop with a 14-inch display and a direct-pier competitor for the popular Asus ROG Zephyrus G14 and Razer Blade 14 performance/gaming ultraportables.
In just a few words, the Alienware X14 is a smaller and thinner variation of the 15 and 17-inch models. It maintains the series's design particularities, with the minimalistic Lunar Light white exterior and black interior, as well as with the IO placed behind the screen. It also offers the same keyboard and similar internal specs, albeit in a slightly power-restrained implementation, due to the smaller format. Dell have adapted the thermal module for this chassis, but haven't skimped on battery life or any of the important features available with the other Alienware X variants.
This article is a brief preview of the X14 series, as well as of the updated X15 and X17. Here's a spec sheet of the three, and we'll get in-depth on the important particularities and changes for down.
2022 Dell Alienware X14 R1
2022 Dell Alienware X15 R2
2022 Dell Alienware X17 R2
Display
14-inch, 16:9, non-touch, matte,
FHD 144 Hz or QHD 120 Hz with 100% DCI-P3
15.6-inch, 16:9, non-touch, matte,
FHD 165/360 Hz or QHD 240 Hz with 100% DCI-P3,
with Advanced Optimus and GSync
17.3-inch, 16:9, non-touch, matte,
FHD 165/360 Hz or UHD 120Hz with 100% AdobeRGB,
with either AdaptiveSync or Advanced Optimus(GSync)
Processor
12th gen Intel Alder Lake Core H, up to Core i9-12900H, 14C/20T
Video
Intel UHD + up to Nvidia GeForce RTX RTX 3060 Laptop 6GB (up to 85W with Dyn Boost),
with MUX, Advanced Optimus, and GSync
Intel UHD + up to Nvidia GeForce RTX 3080Ti Laptop 16GB (up to 110W with Dyn Boost),
with MUX, Advanced Optimus, and GSync
Intel UHD + up to Nvidia GeForce RTX 3080Ti Laptop 16GB (up to 165W with Dyn Boost),
with MUX, Advanced Optimus (only of FHD 360Hz screen), and GSync
Memory
up to 32 GB DDR5-4800 (onboard)
up to 64 GB DDR5-4800 (onboard)
up to 64 GB DDR5-4800 (2x DIMMs)
Storage
1x M.2 PCI gen4 slot (to be confirmed)
2x M.2 PCI gen 4 slots
 2x M.2 PCI gen 4 slots
Connectivity
WiFi 6E (Killer) 2×2 with Bluetooth 5.2
WiFi 6E (Killer) 2×2 with Bluetooth 5.2
WiFi 6E (Killer) 2×2 with Bluetooth 5.2, Killer Gigabit Ethernet
Ports
1x USB-A 3.2 gen1, 2x USB-C with Thunderbolt 4, 1x USB-C gen2, HDMI 2.1, microSD card reader, headphone&mic
1x USB-A 3.2 gen1, 1x USB-C with Thunderbolt 4, 1x USB-C gen2, HDMI 2.1, microSD card reader, headphone&mic
2x USB-A 3.2 gen1, 1x USB-C with Thunderbolt 4, 1x USB-C gen2, HDMI 2.1, DP 1.4b, microSD card reader, LAN, headphone&mic
Battery
80.5 Wh, up to 130 W power adapter (to be confirmed)
87 Wh, up to 240 W power adapter
90Wh, up to 330 W power adapter
Size
14.5 mm or .57" (h) (to be confirmed)
359 mm or 14.16" (w) x 257 mm or 10.9 (d) x 15.9 mm or .63" (h)
399 mm or 15.7" (w) x 299 mm or 11.8 (d) x 21 mm or .82" (h)
Weight
from 1.8 kg (4 lbs) (to be confirmed)
from 2.3 kg (5.15 lbs)
from 3.05 kg (6.7 lbs)
Extras
rubber-dome RGB backlit keyboard, dual speakers, HD webcam
rubber-dome RGB backlit keyboard, dual speaker, HD webcam
optional mechanical RGB backlit keyboard with CherryMX switches, dual speakers, HD webcam
Alienware X14 R1 early-2022
Here are a couple of pictures of the 2022 Alienware X14 next to the X15 and X17 models.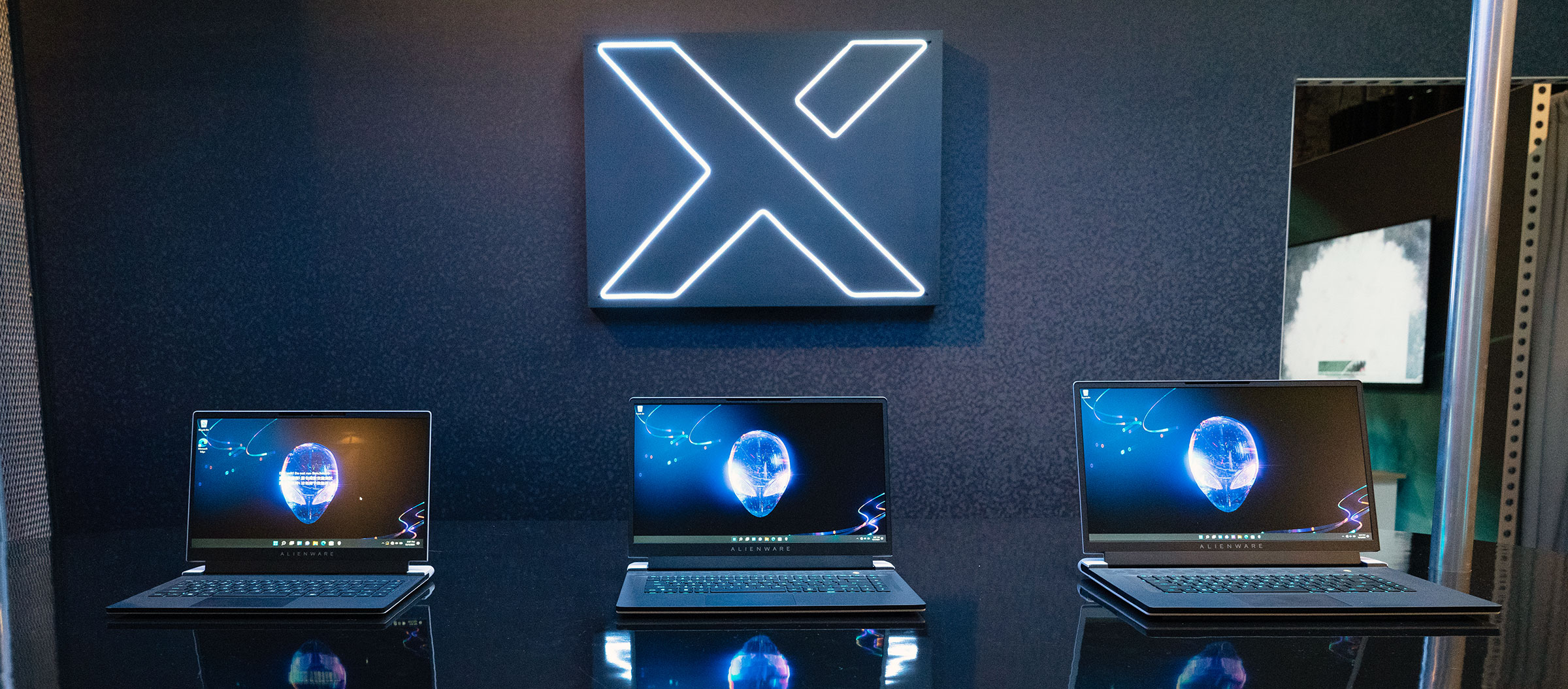 At under 16 mm thick, the Alienware X15 is the thinnest full-performance laptop on the market, but at the same time not as compact or lightweight as other options such as the Blade 15 or the MSI Stealth, or the Asus ROG Zephyrus G15. And here's where the Alienware X14 steps in, as an even thinner and smaller device.
Update: Here are our thoughts on the updated 2023 Alienware X14 R3 generation available in the meantime.
However, knowing this Alienware X design and considering the hefty chin under the display and the hump on the back of the chassis, don't expect the X14 to be as compact or portable as a Blade 14 or the Zephyrus G14, but rather closer in size to a Blade 15. Up to you if that's acceptable in a device with a 14-inch display.
With the Alienware X15, the extra footprint translates in a more advanced thermal module with large radiators and four fans, one that actually allowed for excellent temperatures in demanding loads and games. On the X14, there's no longer space for the same cooling module, and Dell opted for a more standard approach with only two fans, still four radiators, three heatpipes, thermal plates for the VRMs and chipset, as well as intake vents on the bottom and around the keyboard, and outputs on the rear and on the sides.
There's also a vapor chamber over the CPU/GPU and most likely the same gallium thermal compound used on the other X-series product.
One final aspect to add here is that we're also looking at the same approach as on the X15/X17 models, with the components placed on top of the motherboard and right under the keyboard, which means that accessing the thermal module for an eventual repasting would require a complete disassembly and removal of the motherboard.
I'm curious how this will be able to handle the hardware inside in this sort of a thin chassis, and that's because as far as the specs go, the Alienware X14 matches what Dell offers with the larger products, with an Intel Alder Lake H-series hybrid processor, DDR5 memory, PCIe gen4 storage, and options for several Nvidia RTX 3000 Ti graphics chips.
I do expect the power limits to be set lower for both the CPU and the GPU in this design, though; this is hinted at by the fact that charging happens via Power Delivery at only up to 130W. That's similar to the power delivery on the XPS 15 series, and would suggest MaxQ GPUs at up to 60W of power. Update: The X14 can be configured up to an RTX 3060 running at 60-85W with Dynamic Boost. That's roughly on par with the 2021 Zephyrus G14, but a less powerful implementation than what Razer offers with the Blade 14 or Asus with the hinted AMD-based 2020 Zephyrus G14.
Dell weren't clear on whether a MUX is implemented on the X14 or whether there's Advanced Optimus or GSync, all features available on the X15 – update: a MUX with Advanced Optimus and GSync support has been confirmed. The tiny motherboard design does confirm that the memory is soldered here and hints of two M.2 storage slots, a full-size 2280 and what looks like a compact 2230 – that could also be a WiFi M.2 slot. We'll update you on these specifics when we know more.
At the same time, I'm happy to see Dell mindful of battery life on this laptop and including an 80.5 Wh battery, larger than what the competition in the 14-inch space offers. As mentioned already, this design charges via USB-C through Power Delivery at up to 130W. In comparison, the Alienware X15 ships with a 170-240W barrel-plug charger.
One final aspect to mention here is that with that big battery inside, little space is left for the speakers, and based on the experience with the X15/X17, I wouldn't expect much in terms of audio quality on this unit.
Stepping back and taking another look at the design and ergonomics of this series, you'll notice this looks just like a miniaturized X15, with the same Lunar Light white-ish exterior and black/gray interior. It's not a metallic design, but one entirely made out of plastic, with a shiny finishing for the lid and back, and a soft matte coating for the interior and sides, the kind that smudges easily.
This sure is a unique and iconic Alienware design and we can expect the build quality to be top-notch, just like on the other X models, I'm just not sure how I feel about the white lid.
There's a full-size keyboard in the middle of the main chassis, the same as on the X15/X17, with rubber-domes and per-key RGB illumination. Not sure if the secondaries on the Function keys light up here, it seems that they might, but they did not on the 2021 X15/X17 keyboards. Dell also placed a rather short and wide clickpad underneath the keyboard, centered on the chassis. I hope this is glass.
As for biometrics, there aren't any here. The camera at the top is still HD resolution just like on the X15, and without IR functionality.
A particularity of the Alienware X series is also the IO being entirely pushed to the rear of the laptop, behind the screen, as there are absolutely no ports on the sides. There are three USB-C ports back there, two with support for Thunderbolt 4, a single USB-A slot, an HDMI 2.1 connector, and a micro SD card reader. The audio jack is also tucked back there, and not on the sides as on the X15 and X17 variants.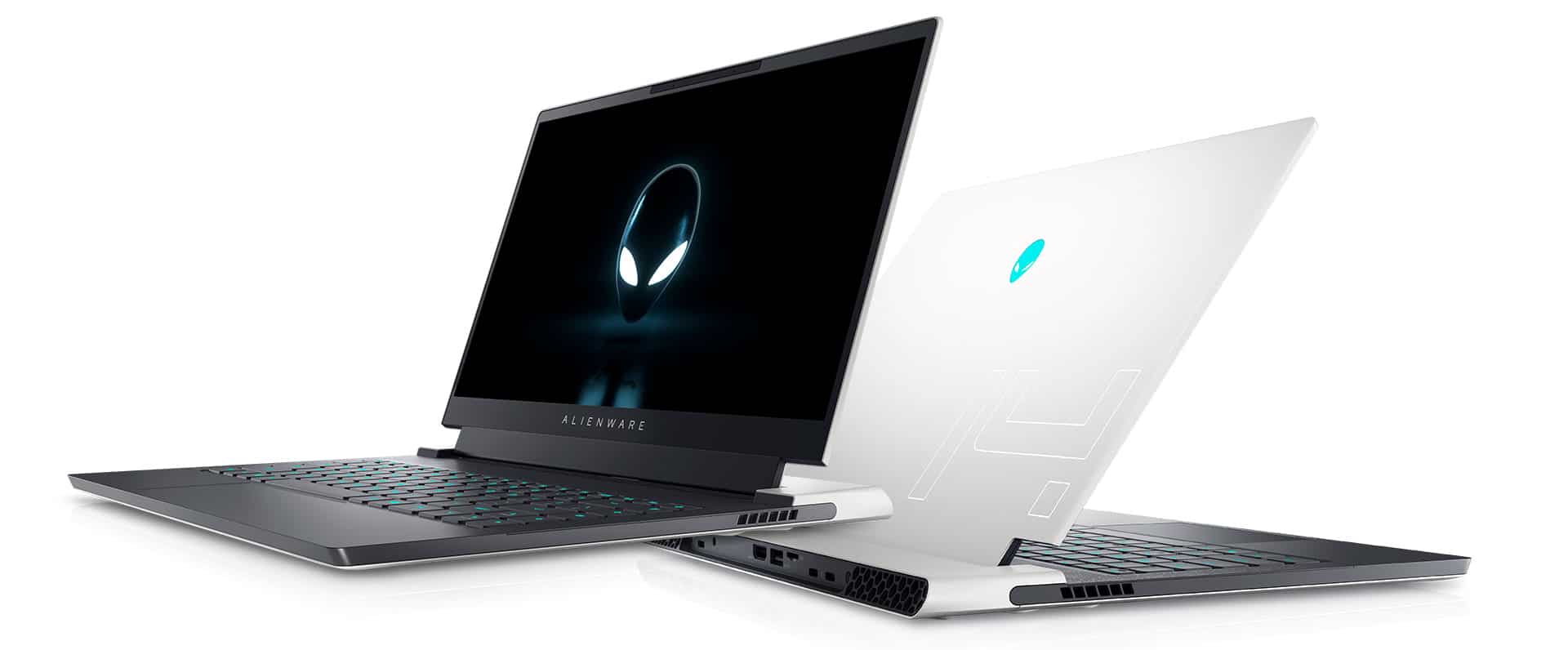 Without having touched it and without even knowing all the configuration specifics, I can't draw any conclusions on the Alienware X14 series. Broadly, it makes sense for Dell to offer a more portable alternative to their thin, but large and heavy for what it is, X15. We'll just have to wait for the reviews for a more detailed picture of what Dell were able to pull here and how the X14 compares to the X15 for matching specs, as well as to the competition in the 14-inch space, which I expect this not to be able to match in performance.
2022 Alienware X15 R2 and X17 R2
There should be no surprises for the X15 and X17 R2 Alienware updates, as these are hardware refreshes of the products launched in 2021, with Intel Alder Lake processors, Nvidia RTX 3070Ti or 3080Ti graphics chips, DDR5 memory, PCIe gen4 storage, and WiFi 6E connectivity.
Update: Here's our coverage of the newer Alienware X16 R1 2023 model, which slots in between the 15 and 17 inch variants available in the past.
The X15 is a very thin 15-inch laptop that can now be configured up to a Core i9-12900H processor, 64 GB of DDR5 memory, and an RTX 3080Ti 16GB chip running at up to 110W. It also gets an ample thermal module with four radiators and a vapor chamber, as well as ample intakes and output ventilation all over the chassis, allowing it to run cooler than other similarly-specced portable notebooks.
At the same time, though, this is a fairly large footprint and definitely not as compact or lightweight as a Blade or Stealth or a Zephyrus, mostly because of that advanced thermal module inside. It's also somewhat unpractical with all the IO on the back edge, and doesn't offer much in terms of audio quality.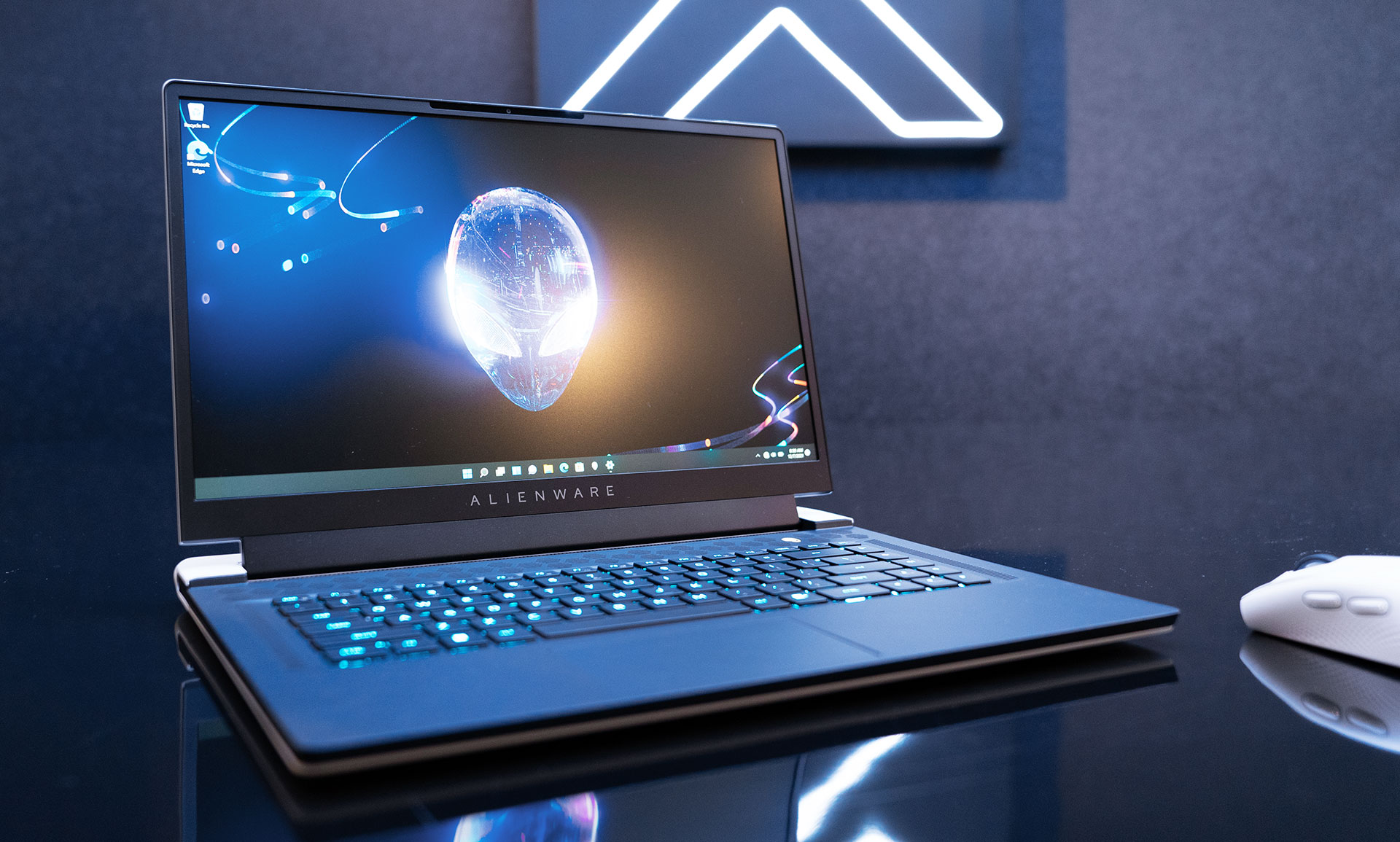 The Alienware X17 R2 is an even larger and heavier full-size laptop with a 17-inch screen.
This doesn't even try to match the Blade 17 or the Aero 17 or the Zephyrus S17 in terms of format and weight, it just further maximizes the thermal design and ups the power limits on the components, allowing for a full-power RTX 3080Ti at 165W and a powerful 12th gen Intel Core i9 implementation with this generation.
Compared to the 15-inch model, the X17 allows for upgradeable memory, includes a slightly higher-capacity battery, bigger speakers, and offers a few extra ports, such as LAN and miniDP. It can also be configured with what's arguably the best mechanical keyboard currently available on a notebook, the CheryMX variant exclusive to this model, but a regular rubber-dome keyboard is also available if clickiness is not your style.
I'll also add that the X17 ships with a chunkier 330W charger, required to power that hungry GPU implementation, adding up to the overall weight of the package. For what is worth, USB-C charging is supported on all sizes, though.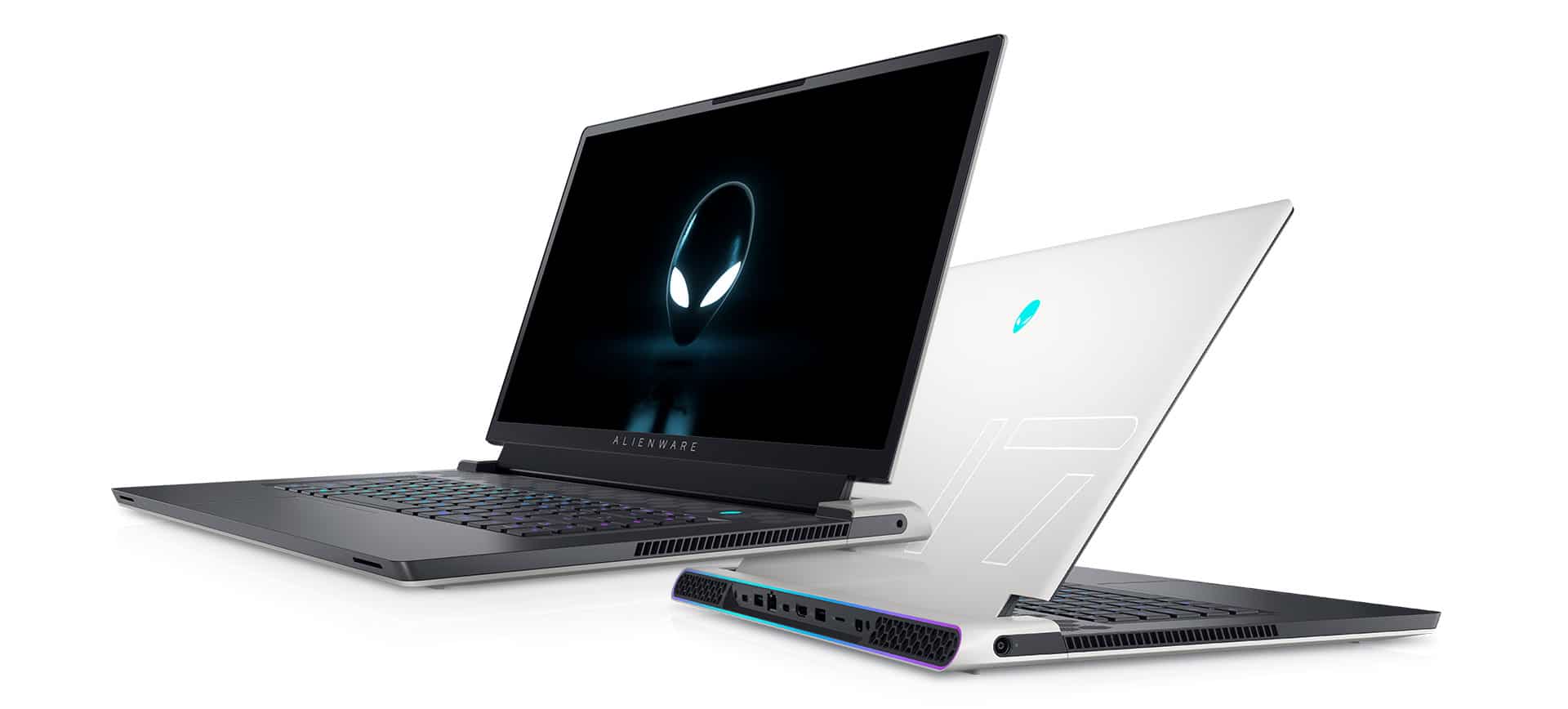 All in all, expect the updated Alienware X models in stores from Q1 2022. They're most likely going to be listed at atrocious MSRP prices, but Dell tends to run sales and offers all the time, so you can end up getting a fair deal if you're patient enough.
Normally, I'd hint towards our future reviews at the end of this preview article, but given how Dell are not interested in sending over review unit to us and how expensive these lineups are, I doubt we'll be able to get our hands on them for a review anytime soon. I'm still curious what you guys think about the 2022 Alienware X updates, so get in touch in the comments section down below.
Disclaimer:
Our content is reader-supported. If you buy through some of the links on our site, we may earn a commission.
Terms
.