Back in early 2020, Asus launched what ended up being one of the most popular compact laptops of recent years, the ROG Zephyrus G14 series. Two years later, it's time for a major overhaul of this lineup, with the 2022 ROG Zephyrus G14 GA402.
This builds on the design lines and principles of the previous generations, but offers 16:10 displays with updated panels and a camera with IR, updated AMD hardware running at higher power than before, an updated thermal module with a vapor chamber and liquid metal instead of regular thermal paste, a quieter and faster keyboard, a larger clickpad and updated IO. All these should be more than enough to meet your interest, but the 2022 model actually refines the previous variants in multiple other ways as well.
I was expecting a significant update with this 2022 G14 and the truth is, Asus had to change things significantly in order to keep this lineup competitive within its segment of 14-inch performance/gaming laptops that it pioneered. Two years ago, the Zephyrus G14 ran uncontested, but in the meantime, the other OEMs have launched worthy challengers such as the Razer Blade 14 or the Alienware X14.
Update: Our full review of the top-tier 2022 Zephyrus G14 series is available over here, while our review of the more affordable mid-range G14 configurations is available here. Our colleagues at Digitalcitizen.life also reviewed the Zephyrus G14 here.
Update2: Follow this link for updated prices and availability, or this one if you're in the US and looking for the BestBuy offer, which seem to have some solid exclusive deals for the G14 series these days.
The AMD hardware running on this 2022 G14 is one of its potential main selling points, as the laptop is built on both an AMD Ryzen processor and an AMD Radeon RX dGPU, with support for Power Shift and the other AMD Smart technologies only offered on AMD exclusive designs.
I couldn't run any tests on this pre-production sample of the G14 that we have here, so I don't know exactly what to expect in terms of performance or efficiency. Asus were fairly secretive about it as well, but they did mention that are aiming for Blade 14 performance at a fraction of the cost – I'd expect roughly RTX 3070 80-100W performance levels here. The addition of a MUX sure helps this update's cause with games and specific GPU loads. We'll know more once we get the review units in the next few weeks.
For now, this article is a preview of the 2022 Zephyrus G14 series and a collection of first impressions on the design, practicality, screens, inputs, and internals. Here's a quick specs sheet of the 2022 and 2021 G14s, and we'll further touch on some of the important aspects down below.
2022 ASUS ROG Zephyrus G14 GA402R – review
2021 ASUS ROG Zephyrus G14 GA401Q – review
Screen
14 inch, 16:10, non-touch, matte, several panel options:
QHD+ 120Hz 3ms response, 500-nits, 100% DCI-P3, Pantone validated
FHD+ 144Hz 3ms response, 450-nits, 100% sRGB, Pantone validated
14 inch, 16:9, non-touch, matte, 3 panel options:
QHD 120Hz, 350-nits, 100% DCI-P3, Pantone validated
FHD 144Hz, 350-nits, 100% sRGB, Pantone validated
FHD 60Hz response, ~70% sRGB
Processor
up to AMD Rembrandt Ryzen 9 6900HS, 8C/16T
up to AMD Cezanne Ryzen 9 5900HS, 8C/16T
Video
Radeon 680M and up to AMD Radeon RX 6800S (up to 105W with Smartshift)
with MUX and Adaptive Sync
Radeon Vega and up to Nvidia RTX 3060 Laptop (up to 80W with Dynamic Boost)
with Adaptive Sync, without MUX
Memory
up to 48 GB DDR5-4800 (8/16 GB soldered, 1x DIMM)
up to 48 GB DDR4-3200 (8/16 GB soldered, 1x DIMM)
Storage
1x M.2 PCIe 4.0 SSD
1x M.2 PCIe 3.0 x4 SSD
Connectivity
WiFi 6E (Mediatek) 2×2 with Bluetooth 5.2, LAN with adapter
WiFi 6 (Intel AX201) 2×2 with Bluetooth 5.1, LAN with adapter
Ports
left: DC-in, HDMI 2.0b, 1x USB-C gen 2 with data, DP and charging, audio jack, Lock
right: 2x USB-A 3.2, 1x USB-C gen2 with data& DP, UHS-II micro SD card reader
left: DC-in, HDMI 2.0b, 1x USB-C gen 2 with data, DP and charging, audio jack, Lock
right: 2x USB-A 3.2, 1x USB-C gen2 data only
Battery
76 Wh, 240 W power adapter, USB-C charging up to 100W
76 Wh, 180 W power adapter, USB-C charging up to 100W
Size
312 mm or 12.28" (w) x 227 mm or 8.93 (d) x 18.5-19.5 mm or .73-.78" (h)
324 mm or 12.75" (w) x 222 mm or 8.74" (d) x 19.9 mm or .78" (h)
Weight
1.7 kg (3.75 lbs) with Anime Matrix display,
1.65 kg (3.66 lbs) without Anime Matrix display,
.59 kg (1.3 lbs) power brick and cables, US version
1.7 kg (3.75 lbs) with Anime Matrix display,
1.64 kg (3.65 lbs) without Anime Matrix display,
.59 kg (1.3 lbs) power brick and cables, EU version
Extras
single-zone RGB keyboard, HD webcam with IR, quad speakers, optional updated Anime Matrix Display, updated cooling module with vapor chamber and liquid metal compound, available in all-white or gray
white backlit keyboard, no webcam, quad speakers, finger-sensor in the power button, optional Anime Matrix Display, available in silver/white or gray
Update: Over here I've put up a detailed comparison between the different Zephryus G14 variants available over the years.
Update: If interested, here are our thoughts on the 2023 Asus ROG Zephyrus G14 update. And here you'll find our detailed review of the 2023 Asus ROG Zephyrus G14 series.
Design and ergonomics
The 2022 ROG Zephyrus G14 is a bit more compact and thinner than the previous generation, as a result of implementing a 16:10 screen with smaller bezels. On a first look, I would have expected Asus to have reused the main chassis from the previous designs, but that's not the case.
Nonetheless, the core design of this series hasn't changed. This is still a boxy format with Ergolift hinges, which means that the laptop's main body lifts up on rubber feet placed at the bottom of the screen in order to allow for better ventilation underneath.
This design also means that the radiators are positioned just under the screen, and some of the hot air blows into the panel. Asus are aware of this inconvenience, though, and implemented a trick to divert the air upwards and less so into the screen – we'll further touch on this in another section.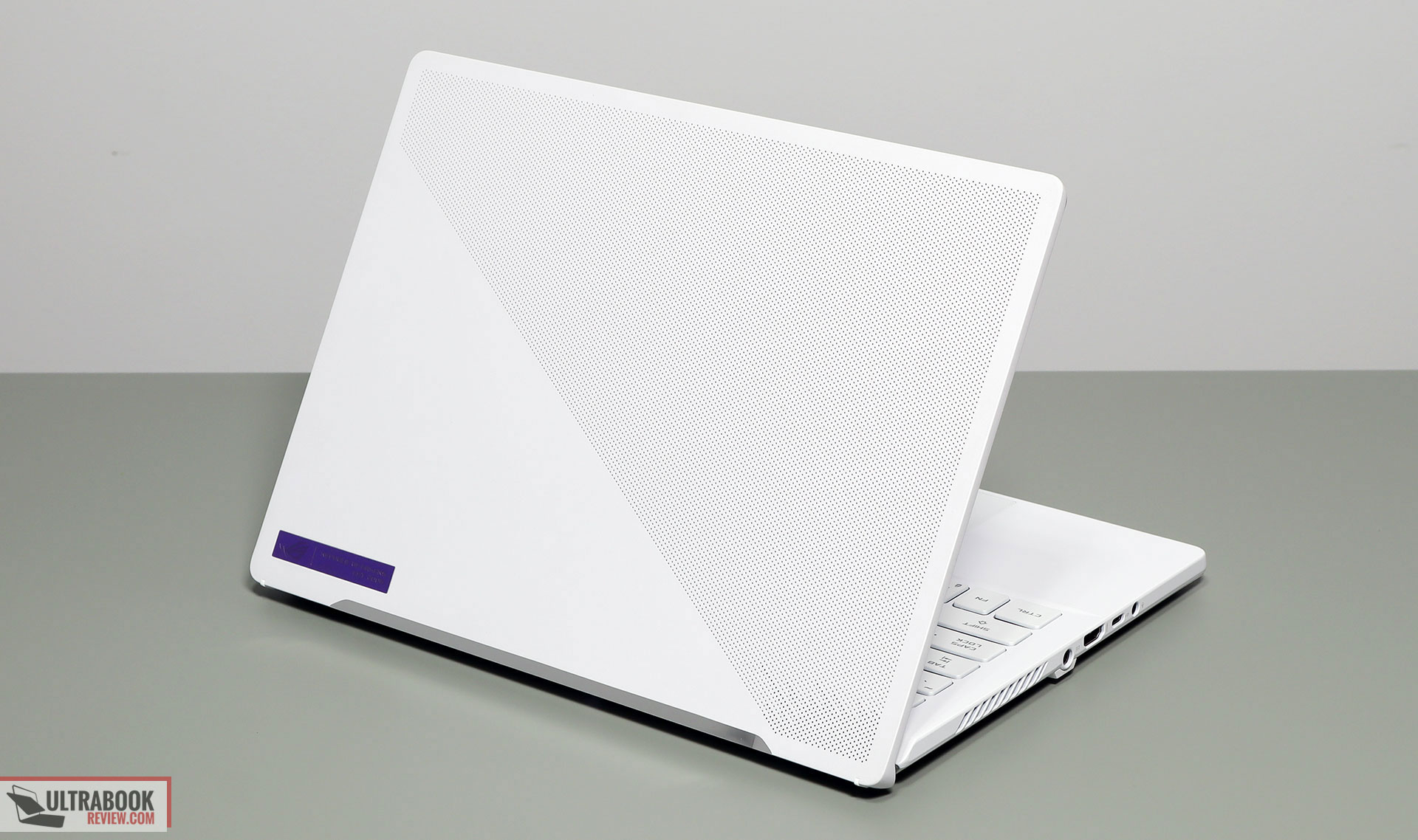 Opening up this laptop is still a one-hand operation and I did notice that the laptop's grip on the desk has improved, thanks to the larger and grippier rubber feet placed on the bottom with this update. The entire d-panel has also been graphically redesigned, with a silver part over the cooling module.
Another novelty is the screen's ability to lean back all the way to 180-degrees, something the previous G14 could not, and something I find very useful on a portable design when using it on the lap or on the tighs.
Asus also moved the inner speaker grills at the top of the keyboard, which means they're harder to muffle with daily use than they were in the past when positioned on the arm-rest.
Another tiny, but practical change, is the fact that the status LEDs are no longer in the line of sight and are hidden behind the main chassis, just around the ROG Zephyrus branding under the screen. This is still not ideal as the light shines into the shiny branding and is noticeable when using the laptop at night in a dark room, but at least the LEDs are smaller and dimmer than on the Zephyrus G15/M16 models and not directly in the line of sight as on the previous G14s.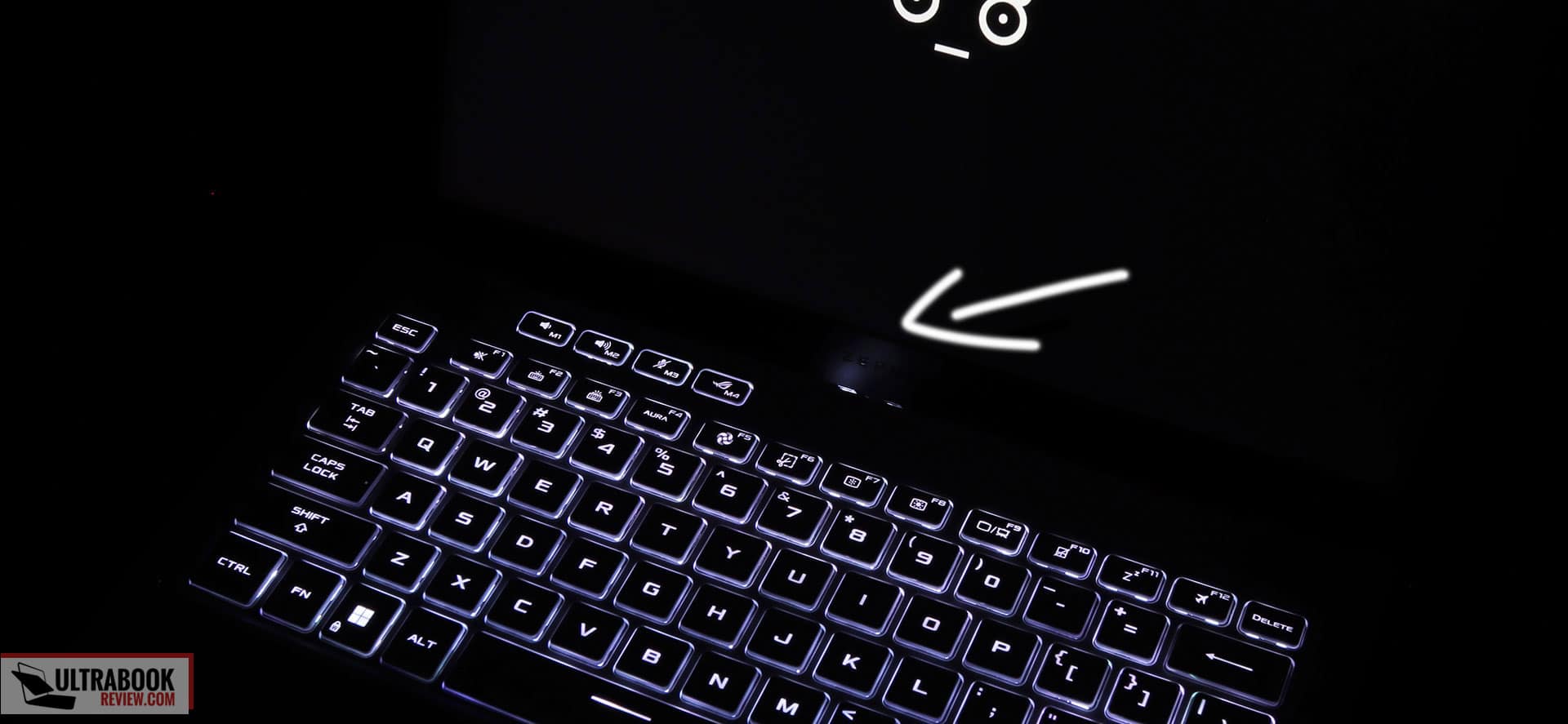 That aside, you can still get the 2022 G14s in either an entirely white model with a white keyboard, the one that we have here, an update of the previous silver/white design, or a gray model with a black keyboard.
The latter smudges easily and offers better key contrast with the illumination system switched on, while this white model looks cool and unique and is the kind of finishing you won't have to wipe clean every day. I'd be careful when carrying both of these in my backpack and make sure to place them inside a protective sleeve, as both the white and the gray finishes can scratch and dent if abused.
One other addition to the G14 GA402 series is an updated Anime Matrix optional array of dots that you can configure on the lid, opting for a more advanced system with more LEDs that allow for clearer texts and animations.
I guess you'll appreciate it if you care about this Anime matrix display at all, but I for one would prefer going for the standard lid design if that's an option, as it would allow me to end up with a slightly lighter computer, plus I wouldn't have to pay extra for something I would not use. However, the thing is Asus tend to include the Anime display by default on the highest-tier models, so you'll end up paying for it regardless if you aim to get the top-specced configurations.
One last thing to mention here is the IO. The ports are still placed on the left and right side, towards the front of the laptop, as the rear is occupied by radiators. The novelty is a UHS-II micro SD card reader on this generation, while the other aspects haven't changed.
You can still only use the USB-C port on the left side for charging and video output straight from the dGPU, and the HDMI port is still 2.0b and not the newer HDMI 2.1 standard, but is now also connected in the dGPU (previously was hooked to the iGPU). The USB-C port on the left goes into the dGPU and is the one to use for an external monitor when running games, in order to fully benefit from the chip's performance, while the one on the right edge goes into the iGPU, and you should consider it for video-output while running the laptop on battery.
Inputs
On a first look, the larger clickpad on the 2022 Zephyrus G14 stands out, made possible with the slightly taller chassis and better use of the available space – or in other words, narrower margins between the clickpad and the keyboard and the laptop's front lip.
This implementation is Precision and made out of glass, and just worked flawlessly during my time with this laptop – it's on par with the clickpads in the G15 and M16 lineups. The surface doesn't rattle with taps and the physical clicks are fairly smooth and quiet, plus I didn't notice any inconveniences with palm rejection; they might happen for those of you with larger hands.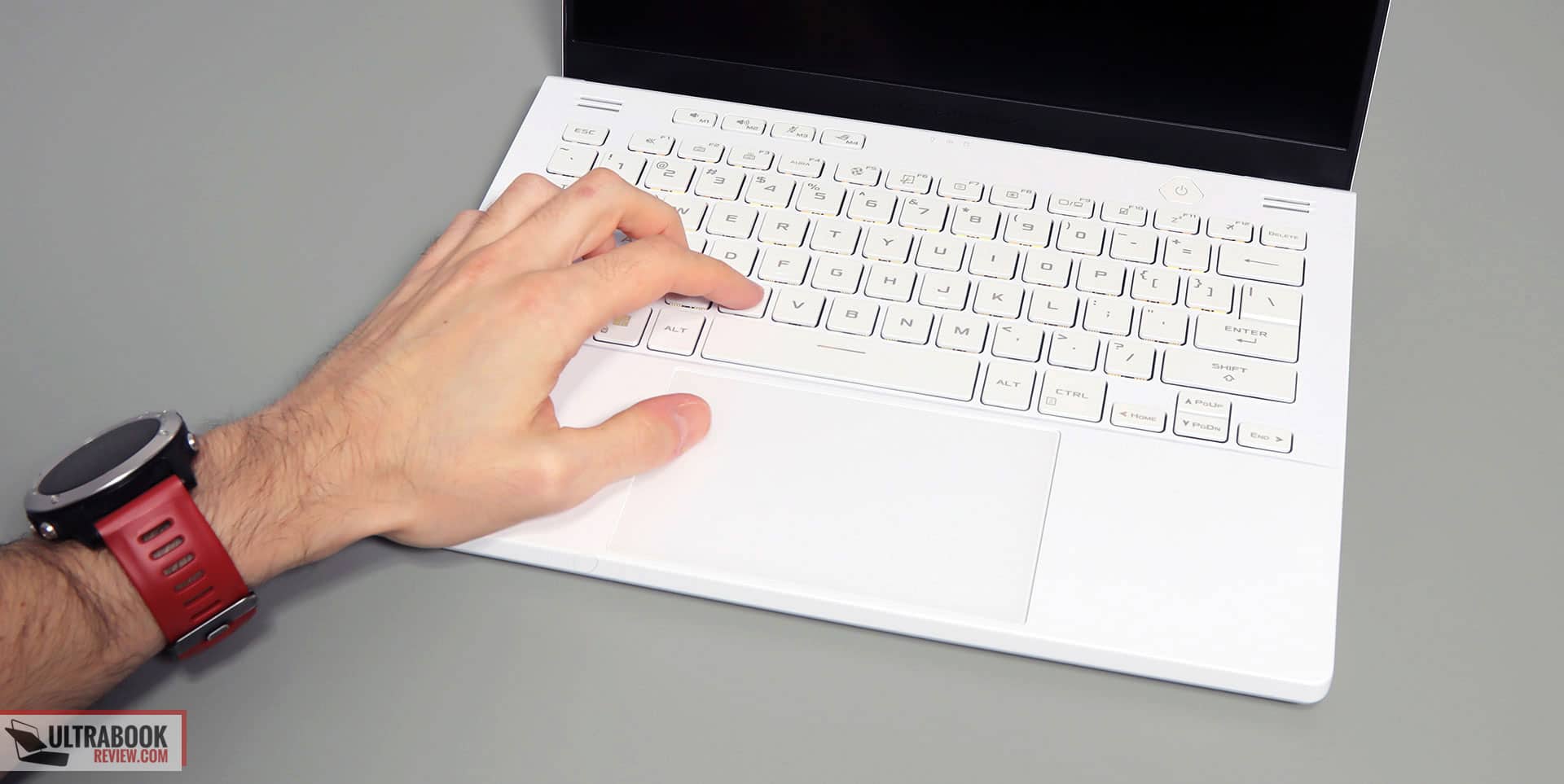 The keyboard appears to be similar to the previous design, with only some small changes on the bottom row, where the Space key is shorter now, and the dedicated PrintScreen key was eliminated to leave room for wider directional keys. There's still no extra column of Function controls at the right side, as on other 14-inch laptops, which means that Home/End/PgUp/PgDn are binned as secondaries for the directional keys.
I no longer have a 2021 Zephyrus G14 around for a proper comparison, but it seems to me that the stroke-depth is a little deeper on this 2022 update, and the actuations are a little quieter. Overall, the 2021 G14 was one of my favorite typers of its generation, and this here seems like a slight refinement, with firmer feedback and quieter presses, especially on the Space key.
A novelty for this implementation is the RGB backlighting, while the previous gens only offered a white-lit keyboard. The LEDs get fairly bright and only single-zone control is possible in the Armory Crate app.
I also appreciate that the layout offers a dedicated indicator for CapsLock and that you can reactivate the illumination with a gentle swipe over the clickpad once it times out, you don't have to press a key to do it.
As for biometrics, there's no longer a finger-sensor in the power button with this 2022 Zephyrus G14, but you do get an IR camera integrated within the camera ensemble at the top of the main display, which is arguably a more seamless method of signing into Windows with Hello. I would have preferred having both options, though, not sure why Asus decided to dump the figner-sensor button.
Screens
Asus put a taller 16:10 display on the 2022 Zephyrus G14, with narrower bezels all around and a smaller chin. That means you're getting extra space for your content, plus an overall more compact footprint with this generation.
They also updated the panels and addressed my nits with the previous offers: both the FHD and QHD options on this series are now brighter than before and faster, with 3 ms response times with Overdrive. That means you're finally getting rid of the ghosting that you had to accept with the previous two G14 generations in fast-paced games. Adaptive Sync is still present to prevent tearing, but GSync is not supported on the internal display if you set the MUX on the dGPU mode.
In all fairness, there's still a difference in quality between the entry-level FHD 144Hz display that only offers 100% sRGB color coverage and the QHD 120Hz option with 100% DCI-P3 color coverage. This QHD option is also a little brighter, but the blacks and overall contrast are actually superior on the FHD model, so unless you plan to run color-sensitive tasks on this laptop, that FHD panel might do just fine for most of you.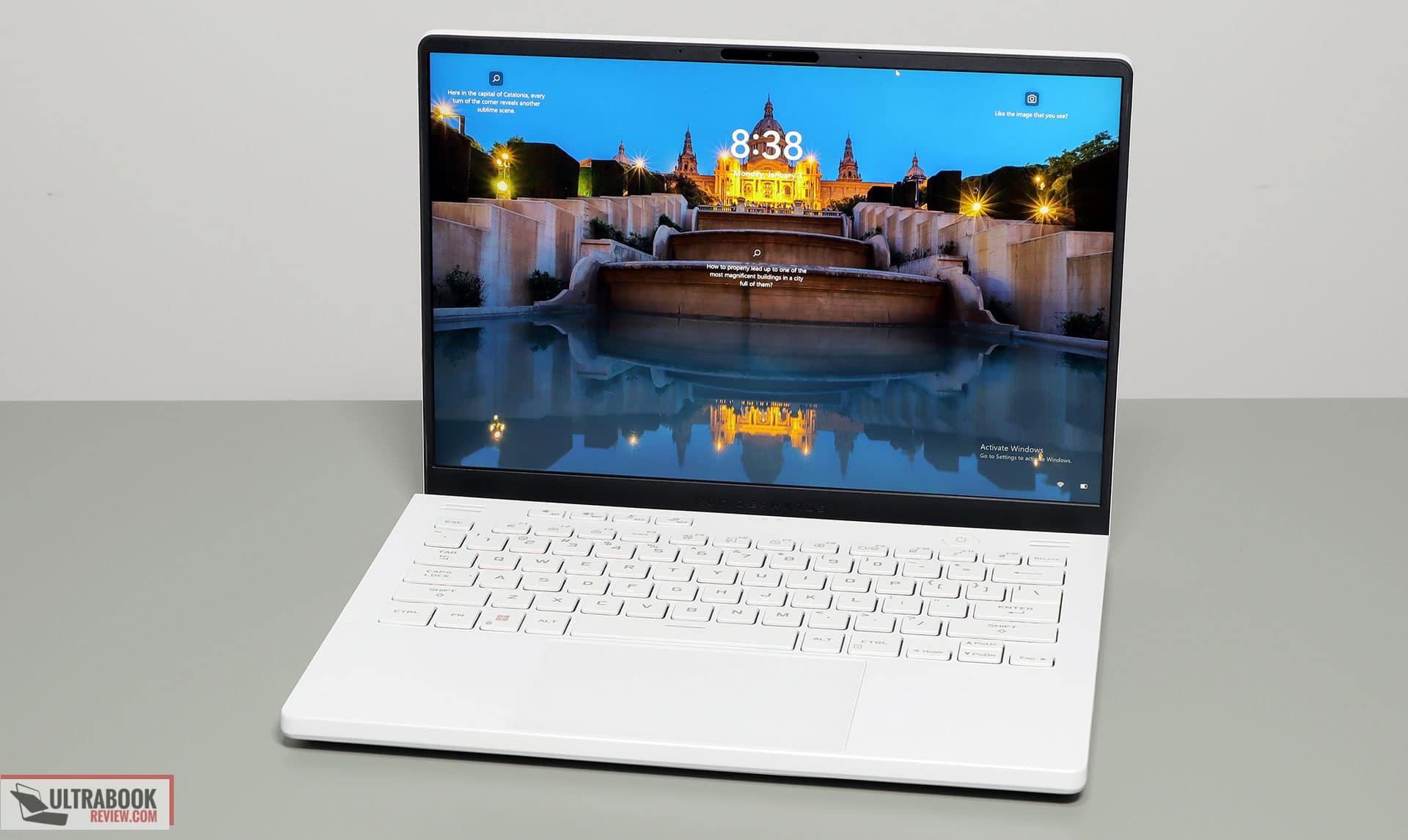 Hardware and performance
As mentioned already, the 2022 Zephyrus G14 GA402 series is now an AMD exclusive design, and that means it's built on an efficient bin of the Ryzen 9 6900HS processor paired with RDNA2-based AMD Radeon 680M integrated graphics and either an AMD Radeon RX 6700S or an AMD Radeon RX 6800S dedicated graphics chip. Here's a detailed comparison of the two AMD Radeon RX 6800S and 6700S chips.
There's also a MUX, support for DDR5-4800 memory, and PCIe gen4 storage via the M.2 slot. Much like with the other Zephyrus models, the memory is partially soldered on the motherboard, with one DIMM available for upgrades. The M.2 slot is also accessible for upgrades if you remove the back panel hold in place by a handful of Philips screws.

Inside you'll notice the vapor chamber cooling module, much like on the other AMD-exclusive model in the ROG lineup, the G15 Advantage. Paired with liquid metal applied on both the CPU and the GPU, this thermal module allows the G14 GA402 to run at higher sustained power than the previous generation, with an up to 105W TGP with AMD Smart Shift. The CPU also runs at 35++W sustained in demanding loads, with burst power at up to 85W.
An interesting detail about the cooling on this model is that Asus are aware that blowing the hot-air into the screen is not ideal, and while they still kept the exhausts under the screen for this generation, they also redesigned the internal radiators adding some small fins that prevent the air from going into the bezel/panel and push it upwards. It's too early to tell how/if this tweak actually works in real life, though.

This G14 unit is also pre-production running on early drivers and software, so we couldn't run any tests on it, thus there's nothing I can share about the levels of performance you should expect here either. Somewhere in between a 3060 to 3070 80-100W would be my guess for the 6800S, so a potential match for the 2021 Zephyrus G15 15-inch model. Asus hinted at Blade 14 performance levels, but I would be surprised if this can actually match a 3080/3080Ti. Regardless, the boost in performance should be significant from the previous G14 generation with the RTX 3060 60-80W dGPU, thanks to the updated architecture, higher power, and the MUX. AMD might share more details in their launch event, so I'll update when we know more.
Of course, we'll only get to draw proper conclusions once we get the review units somewhere around February or March of this year, and get to run our standard tests and analyze the thermals and the acoustics of this design. I'm quite excited about it.
Before we wrap this up, I have to also mention that the audio and the battery haven't changed between the 2021 and 2022 generations, with still a capable 4x speaker system and a 76Wh battery that should offer fair-runtimes for a performance 14-incher. Asus did move the inner speakers above the keyboard, and had to bump up the charger to 240W, so you'll have to accept a chunkier brick now; you can also opt for USB-C charging when traveling.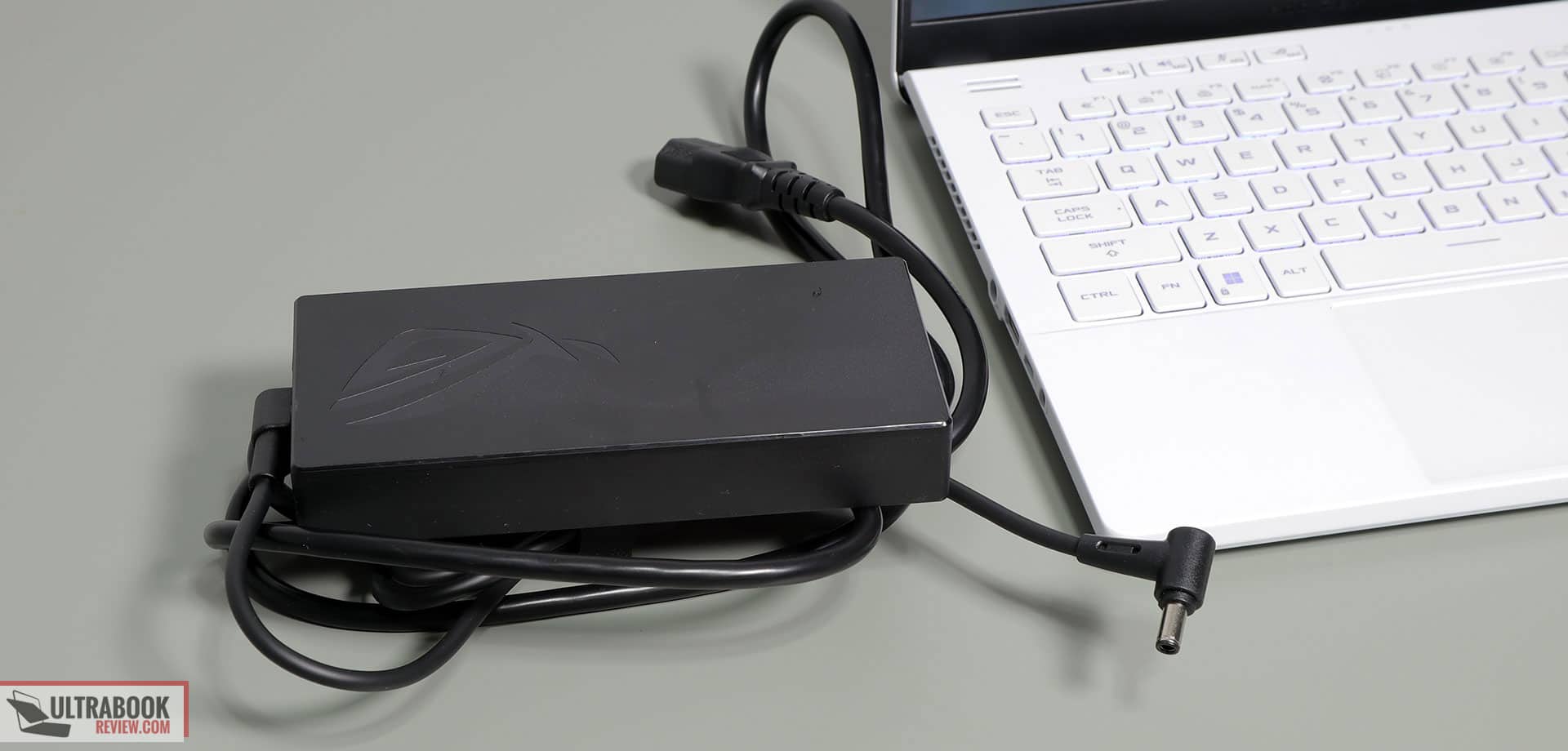 Asus mentions 10+ hours of use in their marketing materials, but I'd be surprised if this can actually last for 10+ hours with daily use, given how the previous gens only offers around 5 hours of multitasking and 6-9 hours of streaming between the different configurations. Opting for the FHD+ screen option would surely help if you're planning on maximizing runtimes on the battery.
Early conclusions
All in all, this Asus ROG Zephyrus G14 GA402 is a collection of small refinements of the previous generation, all adding up to an overall improved product.
Follow this link for updated prices and availability, or this one if you're in the US and looking for the BestBuy offer, which seem to have some solid exclusive deals for the G14 series these days.
I appreciate the grippier rubber feet, the 180-screen design, the hidden status LEDs, and the fact there's now a camera at the top of the main display, alongside the updated inputs, screen options, and the more powerful specs with a more advanced thermal module.
Still, I'll need to take this through a proper spin before I can draw any conclusions on performance, as I'm curious where this positions itself against the Nvidia-based competition available with other powerful 14-inchers, as well as how the cooling design handles sustained loads in terms of temperatures and noise levels. If it checks these boxes as well, I expect the 2022 G14 to be highly competitive once more, so I sure am excited about this update.
Stay around for our review in the weeks to come, and in the meantime, I'd love to hear your thoughts on this Asus ROG Zephyrus G14 GA402R series.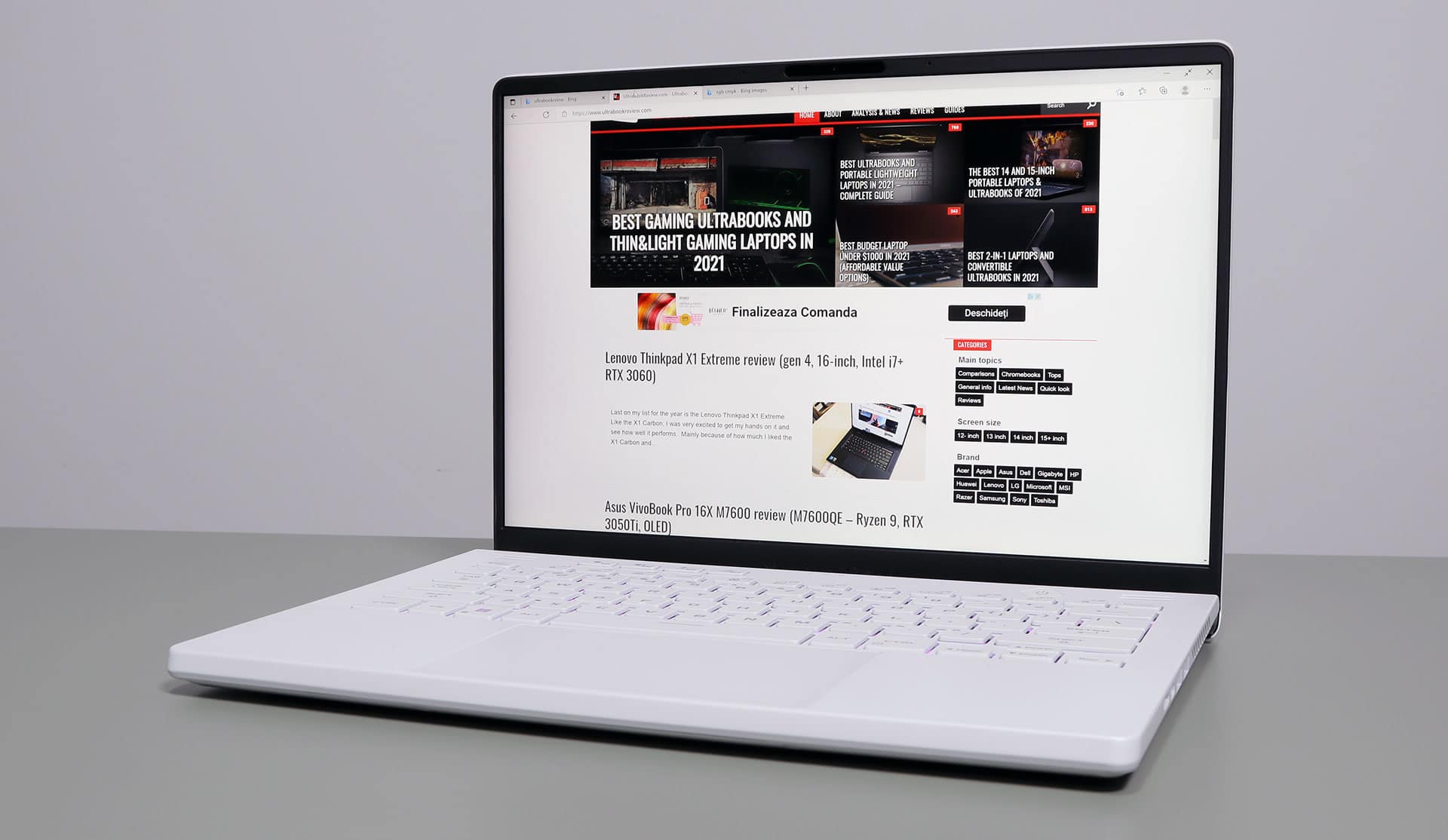 Disclaimer:
Our content is reader-supported. If you buy through some of the links on our site, we may earn a commission.
Terms
.